Getting a SIM card in Armenia is a pretty easy process and a very affordable one. This post details how to get an Armenian SIM card in Yerevan with MTS (Vivacell) and with Beeline.
This post focuses on Armenian prepaid SIM card options, not ones with contracts.
YEREVAN QUICK REFERENCE
Planning your trip last-minute? You can see our top travel recommendations for Yerevan right here:
Where to stay in Yerevan: The Alexander (luxury), Daniel's Boutique Hotel (mid-range), 14th Floor (mid-range), and Grand Hostel (budget).
Top-rated Yerevan day tours and experiences:
Yerevan City Pass: If you're hanging around the Armenian capital, the Yerevan Card is a great bang for your buck! You can visit museums at no charge, get a free taxi from the airport, and several discounts on day trips. Click here to purchase your Yerevan Pass.
Need insurance for Armenia? Be sure to check Armenia travel insurance rates and coverage with our recommended provider, SafetyWing.
Renting a car in Armenia? You can get great options and the best rates here with Rentalcars.com.
Need a Visa for Armenia? We recommend iVisa – they will sort your Armenian visa efficiently and quickly.
3 Essential Things to Pack for Armenia: Plug adapter (if coming from the US or a country that does not use a European plug), Klean Kanteen reusable water bottle, and a Georgia, Azerbaijan & Armenia Lonely Planet guidebook.
Armenian SIM card: Easily Getting a SIM Card in Yerevan (Beeline + MTS Vivacell)
One of the most stressful things about arriving at a new destination is finding a way to easily get connected there. As travel writers and bloggers, it is imperative for us to get a SIM card when traveling and to be fairly well connected at all times.
Fortunately, getting a SIM card in Armenia is an easy process but there are definitely some things you should know before going forth and doing so.
This guide will detail getting an Armenian SIM card in Yerevan and how to do so at our two recommended places: Beeline and MTS Vivacell.
It will also give tips about what to bring with you when you get the SIM card, where to purchase one, and more.
Why You Should get a SIM Card in Armenia
When I travel to the US, I never want to get a SIM card because it is outrageously expensive. Like $70 for some crappy NYC SIM card? No thanks. But I guess in a country that still has Boingo Hotspots at airports, what do you expect?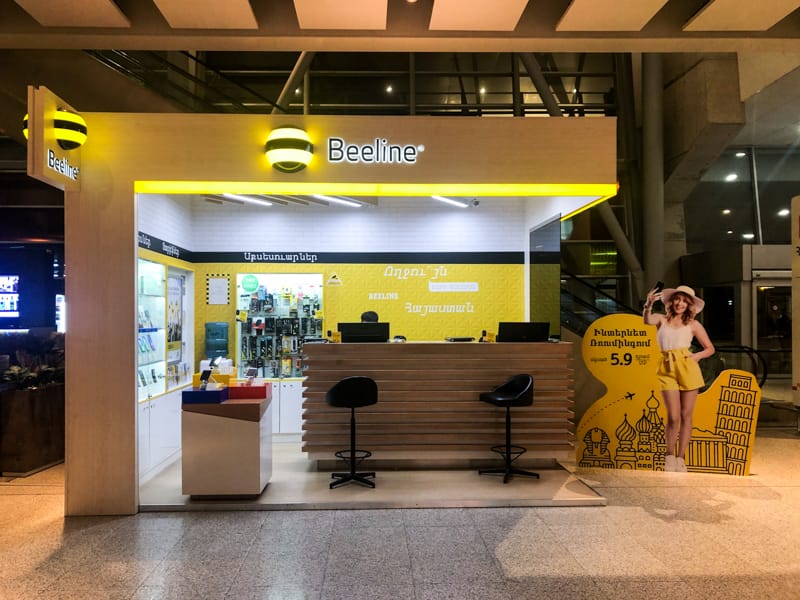 Armenia is quite the opposite. They believe everyone should have affordable access and make the process relatively easy as a result. It is also one of the most affordable SIM cards I have ever gotten from a prepaid standpoint.
In addition, service across Armenia is pretty good. It is rare that you enter areas without any service (although, they do exist!) and it can keep you well-connected.
Having an Armenian SIM card is also useful for taxi apps, especially when taking a taxi in Yerevan. They are also great for those who can't read the Armenian language (I am just now starting to differentiate between the letters in the Armenian alphabet, so Google translate is my best friend!)
Things to Know Before Getting an Armenian SIM Card
There are several companies that offer SIM cards in Armenia. The main three are Beeline, MTS Vivacell, and UCom. I use Beeline a lot across the Caucasus and Central Asia, so it was always my go-to. Now, I have switched to Vivacell for whatever reason (Aram suggested it) and it works fine, too.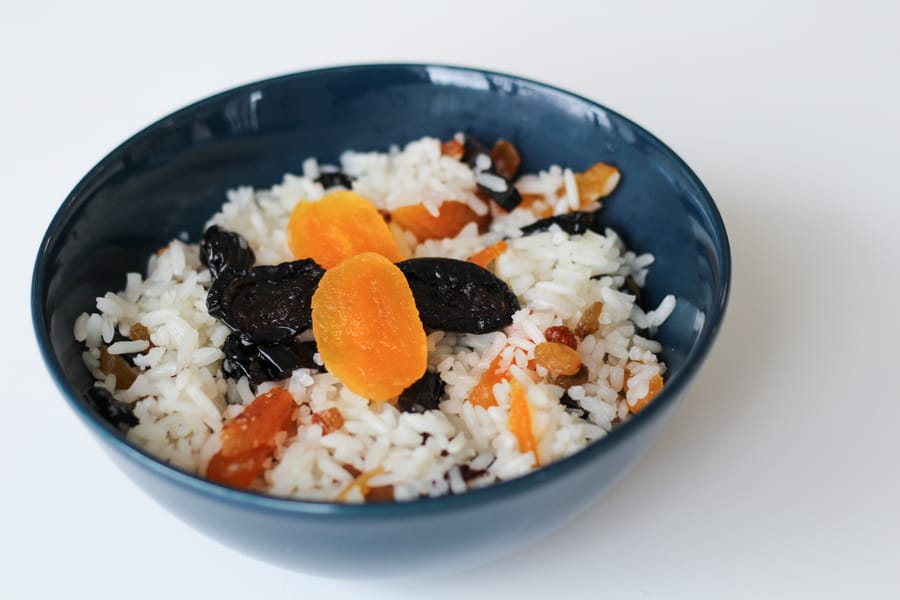 No matter which company you choose, you can refill your SIM card at street self-service kiosks and all offer prepaid plans. You can also pick up any of the SIM cards at the Yerevan Zvartnots airport.
You will see some random shops selling SIM cards but I would avoid going to them and go to one of the official mobile phone shops instead. A lot of these random shops sell outdated plans that don't always recharge or offer refills since they are no longer acknowledged by the carriers themselves.
What to Bring When Getting a SIM Card in Armenia
The most important thing to bring is your passport and a little patience. Sometimes the shops are teeming with customers and you must wait a few minutes, and other times they are dead and you can get right in.
They will need to make a copy of your passport for the sign-up. So, make sure you remember it!
Beeline Armenia
Where to Buy a Beeline SIM Card in Yerevan
There are a few Beeline locations throughout Yerevan but the one I recommend going to is the one on Northern Avenue, a centralized shopping thoroughfare in Yerevan.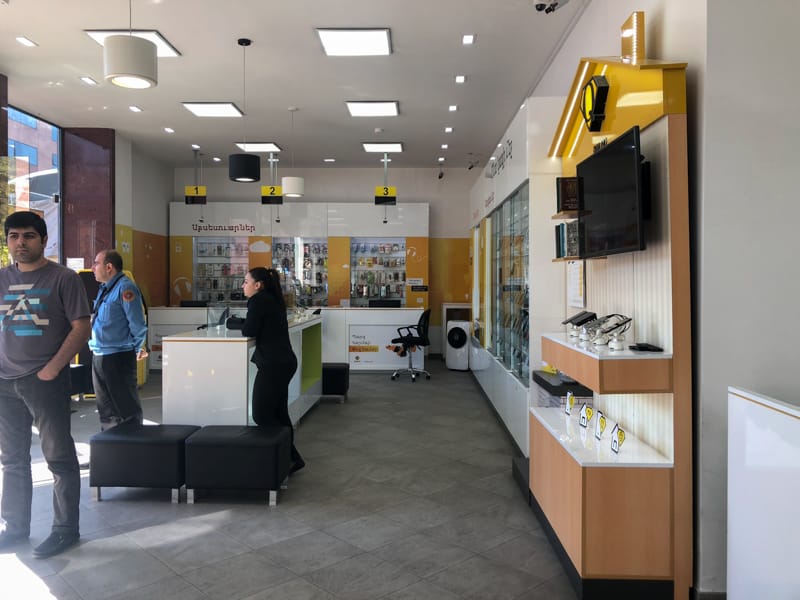 The Beeline there can be easily reached at the end of Northern Avenue near the Opera and Swan Lake. The lines can be sometimes long in there but they have a machine where you take a number and wait. The machine has English options and you will want to put that you want a new 'tariff'.
Once your number is called, be sure the customer service worker speaks English. If they will struggle with the transaction, they will pass you off to someone who can handle it. Most people speak English well at Beeline, however.
You can find Beeline at 4 Northern Avenue in Yerevan.
Beeline SIM Card at Yerevan Airport
If you wish to purchase a SIM Card at Yerevan Airport, Beeline has an official shop there where you can do so. You will see it immediately as you exit the baggage claim in arrivals. Don't worry if your flight arrives at a ridiculous hour, it will be open!
Beeline Armenia Prepaid Tariff Options
Beeline offers several prepaid tariffs in Armenia. Here are a couple of options that will give you a fair amount of data depending on what you're looking for:
SMART 1500: 3 GB, no talk minutes
SMART 2500: 5 GB, 50 talk minutes
SMART 3500: 7 GB, 150 talk minutes
SMART 5500: 12 GB, 250 talk minutes
SMART 7500: 22 GB, 350 talk minutes
There are several more options beyond that but I think most travelers will find these options to be plenty. The prices are the number after 'SMART'. So, for SMART 1500, the price is 1500 AMD (about $3).
To see the tariffs listed on Beeline's website, click here.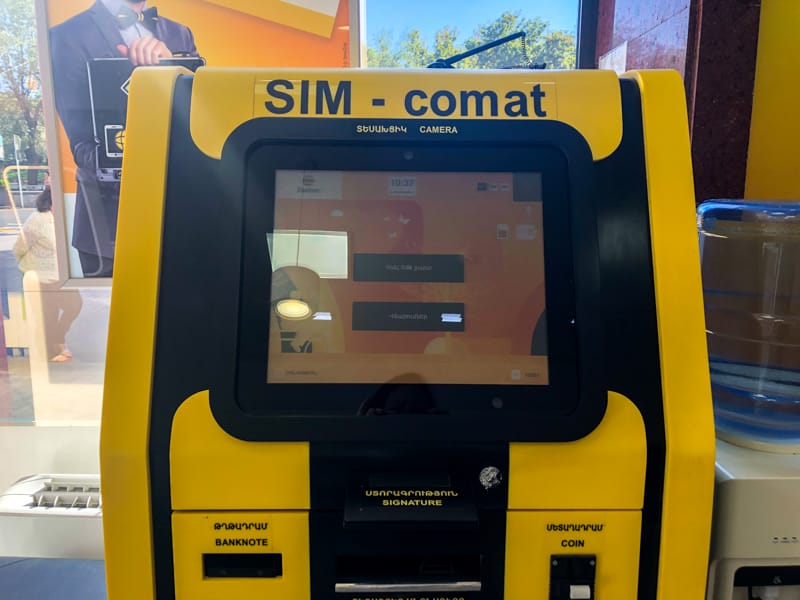 MTS Vivacell Armenia
Where to Buy an MTS Vivacell SIM Card in Yerevan
There are many locations in Yerevan where you can purchase an MTS Vivacell SIM card. I recommend the location on Northern Avenue or the one near Republic Square on Amiryan. I have used both locations and they had great customer service and English speakers.
Once you go inside, there will be a small machine where you can grab a number and get in line. There are English options (along with Russian and Armenian). You will need to press that you want a new tariff or plan and they will place you in line to be helped.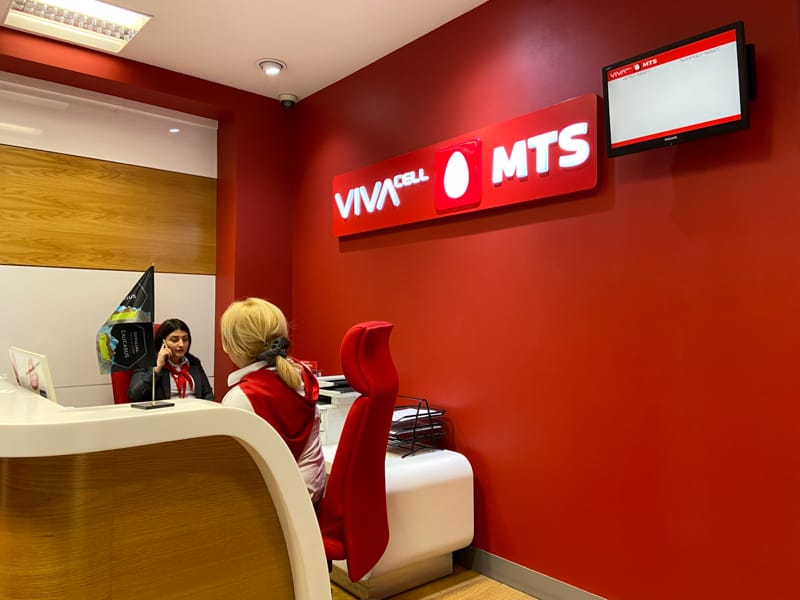 After you're assigned to someone, be sure to ask if they are comfortable speaking with you in English for the transaction. They will likely be fine or pass you along to someone who is more equipped to handle. I had absolutely superb customer service at Northern's Vivacell last time I was in Yerevan, actually.
MTS Vivacell SIM Card at Yerevan Airport
In addition to Beeline at the airport, you can also find a store that sells MTS Vivacell SIM cards there. The shop is right as you exit the baggage claim through arrivals to the right. It is open all night long as flights are arriving.
MTS Vivacell Armenia Prepaid Tariff Options
Vivacell offers several prepaid tariffs in Armenia. Here are a couple of options that will give you a fair amount of data depending on what you're looking for:
VIVA 2500: 4 GB, 2500 talk minutes, including 50 minutes to US, Canada, and Russia
VIVA 3500: 6 GB, 3500 talk minutes, including 100 minutes to US, Canada, and Russia
VIVA 5500: 10 GB, 5500 talk minutes, including 200 minutes to US, Canada, and Russia
VIVA 7500: 20 GB, 7500 talk minutes, including 350 minutes to US, Canada, and Russia
VIVA 9500: 38 GB, 9500 talk minutes, including 450 minutes to US, Canada, and Russia
There are several more options beyond that but I think most travelers will find these options to be plenty. The prices are the number after 'VIVA'. So, for VIVA 2500, the price is 2500 AMD (about $5).
To see the tariffs listed on MTS Vivacells's website, click here.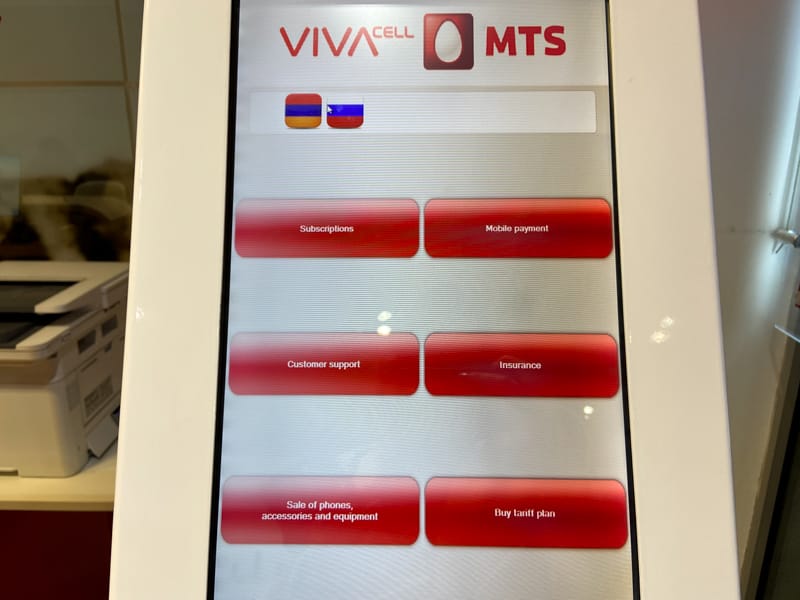 Free SIM Card with the Yerevan Pass
Investing in the Yerevan Card City Pass is seriously one of the best options for those that love discounts and freebies and we recommend it to everyone traveling to Yerevan.
Not only does the Yerevan Card give you a free taxi ride with GG Taxi from the Yerevan airport to the city center, but it also gives you a free SIM card that will have a daily allowance of 200mb for each day that you have an active Armenian SIM card.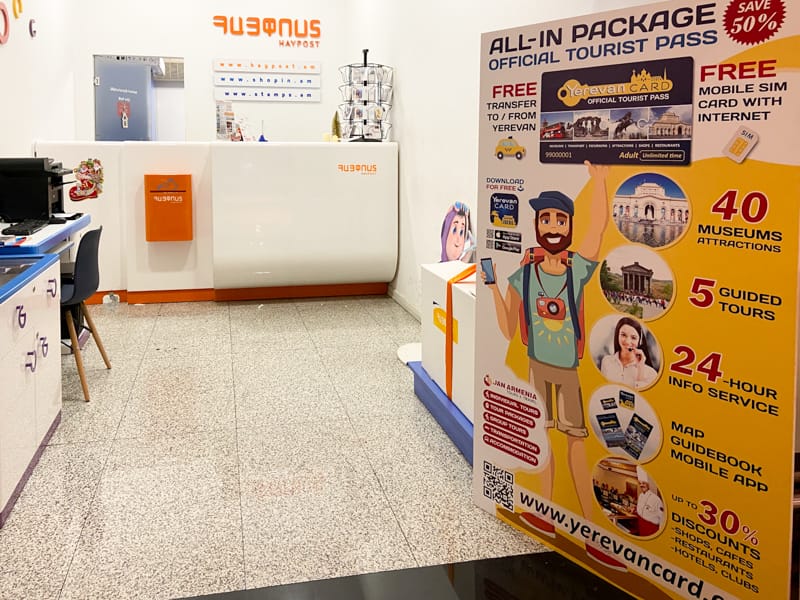 While 200mb is not much, it will definitely give you the option to use taxi apps and whatever else you need to do quickly on your phone. Armenia has ubiquitous wifi everywhere, so you can only use this SIM card for urgent affairs.
You can order a Yerevan Pass here and you are able to pick it up at one of these three pick-up points: Yerevan Card office at 2 Abovyan Street, Haypost at Republic Square at 28 Nalbandyan Street, or Haypost at the Zvartnots Airport.
Wifi in Armenia
Before deciding on which Armenia SIM card is right for you, do know that almost every single establishment in Yerevan has free wifi. Take note, Germany and pretty much every country in Western Europe and even the United States. You won't see bars with those stupid signs 'It's 2020- talk to each other'.
Refilling Your SIM Card in Yerevan
Another thing that is quite easy in Armenia is refilling your SIM card. You can do so at these street self-service kiosks you will see placed all throughout the city (and in other places in Armenia, too).
One thing to know is that prepaid mobile plans in Armenia last thirty days. So, if you leave and return after thirty days, your card will need a deposit of more money. The SIM card will still work with the same number, it just needs a payment!
These self-service kiosks take bills and coins of 100, 200, and 500 AMD. Nothing smaller than 100 AMD, however.
Step 1: Pick your language (English is an option in the top corner).
Step 2: Chose your SIM card operator.
Step 3: It will show the options… you will choose 'mobile internet'.
Step 4: You will need to insert your number into the appropriate box and press continue.
Step 5: Depending on your tariff, it will tell you how much you need to pay. If you have a prepaid tariff, just insert the amount you owe for the prepaid plan if it is finished (it finishes every thirty days regardless).
Step 6: Insert your money (try to insert exact change) and press pay.
Step 7: Keep the receipt that it gives you and it will send you a text with a confirmation.
If there are any issues with this, go to the place you initially got the SIM card.
Will Your Armenia SIM Card Work in Georgia?
I see this question thrown around a lot and the straightforward answer is:
NO.
Your Armenian SIM card will not work in Georgia. Click here to see how to buy a SIM card in Georgia.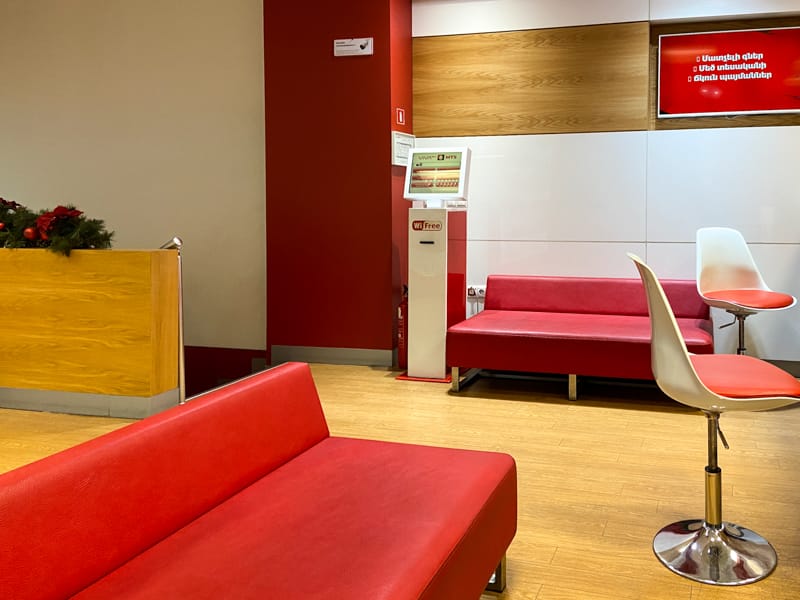 We hope that this Armenian SIM card post will help you find the process easy and manageable when you're in Yerevan. If you have questions about how to get a SIM card in Yerevan or anywhere else in Armenia, please drop us a comment or send us a message. We are happy to help!