This post may contain affiliate links which means if you purchase something through that link, we will make a small commission at no additional cost to you. Think of it as buying a cup of coffee for us on someone else. Thanks and enjoy!


The city of Etchmiadzin, Armenia is one of the best day trips from Yerevan and a place that should not be missed when you travel to the country. This is a guide of the best things to do in Etchmiadzin, or Vagharshapat as it is also called, from visiting the UNESCO World Heritage religious sites to eating at the oldest restaurant in the Caucasus.
17 Things to Do in Etchmiadzin, Armenia (Vagharshapat)
The relatively unknown city of Etchmiadzin has played a very important role in history and the Christian religion and it is situated close to Yerevan in Armenia in the Armavir province. Etchmiadzin is the theological capital of Armenia and is also the seat of The Catholicos of All Armenians. Outside of this very important history, it is a lovely, albeit small town with a rich history, tradition, and many things to do.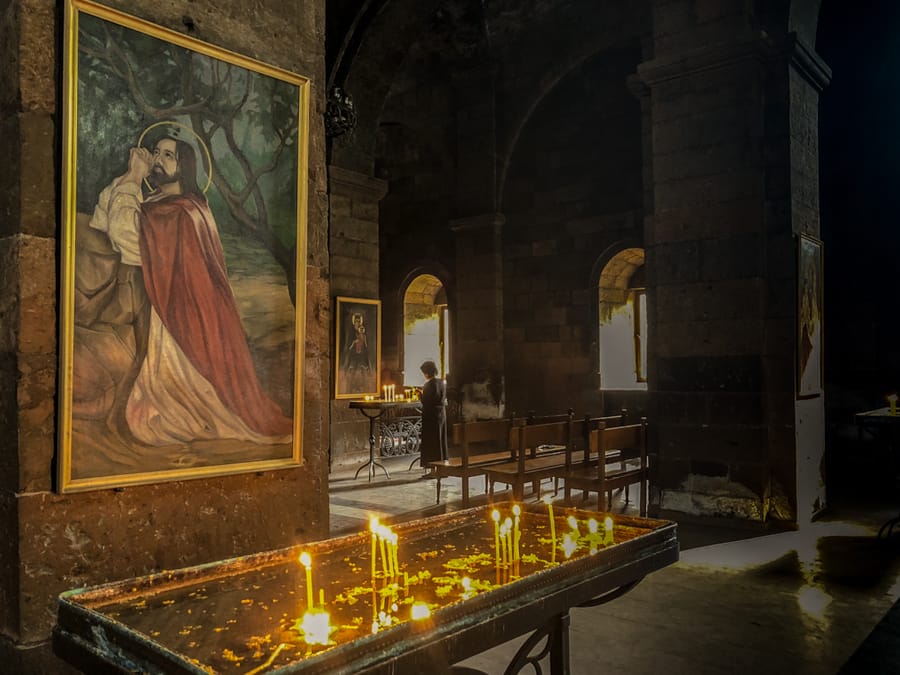 This is a guide to what to do in Etchmiadzin, Armenia – from ancient cultural sights to traditional food and much more! Please leave any additional suggestions you might have in the comments section.
About Etchmiadzin
There are many must-visit places in every country in the world and Etchmiadzin is a can't-miss place in Armenia if you're traveling there. The historically-rich city is located about 20 kilometers from the capital city of Yerevan and according to history, two students named Saint Thaddeus and Saint Bartholomew came to Armenia to spread Christianity and wound up in Etchmiadzin. Before Christianity came to Armenia in 301 AD, the country was Pagan.
Armenia accepted Christianity as a state religion and Saint Gregory the Illuminator, a figure that was once locked up for his religious views and sermons, became the first Armenian Catolicos. Because of these events, Armenia became the first Christian nation in the world and the Armenian church is called Apostolical.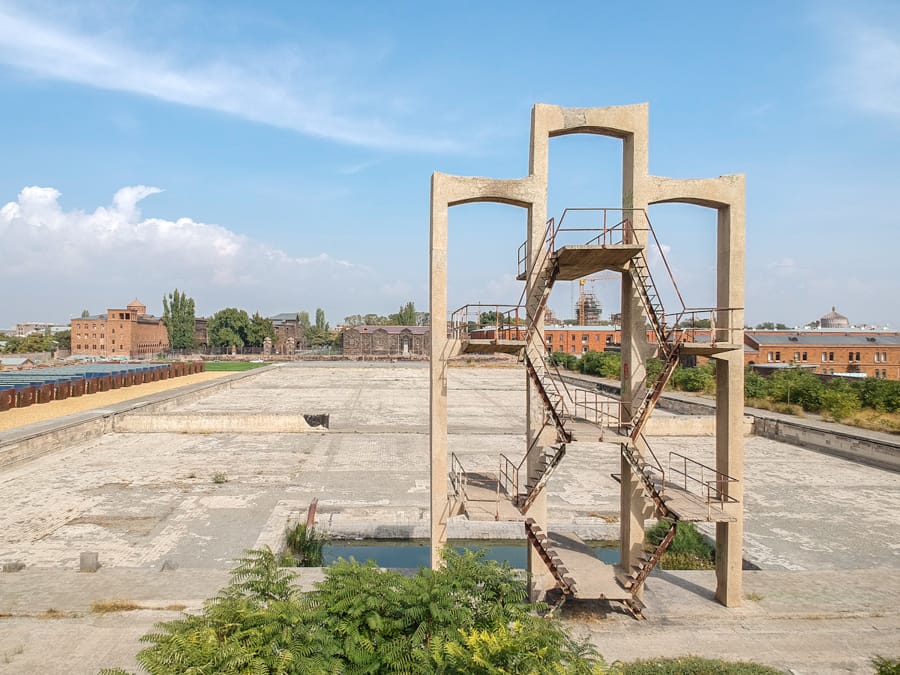 Nowadays, Etchmiadzin is a mixture of post-Soviet quarters, factories, and 5 ancient churches. The city is very small and it will only take you around five hours to walk around it and discover all it has to offer. This article will showcase what there is to do in Etchmiadzin.
Cultural Things to do in Vagharshapat
There are many things to do in Vagharshapat and this next section details a couple of them. The city is a great change-up from Yerevan and the cultural differences are noticeable despite the two cities being so closely located to one another.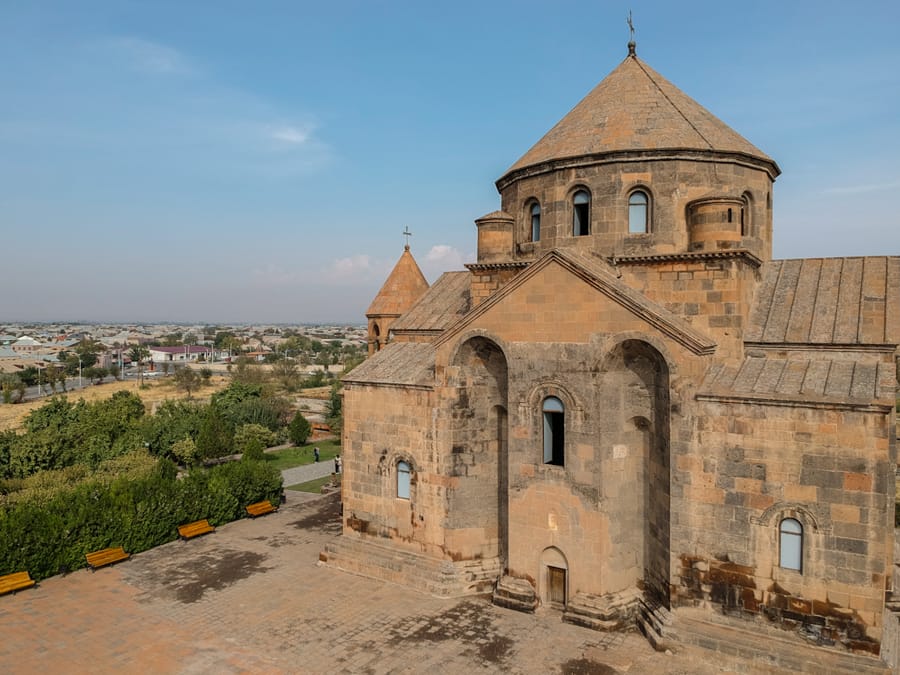 Gather Information at the Historical and Ethnographic Museum of Etchmiadzin
Next to the Central Square in Etchmiadzin and by where public transportation and taxis usually stop to drop the city's visitors off, is the Etchmiadzin Municipality building. On the first floor of the building is the Historical and Ethnographic Museum of Etchmiadzin, a spot that will help familiarize you with the city and the region's history. In this museum, you are able to see over 15,000 different historical artifacts from the Stone Age to the second half of the 20th-century.
The Historical and Ethnographic Museum of Etchmiadzin is located in the heart of Etchmiadzin on Mashtots. It is open from 1000-1700 except on Mondays when it is closed. The entrance is free.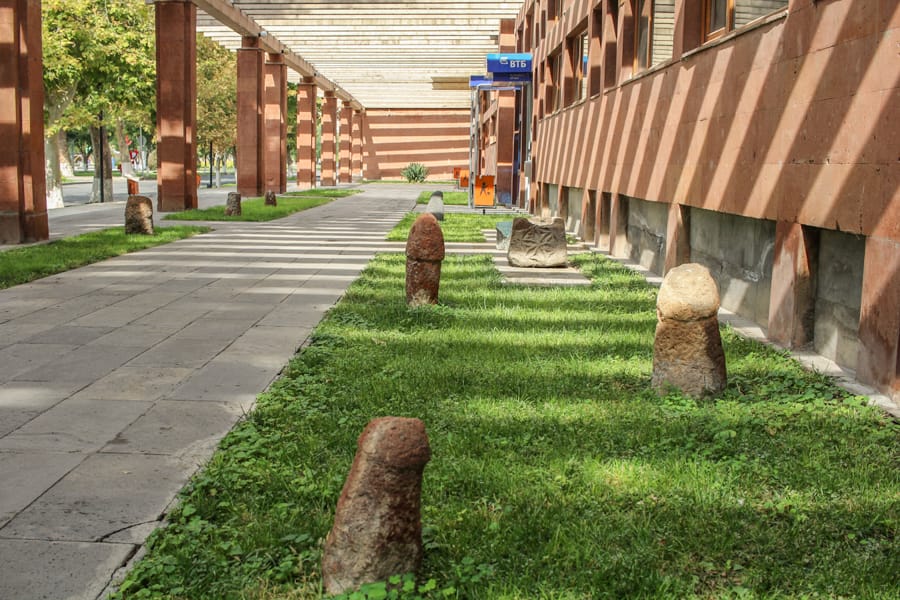 Visit the Treasury Museum in Etchmiadzin
This museum is unique and is the pride of all Armenians and Christians around the world. Established in the 1980s and located in Etchmiadzin's Holy See facility, the Treasury Museum is where many amazing and valuable artifacts are kept from the various Armenian kingdom eras, including spears of Roman soldiers which was allegedly used to stab Jesus Christ. There are also remnants of Noah's Ark in this museum.
You can find the Treasury Museum in Etchmiadzin at the Holy See facility in the heart of the city. It is open daily except on Mondays and the hours are 1030-1930 (Sundays 1400-1630). The entrance fee is 1500 AMD.
Discover the Archaeological Ruins of Zvartnots Cathedral
This UNESCO World Heritage Site is located in the middle of vineyards and trees dazzled with apricots and cherries while Ararat peeks in from the background. Before the earthquake in the 10th-century AD destroyed Zvartnots Cathedral, it was the biggest and oldest tetraconch church of Armenia throughout its history.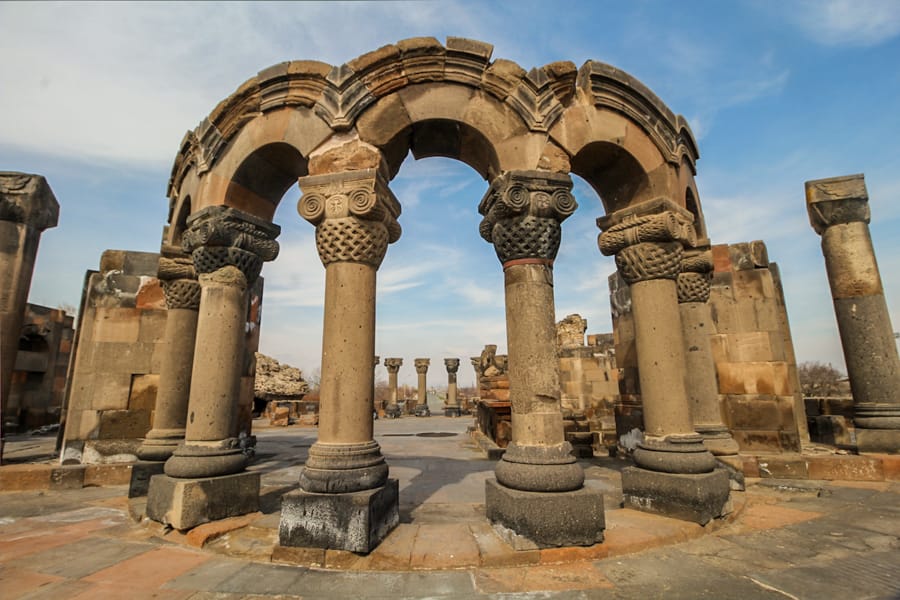 Built in the 7th-century AD, Zvartnots Cathedral was a rare architectural monument because of its unique design and that is why it eventually was renovated in the 1940s. Today, it serves as a popular place for tourism in Armenia and around Etchmiadzin.
While Zvartnots is not directly in Etchmiadzin, it is just a 20 minutes drive down the road that connects the city with Yerevan. It is closed on Mondays and is open from 1000-1700 the other days of the week. The entrance fee is 700 AMD and there is an additional 100 AMD fee for parking. The ticket price for foreigners is 1300 AMD.
Visit the Hidden House Museum of Poet Hovhannes Hovhannisyan
This traditional Armenian-designed house is not the easiest place to find despite being located right in the center of the city. Hovhannes Hovhannisyan was a famous poet and translator of classical Armenian literacy from Etchmiadzin during the 19th and 20th centuries.
To locate the house museum and to see how poets were living back in the day, you will need to find the little entrance on a Soviet building right in the city center on the opposite side of Beeline and the post office building.
The address is 2 Movses Khorenatsi Street in Komitas Square. The Hovhannes Hovhannisyan Museum is closed on Mondays but is open all other days from 1000-1700. It has free entrance.
What to Do in Etchmiadzin for Art and Museum Lovers
For a small city, Etchmiadzin has quite a special art and creative community within it. While it may be better known for its rich history from the religious side of things and its Christian churches, there are some art museums, galleries, and other places that art lovers will be happy to find in Etchmiadzin.
Check Out Machanents Tourism & Art
Machanents Tourism & Art Center is a hidden, albeit large complex that includes a restaurant with national cuisine, a theatre, guesthouse, and, of course, art exhibitions. The cozy and authentic architecture of the facility will amaze and entertain its guests.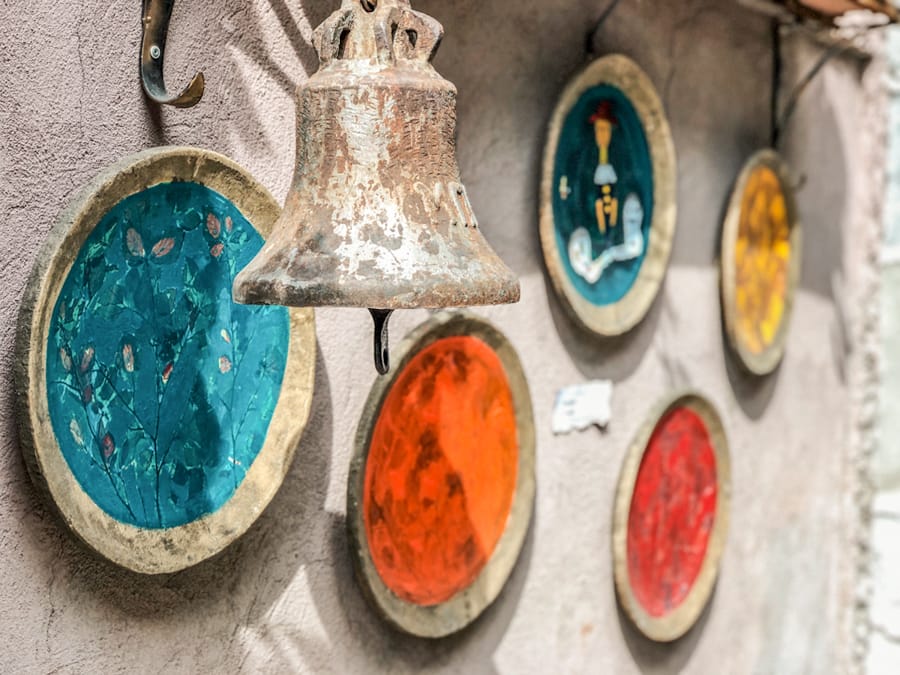 You can find Machanents Tourism & Art Center at 36 Shahumyan Street in Etchmiadzin. It is open every day of the week from 1000-1800 and entrance is free. To see more, check out their FaceBook.
Go to the Khoren Ter-Harutyunyan Museum
Located very close to Etchmiadzin Cathedral is this small and charming museum that showcases elaborate statues, sculptures, and paintings. Even the exterior of the gallery has several gorgeous sculptures on display. If you're into art and seeing the more creative side of Etchmiadzin, go to the Khoren Ter-Harutyunyan Museum.
You can find the museum at 2 Araratyan in Etchmiadzin. It is closed on Mondays and is open from 1030-1800 on the other days of the week. The entrance fee is 300 AMD.
Check Out the Mher Abeghyan Museum
Located in the Central Komitas Square, the Mher Abeghyan Museum opened in the early 1990s and it showcases the paintings of Mher Abeghyan who was born in Vagharshapat and dedicated his life to teaching art in Yerevan and his hometown. His creations offer a wide range of talent- from sketches with charcoal to sculpting and actual paintings.
You can find Mher Abeghyan Museum at Komitas Square at 2 Movses Khorenatsi Street in Etchmiadzin. It is closed on Mondays but is open the other days from 1100-1730. The entrance is free.
What to Do in Etchmiadzin for Nature Lovers
Because it is part of the Ararat Valley, Etchmiadzin is not exactly teeming with lush forests and mountains. Since it is flat, the Armavir province is rich with fruits and vegetables which is exactly why the Ararat Valley is famous for growing a large percentage of Armenia's exported produce.
While nature may not be Etchmiadzin's lure, there are still several small parks dotting the city and the centralized, old Soviet park right next to Komitas Square is a relaxing place where trees and park benches line Nar-Dos Street.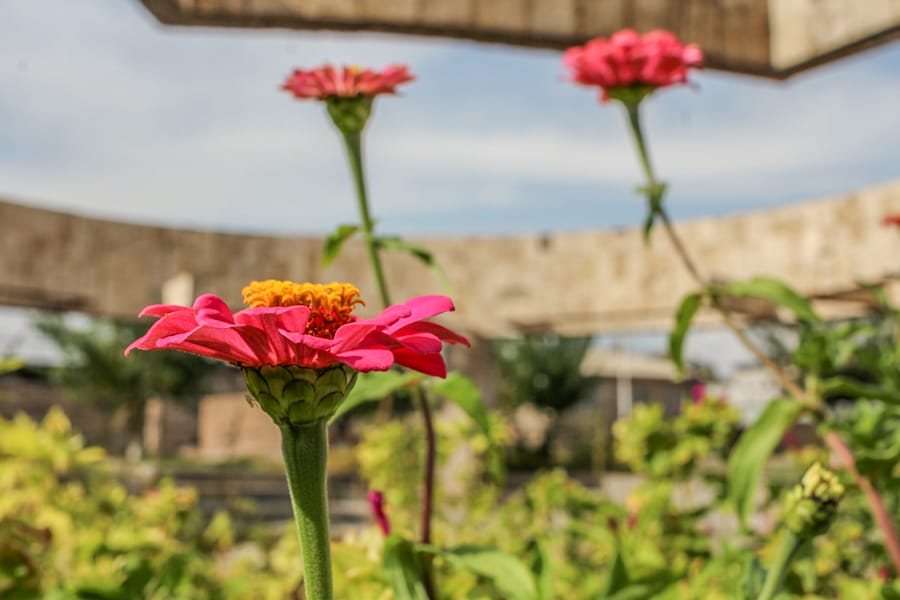 Historical Things to Do in Etchmiadzin
The approximate age of Etchmiadzin is more than 2000 years old and during that long life span, the city became one of the main and important historical places for all Armenians and Christians around the world.
Nowadays, there are several UNESCO World Heritage Sites in the small city and almost all of them survived enemy invasions and earthquakes that happened throughout its many centuries.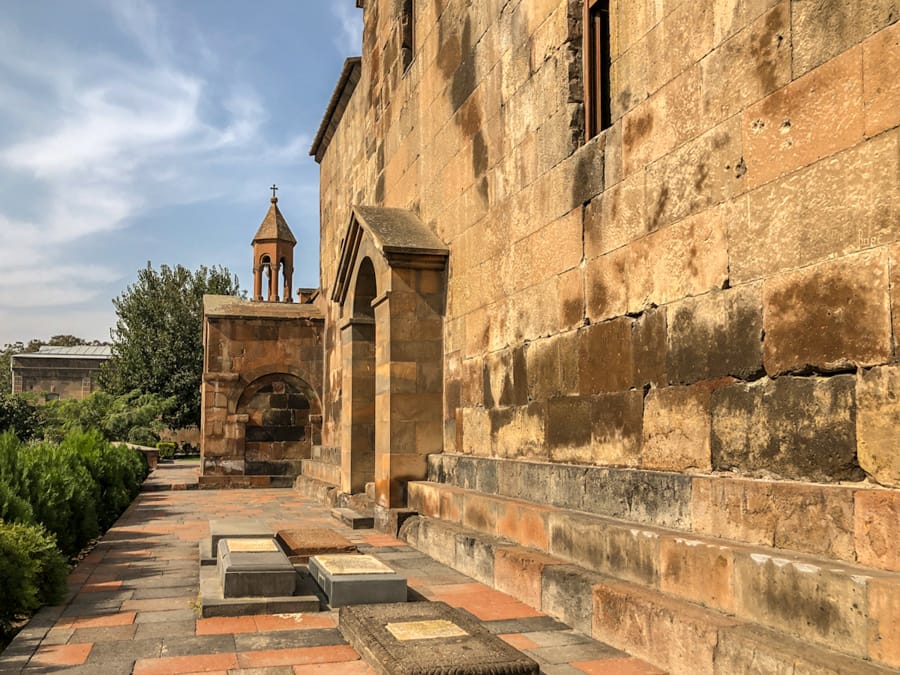 Marvel at the Etchmiadzin Cathedral
The Etchmiadzin Cathedral is one of the oldest Christian churches that is located in Etchmiadzin. In 301 AD, Saint Gregory the Illuminator Cathedral was founded and this cathedral is still being marveled at by tourists and people every year. The Etchmiadzin Cathedral is surrounded by historical buildings, gardens, and traditional Armenian cross-stones called khachkar. The entire complex is full of harmony and calmness.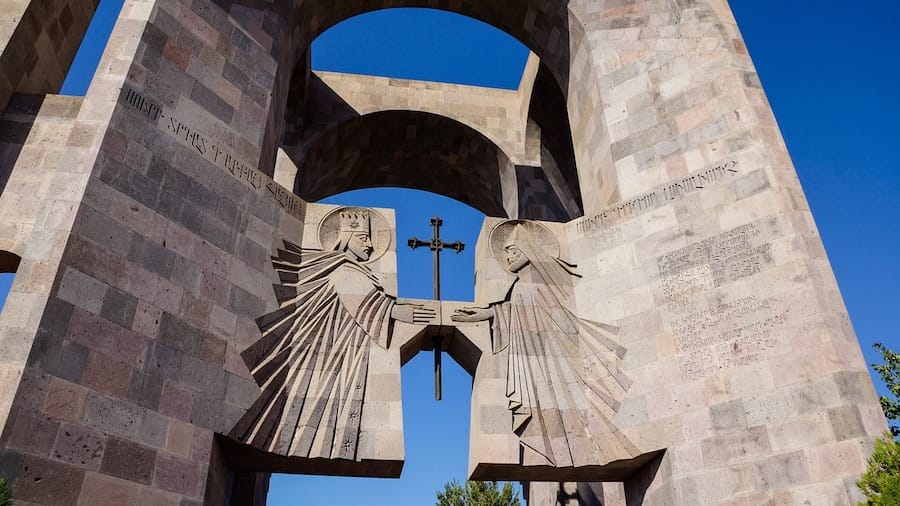 Visit Saint Gayane Church
This charming and small church is surrounded by apricot trees and is quite possibly the calmest and coziest place in Etchmiadzin. The church was built in 630 AD and it is currently used a lot for weddings and traditional services.
It is part of the UNESCO World Heritage churches in Etchmiadzin.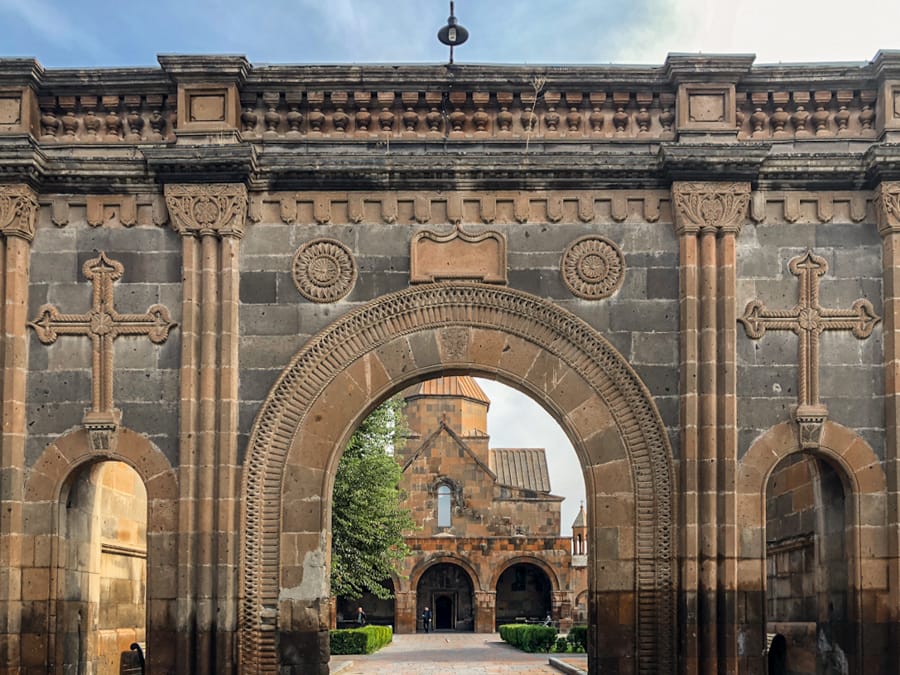 Go to the Saint Hripsime Cathedral
The architecture of the Saint Hripsime Cathedral is unique and still amazes visitors with its gorgeous design and structure as it boasts high ceilings and a large capacity. The 7th-century Cathedral is located right in the entrance of the city and gives tourists a great impression as they enter Etchmiadzin.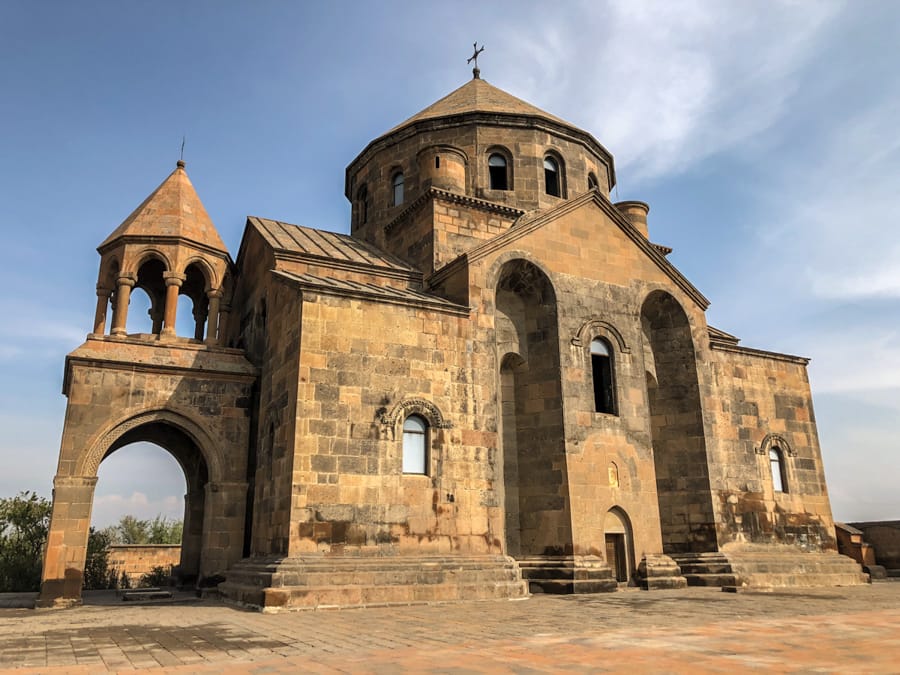 Head to Shoghakat Church
Built in the 7th-century, the Shoghakat Church did not survive and had to be rebuilt in the 17th century by Prince Aghamal Sorotetsi. The name 'Shoghakat' translated from Armenian means 'drop of light' and this was the given name because of the light that shines from the heavens onto one of the virgin martyrs.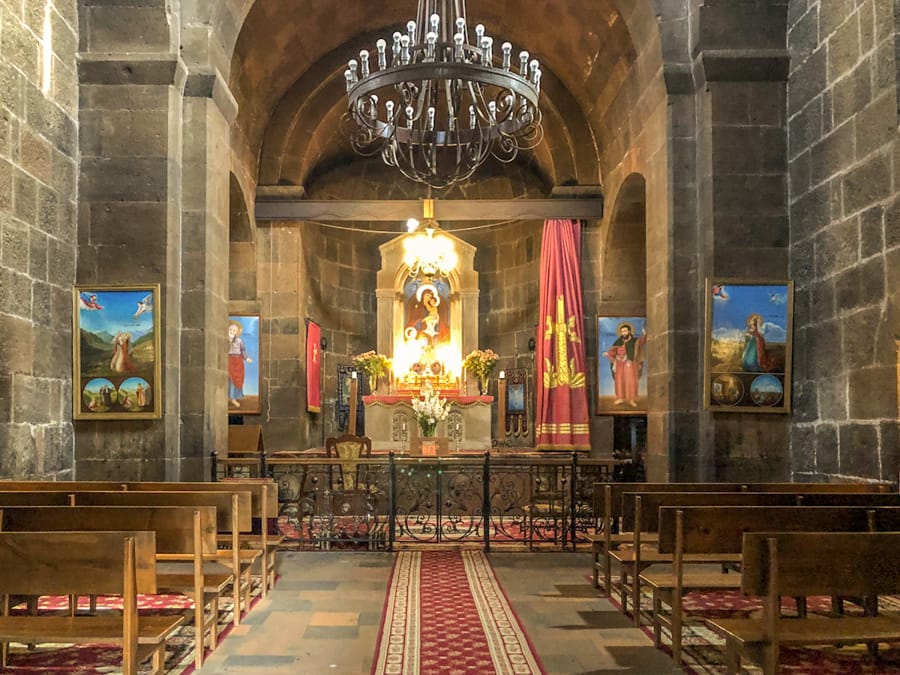 Go to Saint Mariam Astvatsatsin Church
While the other churches on this guide are UNESCO World Heritage Sites, this one is not. This 18th-century church does not have the same design and architecture that the other churches in Etchmiadzin have. The basilica has a long, ornate roof and the bell tower is located at the entrance.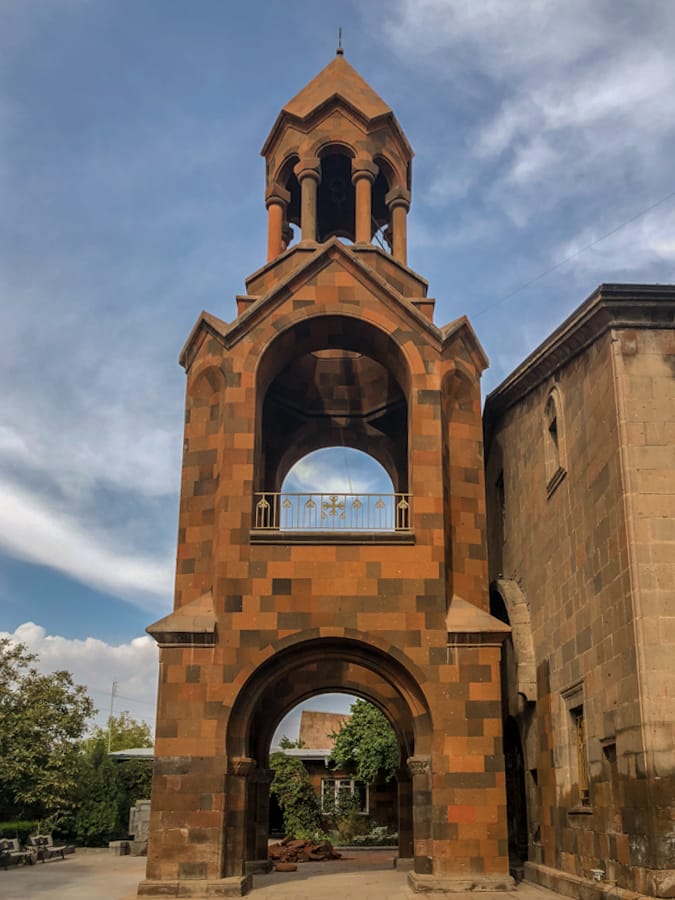 Delicious Things to Do in Etchmiadzin
There are not an overabundance of restaurants in Etchmiadzin currently but more and more cafes and restaurants are opening their doors. This is a quick guide of where to eat or grab a coffee/tea in Etchmiadzin. It will be updated as more places open.
Have Dinner at the Oldest Restaurant in the Caucasus
Agape Refectory is the oldest restaurant in the Caucasus and has been welcoming guests since the 17th-century. Situated inside of The Mother See of Holy Etchmiadzin facility, the restaurant has a spacious interior that can accommodate a lot of guests as well as a terrace that overlooks a beautiful rose garden.
This is the place in Etchmiadzin to go back in time and eat some of the tastiest Armenian food. You can find Agape Restaurant on Araratyan Street at The Mother See of Holy Etchmiadzin.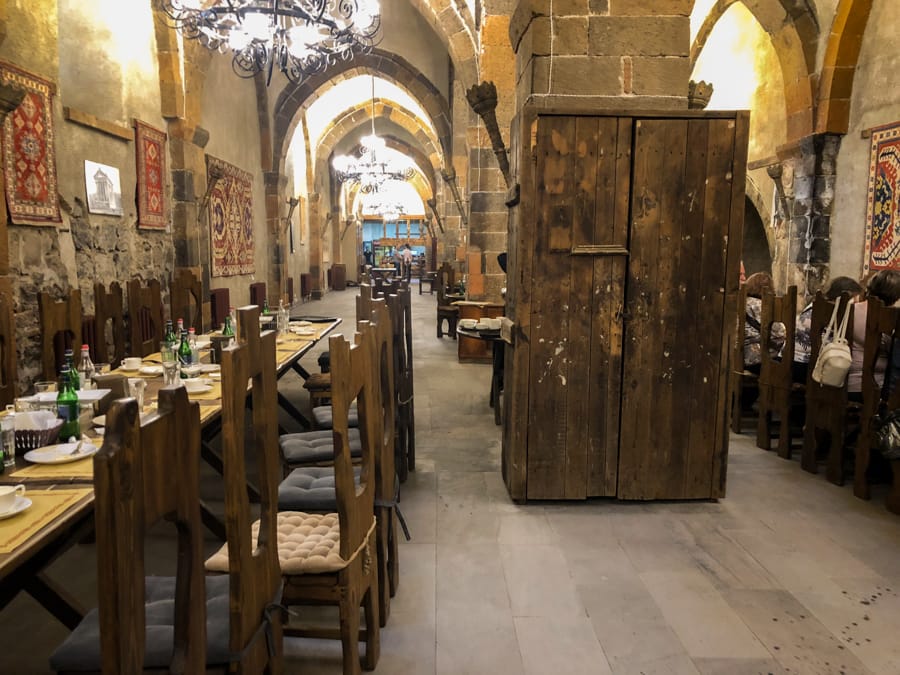 Taste Etchmiadzin Kufta at Machanants Restaurant
One of the most traditional things you can eat in Etchmiadzin is kufta. Kufta is minced meat that is flavored with onions and compressed and boiled. It is extremely tasty despite how uninspiring the preparation process may sound. If you go to Etchmiadzin, this is an essential thing to try to eat there.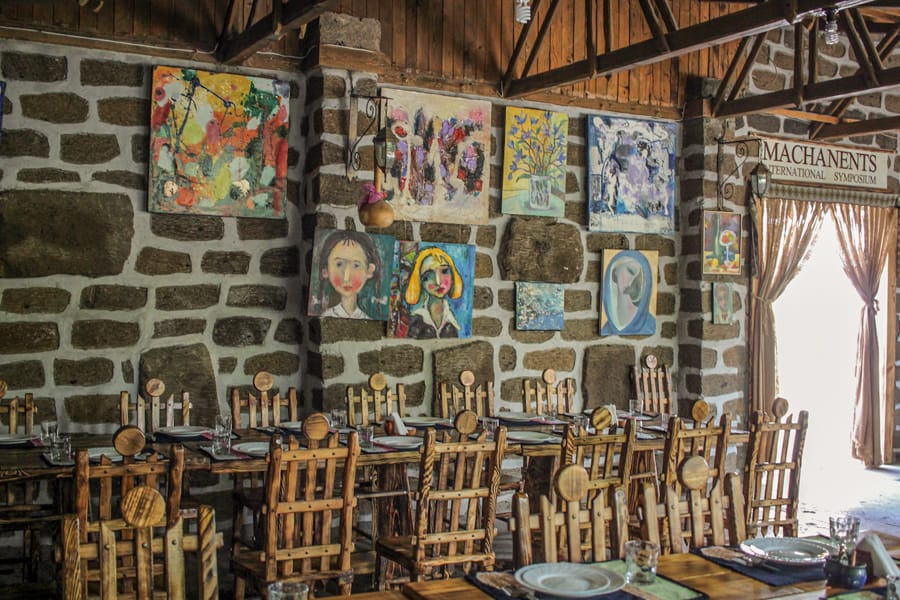 You can find it at several establishments but we recommend enjoying it at Machanants Restaurant in Etchmiadzin. It is a great dish to enjoy on their outdoor terrace when the weather is warm.
Machanants Restaurant can be located at 36 Shahumyan Street in Etchmiadzin.
Enjoy Armenian Coffee in the City Center
Despite Etchmiadzin's importance to Armenia as a whole, the size of the city center is small and cozy. You can find several cafes on Mashtots Street in the heart of the city near Komitas Square. Take the time to grab a delicious Armenian coffee or tea at Chaychir Little Street Boutique.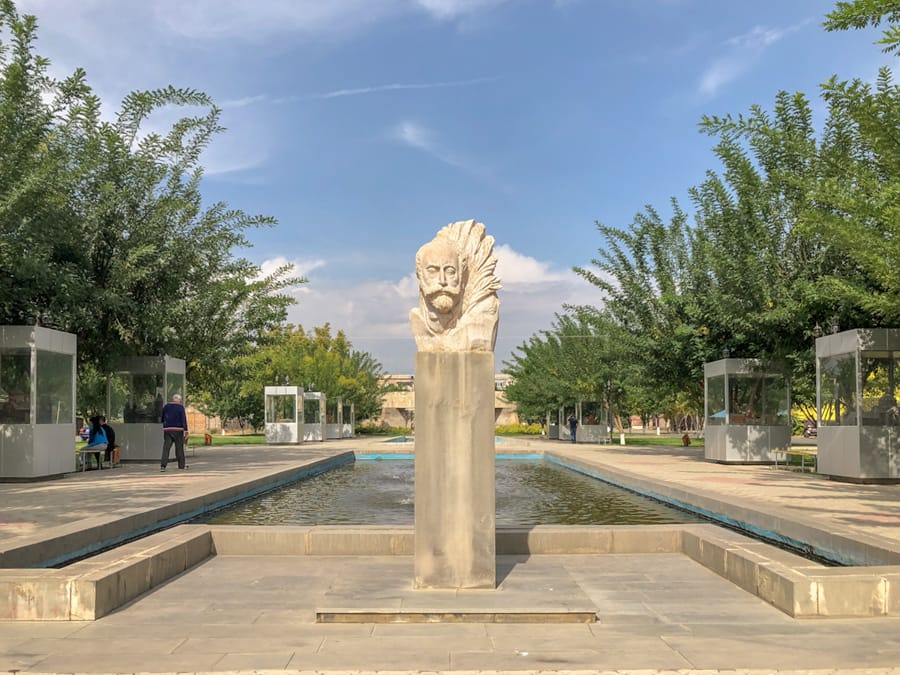 Things to Do Near Etchmiadzin
There are several day trips to consider when traveling to Etchmiadzin if you're looking to spend a longer duration there than just a simple day trip from Yerevan. These are some of our recommendations of things to see in close proximity to Etchmiadzin, excluding Yerevan itself.
Take a Day Trip to Voskevaz Winery
Voskevaz Winery is an amazing and extraordinary winery not just because of its delicious and high-end wine but also because of the building's unique construction. Located about thirty minutes away from Etchmiadzin in the Aragatsotn Province of Armenia, the factory and winery will entertain and delight customers who wish to imbibe in Armenia's most beloved drink.
There are also tours available for those interested in learning more. Do try to book the tours a day ahead, if possible. The winery is open every day except Sundays and from 0900-1800 each day. Click here to learn more about Voskevaz Winery.
Visit the Metsamor Historical and Archaeological Museum
The Metsamor Historical and Archaeological Museum is another joint open-air and indoor museum that the Armavir region can be proud of. This museum is located about sixteen minutes away from Etchmiadzin and it might surprise visitors to see statues of phalluses displayed in the commons area.
You can find the Metsamor Historical and Archaeological Museum in Taronik in the Armavir province near Etchmiadzin. It is open every day except on Mondays and the opening hours are 1030-1700 (Sundays are 1030 until 1500).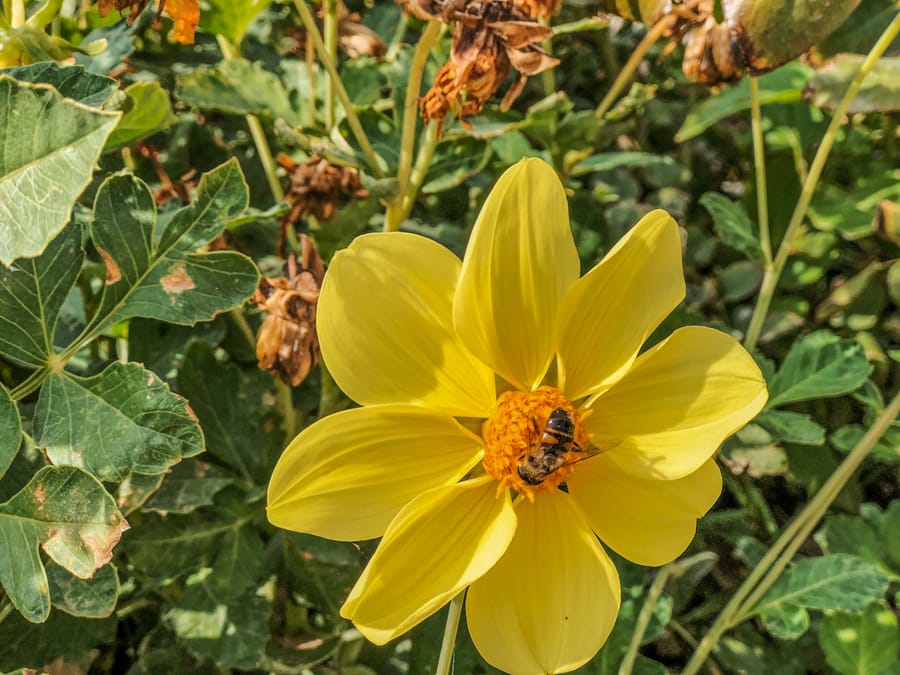 Where to Stay in Etchmiadzin
There are not an abundance of options of where to stay in Etchmiadzin at the moment but new places are planning to open their doors soon and that will give tourists more options so they can hang out in Etchmiadzin rather than just making it a day trip from Yerevan. Here are some of our current recommendations:
Machanants Art Hotel: This property is colorful and is located at Machanants Art Center which was recommended above for its unique characteristics in Etchmiadzin. They offer different types of rooms from hostel and guesthouse accommodation to more upscale. They also offer accommodation options. Click here to see rates and availability.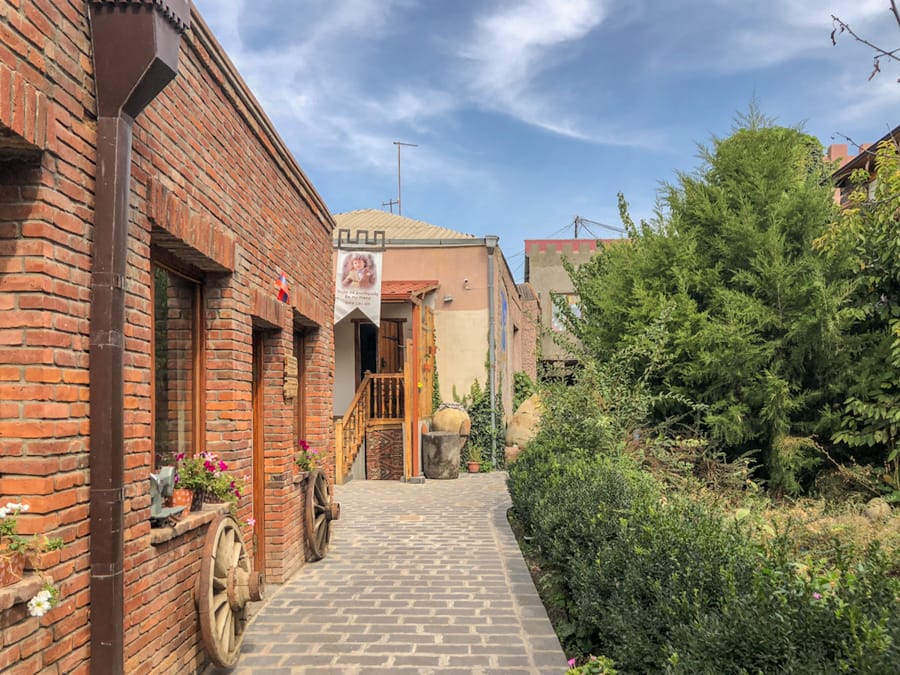 The Heaven: This property is located in a very green area and boasts a lot of amenities for those looking for a quiet, yet more personal experience in Etchmiadzin. This is definitely one of the best places to stay at in the area and it is a true place to experience Armenian hospitality. Click here to see rates and availability.
There are many things to do in Etchmiadzin and this amazing city can easily attract all kinds of visitors- from the religious and spiritual tourists to the one interested in learning more about Armenia's history and its delicious culinary scene. If you have any recommendations for what to do in Etchmiadzin, please drop some tips in the comments. Thanks!