One of the most popular places to visit close to Yerevan is the wondrous and picturesque Zvartnots Cathedral. This is a guide that shows how to visit Zvartnots Cathedral and practical information for your trip.
If you're simply seeking a tour to Zvartnots, here are our recommended options:
The ruins of Zvartnots Cathedral are situated very close to Yerevan and the airport.  In fact, if you go down the Yerevan – Etchmiadzin Highway, you will likely see it from the road if you look.
Zvarnots has gained fame amongst history lovers and photographers for its unique story and Mount Ararat backdrop.  Photographing the sight from many angles slowly lets one in on its story and it feels like you're warped into another era.
The ruins and Zvartnots is so special because it was made with a rare construction technique that was not common during the 7th-century and the methods used were considered extremely advanced.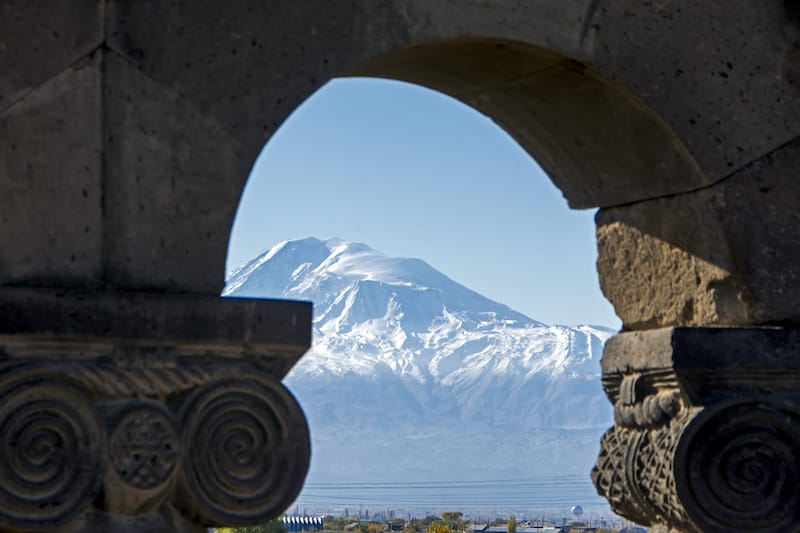 This Zvartnots Cathedral travel guide will show you the easiest ways to visit (including Zvartnots Cathedral tours) and what to expect as you make a trip there.
Best Time to Visit Zvartnots Cathedral
Based on our experience and many trips to Zvartnots, we highly recommend travelers visit regardless of the season!  It is pretty spectacular all the time.  However, in summer, the sky can be hazy and Ararat may not be very visible.
Try to aim for a morning visit before tourists arrive and when you have the highest chance to see it in front of Ararat.
History of Zvartnots Cathedral
Zvartnots Cathedral was constructed in the 7th-century by Catholicos Nerses the Builder. Although it is in ruins today, you can still see some of the beautiful architecture and the footprint of this tetraconch church.
Located between Yerevan and the Holy City of Etchmiadzin, it is said that Nerses III built this cathedral on the site where it was believed that St. Gregory the Illuminator converted King Tiridates III to Christianity.
One feature that this cathedral has that is not common to many Armenian buildings is columns with Ionic capitals. These were common throughout the Roman and Byzantine Empires, but not widely seen in Armenia.
The capitals were decorated with eagles and interestingly had Nerses III's monogram on them in Greek, not Armenian. Zvartnots has heavy Syrian influences in its architecture, as well as similarities to churches in Italy and Egypt.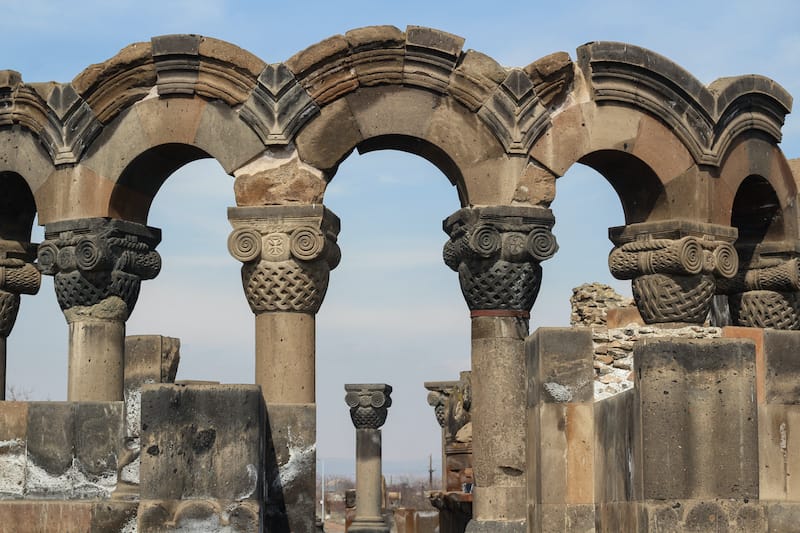 It was constructed of basalt, tuff, pumice, and obsidian. Its large dome reached 45m (148ft) high and archeologists have also found that Nerses III built a small palace for himself next to Zvartnots.
The cathedral is believed to have been destroyed in an earthquake in the 10th-century, after which it was forgotten for many centuries until it was finally excavated in the early 1900s.
Excavations revealed that the church was built on earlier remnants from the Urartian period when King Rusa II reigned, which was between 680-639 BC. During the excavations in the 1900s, some reconstruction work was done based on research by the architectural historian Toros Toramanian.
This site was added to the UNESCO World Heritage list in 2000.  It is a must-visit, just like Garni or Geghard Monastery if you're seeking quick day trips from Yerevan.
How to Get to Zvartnots Cathedral from Yerevan
Zvartnots Cathedral is located approximately 20 kilometers away from Yerevan before the entrance of Etchmiadzin between Zvartnots International Airport and Yerevan.
The distance is not large but there are several ways to get from Yerevan to Zvartnots Cathedral. These options are public transportation, taxi, rent a car, and to take an affordable tour which we discuss more below.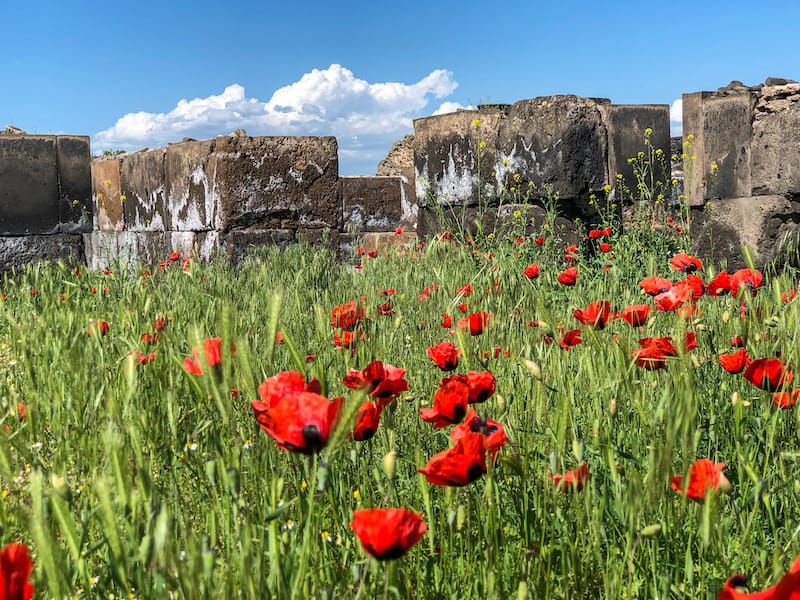 Minibus
To get to Zvartnots Cathedral by public transport, you can take minibus number 203 to Etchmiadzin and get off at Zvartnots Cathedral.
Minibus number 203 leaves from Kilikia Bus Station. To get to Kilikia Bus Station, you can take public transportation number 5, 23, 47, or 259 from France Square (by the Opera House).
Ticket price: 300 AMD
Taxi
A very fast but comparably pricy option that you can use is to take a taxi. This will take you from Yerevan to Zvartnots Cathedral within 15 minutes.
You can download the local GG taxi service app and order the taxi. The cost of the ride will be approximately 2300 AMD ($5) one way.  To get back, make sure you have a valid Armenian SIM card and you can order a return taxi with ease.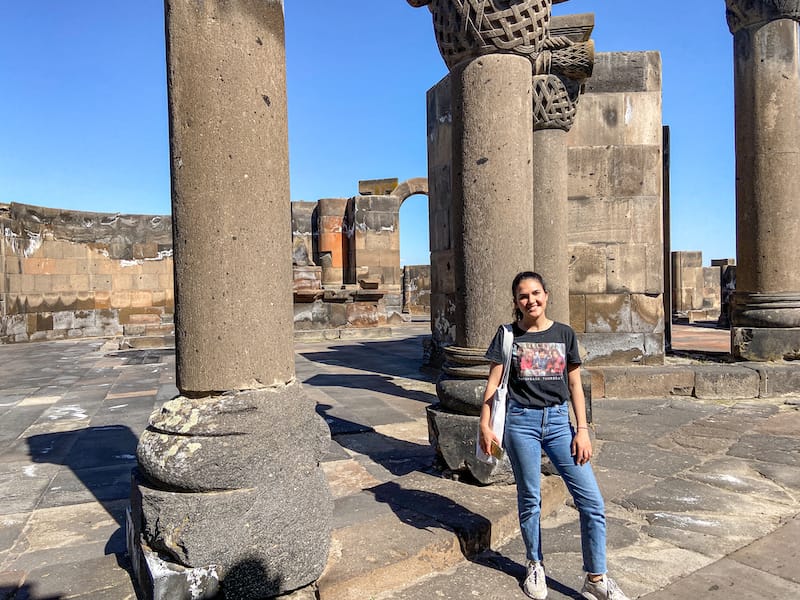 Rent a Car
Renting a car is a great option to experience an epic road trip and see the whole or major sights of Armenia.
Honestly, renting a car only to see one sight is not a reasonable option and that is why we recommend renting a car for 3-4 days and discovering as much as you can in Armenia, including Zvartnots Cathedral.
>> Click here to check Armenia rental car rates
Take a Tour to Zvartnots Cathedral
Probably the best and most comfortable option is to take a tour of Zvartnots Cathedral. It's the best option because you are getting many sights in one tour and you don't have to bother about the organization of the trip- it is seamless and easy!
We have a whole list of fantastic Armenia tours for you to consider, and a few of them visit Zvartnots Cathedral.
From Yerevan: Echmiadzin Mother Cathedral and Zvartnots Tour
Duration: 5 hours
Prices start from $18 
Group tour
⇒ Book it Here
This tour is a perfect option to see the Zvartnots Cathedral ruins and visit one of the world's first churches in the Holy City of Etchimadzin, which are also UNESCO World Heritage Sites.
The well-organized tour company's comfortable vehicles will pick you up at the mentioned meeting point in Yerevan and will drive you straight to the famous sights.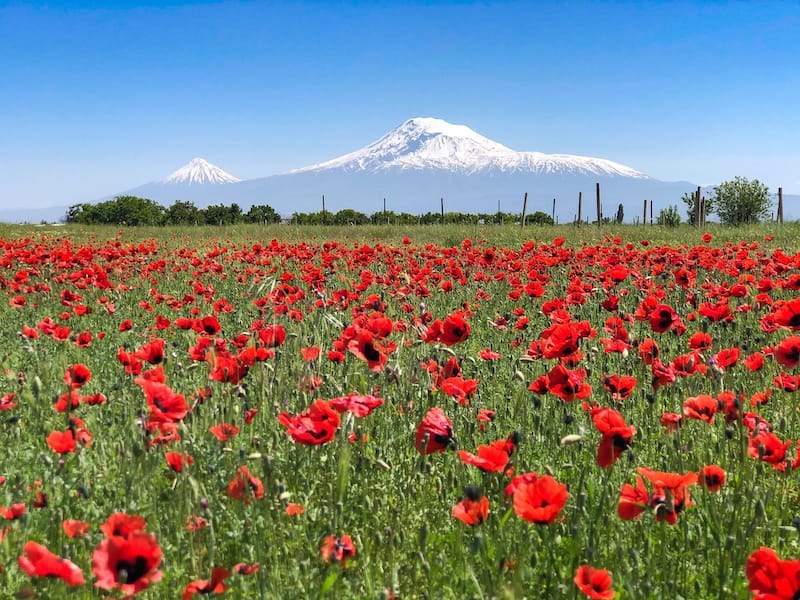 Your first sight will be the legendary Cathedral of Echmiadzin which is a symbol of the Armenian Apostolic Church where you can admire the beautiful and ancient architecture of the church and see a piece of Noah's Ark and Holy Lance.
After that, you will visit the architecturally perfect St. Hripsime's Church and finally on to the Zvartnots Cathedral ruins.
>> Click here to check tour rates and availability
From Yerevan: Khor Virap, Etchmiadzin, and Zvartnots Tour
Duration: 5 hours
Prices start from $66
Group tour
⇒ Book it Here
The following tour includes three amazing and popular sights in Armenia that you can marvel at yourself if you book it!
For a very affordable price, you are having an opportunity to see mind-blowing Khor Virap Monastery next to the legendary Ararat mountain view and enter the deep dungeon where the Gregory the Illuminator was captivated.
You will have the opportunity to admire the spectacular view that surrounds Khor Virap from the wall of the fortress. Your next stop will be ancient Zvartnots Cathedral where you can tour and photograph masterpiece rock stone remains of the church as well as visit the museum.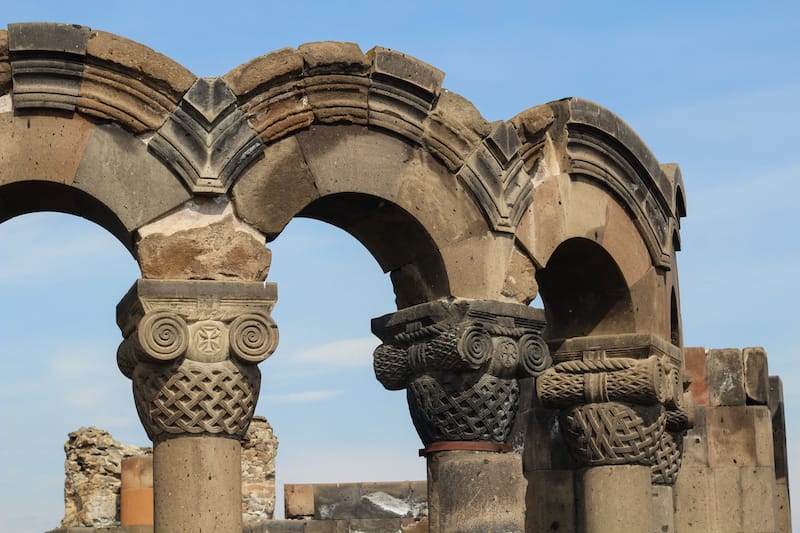 In the end, you will visit Etchmiadzin city to observe the first Christian churches like St. Hripsime, St. Gayane, and of course, The Cathedral of Echmiadzin.
>> Click here to check tour rates and availability
Zvartnots Cathedral Opening Hours
Zvartnots Cathedral, just like many sights and museums in Armenia, is open to visitors and travelers from Thursday to Sunday from 10.00 am to 17.00 pm.  It remains closed on Mondays.
Entrance Fee
The entrance fee at Zvartnots Cathedral is 700 AMD for locals and 1300 AMD for foreigners.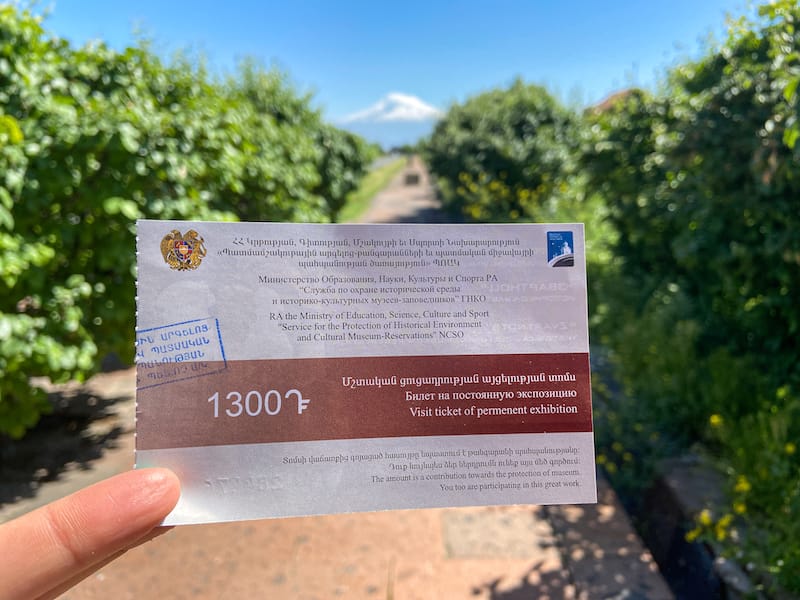 Parking
You can park your car right next to the main gates if you want to walk on an alley surrounded by trees and fields or you can drive inside and park closer to the Armenia landmark.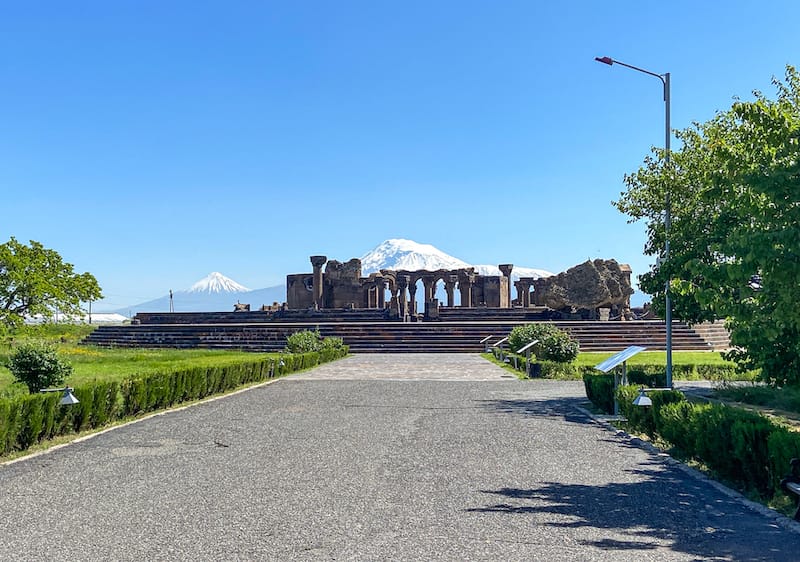 Please note that parking may be busy because of the rush hour but also because of its popularity.  There is a 100 AMD fee for parking at Zvartnots Cathedral.
Zvartnots Cathedral Travel Tips
From first sight, you will easily recognize that you are visiting a fascinating and ancient sight and you should definitely observe Zvartnots from every angle and discover the hidden secrets of an old complex.
The ruins look a bit different in every season so there truly is no bad time to visit Zvartnots Cathedral!
Photograph Zvartnots Cathedral with Ararat Mountain
If the view to Ararat Mountain from Khor Virap is visible and you want to photograph the mountain in with the Cathedral like the photo below- YOU WILL NEED A ZOOM LENS!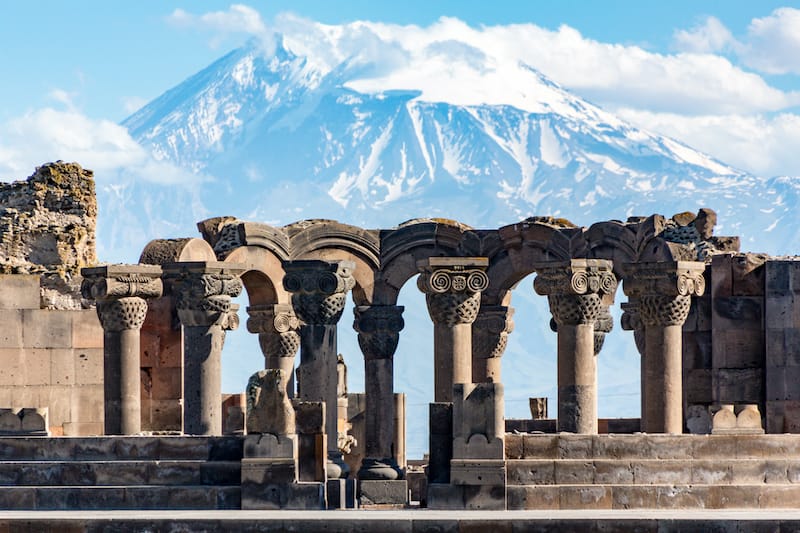 This photo was not taken close to the ruins, but from afar to capture Ararat in it.  We didn't realize this when venturing there on our last trip to photograph for this guide.
So, be sure to bring a zoom and score this photo from near the front gates.  It is the only place where you'll be able to see the ruins AND Ararat Mountain at the same time.  Here is the zoom lens we usually use but failed to bring that day!
Visit the Zvartnots Museum
You will find fascinating artifacts and historical remains inside the beautiful museum where the skilled and knowledgeable staff will help you learn the history of Zvartnots Cathedral.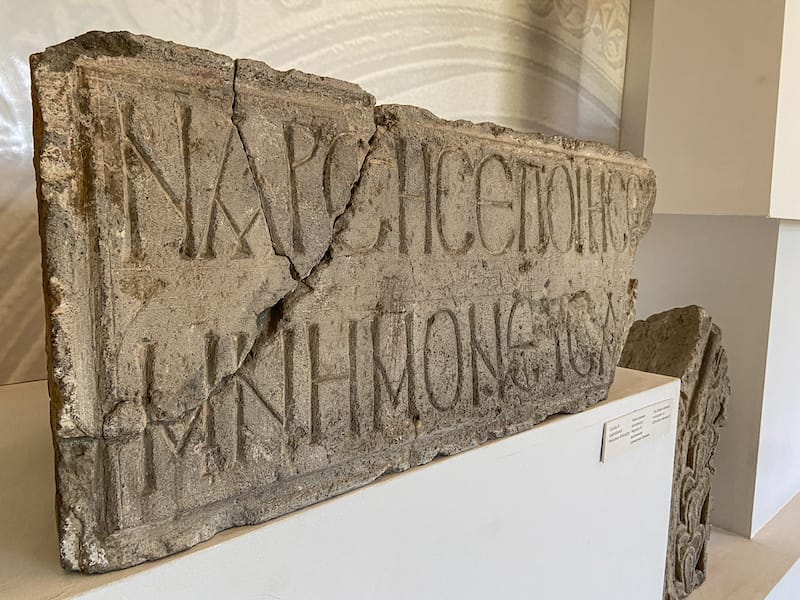 The museum has several rooms with artifacts that were discovered in the vicinity of the Cathedral but also you will see how the scale model of original Zvartnots Cathedral was and how it use to look like before the earthquake.
Visiting Zvartnots with Physical Limitations
To the museum and the ruins, one should be able to get by in a wheelchair.  There are also many benches nearby for resting.  If it is hot, do bring water!  There is little shelter and you will be under the scorching sun.  There is a small kiosk before entering the gates that you can purchase water from.
In addition to being handicap accessible, Zvartnots Cathedral has braille in the museum for those that have vision impairments or are blind.
Purchasing a Souvenir
If you want to bring a souvenir home, there is a nice, little shop right in front of the ruins where you can purchase a small trinket pertaining to Zvartnots Cathedral.
Where to Stay in Yerevan
Below are some of our top picks for places to stay in Yerevan, covering all budgets.
We hope that this travel guide to Zvartnots Cathedral helped you plan your trip and encourage you to add it to your Armenia itinerary.  If you have any questions, please reach out as we are happy to do our best to reply!
PIN IT FOR LATER!