One thing that always comes to mind when I am 'on the road to Tatev Monastery' is the village of Halidzor and the lodges and places that are nestled above the mountains overlooking the mind-blowing Armenian scenery.
I always recalled seeing the sign for Old Halidzor Hotel and Restaurant but never had a chance to visit until recently.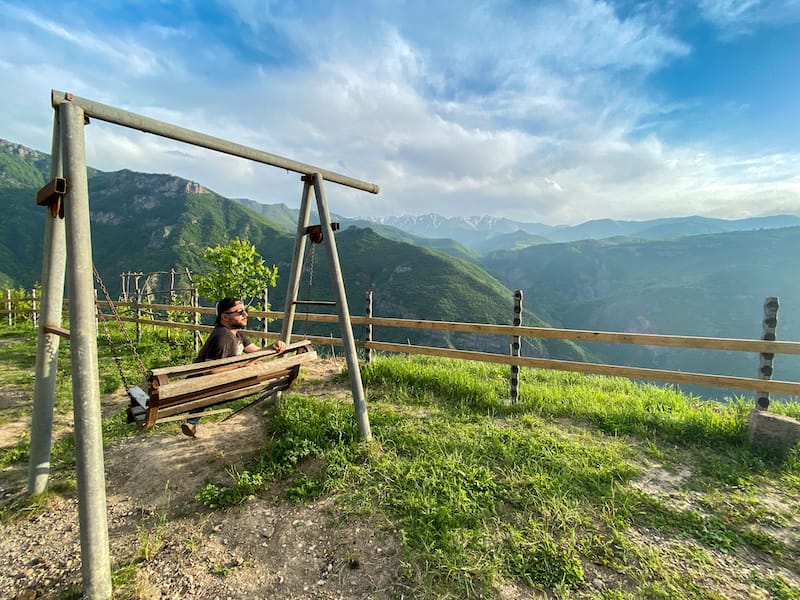 The family-owned restaurant specializes in Armenian cuisine and even has some Syunik-specific dishes. They also have 9 cabins for overnighters.
This is a short recap of our time and experience visiting the Old Halidzor Hotel and Restaurant in Syunik.
About Old Halidzor Hotel and Restaurant
Accommodation and Amenities
Opened in 2013, the restaurant didn't actually build accommodation cabins for guests until 2016.
Today, the nine cabins on-site can host up to 23 people at an extremely affordable price! There are two cabins that can hosts 4 people each, one 3-person cabin, and six 2-people cabins. All have wifi and a private bathroom. The prices range from 12,000-32,000 AMD per night ($30-$80 USD).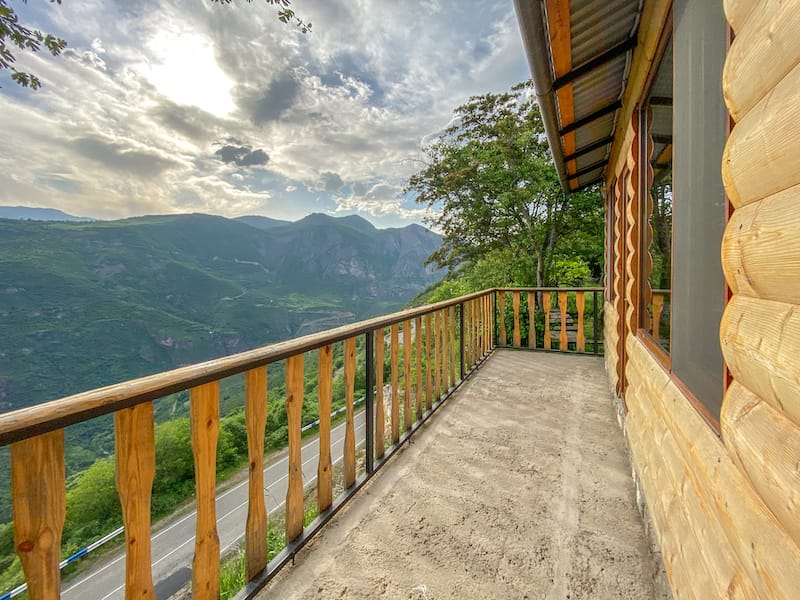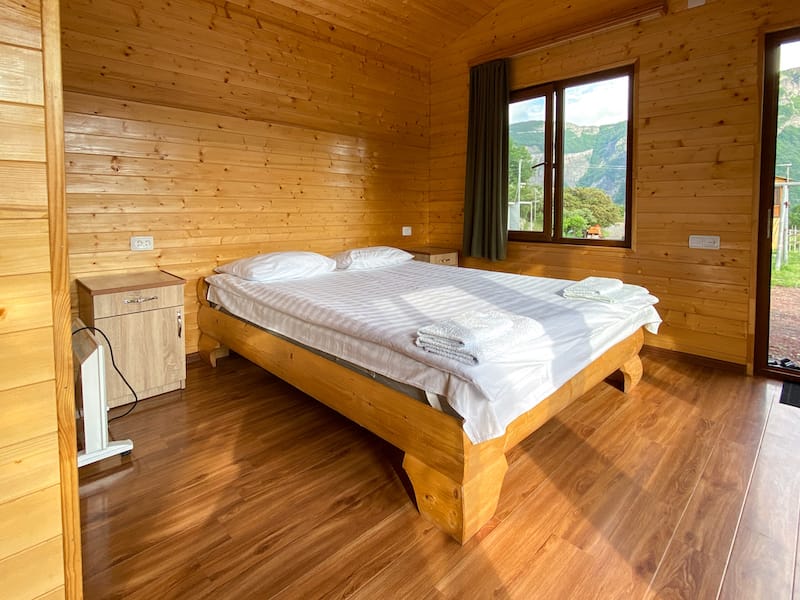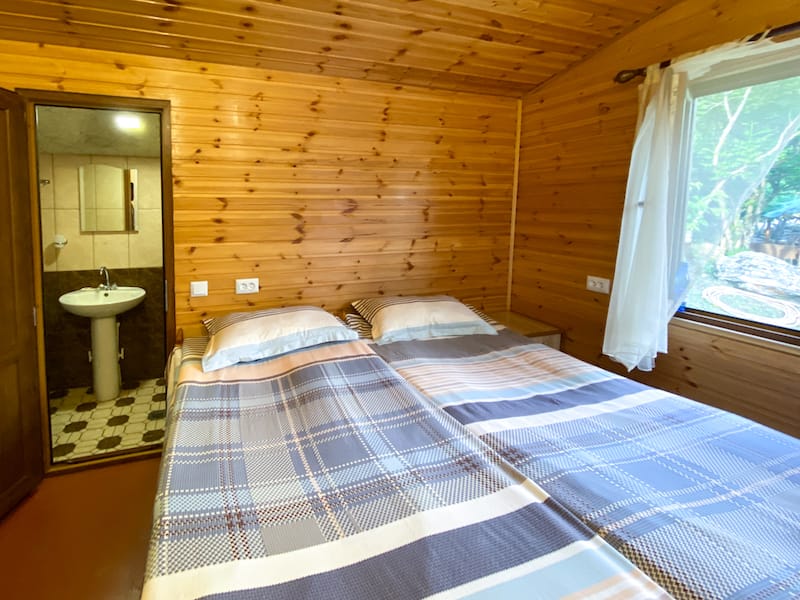 You can book a stay year-round but they do require advance notice if coming during the off-season as it shuts otherwise. However, if you are coming from May until September, do try to book far in advance as they book up quickly!
I mean, this really isn't a bad view to wake up to… now is it?!
Restaurant and Food Options
The guests to Old Halidzor Hotel and Restaurant come from all over the world and they have a menu that offers English, Armenian, and Russian. You can enjoy food with your stay overnight or simply stop by for a meal on the road!
In addition, they have a wine tasting room where you can enjoy wine from all over Armenia, including the famous Areni region.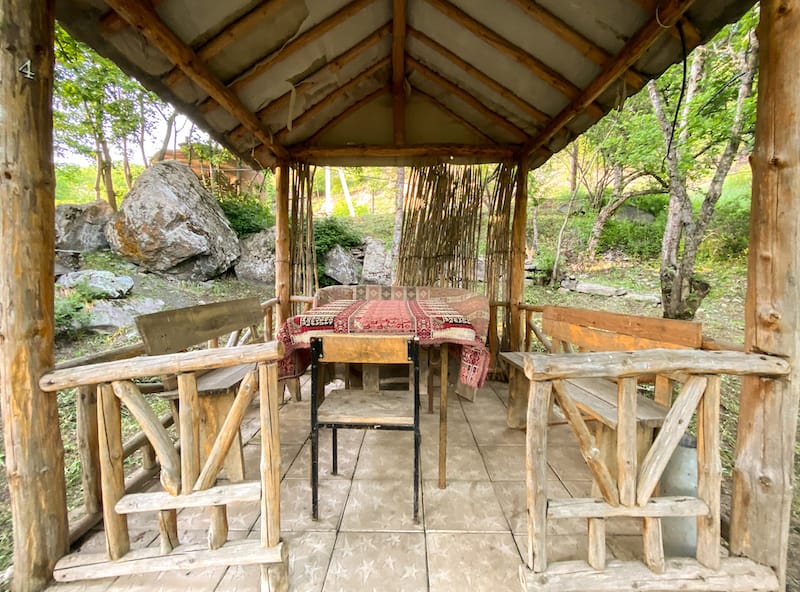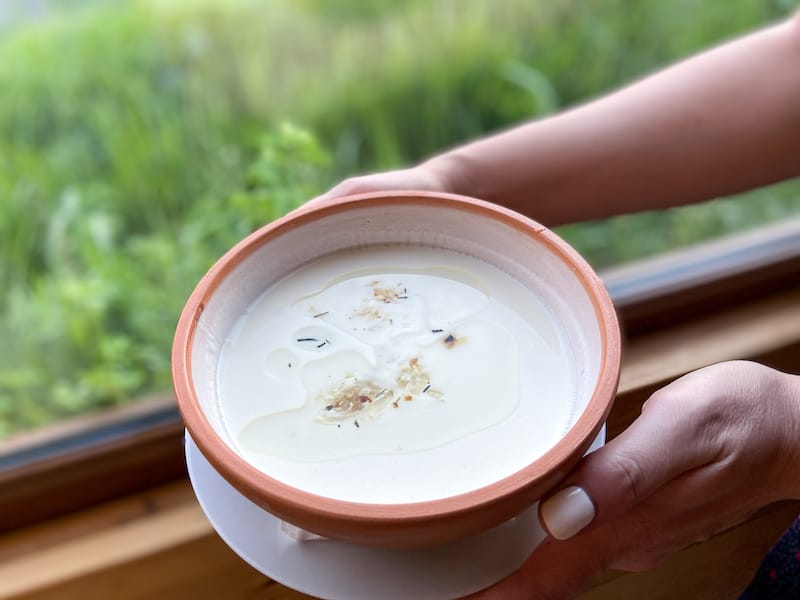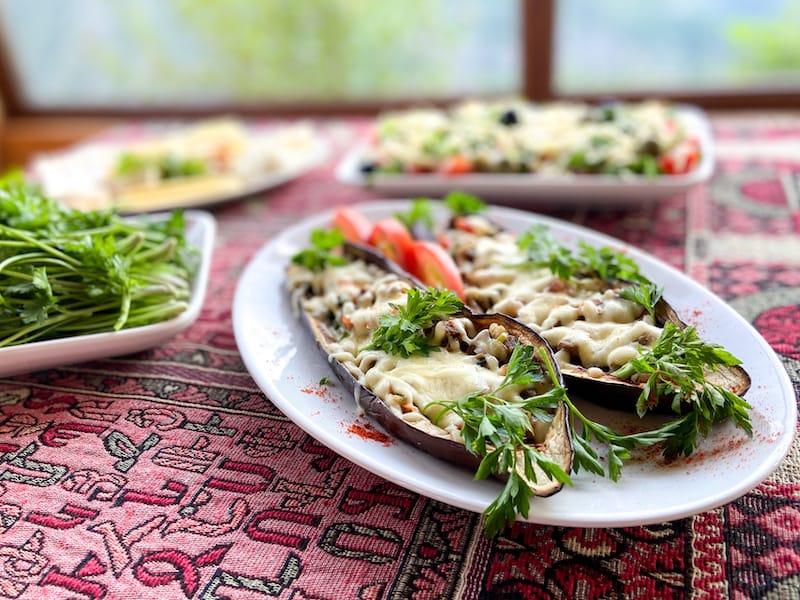 The food menu is diverse and vegans and vegetarians will easily be able to find a dish or request something to their liking and diet specifications. They have several Armenian BBQ options, as well as traditional Syunik dishes.
We opted for some of the Syunik dishes and ordered Khashil, Tanapur (soup of tan which is made with matsun, onion, garlic, spices, and lavash), and King's Slippers (beef, eggplant, Bulgarian pepper, cheese, vegetable oil, green onion, greens, and spices).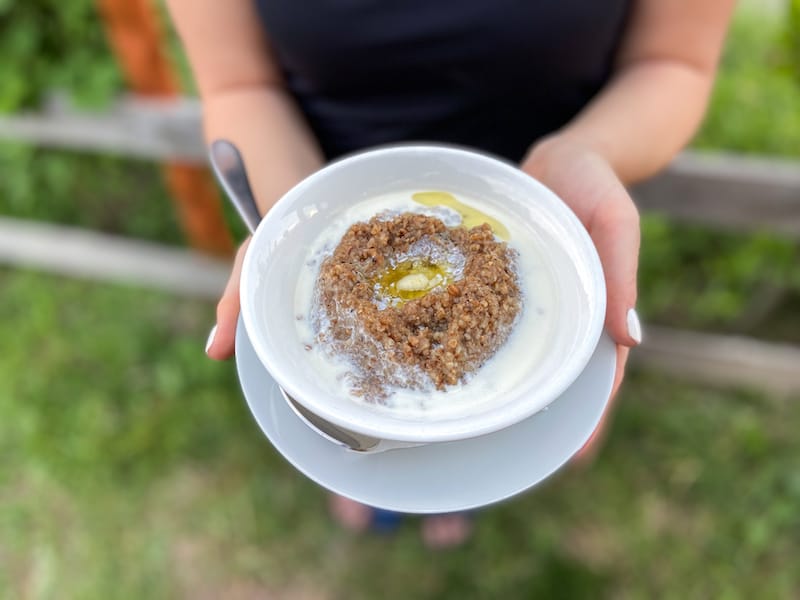 Everything was absolutely delicious and I am still dreaming about the tanapur today!
There was a lovely dining area to enjoy your food indoors or you can sit in one of the seating areas outside.
Currently, Old Halidzor Hotel and Restaurant has solar panels installed and is partnering with People in Need Armenia to receive a partial grant to install some more, making this establishment yet another in the Syunik region opting for clean energy and taking advantage of the constant Armenian sunshine.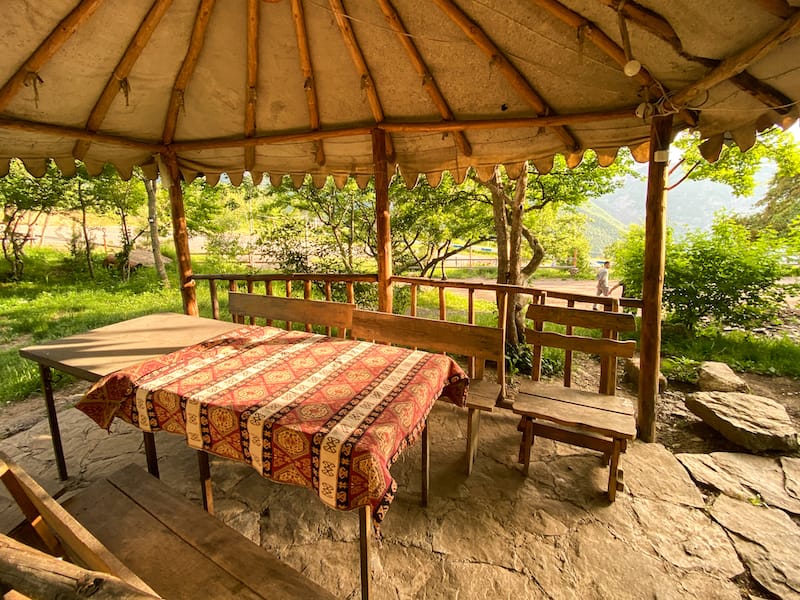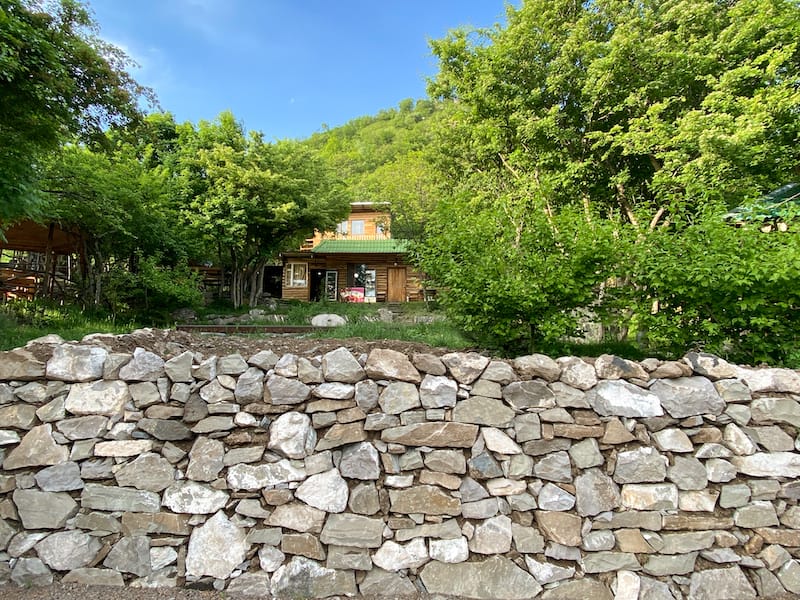 One of the best things about Old Halidzor Hotel and Restaurant truly is the views. You can enjoy a cabin with incredible views or you can just simply cross the main road to an overlook that will make your jaw drop!
It really makes me wonder why more people don't choose to stay in Syunik and completely the journey as a day trip from Yerevan (so overwhelming – I did it one time).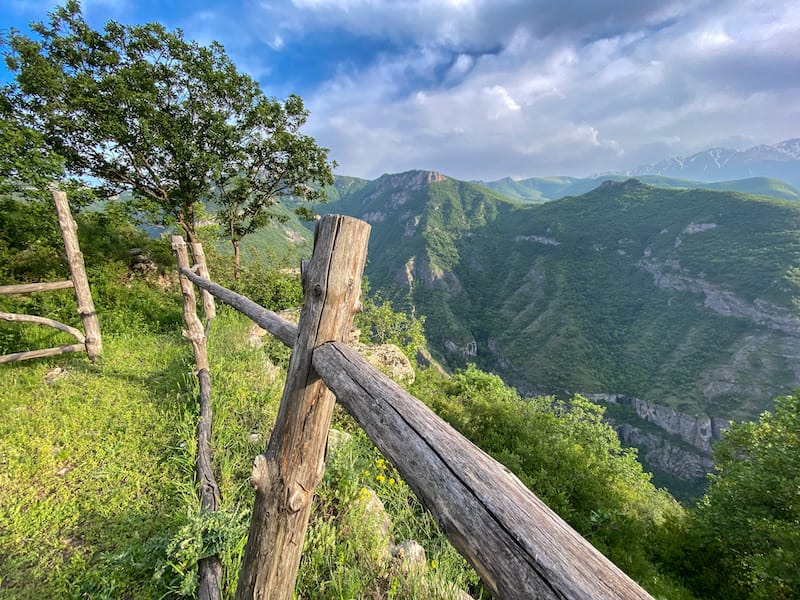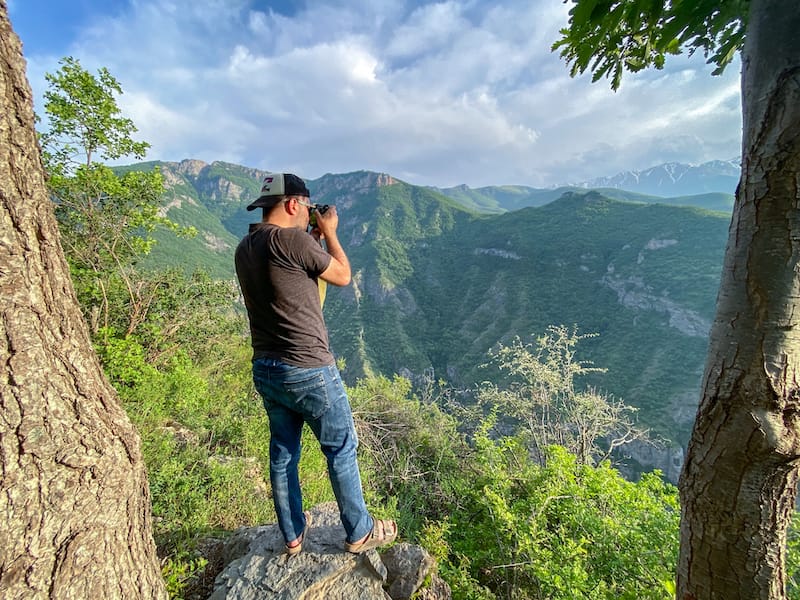 If you're searching for how to visit Tatev Monastery, definitely consider staying overnight in the region… and Old Halidzor Hotel and Restaurant is a fantastic place that will leave you with incredible memories!
Thanks so much to Norayr for showing us around your place, introducing us to your dogs, and letting us experience some of the best Syunik dishes!
Legends Trail Stop & Tatev Monastery Access
As mentioned above, this is an ideal place to crash if you're making a stop along the Legends Trail and want something a bit better than a tent for the night. It is also a great place to stop if your Armenian destination is Tatev!
How to Book a Stay at Old Halidzor
The easiest way to book a stay with Old Halidzor Hotel and Restaurant is to pre-book online with Booking.com. As noted above, try to do so with a lot of advance notice if you're visiting during the summer months (May until September) as they do book up!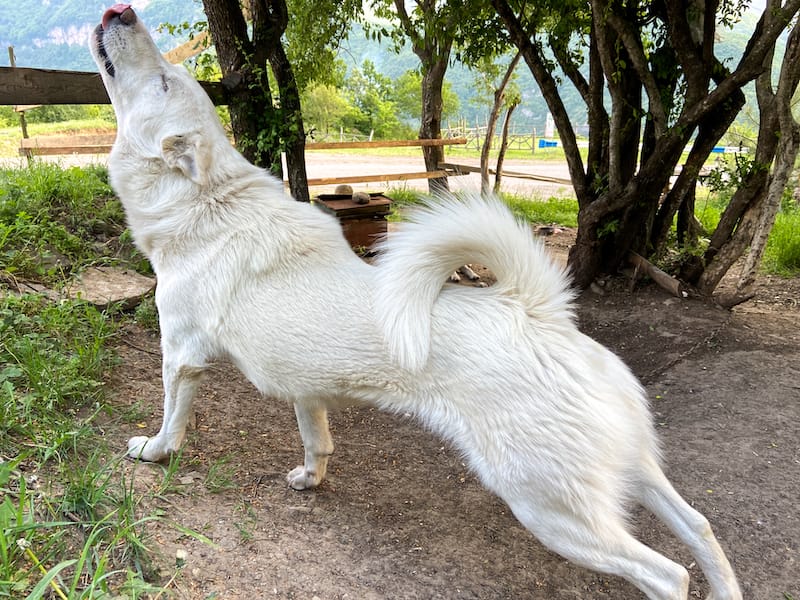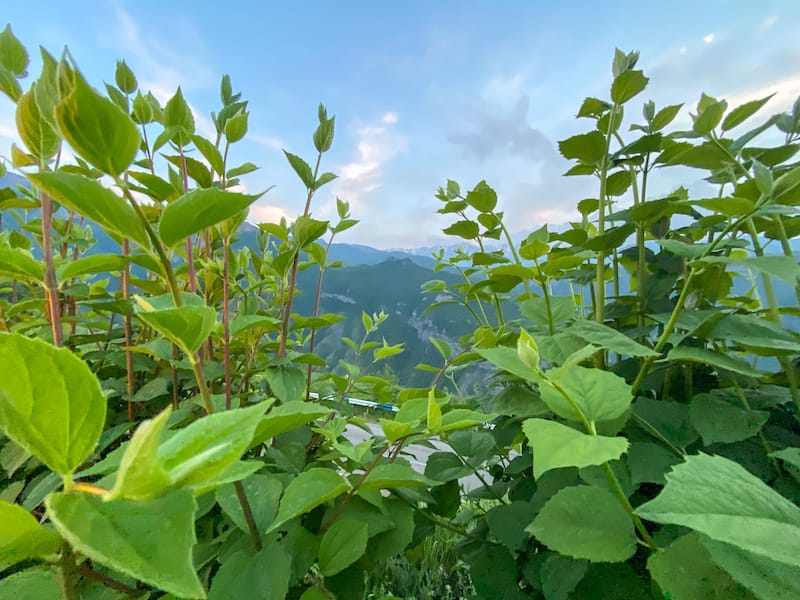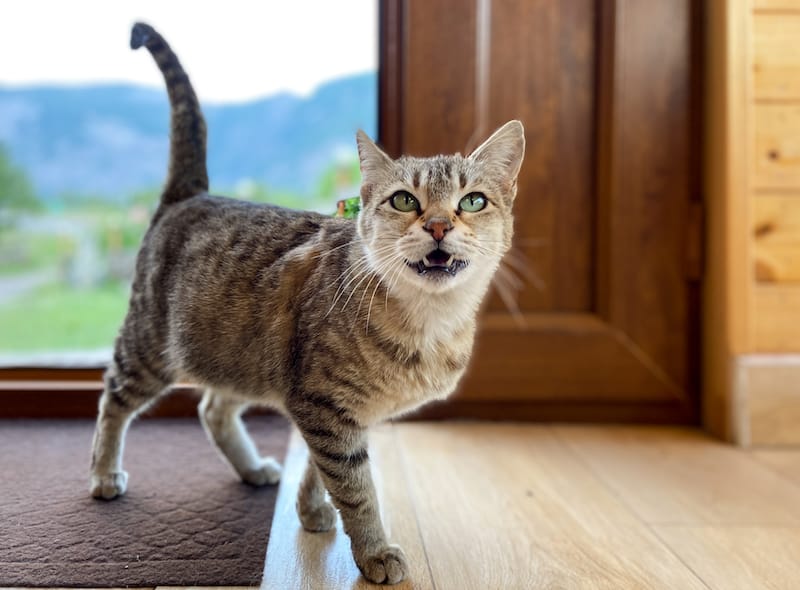 *This article was produced with the financial support of the European Union. Its contents are the sole responsibility of Absolute Armenia and People in Need and do not necessarily reflect the views of the European Union.
**The Legends Trail was created by People in Need representative office in Armenia in the frame of "EU4Tourism: Outdoor adventures on the historic trail in Syunik" project funded by the European Union.