After observing the wonderful and unique town of Meghri, we discovered even more on our journey through the southernmost part of Armenia. This time we went about 3 kilometers away to Shvani Dzor village.
Disclaimer: Please note that since writing this, Shvani Dzor village is only able to be visited by Armenian nationals as there are three checkpoints from Meghri to the village. We will update if foreign nationals are permitted access in the future.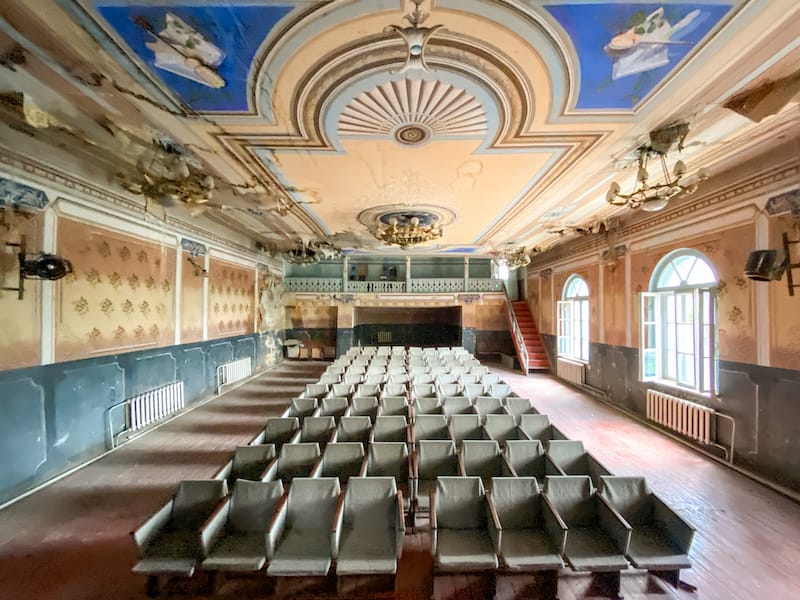 Initially, our main goal was to visit the popular and somewhat mysterious Arevik National Park. However, we asked Arevik rangers and our new friends, Stephan and Vito, to drive us to this village we heard about from Shahane at Khachuts Toun beforehand.
We also were keen to stop by the abandoned Meghri railway station and the Iranian border on the Araks River.  We were stoked when they said they could make the trip happen!
After cruising along the Armenia-Iran border that is teeming with epic yellow-colored rocks with tunnels, pomegranate and fig farms, and endless barbed wire, we ended up in Shvani Dzor.
Nothing about the area felt like the Armenia we knew and, as a result, our curiosity was ignited.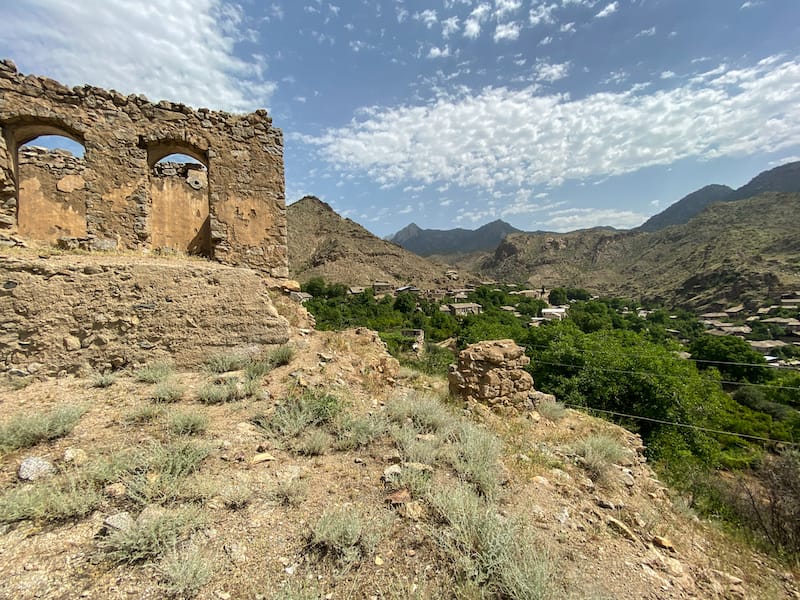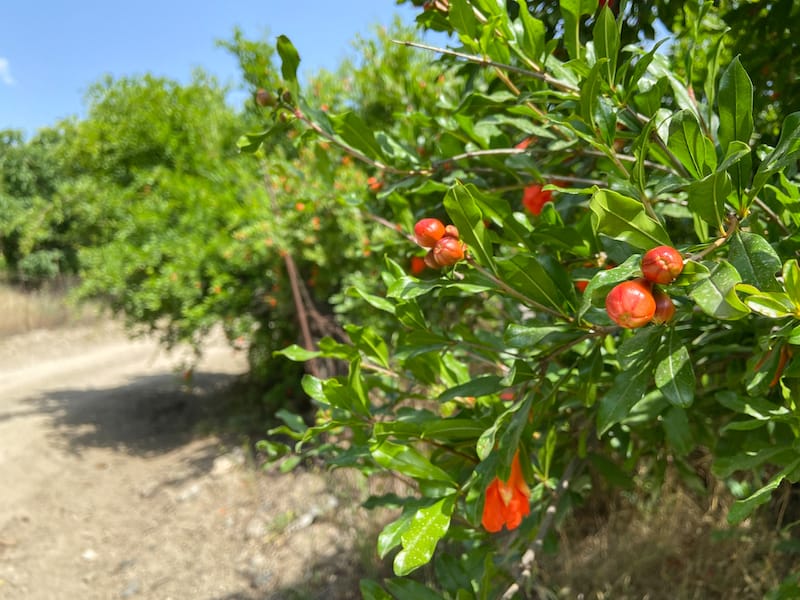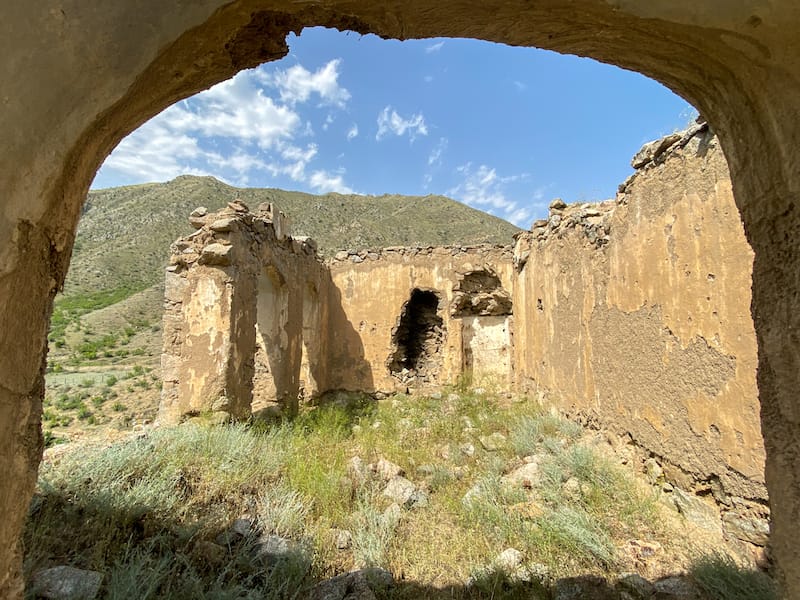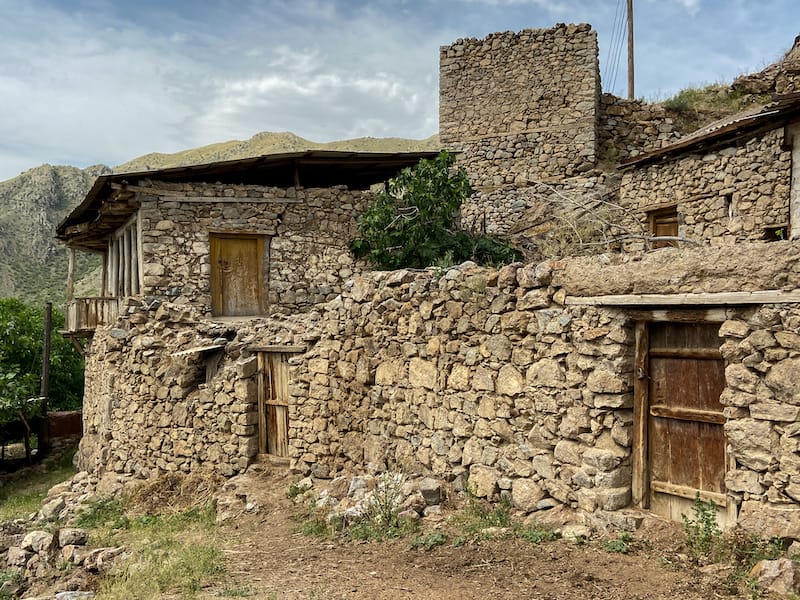 About Shvani Dzor Village
Trapped between the dry, yet colorful mountains and boasting a population of fewer than 400 people, we were in awe of this place that was clearly assaulted by the scorching sun and little rainfall.
And while it was arid and dry, something about it reminded us of an oasis in the middle of the desert. We just knew we had entered one of the coolest places in Syunik.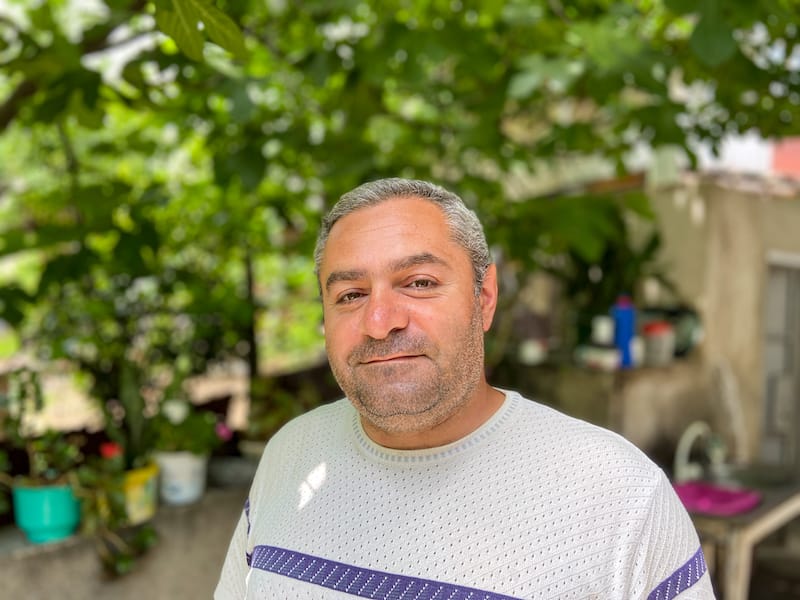 We met the mayor of the village, Alik Tumanyan, who later invited us to his place to drink coffee and try different sweets (including medlar / mooshmula fruit which is not grown in the other parts of Armenia), we started to question him about the village's history.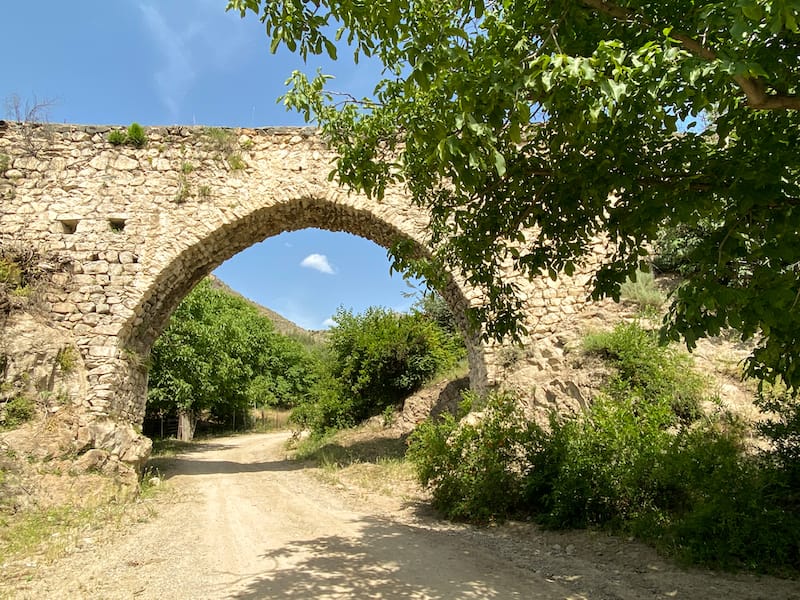 It turns out that Shvani Dzor village is an ancient, as suspected, founded approximately in the 12th – 13th centuries. You can see different structures from various eras, including 17th- and 18th-century dwellings, 19th-century school ruins on the hill, and much more.
Something we found extremely interesting that Alik told us about was the water system in the village. It is called kahrezes or qanat (In Iranian) and was built in Medieval times and still is in use for homes and villagers today!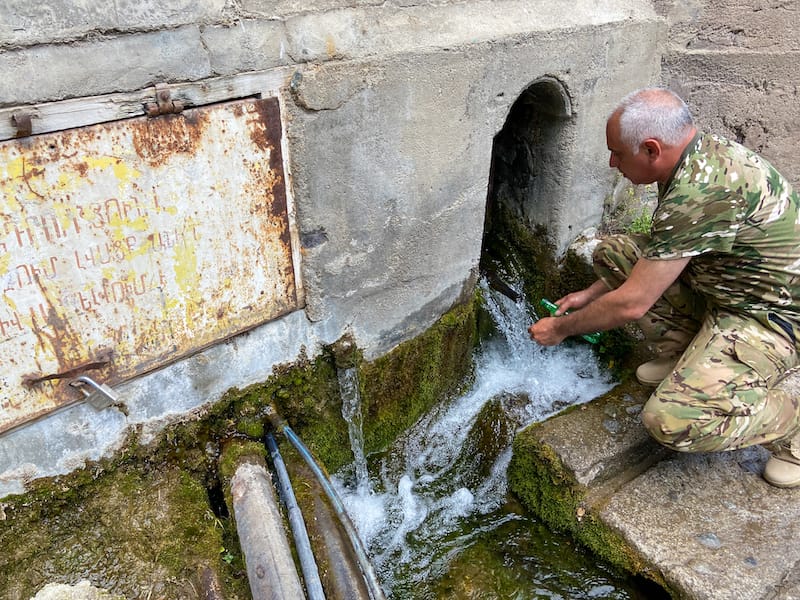 Another famous landmark in Shvani Dzor was the 17th-century, still-in-use aqueduct which can be seen as you enter the village. We also marveled at the beautiful abandoned houses on the hills that had ornate and colorful designs and dated back to the 18th and 19th centuries.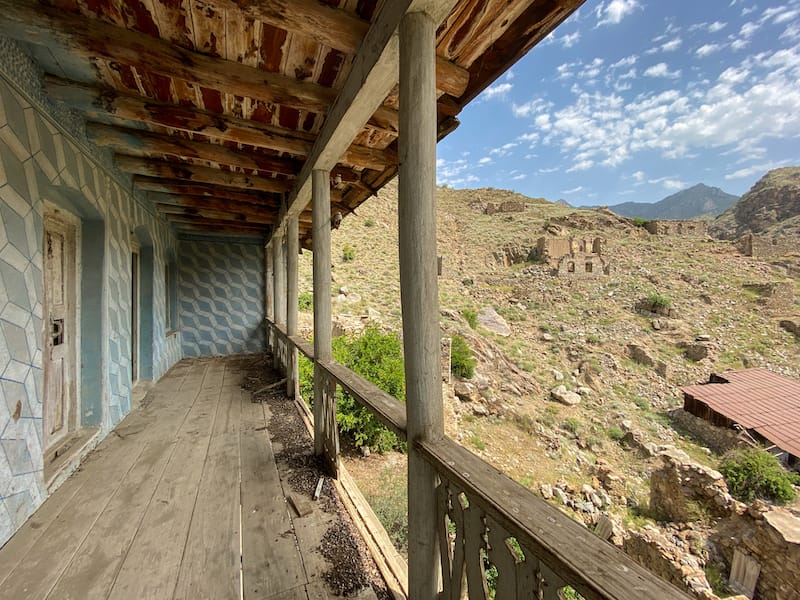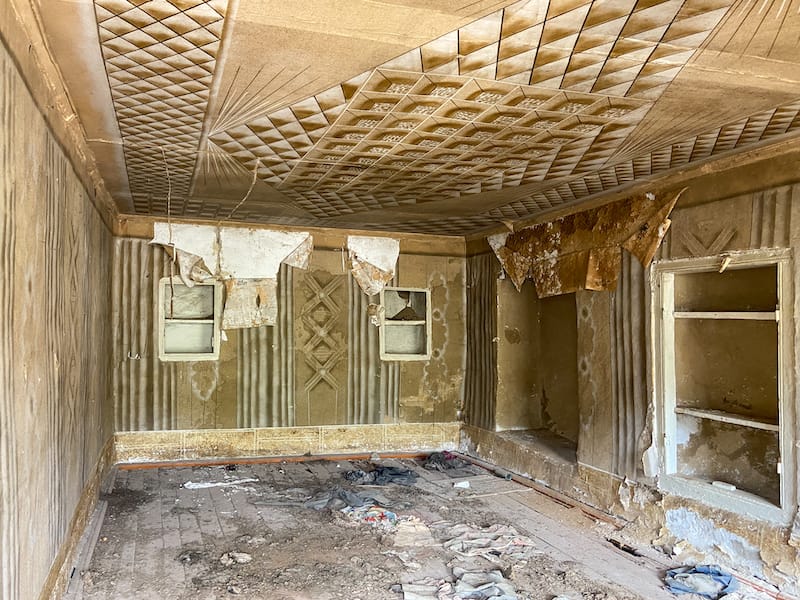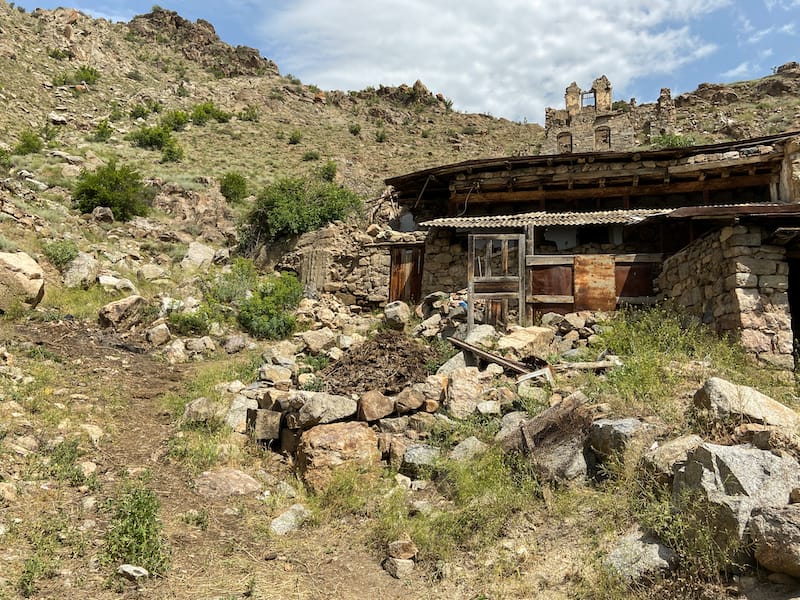 Soviet Culture House in Shvani Dzor
Long story short, we were just strolling throughout the village and sightseeing until Megan randomly asked if there was any Soviet heritage or architecture in Shvani Dzor (she always asks this).
Alik, to our disappointment, said no but quickly lit up and told us that in the village, there is a building that was previously a culture house that included a theater/cinema… but it had been locked up and abandoned for decades.
Our reaction must have been something like showing gold hunters to El Dorado or a pulpulak to a thirsty traveler in the Sahara Desert. We were so intrigued.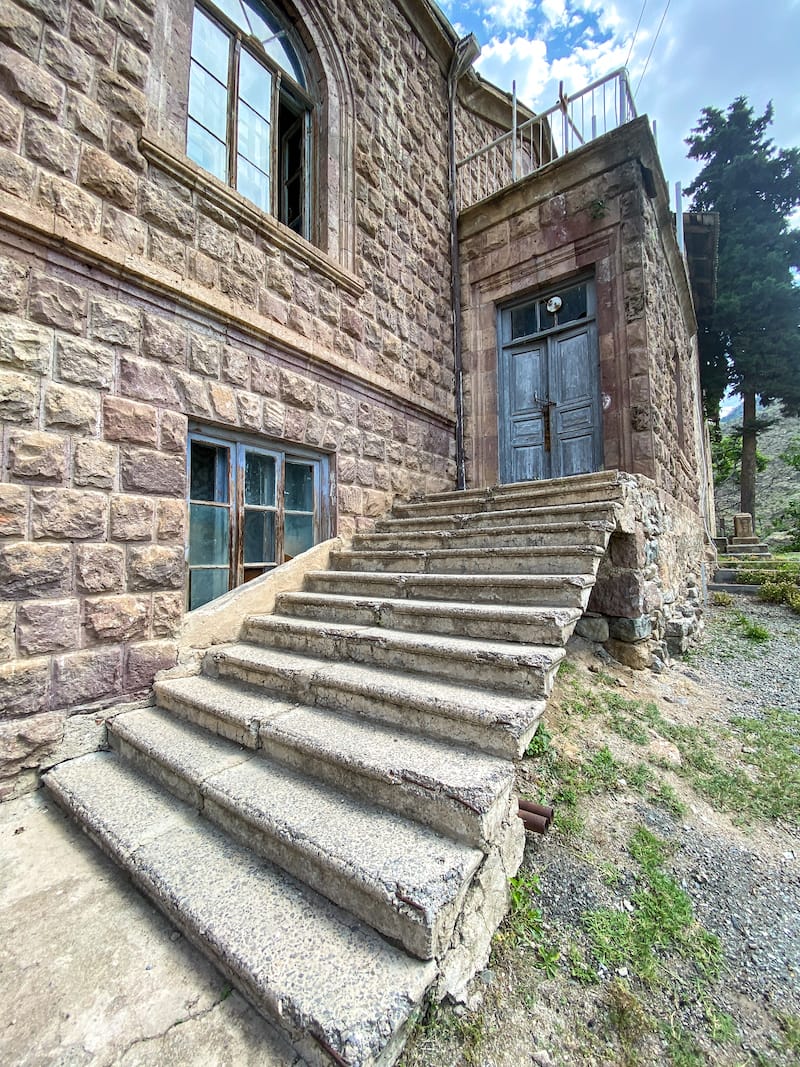 With an "innocent" voice, we asked him if he could guide us there since it was within walking distance. He obliged and we found a typical pinkish Soviet Armenia-style building that consisted of two levels, right in the middle of the village. It was locked up with old Soviet chains.
Before trying to peep inside the dirty windows on the first floor, Alik told us that it was built in the 1960s right next to 17th century St. Astvatsatsin Church. The impressive part was that the two constructions shared one common wall from the inside (we discuss further down).
"OK, so let's get inside," we said and pushed the door. However, the doors were rusted and stuck together as they clearly had been for years and years. And Alik didn't have the keys.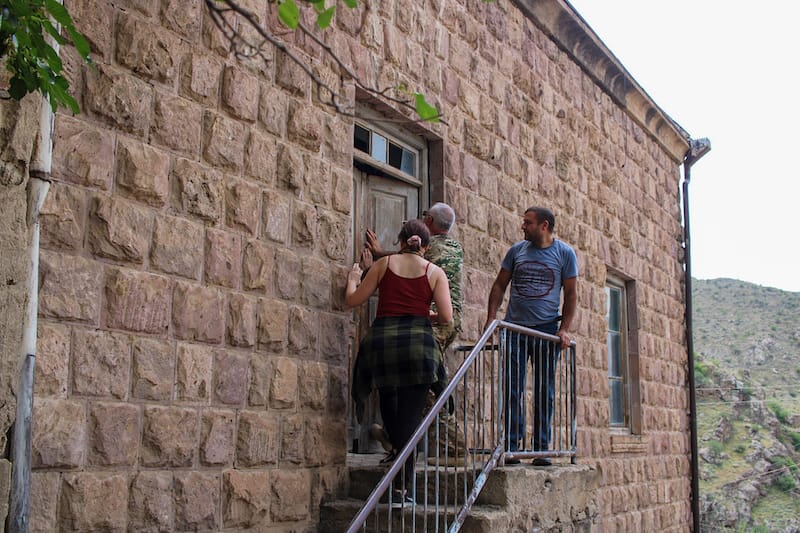 So, along with the mayor, we tried to break into the building. Our guides Vito and Stephan assisted and the mayor's brother went on the second floor from the other side of the building to attempt to push the door in. Megan helped (because she has very little patience).
Eventually, we tracked down the holder of the key and gave up on our failed attempts at busting in (in an effort to be somewhat civilized)!
The key finally made its way to us and we entered the building. Megan was ahead of me and shouted, "Oh my goodness!" really loudly. I trailed behind and once I made it into the place, I was stunned.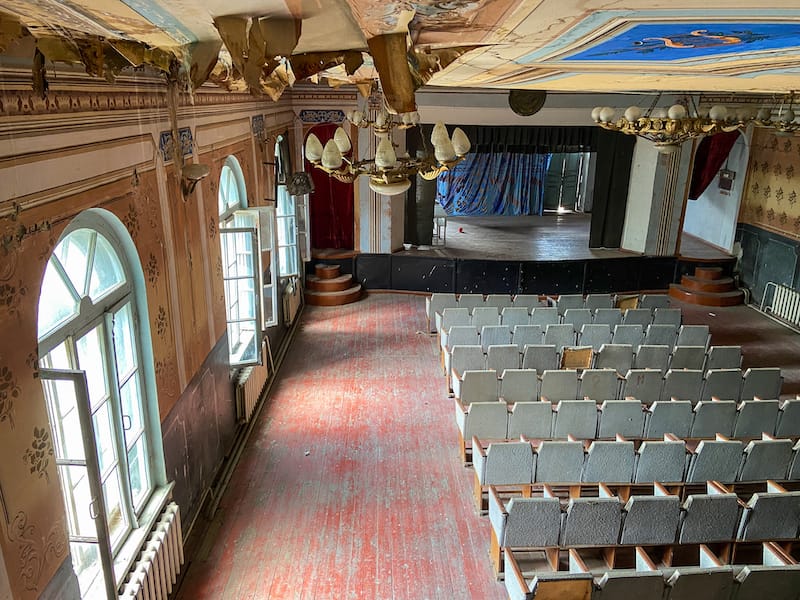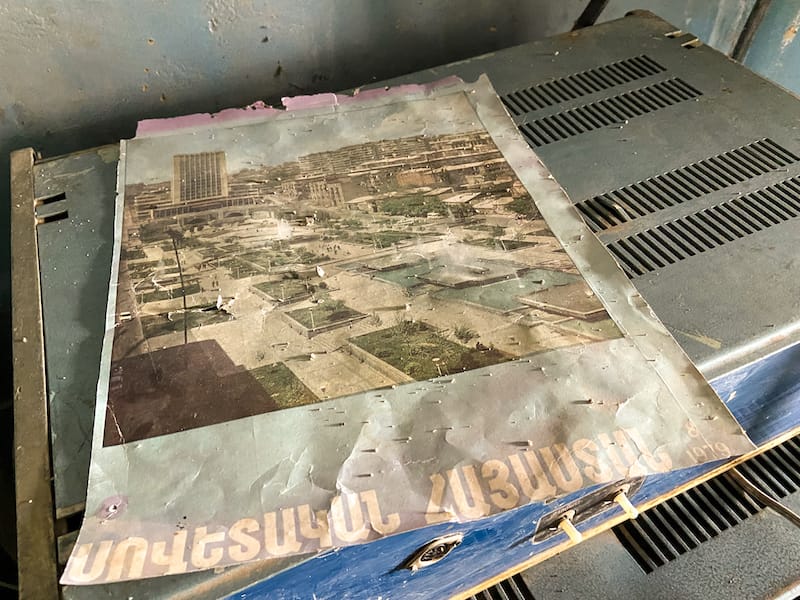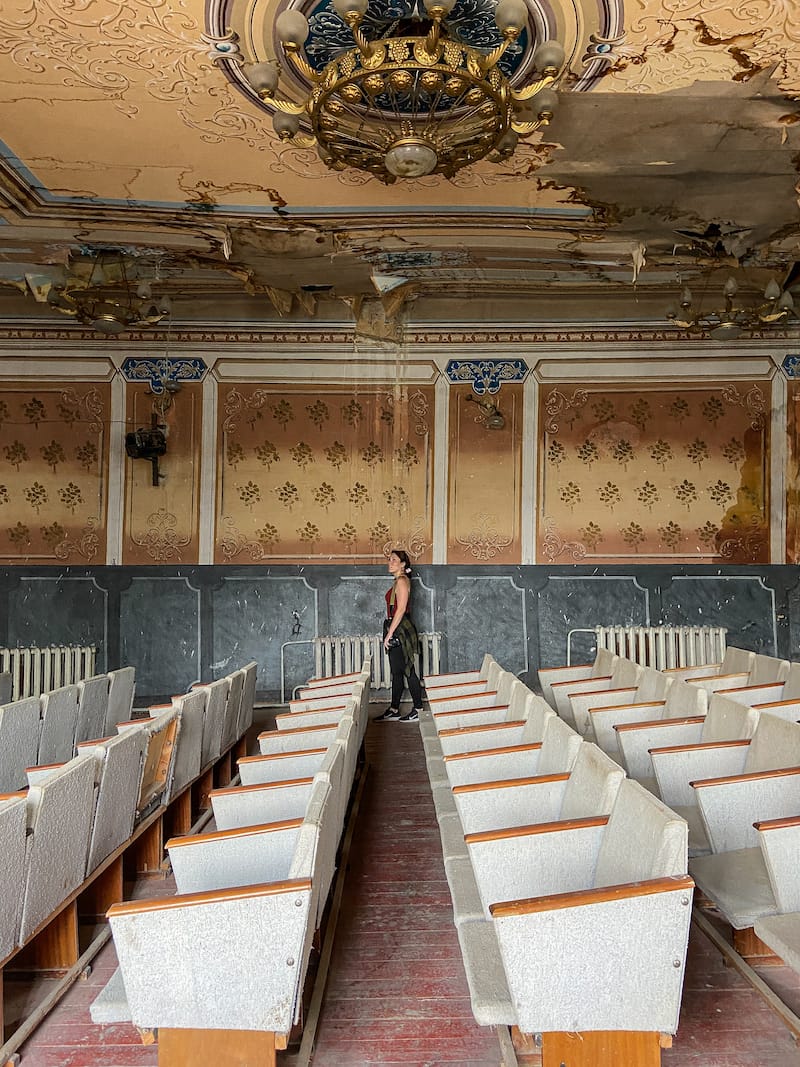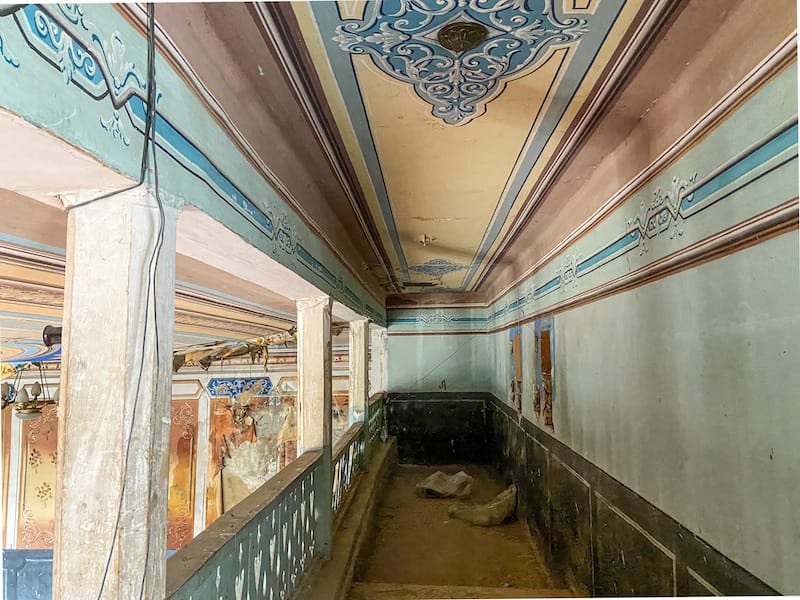 In front of us was an abandoned, well-preserved Soviet theatre with a classic stage and chic interior mixed with a touch of Rococo-style. We felt like we had entered a time capsule (and a beautiful one at that)!
Our jaws stayed dropped as we started to peruse the venue, photograph it, and admired how untouched the stage, seats, and stylings were.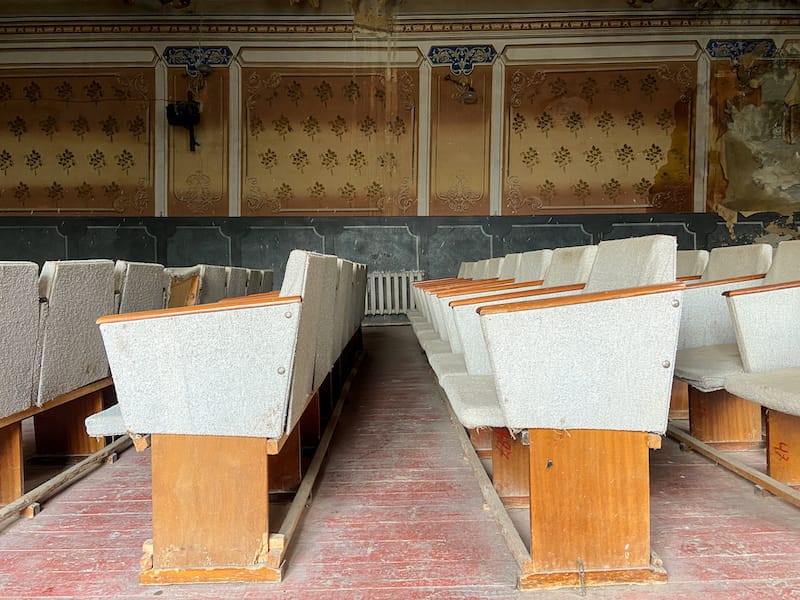 When Alik reminded us that it doubled as a cinema house, we immediately knew that there had to be a room that kept the films and projector. We found an area on the second floor that had to be just that, but it was, again, locked.
This time, I rushed up the stairs and started to push the door in an effort to force it open. The guys came and we started to push as there appeared to be no locked. After twenty minutes of pushing (and eventually realizing there was a hidden lock), we found our way inside.
I've never seen a projector room in my life, even a modern one, and now we are entering an old Soviet projector room where we found the massive projector, dusty film strips, and hundreds of Soviet movie posters.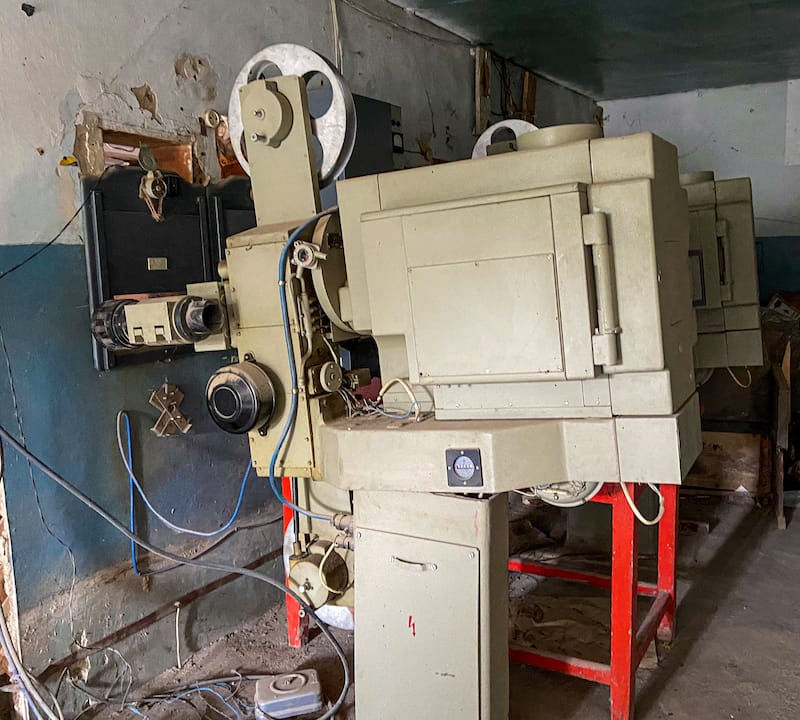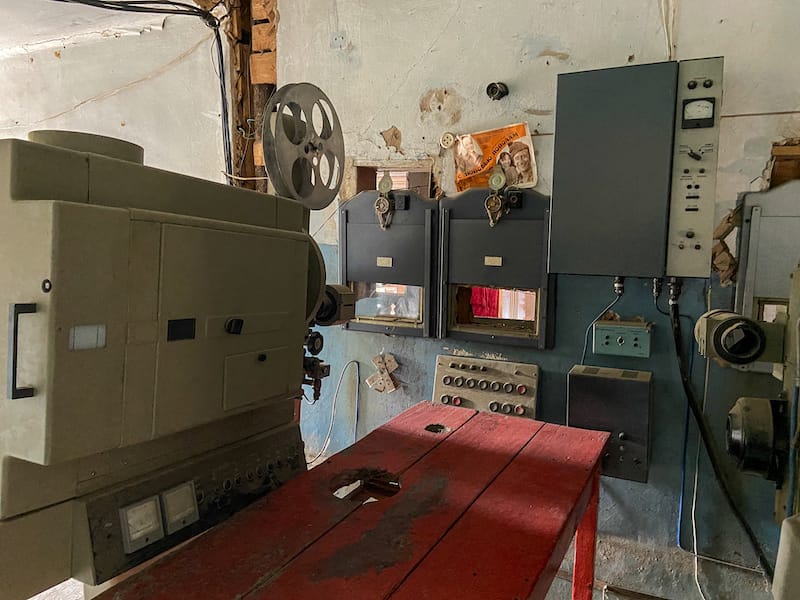 It blew our minds. We even found a 'Rambo in Afghanistan' movie poster and many others from the 1970s.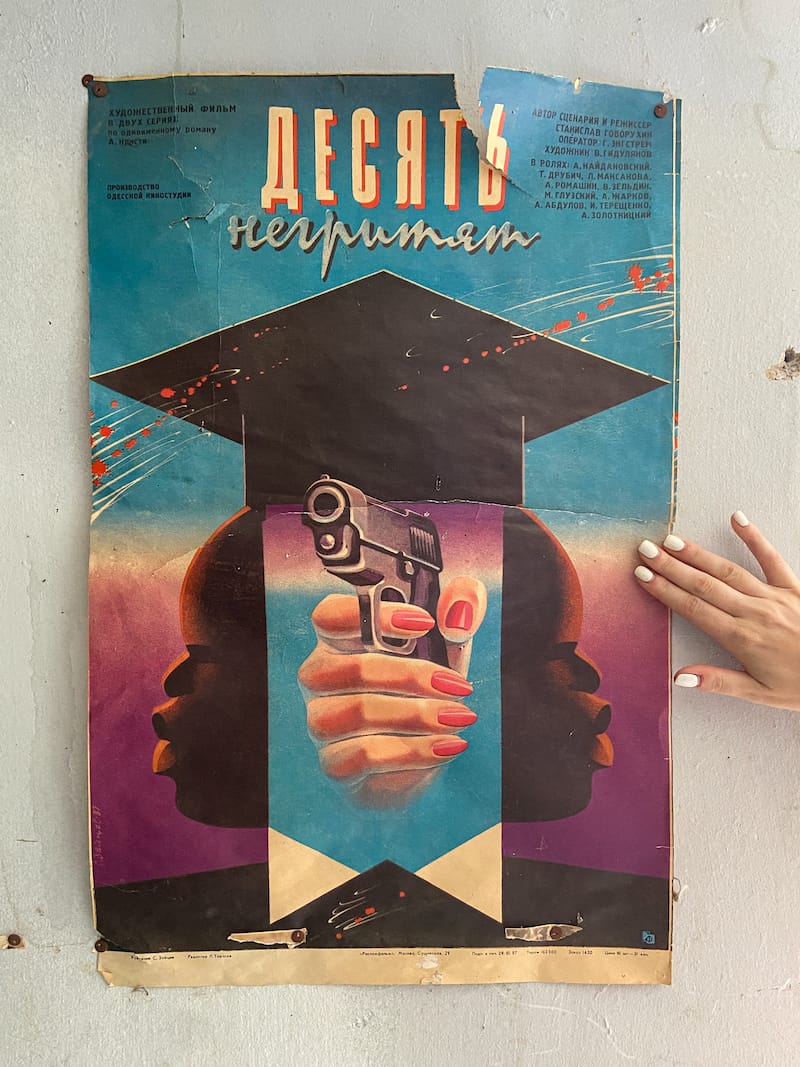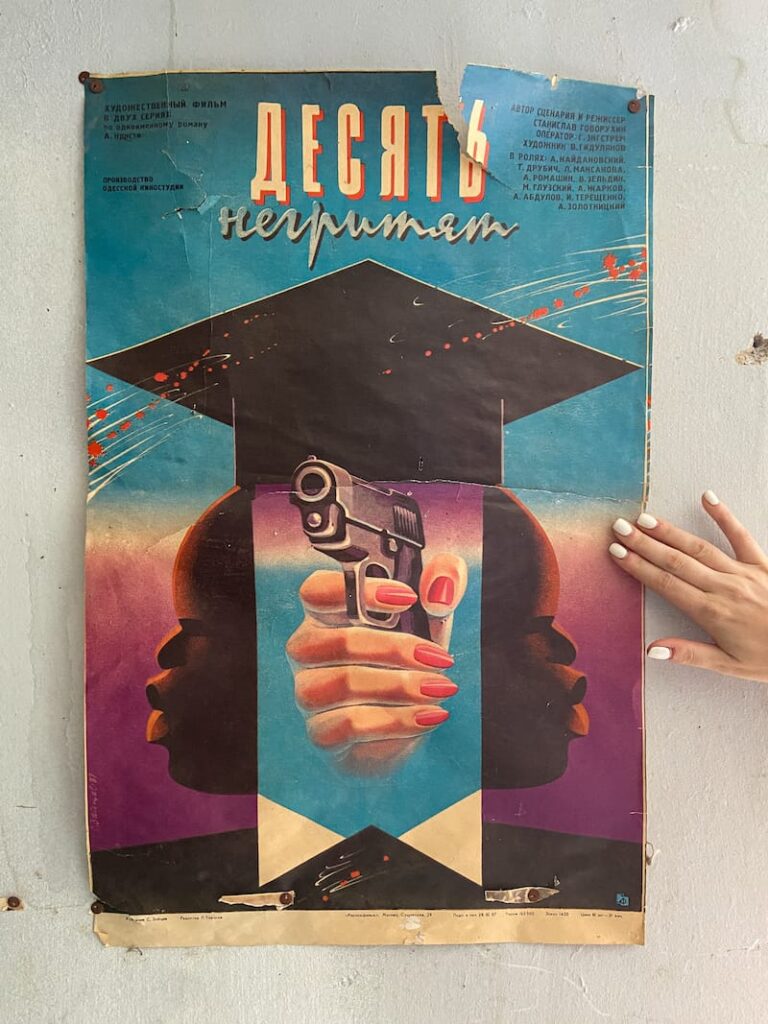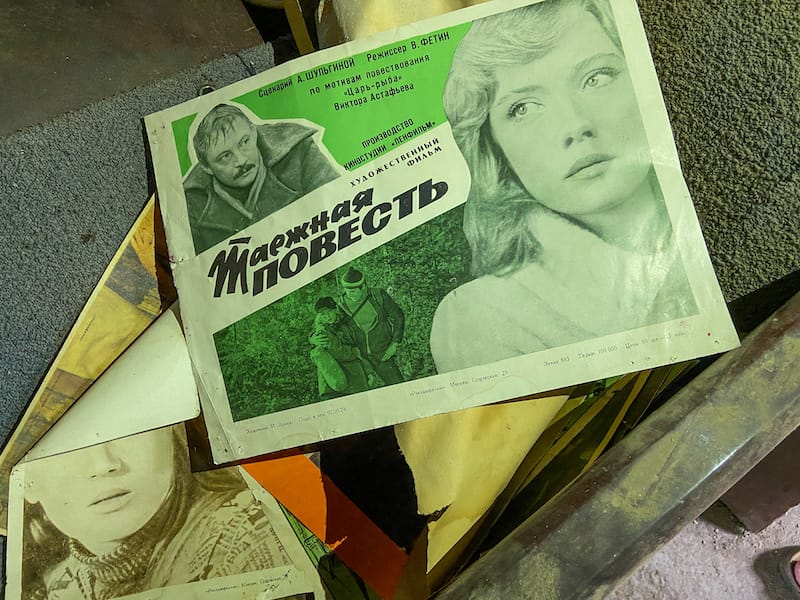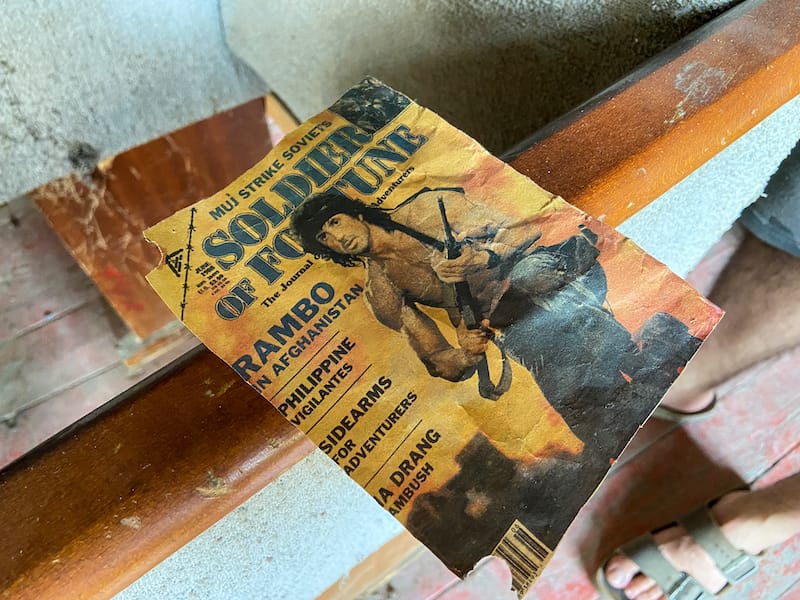 Inside of the projector room along the back wall that was the 'shared wall' with the church, we found a small stone artwork that contained a cross and Holy Mary and Jesus ornament that the villagers kept preserved even when the church was repurposed during Soviet times.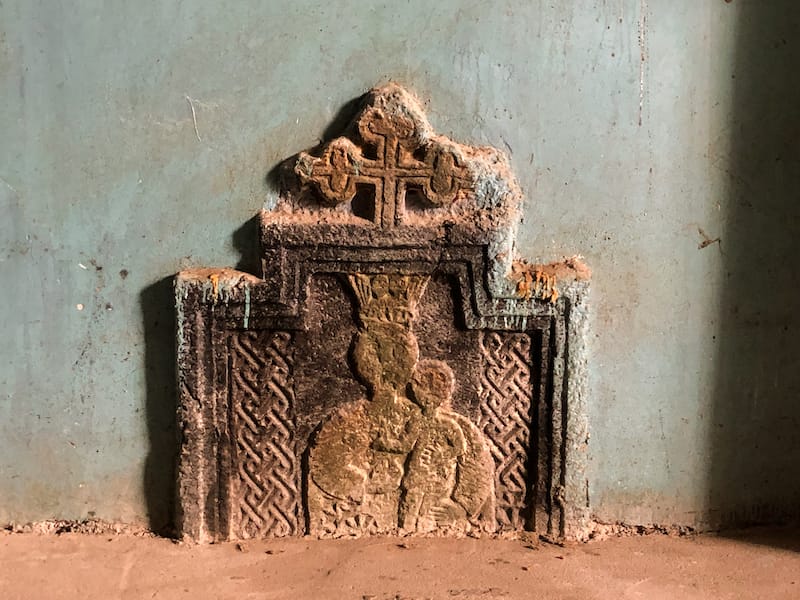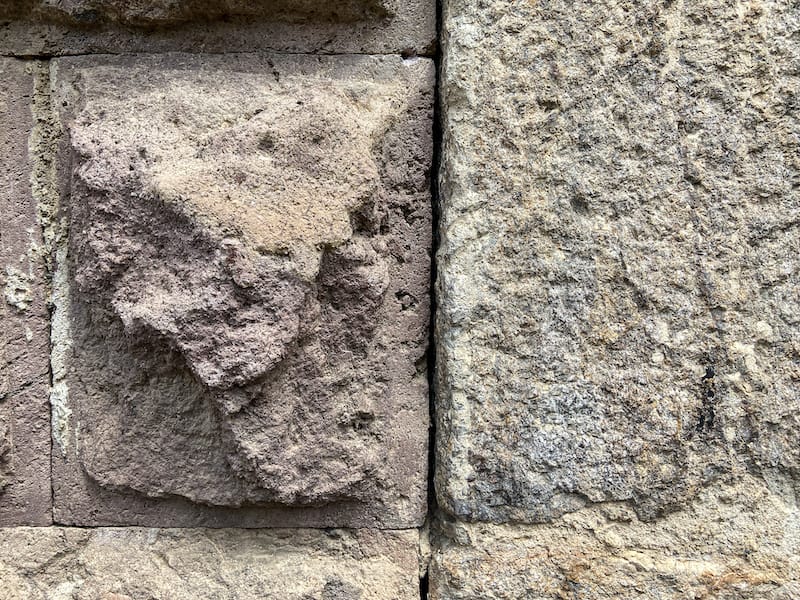 After digging through the memorabilia, we asked if we could take a few movie posters home with us and a projector light that we found there – we got permission and now have some of our favorite souvenirs (ever).
In addition to the cinema, projector room, stage, etc… we also found a hole in a door on the first floor where we suspect an old Soviet library was housed. We were unable to get inside but it looked well-preserved and beautiful, as well.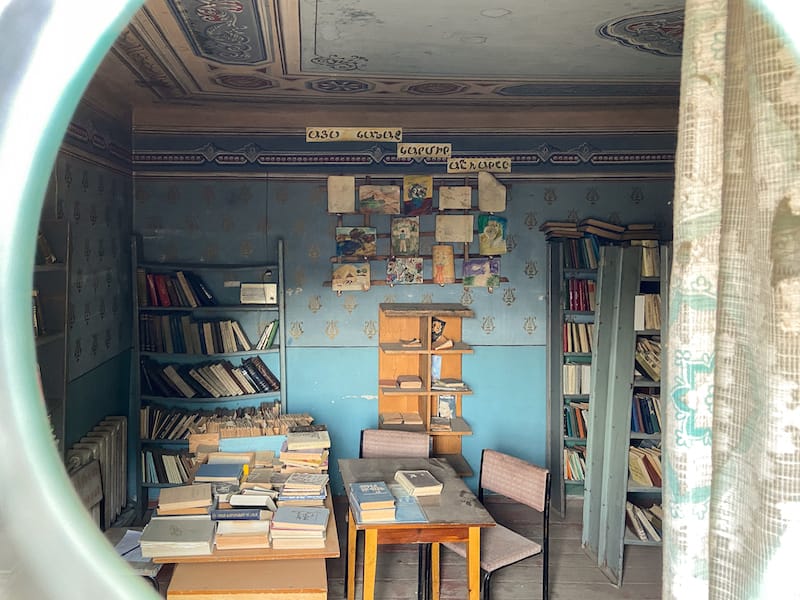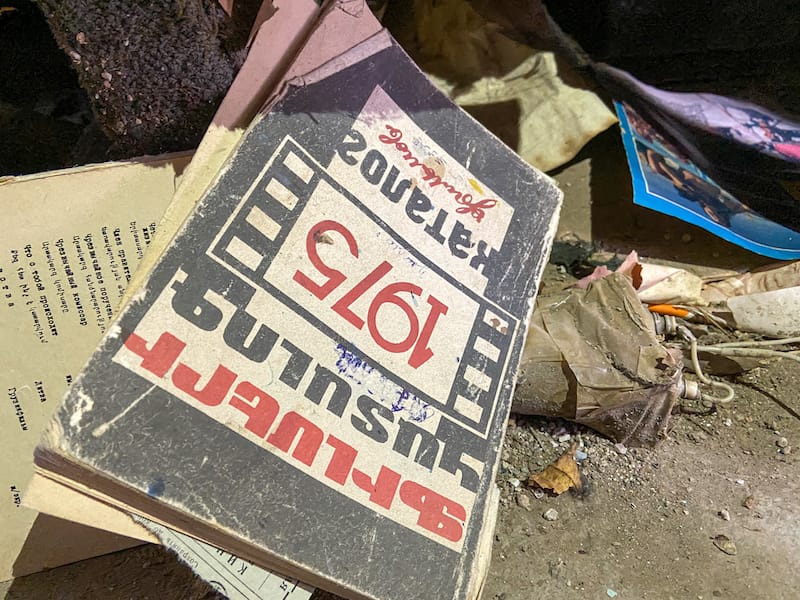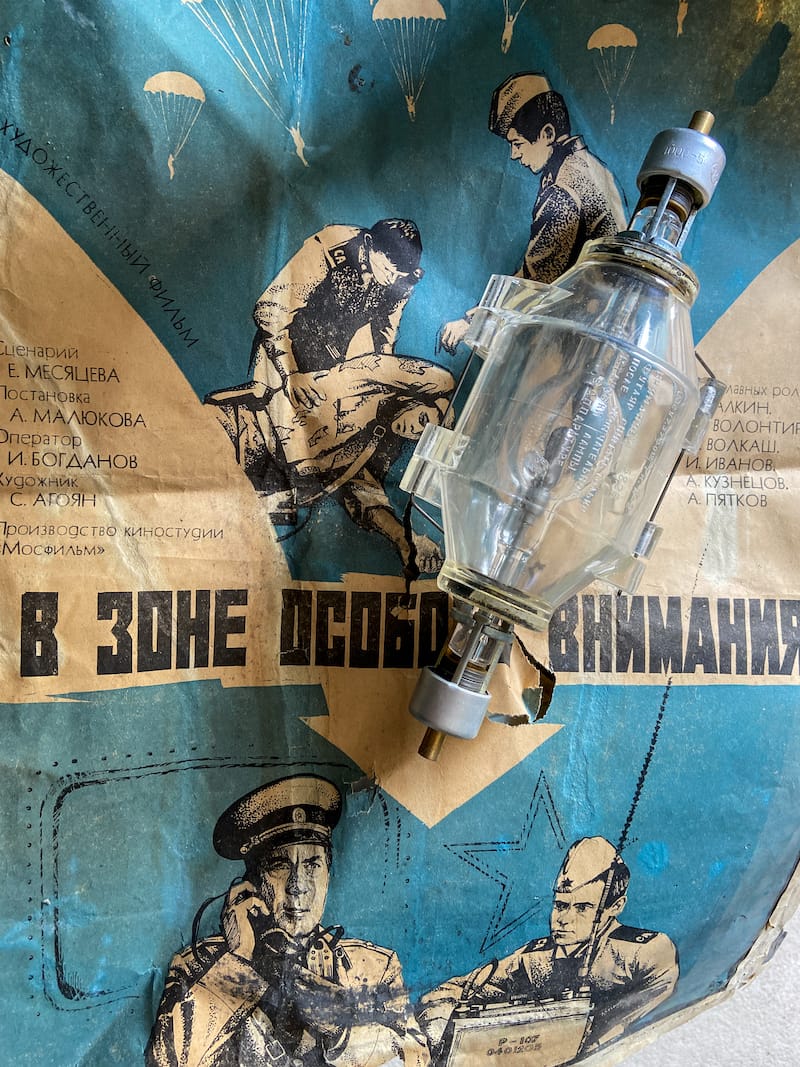 In conclusion, I can say that Armenia has so many undiscovered places, full of ancient and Soviet heritage, like in the forgotten Shvani Dzor village where people are making a living by growing pomegranates, figs, medlars, and honey harvesting.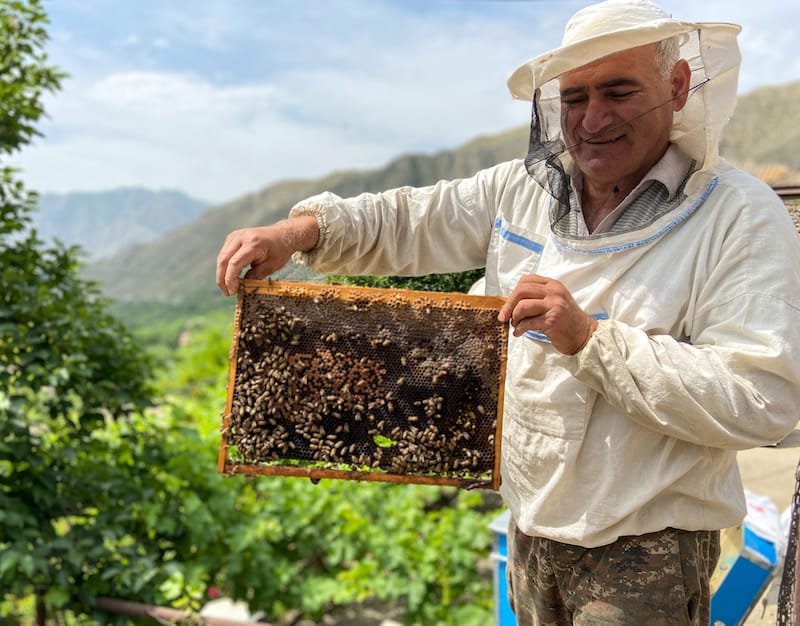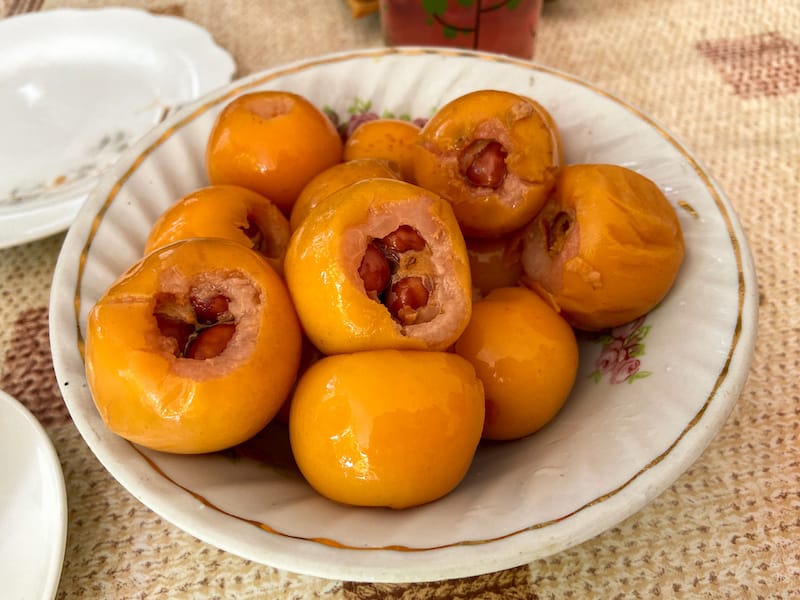 But, this type of village has so much to offer travelers and we hope that we can inspire others to visit remote villages like Shvani Dzor and see what secrets it houses. We promise you will not be disappointed!
*Thanks so much to Shahane Khachikyan from Khachats Toun for the tip of telling us to visit Shvani Dzor!