Every once in a while, you come across a person whose connection with his or her surroundings just makes you envious and unapologetically inspired. Ashot Arshakyan, the founder of Tanzatap Wildlife Watchpoint, is undoubtedly one of those people.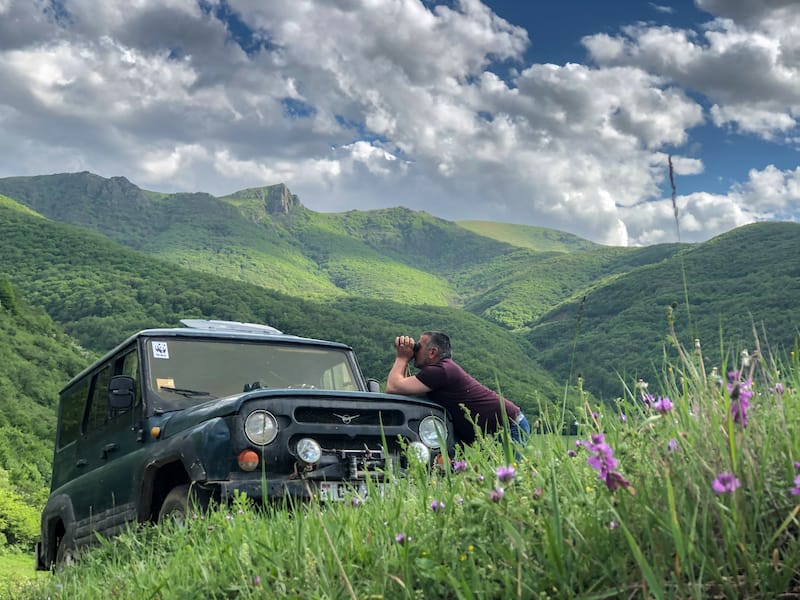 Once I had heard about a new wildlife excursion near Tatev village, I was excited to test it out and learn more about the fauna in the local area.
I was also curious to learn more about Ashot himself, and how he got into wildlife conservation in Armenia.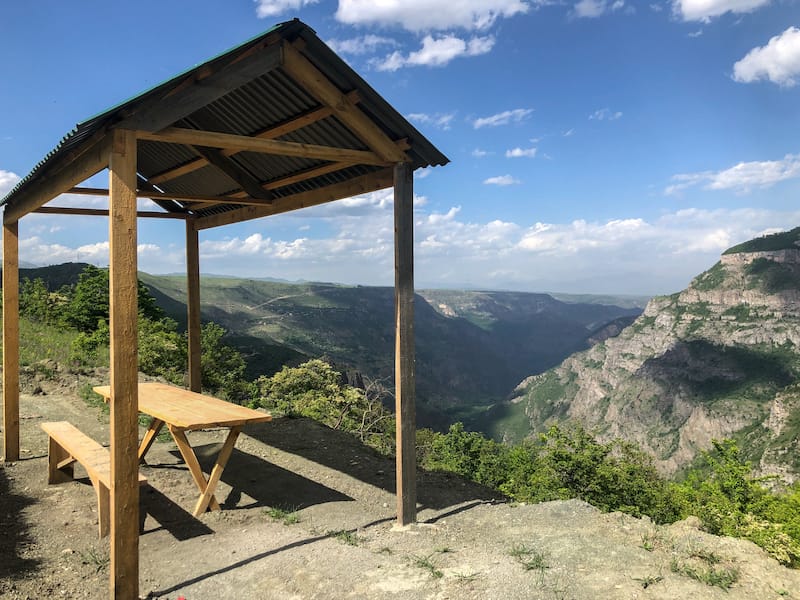 About Ashot Arshakyan
Ashot Arshakyan is a Tatev local who works with the World Wildlife Fund in Armenia as a Caucasian leopard spotter and conservationist. He is a genuine animal lover and lover of nature in general.
His mild-mannered personality just seems so harmonious and in tune with everything surrounding him and it was immediately palpable upon meeting him.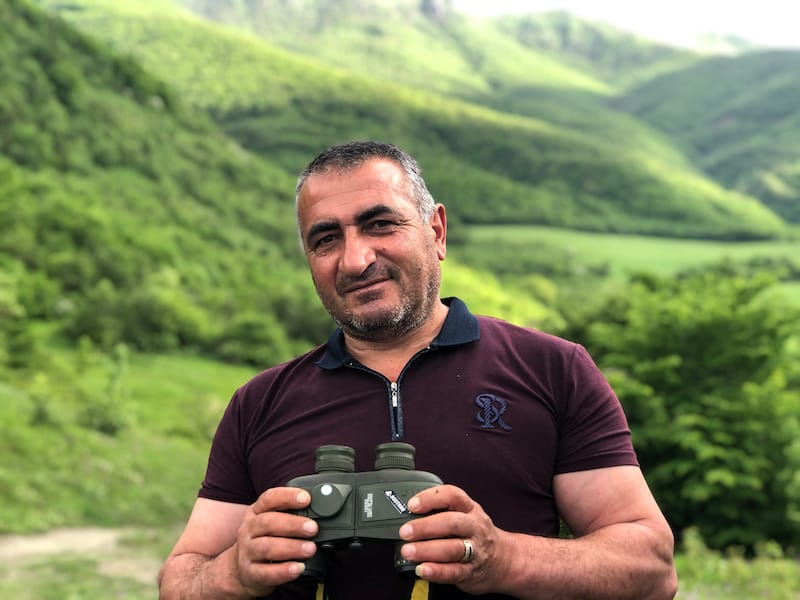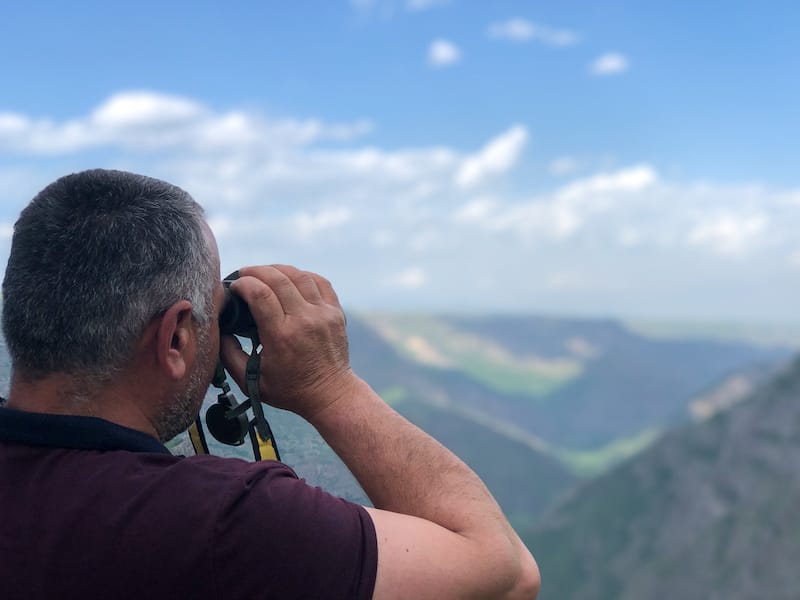 He has a husky and sometimes his dog joins him on his trips and he also stated that his adventures to the Tanzatap Wildlife Watchpoint are dog-friendly for his guests if they wish to bring their dog with them.
Tanzatap Wildlife Watchpoint Excursions
In collaboration with People in Need Armenia, Ashot has built a watchpoint area far removed from the village life of Tatev in the mountains. He also invested in a telescope, binoculars, and some signs along the way to enhance the experience.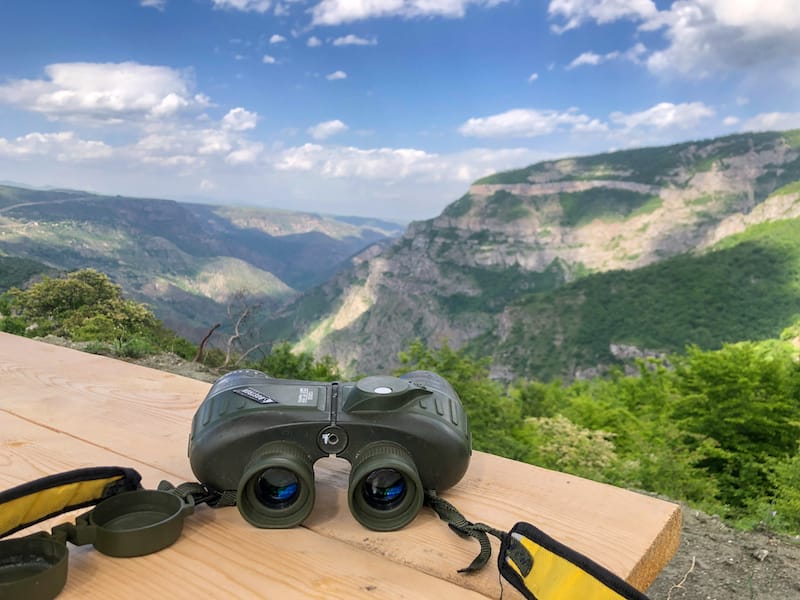 The Tanzatap Wildlife Watchpoint offers visitors the opportunity to view bezoar goats, deer, lynx, brown bears, foxes, wolves, boars, porcupines, many birds, and more.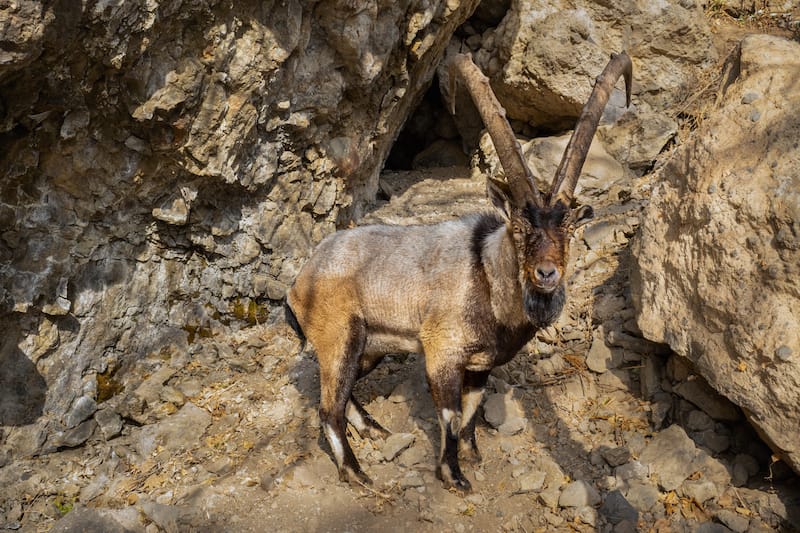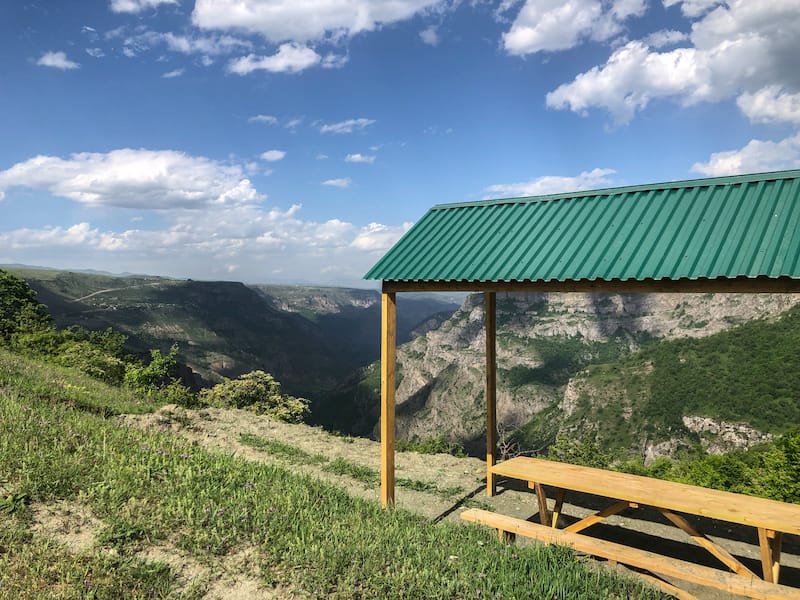 In order to enjoy the watchpoint, you will need to book a tour with Ashot directly by calling him at +374 077 570494 (and he will have a Facebook page in the near future where you can additionally book through).
He is able to conduct tours in Russian, Armenia, and English (his son, Tigran, will assist with English tours).
There are a couple of excursion options – you can go on foot or by car.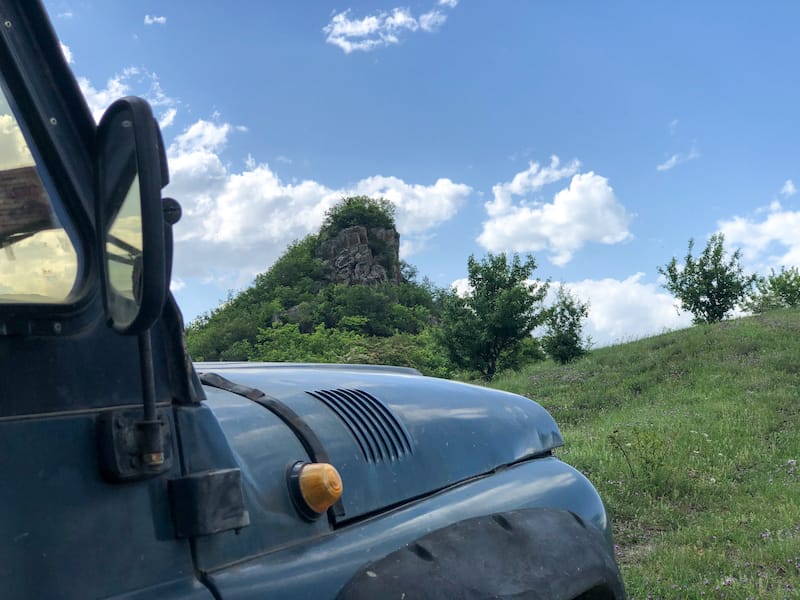 Hiking
If you opt to hike to Tanzatap Wildlife Watchpoint, you will have an 8-kilometer hike, one way. It takes around 1.5 hours each way and the difficulty level is easy/medium. You will get binoculars to watch wildlife in the area. The price is 10000 AMD per group.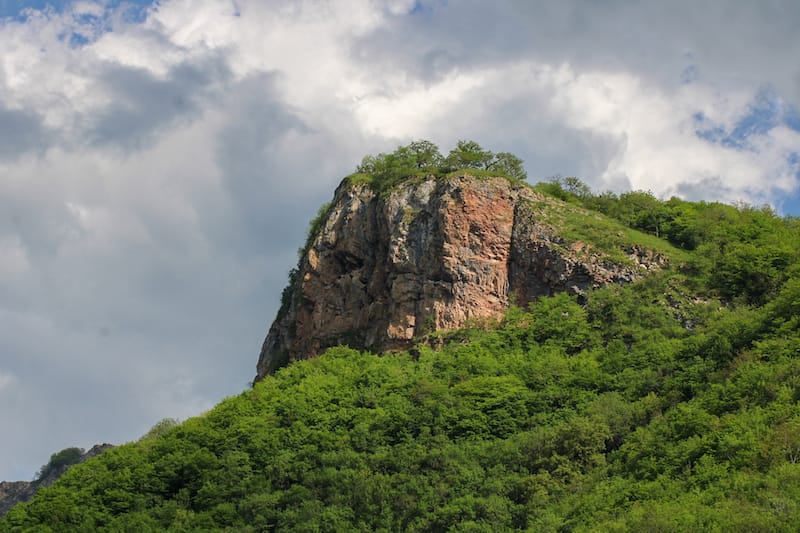 You can also go out there alone without a guide and in that case, it is free.
By Car
Alternatively, you can opt to go by car with Ashot to the watchpoint. He can fit up to 4 passengers in his car and the ride takes about 20 minutes each way. The price is 25000 AMD per group.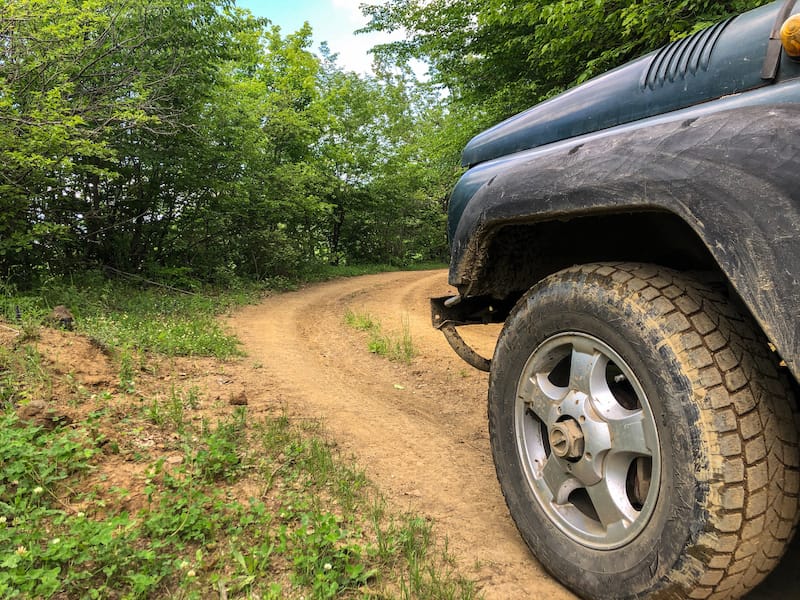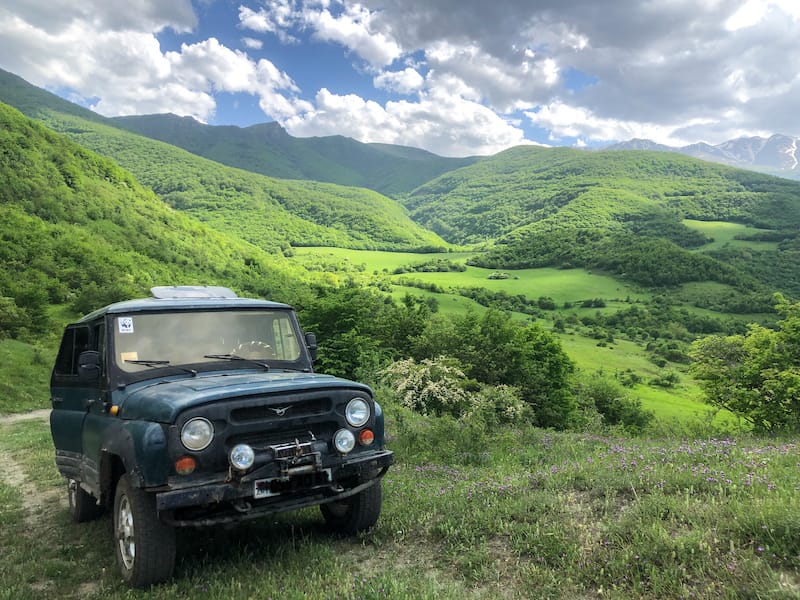 Practical Information
Below are a couple of tips and practical information for Tanzatap Wildlife Watchpoint.
There is no food around the wildlife watchpoint and BBQ'ing is not permitted. Feel free to bring some snacks but be sure to leave no trace.
There is a pulpulak in the area so you will have access to free drinking water.
Be sure to stay quiet and wear appropriate shoes or hiking boots!
The Tanzatap Wildlife Watchpoint is a fantastic place to visit near Tatev Monastery and is a place where you can truly feel the power of the Syunik nature. We hope you put it on your Armenia bucket list for your next trip!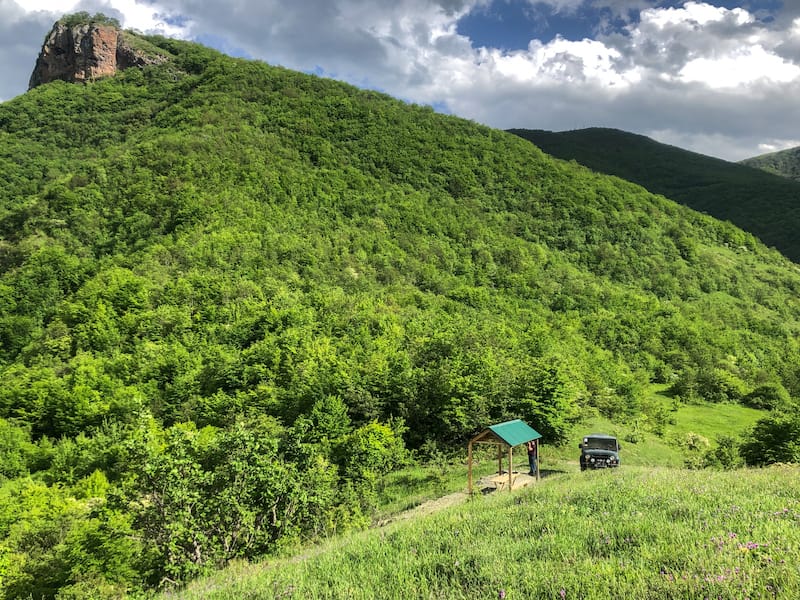 *This article was produced with the financial support of the European Union. Its contents are the sole responsibility of Absolute Armenia and People in Need and do not necessarily reflect the views of the European Union.
**The Legends Trail was created by People in Need representative office in Armenia in the frame of "EU4Tourism: Outdoor adventures on the historic trail in Syunik" project funded by the European Union.