Armenia is an up-and-coming hiking destination and it is finally getting the love (and trails) it deserves. This is a complete travel guide for the Legends Trail in Syunik, one of the newest and coolest hiking trails in Armenia!
The Legends Trail is a new network of trails in Syunik in southern Armenia. Syunik is one of the least-visited places in Armenia and the South Caucasus and this trail takes you through some truly mind-blowing spots along its route.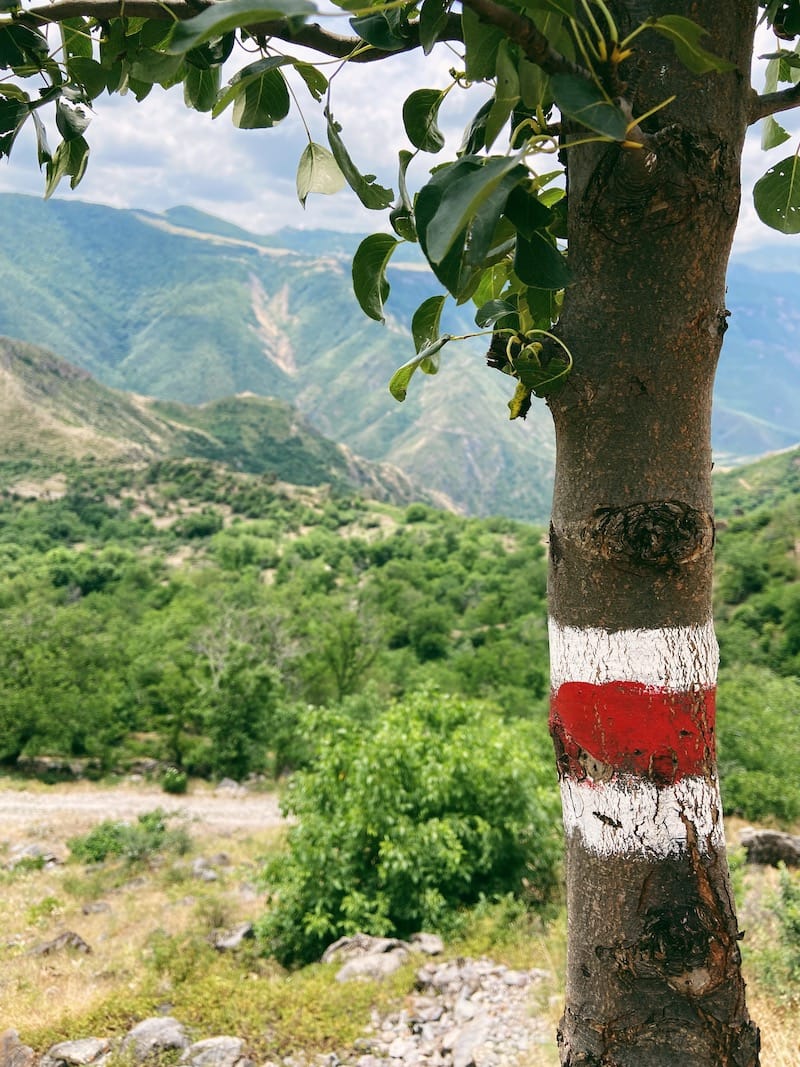 The trail's mission is to take you to some remarkable cultural and natural sites that have interesting legends affiliated with them. And, along the way, you will have a chance to stop at several family-owned businesses, guesthouses, and more.
The Legends Trail is an unforgettable way to learn a lot about Syunik's past and present while supporting its future. 
We have been so humbled to spend the last two years collaborating on this project alongside People in Need Armenia and the European Union in Armenia. It has truly been one of our greatest work experiences… and overall, travel experiences.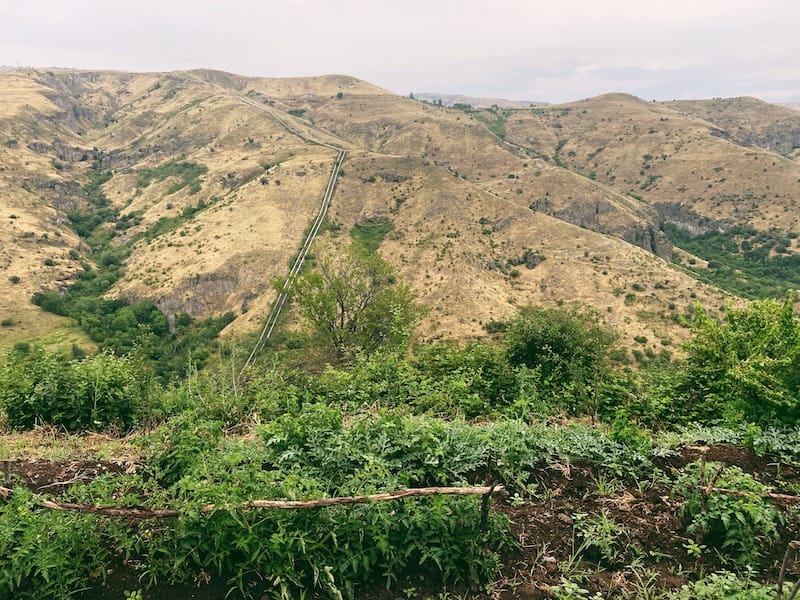 With that being said, we sincerely hope that you take the opportunity to hike the Legends Trail, or even just head to some of these places by car. There are long hikes, short hikes, and many of the places we mention throughout this article can be reached with a vehicle.
Please let us know if you have any questions by sending us an email or dropping a comment below! Thanks!
Legends Trail Overview
The Legends Trail in Syunik is a hiking trail that spans around 250 kilometers from historic Khndzoresk all the way to majestic Khustup mountain. Along the way, you will be greeted with cultural, natural, and historical sights… many with ancient legends!
The trail winds through some lively communities as well as some abandoned ones, really helping you understand and learn the history of Syunik, previously known as Zangezur.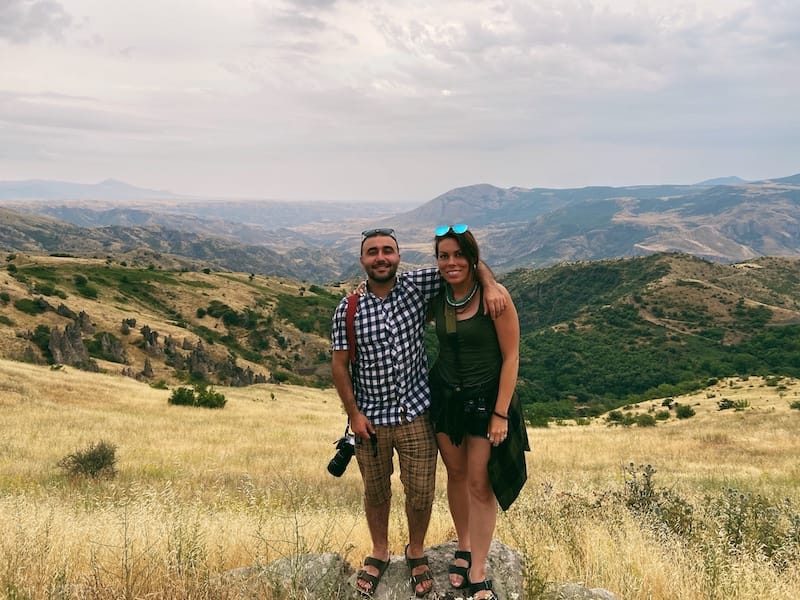 One of the coolest things about the Legends Trail is that it is part of a larger network, the TCT (Transcaucasian Trail), so you don't have to stop there. You can continue on. Or, alternatively, you can simply complete a short part of the Legends Trail.
Regarding the legends of the Legends Trail, we are keeping this post free of them as this is focused more on the practical information of the Legends Trail instead. If you want to learn more about each legend, we have some in our posts and you can find more information here.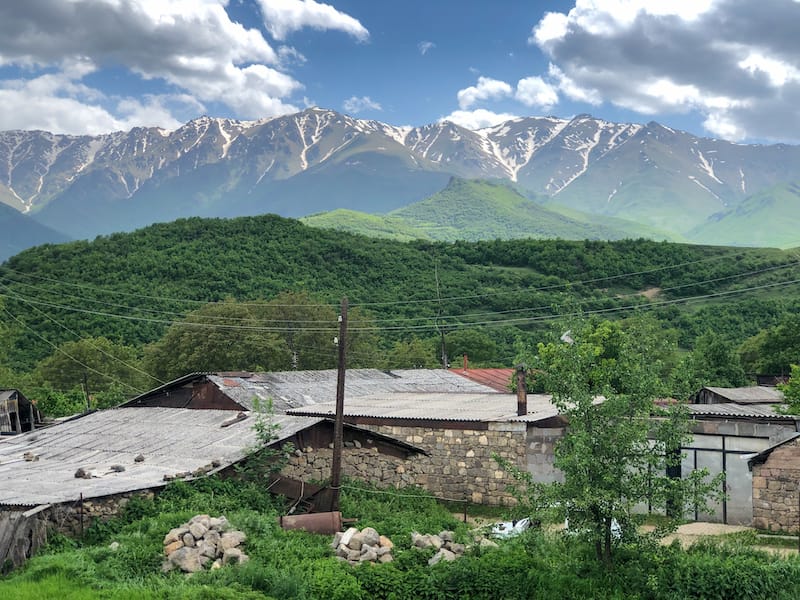 Highlights of the Legends Trail
There are some really remarkable places to visit along the way! While we found so many off-the-path destinations, we also found that some of the highlights of the Legends Trail are places that people visiting Armenia desire to see anyway, so they can combine hiking with the landmark!
Here are some of the most renowned Legends Trail highlights:
Tatev Monastery
Tatev Monastery is, without doubt, one of the most visited attractions in Armenia. The monastery served as a political hub as well as an education center and religious landmark. The Legends Trail takes you right through the local village and the monastery.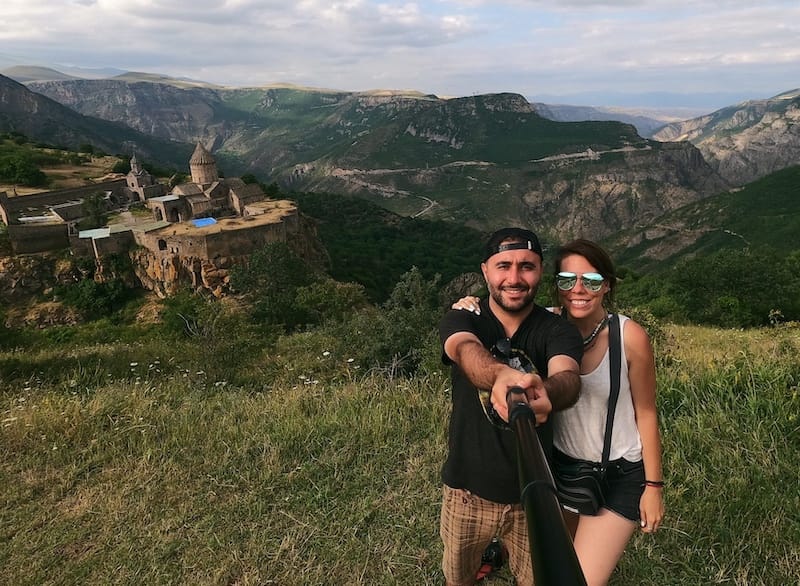 Hin Khot (Old Khot)
This place is one to watch! Hin Khot is an abandoned village is several thousand years old but was only abandoned in the last century during Soviet times. It truly is something else. If you can't hike the entire trail, be sure to at least head here and check it out!
Goris
Goris is one of my favorite cities in Armenia and the surrounding landscapes are truly magnificent. Goris is one of the larger towns that the Legends Trail goes through and is a great place to eat, stay, and more. There is an old cave city hovering over the city.
Mount Khustup
Khustup is one of the most iconic mountains in Armenia and is the finishing (or starting point) for the Legends Trail. One of the most famous generals in Syunik was buried there and the views are going to blow your mind. Trust me!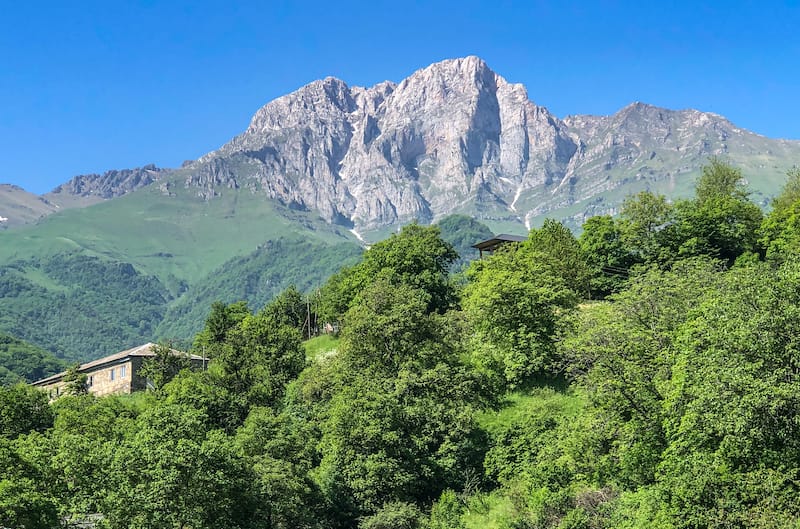 What to Know Before Your Hike
First and foremost, we recommend ordering a copy of the Legends Trail Hiking Guidebook to dig deeper into learning the trail before your trip. You can check out their website here.
Alternatively, you can pop by HIKEArmenia in Yerevan to inquire further, check out maps, and ensure you have all of the proper hiking gear for your adventure.
Best Time to Hike the Trail
Truthfully, I hate saying 'this is the best time' to do anything as it is all about personal preference, but I can confidently say that the hikes on the Legends Trail are at their best during the summer months. I have been on the Legends Trail in May and July both and both times were fantastic.
However, in May, we did experience some stormy evenings and some rain. Certain areas were muddy, but there were plenty of wildflowers and the waterfalls and streams are at their best during the Armenian spring.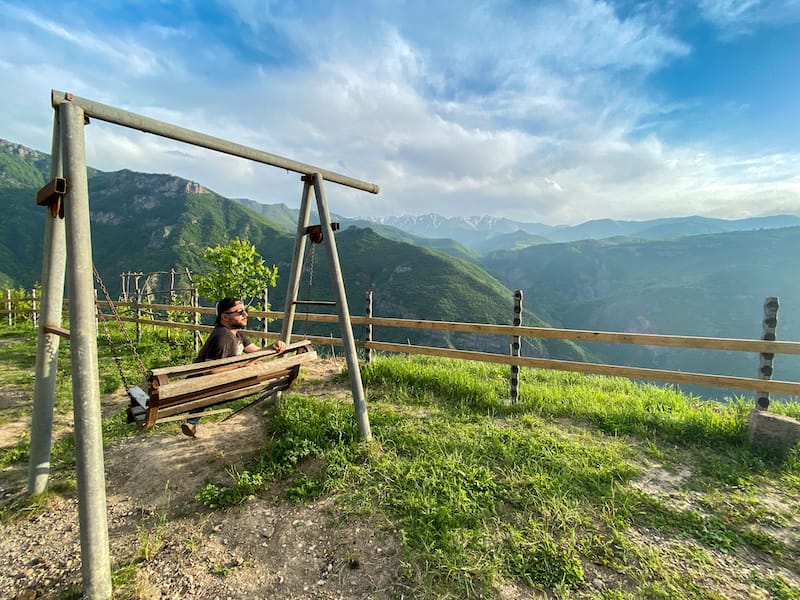 Definitively, the best time to hike the Legends Trail is from May until October. The only place you may see snow during the shoulder season is on Khustup. The temperatures along the trail are never too hot and it is a much-needed relief from the Yerevan heat!
Getting to Syunik from Yerevan
Depending on where you're hitting the trail from – you will want to likely get to Goris or Kapan area.  You can rent a car or take a taxi from Yerevan to either city, but neither is the 'cheapest' option.
If you're on a budget and want to get to Goris or Kapan cheaply, you will need to take a marshrutka. There is a marshrutka that leaves at 7:30am from behind the main Yerevan Railway Station every morning.
We advise taking this bus (arrive a bit early to ensure you get a seat!) there as you will arrive in Goris around 1-2pm and will have the rest of the day ahead of you to relax and prepare for your trip. If you're going to Kapan, you will need to continue a little bit further.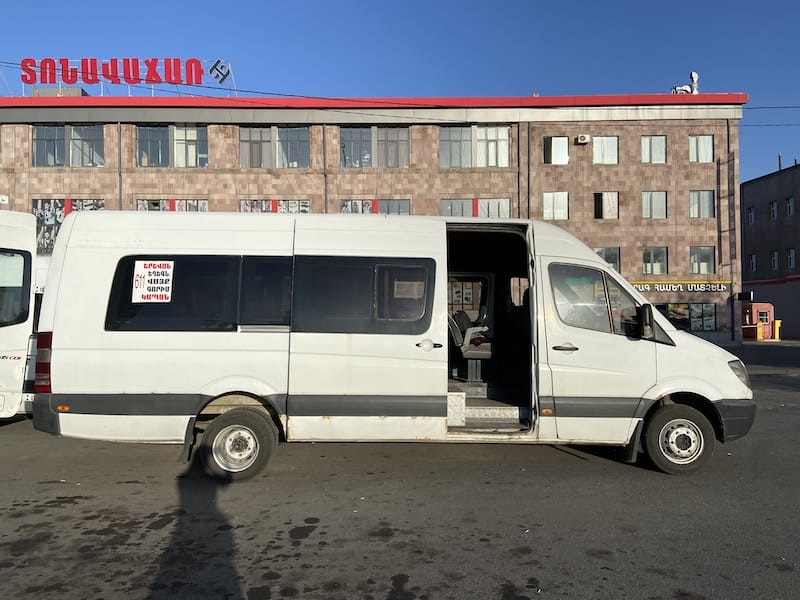 The price for the bus to Goris is 2500 AMD ($5) and to Kapan is 4000 AMD ($8) currently. This is subject to change slightly.
Please be aware that the driving standards of many marshrutka drivers in Armenia are a 'work in progress'. It is not uncommon to see them chatting on the phone or smoking cigarettes while there is a van full of passengers. I hope I can update this to say otherwise one day.
INSIDER TIP: If you are heading to Kapan on this route, the bus will likely go through occupied Artsakh territory, meaning you will be going through 'Azerbaijan'. There will be signs welcoming you there and you will need your passport or documentation for Armenian authorities (Russia and Azerbaijan did not check).
The Trails
On the Legends Trail, you will find a variety of different types of paths – from off-road areas to dedicated footpaths to paved roads. There can be some erosion and loose rocks, so do be careful and wear the right footwear!
The trails are well-marked with red and white markings and there are several yellow signs along the trail that will help guide you. They are marked in kilometers and will also showcase local sights and points of interest along the way.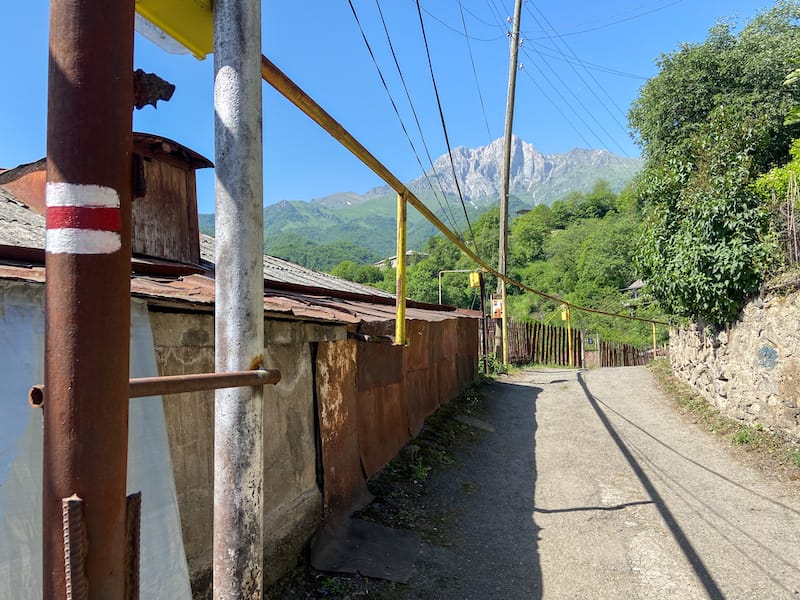 Food and Accommodation
This post will detail some of our favorite places for both under each of the sections, so be sure to read further.
You will find plenty of accommodation along your journey and you will also find restaurants, shops, and places to eat. Every guesthouse we mention here will prepare or offer food (sometimes at an extra cost).
Another fantastic thing you will find during the summer months in Armenia (especially Syunik) is that many of the trees have fruit on them. You will also find several residents selling fruit, wine, and other goods off of the sides of the road or in villages along the way. Be sure to always have cash with you so that you can purchase some along the way.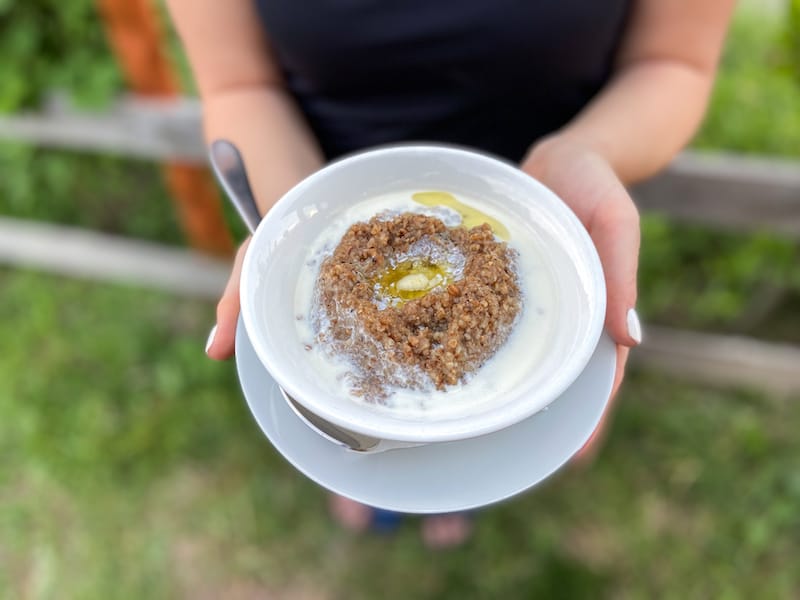 Are you vegan or vegetarian? If so, you may struggle a bit in villages… but a lot of Armenian food is accidentally vegan or vegetarian. I would bring a piece of paper with you that states you are plant-based in Armenian and Russian just in case. However, be prepared to inform the host that eggs and cheese are not vegan as being vegan is extremely uncommon in most of Syunik.
Wild camping is tolerated and 'permitted' in most of Armenia, so if you're looking to pitch a tent somewhere, just do so away from roads and be sure to clean up after yourself.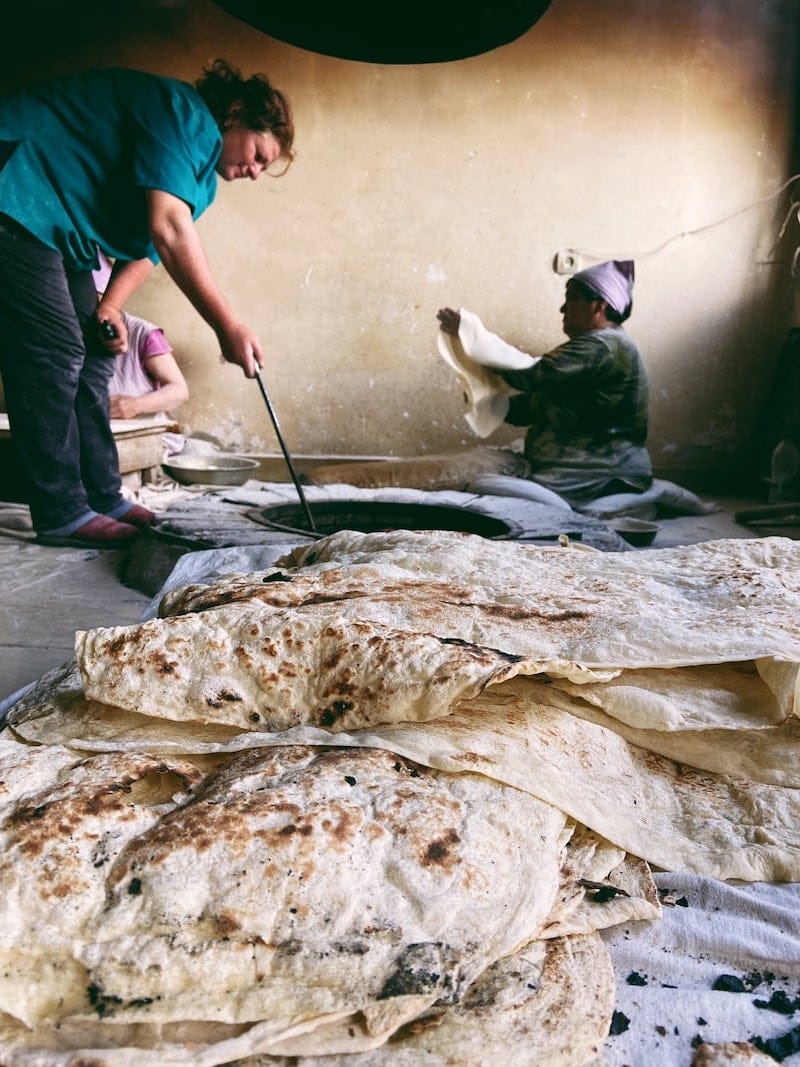 What to Bring With You
If you're an avid hiker, you will already have a list of the equipment that works for you, but if you are a rookie or novice hiker, here are some suggestions:
Hiking boots (I love my Keen Targhees)
Water bottle (there are so many natural springs and pulpulaks along the way! This is the exact one we use.)
Cash (you will likely not find ATMs in many villages and you may need to restock on supplies and food along the way)
Armenian SIM card (service is quite good in Armenia and it will help with maps, GPS, and keeping connected)
Sunscreen (there are many open areas and the sun is strong!)
Sunglasses (Armenia receives a lot of sunshine!)
First aid kit
We also recommend bringing long pants and a light jacket for the journey. Nights are chilly, even in summer. And many places have high grass or overgrown areas, and the pants will save your legs from many bug bites.
In addition, we recommend checking out AR Trail's app before you go. They actually have a section of the trail (around Devil's Bridge) in augmented reality and this will prepare you by letting you see the terrain in a 'live' manner before embarking on the hike.
Not only is this a fantastic way to prepare, but it is also a wonderful way to enjoy the trail as an armchair traveler if you're unable to complete the hike or any of its sections in person! Click here to check out the AR Trail's website and download the app!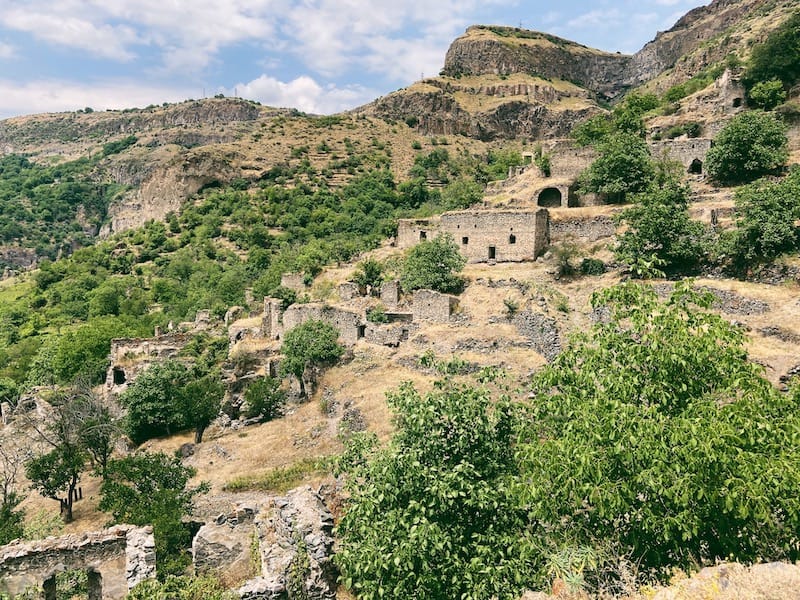 You can bring camping equipment and tents, but you can also rent them in Armenia (or purchase) from Camp.am or HIKEArmenia. In addition, many of the guesthouses on this list offer tents and rooms on-site, so you can save the hassle of carrying one.
Our Favorite Legends Trail Stops
To be honest, we can't possibly cover the entire Legends Trail on one post, hence encouraging you to purchase the Legends Trail Hiking guide with all the detailed information, including a great Legends Trail itinerary!
However, we have written extensively about the trail, so here are some of our favorite stops along the way, including small businesses to stop at and accommodation options in many of them!
Goris
One of the main (and must-visit) places along the Legends Trail is the Syunik town of Goris. Goris is absolutely stunning – from its unique architecture to caves and cliffs overlooking the town, it really is a special place!
We highly recommend starting your journey in Goris and taking a few days prior to the hike to enjoy the town. There are plenty of places to stay in Goris, from Aregak B&B to MVN Guesthouse to Mirhav Hotel… and more!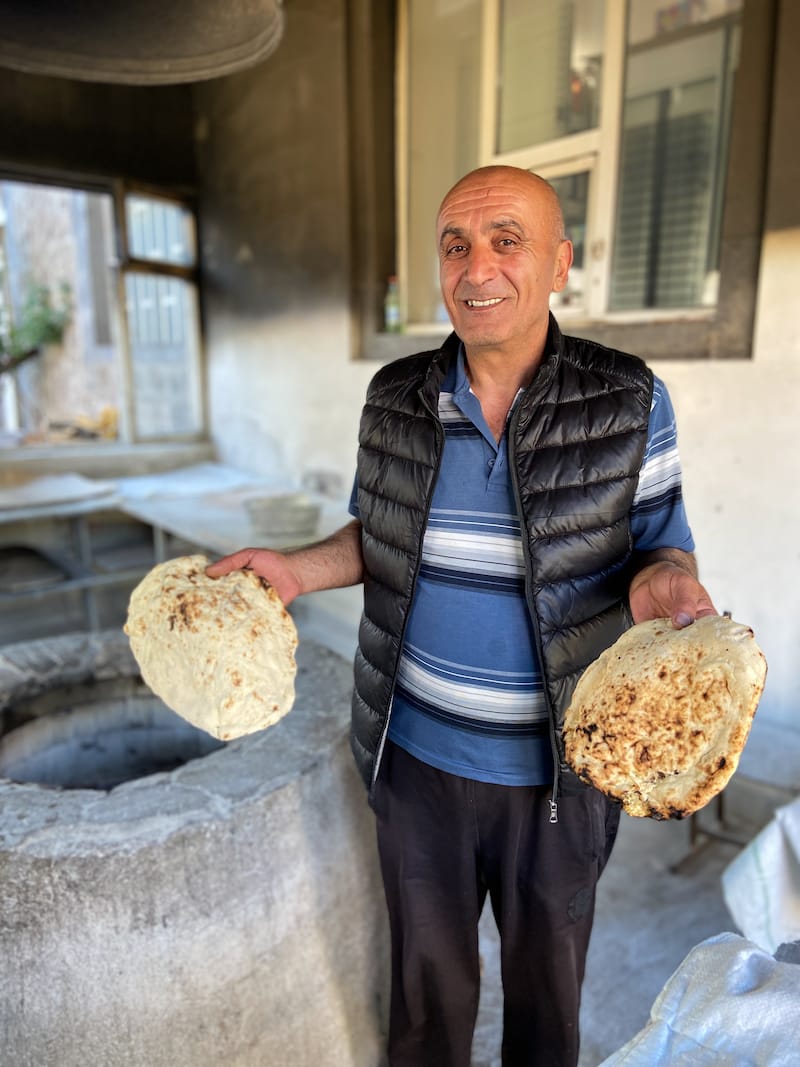 In Goris, you'll find delicious food at Takarik, Tour Baza, the Mirhav Hotel, and Cafe DeLuxe in the town center. Don't miss the House Museum of Aksel Bakunts and the Bells of Goris viewpoint!
If you're interested in hiking some of the smaller routes, Goris is a great base to do so. You're also close to Tatev, Khndzoresk, and more. There is also a cute village right beside Goris called Karahunj.
They host an exciting mulberry vodka festival every summer and you can camp overnight at the amazing Ttenut Eco Camp! It is one of my favorite places in Syunik!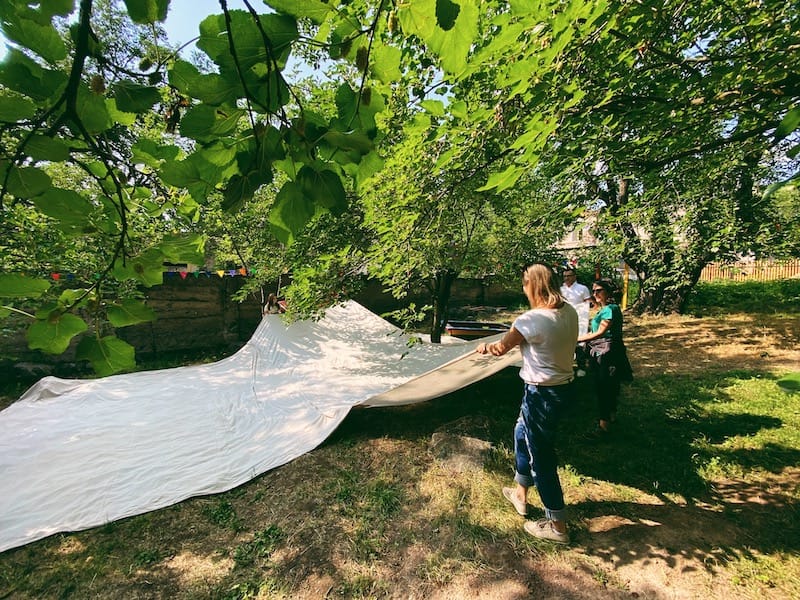 Closer to gorgeous Khndzoresk, known for its cave houses and hanging bridge, you will find the awesome Shahnazar Adventure Campsite – a place where I got some of the best sleep of my life (they put some type of thick mattress in the tents and it is pure bliss)!
Also nearby, you will find Maghanjugh, or Aygedzor, an abandoned village with a captivating history and a remote, eerie nature about it. Below are links to our guides from some of the aforementioned sights, guesthouses, and things to do.
Hin Khot
One of the coolest and most mysterious places to visit in Armenia is Hin Khot, or Old Khot. This is one of the most incredible gems of Armenia and one that I am sure will be on everyone's travel radar sooner than later!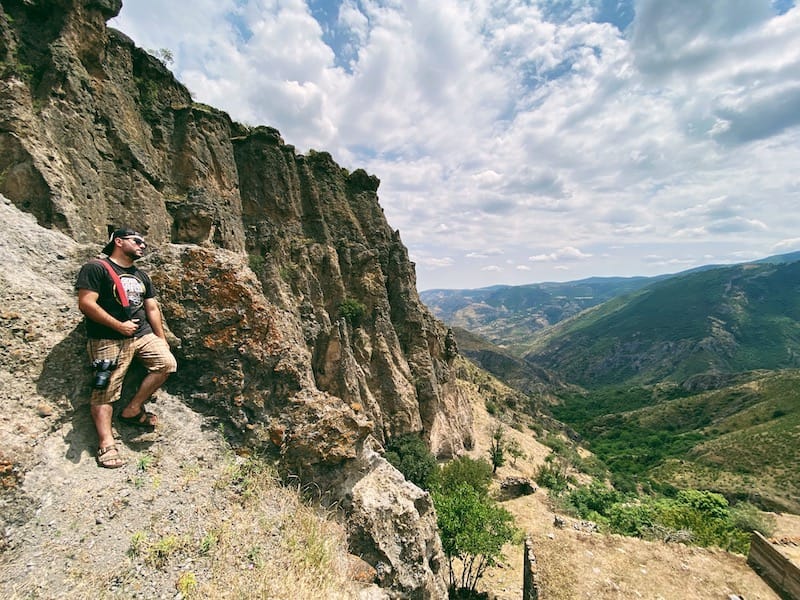 Hin Khot is an abandoned village situated in a gorge that dates back thousands of years. You will find caves, churches like Mrgadzori Khach chapel, homes engulfed by nature, and more. You can visit Hin Khot as part of the long hike or you can venture there independently on your own.
The walk down from Khot (the new village) takes around an hour, give or take a bit, and it will leave you mesmerized with its views and scenery.
Shinuhayr
Another gorgeous village in Syunik is Shinuhayr. It is charming but it also has an old and new area to it. Old Shinuhayr sits across a sloped plateau and is renowned for Kusanats Hermitage, a 17th-century convent.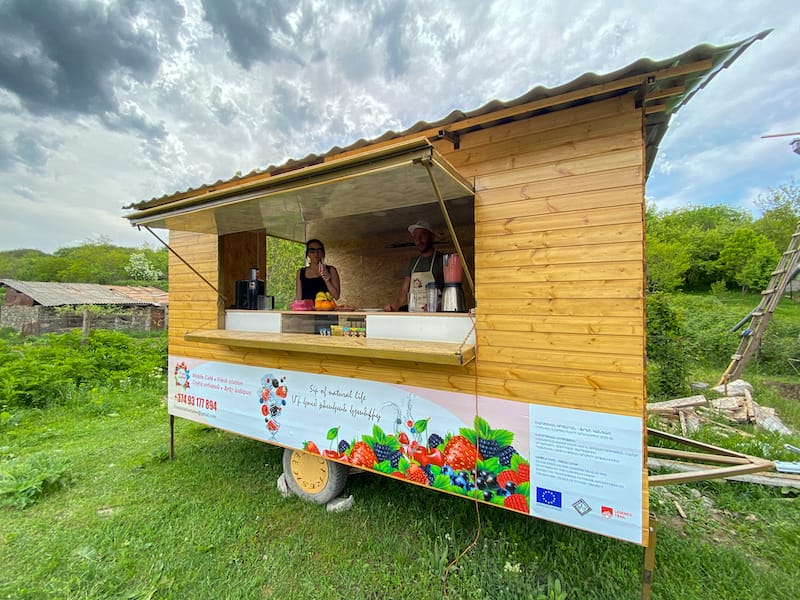 But, one of the best things about Shinuhayr is the food options once you're in the new village!  Right off of the highway, you will find the Fresh Station, famous for their smoothies and mobility (they move about between a few locations but their base is Shinuhayr), and Family Restaurant Tonratoon.
You can grab a delicious Armenian BBQ, homemade lavash, and all-natural smoothies or juice all within a few footsteps from one another! It is a great pit-stop on the road, or along the Legends Trail.
Tatev (and Halidzor)
Tatev Monastery needs no introduction, however, the village does.  Tatev village has around 500 residents and is actually quite a hidden gem in Syunik. You will find historic churches, great food, amazing guesthouses, and more there.
Close to Tatev, you have the Old Halidzor Hotel & Restaurant, a wonderful place to stay (with epic views), and a place to try traditional Syunik cuisine. You can also explore old Halidzor and the ancient sights there.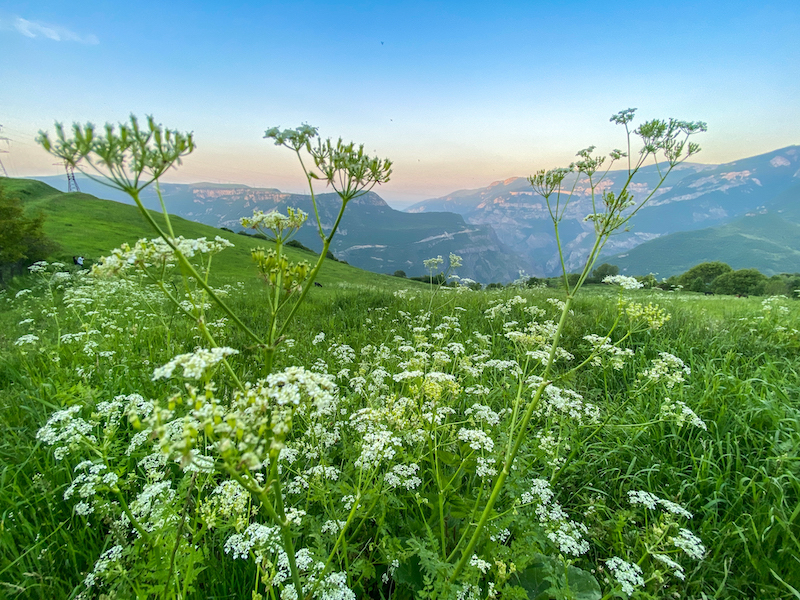 In Tatev village, you can opt for one of the guesthouses like Old Tatev B&B or Gevorgyan's Guesthouse – both hospitable places in the heart of the village.
If you're looking for a nature experience, head to the Tanzatap Wildlife Watchpoint, a viewpoint where you're likely to find birds, bezoar goats, and more roaming the area!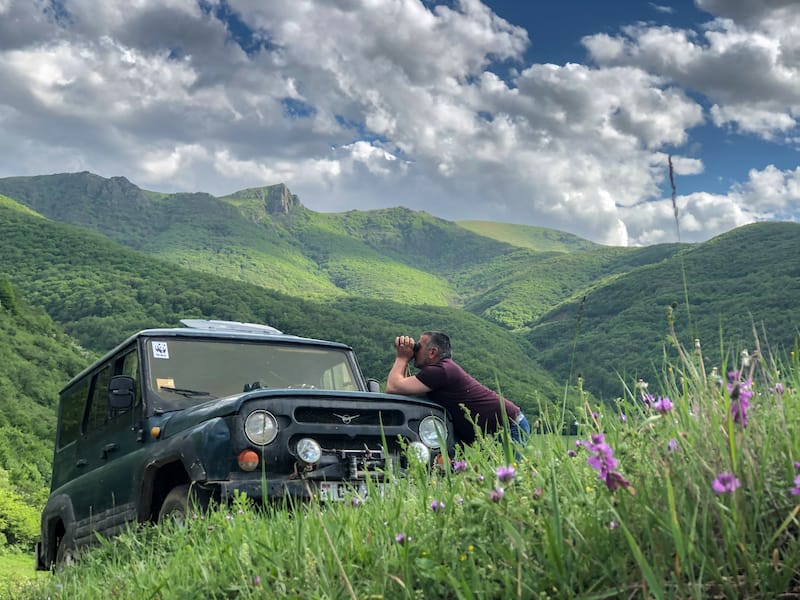 Across the gorge, you'll find Bardzravan village, one of the most remote places I've ever been to!  If you venture out that way along the Legends Trail, you will find the Bardzravan Campsite and historic churches. There is even an old caravanserai nearby!
Tandzaver (and Nearby Villages)
An up-and-coming adventure village in Syunik is Tandzaver. This tiny village is tucked away in the mountains and has a lot to offer for its size! You can hike (or e-bike!) to the abandoned Andokaberd Fortress, a small waterfall, and more.
Be sure to venture to the Magic Forest, a land art museum in the forests of Tandzaver. You can find out more about the Magic Forest Loop Trail with HIKEArmenia here.
Welcome Tandzaver also offers horseback riding in Tandzaver these days, and you can make a delicious Armenian coffee while overlooking the jaw-dropping scenery!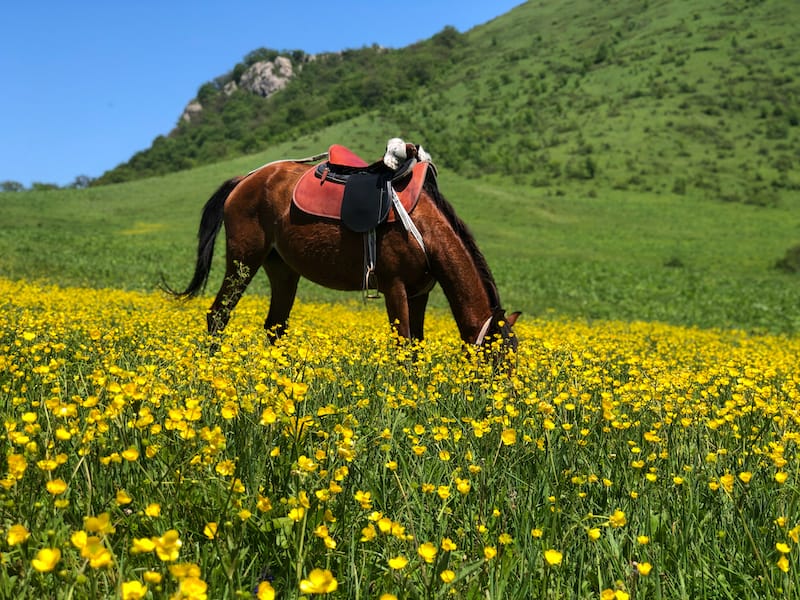 If you need a place to crash in Tandzaver, you can stay at the Tandzaver Eco Camp or at the wonderful Knarik's B&B. Knarik and her family are so hospitable and will showcase the best of Tandzaver with their friendliness and local Armenian food!
You will find plenty of other villages near Tandzaver.  Verin Khotanan is absolutely STUNNING.  It is one of the most picturesque villages along the Legends Trail, without a doubt! You can stay at the Verin Khotanan Guesthouse when there.
Another worthwhile stop is Shrvenants. While we didn't stay there, we did visit an abandoned school called the Shrvenants School.  It is currently locked but you can still see it from the outside and witness magical views of Khustup in the background.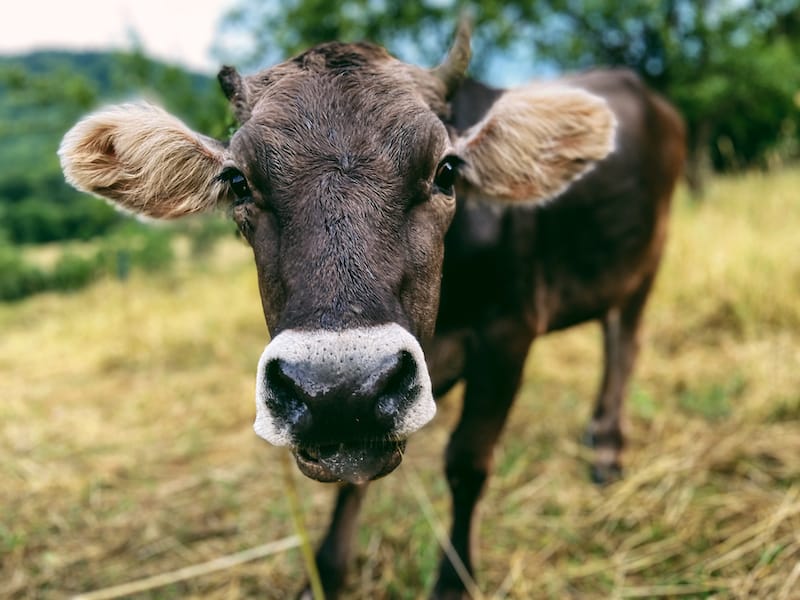 And lastly, is the village of Antarashat. We loved the place and we stayed at Hyuratun Antarashatum Guesthouse. The spacious and extremely clean house offered anonymity and no wifi and was the ultimate digital detox (that we didn't want to leave)!
Kapan City (and Nearby Villages)
Oh, how Kapan surprised us. We were not sure what to expect when visiting but we were given some amazing tips from our friends at ARK Armenia and we found ourselves absolutely loving Syunik's largest city.
The city had plenty of beautiful sites and brutalist structures… and the surrounding area was spectacular. We visited Halidzor Fortress, Vahanavank Monastery, Baghaberd Fortress, and more.
We also fell in love with two guesthouses on the outskirts of Kapan city. The first was in Bekh and had the best views over Kapan! Bekh Hilltop Camping has a BBQ area, pool with views, and incredible hospitality.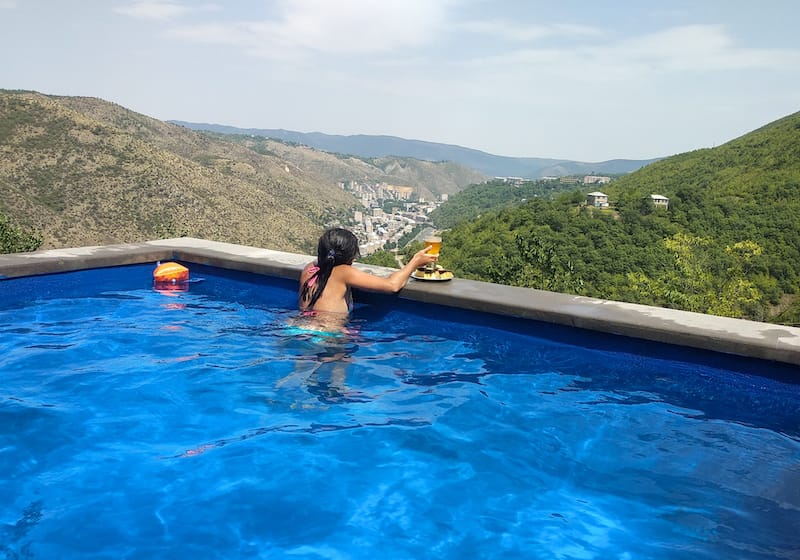 Verin Vachagan was the next village we passed through and it is a great pit-stop before the final stretch of the Legends Trail. We had a chance to pay a visit to Khustup Guesthouse, a new B&B in the village.
It had animals, delicious food, views for days, and that amazing Armenian hospitality. Definitely a recommended stay (and the village is so quaint).
Travel Tips for the Legends Trail
Here are some random tips we think are useful for those looking to hike the Legends Trail. Please leave your own tips in the comments!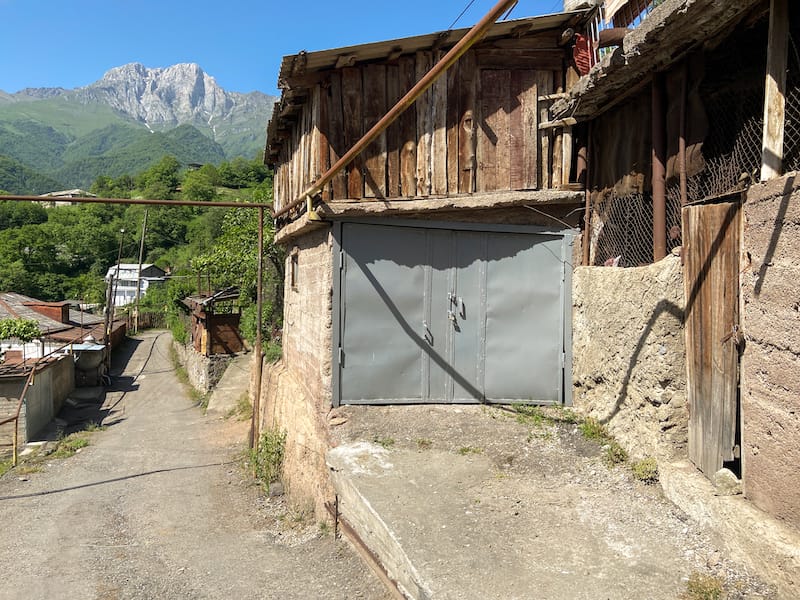 There are not many ATMs around. Get money out in the larger towns or take some with you for the journey.
You will see many stray dogs throughout the journey. Be vigilant. Most are friendly but they can be territorial.
There are four types of poisonous snakes in Armenia and some are in the area – wear long pants and proper hiking shoes.
Language may be an issue at guesthouses. Bring an Armenian or Russian phrasebook if you think this may be an issue for you.
Water in Armenia is good and fresh! There are several places to fill up along the way and the mountain water is so delicious!
If you're on Khustup, beware that the time on your phone may change by 30 minutes. It tends to pick up Iran time at some point on the mountain, which is a 30 minute time difference!
Should You Hike the Legends Trail?
Well, we didn't write this entire guide to deter you from doing it – so YES! Go! 
Syunik is mind-blowing. The towns, villages, cities, mountains, monasteries, landscapes… but mostly the people.
We have had the pleasure of getting to know so many people along the Legends Trail and there are so many great businesses and guesthouses along the way that you will be able to hike and feel like you're part of a community at the same time.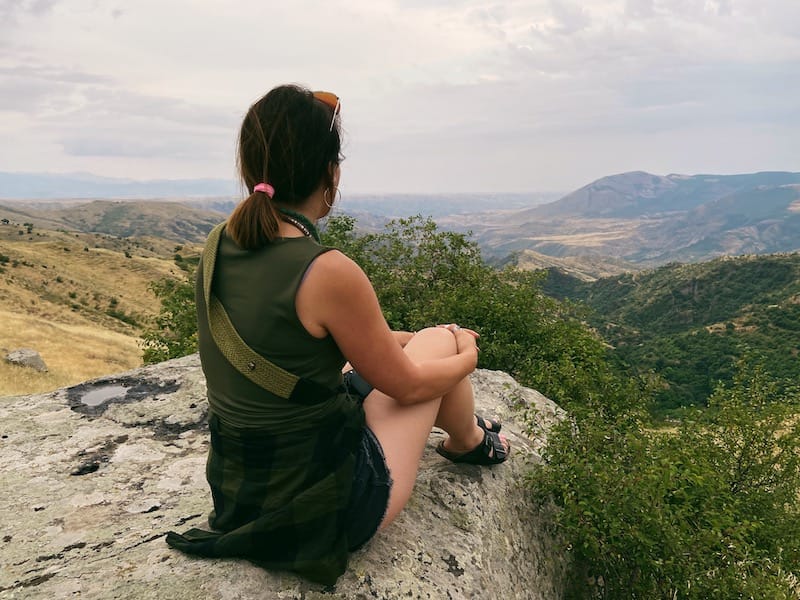 We hope that you found this guide very helpful and a good introduction to the Legends Trail in Syunik. If you are looking for more detailed information, you can click on any of the aforementioned guides, message us, or purchase the Legends Trail Hiking guidebook!
We would also like to thank every single person we met along the way and worked with on this project, especially the fantastic team at People in Need Armenia (including Shushanik, Mery, Vard, Kristina, and each and everyone from PIN who contributed to this amazing project ).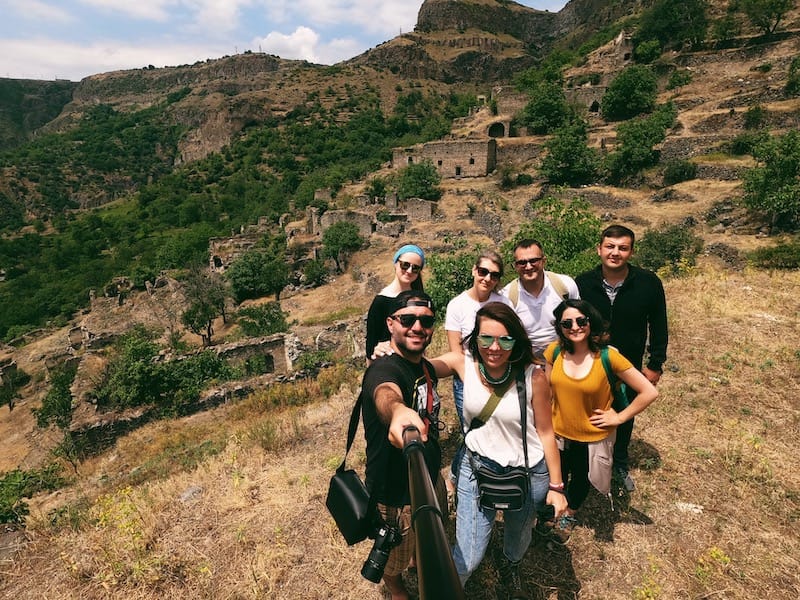 A special thanks to Hovik Grigoryan for playing guide for us for multiple days on our first trip, Ashot Arshakyan for enduring the road to Bardzravan with (and for!) us, Alina Gevorgyan for showing us how much Tatev has to offer beyond the monastery and helping us arrange everything, Irina Darbinyan for showing us what pure passion and love for what you do is, Paloma and Mikael for becoming life-long friends, Roman Harutyunyan for helping us discover the 'hidden' side of Antarashat, Bagrat Hakobyan and his family for the incredible hospitality, coffee, and vodka, and the wonderful Marietta at Aregak B&B for making us feel like family on both trips.
*This article was produced with the financial support of the European Union. Its contents are the sole responsibility of Absolute Armenia and People in Need and do not necessarily reflect the views of the European Union.
**The Legends Trail was created by People in Need representative office in Armenia in the frame of "EU4Tourism: Outdoor adventures on the historic trail in Syunik" project funded by the European Union.