Vayots Dzor is definitely one of Armenia's best hiking areas and you'll find some of the coolest hikes with HIKEArmenia there! This is a quick glimpse into my time hiking the Old Martiros Loop and the Martiros Waterfall hike!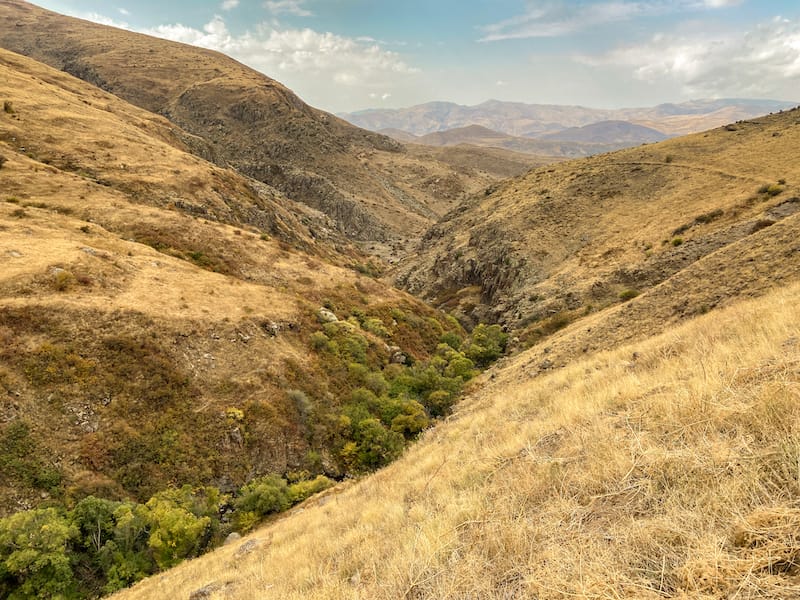 I recently stayed at the wonderful Old Martiros Guesthouse in the village and had the chance to go out hiking with Hamlet, the guesthouse owner. He led the way and introduced me to his stomping grounds and the scenery and experience were so memorable!
Have you completed either of these Old Martiros hikes with HIKEArmenia? Let me know your experience in the comments! Thanks.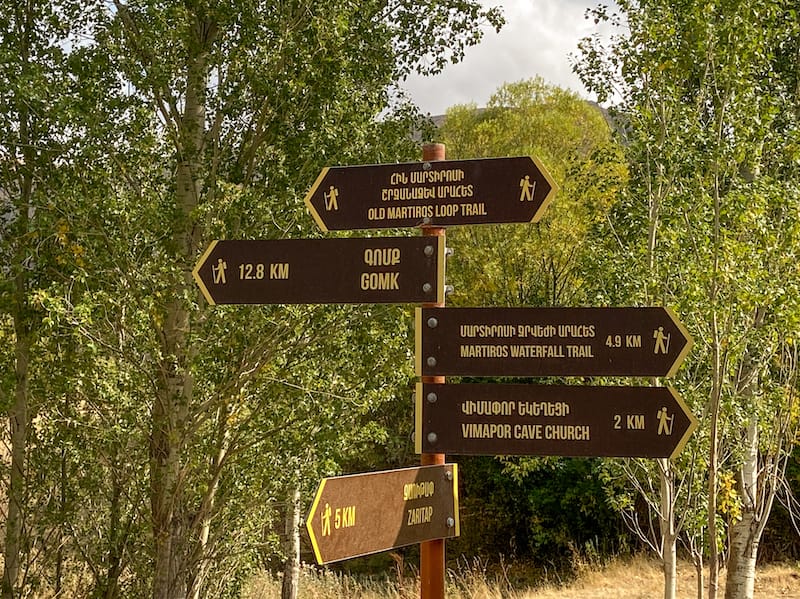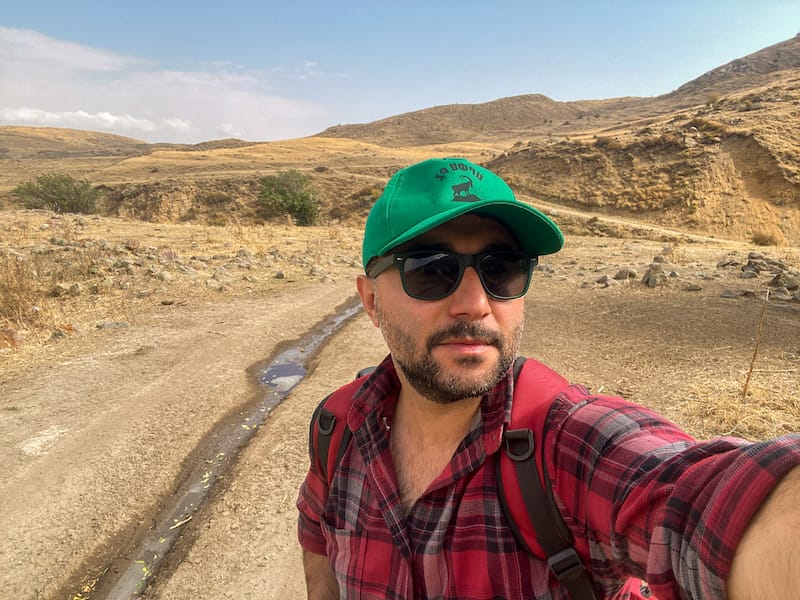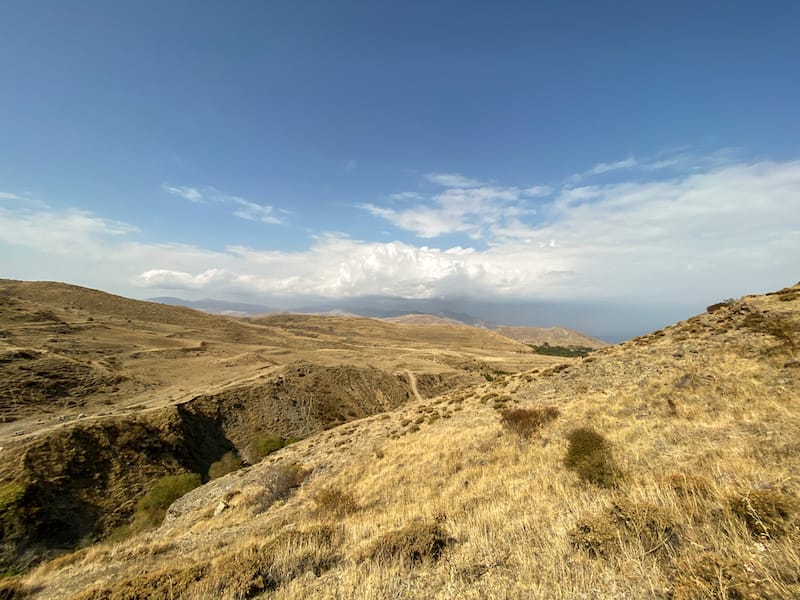 Old Martiros Waterfall & Loop Hikes
I started the hikes at the Old Martiros guesthouse but that is not where the trailheads are – but you can easily catch the trail from there. HIKEArmenia has placed signs and trailmarkers to help guide the way.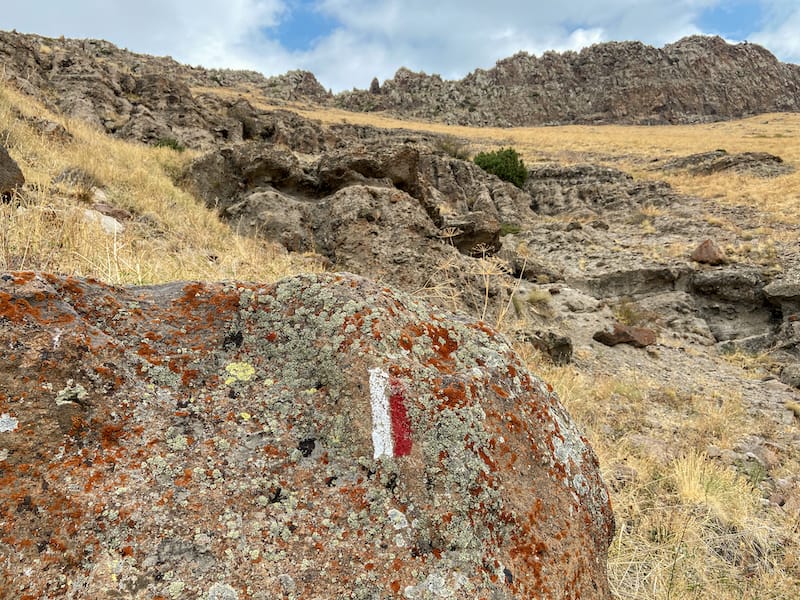 From the Old Martiros Guesthouse, there are a few hikes available for guests and active travelers (and I highly recommend you do one of them).
You will have the Old Martiros Loop (6.5km) and the Martiros Waterfall Trail (a 2km out-and-back).
Length: Old Martiros Loop 6.5km (4mi), Martiros Waterfall 2km (1.25mi)
Estimated time: Old Martiros Loop 2.5 hours, Martiros Waterfall 1 hour
Difficulty: Both are easy
You can choose whichever hike you find suitable. Both will lead you through jaw-dropping scenery, especially if you're visiting during autumn as I did!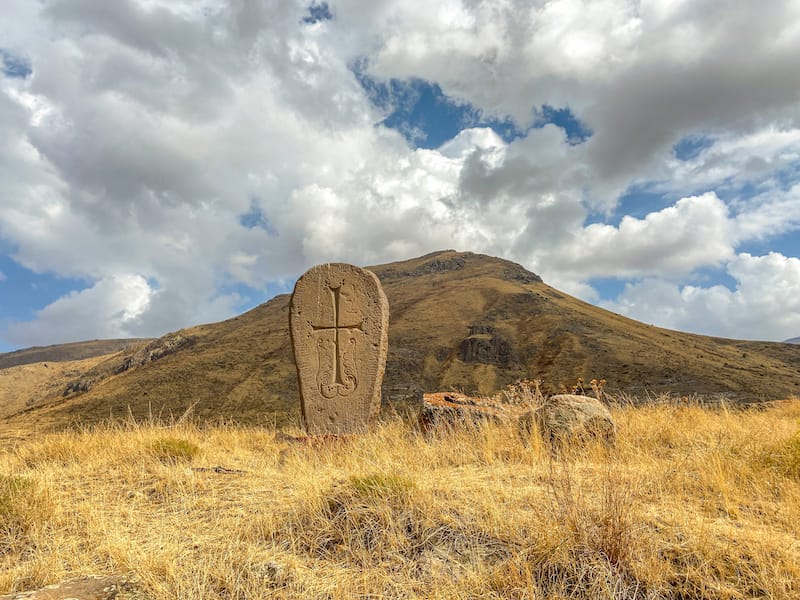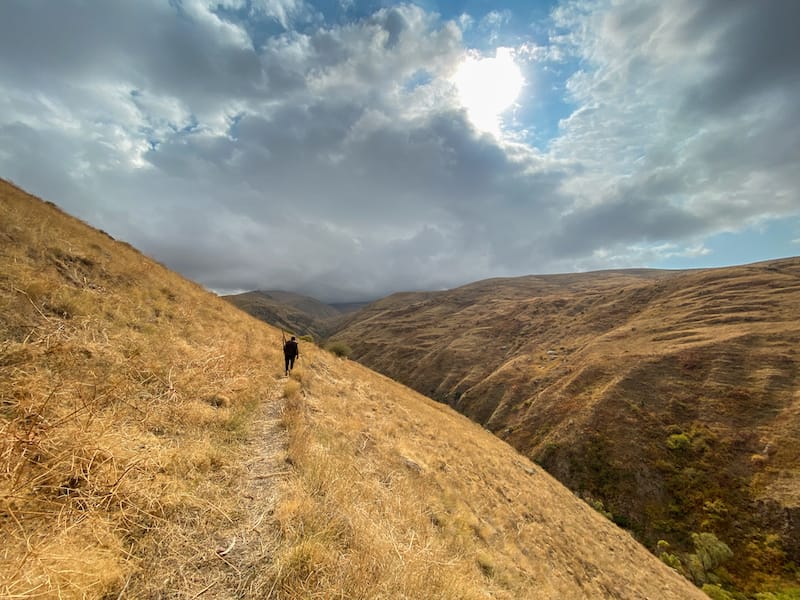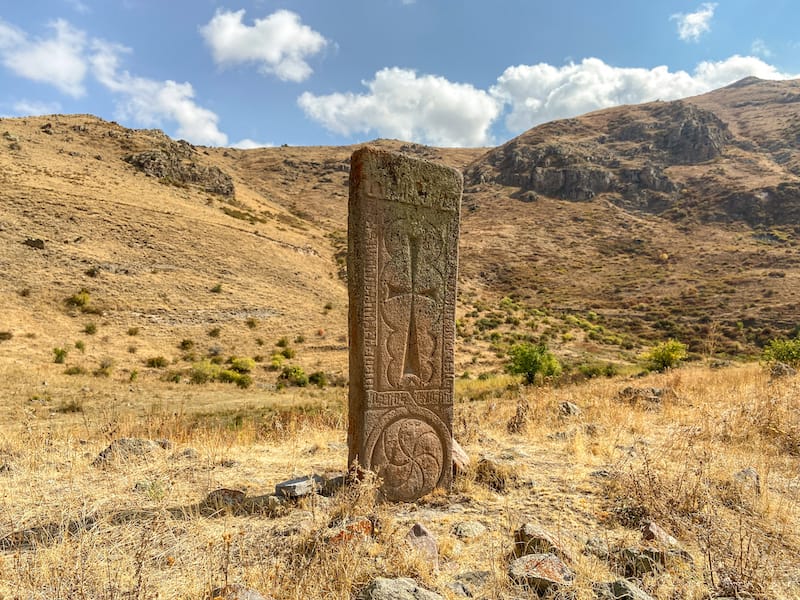 Once I started my hike, I kept walking until I reached a small hill where I found drinking water from a good source from the mountains. Right next to it was Vimapor Church.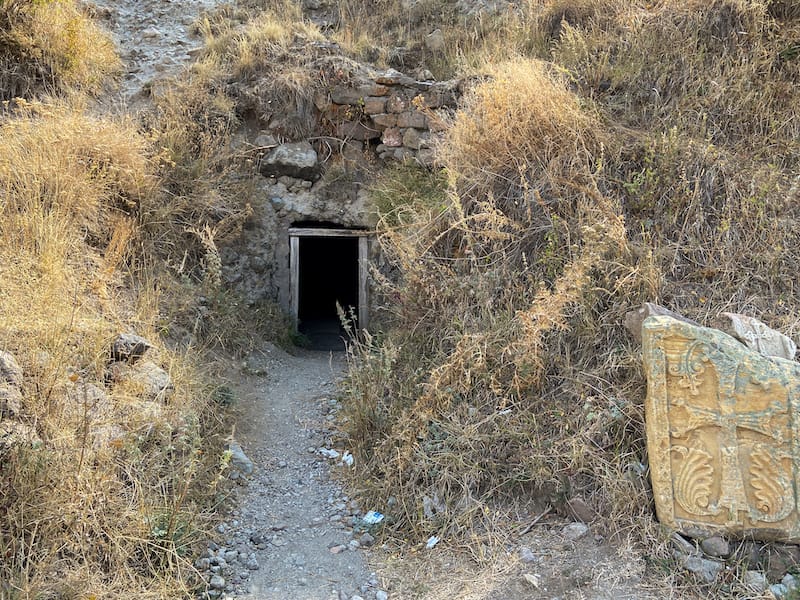 It also is called the Holy Mother of God Cave Church (and Martirosats Monastery). This 13th-century church was constructed in a similar fashion to Geghard Monastery and was essentially a cave church, with a few underground rooms carved into Mt. Nazar. It is one of the main highlights along the hike!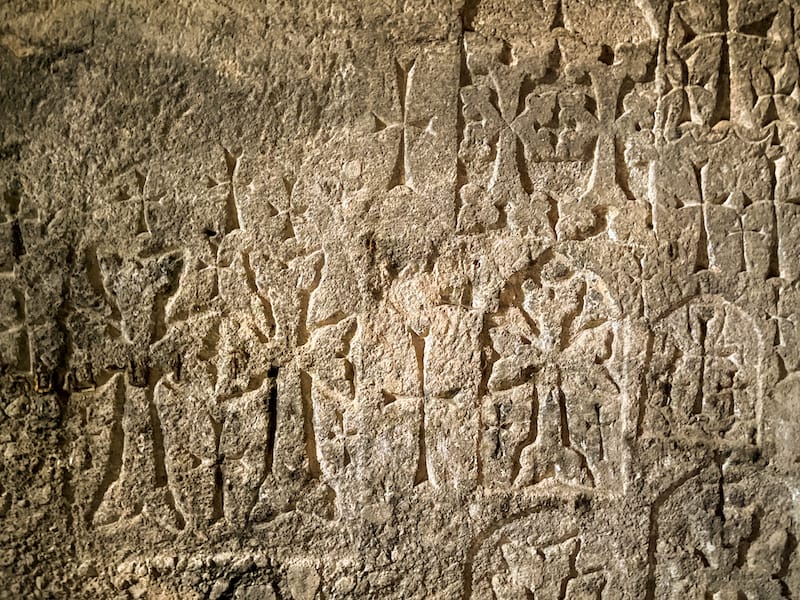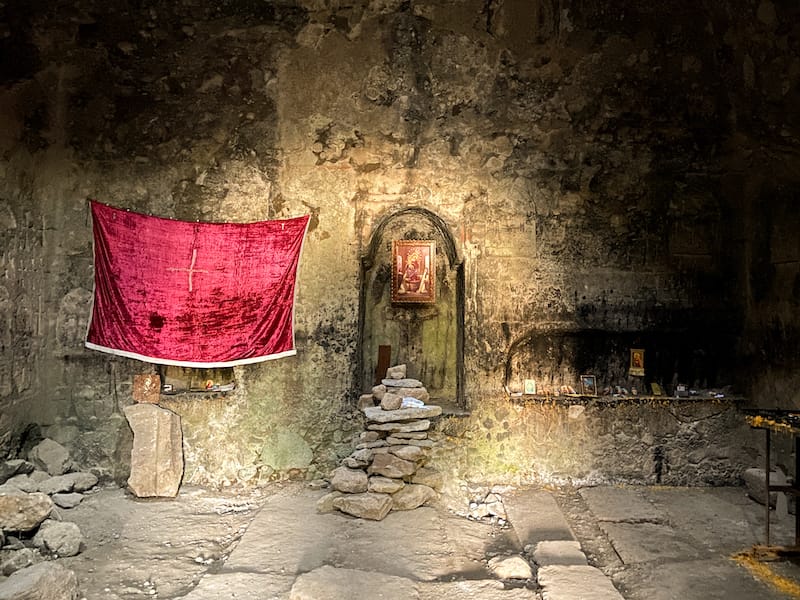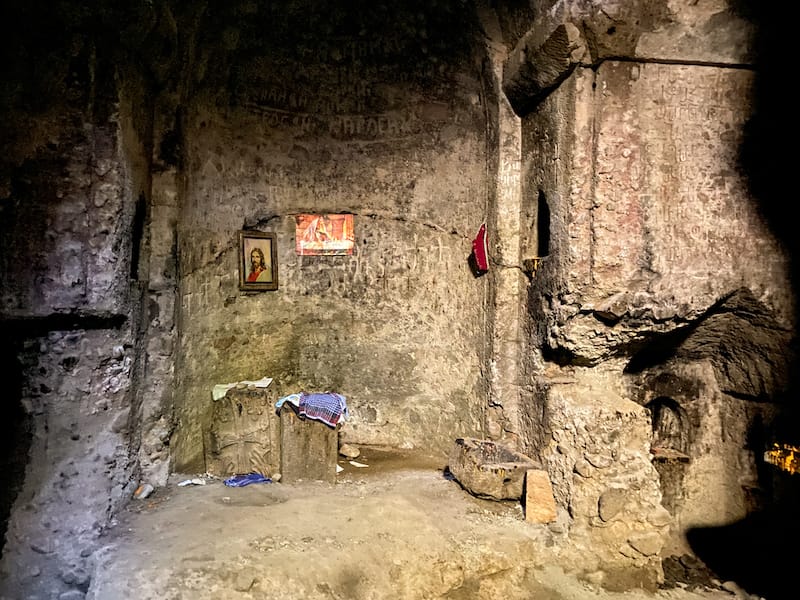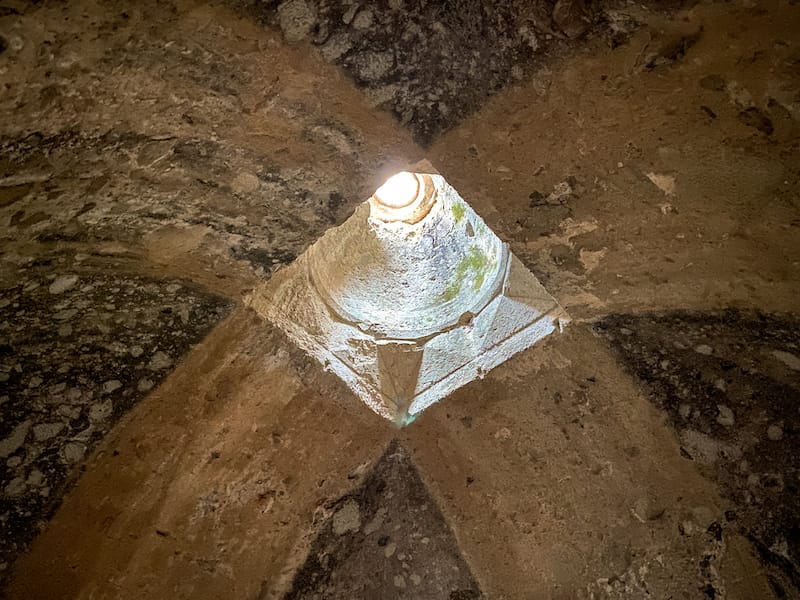 This was a great place to refresh and enjoy some cold drinking water (and refill my water jug) and photograph before continuing to the Armenian waterfall. There is a sign on the righthand side (if facing the church) that tells you where to go!
Hampoin Chra Waterfall was the next highlight on the hike and it wasn't flowing as fast as it would be during spring, but it was still a beautiful place to check out!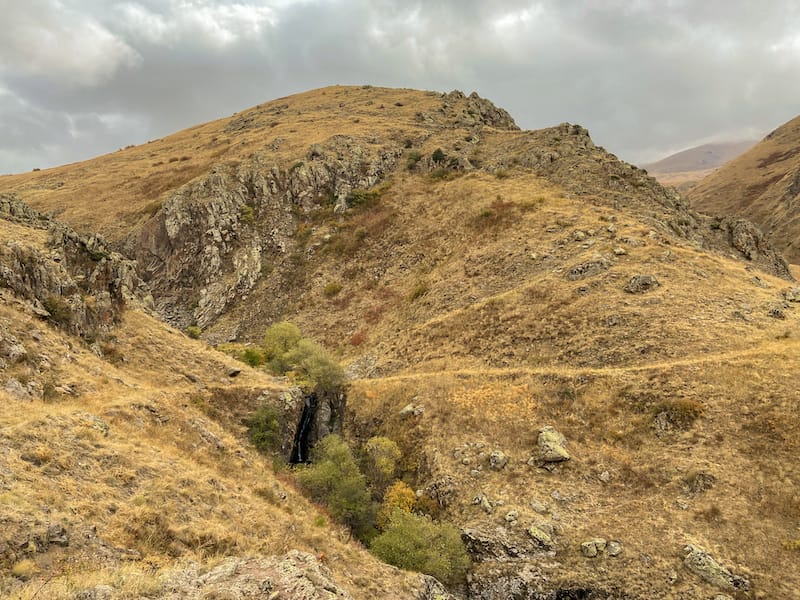 The path then goes between two mountains, Mt. Nazar (2446m) and Mt. Gogi (777m). The landscapes are higher on the lefthand side and smaller on the righthand side where Gogi is but it is absolutely beautiful throughout. There was also a gorge and a river.
It is said that the Silk Road passed by this area and it was so awe-inspiring envisioning something so historic running through the same area that my feet were planted at that moment. But, that's Armenia…
On the way back, we went to a humble mountain lake that was called Chimov Lake (or Chumkov Lake). From there, you will have amazing views!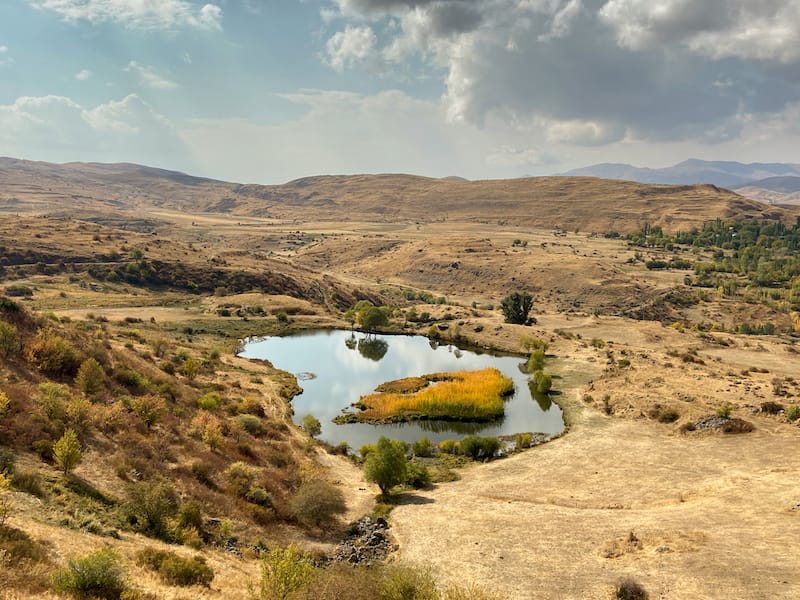 You will then see 3-4 khachkars downhill from the mountain at ruined churches called Surb Gayane and Surb Hripsime. You will also see an old and historic village dating back to 1283 where roofs no longer exist but the atmosphere will transport you back to a different era.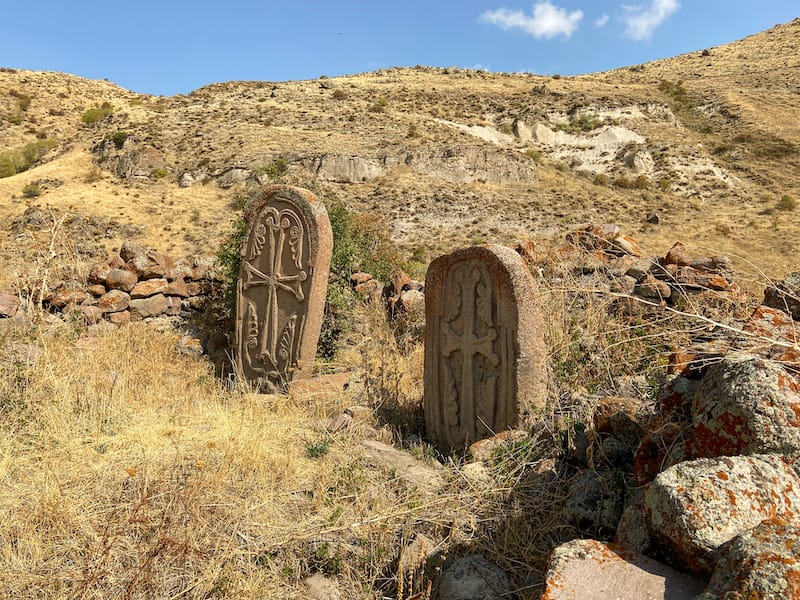 Then we ventured back and saw shepherds and sheep along the way. It felt saw raw and powerful seeing a landscape feel so untouched yet be so thriving in a previous era.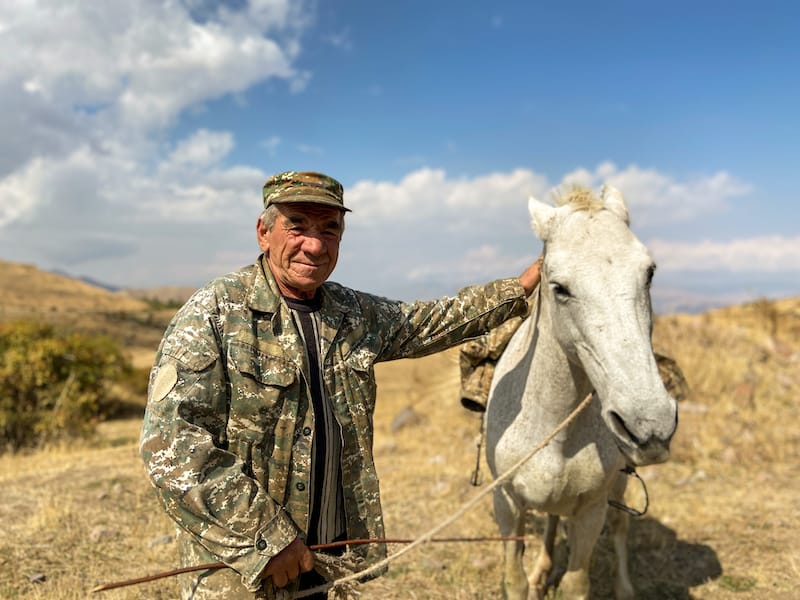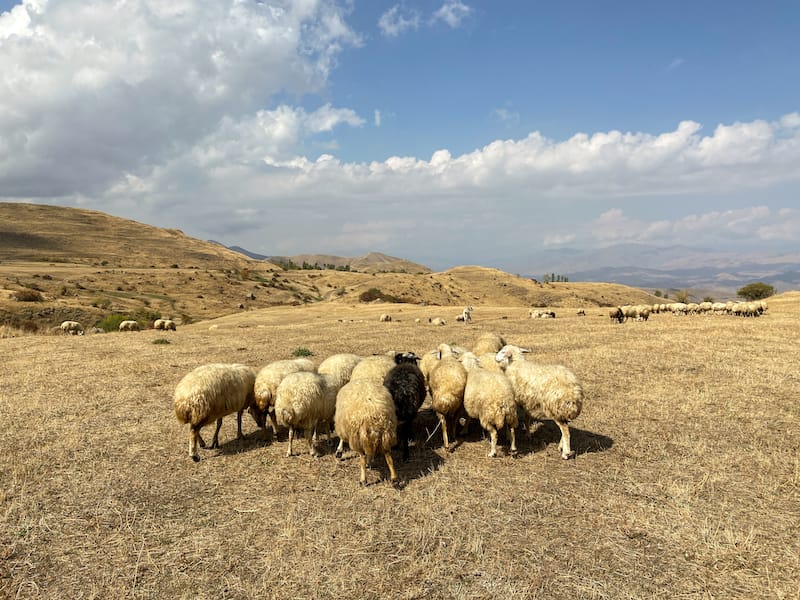 In the village, there is also a church called St. Trinity 2nd Jerusalem from the 19th-century. You will also see a 13th-century khachkar there – it is the village passport and marks its founding!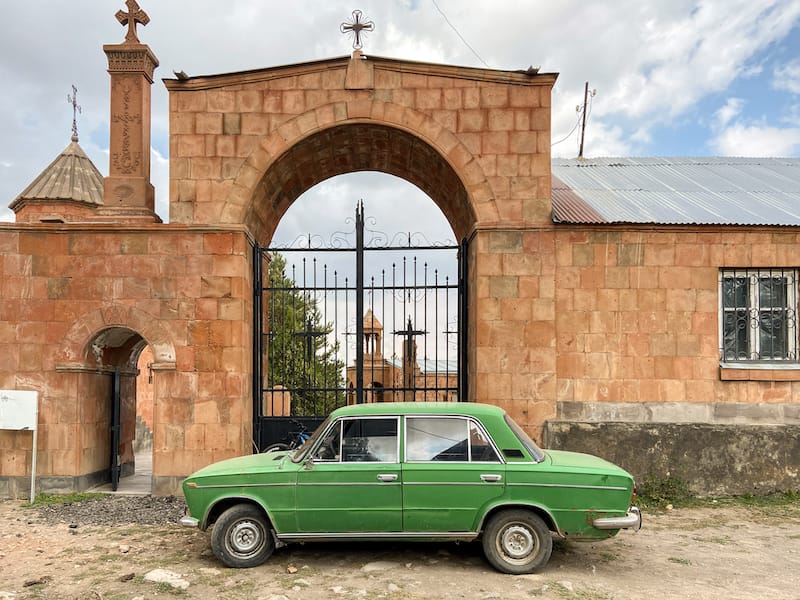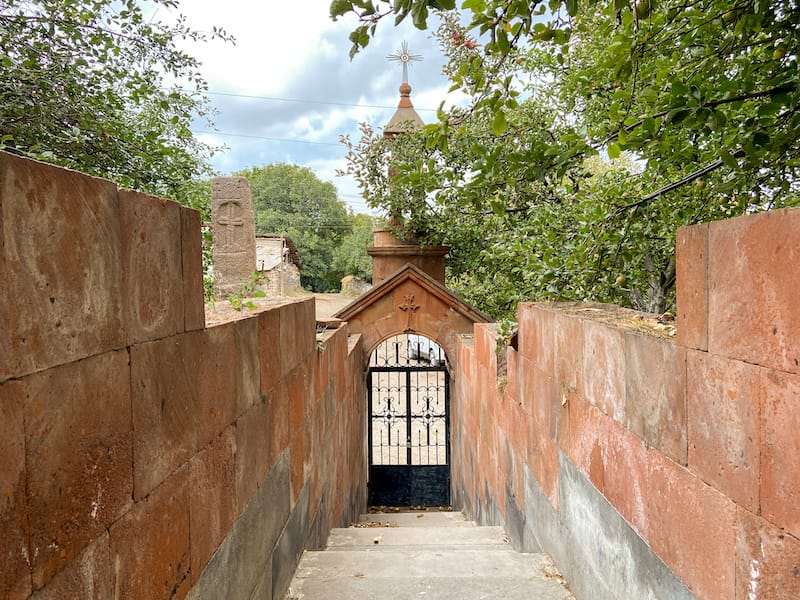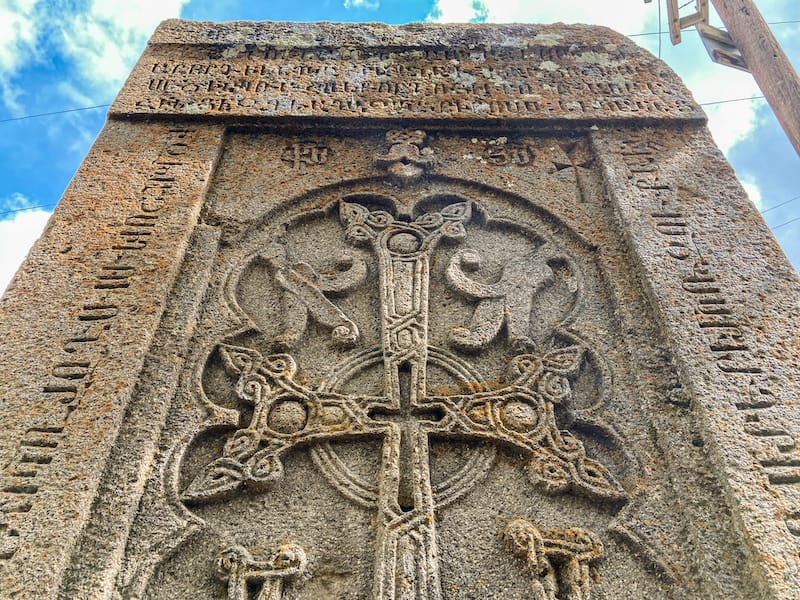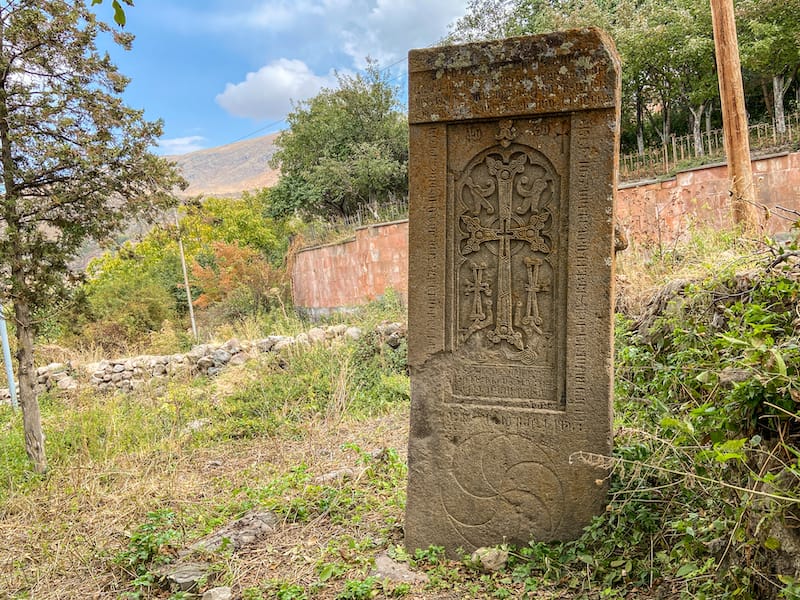 The hike was absolutely spectacular and made me eager to complete every HIKEArmenia hike in the Vayots Dzor region in 2022 and beyond. There are so many untold stories out there.
What to Bring
If you're planning to do this hike, be sure to take some sunscreen, shades, and a hat with you! There is very little shade along the way! Also, be sure to take a refillable water jug with you. You will have a water source along the way that you can fill up!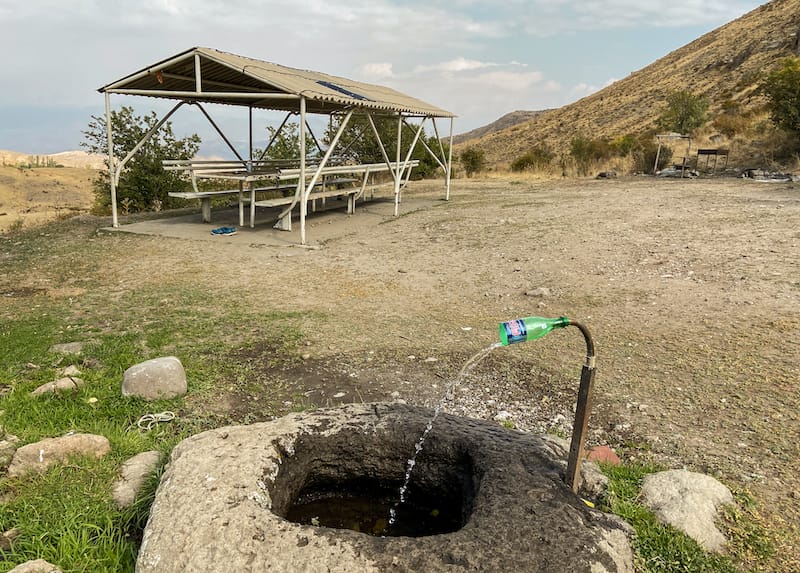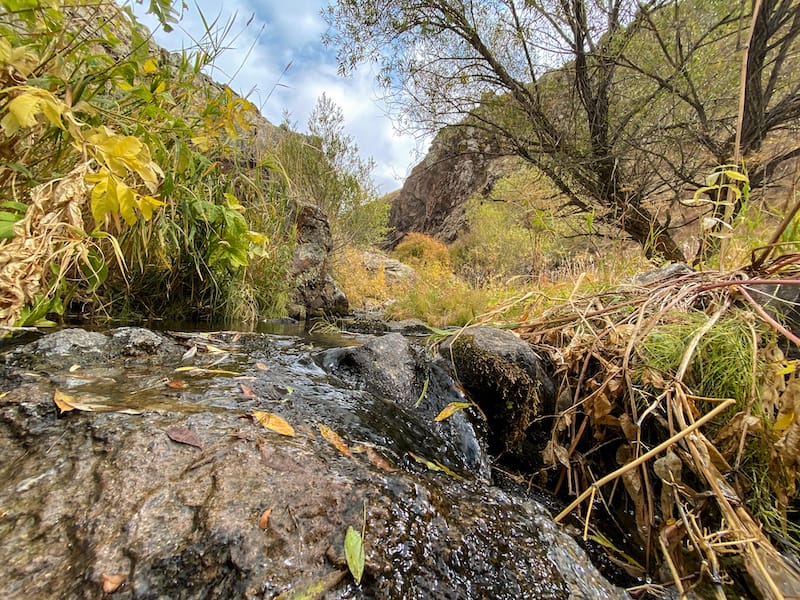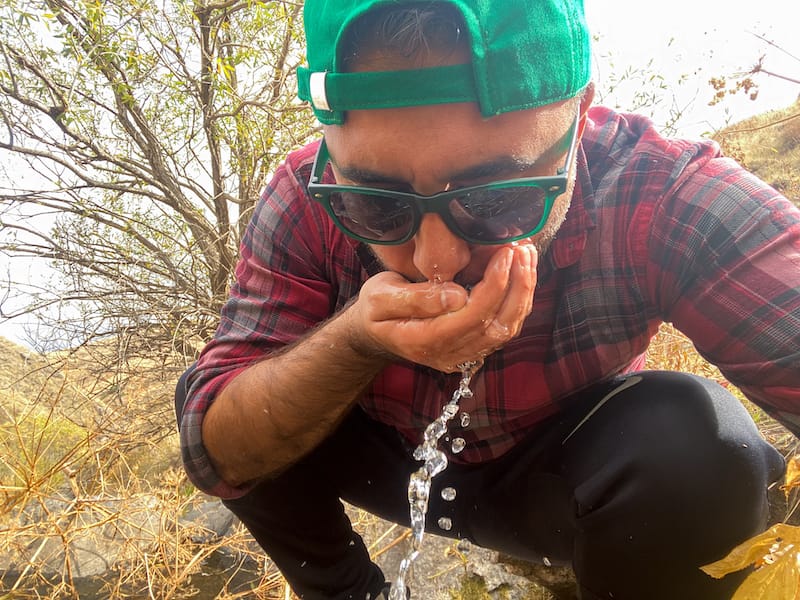 I also recommend you not to wear shorts to do this as there was some jagged shrubbery throughout the journey that would have scratched me up if I hadn't been dressed appropriately. Hiking shoes or boots are also recommended.
Old Martiros village is only 15 minutes from Vayk city – so getting to and from is pretty easy! Vayk is connected well with other places in Armenia and is easy to get to.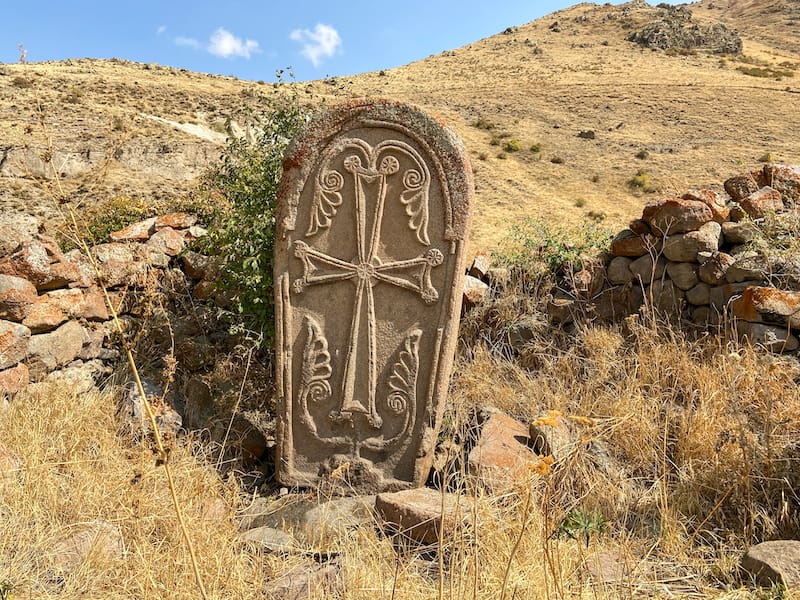 When you're done with your hike, be sure to head to Old Martiros Guesthouse to stay overnight or to join in on one of their amazing culinary experiences – you can make buried cheese, karshmapur, or learn about local herbs with Gohar, Hamlet's wife!
Read our guide to Old Martiros Guesthouse where we tell you all about the experiences (and how to book a stay or experience there!)
More Vayots Dzor Travel Guides
**This article was produced with the support of My Armenia, a program funded by the United States Agency for International Development (USAID) and implemented by the Smithsonian Institution. The contents are the sole responsibility of the authors and do not necessarily reflect the views of USAID, the Smithsonian Institution, or the United States Government.