One thing Armenia is not lacking in is delicious food.  But, while tasty food is a commodity in this country, it is not always easy to find the full experience of the food paired with incredible Armenian hospitality.  Home Restaurant in Vanadzor is the exception to that.
At Home Restaurant in Vanadzor, you can experience superb hospitality and flavors so powerful that it will entice you to stick around and never leave!  This is our experience at Home Restaurant in Vanadzor and why we think it is imperative you book a visit there too!
Home Restaurant in Vanadzor
I had to make a quick trip to Yerevan when Aram got an initial tour around Vanadzor.  Some time during that tour, he called me telling me he had stopped into a really awesome and reputable Vandazor restaurant at a local's home.
Knowing how much I love to eat Armenian food, I hopped into a taxi and headed back to Vanadzor in an instant.  We had dinner plans!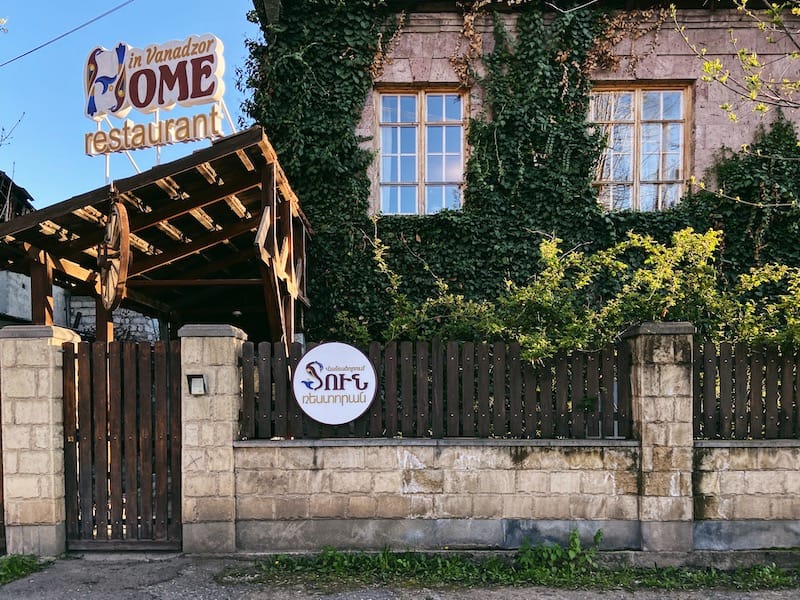 Home Restaurant in Vanadzor is pretty centrally located in the city and it is rather easy to get to if you have maps downloaded on your phone.  It is located in a quiet neighborhood of houses.
The Vanadzor restaurant is run by husband and wife, Tigran and Gayane.  If you ask those living in Vanadzor, they will refer to the restaurant as 'Papi mot', or 'at Grandpa's'.  When a place has such a positive reputation within the city itself, you know it is a fine place to eat as a non-local to the place!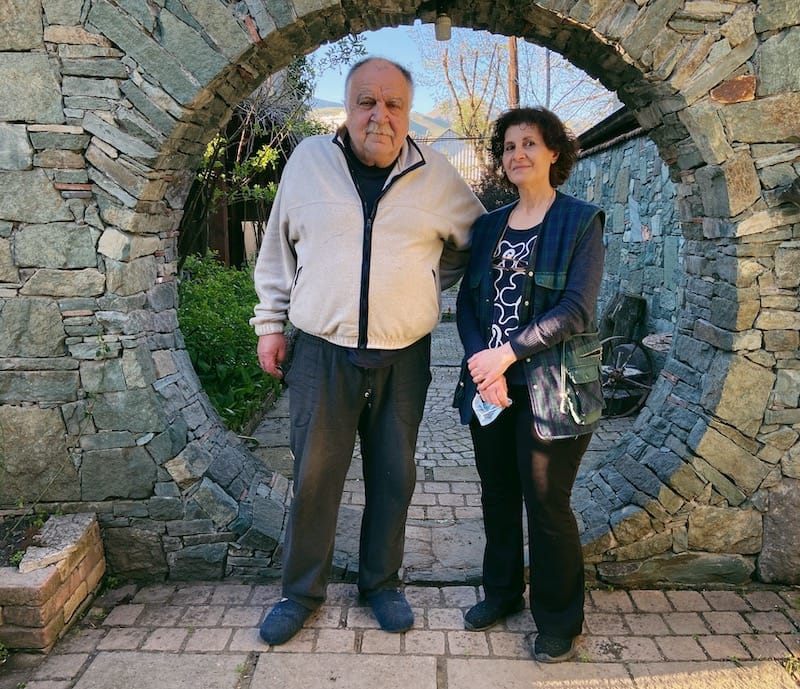 The restaurant in Vanadzor is located in the backyard of their home.  You will find a sign out front and you will be greeted by Tigran and Gayane and they will lead you around back to where they serve customers.
Once you're back there, you will see multiple seating areas; one is indoor and one is a small covered outdoor space.  Fortunately, it was warm enough that we were able to sit outside and enjoy the greenery of the garden as we ate.
Tigran had the grill fired up and ready for us and had even prepared his homemade sausages which had pomegranate seeds in them and completely blew my mind.  He also grilled potatoes and lamb for us and both were exceptional.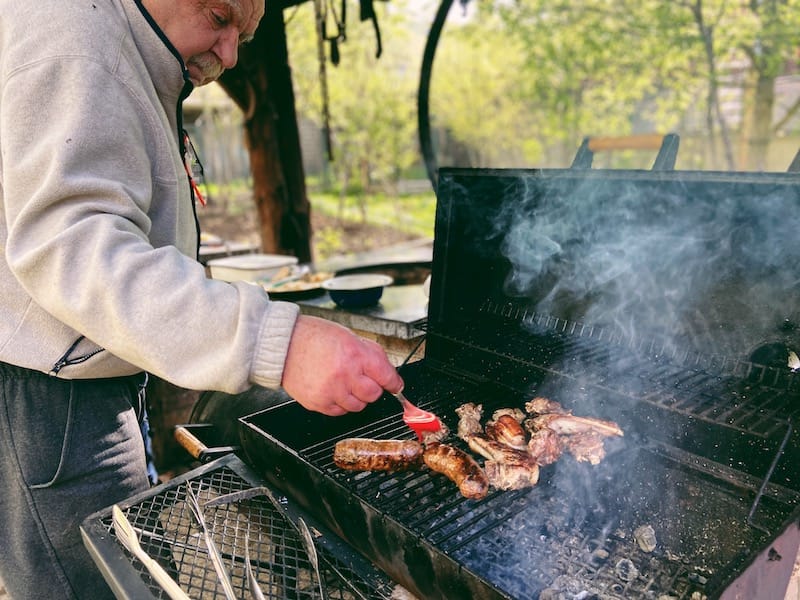 In addition to the grilled meats and potatoes, we were also served an array of local Lori cheese, salads, pickled vegetables, bread, and local herbs.  Papuk, a local herb mixed cooked with eggs, and sndrik, an herb served with a side of vinegar, also made their appearance at the table.  Both were in season and absolutely delicious.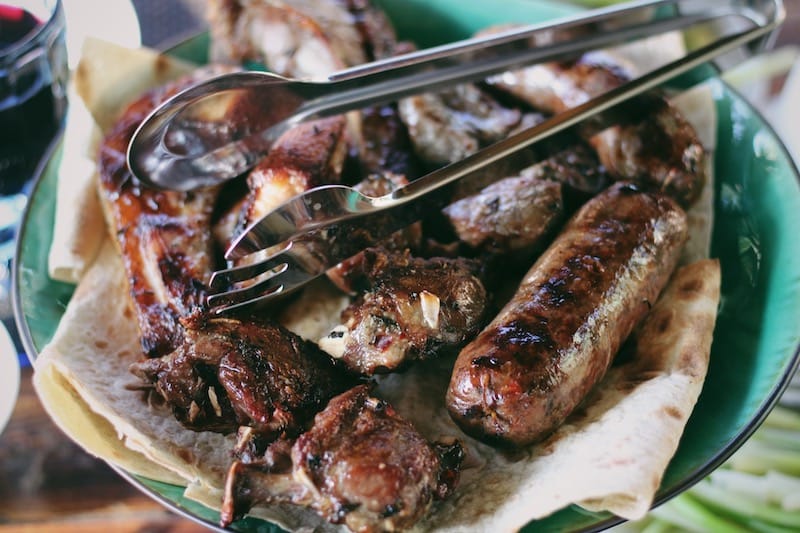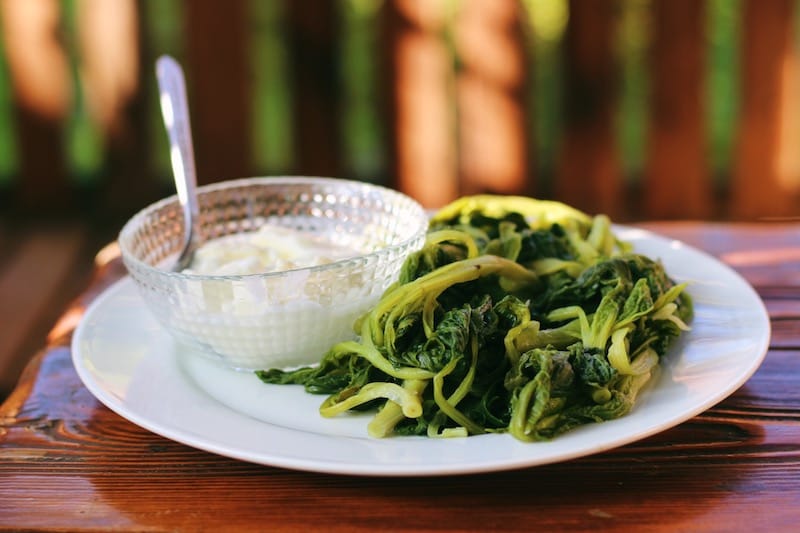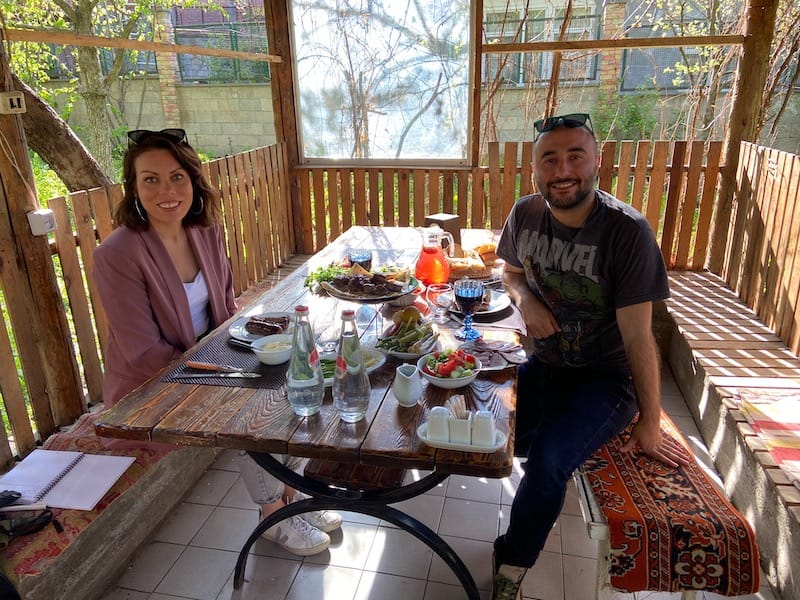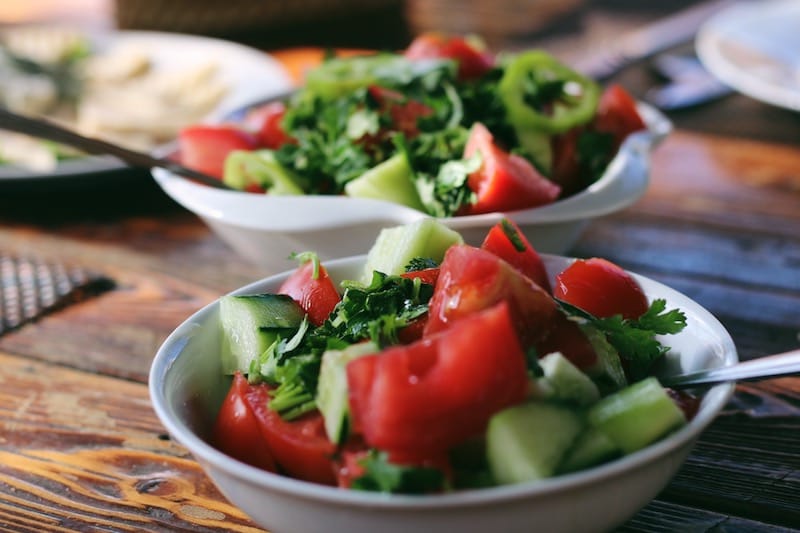 We also ordered wine and homemade compote which were accompanied by a bottle of our favorite Armenian sparkling water, Sevan.
One thing Tigran and Gayane stress is that they will always source the highest quality of ingredients to serve to their customers.  It was very apparent to us from the start and witnessing their extreme care with everything they served.
The meal was just outstanding and left us talking for the rest of the week!  We simply couldn't get enough and can't wait to return to Vanadzor to enjoy dinner there again!
With everything ordered, our bill was just over $20.  We easily ordered food for four people and we were surprised at how affordable it was, especially considering the high quality of all ingredients served to us.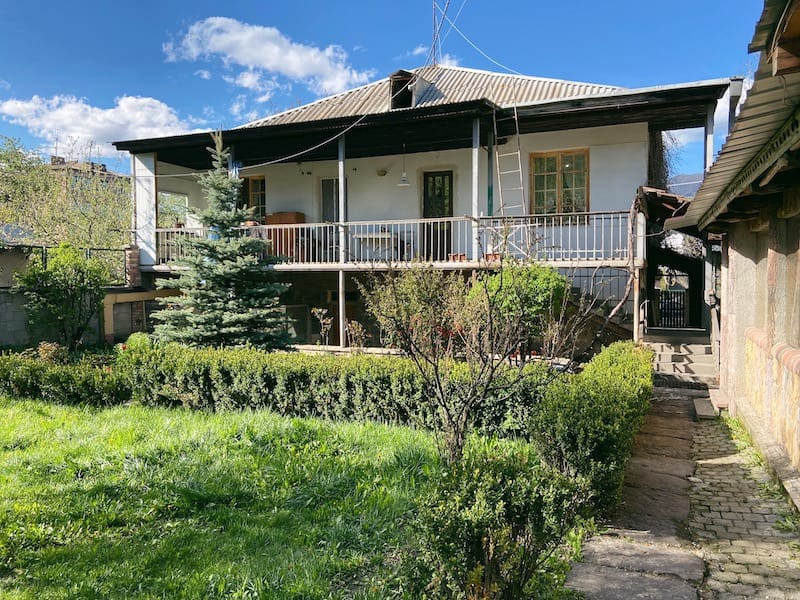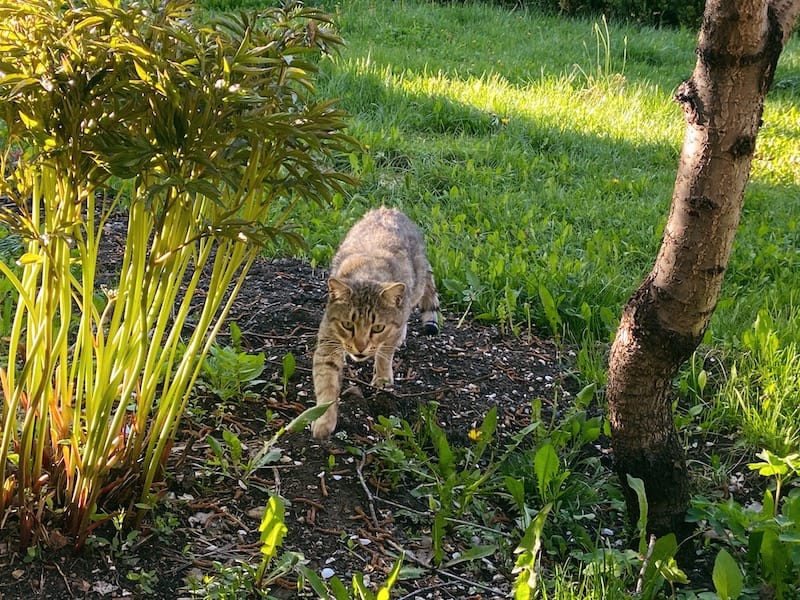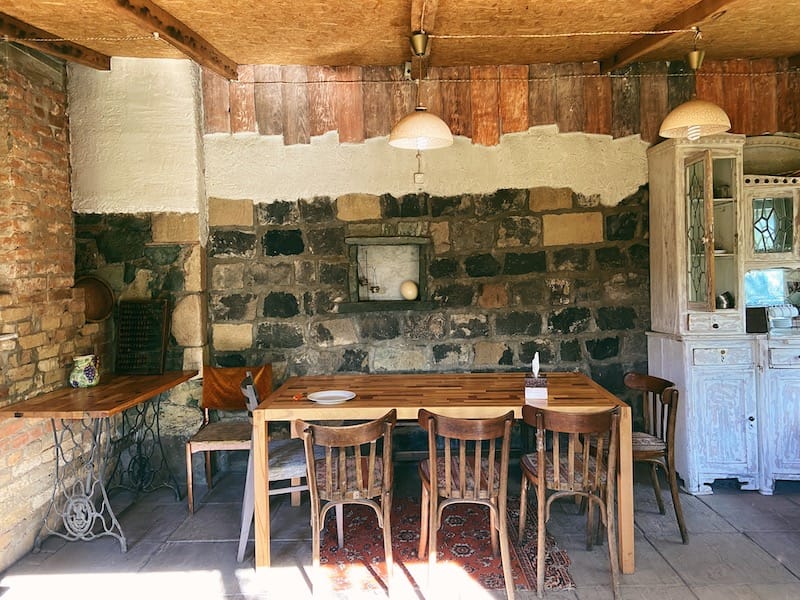 Vegetarian Options?  Yes, you can order vegetarian food at Home Restaurant in Vanadzor.  Do be sure to inform them ahead of time, however.  They will serve grilled vegetables and hot seasonal veggies to those that are plant-based.  There is seriously nothing like in-season veggies in Armenia!
Parking:  There is plenty of parking available on the street outside of the restaurant.
Language:  Tigran and Gayane do not speak English so if you have any food allergies or requests, please message on Facebook beforehand so everything can be translated without problems.  The person handling their Facebook page speaks English and should be able to assist!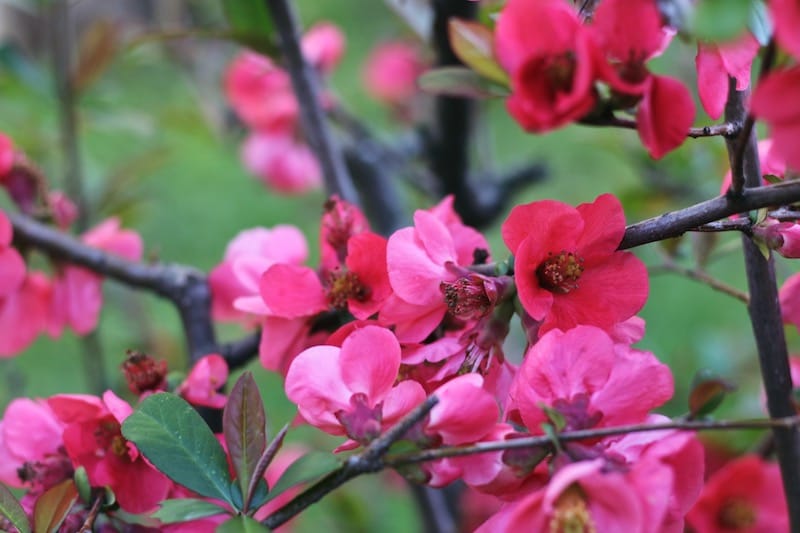 Home Restaurant in Vanadzor offered such an exceptional culinary experience in Vanadzor and I highly recommend you booking a table there and enjoying everything they have to offer!
It was easily one of the highlights of our time in Vanadzor and we are super eager to make it back there for round two of those pomegranate sausages!
Where to Stay in Vanadzor
If you're looking for the best place to stay in Vanadzor, we can highly recommend B&B MagHay.  We reviewed our stay there and we think you will absolutely love it, especially you enjoy tasty breakfasts!  Click here to read our review of B&B MagHay in Vanadzor.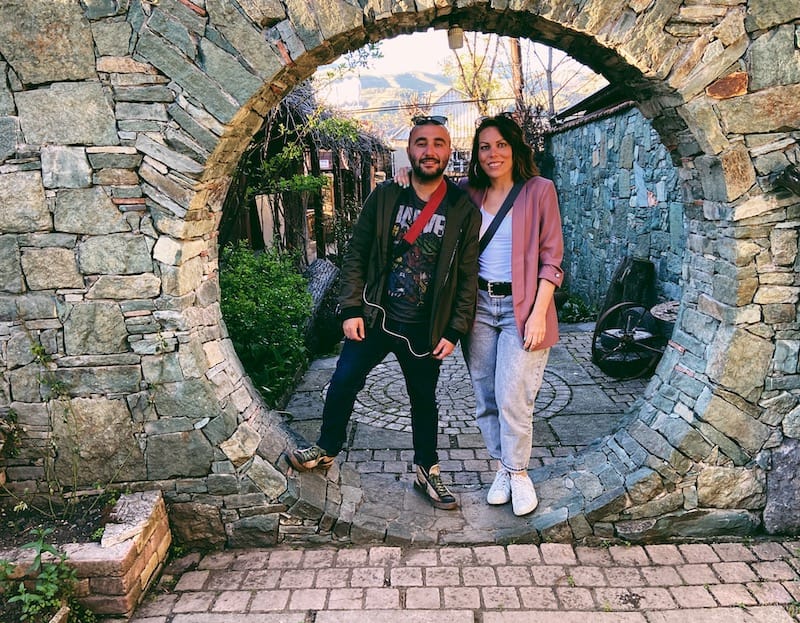 Home Restaurant in Vanadzor is located at Zoryan 32A in Vanadzor.  To book a table, click the link previously mentioned or call them at +374 95 855855.