Our travels through Lori took us to B&B MagHay, a charming guesthouse that had us craving to go back, even before we left! It was a stellar place to stay in a fantastic location and one we could have crashed at for weeks!
This is a short review of our stay at B&B MagHay and why we think it is the ultimate place to stay if you're heading to Vanadzor. And yes, the breakfast is the best I have had in Armenia thus far and I don't expect any other place to top it here soon!
B&B MagHay in Vanadzor
We had quite a few days booked in Vanadzor, Armenia's third-largest city in terms of population. We knew we wanted to stay at a variety of places and were on the hunt for local, independent businesses in the region to support in the process. Enter B&B MagHay.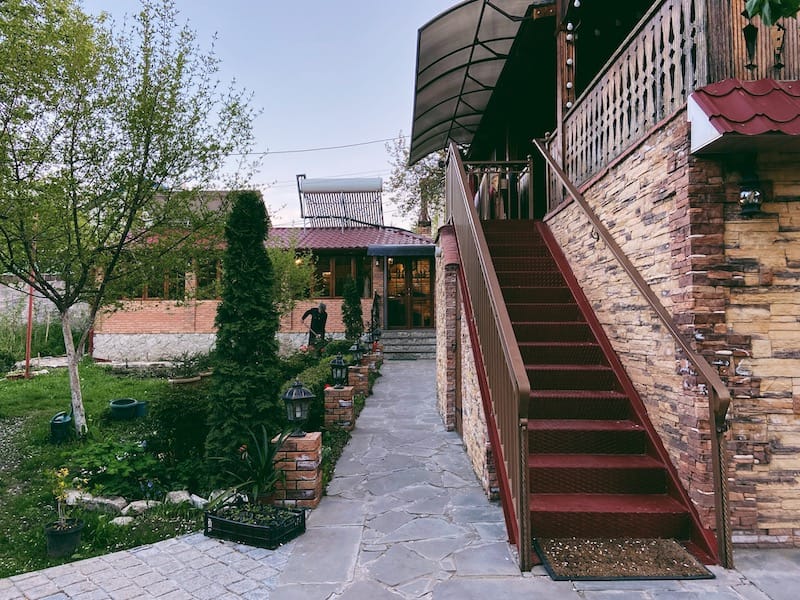 Our trip to Lori led us initially to Debed where we stayed in the fantastic Debed Life guesthouse and had the ultimate experience there. We were hoping for something of the same caliber (or close) in Vanadzor and we got very lucky with B&B MagHay!
Unfortunately, due to the virus, there weren't many travelers hanging around Vanadzor at all and the guesthouse was rather empty aside from maybe one or two other guests. I imagine that it is booked to capacity most of the time based on its excellent reviews and service.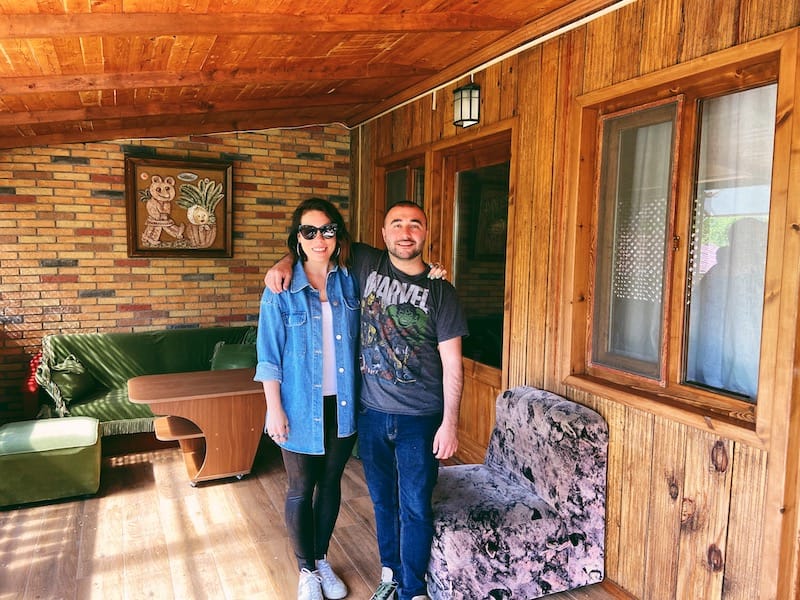 Nevertheless, we had a great experience there, with or without getting to chat with others, and we recommend you book your Vanadzor trip there if you like cozy places, killer breakfast, and comfortable rooms.
B&B MagHay has been around for 12 years and was actually one of the pioneers in hospitality, tourism, and guesthouses in Vanadzor. When we asked people around the city what the best businesses were for travelers, no one hesitated to mention B&B MagHay. Not only does it have a fabulous reputation among travelers (the reviews prove it), but it also is renowned with the locals in the city, as well.
The owner, Mariana, greeted us with a smile on her face and it pretty much set the tone for our entire stay.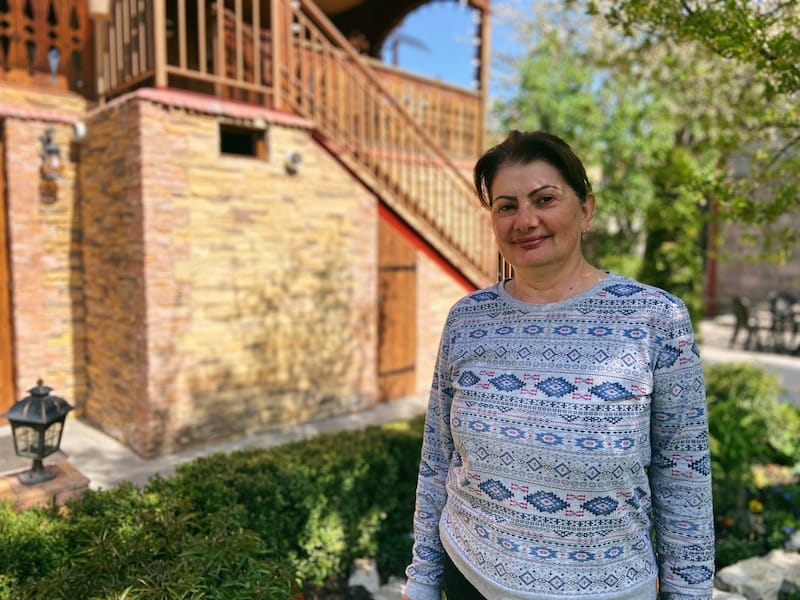 We were led to our room, a comfortable space with two beds and a private bathroom on the second floor. We had a shared balcony area with tables and couches with a few other rooms (it was outside). It felt personal and relaxing- from the inside of the rooms to the large open space where we could hang around the property.
On the premises, you will find many tables and places to eat, have a cup of tea, relax… as well as swings, gardens, and more. Every little corner of the garden felt private and like you could turn it into your own personal space for yourself or the person you're traveling with.
We took advantage of the quiet evening and sat outside with a large kettle of tea and chatted. I am stoked to get back there during the summer months and sit out late and do the same, albeit in warmer weather!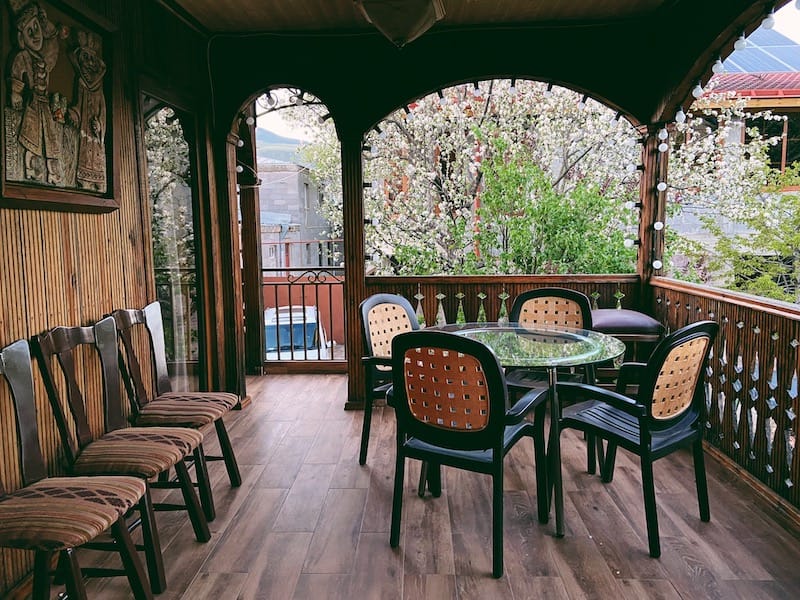 B&B MagHay has 9 rooms in total. One room is a single and the rest are doubles. They are located amongst two different buildings. The larger rooms have living spaces and felt almost like the cabins in Norway that I am so fond of! Interestingly, while the interior felt somewhat rustic, nothing felt outdated. It was really refreshing and welcoming!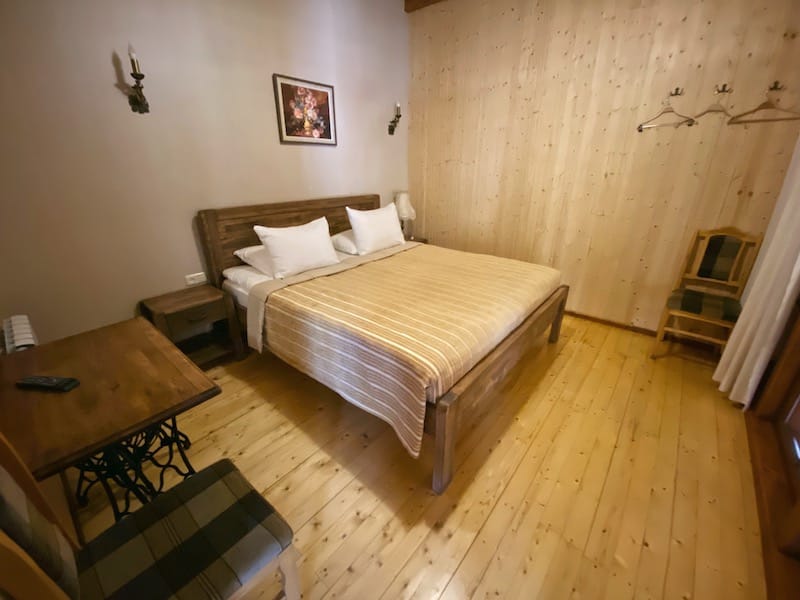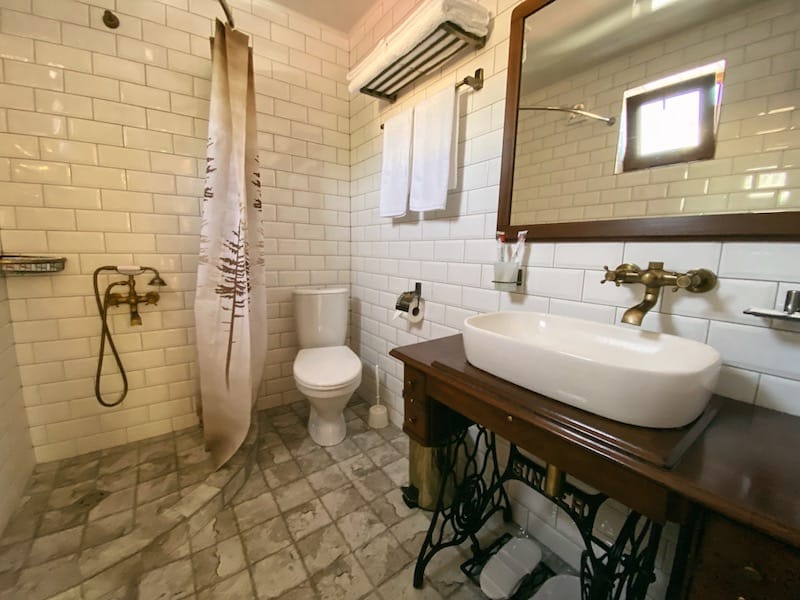 And then there was breakfast. This breakfast experience has been, hands-down, the best one I've ever had in Armenia.
There is a commons area for food with many tables for guests and ours was set and ready at the time we suggested and we walked into a FEAST. Everything Mariana prepares is eco, clean, and local.
The table had fresh berries, homemade pastries, jams, caviar, and 'blit'- a small Armenian pancake that I instantly devoured (all of them). The freshness of the breakfast and the diversity of what was on it was tantalizing and made for the start of a perfect day.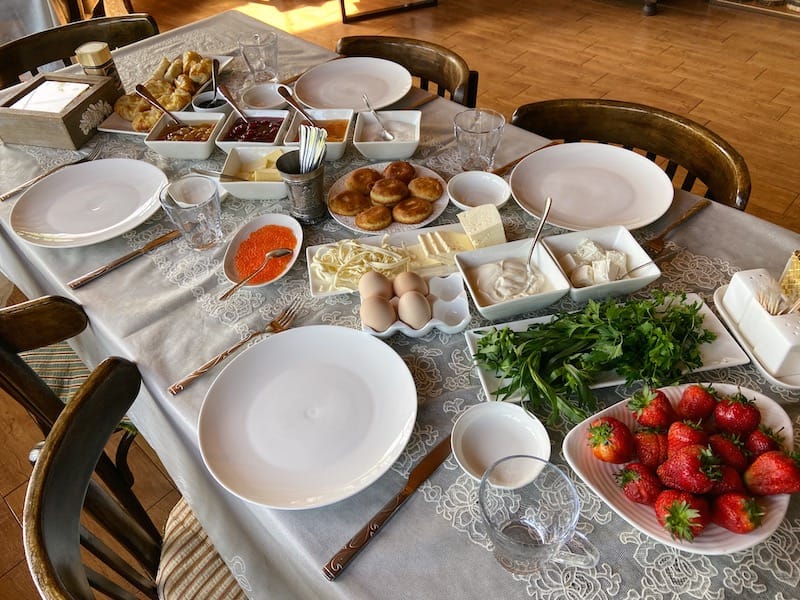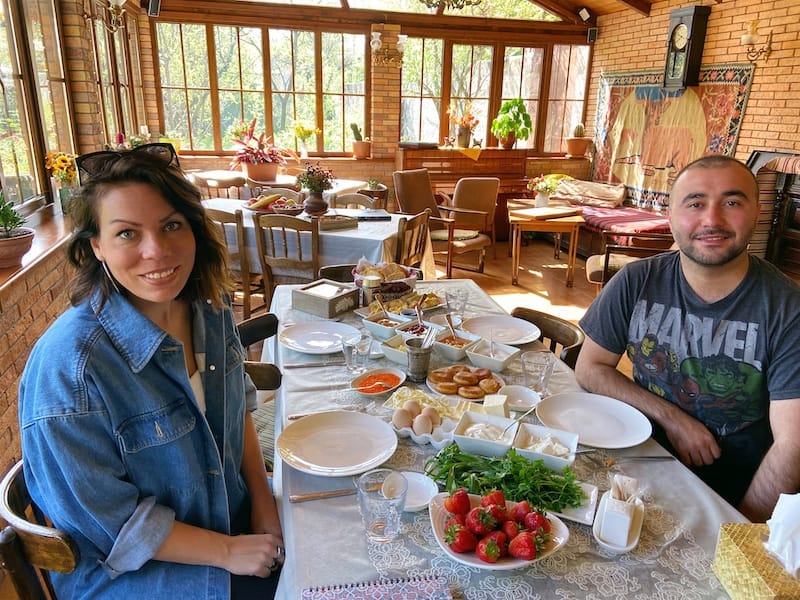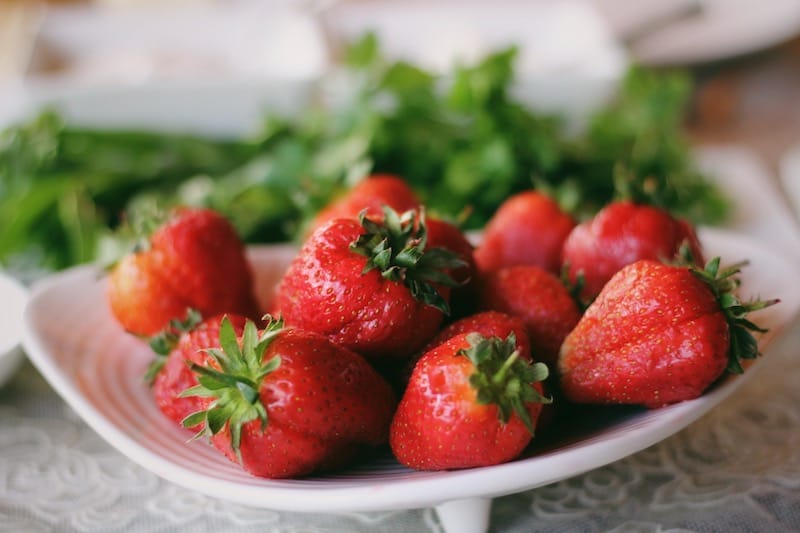 B&B MagHay also serves other meals at your request. Unfortunately, we didn't realize how absolutely delicious the breakfast was until our last day and regret not ordering more food there! There's always next time…
Location: B&B MagHay is tucked away in a quiet place within the city center of Vanadzor. It is a walk pretty much everywhere from there and the location is really centralized. It is also fairly close to Home Restaurant in Vanadzor (our favorite dinner spot!)
Language: Mariana speaks English! You will have no issue communicating your needs and concerns with her.
Wifi: There is free wifi throughout the entire property. We had no issue with signals or speed when there but we were not doing anything requiring heavy bandwidth at the time.
Parking: There is parking pretty close to the B&B (it will depend on how many guests are there with cars) and there is a fair amount of parking in Vanadzor in general. You should have no issue with it.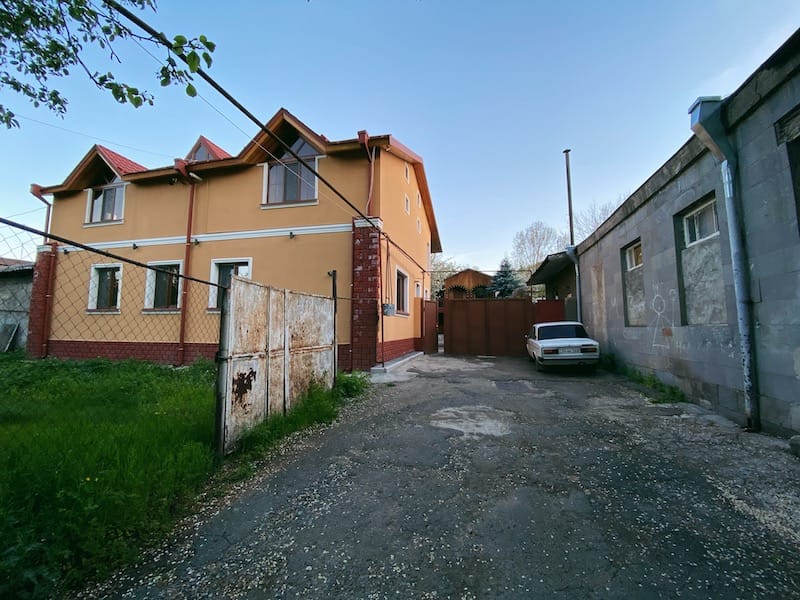 How to Book a Stay: You can contact the property directly to book a stay or book it through Booking.com, our trusted partner when traveling. We like booking with them as they often offer deals for loyal customers and they will take your payment before your trip (if desired) or sometimes, depending on the circumstances, they will allow you to reserve and pay later.
If you're heading to Vanadzor and love supporting local businesses and ones that have insanely good breakfasts (it can't only be me!), definitely book a weekend getaway (if you're local) or experience Armenian hospitality (if you're a traveler) at B&B MagHay.
It is a centralized place that will hit all the high points during your stay in Vanadzor! And… as Mariana told us, guests come for the food and stay for the hospitality!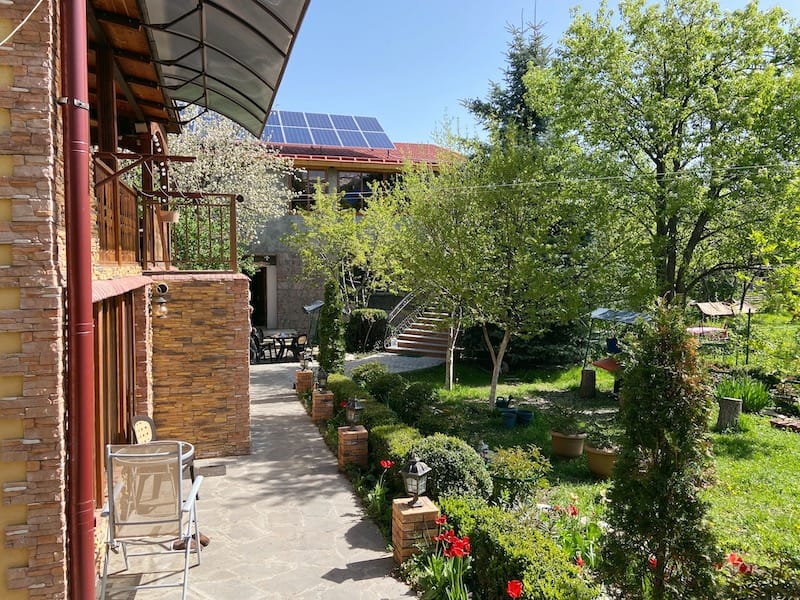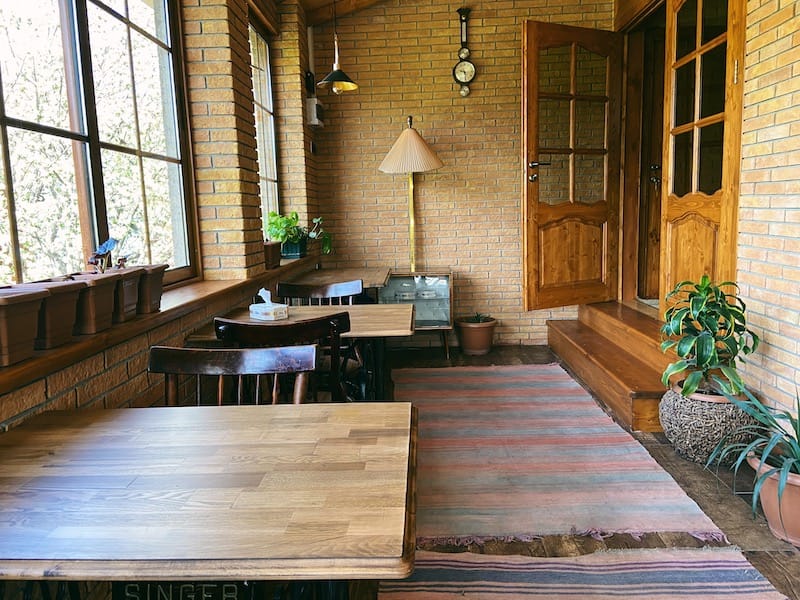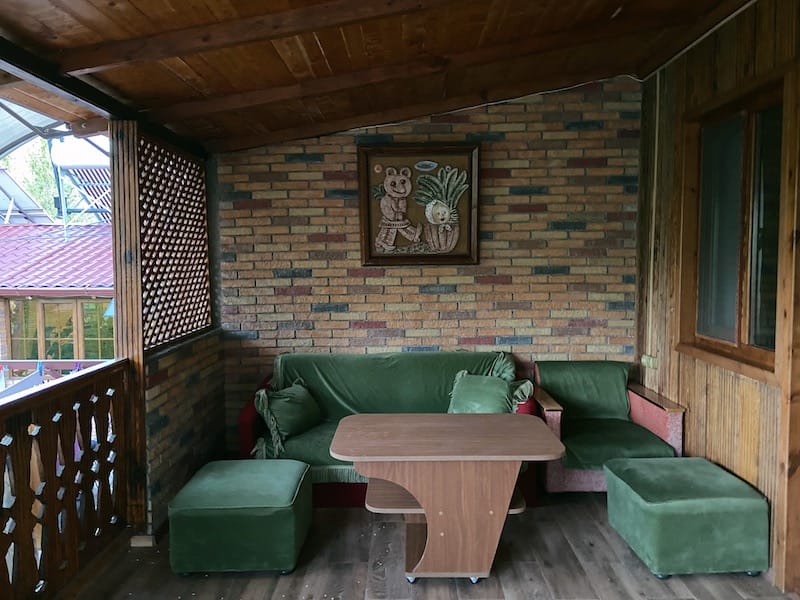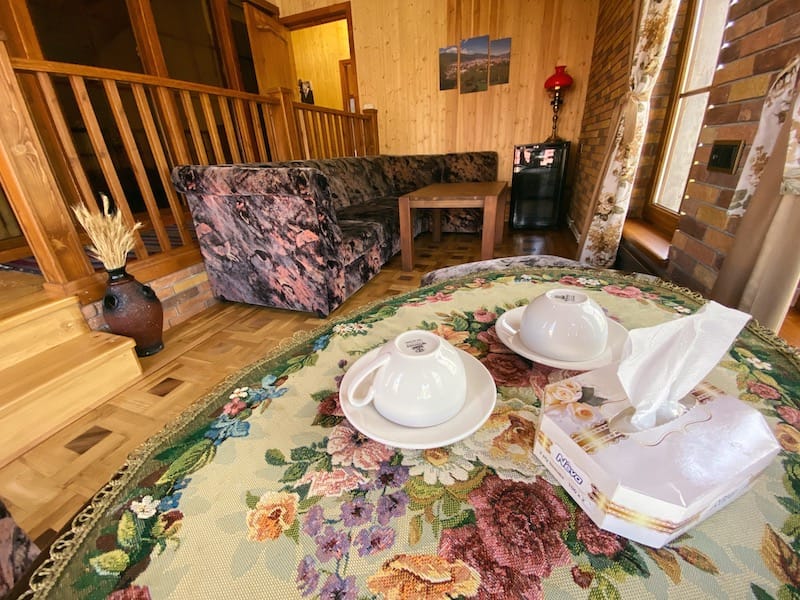 B&B MagHay is located at 21 Azatamartikner Street in the heart of Vanadzor. To book or check rates and availability, click the link previously mentioned.
*Special thanks to B&B MagHay for hosting us while in Vanadzor. All opinions (and raves about the breakfast!) are our own.