Gargar village was a place that was far removed from our minds until we ended up there. Our stay at the Geologist's House B&B was epic and exposed us to the comforts of Armenian village life in a way that blew our minds.
This is a short review of our stay at Geologist's House B&B in Gargar. It will detail why you should book a getaway there and what to expect (including a few things to do in the local area!). This was one of the coolest places we have stayed in Armenia and we think you will love it too!
Geologist's House B&B in Gargar
It can be challenging to find a place to stay in an area that just revitalizes you from the inside out. The accommodation can be fantastic but located in a loud, hectic city. Or the accommodation can be located in the middle of epic scenery but a bit lackluster when it comes to amenities.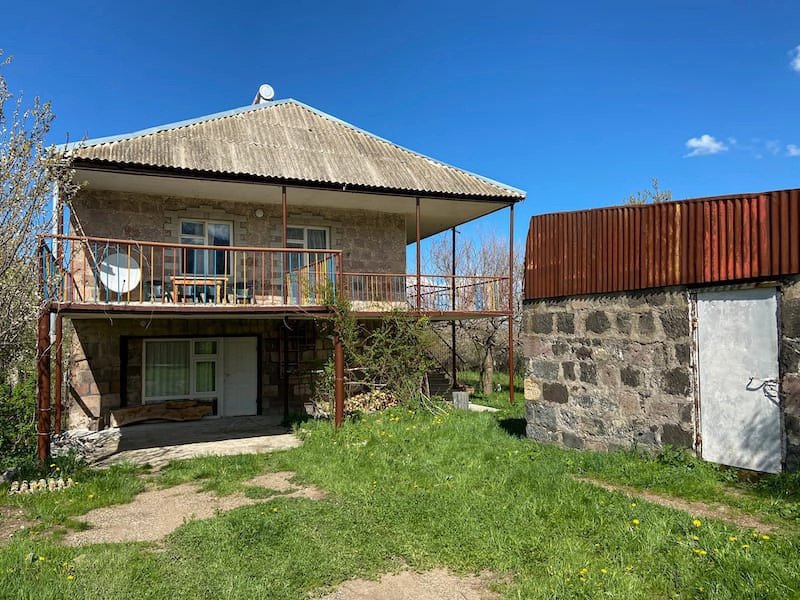 Fortunately, Geologist's House B&B delivered on all fronts and we found some of Armenia's most comfortable accommodation in the heart of the village of Gargar… far removed from city life and nestled in a cozy village.
We ended up in Gargar as part of a trip around Lori. We had initially stopped in beautiful Debed before making our way to visit Vanadzor and the surrounding areas.
Our trip to Gargar started in the evening and once we had arrived, Aram immediately hopped on top of a horse and made his way to the mountains to a hidden Soviet bunker.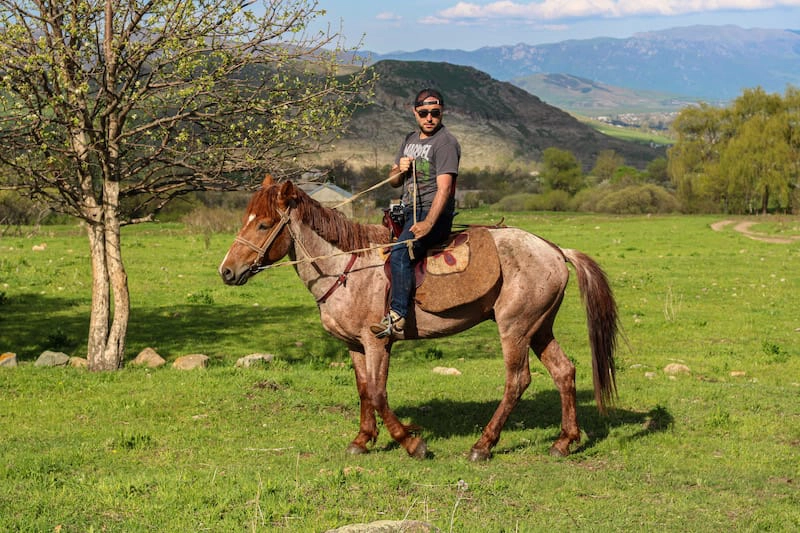 While Aram was atop a horse, Armen and I made a stop at his friend Grigor's house down the road a bit to say hello (Armen usually lives in Yerevan). Grigor gave us some deliciously fresh mushroom soup to take with us.
It really made me think that we can all learn a lot from how people in a village treat their neighbors and how we should still attempt to do that even in the cities.
Once returning back to the guesthouse, I began my own adventure by heading across the street of the village to a small stream where I sat on a rock on the hillside and wrote and attempted to converse with cows. Needless to say, the writing went better than the conversations did, but I was inspired nonetheless.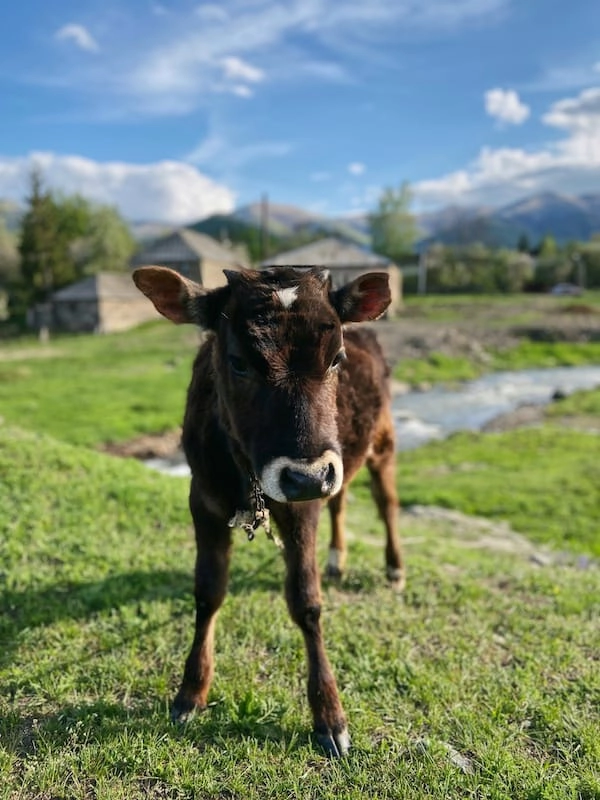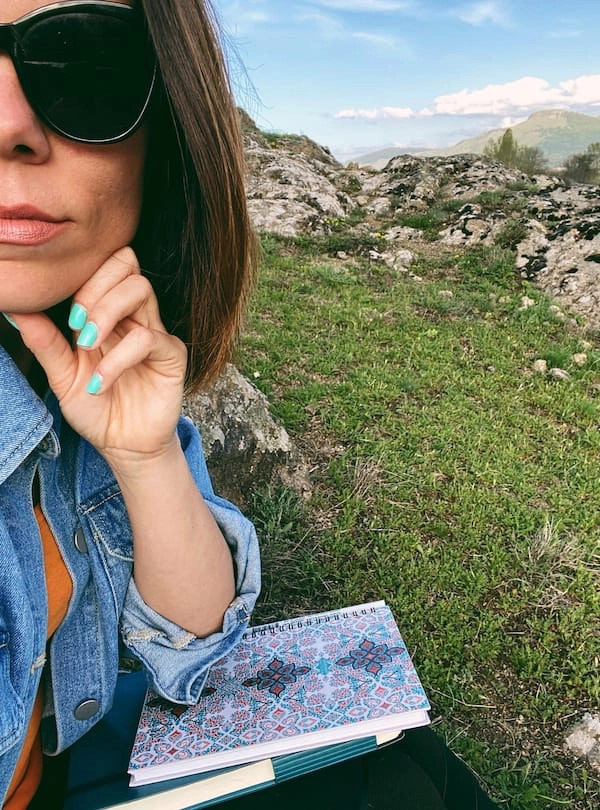 Little did I know that these few hours of being able to unwind and write were going to set the tone for the whole trip- which ended up rejuvenating me in so many ways I didn't even know possible.
Geologist's House B&B is owned by Armen, a friendly and open-minded man who has transformed the house owned by his father into a rustic and comfortable guesthouse. Since Gargar is the site of many archaeological digs and finds, he decided to aptly name the guesthouse after his father's interest in those discoveries.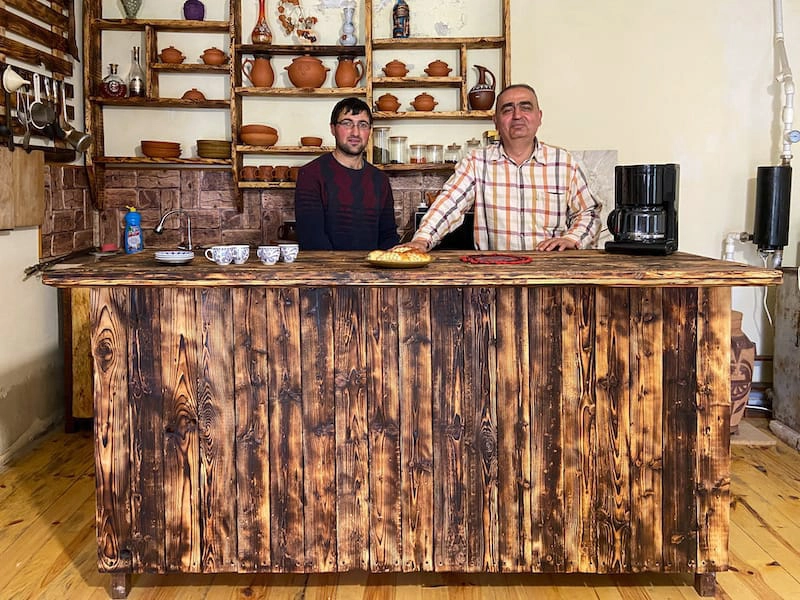 Many of the discoveries can be found in the guesthouse and some of what was found throughout the village dates all the way back to the 2nd century BC! History that is that intangible always humbles me and piques my interest and Gargar village was fascinating for that fact alone.
While Armen is its founder, the day to day operations are run by Davit, a resourceful young man who takes pride in showcasing true Armenian hospitality to guests. His mom is also helping out and helped solidify the impressions of Gargar and those who call it home!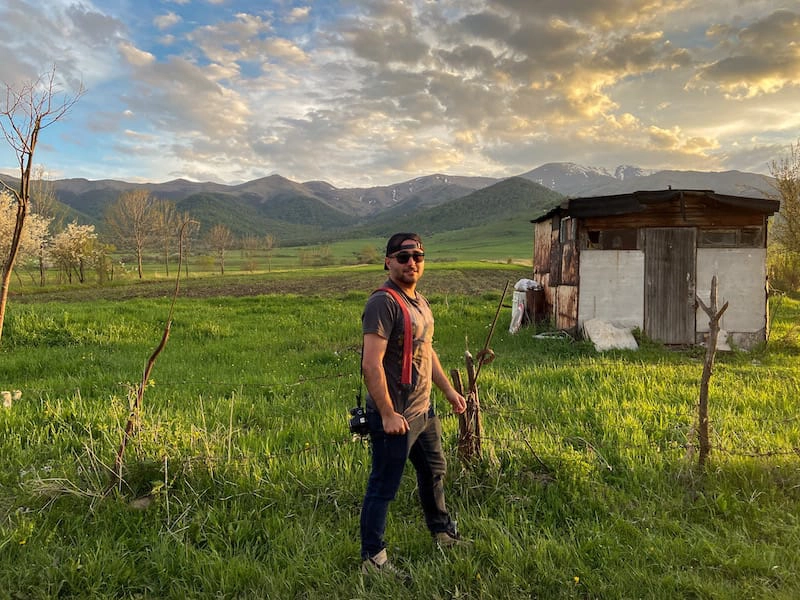 Our first night at the Geologist's House B&B, which has been in operation for 3-4 years, ended with an Armenian BBQ and chat and laughter. Having been in Yerevan for two months prior, this easy-living was everything I needed to remind me that travel will commence and that there is a light at the end of this 'social distancing' tunnel. It felt so good.
The following morning, we woke up and had a fantastic breakfast of village eggs, rezhan, and more. The Armenian coffee definitely hit the spot as we sat outside and were greeted by the friendly dog that lived next door.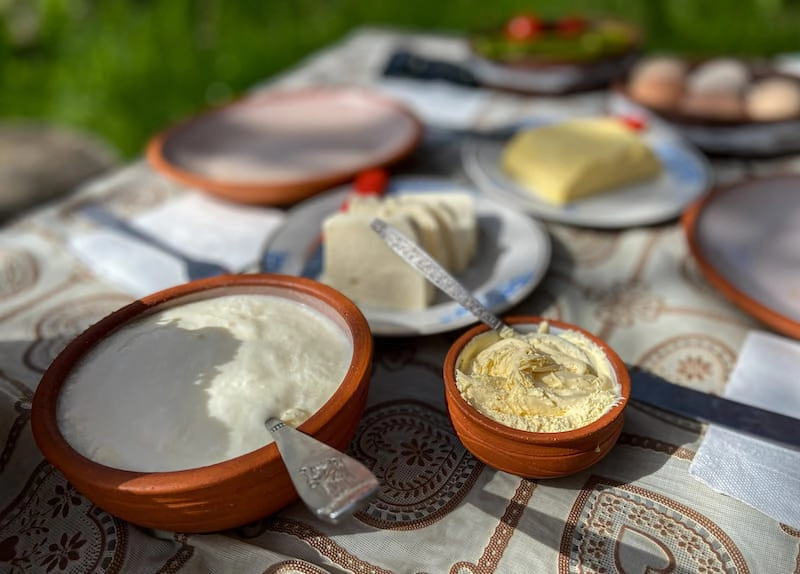 Fortunately, Geologist's House B&B is not far from some epic sights. When staying there, we were able to visit Amrakits village (and the hauntingly beautiful Russian Church), Stepanavan, Hnevank Monastery and other sights along the Kurtan Gorge, Lori Berd, and much, much more. It was such an ideal base for us.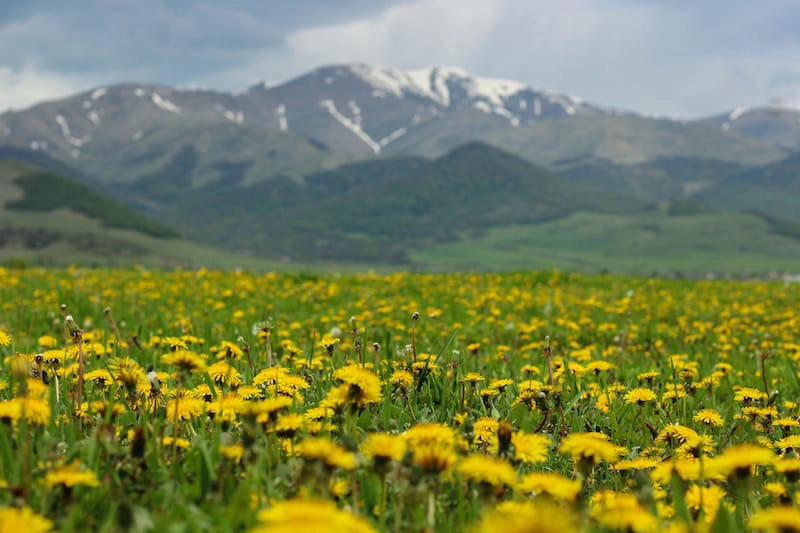 About Geologist's House
The Gargar guesthouse had wifi (but LTE and cell signal worked super well in the area!), multiple lounging areas and terraces, a BBQ area, fire pit, and more. There are currently two areas to stay in.
We stayed in one of the rooms that was actually two rooms (one room had a double bed and the other room had two singles and a couch). Our room had a kitchenette, fridge, and table. It was super spacious and definitely comfortable.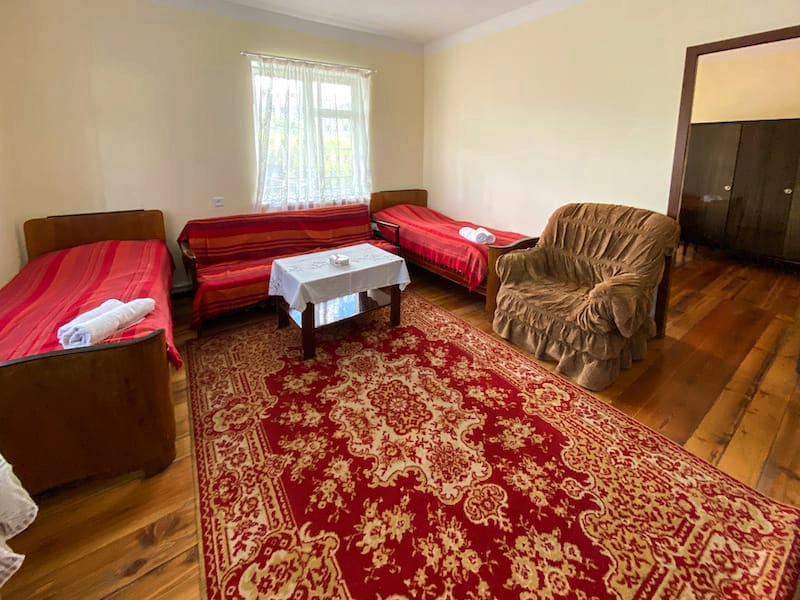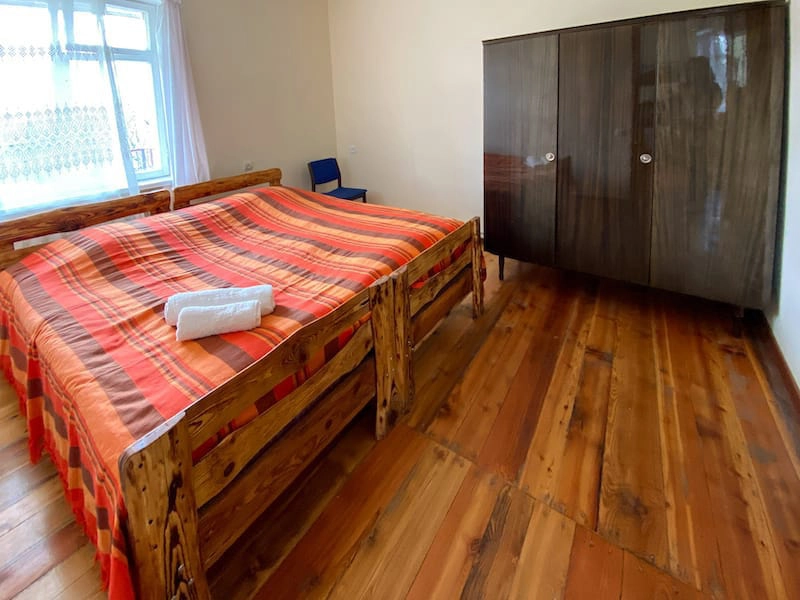 Downstairs, there is a kitchen area and inside lounge area by the kitchen. All of the amenities are there to cook a nice meal if you're interested in doing so.
There is a small grocery store in the village that sells essentials and I found myself a bag of arishta (Armenian noodles/pasta) there that I cooked along with some fresh butter. It was absolutely delicious!
My biggest highlight at the Geologist's House B&B came my last morning when I had the opportunity to try an ancient Armenian breakfast of khashil!
I am not exactly sure how to explain it, but it is kind of like grits but not made with corn. It is served with a bit of matsun (yogurt) and butter and we sat eating it on the terrace looking out over the Bazum Mountains. To be honest, it made the place hard to leave!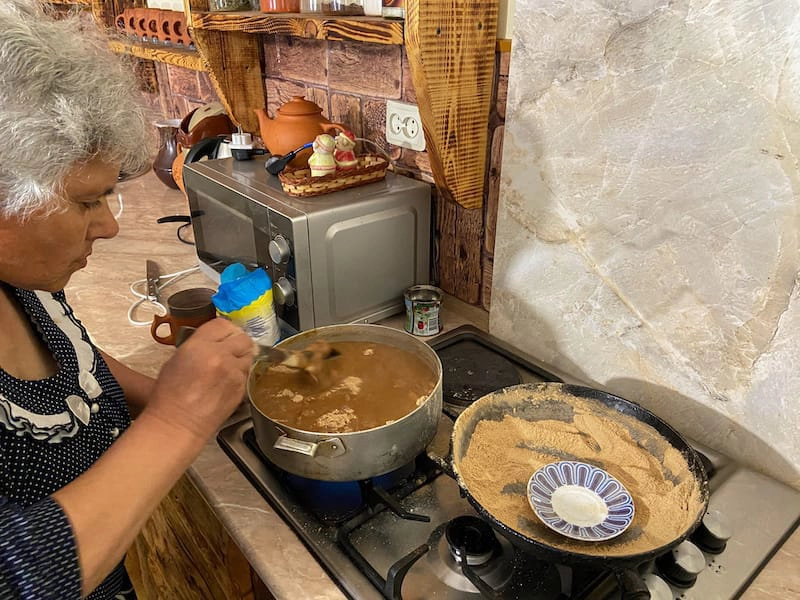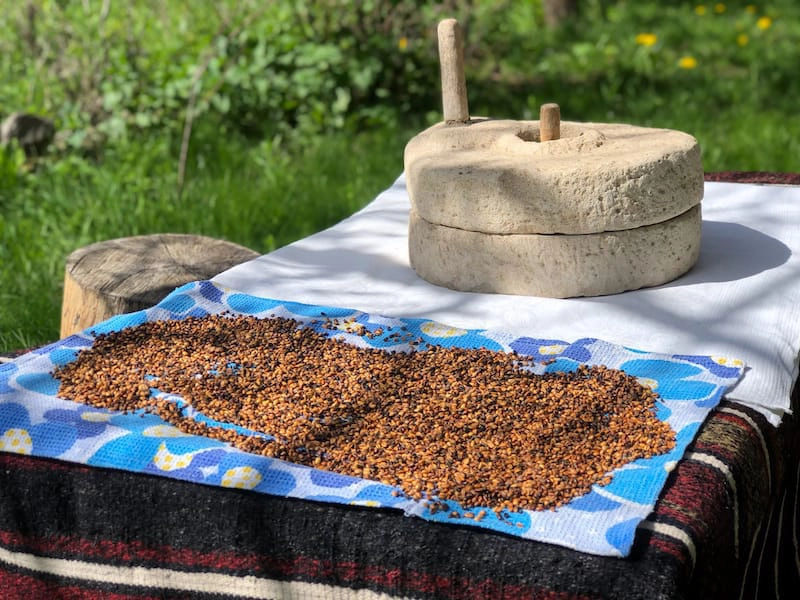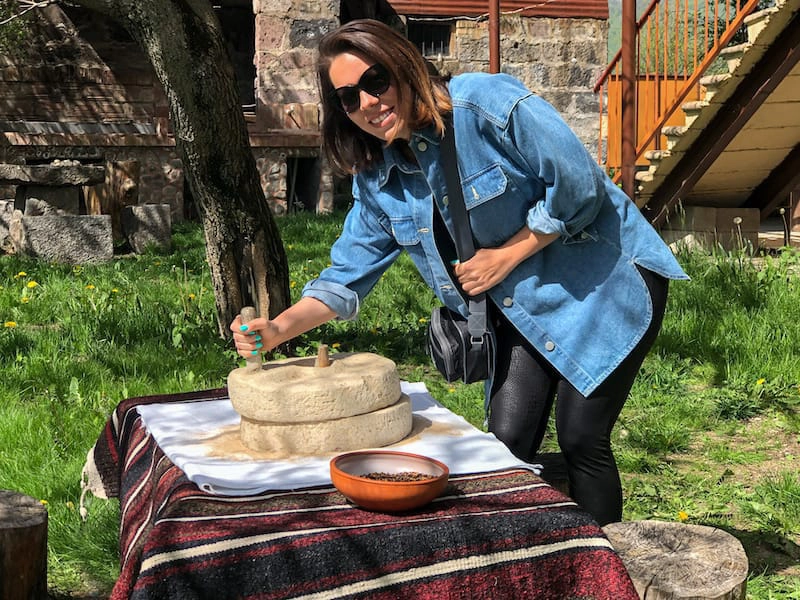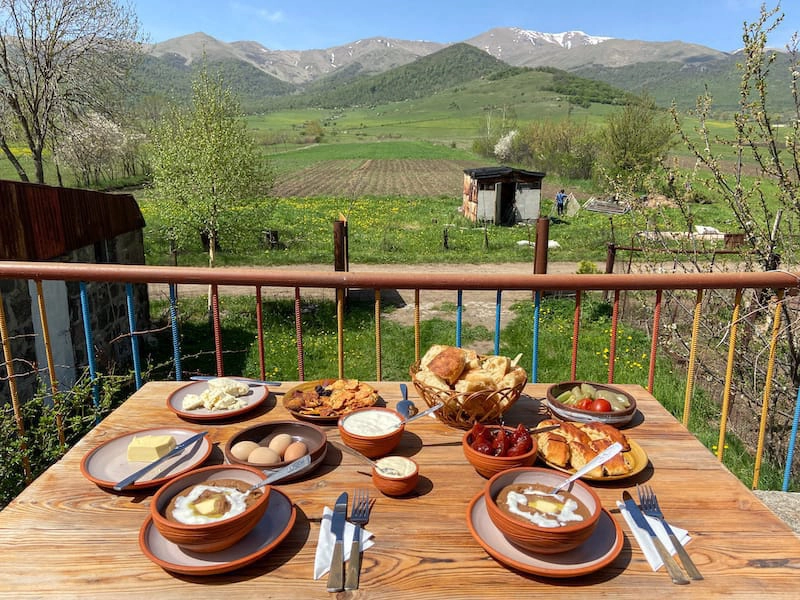 There are so many great guesthouses in the Caucasus, but there was just something so special about the Geologist's House B&B and Gargar village.
We got to chat with locals and we were immediately welcomed with open arms in Gargar. The entire experience felt like home and I'm already itching to go back and stay for longer.
Location: Geologist's House B&B is located in Gargar village near the Kurtan Gorge. It is extremely close to Stepanavan Dendropark and several other sites. In Gargar, you will find Surp Nshan and Hovhannes Churches.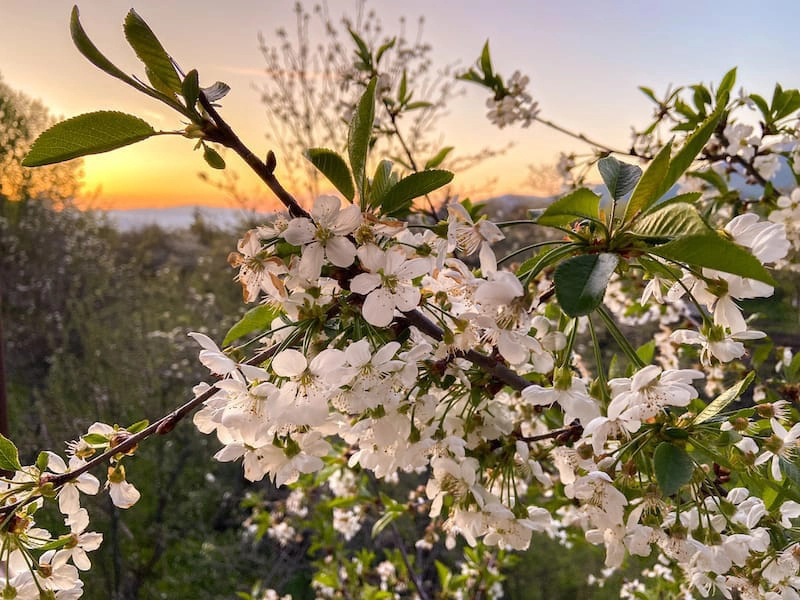 Language: Armen speaks English! He will help communicate with you if you have any questions.
Wifi: The wifi is free and works steadily. But, please note that this is a village and sometimes 'village things' happen. Fortunately, cell phone reception was really great there so I had no complaints.
Parking: Since you're in a village, there is plenty of parking available everywhere.
How to Book a Stay: You can contact Geologist's House B&B directly to book a stay or book it through Booking.com, our trusted partner when traveling. We like booking with them as they often offer deals for loyal customers and they will take your payment before your trip (if desired) or sometimes, depending on the circumstances, they will allow you to reserve and pay later.
If you're a traveler looking to slow down and experience true Armenian hospitality, Geologist's House B&B is the ultimate place for you. You will be delighted and it will give such a fantastic impression of my adopted home.
Geologist's House B&B is located on the outskirts of the village of Gargar about 150 meters to the left of the road leading to village Pushkino. To book or check rates and availability, click the link previously mentioned.
*Special thanks to Geologist's House B&B for hosting us while in Gargar. All opinions are our own.