It's no question that Lori province is one of our favorite places to travel around when we are on the road in Armenia.
There are so many places to visit in Lori that we discover something new each and every time we pay the region a visit!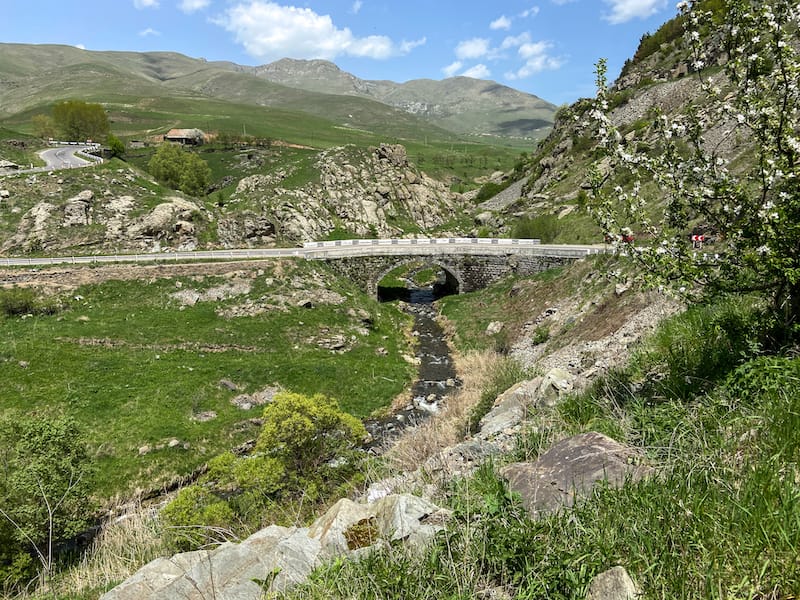 This guide will take you to some of our favorite places in Lori – from monasteries to cities to historical sights and more. We opted not to include guesthouses, restaurants, or businesses that we love as one of the places and have included them under their respective city/village.
Please note that we will be adding to this list over time… so it is definitely not conclusive!
What is on your Lori bucket list?  Share your favorite destinations in Lori with us in the comments – especially if we failed to mention a worthy place! Thanks!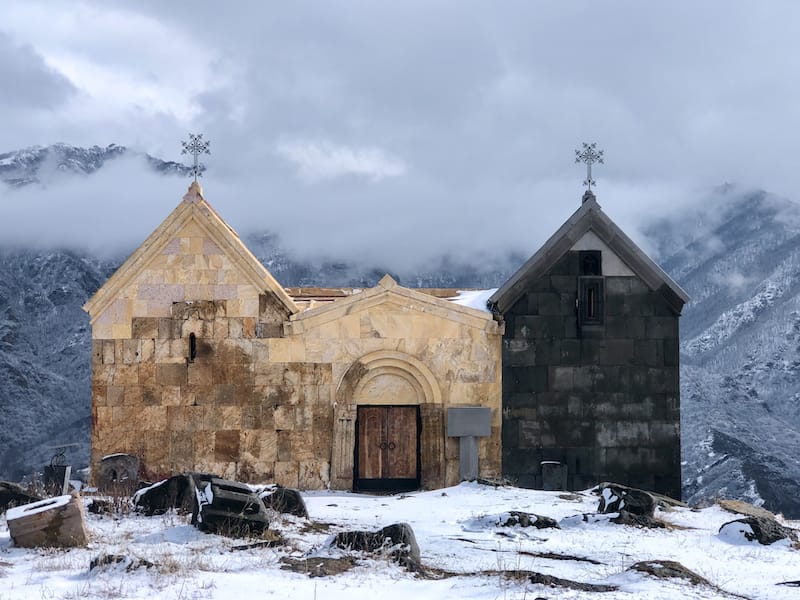 Best Places to Visit in Lori – Cities, Villages, Towns
There are many towns, villages, and cities in Lori that are worth visiting when you're in the region.
This list is, of course, not conclusive!  These are some of our favorites that we have visited and the ones we recommend.
Vanadzor
The city of Vanadzor is Armenia's third-largest city and the most populous city in Lori.
With a population of just over 86,000, this city was formerly known as Kirovakan during the Soviet times and it has been settled since the Bronze Age.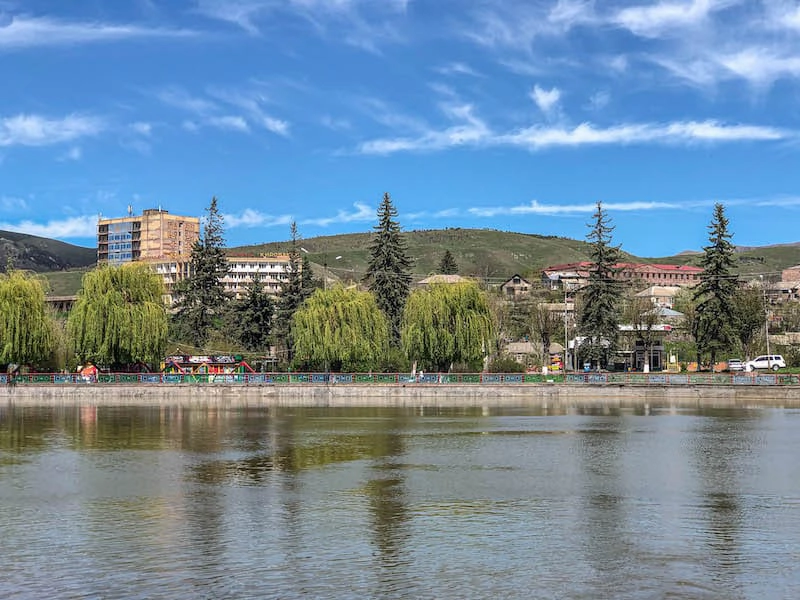 It truly is the perfect base for some amazing day trips from Vanadzor, but don't overlook the city in itself! There are many things to do in Vanadzor that warrants a trip of its own!
Some of our favorite places to visit in Vanadzor are:
Vanadzor Botanical Garden
Maran Beer House
Abandoned factories
Master Mehrab's House
Artek Abandoned Youth Camp
First Lenin Statue in the World
Kzher Art Saloon
Rafting in Armenia (on the Debed River)
If you're looking for a place to stay in Vanadzor, we have loved our experiences at MagHay B&B, Kirovakan Hotel (a renovated Soviet hotel), and Hotel Laguna.
Odzun
Another fantastic place to visit in Lori is the village of Odzun. It is a rather large village by population standards and is easily one of my favorite places to visit in Armenia!
Located above Debed Gorge, it is just a few kilometers south of Alaverdi and is famous because of Odzun Church, one of the most stunning monasteries in the country and one of the oldest!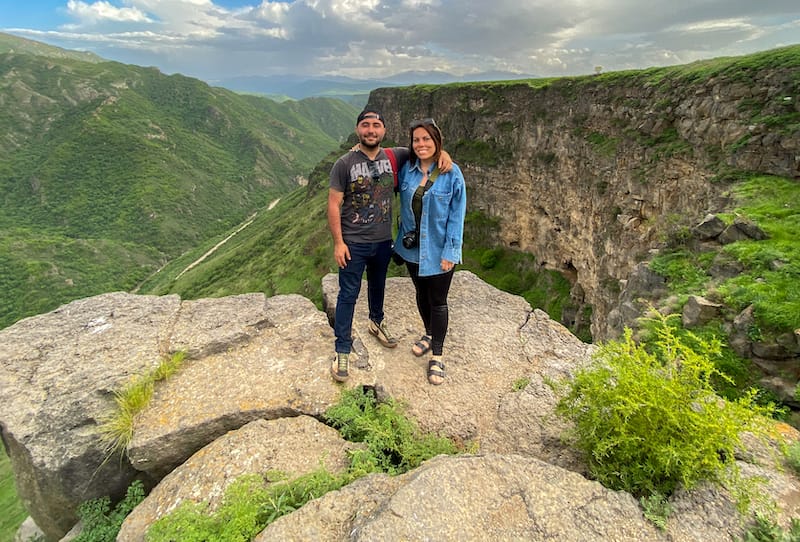 Odzun is also a great launchpad for seeing some of the north and the UNESCO monasteries of Sanahin and Haghpat. It is also located close to Horomayri Monastery and the charming village of Ardvi.
If you're there, be sure to stay at our favorite guesthouse, Odzun B&B! Sergo and his family are sure to give you an experience you'll never forget (and some insanely good Armenian food)!
Debed
Another one of my favorite villages in Armenia as a whole is the green village of Debed in Lori. The village is located not far from Vanadzor or Dsegh.
With a population of just under 1,000 people, Debed is situated on the Araleks River and is a great stopping point on the highway. In 2018, COAF opened a SMART center there which is an education hub for children and adults.
And, most notably, one of my dearest friends has a guesthouse there called Debed Life and it truly is reason alone to venture out there and stay for a night (or weeks)! Be sure to try some of her Debed Delights when you're there!
Ardvi
Ardvi may just be one of the most picturesque villages I've ever seen. The small village sits just south of Odzun and was even one of the filming locations for Sergei Parajanov's 'The Color of Pomegranates'.
In Ardvi, you can visit the spectacular Surb Hovhannes Monastery which sits a bit up on the hill, or the Red Church which is at the entrance of the village. Both are special and will take your breath away!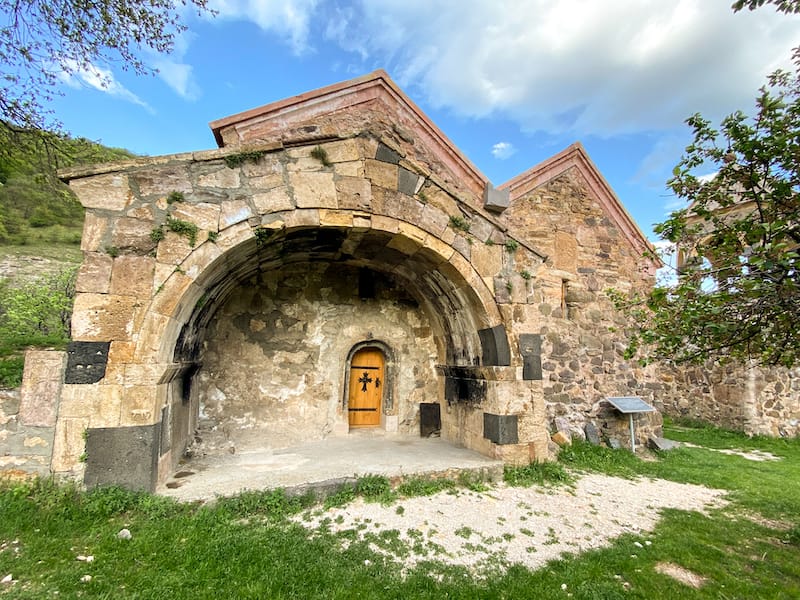 You can also go horseback riding or sip some water out of Odzi Port (the Snake's Bellybutton) when there. If you're in this area of Armenia – visiting Ardvi is a must! It is one of the best places to put on your Armenia itinerary.
Spitak
The name Spitak is most closely associated with the 1988 earthquake of the same name that decimated much of northern Armenia and took far too many lives. However, Spitak is also a town in Lori that is merely 22 kilometers west of Vanadzor.
The town was completely destroyed during the earthquake and was rebuilt in a slightly different location just after. Today, it is home to just around 11,000 residents and is situated along the Pambak River.
While there is not too much going on there these days, it is a transportation hub for Lori and is worth a stop and a stroll around if you're there. Central Park is absolutely beautiful!
Stepanavan
Back in the day, I used to pass through Stepanavan on my way from Tbilisi to Yerevan. The routes ended up changed up after a while and I no longer went that way and was seriously gutted because I loved our small stops in the town.
Stepananvan currently has around 10,000 residents and is green and a wonderful place if you love the outdoors! It is home to the iconic Stepanavan Dendropark which is a must-visit when there!
When you're in Stepanavan, be sure to visit the Museum of Stepan Shaumian. It is also a great place to base yourself for a Lori trip from – Lake Kyubishev is nearby as is Lori Berd (and more).
If you have a hankering for pizza, don't miss the chance to stop for some of the best pizza in the city at Inna Pizza!
Stepanavan Dendropark
A famous dendropark, or arboretum, in Lori, is the Stepanavan Dendropark.  It is a must-visit if you're in the area or want a cool excursion from Vanadzor.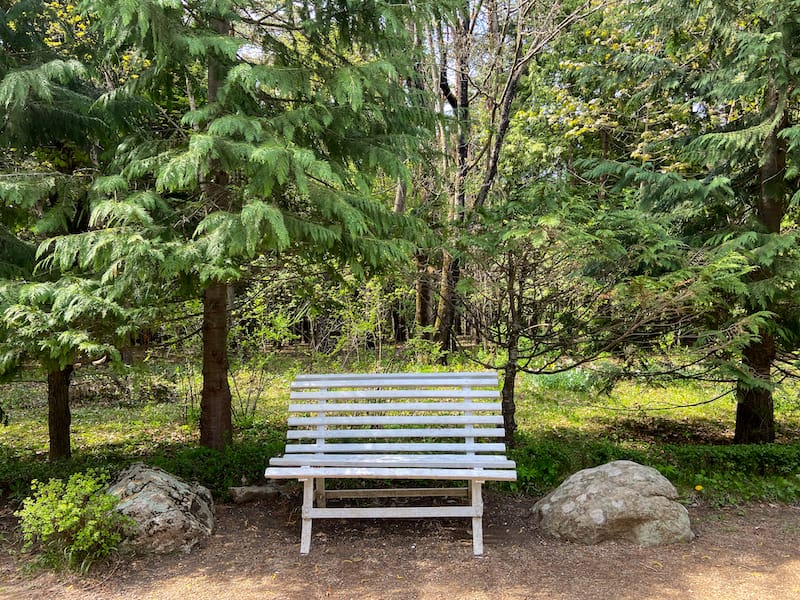 The Stepanavan Dendropark is located 30 minutes away from Vanadzor and it is the reason a lot of people find themselves in the city.  It was founded in 1931 and has hundreds of different species of trees and plants that have been grown in a 35-hectare area.
The entrance fee for Stepanavan Dendropark is 200 AMD and it is open daily from 0900-1900.
Alaverdi
I don't care what anyone says, Alaverdi has so much potential and I can't wait for people to discover it for just that. Known as an industrial city on the border of Georgia, it is one of the first places that people see when crossing the border into Armenia.
In Alaverdi, you will find several fantastic places to visit in its near vicinities such as Akhtala Fortress (home of the Khorovats Festival!), Sanahin and Haghpat, and more. Odzun is also very close by.
Two can't miss places in the city are the Alaverdi – Sanahin Bridge that dates back to 1195 and the restaurant 'Atorik' which offers up local and traditional fare with riverside terraces.
Kurtan
A village that is not well-known amongst foreigners and is still not that discovered by locals is the gorgeous village of Kurtan, located on the Kurtan Gorge in Lori. It is also renowned for the Hnevank Monastery and the plethora of hiking opportunities in and around the gorge!
Hnevank Monastery
The stunning Hnevank Monastery is situated near Kurtan village in a gorge of the same name. It dates back to the 7-12th centuries and it literally means 'Old Monastery' in Armenian.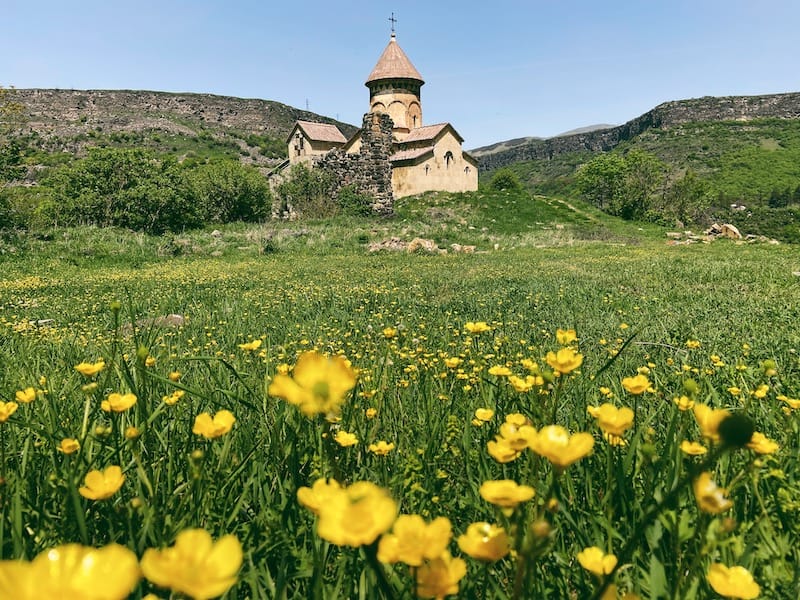 Situated at the confluence of the Dzorget and Gargar Rivers, Hnevank was a monastery that was entirely rebuilt by House of Orbelian. Today, you will find a beautiful monastery and some ruins alongside it.
It is far less touristy than many other monasteries in Lori, but provides some spectacular views, nonetheless.
Dsegh
Formerly known as Tumanyan village until 1969, the village of Dsegh is the birthplace of one of the most famous and beloved poets of Armenia, Hovhannes Tumanyan.
When you're in Dsegh, you can visit a museum dedicated to him called the House-Museum of Hovhannes Tumanyan. In addition, there are plenty of amazing hikes in the area.
Gargar
A village of no more than 1,500 people, Gargar is one of my favorites in the Lori region. We had the most amazing time there! Aram went horseback riding into the mountains and got to see some hidden Soviet bunkers.
While he did that, I sat along the river and did some writing. It was one of the most peaceful experiences to date!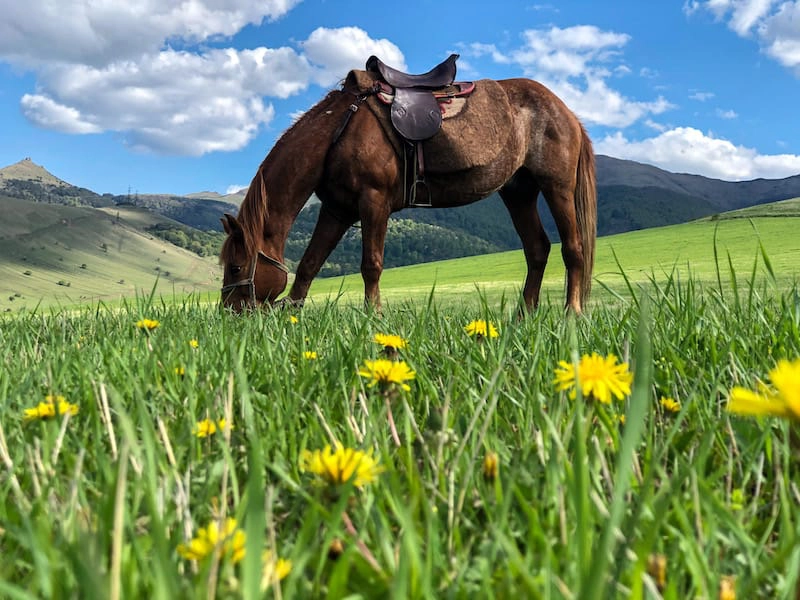 We stayed at the fabulous Geologist's House B&B in the village which added to the appeal of the village. In conclusion, if you're looking for a centrally-located village to experience a relaxing time but be close to several main sights in Vanadzor and Stepanavan, head to Gargar!
Koghes
Beautiful Koghes village is a small village located in Lori that is populated by Pontic Greeks. Koghes has been made colorful and brought to life by Blooming Armenia NGO that has spiced up a local bus stop with some street art as well as planted some gardens and flowers throughout the village.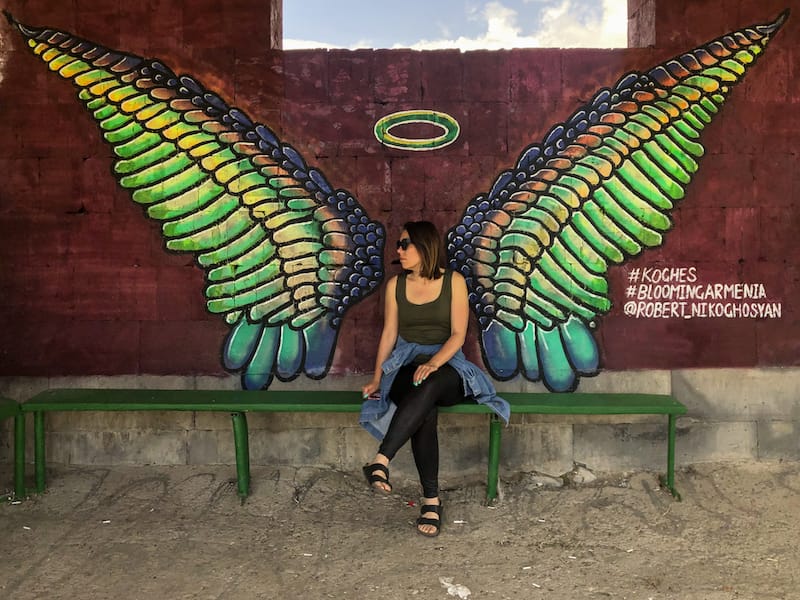 There are a small gorge and charming bridge nearby and this was just one of my favorite places to drive through when I was in Lori. It should be on everyone's Lori bucket list! In addition, Koghes is building a community center that will bring even more life to the village!
Fioletovo and Lermontovo
Two unique villages to visit in Armenia and in the Lori region are Lermontovo and Fioletovo, two Molokan villages that were settled in the 1800s by Spiritual Christians coming from Russia.
In the villages, you'll find different architecture and a culture that is slightly different than Armenian.
Madan
Check out the village Madan, or Lernahank, an abandoned Greek mining village up in the mountains near Alaverdi.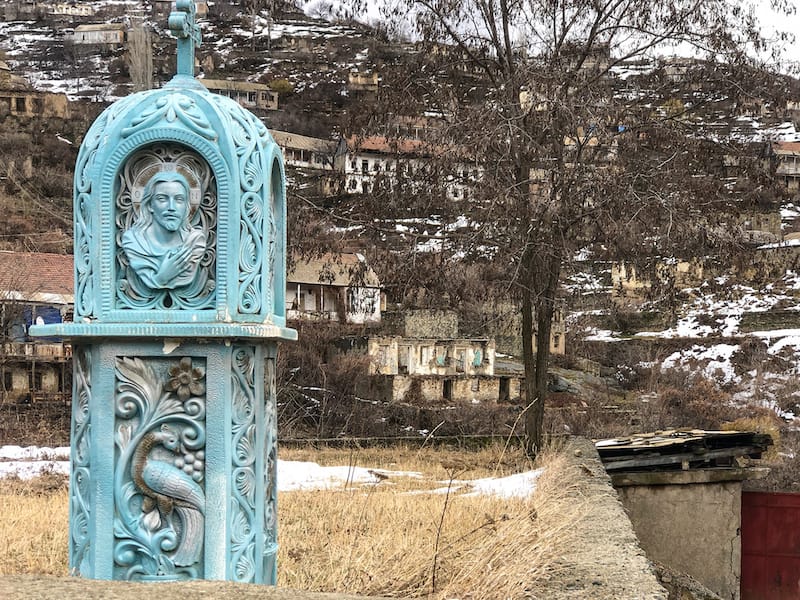 In the 1760s, Georgia's King Irakli brought Greek miners to Alaverdi and they established several mining operations in Lori. There were 5000-7000 Greeks living in the region but after the Soviet Union, and even throughout Soviet times, they slowly started moving away, abandoning their homes and village.
Today, around 30-40 people live there (and most can trace roots back to Greece).
Religious Landmarks and Monasteries in Lori
Sanahin Monastery
One of the UNESCO World Heritage Sites in Armenia that is famous and worth a visit is the gorgeous Sanahin Monastery in the northern part of Lori.
Sanahin directly translates to 'this one is older than that one' (speaking of nearby Haghpat) and this 10th-century monastery is absolutely fantastic.
You will find an entire complex there complete with several khachkars and bishop gravesites.
Mikoyan Brothers Museum
Also right beside Sanahin Monastery, you will find the Mikoyan Brothers Museum which is absolutely worth a stop on your way to or from the monastery.
This is a Soviet-era museum that details and celebrates the lives of Anastas and Artyom Mikoyan, two brothers that became a designer of the first Russian fighter jet while the other was the Chairman of the Presidium of the Supreme Soviet.
Haghpat Monastery
Another 10th-century monastery that is the 'sister' UNESCO Monastery to Sanahin is the gorgeous Haghpat Monastery in Haghpat village.
This medieval Haghpat Monastery overlooks the Debed River and was founded by Queen Khosrovanuysh, the wife of Bagratid King Ashot III.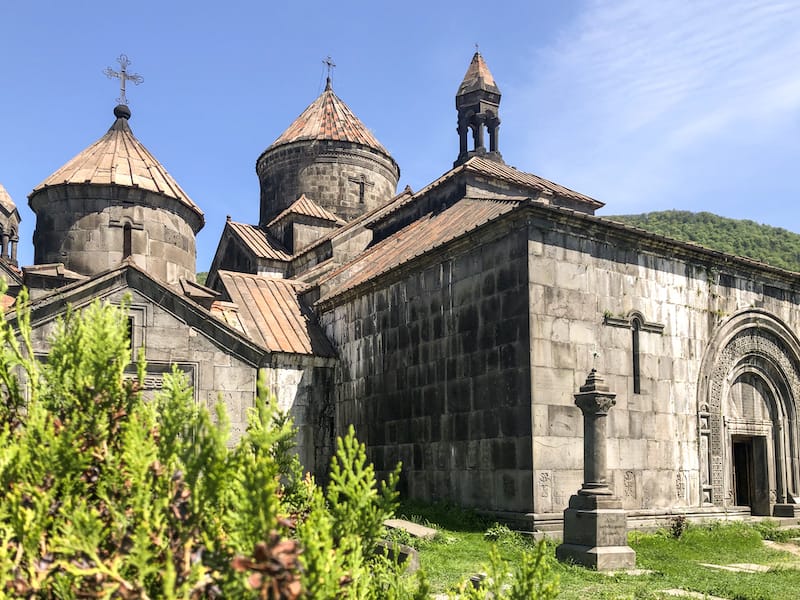 It became a designated UNESCO World Heritage Site in 1996 thanks in part to its Armenian religious architecture that blended elements of Byzantine ecclesiastical with vernacular that were representative of the Caucasus.
Bardzrakash S. Grigor Monastery
Hidden in between rocks and forests, you will find the Bardzrakash S. Grigor Monastery in Lori. This is a fine example of the architecture of Armenia but the church now lies in ruins.
However, once you're there, you will find two different churches, a chapel, a cemetery (from the Mamikonian Dynasty), and more. On the hike there, you will also see Gikor's Mountain Spring.
St. Nshan Monastic Complex of Sedvi
Located around 3 kilometers south of Kachachkut village in the Sedvi Canyon is the beautiful St. Nshan Monastic Complex, otherwise known as Sedvi Monastery.
The complex is partially in ruins today, but the church dates back to the 13th-century and was built with blue basalt. Today, you can see the St. Nshan Church, a chapel, belfry, auxiliary buildings, and the ruins of the walls.
Kobayr Monastery
A monastery that is starting to garner a lot of attention for its insanely mysterious (and beautiful) surroundings is Kobayr Monastery in Lori. The 12th-century monastery is in ruins and situated in the village of Kobayr right off of the side of the main highway.
Kobayr is undergoing some reconstructions (well, there is scaffolding there) but it is definitely worth a visit. It is a small hike to get up to it from the main road but the path is carved out and it is easy.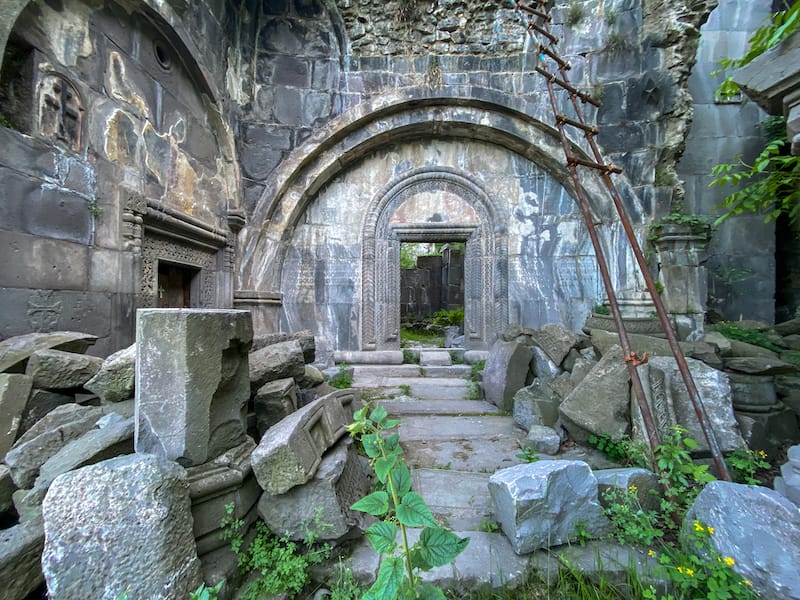 There are Armenian and Georgian inscriptions on the church and you will have a fantastic view of the area from the bell tower. Be sure to walk around it a bit as you'll get a view of a 'cave' like area. Kobayr is one of the most impressive hidden gems in Armenia.
Horomayri Monastery
A mysterious monastery in Lori is Horomayri, close to Odzun. To be honest, you need to hike a bit to get there, but fortunately, you can still get a crazy cool view of it from above the gorge.
Horomayri Monastery dates back to around 1187 and you will find caves within the complex, as well as khachkars and carvings. It truly is spectacular.
Tormakadur Church
In Gyulagarak, you will find the ruins of Tormakadur Church which dates back to the 6-7th century. You will find it on the right-hand side as you venture toward Stepanavan Dendropark and in the spring, it is situated near gorgeous fields of wildflowers!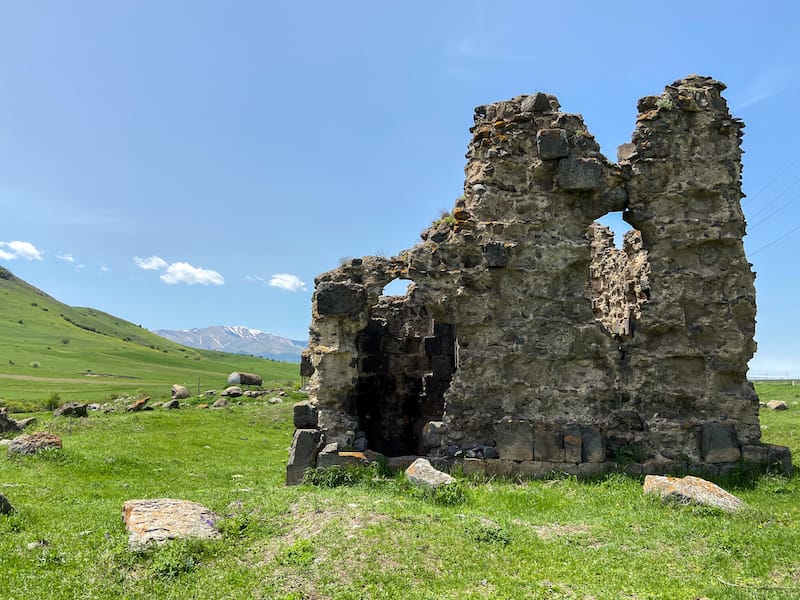 While there is not much to see when you stop there, definitely stop! The views from it are beautiful and it will transplant you to an ancient time for even just a few minutes!
Dorbant Monastery
Situated 3 kilometers northeast of the village of Sverdlov in Lori is Dorbant Monastery, or Dorbantavank. Nestled 1,600 meters above sea level, this monastery has typical Armenian Chalcedonian monuments that date back to the 7th-century.
There is not too much history known about the place, but that kind of adds to its appeal. The church was built with felsite and black tuff in its dome architecture. It was renovated in the 1980s and is a fantastic place to visit today!
St. Nicholas the Miracle Worker Russian Orthodox Church
This is easily one of the most beautiful and haunting buildings in all of Armenia. It is starting to gain popularity within the country, but not many tourists know it even exists!
Located in Amrakits village in Lori, the abandoned St. Nicholas the Miracle Worker Russian Orthodox Church has been left to nature since 1988's Spitak Earthquake.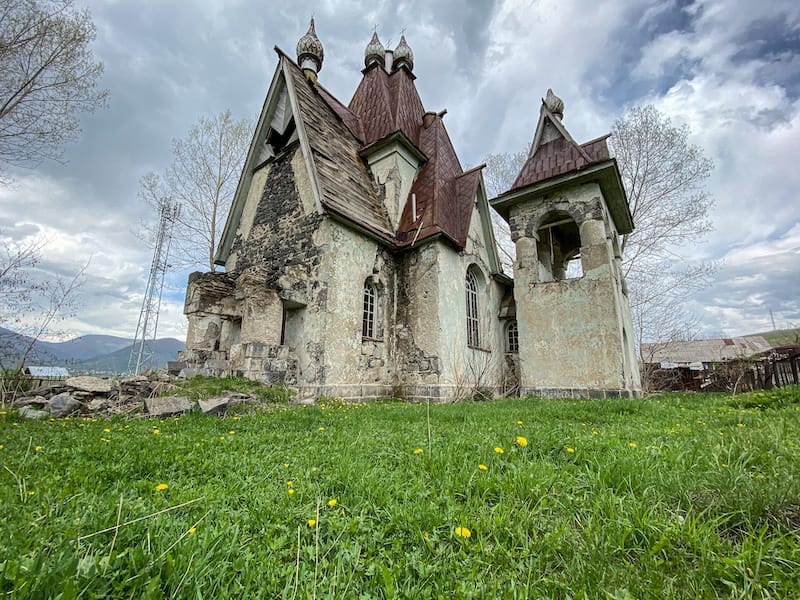 The church was founded in the 1840s even though you can find ancient structures located nearby. The village was founded in 1852 by Slavic families that relocated to Amrakits from Borjomi in Georgia.
There are no future plans to remodel and renovate the church but it is definitely one of the best pit stops in Lori and is worth a visit!
Natural Landmarks in Lori
Trchkan Waterfall
Trchkan Waterfall is located on the border of the Shirak and Lori regions on the left tributary of the Pambak River. Trchkan Waterfall is also known as Chichkan waterfall or Trchkan water. Moreover, the locals call it Chran.
Located about 10 kilometers northwest of Shirakamut village in the Lori region, the surrounding area of this waterfall was the epicenter of the 1988 earthquake but nevertheless, it is still one of the most amazing waterfalls in Armenia.
In 2011, there was a plan to build a small hydroelectric power plant with a capacity of 1050 kilowatts on the bed of the Chichkan River in the area of ​​Trchkan Waterfall.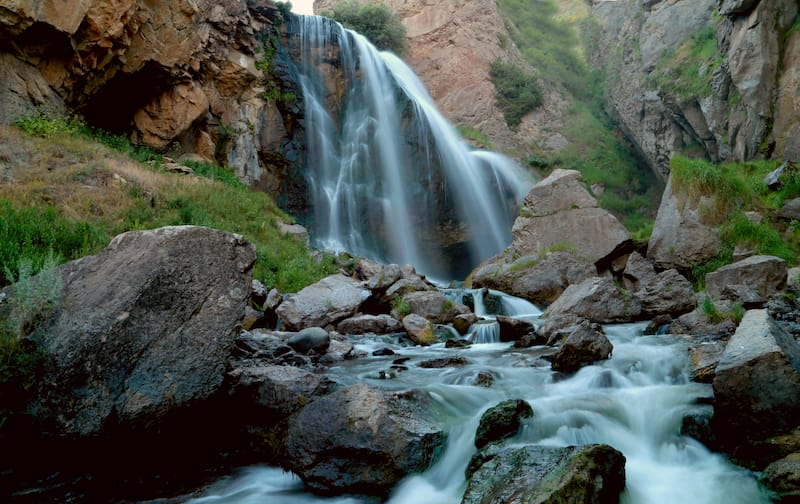 However, environmentalists claimed that the plant's construction would cause significant damage to the waterfall and the biodiversity of the site.
After some fueled protests regarding the topic took place, the construction was canceled, leaving the waterfall to remain as one of the most incredible spots, not only in Lori and Shirak but also in the whole country of Armenia.
Kuybishev Lake
Close to Bager, you will find Kuybishev Lake (about an hour or so walk from Bager). We were hoping to visit here last year but were planning our trip around the water lilies blooming and missed out.
This hidden gem of a lake offers gorgeous mountain views and lilies and bulrushes that bloom in July and August.
This is merely one of two lakes in the entire Caucasus that these flowers bloom and it is extremely special – so check it out if you're in the region at the time and don't mind a bit of a hike to get there.
Other Exciting & Historical Places in Lori
Lori Berd
If you're visiting Vanadzor or the Lori region, you definitely should factor in a trip to Lori Berd, or Lori Fortress, only a mere forty minutes away from the city. It is one of the most beautiful fortresses in Armenia.
Built-in the 11th-century, the gorgeous Lori Berd is a construction that is located right on the edge of the Debed Gorge and in 1065, it became the capital of the Kingdom of Tashir-Dzoraget.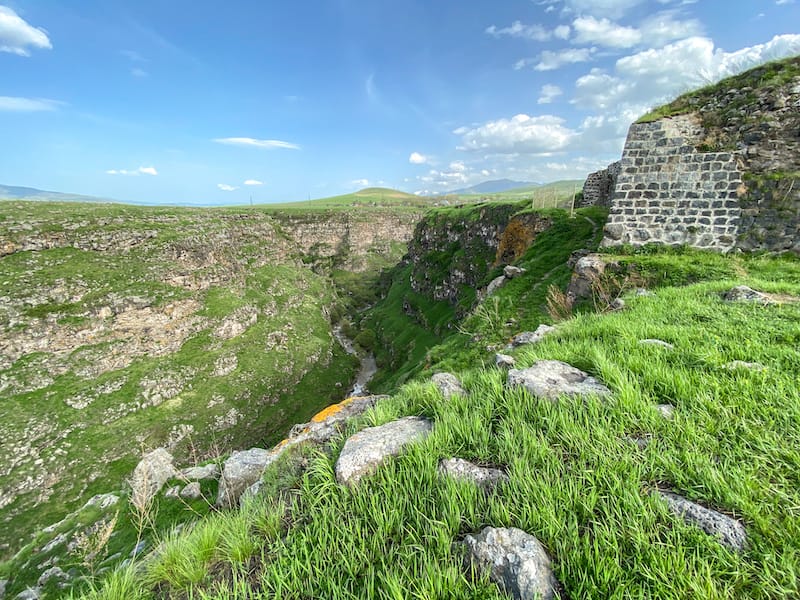 Don't miss out on seeing the remains of the large fortress and learning the history of the province. There may or may not be cute puppies to play with when you're there.
The ticket price for Lori Fortress is 650 AMD for locals and 1300 AMD for foreigners.
Akhtala Fortress
In the North of Armenia, you will find Akhtala Fortress and Monastery, a place that is a worthwhile stop near Alaverdi and if you're also visiting Sanahin and Haghpat.
Also known as Copperchurch, Akhtala construction began in the 10th-century and is merely one kilometer away from the Akhtala town.
It is a wonderful stop on the way from Tbilisi to Yerevan, or vice versa. And, this is the village where the annual Armenian khorovats festival takes place – which is definitely even more reason to visit in summer!
Mayori Dzor (Communist Caves)
Another place worth visiting in Stepanavan is Mayori Dzor, or the Communist Caves. In order to get there, you will need to walk into the gorge from the Arevelyan Street and Baghramyan intersection.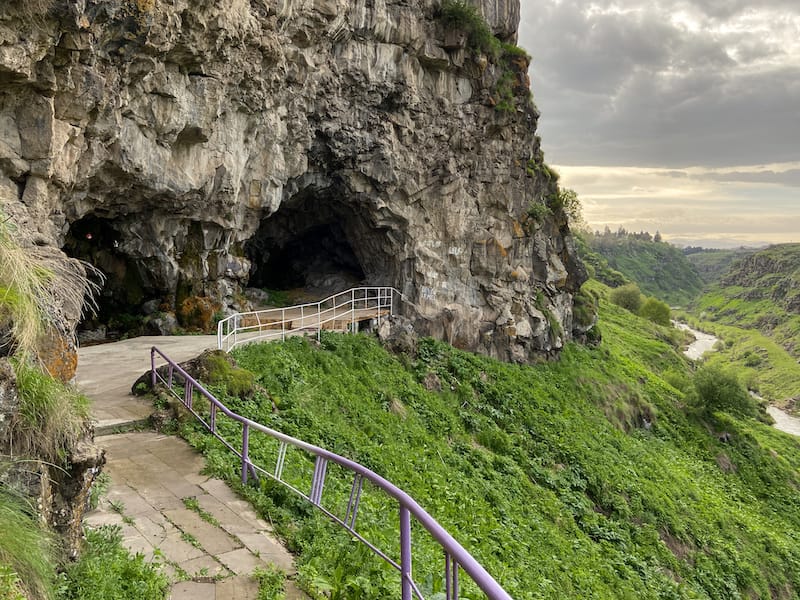 This is considered to be where Communism was born in Armenia. You will even see a beautiful waterfall on the walk there! This is a rather hidden sight in Lori that not many travelers are familiar with.
Pushkin Pass
One of the unique natural gems in Lori connects the city of Vanadzor to an area around Stepanavan and it is called Pushkin's Pass (or Pushkin Pass). When you cross it, you will be greeted by Armenia's first windmill farm and views that will make your jaw drop.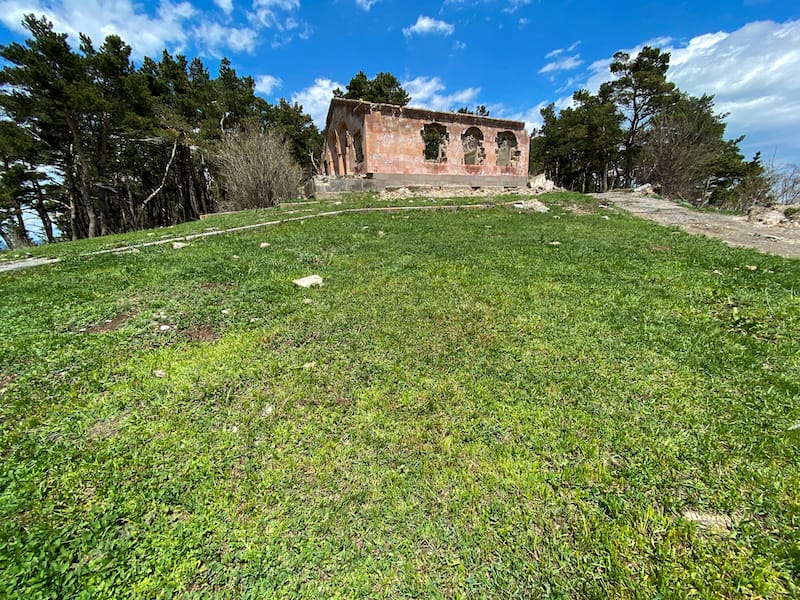 The altitude is 2037 meters and the road could use a little bit of work but it is relatively safe to drive.
The reason the pass is called Pushkin Pass is that legendary Russian writer Alexander Pushkin was traveling through the Caucasus and met travelers transporting the body of another famous Russian writer, Alexander Griboyedov, who was recently killed in Iran.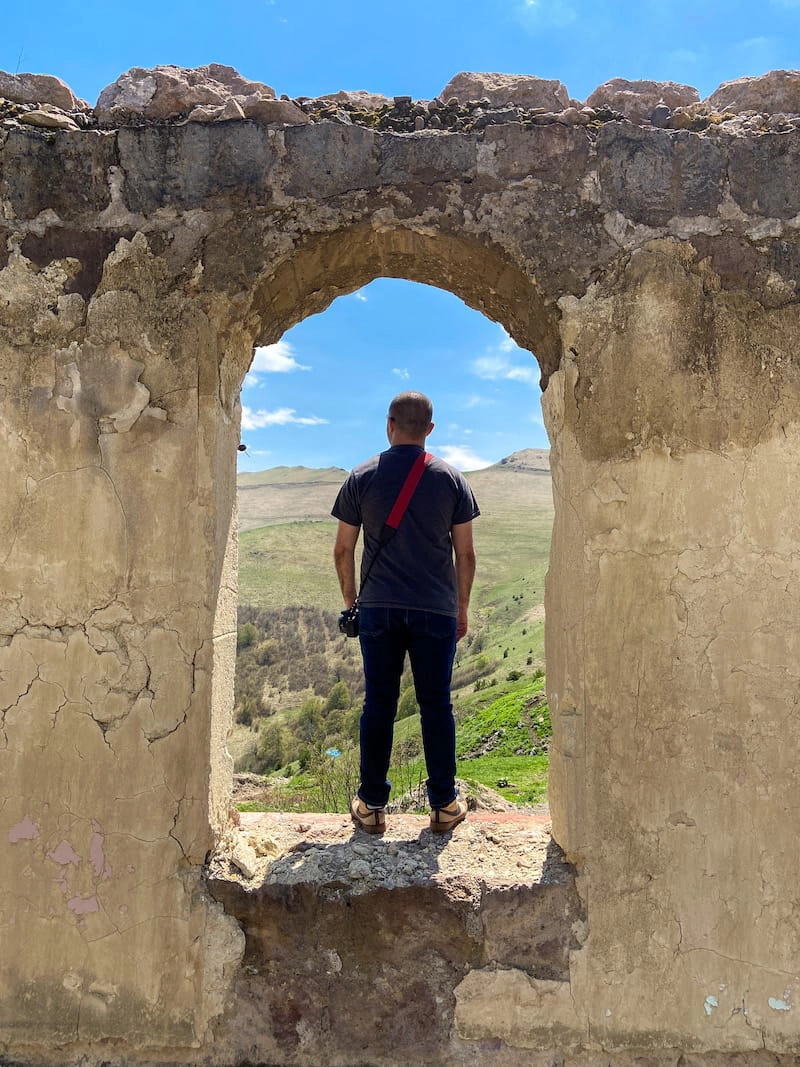 There is currently a museum that is now abandoned at the top of the pass that was built at the beginning of the 20th-century. This is definitely one of the most fascinating places to visit in the region!
Gogaran Iron Age Mausoleum
A more recent discovery in Armenia was the burial chamber called the Gogaran Iron Age Mausoleum. It is located in Gogaran village and was discovered by archaeologists in September 2008.
The mausoleum is made of hewn stone and not clay bricks, which is atypical of the other finds in the area. It dates back to the 9th-7th century BC and is about 14 meters in diameter.
Mendz Er Cave
A can't-miss place in Lori is Mendz Er Cave (means Big Cave in Armenian). This complex is a restaurant, museum, and masterclass facility that is built right on the upper part of Alaverdi.
Formerly a goat barn, the area a project started by Vahe and his brother Vache, who dug to the cave in order to create the restaurant and museum. They ended up discovering a mysterious cave that was more than 300 meters long in the process (and goes deep into the mountains all the way near Sanahin Monastery).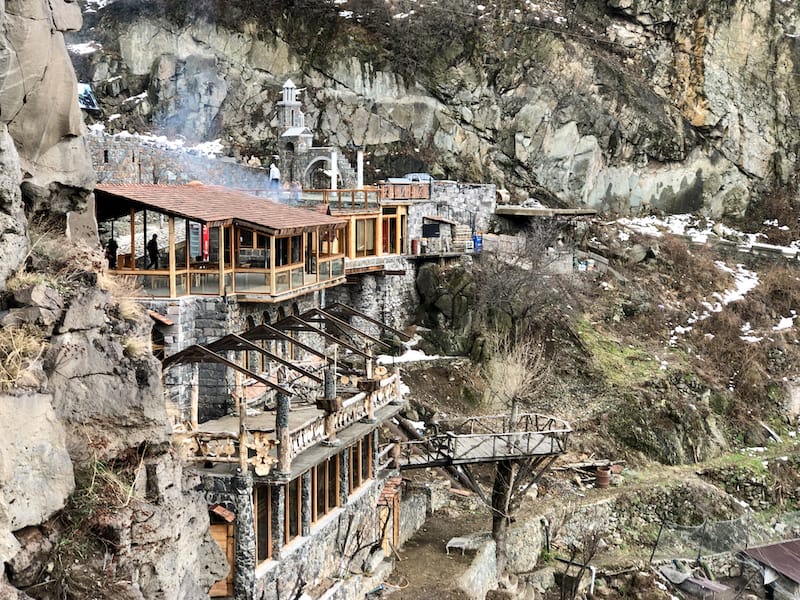 The experience is exceptional and you can even try some local Lori dishes there, including Egh u Jil (an Armenian fondue). Mendz Er also offers one of the best views over the Lori region!  Click here for their Facebook page.
Are there any places to visit in Lori that we missed and are not on this list? Please let us know in the comments the best things to do in Lori! Thanks!