I have visited several villages around all parts of Armenia but there was something so unexpected and magical about Ardvi in Lori. This is a short guide of reasons to take a trip to Ardvi and what to do once you're there!
Ardvi is a random place that is actually not so random. Situated beside Odzun and close to the UNESCO monasteries of Sanahin and Haghpat, you don't really think to stop by this village unless you know about it or are on a tour where it was added to your itinerary for Armenia.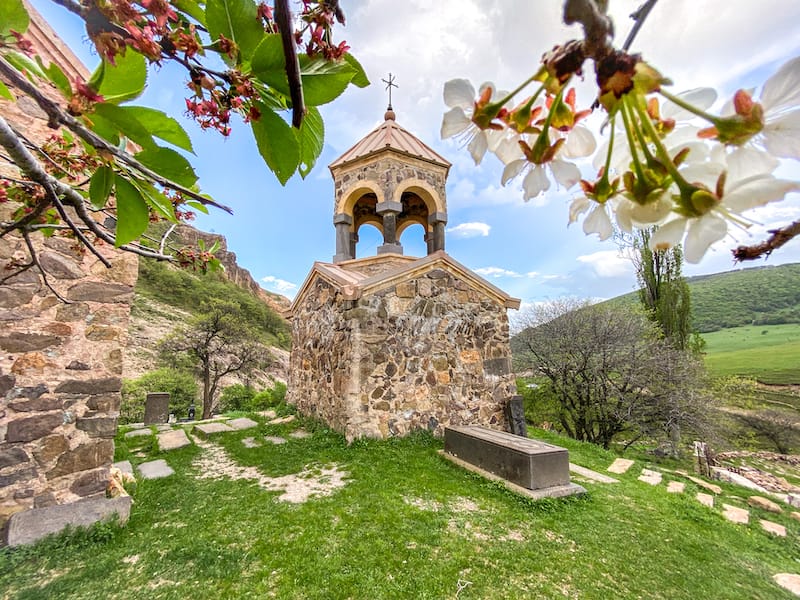 But… there is a lot to see and do there for being home to only around 200 people! And, it is one of the oldest villages in Armenia.
The homes in Ardvi were built from volcanic stone ranging in colors from pink to black and the village sits in a valley that celebrates a daily golden hour better than just about anywhere I've ever seen.
Ardvi is often overlooked in favor of Haghpat, Sanahin, and Odzun, but if you're making the trip independently, please stop by for a bit! You will thank me if you do!
Below are five really good reasons to visit Ardvi and an activity to do there if you opt to stay a bit longer and want some iconic views over the valley and Debed Gorge.
Things to do in Ardvi
1. Surb Hovhannes Monastery
This place.  Maybe it was the time of the day that we visited Ardvi or maybe it is always this beautiful… but nevertheless, it has left images ingrained in my mind for years to come.
Surb Hovhannes Monastery was named after Hovhannes Imastaser (Hovhannes the Philosopher). The 34th Armenian Catholicos was a reformer and Wiseman in addition to being a theologian, educator, and lawyer. He was born in nearby Odzun but was buried here in Ardvi.
While the monastery dates back to the 8th century, there are pieces of it that trace all the way to the 17th century. You will also find several khachkars around.
This Lori Monastery is an essential place to visit in Ardvi. It is about 50 meters above the village (there is only one road heading up that way, so you won't have any issue finding it) and it overlooks the village.
Once there, you will find two buildings. The first has a small chamber and the second building has two chambers (and is still in use)!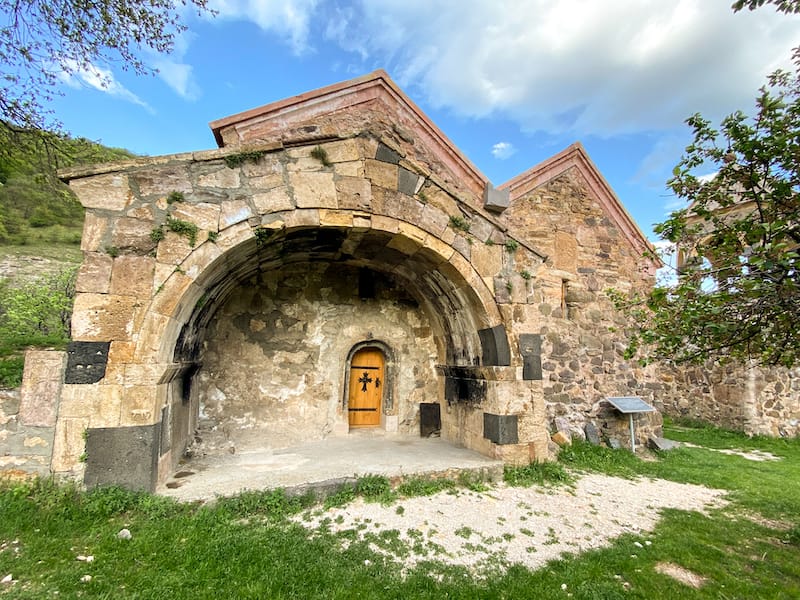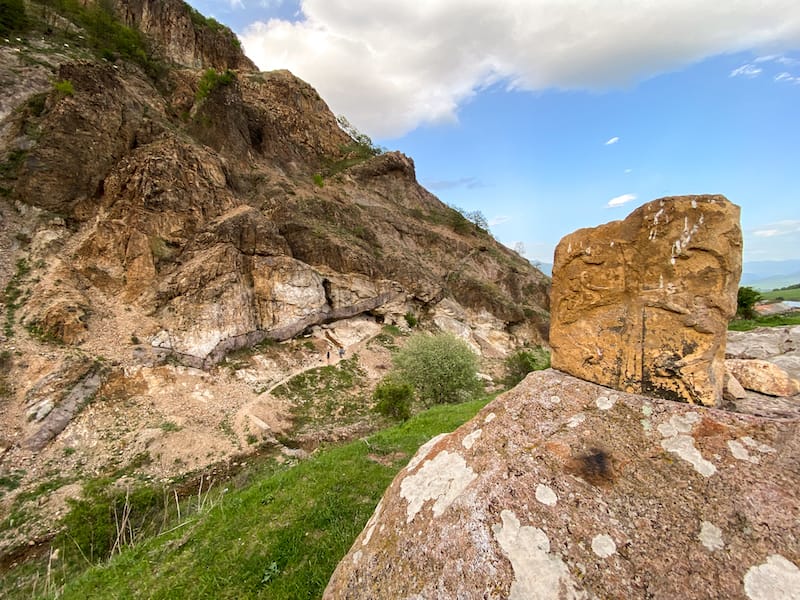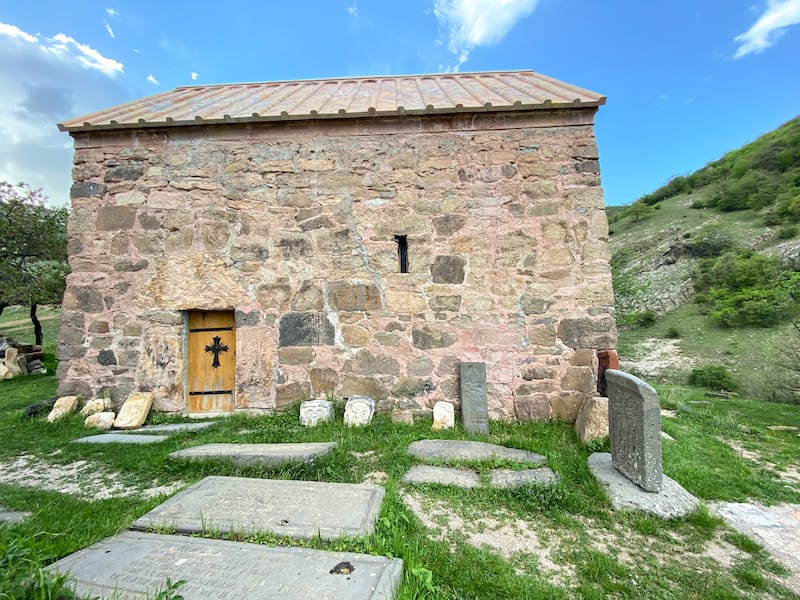 We wandered the premises for what seemed like hours. It was just truly spectacular. As you can see, we visited in spring when everything was in bloom and glistened under the evening skies.
This church is often referred to as Ardvi Monastery (or you may see it written as Srbanes Monastery).
INSIDER TIP: Some of Sergei Parajanov's famous film 'The Color of Pomegranates' was filmed at the Monastery.
2. Go Horseback Riding in Ardvi
Another wonderful thing to do when you're visiting Ardvi is to go horseback riding with a local from the village. Mher offers horseback riding through Ardvi and you will have a chance to see the village beyond the main sights and with views for days!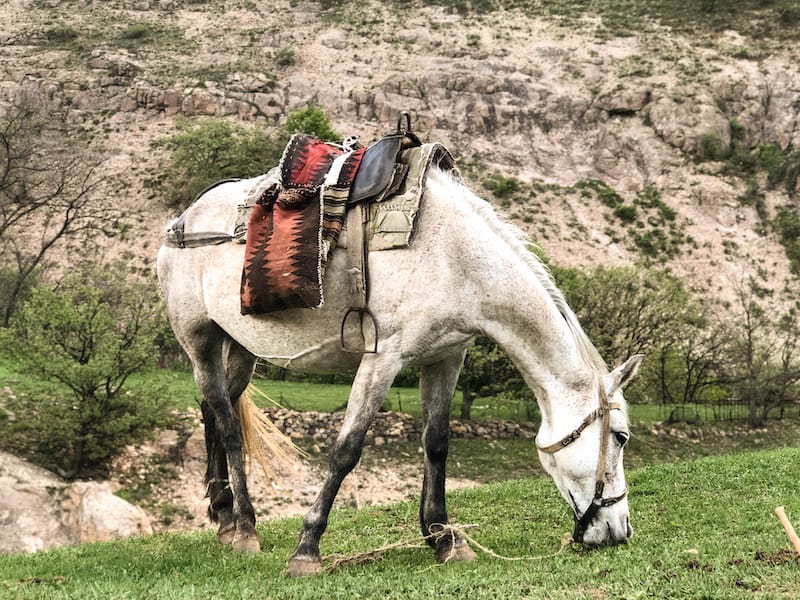 He is the kindest man and a hospitable representation for his home village!
In order to book a horseback riding excursion with Mher, you will need to give him a call at 094 347352.
3. Red Church
As you get to the village, you will see the Red Church.  You can't miss it!  It will be on your left-hand side entering the village and was built with colorful stones ranging from yellow to red, hence the name.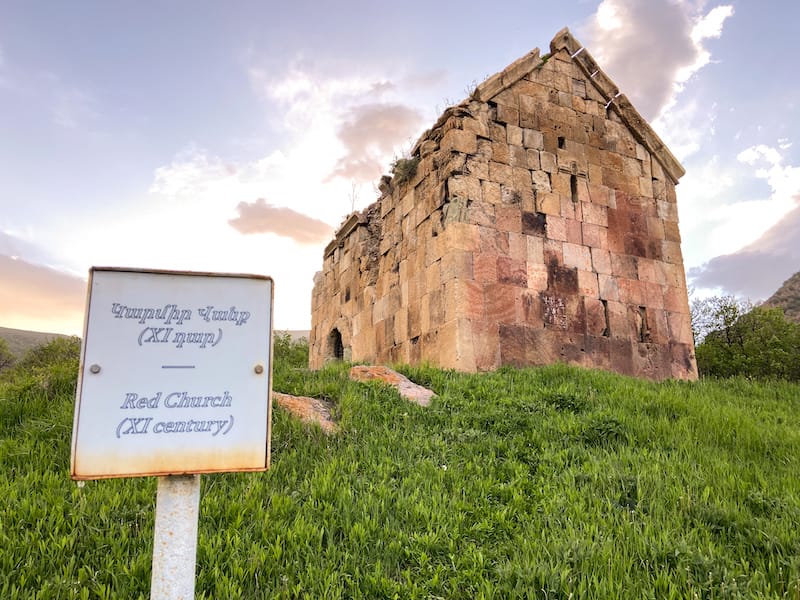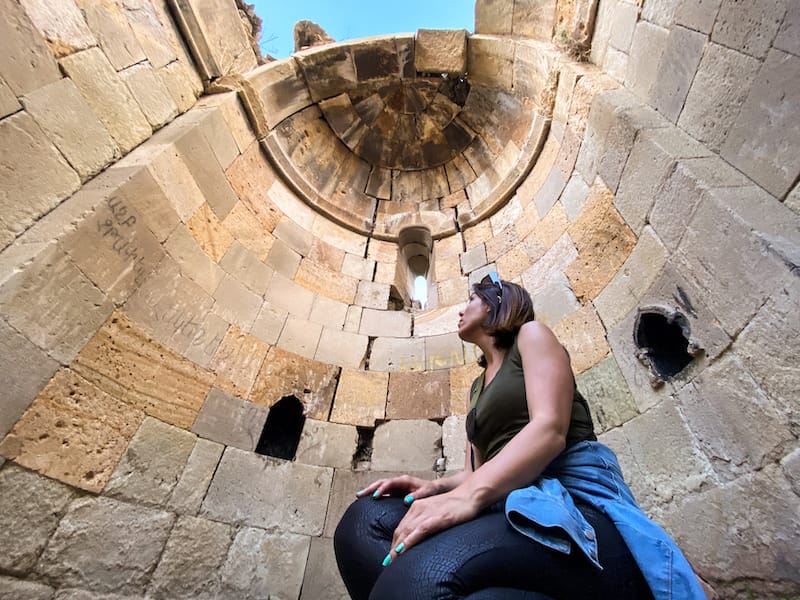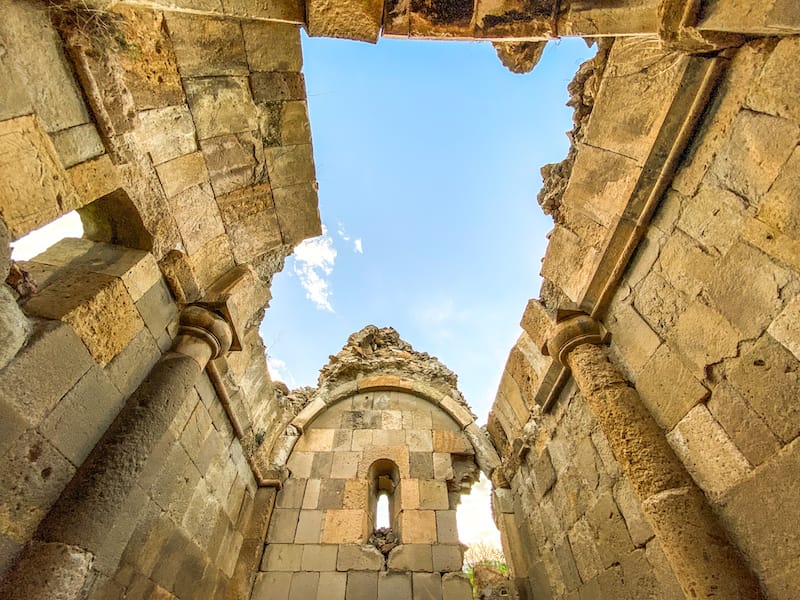 We made our way inside of it and were astounded by the complex construction and details.  While it may be partially in ruins, it definitely is a sight to see!
The Red Church dates back to the 11th-century.
4. Odzi Port (Snake's Bellybutton)
Right below Surb Hovhannes, you will find a really unique landmark in Ardvi that is a must-visit!
Odzi Port (or the Snake's Navel' is a place that is said to have healing waters. There is a legend behind it that says that Odznetsi had once heard the voice of a woman yearning for help because a large snake had attacked her.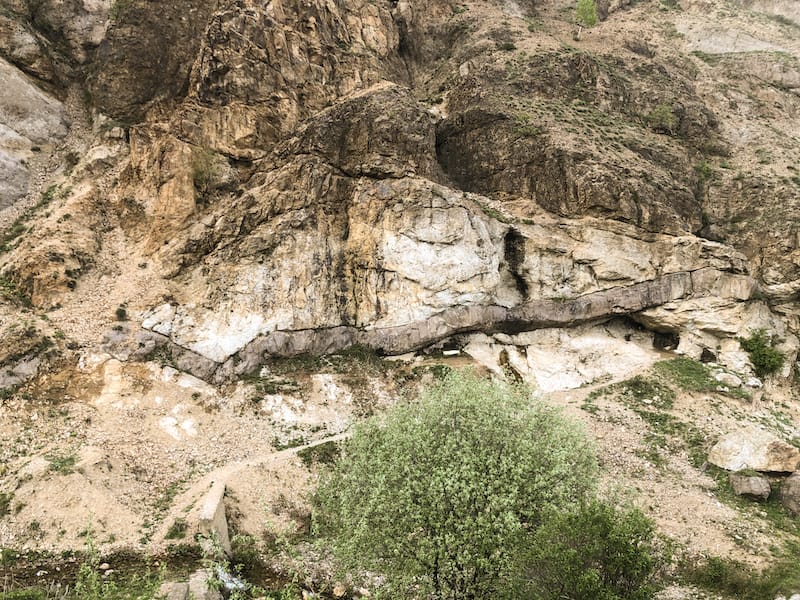 He then sent his pupils to her aid but none of them returned so he careened toward the village himself and hit the snake with this cane demanding that it 'let a healing water flow out from its navel and its body then turn to stone'.
Today, there is water running out from the Snake's Navel and it has been confirmed by the Yerevan Geology Institute that it contains silver and gold.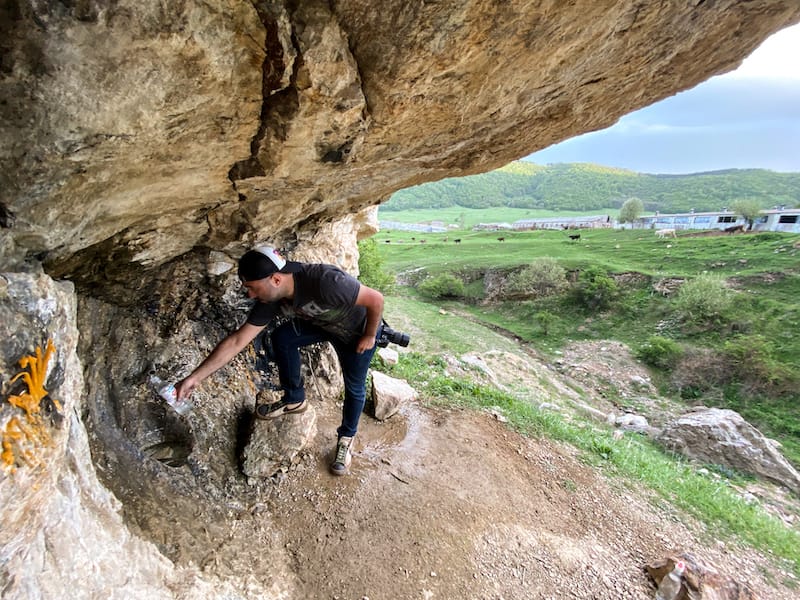 It is said if you keep some water from here and check it out in a year or two, it will not have changed colors. I ended up drinking mine but I will have to test that out next time I'm back!
5. Head to Odzun for a Vodka Masterclass
One of my favorite B&Bs is actually situated in a village nearby called Odzun.  There are many things to do in Odzun but one of the best is a stay at B&B Odzun!
The stay is amazing, the food is amazing… and you can take a vodka masterclass with Sergo, the man who owns B&B Odzun with his wonderful family.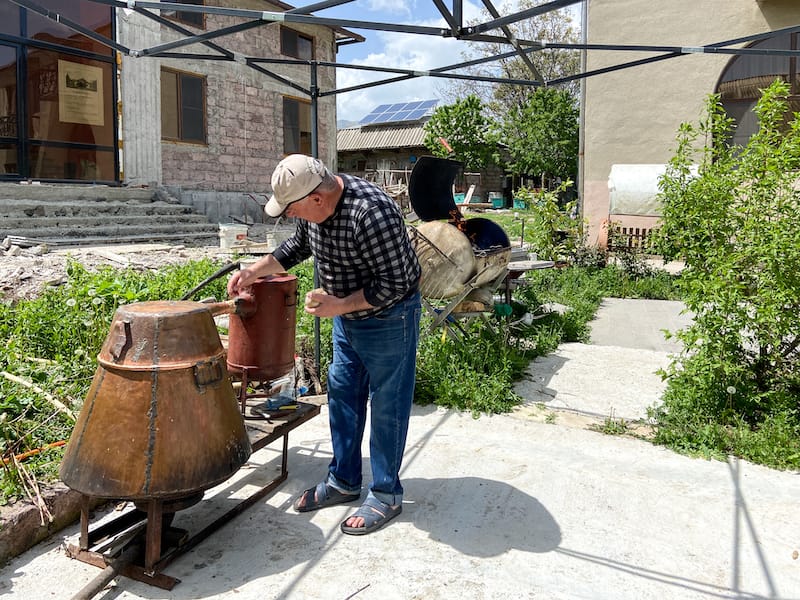 B&B Odzun just remodeled the property and they have a new guesthouse on-site and it is absolutely beautiful and colorful!  We also recommend staying here overnight and making the Odzun guesthouse your home when visiting the area.
>> Click here to check rates and availability for B&B Odzun
We hope that you make sure to stop by Ardvi on the way to Odzun or other places in Lori.  Or, even make a trip with the full-intention of visiting this beautiful village!
If you have any questions or tips for things to do in Ardvi, please let us know in the comments.
More Lori Travel Resources
Pin this Ardvi Travel Guide!