If there is one hotel in Vanadzor that truly stands out, it is undoubtedly the Kirovakan Hotel.  We have stayed there on multiple occasions and had a fantastic experience both times. Here is a quick write-up about our time there!
Named after the city's former name, Kirovakan Hotel is an icon in Armenia's third-largest city. Perched on the hill overlooking Vanadzor from across the river, the hotel was built in 1980 during the Soviet days.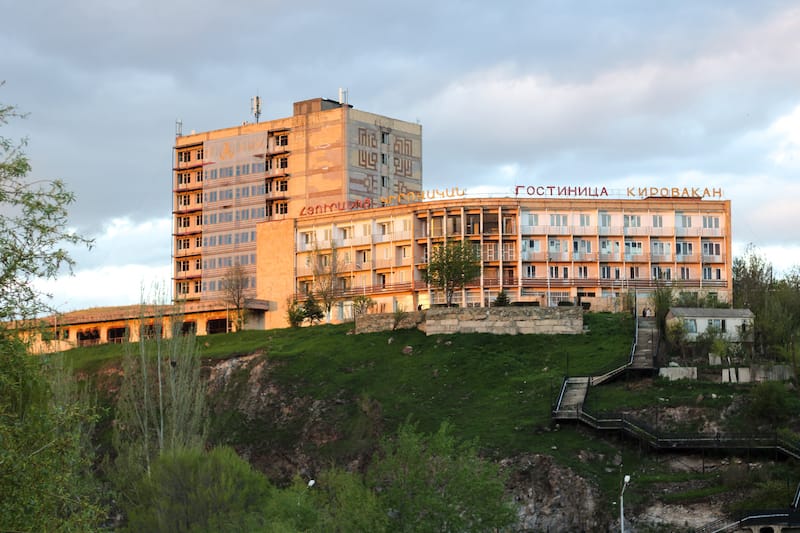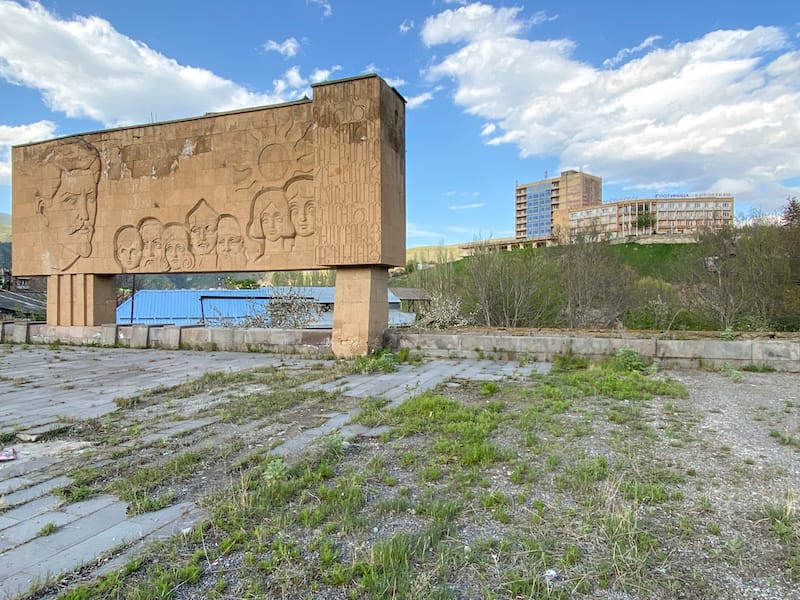 Up until recently, the hotel had a Soviet vibe and design, offering guests a blast into the city's past. However, in recent years, Kirovakan has undergone extensive renovations leaving the Soviet exterior combined with the comforts of a modern and cozy hotel room.
One of the best things about Kirovakan Hotel is the views you get from it! We had a terrace that overlooked the river and city and it was absolutely one of the most incredible sights to wake up to in the morning after a good night's sleep in the comfortable beds.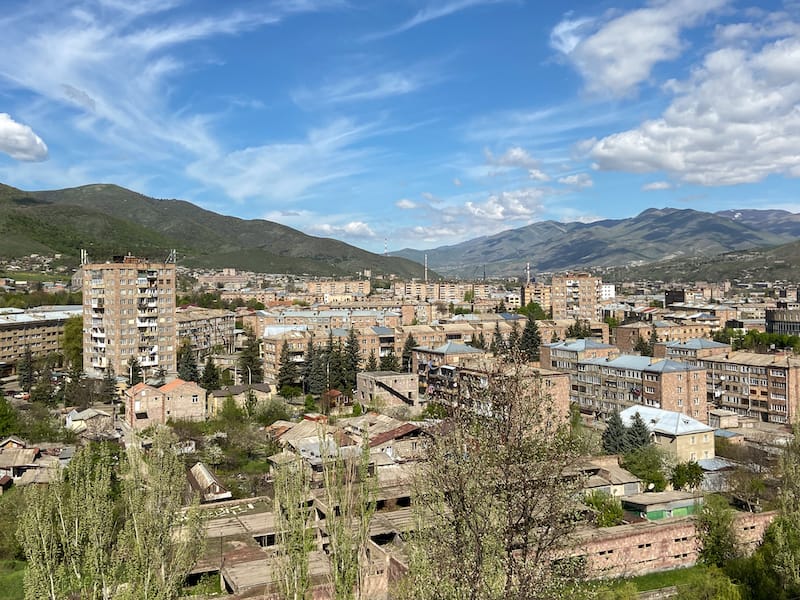 Rooms at Kirovakan Hotel
There are four types of rooms at Kirovakan. You will find singles, doubles/twins, deluxe, and luxe. The prices range from $15 for a standard single to $74 for a twin luxe. Children under 6 stay free.
One of our favorite things at Kirovakan was the bathrooms. They were extremely modern compared to many other bathrooms we have experienced in hotels on the road and it was a great break to get washed up after our (somewhat dirty) travels and outdoor adventures!
We do not have photos of our first stay there and the room was extremely modern.  The photos below are from the second stay and it was not quite as modern but felt clean and current for an enjoyable stay!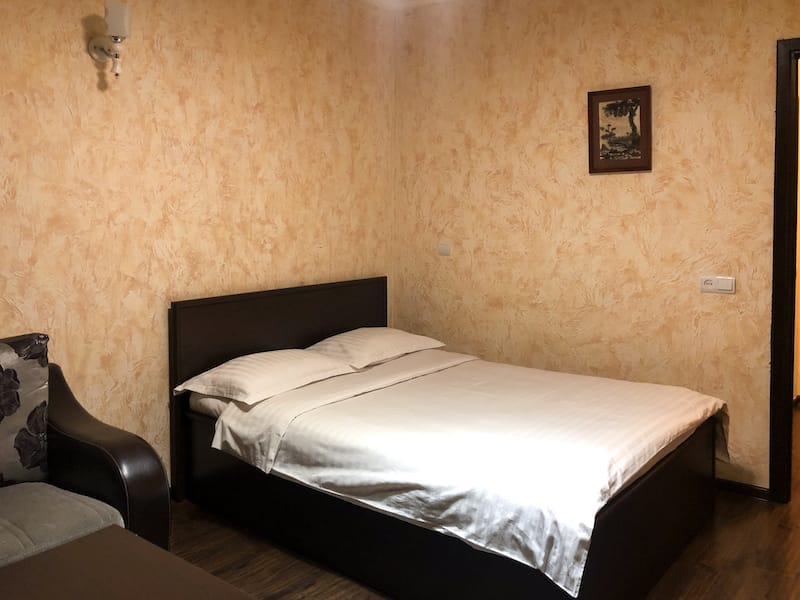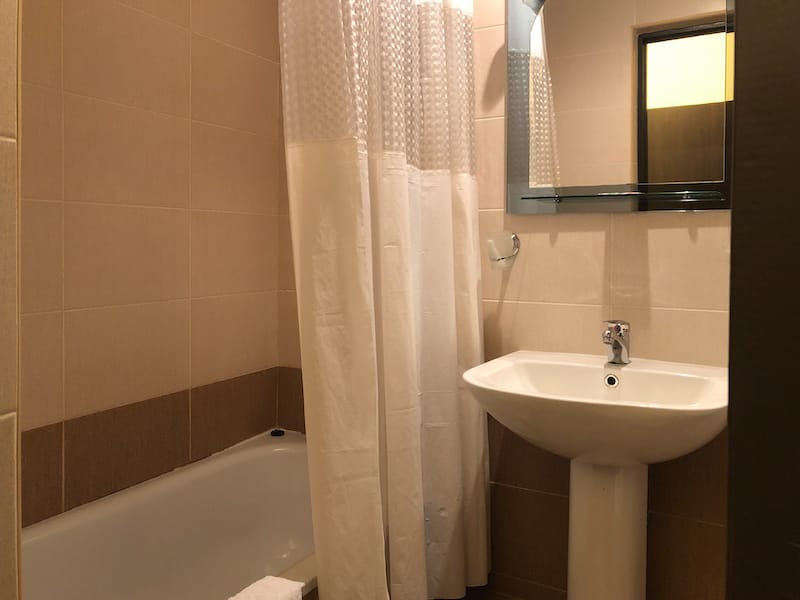 Hotel Amenities
At Kirovakan Hotel, you will have a full breakfast that will be 3000 AMD per person. You can opt for lunch and dinner for an additional 8000 AMD. For our breakfast, we had eggs, sausages, bread, and a few other small eats. It was filling and got us pumped for another day of exploring!
Other facilities you will find there are heating, hot water, local TV channels, a garden, daily newspapers in the lobby, parking garage, conference rooms, free wifi, 24-hour reception, luggage storage, room service, wake-up calls, and more!  You will also have a bar and restaurant on-site.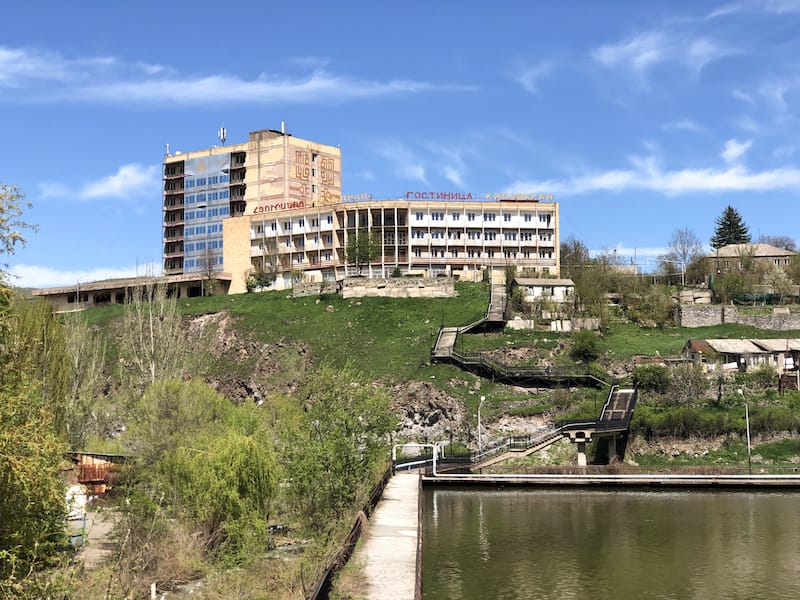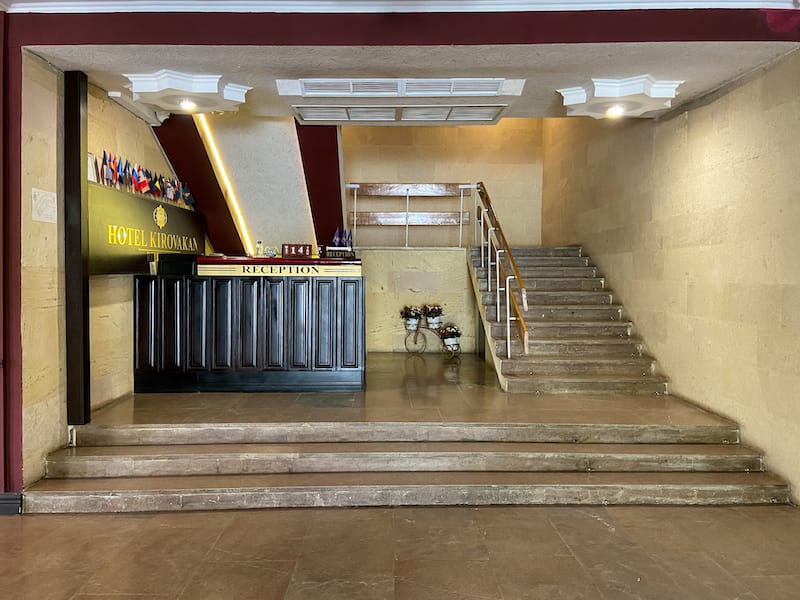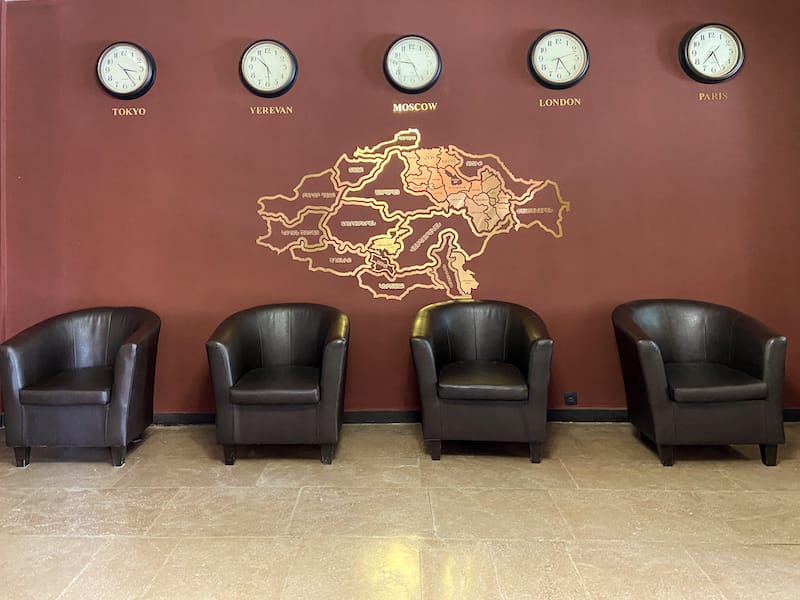 Recently, they have completely renovated the 4th floor and modernized it. There are several renovations happening (but don't worry- it is quiet for guests and we never experienced any noises despite the facelift)!
Overall, we had a fabulous stay at Kirovakan Hotel and we recommend it for those wanting to enjoy a piece of Soviet history without having an uncomfortable or cold stay in a place. It really is an icon in Vanadzor and is a fantastic place to stay for the price!
>> Click here to check rates and availability for Kirovakan Hotel
More Vanadzor Travel Resources
*Thanks so much to Kirovakan Hotel for hosting us on our trips to Vanadzor! All opinions are our own.