Looking to visit another stunning Armenian waterfall? This is a quick guide to visiting Trchkan Waterfall – including a few facts about it, my experience traveling there, and how to get there.
Have you been to Trchkan Waterfall? Let us know your experience in the comments and any tips you may have for other travelers! Thanks!
Trchkan Waterfall (My Experience + Facts)
Trchkan Waterfall is one of the most beautiful waterfalls in Armenia and has the tallest vertical drop at a height of 75 feet (23 meters)!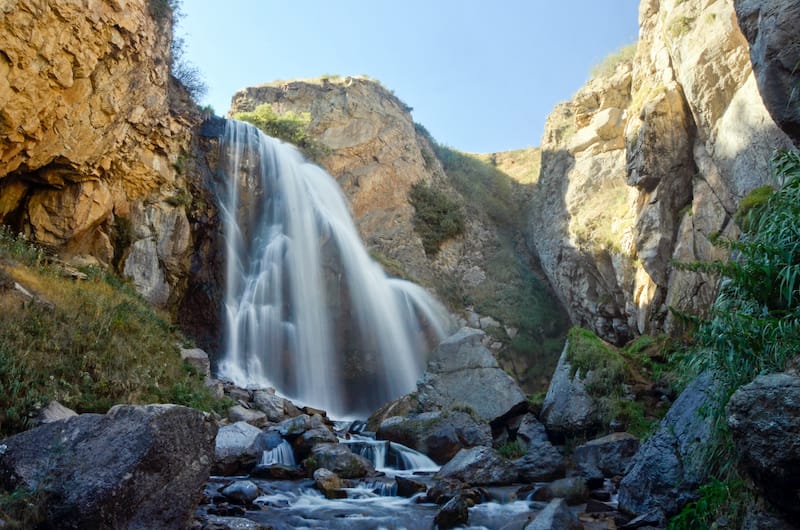 It is a little over an hour drive away from Gyumri, near the border of Shirak and Lori provinces, so it definitely makes a great day trip on a hot summer day!
We hired a van to take us there but I imagine a taxi would take you as well.  The road to get to the waterfall is rough and locals know this, so make sure the driver is willing (some are, some aren't).  It is also probably a good idea to have a 4×4 vehicle, just in case.
The waterfall is created by the Chichkhan River which comes from the slopes of the Shirak Mountains and is one of the best places to visit in Armenia!
I've heard that it is sometimes called "Armenian Niagara Falls" but having been to the real Niagara falls, I have to say the only similarity is that they are both considered to be the largest/tallest of their kind in their respective country.
I've read this legend about the naming of the waterfall so I will share it. Villagers say that the Chichkhan River is full of trout that swim upstream for mating season.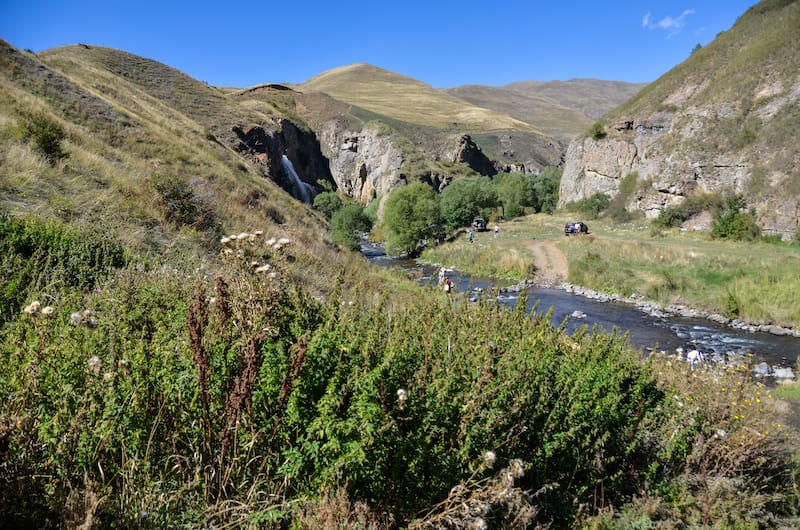 According to legend, a villager saw trout jumping up and over the entire waterfall so they called it "Trchkan" which in Armenian, is a way to say "jumping".
Just don't use google translate to confirm that…  Maybe it's old Armenian or a specific dialect? If you know more about this legend, please comment below!
Around the area of Trchkan Waterfall, you will find plenty of picnic areas and grills to barbeque.  There are also some little trails around that you can explore and get different views of the falls.  If the weather is nice, you will probably meet some locals hanging out there so be prepared to share some food and drink together!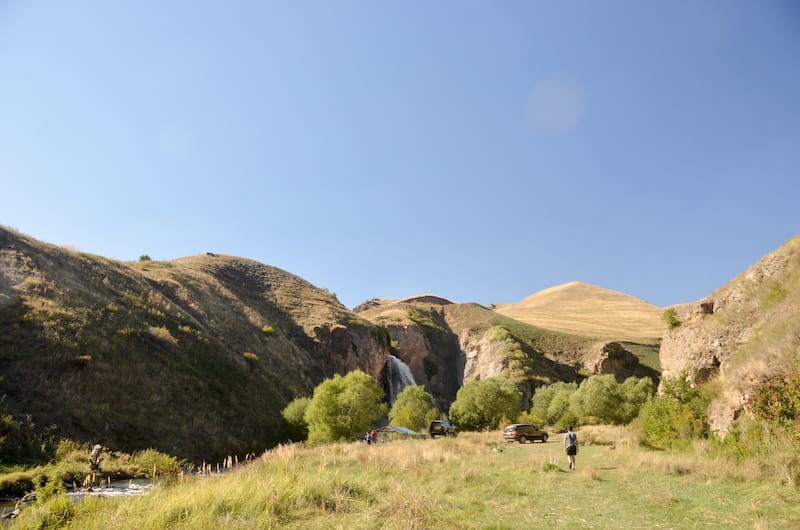 In the winter months, the waterfall will be completely frozen which provides a whole new beautiful perspective!  I haven't visited during the winter but it's definitely on my list!
How to Get to Trchkan Waterfall
Getting to Trchkan Waterfall is extremely easy… if you have your own rental car (4×4 vehicle is the most optimal for reaching the sight).  However, you can also take a taxi or a tour to reach the falls.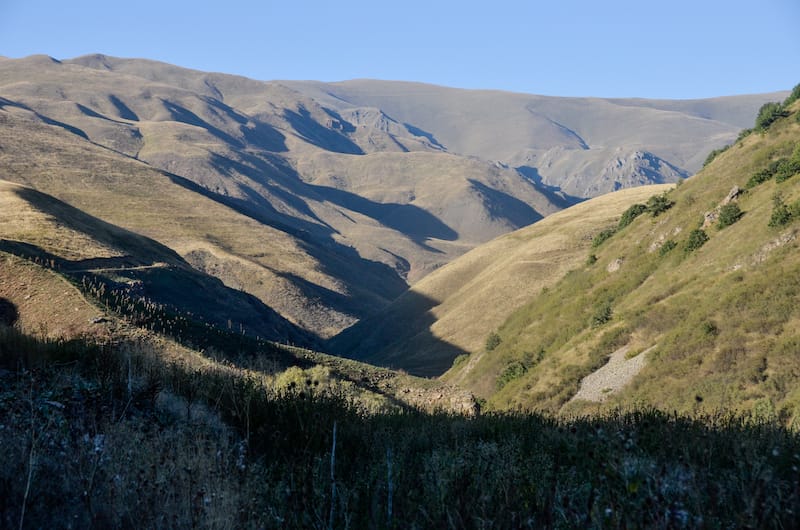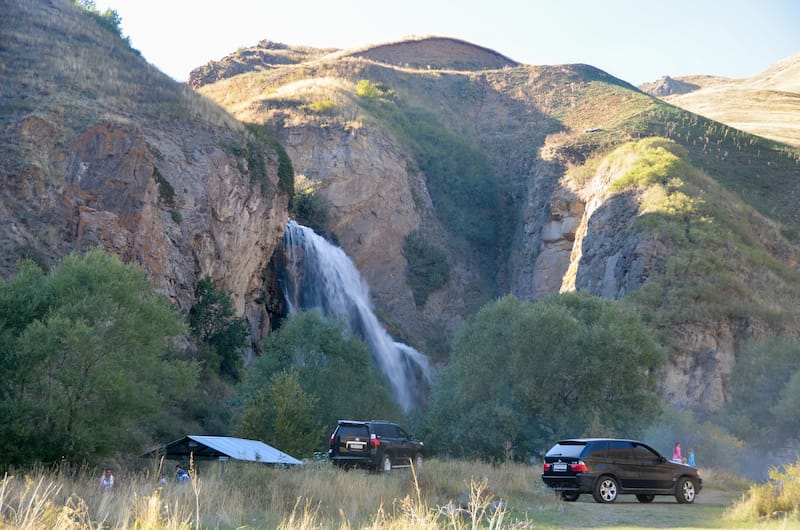 The cheapest place to get there via taxi is Gyumri, followed by Vanadzor.  Yerevan is a far further drive and would require more time (and money).
Below are the approximate taxi prices one way with GG Taxi from the respective city to Trchkan Waterfall:
Yerevan: 11500 AMD
Gyumri: 4000 AMD
Vanadzor: 4700 AMD
If you're looking to take a tour to Trchkan Waterfall, we recommend getting in touch with Arm Geo to see if they are running something or contacting Tripsters to see if they can arrange a trip for you.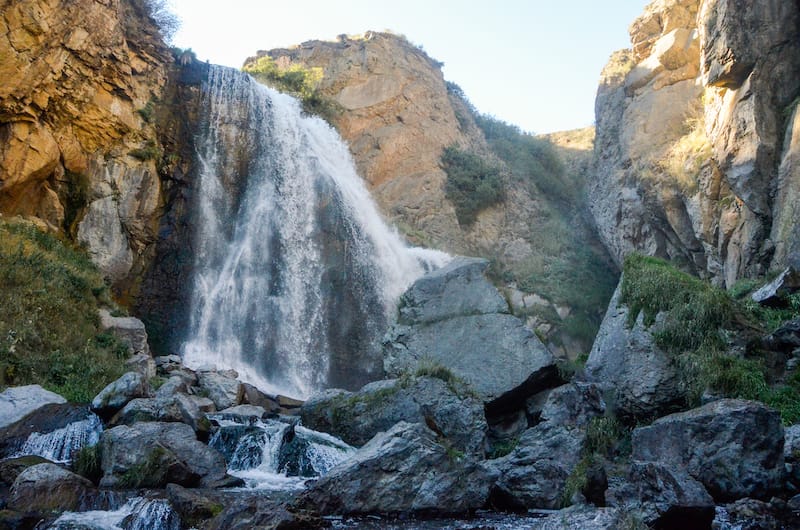 Armenia may not seem like a country brimming with waterfalls due to the arid climate and landscapes, but you will definitely find your fair share – from Shaki Waterfall to Trchkan and beyond!
Let us know if you've been to Trchkan Waterfall in the comments and leave your tips and thoughts for future travelers! Thanks!
Pin this Guide to Trchkan Waterfall