Gyumri is Armenia's second city and arguably its creative capital. This is a guide to things to do in Gyumri. It will contain what to do in Gyumri for culture, history, and food lovers alike.
Best Things to Do in Gyumri
Located in the Northern part of Armenia's Shirak province is the picturesque city of Gyumri. As the cultural capital of Armenia, Gyumri's traditional architecture and rich history will make any tourist fall in love with this city.
The city faced devastating consequences from the Spitak earthquake at the end of the 1980s, but through the perseverance of the people, its authentic architectural facades have been restored beautifully.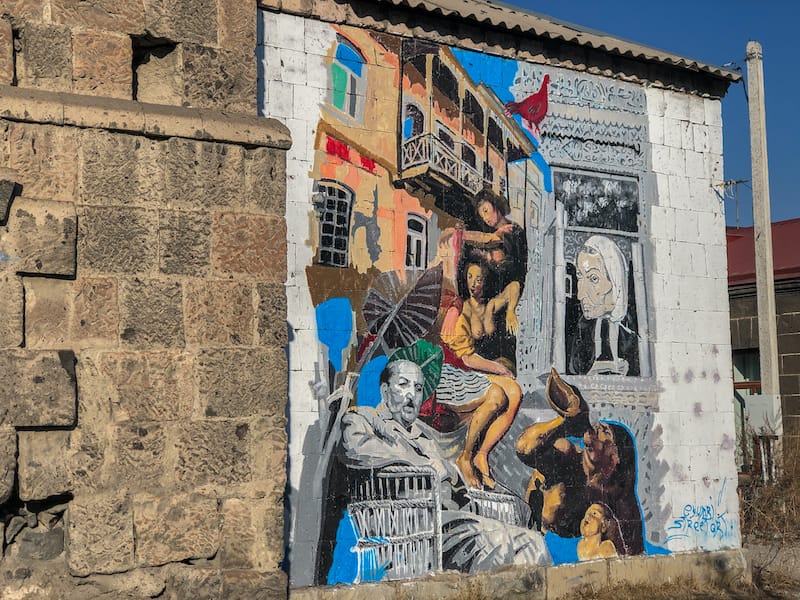 It's fair to say that many of Armenia's most talented artists, sportsmen, and musicians came out of Gyumri throughout the decades.
Gyumri is also considered to be the home of Armenian comedy for the locals' unique sense of humor.
Just two hours from Yerevan, Gyumri will marvel guests from all over the world with its hospitality, beautiful architecture, delicious local food, and amazing historical sites.
This traditional city is a dream of architects and artists alike with each corner and neighborhood telling its own story.
When is the Best Time to Visit Gyumri?
The best time to visit Gyumri is during the summer and spring. If you don't mind the cold, it's quite beautiful during autumn as well.
Unless you really enjoy the cold, winter is not the best option for visiting Gyumri as it can be blistering cold during that time of year.
However, don't write off Gyumri as a place to visit in Armenia during winter.  While the weather is cold outside, the cafes are cozy and there is still a lot to do and see then!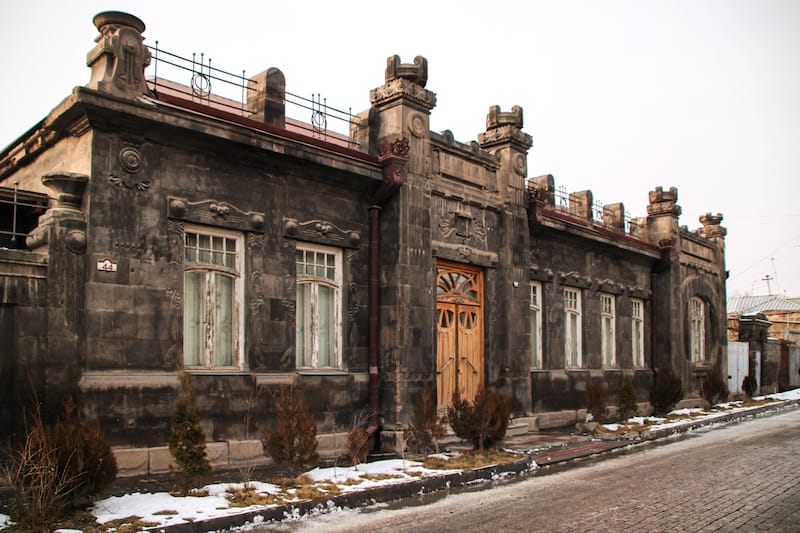 How to Get to Gyumri
The best way to get to Gyumri depends on where you're coming from!  If you're flying in from Europe, the city just received flights with Ryanair from Memmingen, Germany, and Athens, Greece.  These two flights will give Spitak Airport a boost and will put this city on the map!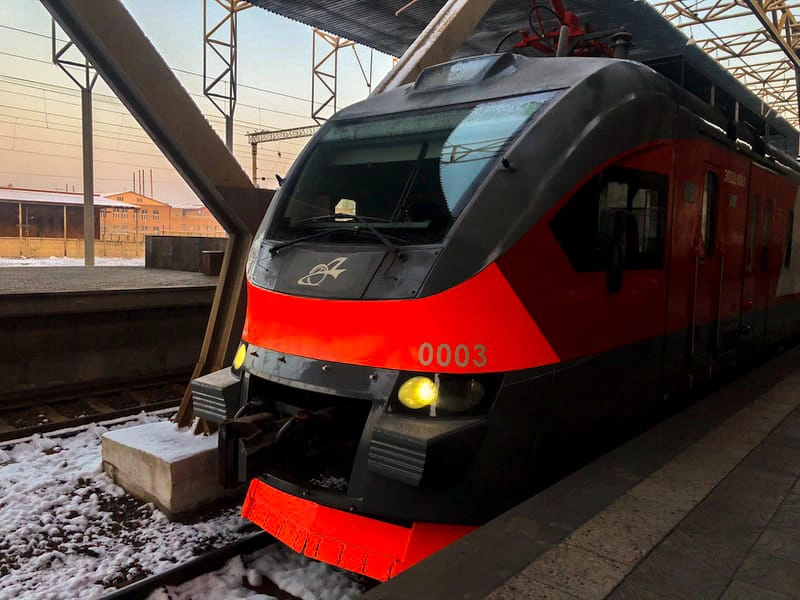 Fly to Gyumri
Starting in 2020, there will be regular flights to Gyumri from Germany and Greece through the budget airline, Ryanair.
This is a big opportunity for Armenia as more visitors will be able to discover this city of culture.
This will help boost tourism in the Gyumri and the income will help locals to protect the old and authentic buildings.
Getting from Yerevan to Gyumri
To get to Gyumri from Yerevan, you can take a minibus, a train, or a taxi.  You can read our thorough guide about how to get from Yerevan to Gyumri here.
From Kilikia Bus station, you can take minibuses to Gyumri or get a shared taxi. You can individually take a taxi like GG, Utaxi, or Yandex but it will be pricey.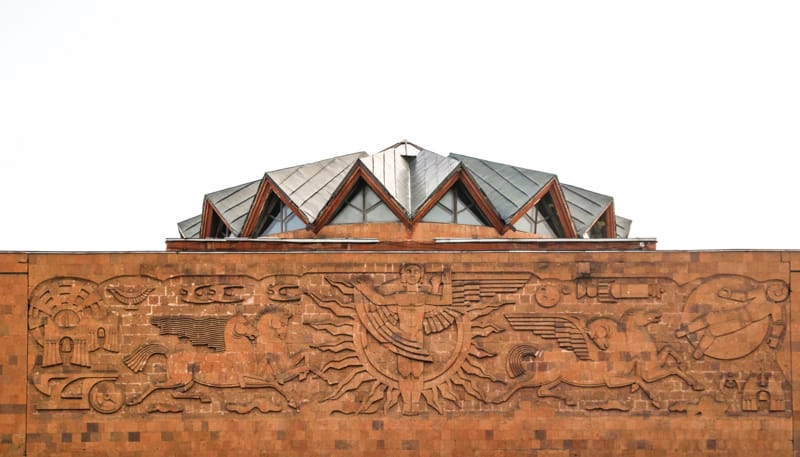 One of the most affordable options is to take a train to Gyumri from Yerevan Central Railway Station.
There are two types of trains going to Gyumri: a modern, two-hour express train with WiFi that will cost you 2500 AMD and operates Thursday to Sunday.
The three-and-a-half-hour Soviet trains will be 1500 AMD and run several times each day.
While the older Soviet trains take longer, the experience is unique and gives a beautiful view of the Armenian countryside.
What to Do in Gyumri
This guide contains a variety of things to do in Gyumri.  It will group them into different areas such as historical, culinary, etc.  If we left something off or you are a new business, reach out to us so we can stop by next time we visit Gyumri!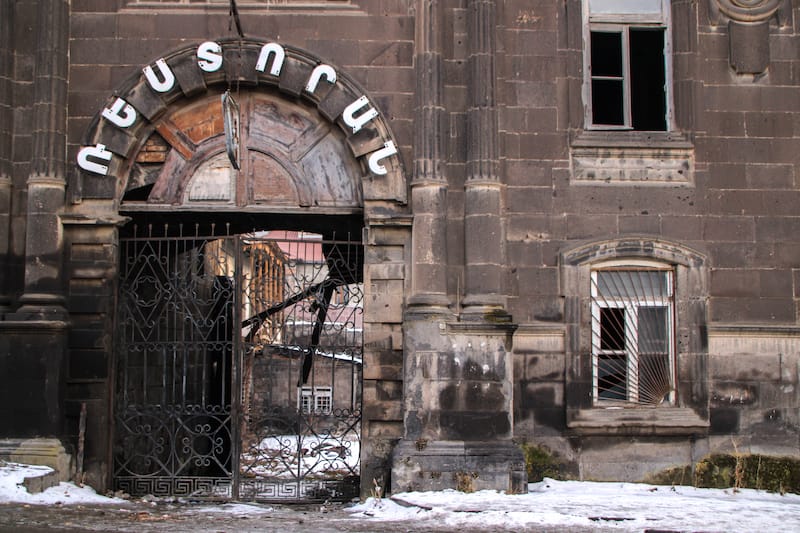 What to See in Gyumri for History Lovers
Go to the Black Fortress (Sev Berd)
Built by Russian Emperor Nicholas I with black volcanic tuff in the 19th century, the Black Fortress, or as the locals call it, Sev Berd, is one of the most interesting constructions of Gyumri and all of Armenia.
The round-shaped fortress was built to protect Alexandropol from Persians and Turks from different times of Russian wars with those countries.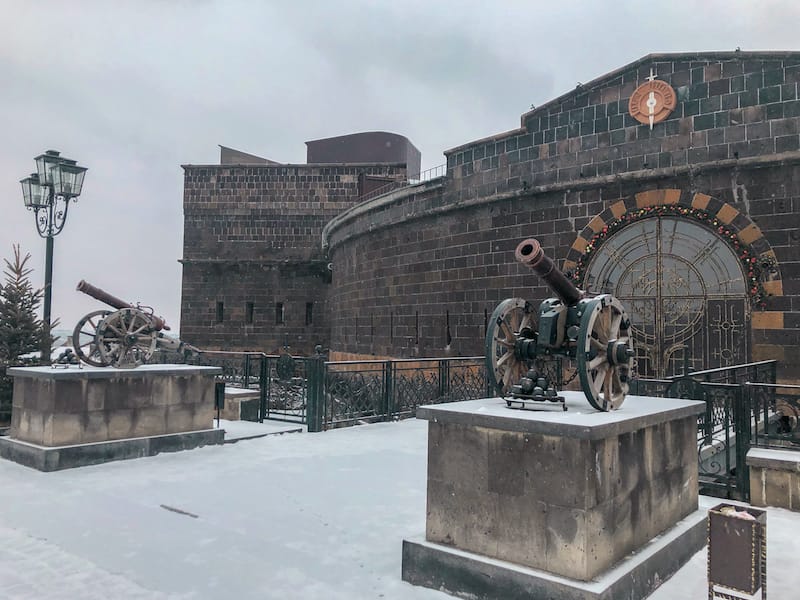 Nowadays, the historic gem has an amphitheater inside where many concerts and events have been hosted. It's a must-visit place for anyone who is deciding to visit the amazing city of Gyumri.
Take a Gyumri Architecture Tour with City Research Center
Don't miss the wonderful opportunity to discover and learn more about Old Gyumri's Kumayri district with City Research Center in Gyumri where Ashot Mirzoyan, the founder, will guide you to and through different unknown corners of the city!
Ashot, an accomplished architect, knows each and every stone and detail out of 1,500 historic buildings in Gyumri and will tell you the story of them during this tour.
It really makes you stop and appreciate the structures as opposed to just passing on by.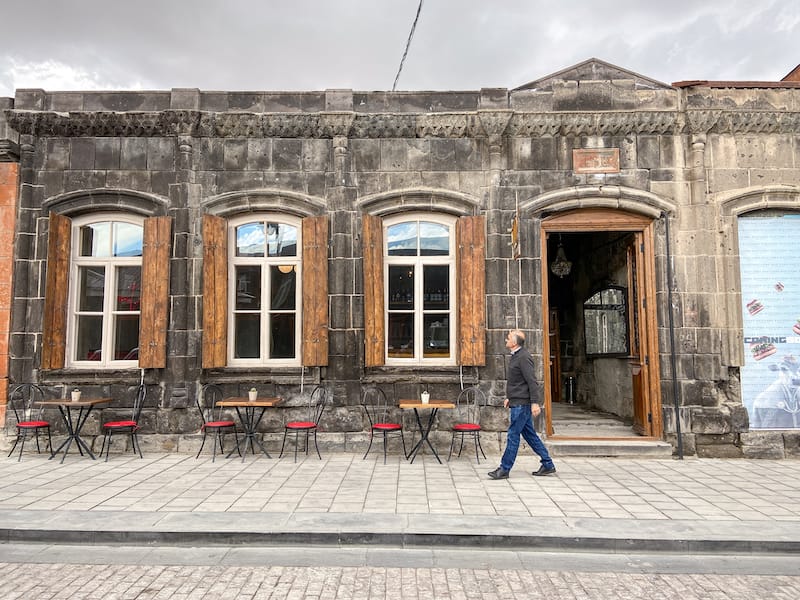 It's fascinating to learn that during the devastating earthquake in 1988 in Gyumri, most of what was destroyed was Soviet construction and many of the 18-19th century buildings were left untouched due to their durable and high-quality construction and materials.
Some of them even withstood multiple earthquakes! 
City Research Center does not only provides an amazing city tour but also conducts a lot of research in order to help protect old buildings and historical monuments (dating from the 4th BCE to the late 19th-century).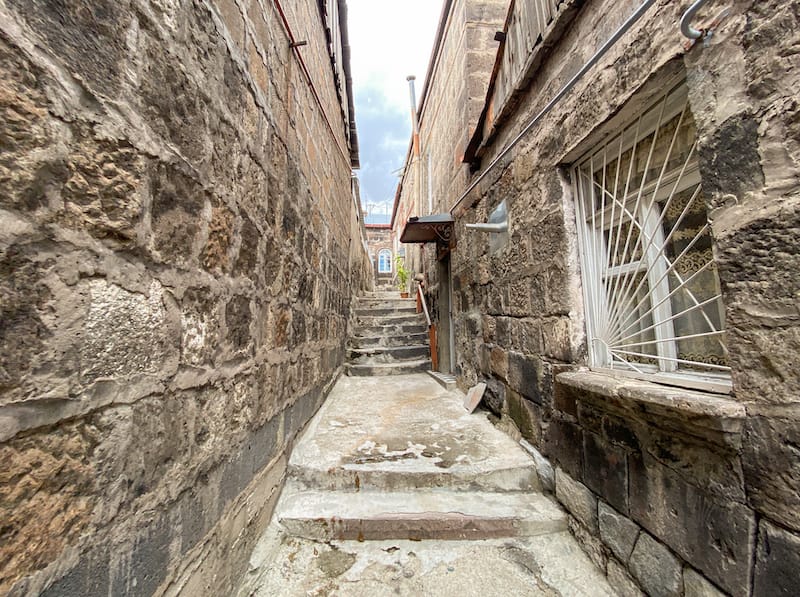 If you are into architecture and want to learn more about Armenian stone tuff and the history of Gyumri, then this is the tour for you to get better acquainted with Armenia's second-largest city!
Available:  7 days a week from 11am to 6pm (reserve 24 hours in advance
Duration: 2.5 hours
Languages: Armenian, English, and Russian
Seasonality: Year-round
Maximum group size: 10
Visit the Kumayri Historic District
One of the most remarkable and historical places in Gyumri is the old Kumayri district located in the heart of the city.
Mesmerizing with its architecture, the first settlements in Kumayri date back to the 5th century BC.
Walking through the Kumayri district will definitely impress you with the cozy and charming streets that are full of hidden cafes and historical buildings from the nineteenth to twenty centuries that are made from rare volcanic black and red tuff rock.
The city has very carefully preserved the old town of Gyumri, or Alexandrapol like it was called a hundred years ago and made sure that the urban development of the city won't harm the historical parts of the Gyumri.
The charming streets have many secret corners and interesting spots waiting to be explored by visitors and locals alike.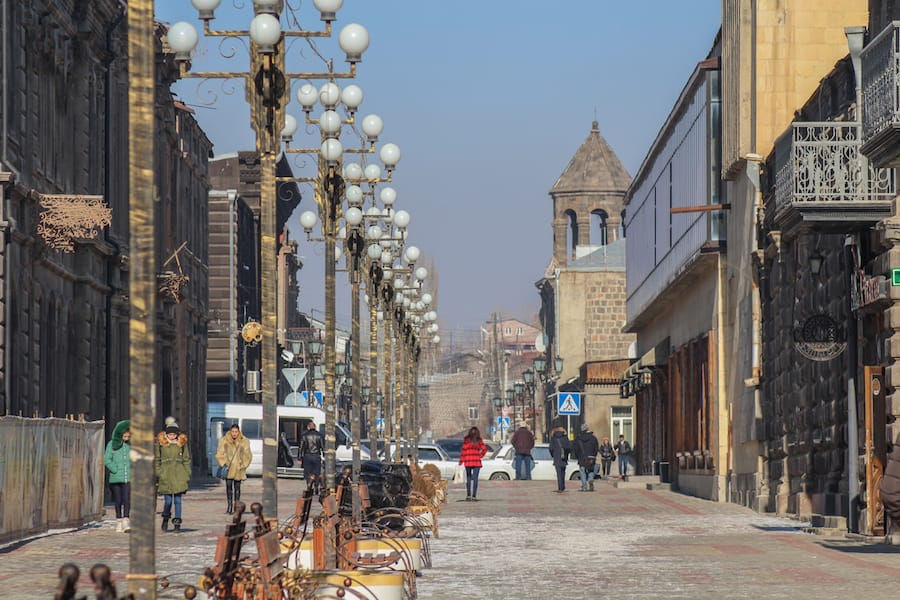 Hang Out in Vartanants Square
In the heart of Gyumri, Vartanants Square is a beautiful place surrounded by Soviet and historical buildings, fountains, and churches.
The Square was built by Alexander Tamanian and D. Chislian.
From Vartanants Square, it is easy to start discovering the old town of Gyumri. The Seven Wounds Church and the imposing municipality building are structural charms in the square.
In the middle of it, you will see the monument of Vardan Mamikonyan and other freedom fighters that were battling against Sassanid Persia.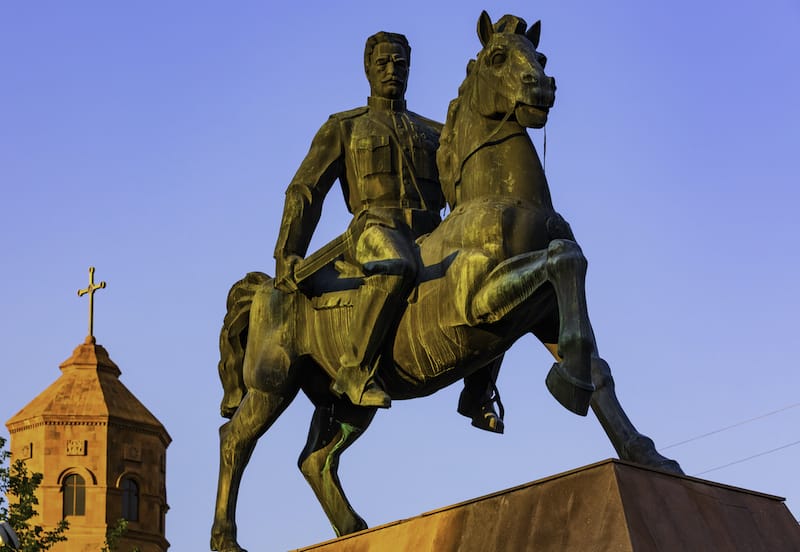 Visit Independence Square
The second biggest square in Gyumri is Independence Square. Built during WW2, this large square is surrounded by green yards and a park.
It is known for its statue of a girl holding a cross in the middle of it as a symbol to remember the earthquake in 1988.
The area is famous for being a university that surrounds the square which has strong Soviet roots and architecture.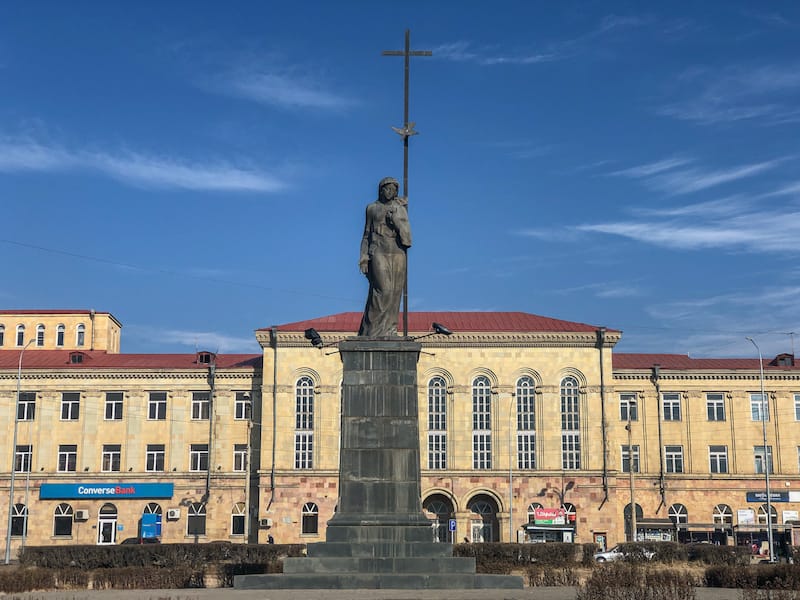 Photograph Gyumri's Mother Armenia
The Mother Armenia statue has two homes- one in Yerevan and one in Gyumri, the largest and second-largest cities in the country.
In Gyumri, the statue is another masterpiece that is located close to the Black fortress and it's extremely photogenic. It was erected in 1975 on a hill a bit out of the city and from that time, it became the cultural heritage of the city.
The majestic statue of a woman symbolizes the victory of WW2 and is surrounded by a lush green park and is a must-visit place for everyone traveling to Gyumri.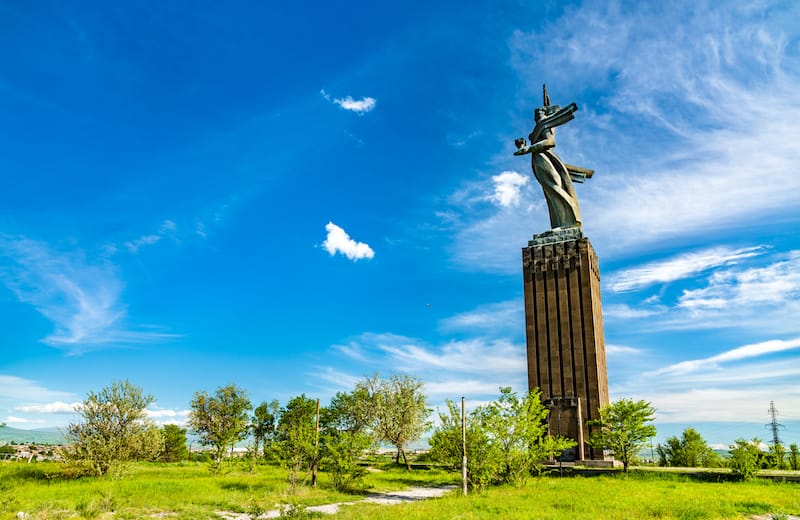 Cultural Things to Do in Gyumri
Visit the Museum of the Aslamazyan Sisters
The Aslamazyan Sisters Museum is a one-of-a-kind gallery that you don't want to miss. Born at the turn of the 20th-century, Mariam and Eranuhi Aslamazyan traveled around the world and documented their experiences through paintings, sculptures, and ceramics.
During this period, it wasn't common for women to travel or pursue creative careers. The work of these artist sisters was quite unusual for Soviet times, especially their focus on the female character and form found in many of their works.
Today, you can see their vast repertoire of work, totaling over 600 pieces, at their museum located in the heart of Gyumri.
You can find the Aslamazyan Sisters Museum at 242 Abovyan Street in Gyumri.
Opening hours: Tuesdays–Saturdays 1000–1700; Sunday 1100–1600
Ticket prices: Adult- 300 AMD; Child- 150 AMD.
Tour price (English, French, Russian): 2000 AMD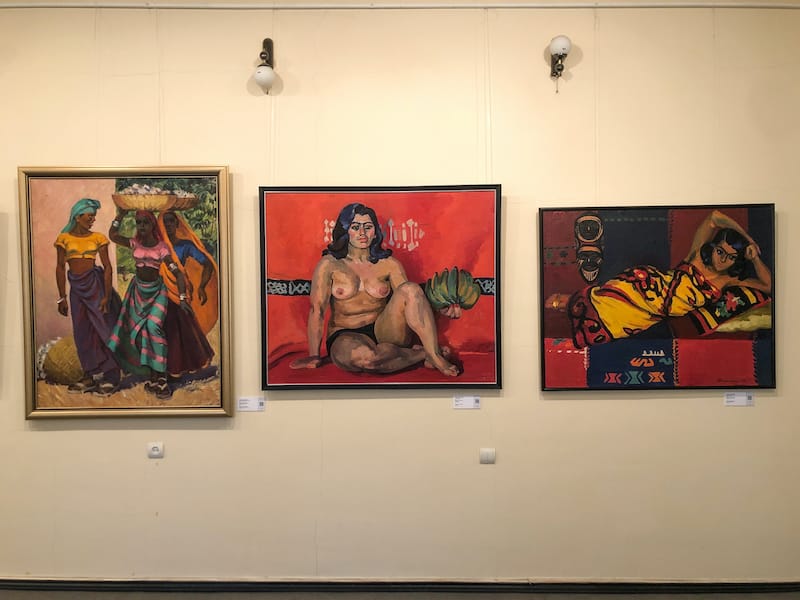 Stop by the Alikhanyan Puppet Theater
I had a great and interesting opportunity to visit an 80+ years old puppet theater in Gyumri. The authentic theater building, to my surprise, was an old brewery converted into the present-day Alikhanyan Puppet Theater.
The Alikhanyan Puppet Theater is not the most well-maintained one in Gyumri but it still played a really important role in the history of the city.
Nowadays, the staff that worked decades with the director of the theater, Armenuhi Manukyan, are trying to give a second breath to the iconic theater because they claim its a part of the city and it should never stand empty.
Many of the puppets are decades old and are still being used today. Don't miss out on the opportunity to see an entertaining show at the Alikhanyan Puppet Theater.
You can find the Alikhanyan Puppet Theater at 133- 6 Abovyan St in Gyumri.
Opening hours: Tuesdays-Sundays 1000-1700
Ticket price: 400 AMD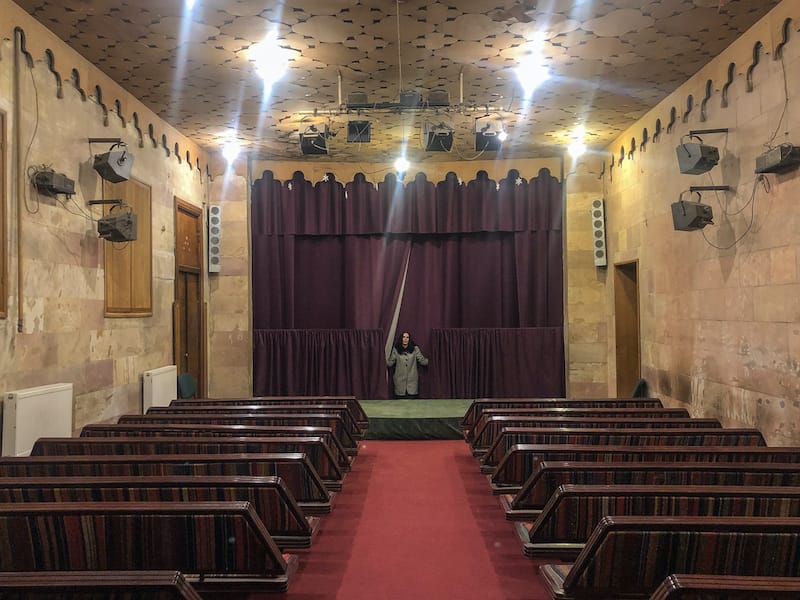 Go to the Museum of National Architecture and Urban Life
A unique museum that's located in the center of the old town in a historical old mansion, the Museum of National Architecture and Urban Life is the most visited museum in Gyumri.
With a strong historical atmosphere, it tells about the life of old Alexandrapol. The mansion was built in 1872 by the rich trader Petros Dzitoghtsyan.
During the Soviet Union era, the mansion became a house for families and in 1980, it finally became a museum.
There are displayed compositions from the urban life of the city from different eras- from carpets to a fully reconstructed room from the 18th century.
You can find the Museum of National Architecture and Urban Life at 47 Haghtanaki Avenue in Gyumri.
Opening hours: Tuesdays–Fridays 1000-1700
Ticket prices: Adult- 1000 AMD; Child- 300 AMD
Sculpture Museum price: 500 AMD; With guide 2000 AMD
Go Back in Time at the Zanan Cultural Center
Are you looking to be transported back to old Gyumri and want to feel like you're back in the 19th century in Armenia's cultural capital?
Definitely stop by Zanan Cultural Center where Hasmik Khachatryan and her wonderful team will transport you to another world where you can become a warrior, worker, or even an Armenian bride.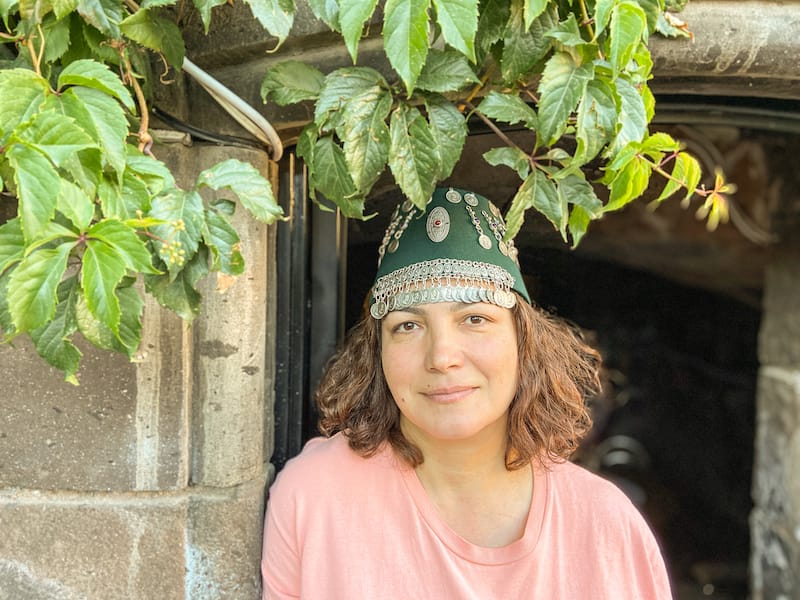 The location of the facility itself is fascinating; it is located in the old district in the basement of the famous Armenian writer Hovhannes Shiraz in a 19th-century house museum.
You will get to hear fascinating historical facts about Gyumri and Western Armenia as a whole while drinking delicious tea and eating local delights.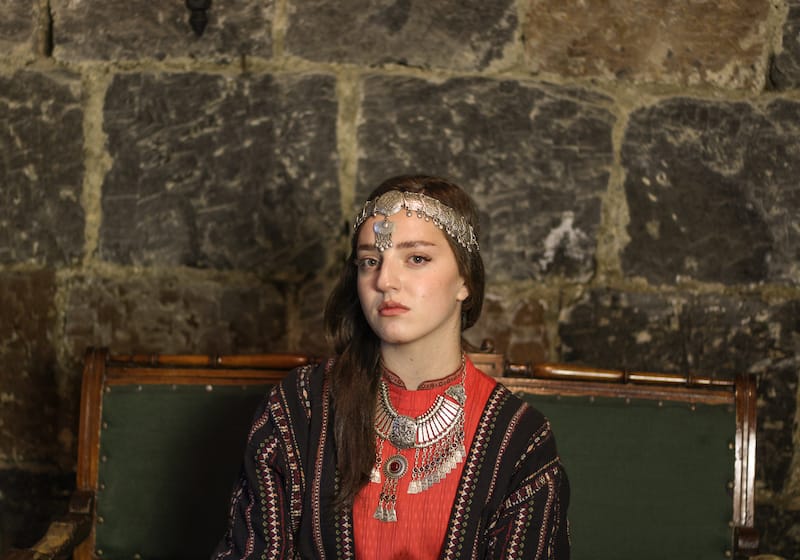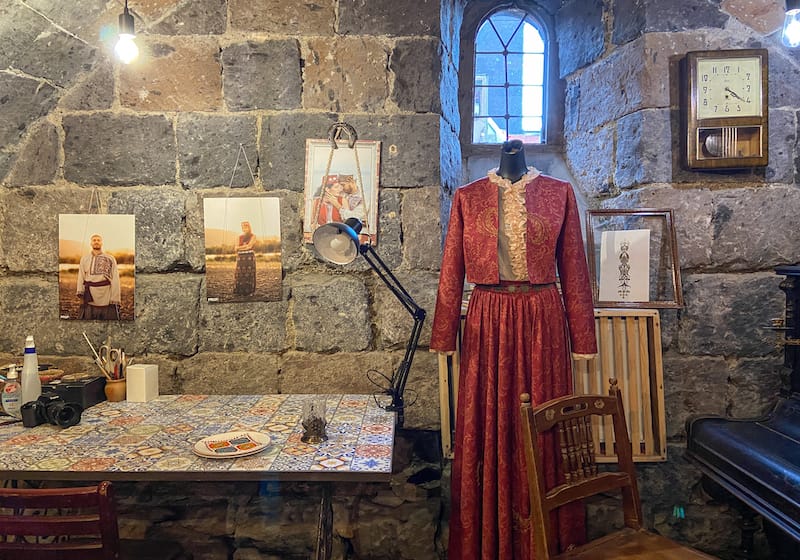 You will also have a chance to learn about bird letter calligraphy, the esthetics of Armenian old fashion, and can even have a photoshoot there! Click here to view their Facebook. You can find them at Varpetats 101 in Gyumri.
Availability: 7 days a week from 10am until 8pm (reservations 72 hours in advance)
Duration: 1.5-2 hours
Languages: Armenian and Russian; English and French upon request in advance
Seasonality: Year-round
Visit the Mher Mkrtchyan Museum
From Olympic champions to renowned actors, Gyumri is home to some of Armenia's greatest talents.
The most famous actor that came from Gyumri was Mher Mkrtchyan. His fame extended beyond Armenia and was also celebrated across the USSR.
His house-turned-museum is truly an amazing place. It's in a traditional Gyumri building where you can see how he started his career as an actor and, interestingly, there is an old Ceramics Production School on the first floor of the museum.
You can find statues of him in hidden corners all over Gyumri.  To visit the museum, you can head to 30 Rustaveli Street in Gyumri.
Opening hours: Tuesdays–Sundays 1100-1700
Ticket prices: 500 AMD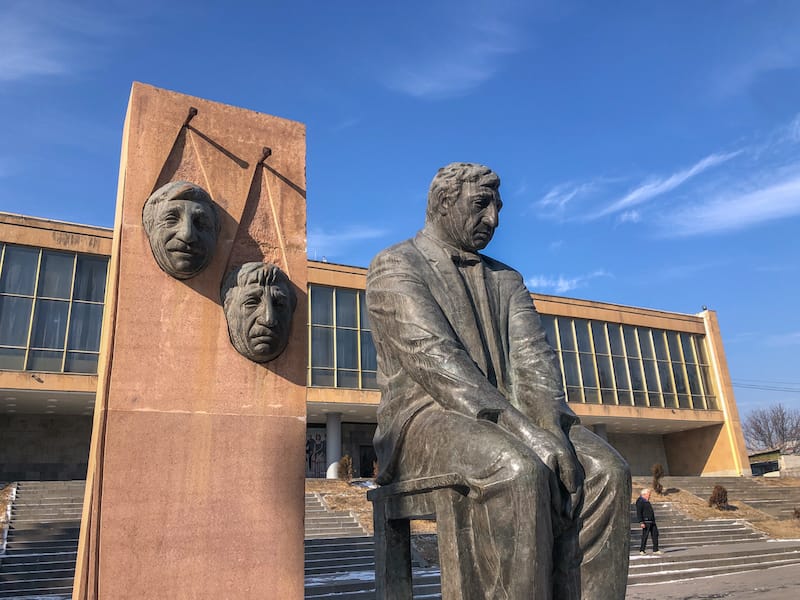 Check Out the Gyumri Drama Theater
To feel Gyumri, you must visit the local drama theater.  At least that's what many locals will tell visitors because it has played such a key role in Gyumri over the years.
Built in the beginning of the 1970s, the alluring Soviet building hosts different performers from local and international stages and has gained one of the most popular theater reputations in all of Armenia.
One interesting fact is that the first theater play in Gyumri was performed by the Russian army in 1856.
You can find the Gyumri Drama Theater at 4 Sayat Nova Avenue in Gyumri.  Check out their Facebook page for additional information.
Opening hours: Tuesdays–Sundays 1000-2100
Ticket prices: Depends on the show but usually around 3000 AMD
Stroll Through the Open-Air Market on Shahumyan
This local food and the handmade open-air market is located on Shahumyan Street and runs all the way to the bus station.
It's an interesting place where the locals are selling everything from old books and unique handmade souvenirs to fresh vegetables, fruits, and dried fruit.
Gyumri is also famous for great artists that make masterpieces from wood, metal, gold, and from many other materials.
Stroll down the open market and meet interesting people and try the delectable fresh produce!  Armenia has some great varieties!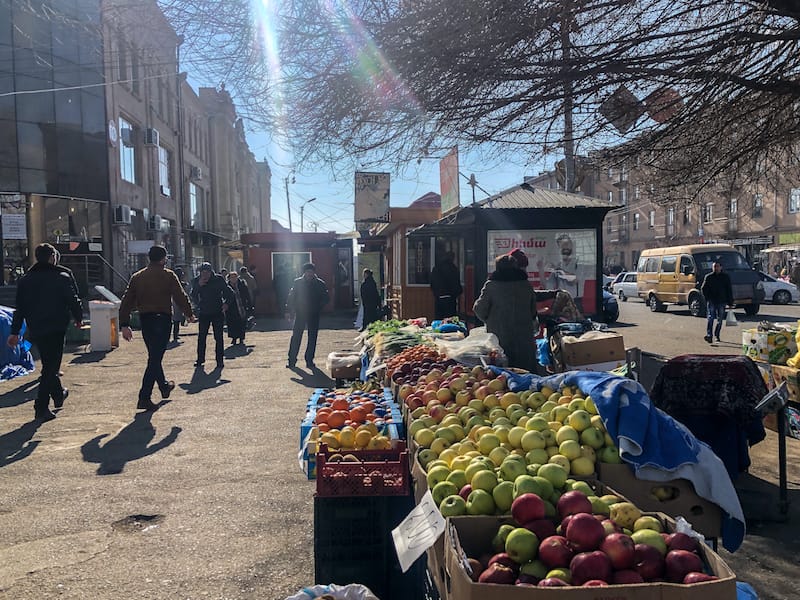 Relax in Central Park
Gyumri's Central Park is the perfect place to relax and take an afternoon stroll. Wander down the meandering paths and admire its monuments, statues, khachkars, and signature Soviet-style.
You may hear locals refer to it as Gorky Park, after the prominent Russian writer, Maxim Gorky. During the warmer months, the amusement park there comes to life with children and adults both enjoying it.
Take a ride on the Ferris Wheel for one of the best views over the city!  You'll find Central Park on Gayi Street in Gyumri.
See Yot Verq Cathedral of the Holy Mother of God
The main church of Gyumri, St Astvatsatsin or Yot Verq, is a central 14th-century church and one of the important ones in Armenia.
In Soviet times, there were two big churches that were working in Armenia- one is the Etchmiadzin Cathedral and the Yot Verq church which means Seven Wounds.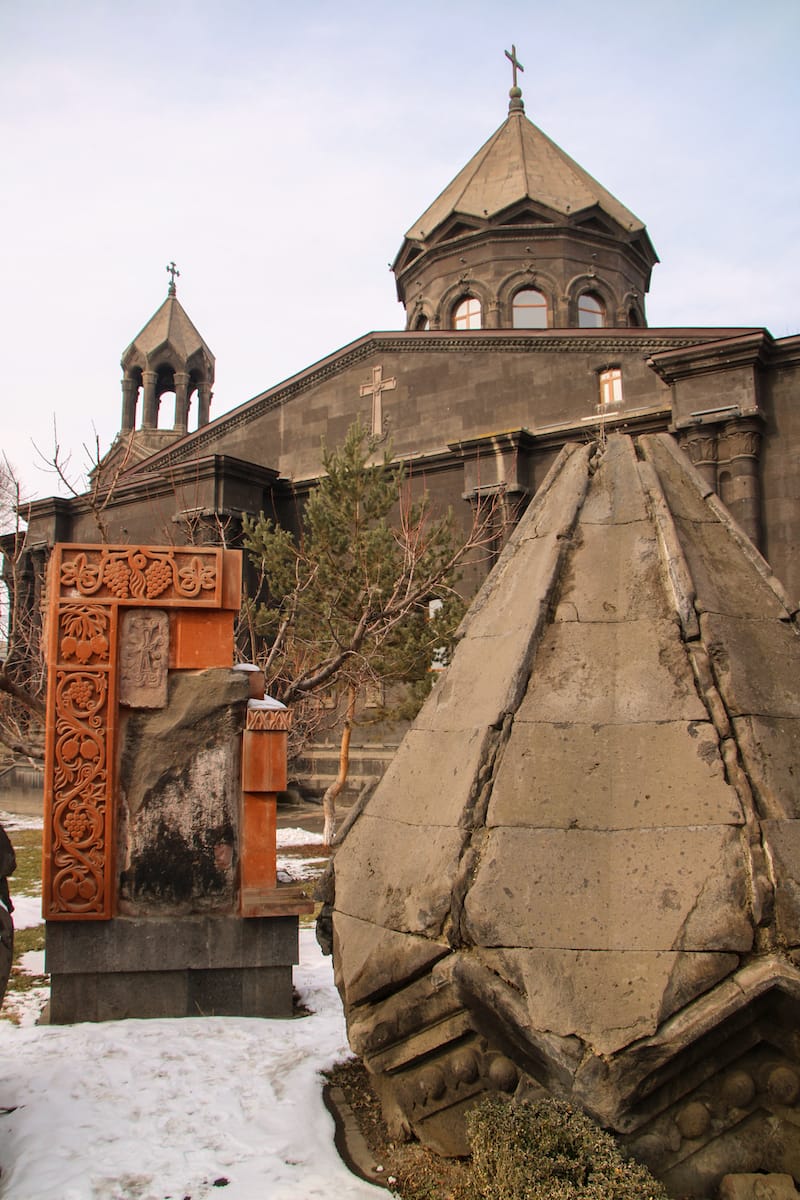 The church is located in Vardanats Square and was damaged during the 1988 earthquake. Fortunately, it was reconstructed after and you can see two old chapels next to the church that the city keeps as a historical artifact.
Check Out Amenaprkich (All Saviour's) Church
Across the square from Yot Verq Cathedral sits All Saviour's Church. This masterpiece church was constructed in 1858 and has an interesting but, sadly tragic history.
The black tuff is mixed with apricot rock colors and covered with Armenian architectural ornamentation, giving it a unique look compared to pretty much any other church you'll find in Armenia as a whole.
During the existence of the church, it has endured two large earthquakes and survived the first one that happened in 1926.
Unfortunately, the second earthquake that happened in 1988 and was far too strong for many buildings in Gyumri, including the All Saviour's Church.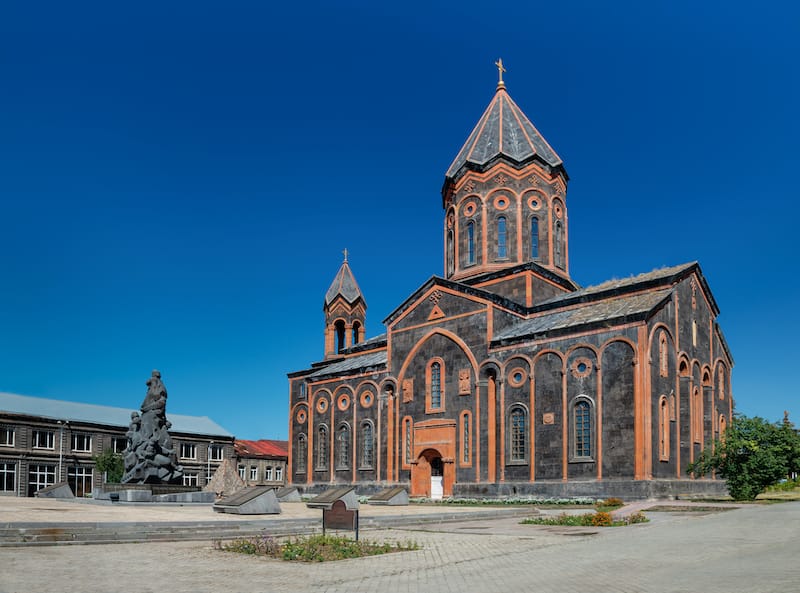 Currently, the church is under construction but from the outside, there is a beautiful fountain park with cross-stones and monuments that will give a great composition for taking a photo of the church.
This church is such an iconic place to visit in Gyumri- you definitely need to stop by and check it out!
See Gyumri's City Hall
Located in the heart of Gyumri in Vardanants Square, the Gyumri City Hall is a shining example of Soviet Modernism. The building was damaged by the earthquake and was renovated after, but it kept its original look.
The City Hall really comes to life after dark when the lights illuminate the place, making it one of the best places to visit at night (and to photograph when you're there!)
Saint Nikolai the Wonderworker Russian Church
This charming church was built in the 19th-century in Gyumri.  Also known as the Shimmering Chapel, Saint Nikolai the Wonderworker Russian Church showed me a great example of Gothic and mysterious architecture in Gyumri.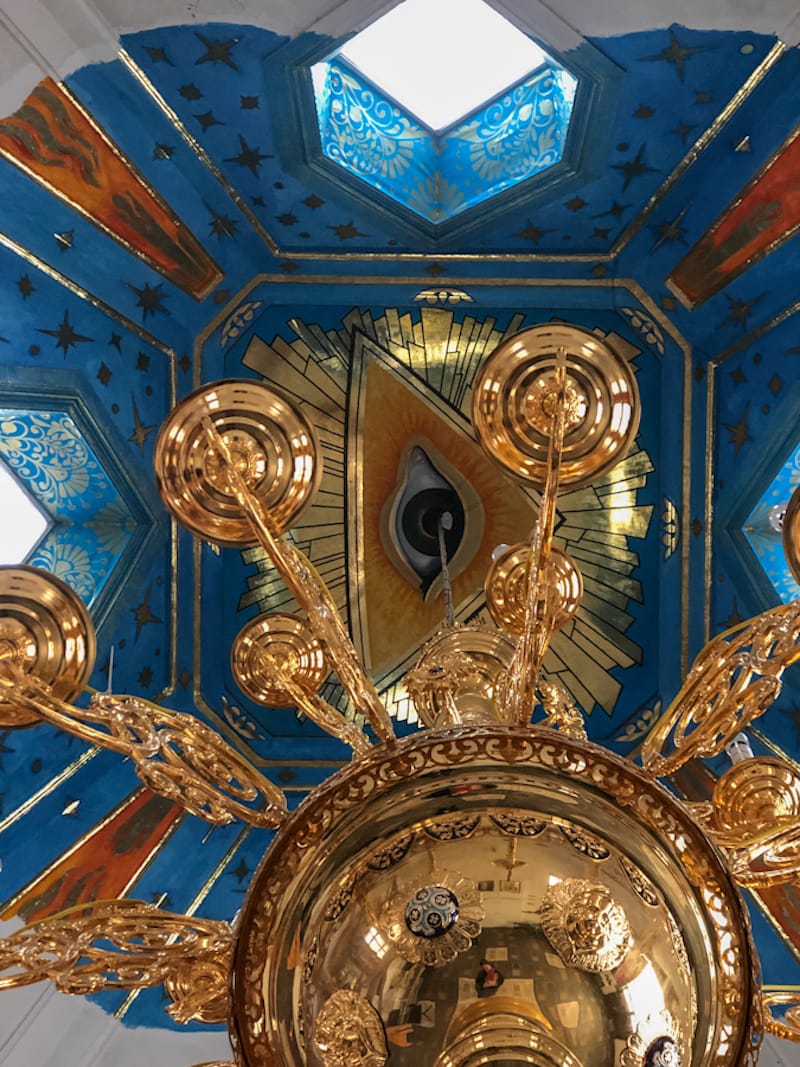 Beautiful frescos adorned the wall on the inside and paintings also cover the interior.
Do not miss out on seeing this church when you travel to Gyumri because it will also give you additional insight into the history of Hill of Honor, the Russian military cemetery that is located in close proximity to the church.
Visit Surb Nshan
Founded at the end of the 19th-century, Surb Nshan is one of the most important churches in Gyumri. Made from black volcanic stone, the church was temporarily closed during the Soviet-era and there was a plan to convert it into an observatory.
Needless to say, this never happened and it later became a church again.
Surb Nshan was damaged during the earthquake to the point where the steeples fell down. Today, they are still lying on the ground next to the church since new ones were put atop the church during rebuilding efforts.
Most all the city wedding ceremonies take place in Surb Nshan… and you might get lucky enough to see them during your visit!
You'll find Surb Nshan on the corner of Abovyan and Rustaveli Streets.
Other Cool Places to Visit in Gyumri
Get Creative at Gyumri Loft
If you're in Gyumri and need a good coworking space, then Gyumri Loft is the place to go!
It's not only a coworking place but it's also a cool spot where you can hang out with the locals, relax, play some games, cook for yourself in a comfortable kitchen, and meet with new people.
The Gyumri Loft concept is simple: you pay for the time you spend there and you can do what you want to do. When you're there, you do whatever you want.
Something that really sets Gyumri Loft apart from other places is that there is also a comfortable hostel on the top floor for budget travelers.  I had the chance to stay there and really recommend it to others!
You'll find Gyumri Loft and its hostel in the center of Gyumri at Gorky 50/4.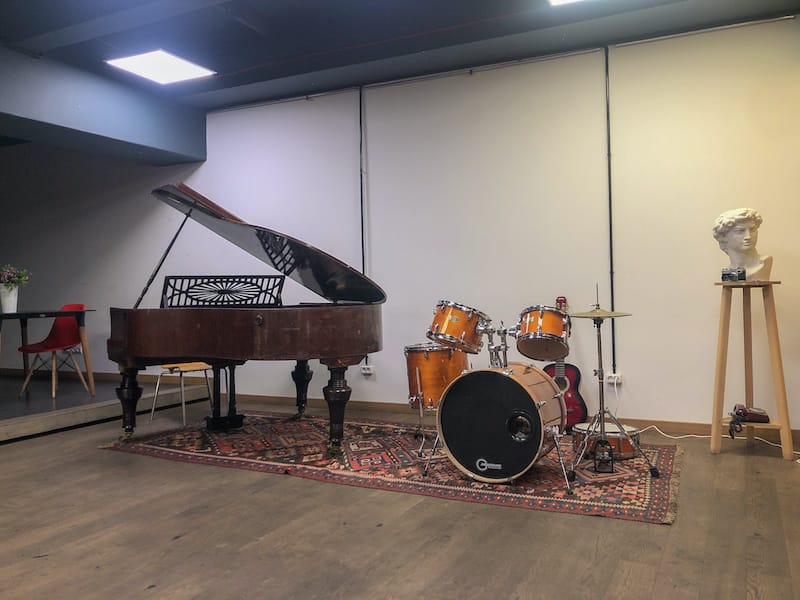 Visit Armenia's Oldest Barbershop (if You're Allowed To)
Sorry ladies, but this place is for men only.
For over 80 years, this barbershop has operated almost like a men's club and stands as Armenia's oldest barbershop. You can find this establishment near Vardanants Square.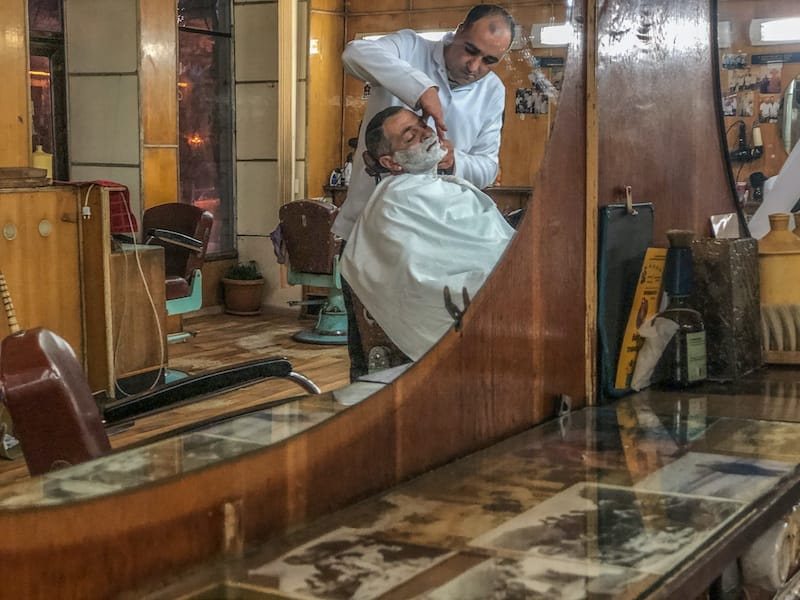 All the inventory and aesthetic is from the original shop from back in the day. There is a master barber, Khanan Aristakesyan, who has been cutting hair there for decades.
If you are a male visiting Gyumri, you definitely need to experience this place and get your hair cut there, if only just to listen to the barbers tell their stories about this amazing and resilient city.
Where to Eat in Gyumri (and Drink!)
Gwoog Gastrohouse
A lovely and charming restaurant near the Gyumri train station offering delicious local cuisine, Gwoog Gastrohouse was recently opened by repatriated Armenians from Canada with a mission to cook forgotten traditional Gyumri dishes and keep their traditions alive.
The place has a comfortable and warm atmosphere where the friendly owners serve the food themselves and get to know their patrons, making them immediately feel like part of the Gwoog family (I can attest to this!)
All of the ingredients are organic and local (made in nearby villages). There are also vegetarian options for plant-based diners.
Insider Tip:  Try the Panrkhash, a traditional Shirak dish comprised of cheese and lavash.
This traditional dish is a perfect breakfast or even lunch meal (okay, this can be eaten at pretty much any time of the day and it's equally as delicious).
Also, try Pochov Apur, a local bean soup made in a traditional Gyurmi way.
You won't regret it! Another thing that puts Gwoog on the map is that all of the construction materials were actually taken from buildings that were demolished by the 1988 earthquake and recycled as a building material.
They even have an old, Armenian carpet that survived the earthquake inside.
You can find Gwoog Gastrohouse at 11/3 Tigran Mets Avenue in Gyumri.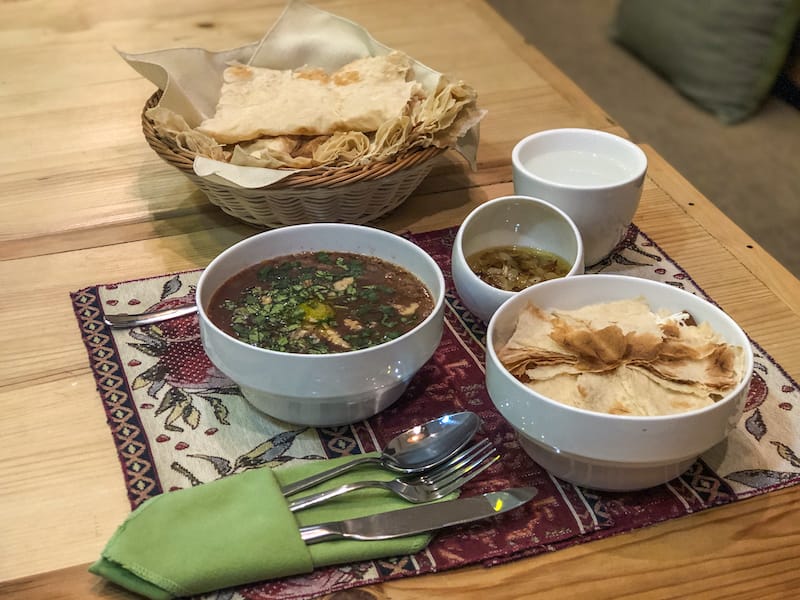 Chalet Gyumri
If you like to try local traditional dishes or experience cooking classes when you're on the road, then you have to visit Chalet Restaurant which is located 10 minutes away from the city center.
When you enter Chalet Gyumri, you will feel like you are entering a small museum, not a traditional restaurant!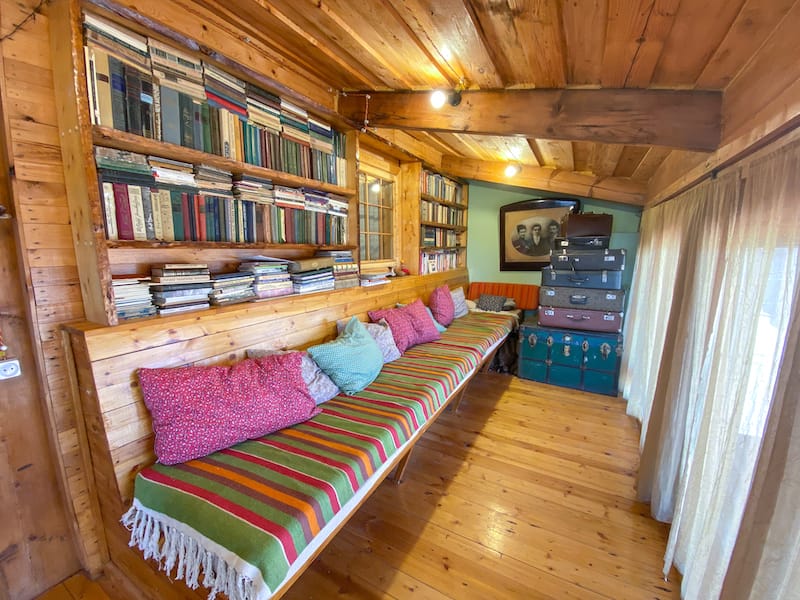 Founded in 2012 by Karine Tumanyan and her family, Chalet is a place where it is possible to try local traditional dishes and take cooking classes for special dishes called "Chanakh" or "Pokhindz", sweet and salty delights.
The family carefully collects historical photographs, equipment, and other artifacts that tell the history of Gyumri from the 18th and 19th centuries.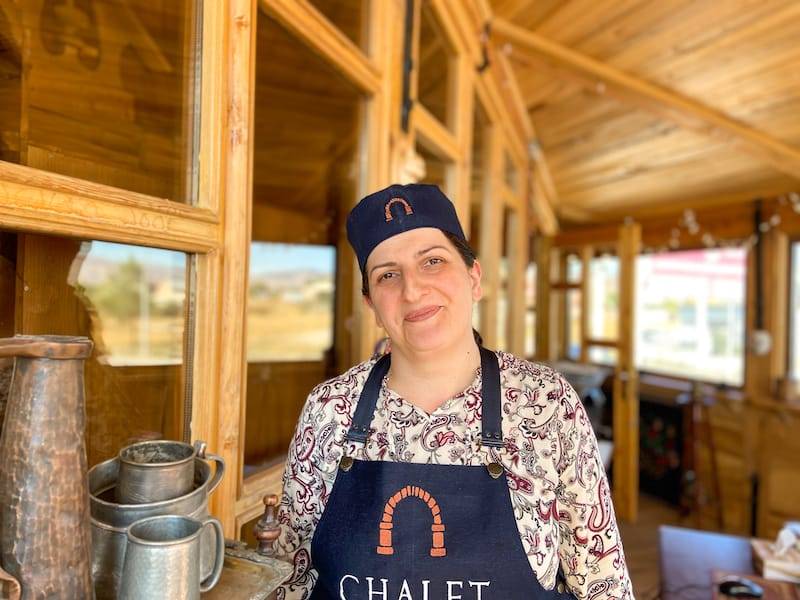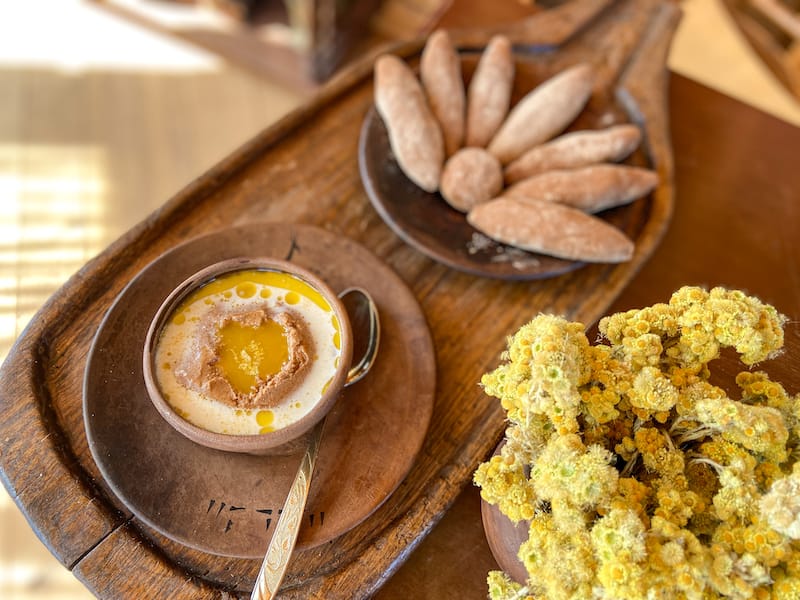 Also, close to Chalet Gyumri, there is a small farm from where the family sources eco-friendly and clean ingredients to create the dishes for their guests. This is definitely one of the best places to eat in Gyumri and should be on everyone's list! 
Cooking classes are available: 7 days a week from 12pm until 8pm (reserve 24 hours in advance)
Duration: 1.5-2.5 hours
Languages: Armenian, English, and Russian
Seasonality: Year-round
Maximum group size: 30
Herbs & Honey Teashop
This newer teashop and cafe in Gyumri has an interesting concept of local herbs transformed as the main ingredients of many dishes and decorations inside.  And, of course, they use local herbs for their delicious teas.
Herbs & Honey Gyumri has quickly become a beloved spot by locals and tourists alike.
The cozy atmosphere and good food will make your Gyumri experience even better… trust us!  We have been there on several occasions and throughout more than one trip to Gyumri.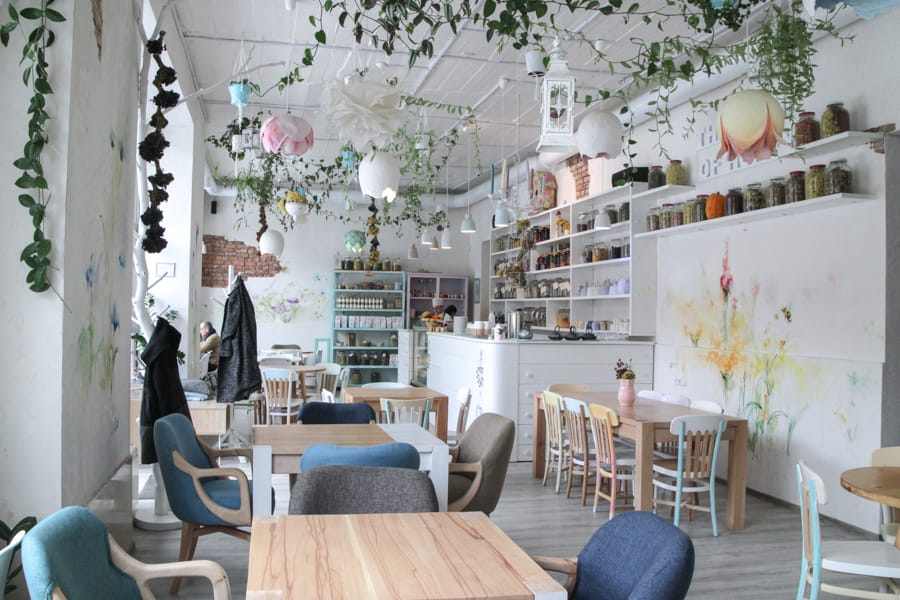 They also sell many handmade ceramics, canned jams, and fresh tea leaves to take with you as a souvenir. In the summer, there's an outdoor terrace where you can enjoy your natural iced tea as you admire the beauty of Gyumri.
Insider Tip:  Try their homemade chocolate!  We also purchased ceramic Armenian coffee cups there and use them in our office.
You can find Herbs & Honey Teashop at 5 Rijkov Street in Gyumri.
Alexandrapol Beer Brewery
Beer from Gyumri is quite popular across all Armenian regions. There are breweries like "Gyumri Beer'', one of the biggest in Armenia, and the Alexandrapol Brewery which are connected to each other where it is possible to have a tour and see how the delicious beer is getting made.
The Alexandrapol Brewery has a rich history and was established in 1898 and is a part of the "Gyumri Beer'' company. The factory is located in an old district of Kumayri and is a part of the Historical Heritage of Armenia.
Please call the brewery at +37431258158 to book your tour or visit them to set a date. Their address is Jivanu St. (66 Building) in Gyumri.  You can find out more information on their website.
Cherkezi Dzor Restaurant
If you want to eat great local food and enjoy your day, then this restaurant is an ideal place. Cherkezi Dzor is super popular amongst Gyumri locals and the location makes it the prime place to try local cuisine and dishes.
They specialize in fish, hence being known as the "Fish Restaurant" of Gyumri but they have a little something for everyone.  This is definitely a place to add to your Gyumri itinerary!
You will find Cherkezi Dzor at 1st Karmir Berd in Gyumri.
Aregak Bakery & Cafe
A very special Bakery that has delicious cakes, coffee, and baked goods, Aregak Bakery & Cafe is located in the heart of Gyumri right at the entrance to the old town.
The bakery has one of the friendliest staff in all of the city and is one of my must-visit places whenever I'm in the city.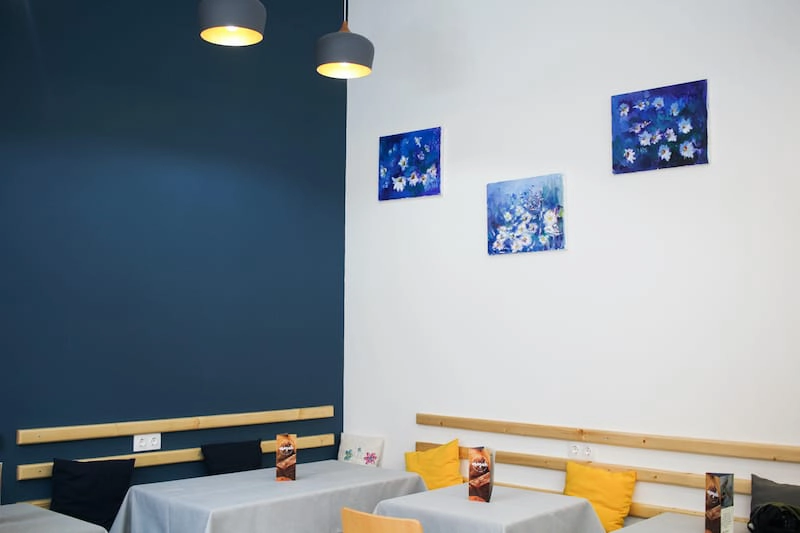 Aregak makes it their mission to employ youngsters with special needs and disabilities. They teach them daily skills and trades and create a unique and energetic vibe at the cafe.  The staff are super motivated and will ensure your morning coffee and croissant will empower you to have a great day.
You can find Aregak Bakery & Cafe at 242 Abovyan Street in Gyumri.
Poloz Mukuch Restaurant
Poloz Mukuch Restaurant is a legendary place to eat in Gyumri and it has been visited by icons such as Charles Aznavour and Anthony Bourdain
This iconic eatery is located in the historical Kumaryi district of Gyumri in a traditional building constructed of black and red tuff.
You will have the opportunity to drink local Gyumri beer and learn the story about the beer used to be pumped underground from next door at the Alexandropol Beer Factory.  The old draft beer pump still sits on the wall.
Insider Tip:  If you're looking to try something local and unusual, opt for Qyala, a cooked cow or sheep head that is a typical Gyumri dish.
Another cool thing to look out for there is the old-fashioned calculator that was used by Grandpa Goqor who worked there for many decades.
You can find Poloz Mukuch Restaurant at 75 Juvani Street in Gyumri.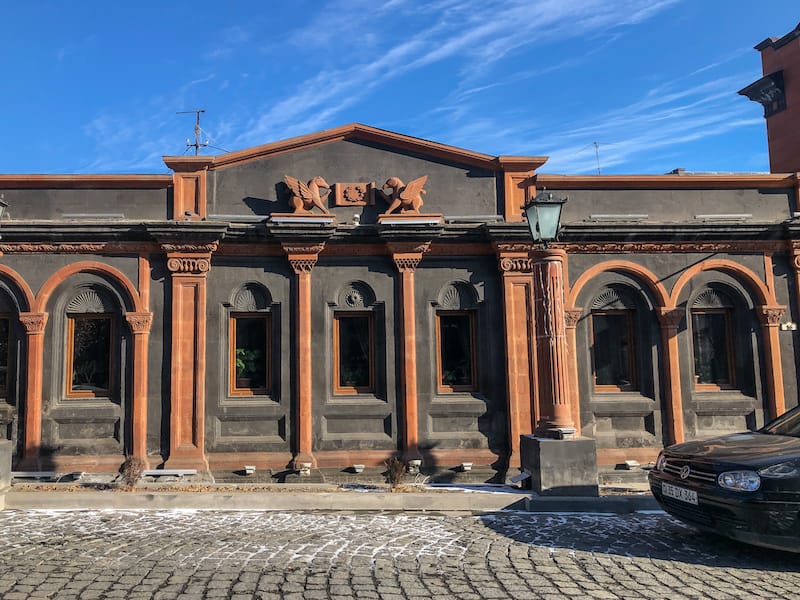 Florence Gyumri
Florence is a place where old meets new in a two-story, traditional building that has been given a colorful facelift inside.  It exudes a cozy atmosphere where you can dine with family or friends in a fun and lively setting.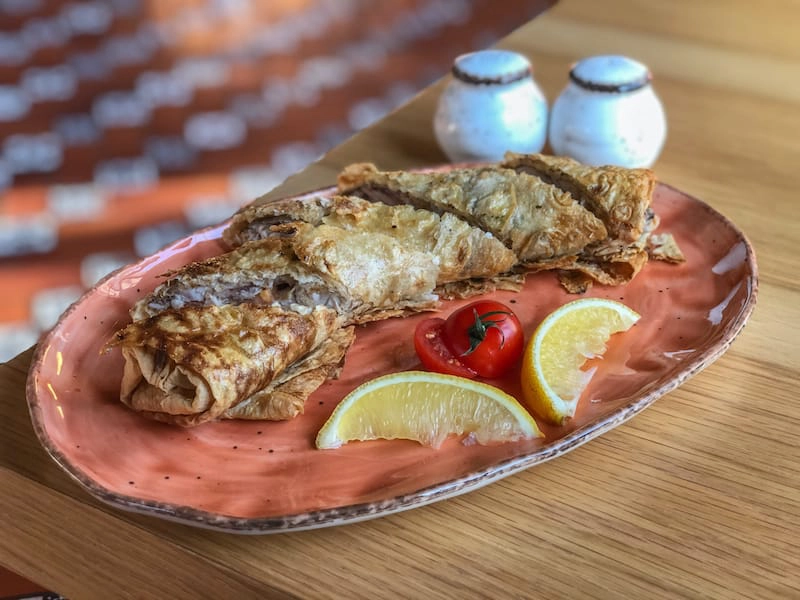 The welcoming restaurant has a wide selection of local and international cuisines, but I recommend getting the fish rolled in lavash.  It is a local dish and it is beyond tasty.
You can find Florence at Shirazi 5/7 in Gyumri.
Where to Party When Visiting Gyumri
Hayat Music Hall
Located next to Gyumri Loft is Hayat Music Hall, a small concert hall and facility with a bar and stage that comes to life in the evenings.  They offer good concerts and delicious cocktails.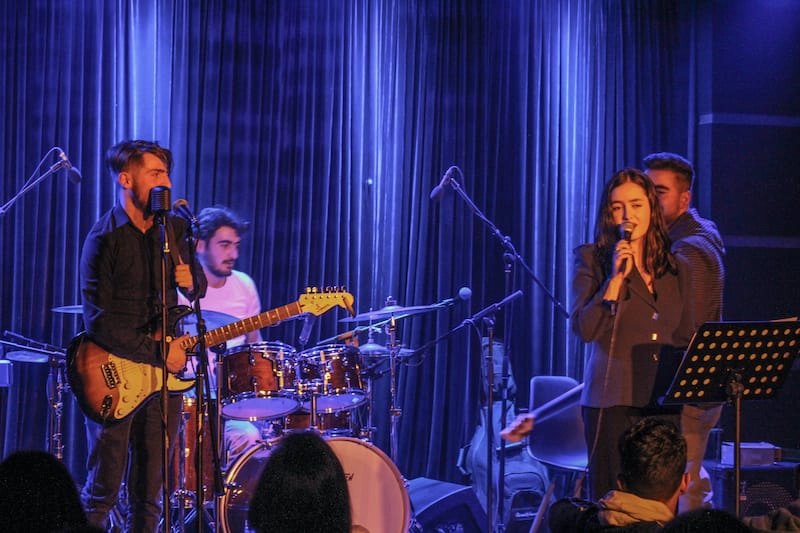 The music hall is also a family gathering spot with spacious tables and space for large groups.
During the week and especially on weekends, various bands will take to the stage and perform different genres of music from jazz to blues to rock and beyond.
Heading to Hayat Music Hall is definitely one of the best things to do in Gyumri when you visit.  You can find it at Gorky 50/8 in Gyumri.
Amigo Pub
Amigo Pub is one of the most popular venues in Gyumri and a great place to hang out and chill with the locals and friends.  They, too, have live concerts regularly and will hosts bands that are local or from afar.  The drinks are also extremely affordable and they have a variety of cocktails and beer.
You can find Amigo Pub at Sayat Nova 9 in Gyumri.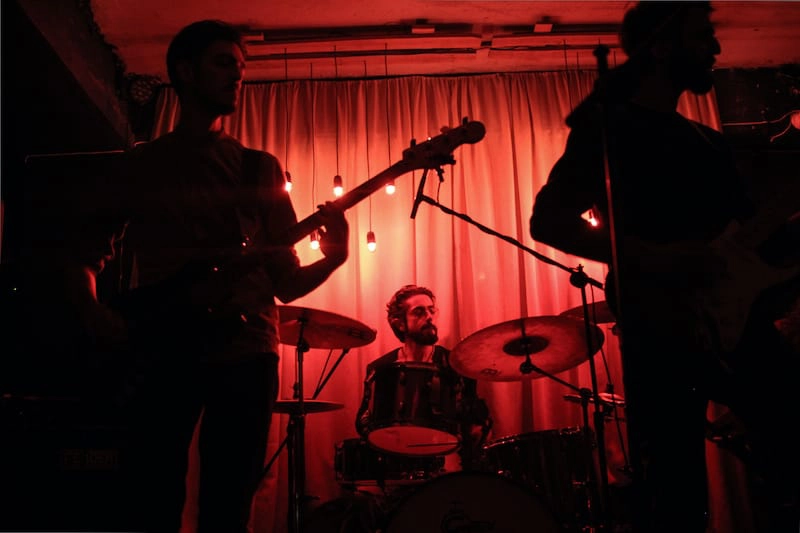 Garage Club
This beautifully renovated garage is the place to get down and dance if you're one that enjoys such paired with live music and concerts.  Garage Club hosts local and foreign bands all year-round and they have weekly concerts.
After a long day of exploring Gyumri, find your way there and get lost in the music for the rest of the evening!
You can find Garage Club in the Gyumri Commercial Center.
Hip Places to Shop and Hang Out At When You Visit Gyumri
Konjelazia / Tourism & Design
Located in the heart of the old city is this cozy and creative shop that helps tourism meet design with a bit of local flair and influence.
Konjelazia has a friendly atmosphere and unique aesthetic that will definitely catch the attention of anyone who wanders in.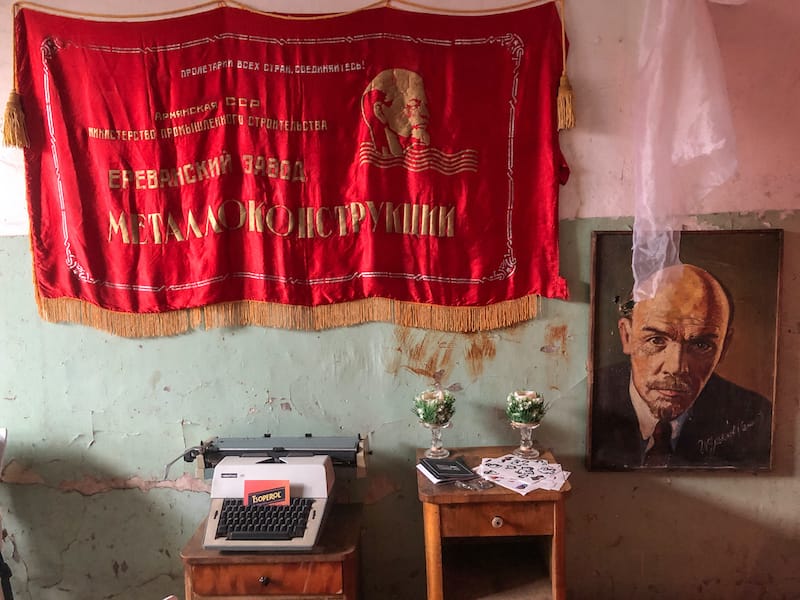 You can chill out there and order a glass of wine or a coffee and get acquainted with their local designer clothing that helps tell the story of the concept of Konjelazia.  This is definitely a can't-miss place to visit in Gyumri!
You can find Konjelazia at Teryan st. 5/5 Gyumri.
HayAr Jewellery
At first glance, this may look like an ordinary jewelry company but we can assure you that it is much, much more.
Artist Artak Tadevosyan uses bullet shells and remains of weapons and transforms them into wearable masterpieces.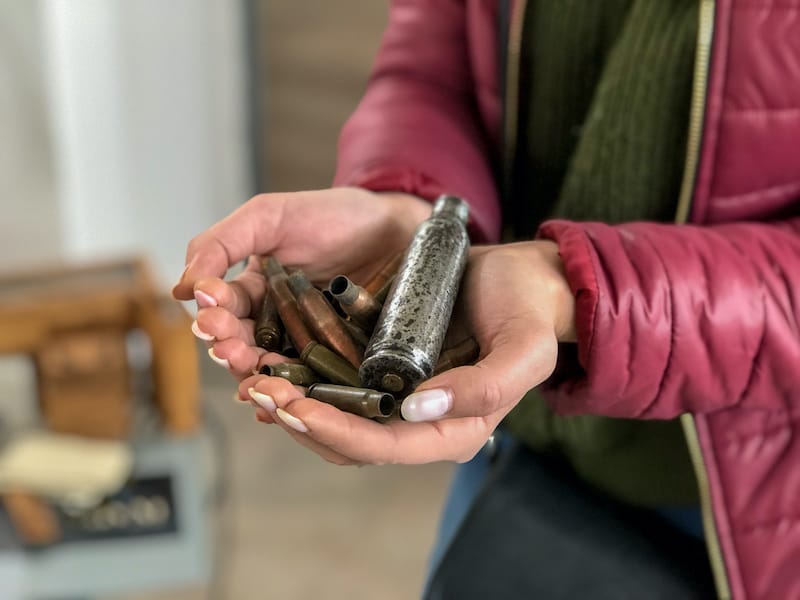 He initially got the weaponry scraps from around the Russian military base but he now is received it from other sources in the city, like the police department after they perform exercises.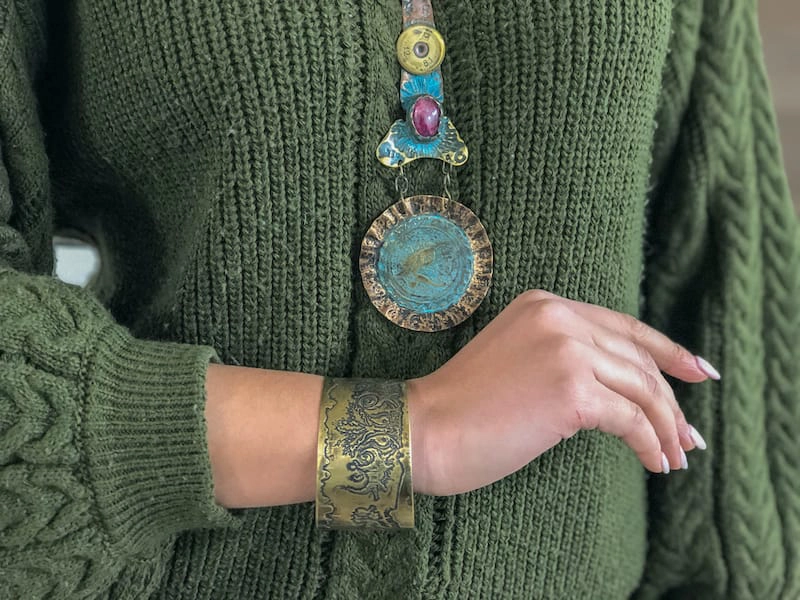 His creations are truly spectacular and it is worth the drive out of town a bit to see his workshop, hear his story, and make some purchases for some jewelry for yourself or a friend.
To find out more, check out his Facebook page. Alternatively, you can read my recap about Hayar Jewellery here. You can find the workshop at Khrimyan Hayrik 5 in Gyumri.
Ani Photoservice / Gyumri is Our Home
In the city center of Gyumri next to Vardanants Square, you will find an interesting shop where you can purchase homemade gifts and local, traditional games like hand-painted wooden spinning tops.
What makes this shop unique is the local artist, Arsen Vardanyan, who creates large-scale mosaics from plastic bottle caps with his team.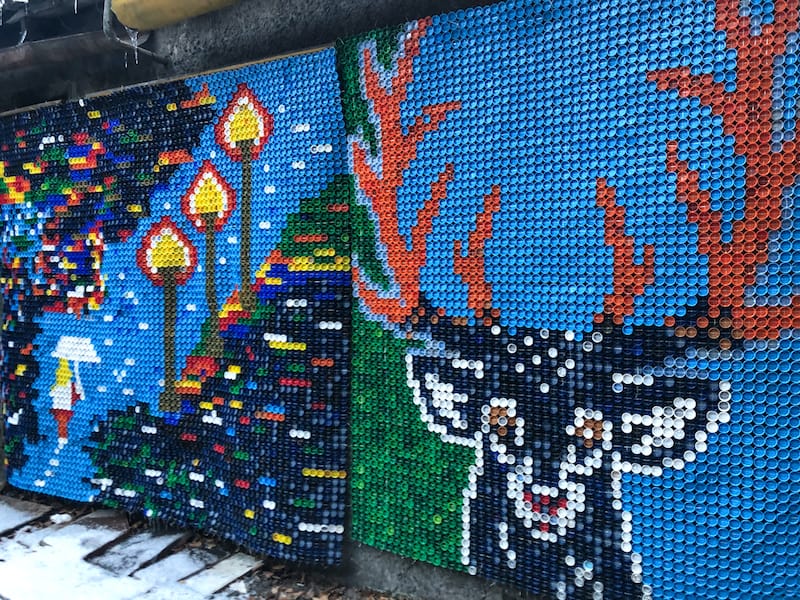 The recycled art is inspiring and showcases a beautiful way to repurpose plastic waste.  One of his designs is even currently on display at the Smithsonian in the US.  Don't miss a chance to support local artists by stopping by and checking it out!
You will find Ani Photoservice at Gayi Street 14/2 in Gyumri.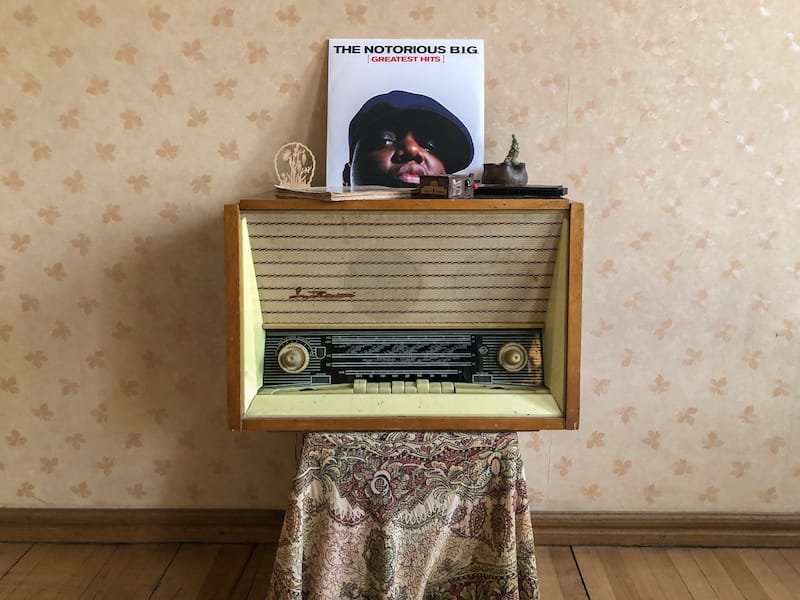 Where to Stay in Gyumri
Gyumri has so many options for accommodation inside of the city center and outside of it, as well.
However, we do highly recommend staying in the city center if your budget allows as it is more convenient for sightseeing in Gyumri.
Here are some of our top recommendations for Gyumri hotels, hostels, and guesthouses.
Hotel Plaza Viktoria (Luxury)
Located close to Vardanants Square, Hotel Plaza Viktoria in Gyumri is a great option for those coming to the city who want to stay in a comfortable hotel with a lot of amenities.
It has great service, beautiful and spacious rooms, places to eat on-site and nearby, and is super accessible to the city.
>> Click here for rates and availability for Hotel Plaza Viktoria
Araks Hotel (Mid-range)
Another city center option for those traveling with a tighter budget is Araks Hotel, a mid-range place to stay with high ceilings and a simple, yet comfortable design.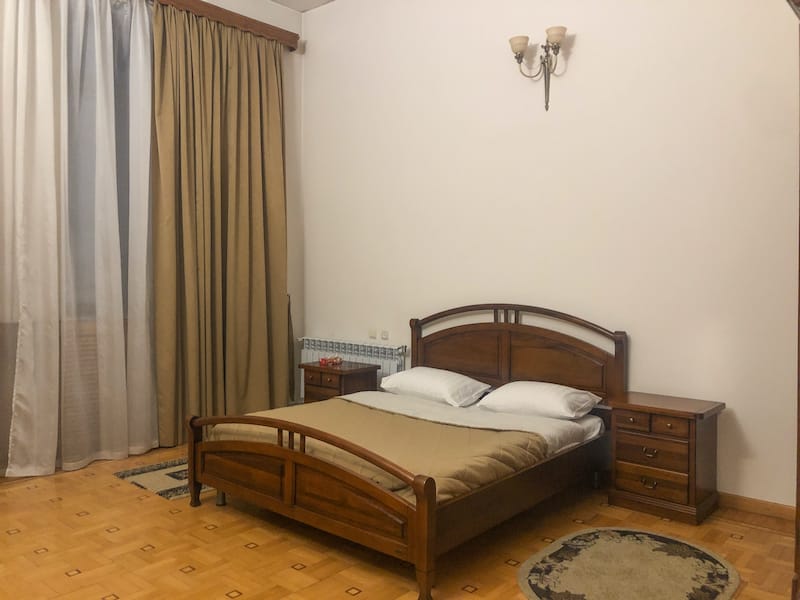 This is a great place for families or those wanting great accommodation without the high prices.
>> Click here for rates and availability for Araks Hotel
Gyumri Loft (Budget)
A hip 'anti-cafe' where you can meet locals, work on projects, cook delicious food, and relax in a dorm, Gyumri Loft is the ultimate place for those traveling to Gyumri on a budget.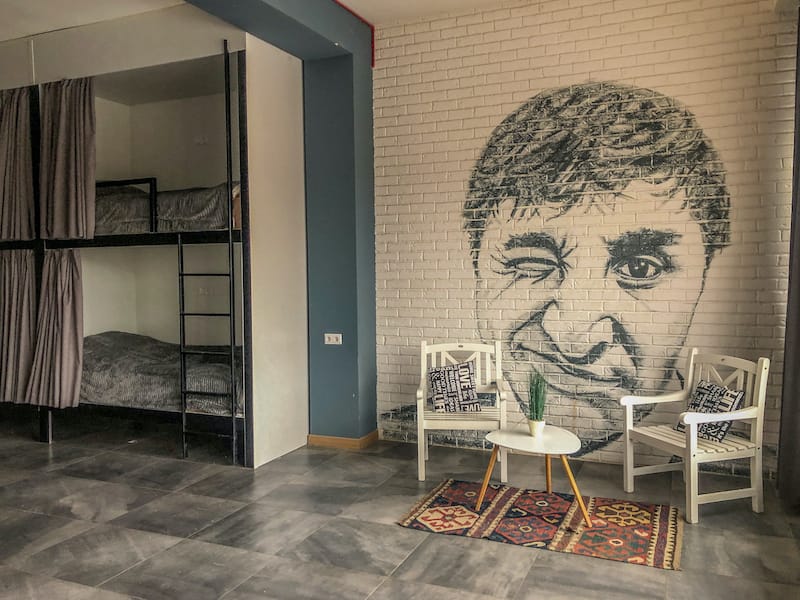 They have many things to do on-site like board games, video games, and chill out with other travelers.  It really is a great place to stay and visit in Gyumri!
>> Click here for rates and availability for Gyumri Loft
Masters' House Bed & Bar (Mid-range guesthouse)
This fantastic guesthouse is an interesting concept created by local actors and their artistic families and it is located on the famous Masters Street next to the Museum of Writers and Actors in Gyumri.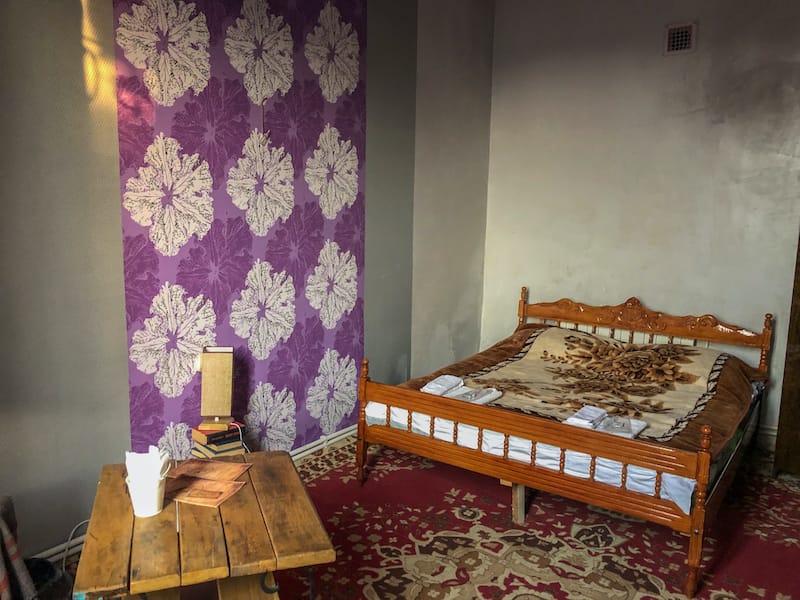 Masters' Guesthouse is a family-run business located inside of an old-fashioned building that has a history of music and acting.  They also serve delicious, homemade food for breakfast and I found the rooms exceptionally comfortable.
>> Click here for rates and availability for Masters' Guesthouse
I hope that my Gyumri travel guide helps you plan your trip.  There are many things to do in Gyumri- our suggestion is to try to support the small, independent businesses in the city when there.
If you have any additional questions about what to do in Gyumri, please reach out!  We are happy to help!
This guide will continue to be updated as new, cool businesses open in the city.
*Thanks to Visit Gyumri and several of these businesses for hosting me on my latest trip to the city.  All opinions and love for this city are my own.
PIN IT FOR LATER: