Are you looking for the best things to do in the Debed Canyon? This guide covers an array of different places along the Debed Canyon that we think are worth visiting on your trip!
Let us know your thoughts in the comments (and any cool places we may have missed)!
Best Things to Do in the Debed Canyon
The Matchbox Museum
You'll find several interesting museums across Armenia but one that is unmatched for its distinctiveness is the Matchbox Labels Museum in Tumanyan town.
This is the world's only museum dedicated to matchboxes and it takes labels throughout history, particularly the Soviet times, and has put them on a large display at the museum.
There are over 10,000 matchbox labels on display there and you will find ones from all over the world – including Japan, India, and more!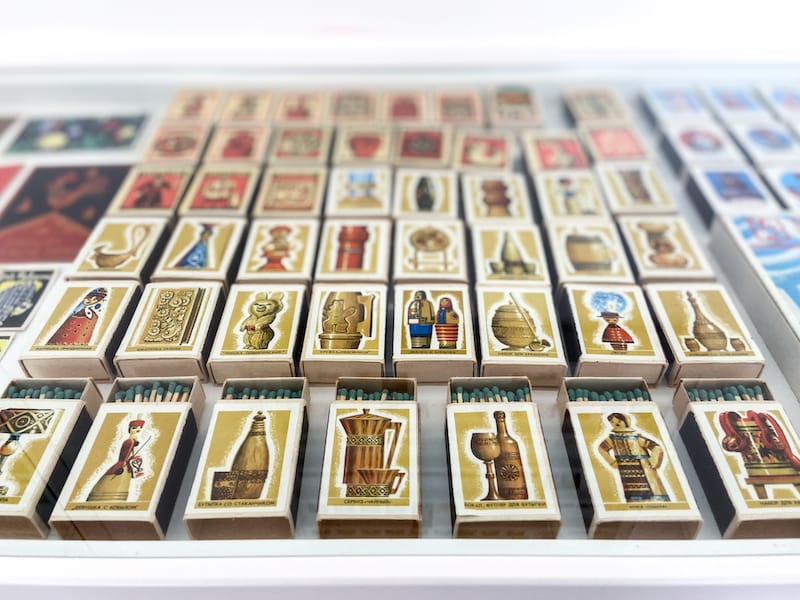 The labels are arranged by theme and this is seriously one of the coolest places to visit in Armenia, especially for those looking for an off-the-path experience.
The museum is open from 2pm-6pm every day of the week except Mondays.
Address: Building 6 2nd Street, Tumanyan 1712
Flying Samovar Restaurant by Noosh
Located in the small and charming town of Tumanyan in between Vanadzor and Alaverdi, Flying Samovar Restaurant is the one and only restaurant in the area, and it offers a lot more than just food!
Tumanyan town is an up-and-coming destination that is currently attracting digital nomads, creatives, and freelancers, and the town is in the process of creating an inspiring environment, including the Abastan Artists Community, which is located in the textile factory, and Flying Samovar Restaurant.
Flying Samovar Restaurant is located in a beautiful building constructed of tuff stone, which somewhat reminds you of Yerevan's architecture.
But, instead of the landscapes being a lot of other constructions, it is mostly green mountains!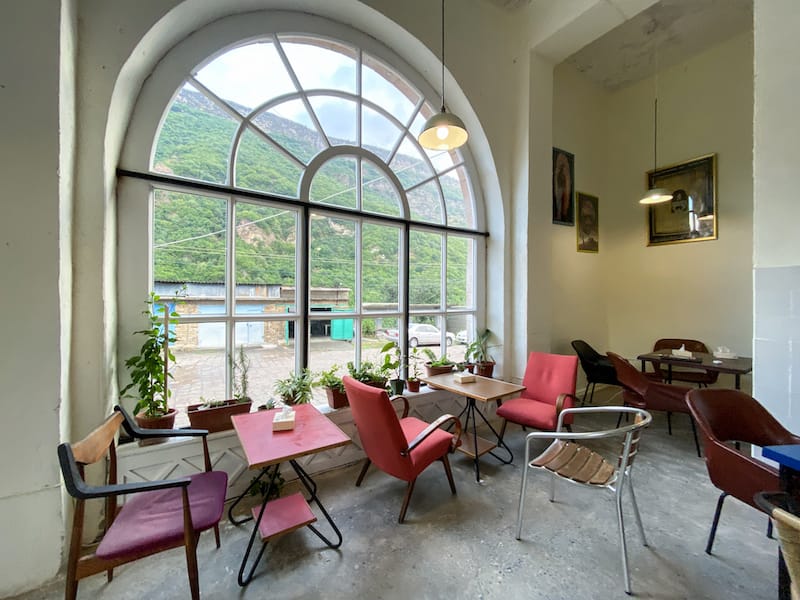 The concept of the restaurant is retro, and you can enjoy your cup of coffee surrounded by old Soviet posters, typewriters, clocks from the old Soviet clock factory in Yerevan, and more.
The venue has fast WIFI, comfortable tables, and lovely local staff, making it a fantastic place to work for the day (or for good).
Tumanyan town is a burgeoning spot in the region, and it should definitely be on your radar!
Address: 8 2nd street, Tumanyan
Rafting on the Debed River
One of the most adventurous things to do along the Debed Canyon is to go rafting!
Rafting has emerged as one of Northern Armeniaʻs most beloved activities in recent years and there are two companies offering adventurers opportunities to do so.
Both Rafting in Armenia and Rafting Republic will take you down to the wild Debed River (from either Alaverdi or Tumanyan depending on which company you book through) for an unforgettable experience.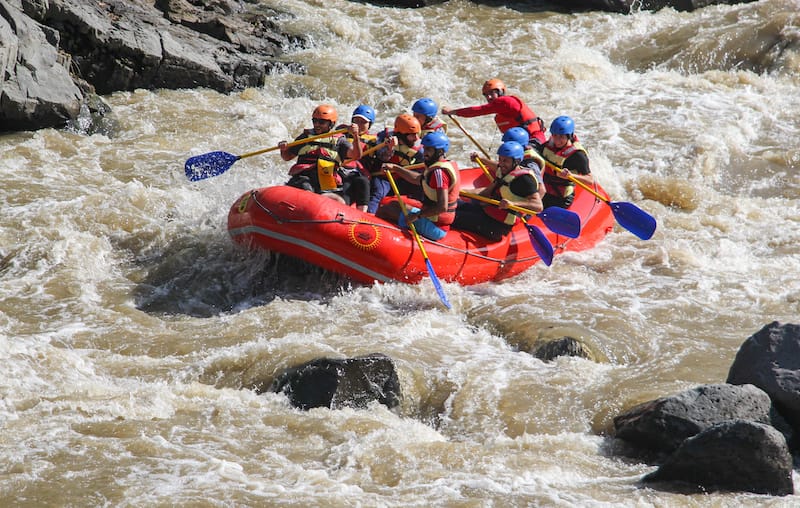 Please ensure when booking that they have a guide that speaks your language as the safety briefing is extremely crucial when rafting in Armenia.
You can book via the previously linked Facebook pages or by phone (Rafting in Armenia: +374 94 129013 ; Rafting Republic: +374 77 090916).
Fairy Tale House
Located in between Vanadzor and Alaverdi at the connecting main road, Pambak village is a small place situated on the slopes of the hill and has plenty of traditional, cozy homes in it.
The most famous place in Pambak village that puts it on the travel map is called the House of Fairy Tale.
Whether you're a kid or an adult, it is definitely worth the stop when driving through the area!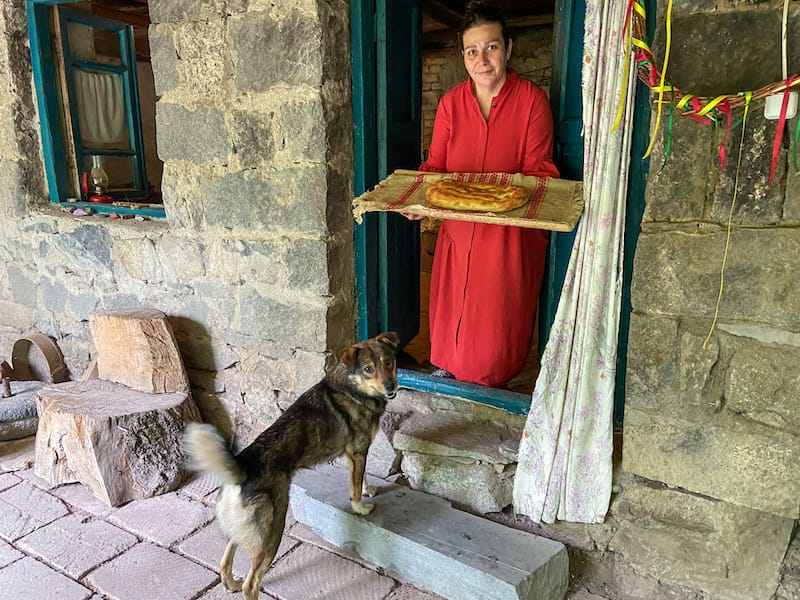 The House of Fairy Tale is where the visitors go back in time and the host recreates ancient Armenian traditions of food preparation (traditionally from Lori), dancing, ancient rituals, and more.
Guests can stay overnight, eat traditional Armenian food, hike in the mountains, learn more about Armenian culture, and be involved in many creative processes like baking bread, preparing decorations for celebrations, and beyond!
Address: str. 1, house N 19, Pambak
Tumanyan House Museum
A can't-miss destination in Dsegh village is the Hovhannes Tumanyan House Museum.
The village was his birthplace and you can learn all about his life in his ancestral home there… which has been converted into a house museum.
You'll have the opportunity to see his childhood kitchen, bedroom, and well-preserved furniture and textiles from the 19th century.
Tumanyan was a famous writer, poet, and public activist in Armenia.
At this house museum, you can gather information about his life as well as see literary activities through pictures and old manuscripts.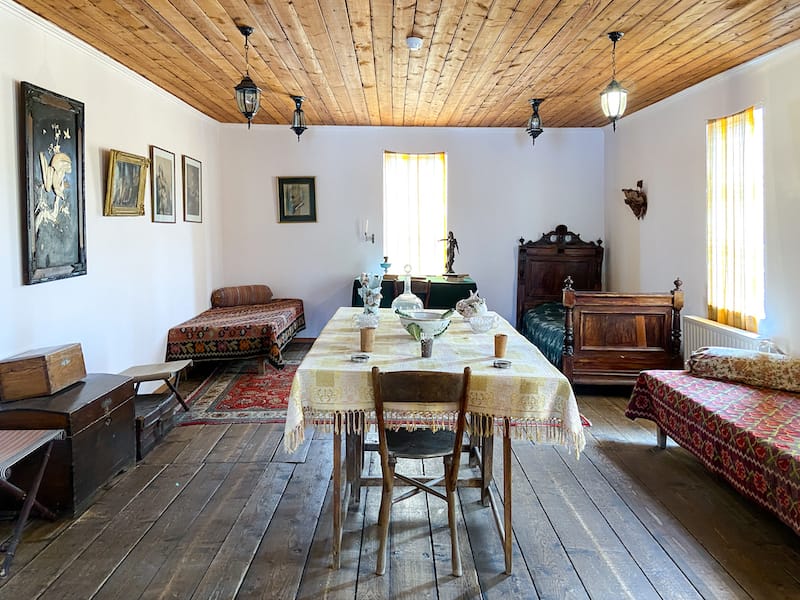 He has played such a significant role in Armenia's history that stopping here helps you learn another piece of the story of the country!
The Hovhannes Tumanyan House Museum is located on 1st Street (the 10th house).
You can take a tour of the museum Tuesdays-Saturdays from 11am-5pm and on Sundays from 11am-4pm. Request an English tour in advance.
Address: 10 1 St, Dsegh 1718
Vanadzor on Two Wheels
Vanadzor on Two Wheels offers an alternative way to explore the largest city in Lori.
These biking tours will start at Myasnikyan Street and run through various parts of the city, including some of the old industrial parts where many factories now sit abandoned and waiting for new life.
Youʻll then head past Tigran Mets Street and Central Square, the bus and railway stations, the town market, and more!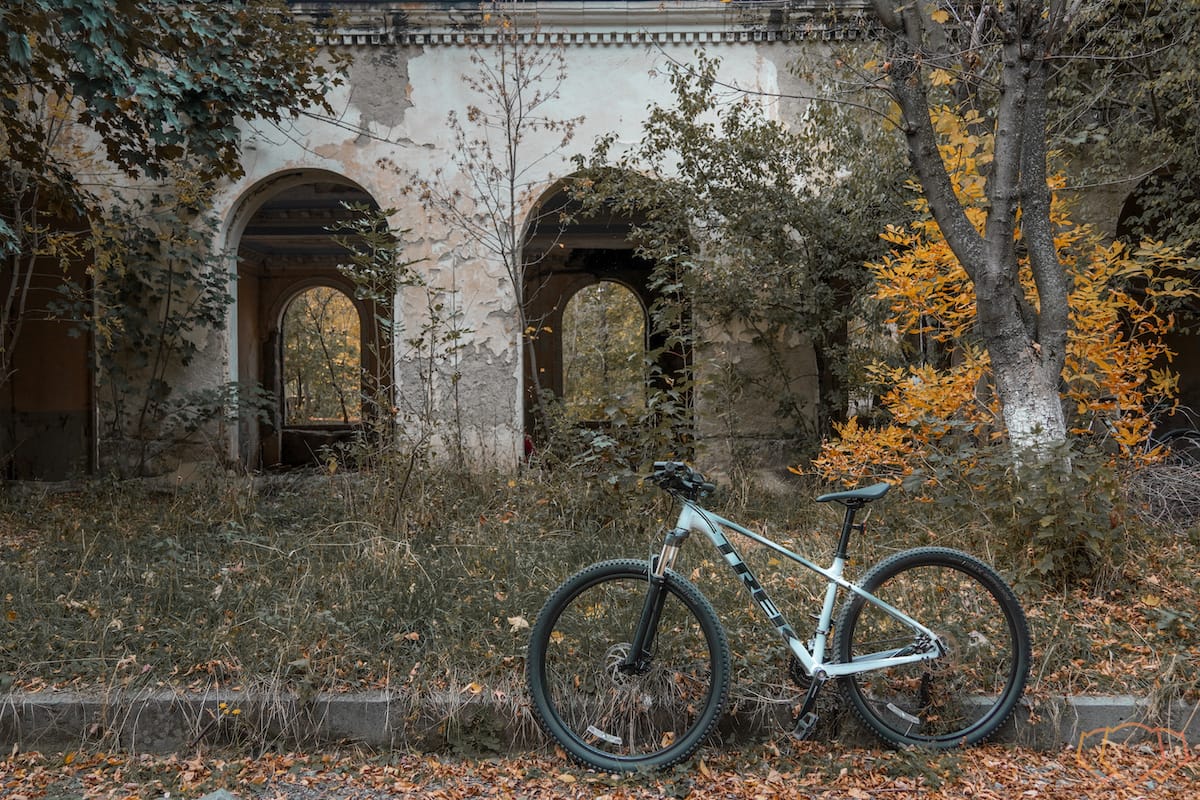 Eventually, you will make your way to the Vanadzor Botanical Garden before Artek Childrenʻs camp which is now abandoned.
Address: Myasnikyan, 90/2-3 2001, Vanadzor
Sona Guesthouse
Sona Guesthouse is a unique place to stay in Dsegh village along the beautiful Debed Canyon.
Run by Ashot and Anahit Bezhanyan, the guesthouse incorporates locally harvested ingredients in a culinary experience all its own!
Aside from a cozy property you can call home for a few nights, you will also have the opportunity to forage for local ingredients such as mushrooms (May-October), berries (summer through autumn), and herbs (May) and prepare them into local dishes or preserves.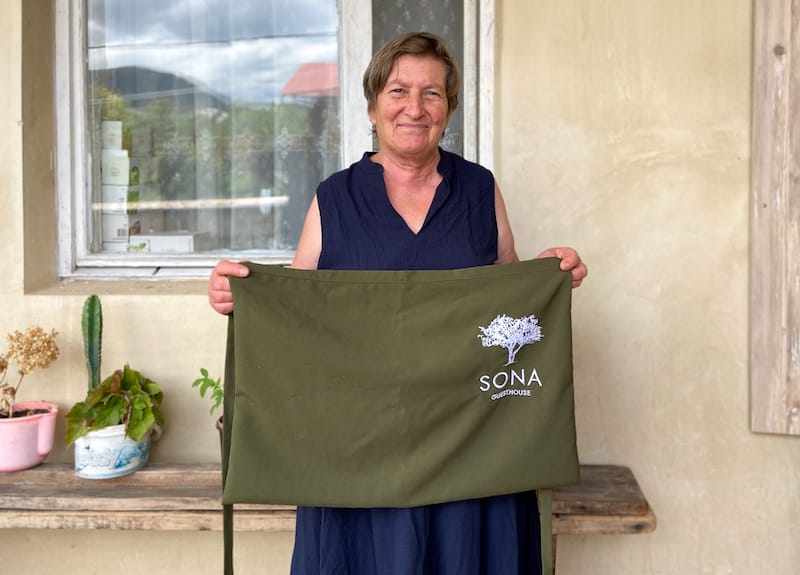 This experience is available 7 days a week and reservations must be made 5 hours in advance (3 days in advance if you need an English guide).
This is truly a cool Dsegh experience that adds to the allure of the village!
Address: House 17, 14th street, Dsegh
Nurik Center
Akhtala's Nurik Center is another place to stop if you're looking for another cultural (and cooking!) experience in the northern part of Lori.
The center is a community and tourism development hub that was established by the Armenian Young Women's Association and an effort to provide jobs for women and residents with disabilities.
When visiting, you have the opportunity to learn more about carpet weaving, discover Akhtala Monastery, and enjoy traditional Armenian dishes (while learning about their origins)!
One of the dishes you will have the chance to cook is gata, one of Armenia's favorite sweet treats!
You can also take classes to learn other national favorites such as ghavurma, tolma, ghapama, and harissa.
The masterclasses are available year-round.. just be sure to book at least 24 hours in advance.
Address: 1, Raffi str. 1710, Akht'ala
Akhtala Monastery
Akhtala Monastery is one of the most notable places to visit in Northern Armenia and should be on every itinerary (especially if coming as a day trip from Tbilisi)!
The 10th-century monastery is located in the village of the same name and is situated closer to Tbilisi than it is to Yerevan.
Having once served as a fortress as well, the landmark once known as Pghindzavank is one of the best-preserved fortresses in modern Armenia.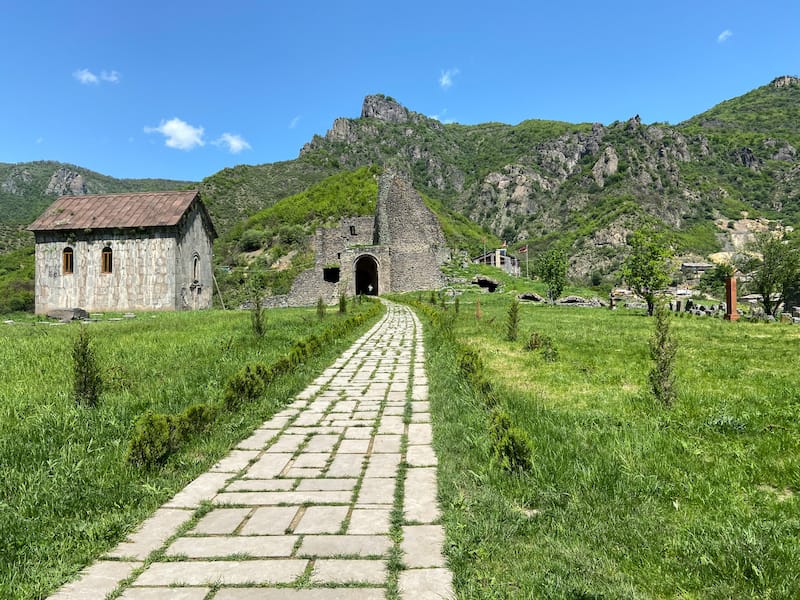 The main building inside of the large complex is the Holy Mother of God Church (Surb Astvatsatsin) and while there is no date confirmed regarding its origins, they believe it was built sometime between the 11-13th centuries.
Akhtala Fortress and Monastery is free to visit and is often included on Sanahin/Haghpat organized tours.
If you happen to be around at the end of summer, be sure to see if the Khorovats Festival is happening in Akhtala at the same time! It is one of the most famous festivals in Armenia!
Lori Berd
Lori Berd (Lori Fortress) is situated a mere 40 minutes from Vanadzor and is a worthwhile trip when visiting the Debed Canyon.
The 11th-century structure sits right on the edge of the gorge and it became the capital of the Kingdom of Tashir-Dzoraget in 1065. It is one of the most important historical landmarks in the Lori region!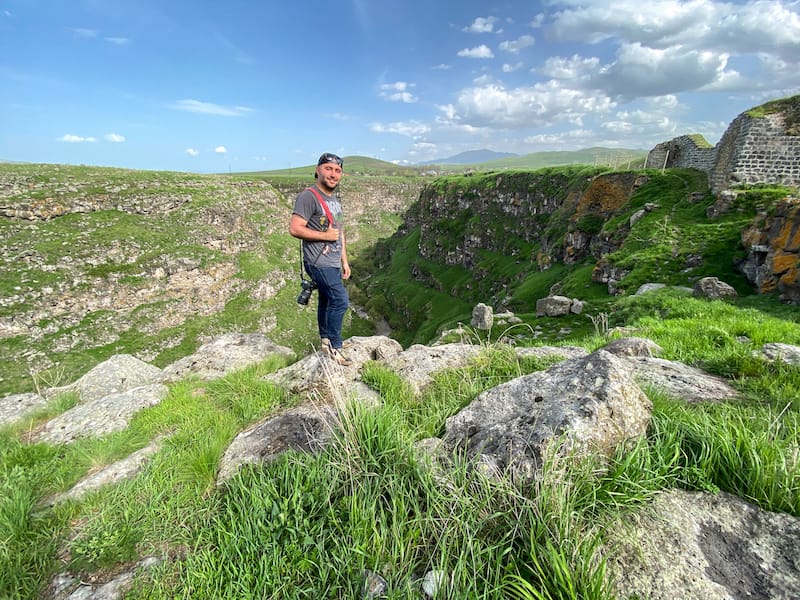 When you're visiting the fortress, you will need to pay an entrance fee (650 AMD for locals, 1300 AMD for foreigners, and 80 AMD for students… prices are subject to change slightly).
Horomayri Monastery
Around 1 kilometer south of Odzun, one of the largest villages in Armenia, is the mysterious Horomayri Monastery.
This complex is situated in the most unassuming of locations as it hangs off the side of a cliff for part of it (and the other part is on top of the gorge.
To reach this historic monastery's part that is inside of the canyon, you will need to hike.
You can climb up from the highway that runs along the Debed River or, alternatively, you can hike south across the cliffs from where the last switchback is located going to Odzun.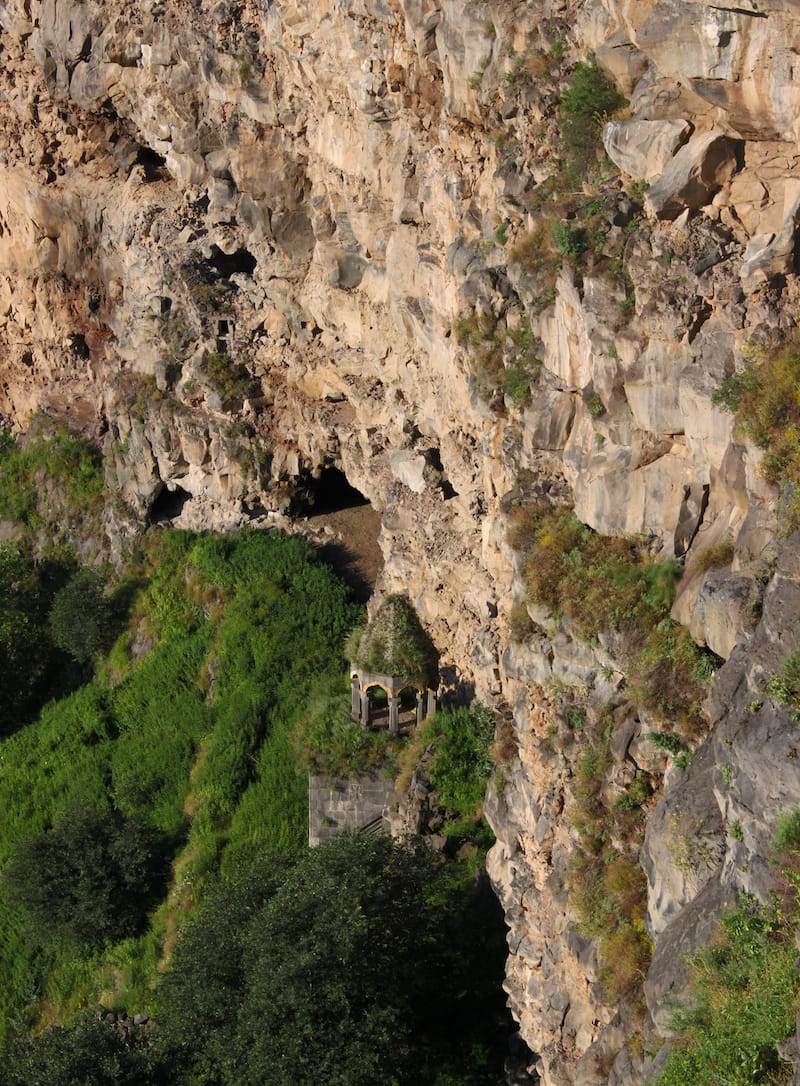 If adventurous and skilled, you can actually climb from where the other part of the monastery is located, but we don't advise it.
Once you arrive at the part located in the gorge, you will discover an overgrown, 3-chambered chapel.
Within it, there are carvings and khachkars. The church was built in 1187 and the other buildings there date back to 1206.
If you don't feel brave enough to head to the monastery on foot, don't worry… you can photograph it from above pretty easily (with a zoom lens).
Kobayr Monastery
Another historical attraction along the Debed Canyon is Kobayr Monastery, a 12th-century monastery that currently lies in ruins close to the main highway near Tumanyan town.
It has become famous in recent years as it doesn't garner the tourism numbers of nearby monasteries Sanahin and Haghpat and requires a hike to get to, making the trip rather cool!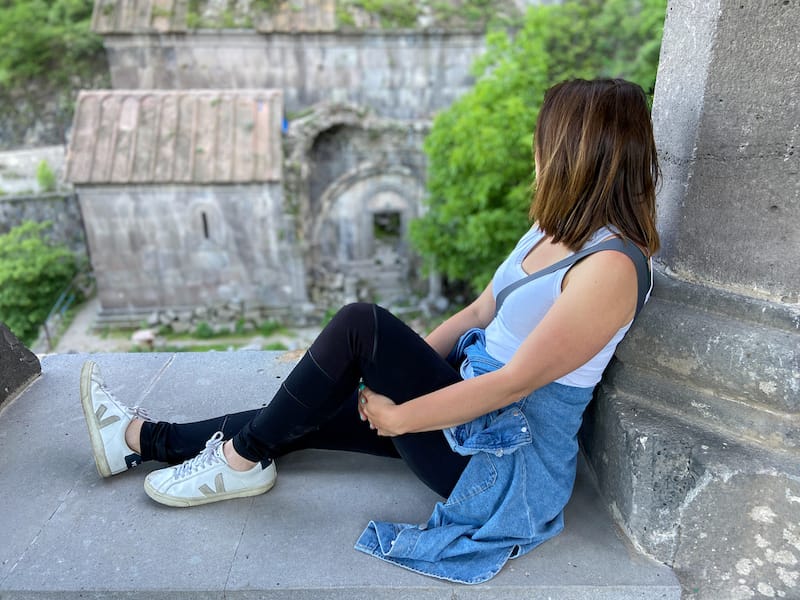 I have always seen scaffolds there but it is still worth the short hike to!
You'll find both Georgian and Armenian inscriptions on the church and if you go to its bell tower, you will be greeted with some insanely beautiful views!
Kobayr is truly one of my favorite locations in Northern Armenia.
Haghpat Monastery
Haghpat Monastery (also referred to as Haghpatavank) is a UNESCO World Heritage Site and monastery located in an area of Northern Armenia that overlooks the Debed River.
It dates back to the 10-13th century and is one of the most visited places in the country (especially as many come from Georgia to check it out alongside Sanahin)!
This famous monastery was founded by Queen Khosrovanuysh (wife of Bagratid King Ashot III)… around the same time as Sanahin.
One thing that makes this monastery unique is actually its accessibility. Many monasteries in Armenia are built in remote locations or previously required a lot of effort to visit.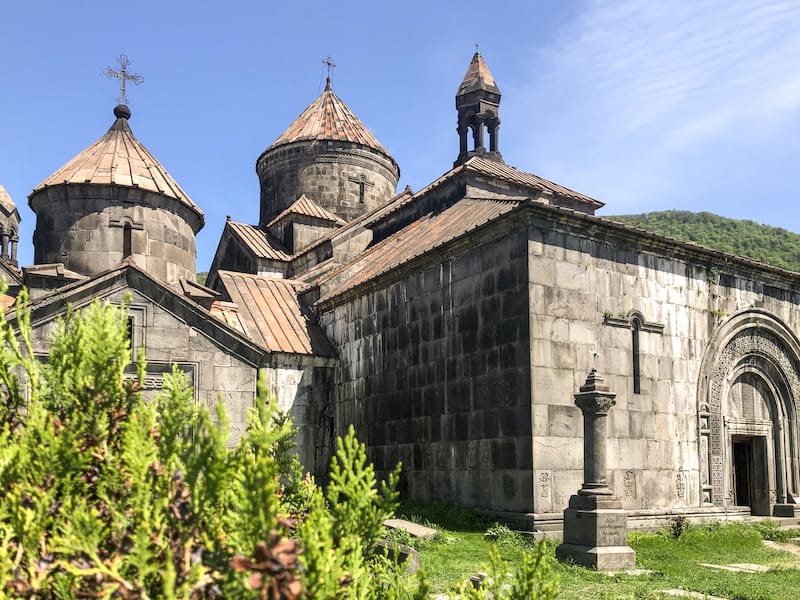 Haghpat is built in an accessible location that was even a village back the day.
The most notable structure at Haghpat is the Cathedral of Surb Nshan where construction likely started in 976 and was later finished by King Smbat in 991.
It was granted UNESCO status in 1996 (along with Sanahin) because of its unique style that combined elements of Byzantine ecclesiastical architecture with the traditional vernacular architecture from the Caucasus region.
It is free to visit Haghpat and it is mostly wheelchair accessible (certain chambers are not, however).
There is also Braille to help the visually impaired.
Sanahin Monastery
Founded in the 10th century, Sanahin Monastery is the sister monastery to nearby Haghpat.
Also a UNESCO World Heritage Site, this monastery directly translates to 'this one is older than that one' … referencing Haghpat! Sanahin is located above Alaverdi town in a village of the same name.
On-site, you will find plenty of khachkars and structures that make Sanahin a worthwhile place to explore for an hour or two!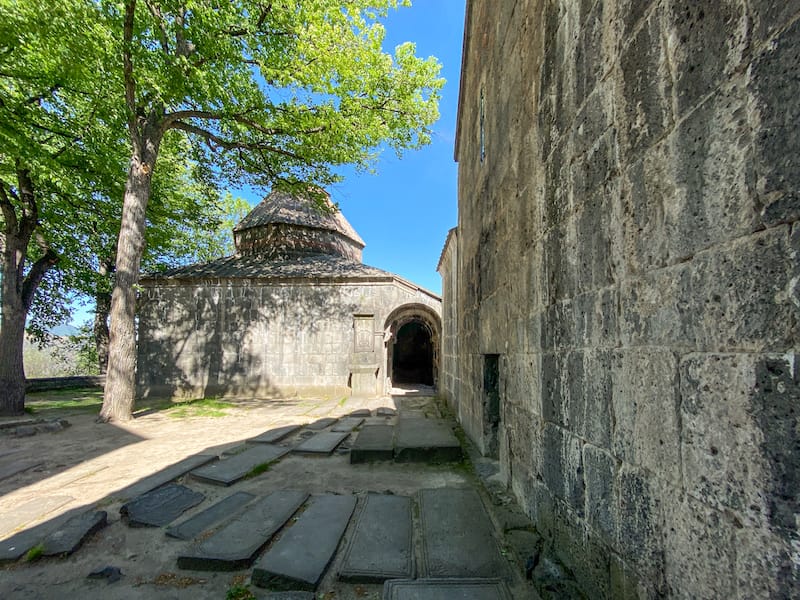 At the complex, there is the Holy Mother of God Church (St. Astvatsatsin) which is the oldest building there as well as the Holy Savior (St. Amenaprkich) Church which is the largest building on the complex.
It is also considered to be the main building there.
It is free to visit Sanahin and it is around 10 kilometers from Haghpat. Most are visited on the same trip (and often include a side trip to the Akhtala Fortress).
Khorovats Festival
Traveling through Northern Armenia during at the end of summer and looking to attend a festival celebrating something incredibly Armenian? Don't miss out on heading to the Khorovats Festival in Akhtala!
Dates move around each year but it is typically in August and it is one of the most renowned festivals in the country as it celebrates Armenian BBQ!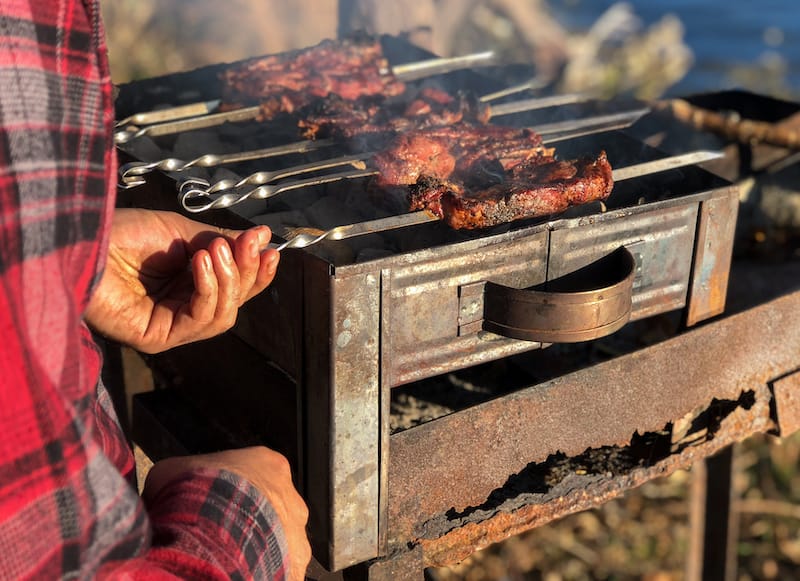 Akhtala has been deemed the 'Khorovats Capital of Armenia' and this festival truly celebrates it!
At the fest, you can try a variety of BBQs from pork to mutton to fish and even vegetable! BBQ'ers are awarded prizes at a closing ceremony for the best presentation, best concept, best flavor, and more!
This is a can't-miss festival for food lovers!
Sanahin Pottery House
In Sanahin, Alla Avetisyan runs the Armenian Pottery House and it is an essential place to visit if you like creating crafts with a bit of Armenian flair!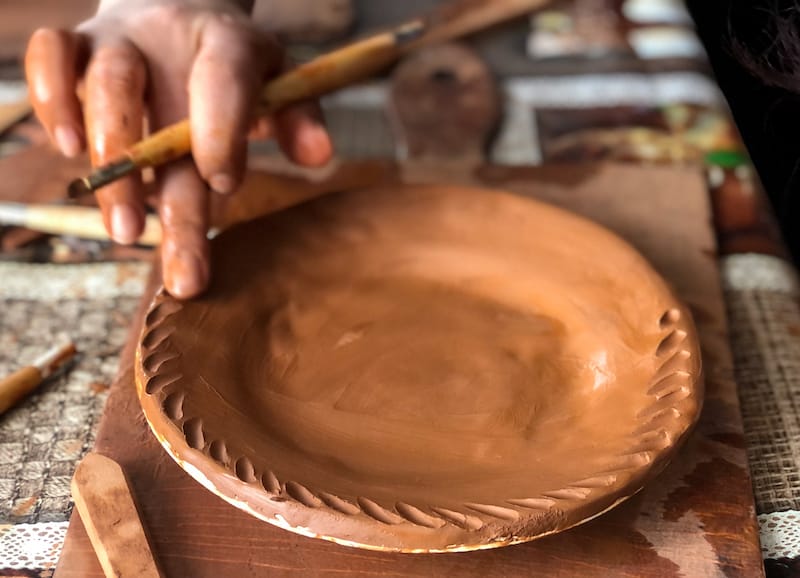 Located super close to Sanahin Monastery, Alla offers masterclasses for not only pottery, but also carpet making.
In addition, you can stay on-site and the studio and property have some of the prettiest views over the region.
Address: 3MQ9+F3G, Alaverdi 1705
Mikoyan Brothers Museum
Just a stone's throw away from Sanahin Monastery is the Mikoyan Brothers Museum.
This museum commemorates the man who designed the first Russian fighter jet and his brother and his brother who eventually became the Chairman of the Presidium of the Soviet Supreme.
The Mikoyan brothers, Anastas and Arytom, were very iconic names in the Soviet military and political scene and they are from the village of Sanahin.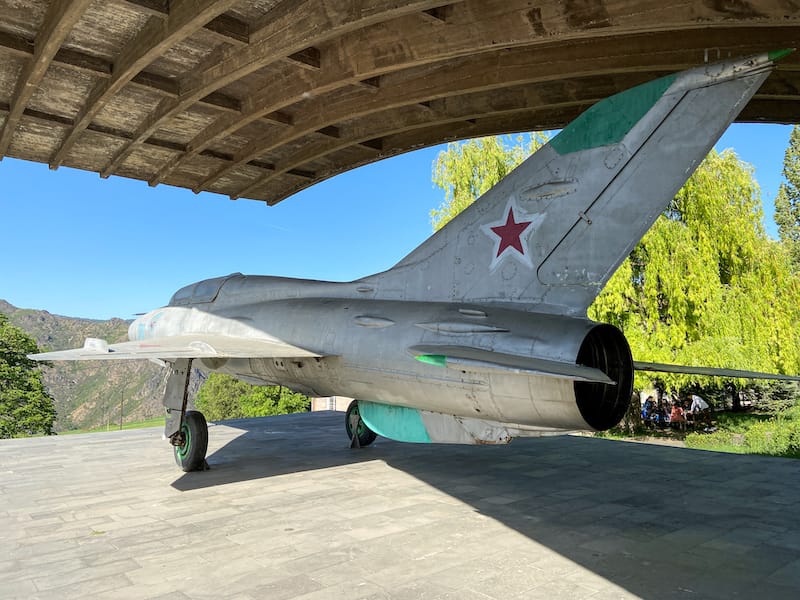 At the museum, you will see a small museum with artifacts and photos, as well as a full-size MiG 21. It is definitely a worthwhile stop before or after a trip to Sanahin Monastery.
Address: 3MQ9+W4F, Alaverdi 1705
Tsover Lake
Tsover Lake is located close to Dsegh village (only 3 kilometers away!) and is a great place to escape to when you're in the region.
The 250-meter-long lake was a favorite of many Armenian writers such as Vahan Teryan and Avetik Isahakyan and it is free to visit.
Hovhannes Tumanyan was rumored to love picnicking at Tsover Lake, making it the perfect place to do the same!
Mendz Er Cave Complex
One of the coolest places to visit near Alaverdi is Mendz Er Cave. Mendz Er actually means 'Big Cave' in Armenia and the complex contains a restaurant, museum, and masterclass facility.
It is situated above Alaverdi and offers stellar views of the region!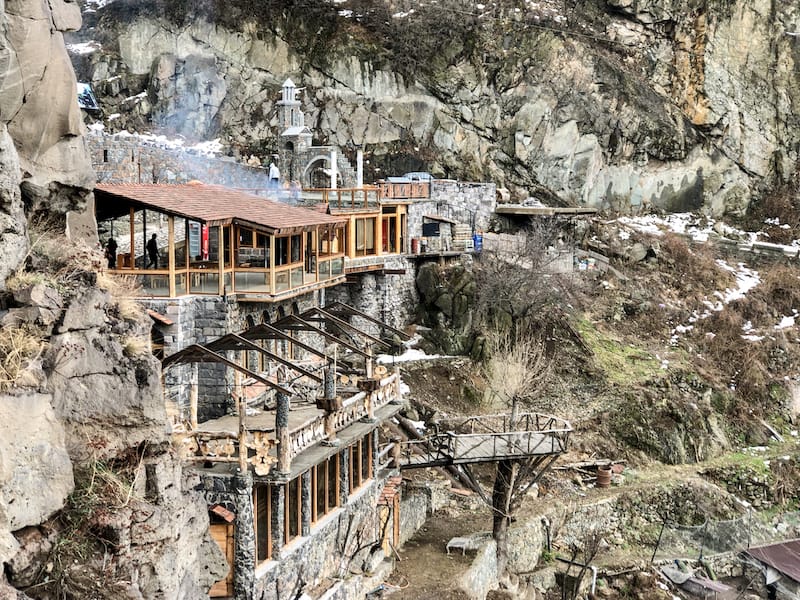 The area was formerly a goat barn and the project started when Vahe and Vache (brothers) decided to dig a cave in order to create a restaurant and museum.
During this adventure, they stumbled upon a cave that was more than 300 meters long and goes deep into the mountains all the way to a place near Sanahin Monastery!
Today, you can visit the restaurant and enjoy some unique dishes like Egh u Jil (Armenian fondue). Check out their Facebook page for more info!
Address: Alaverdi , Sanahin Sarahart 1705 Alaverdi
Kayan Fortress
The Kayan Fortress is one of the few remaining fortresses of Northern Armenia and it was a vital bastion that protected the monastery of Haghpat and the villages that surrounded it.
Kayanberd (also called Aknaberd) is located between the villages of Haghpat and Akner and is best reached via trail from Akner.
The hike is of moderate difficulty and takes about 25 minutes to complete.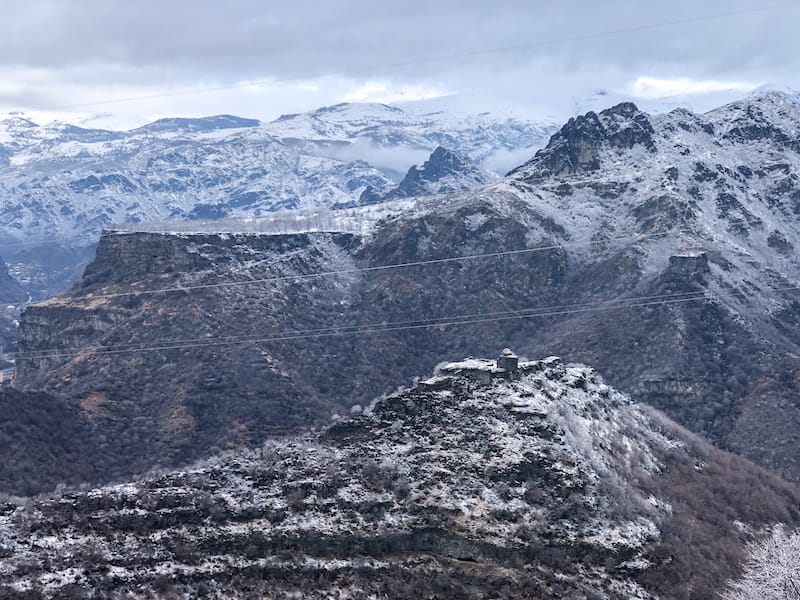 You can see the monastery from several viewpoints in the area around Alaverdi, so keep an eye out! The fortress is also home to St. Astvatsatsin, or Dsevank Church.
Forty Saints Monastery
Another popular place to visit in Dsegh village is the Monastery of Forty Saints, or Karsnits Mankats Vank Monastery.
This 13th-century complex is located in the Takhter area of the gorge and was consecrated by Haghpat Monastery's abbot.
The complex is currently in ruins and you can see many structures from a church, chapel, cemetery, and more.
There are also several khachkars around and while the hike is not too far, it can be rather steep.
Sanahin Bridge
Dating back to 1195, you will find the beautiful Sanahin Bridge in the town of Alaverdi.
This bridge is idyllic and crosses over the Debed River and is truly one of the most important architectural constructions of medieval times in Armenia.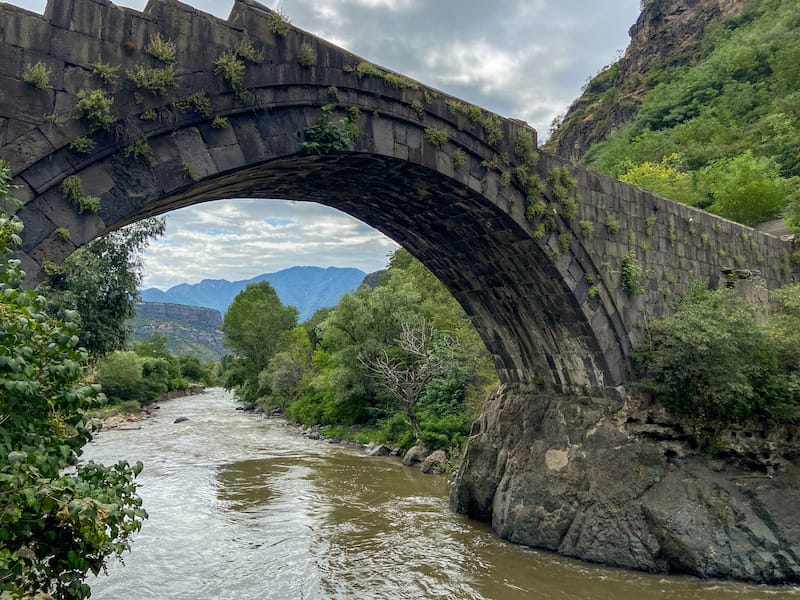 Built with basalt stones, the bridge is 18.6 meters long and 3.3 meters wide in its middle. It was built to commemorate the late husband of Queen Vaneni.
It has undergone renovations throughout history (notably throughout the 19-20th century) and is definitely a great stop when visiting Alaverdi.
Surb Hovhannes Monastery Complex
A favorite village of ours is Ardvi along the Debed Canyon.
And, one of the most famous sites in Ardvi is the Surb Hovhannes Monastery – it truly is one of the most picturesque places in Armenia if you visit at the right time of the year when the flowers are in bloom!
This Ardvi landmark was named after Hovhannes Imastaser and pieces of the religious complex date back to the 8th century (while most date back to the 17th century).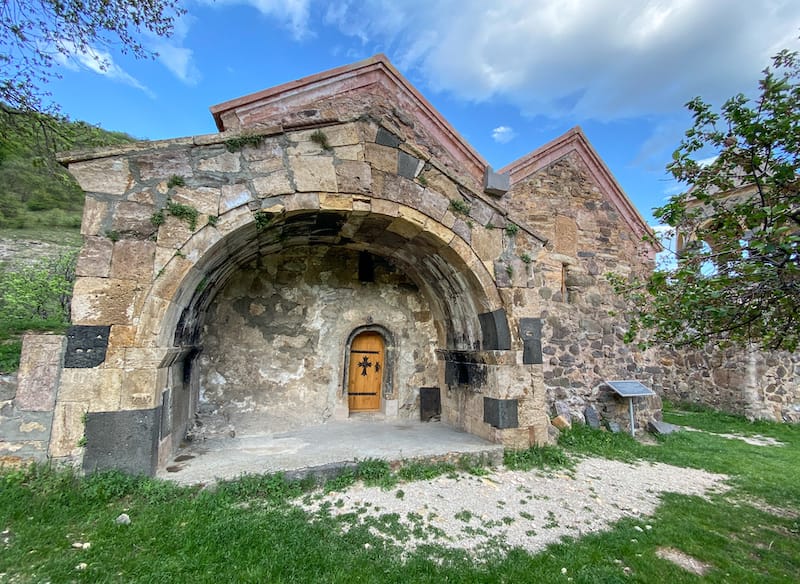 It has gorgeous trees surrounding it as well as khachkars on many sides.
You'll find the place around 50 meters above the village (there is only one road so you can't miss it) and it has multiple structures and buildings there.
Another cool thing about the Surb Hovhannes Monastery is that some of 'The Color of Pomegranates' by Parajanov was filmed there!
Arevatsag / Dzoraget Canyon
Debed Canyon has numerous mind-blowing viewpoints and one of them is Arevatsag Canyon, a place that is often compared to tropical places in Southeast Asia with its dramatic rocks coming out of the water!
Arevatsag Canyon means the "Canyon of Sunrise" when translated from Armenian and it has to be on your photography bucket list when you're visiting the Debed Canyon and Lori region!
It was always on mine so I was pretty stoked to finally hike to it from above!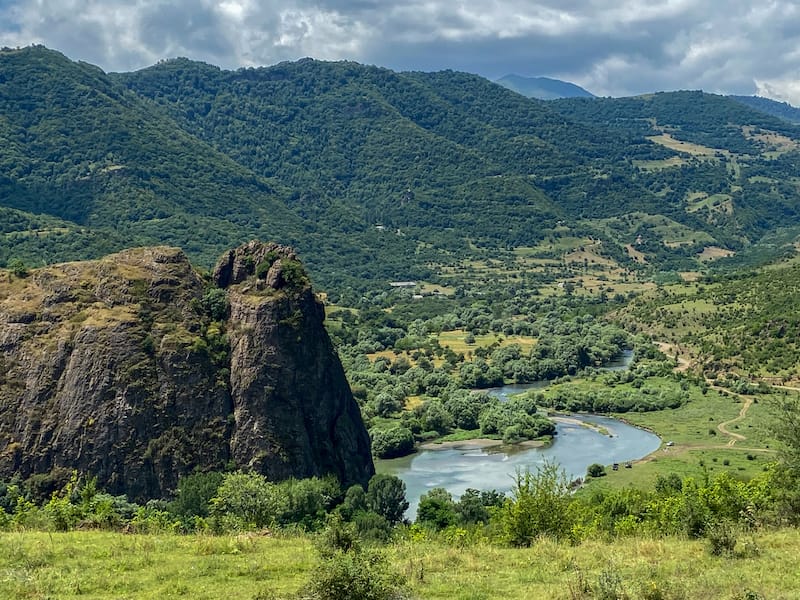 The area's nature is so stunning that you'll undoubtedly need to stop and photograph… so take your time here!
You'll see the iconic rock (called Tsitsqar) alongside churches and fortress ruins, the Dzoraget River, and much more.
The hike from the top takes approximately one hour (each way) and as I reached my final destination, I had the opportunity to photograph Arevatsag Canyon in its full beauty!
The location is also perfect for campers because the sunrise will be something you'll remember for the rest of your life. The trailhead and overlook of the village is at 40.9705261, 44.6128520.
Bardzrakash St. Gregory Monastery
You can't visit Dsegh without a hike to the Bardzrakash St. Gregory Monastery.
This ancient monastery dates back to the 1200s (possibly before) and is on the World Monuments Watch List as of 2014.
The religious complex was dedicated to St. Gregory the Illuminator and contains two churches and other remains. You will also find plenty of khachkars in the area.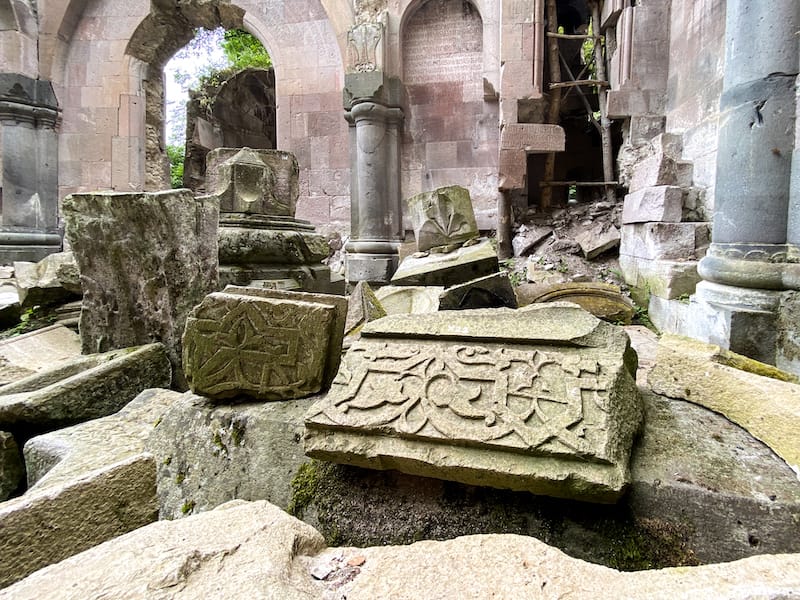 The monastery is in ruins and overgrown which somewhat adds to its allure.
It's located above the Marts River inside of the Tavut Forest. It truly is a mysterious place to take a hike to and get lost in your surroundings.
Sirun Khach Khachkar
Khachkars are one of the most prolific cultural symbols of Armenia and the Sirun Khach Khachkar in Dsegh is a fantastic place to visit when you're in town!
The Sirun Khach ('Beautiful Cross') dates back to the 13th century and is on the right side of the trail that takes you to Bardzrakash Monastery.
The locals gave it its name based on how gorgeous it is (and the views from it are).
This khachkar has gained international fame, as well. It was displayed in 1969 at the Paris Exhibition. Nevertheless, it is a must-visit attraction in Dsegh!
Odzun Church
One of the most iconic landmarks of the northern Lori region is Odzun Monastery (Odzun Church).
This Armenian basilica was constructed all the way back in the 5-7th centuries by Hovhannes III Odznetsi.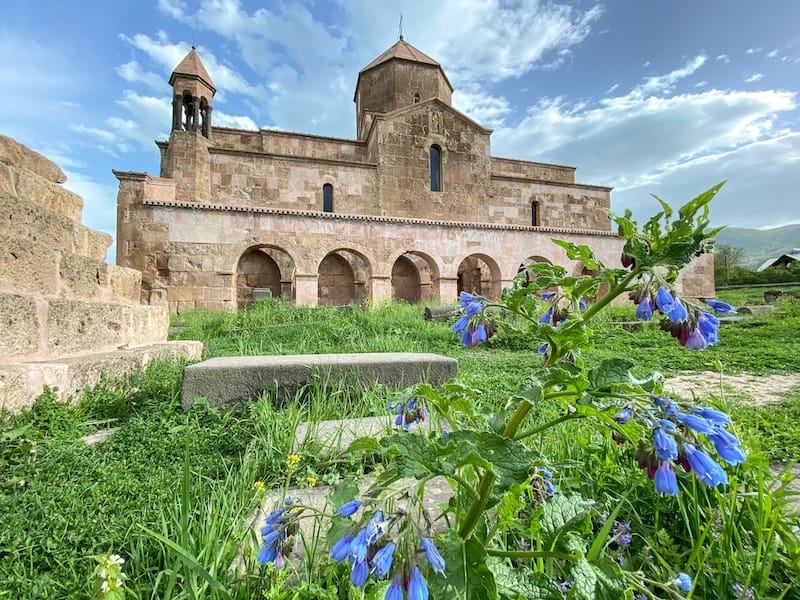 It is free to visit and it is located right off of the road, so it is an easy find. When there, you will see the spacious church, a portal to the church, and a funerary monument.
There is only one other funerary monument in Armenia and it is located in Aghudi (in Syunik).
Odzi Port (Snake's Bellybutton in Ardvi)
Right before you get to the Surb Hovhannes Monastery, you will find Odzi Port, or the Snake's Bellybutton.
This site is said to have healing waters and there are legends behind it making it very mysterious and a rather interesting place to visit.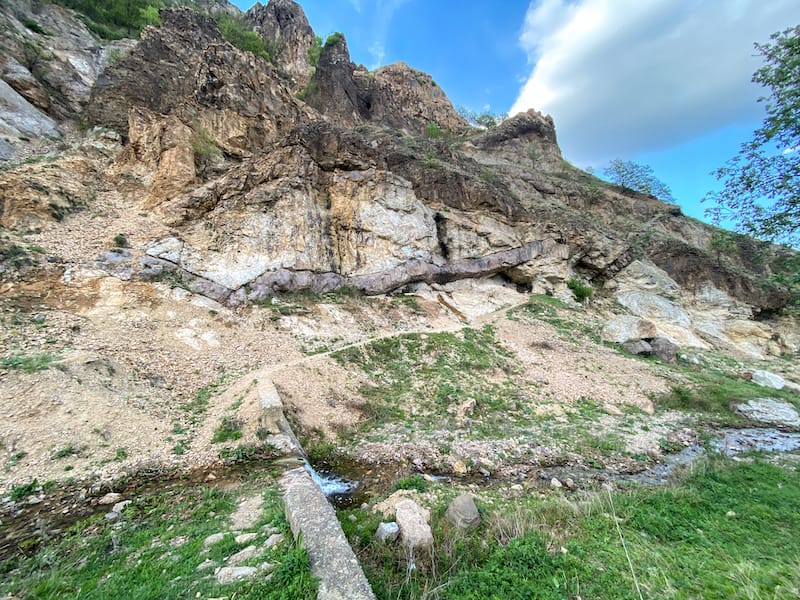 Today, you will see water running from 'Snake's Naval' and the Yerevan Geology Institute has stated that it contains silver and gold.
Tourism Unique Center TUC
The Tourism Unique Center, or TUC, is a community-based tourism initiative that focuses on exploring all of the beauty and adventure that the province has to offer!
Based in Dsegh, the initiative connects travelers to locals as well as small businesses in the area.
Their 'basecamp' contains a shower, 2 bathrooms, a storage room, and a kitchen. You can pitch a tent (and even host events) here!
Another cool thing about the TUC is that they offer zilling off-road experiences, tours, and much more. You can even learn traditional Armenian outdoor games.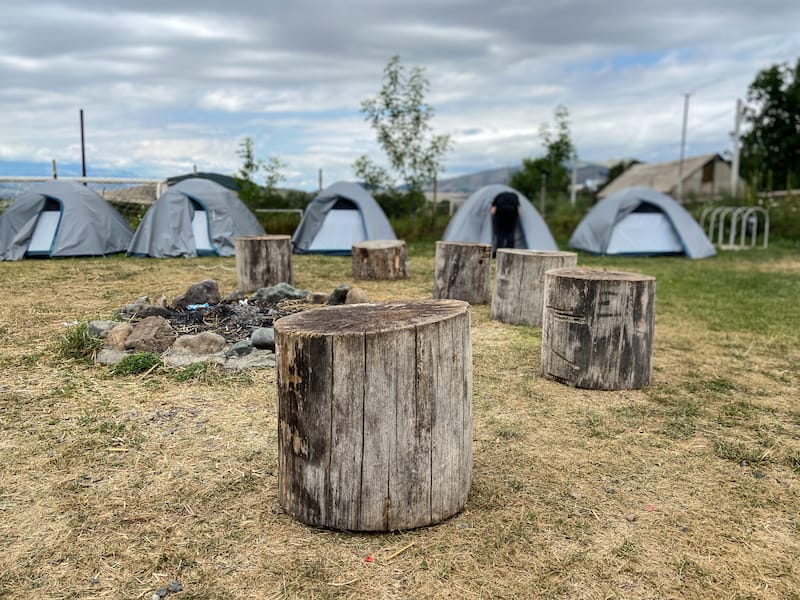 Reservations must be made 5 days in advance and tours are available 7 days a week from 11am until 7pm. Check out their Facebook page for more.
Address: 8/14, Dsegh 1718
**Our trip to the Debed Canyon was part of the "Lori, Your Next Destination" project by Visit Debed Canyon (co-funded by GIZ and COAF). All opinions are our own.
More Debed Canyon Travel Guides