Are you location independent and in search of the best places in the Debed Canyon and Vanadzor for digital nomads and others like you?
This guide covers some of our favorite spots for location independent workers and digital nomads in the Debed Canyon – starting in Vanadzor and working your way up to chilled-out Odzun!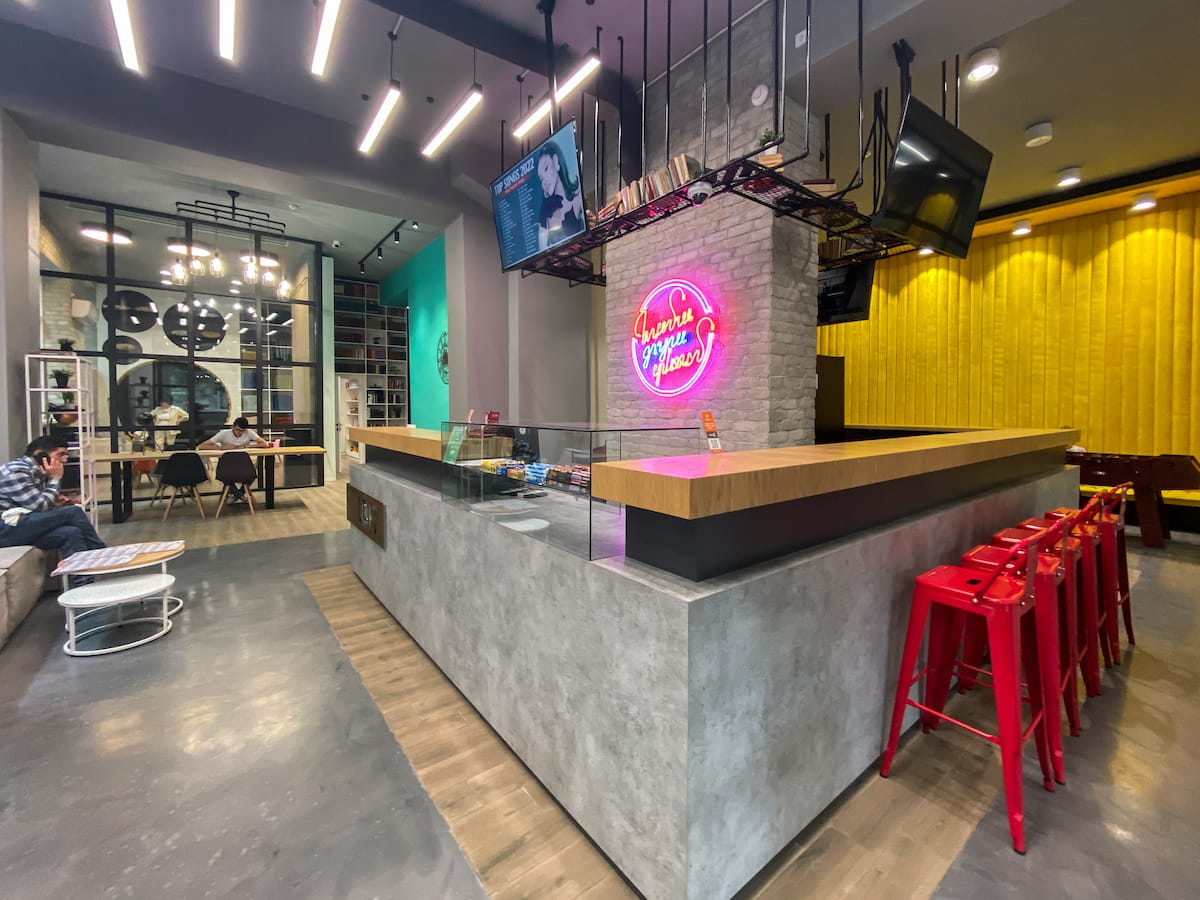 We also answer a few important questions here at the top of the post that we think will be helpful.
Did we miss anything you'd like to know about being a digital nomad in Vanadzor and the Debed Canyon region? Let us know in the comments!
Do You Need a Visa for Armenia?
Fortunately, most nationalities do not need a visa to enter Armenia. However, some nationalities still do (some only need an e-visa that can be obtained at the border).
Be sure to check if you need a visa for Armenia here.
Please note that Canadians still need a visa (but can get it at the border or airport on arrival now)!
Getting a SIM Card in Vanadzor
Just like in any region in Armenia, it's possible to buy a SIM card in Vanadzor with a monthly internet package at different options at affordable prices.
SIM card provider companies like Vivacell MTS, Team Telecom, and Ucom are available in Vanadzor, Alaverdi, Akhtala, and some other small towns.
The coverage of the internet is great in Lori, but if you are hiking or camping, there might be spots where reception won't work perfectly because of the remoteness or the mountains.
In addition, it's good to know that most places in Lori have WIFI, so you can co-work from cafes, hotels (or even campsites!), and restaurants where it's possible to be easily connected.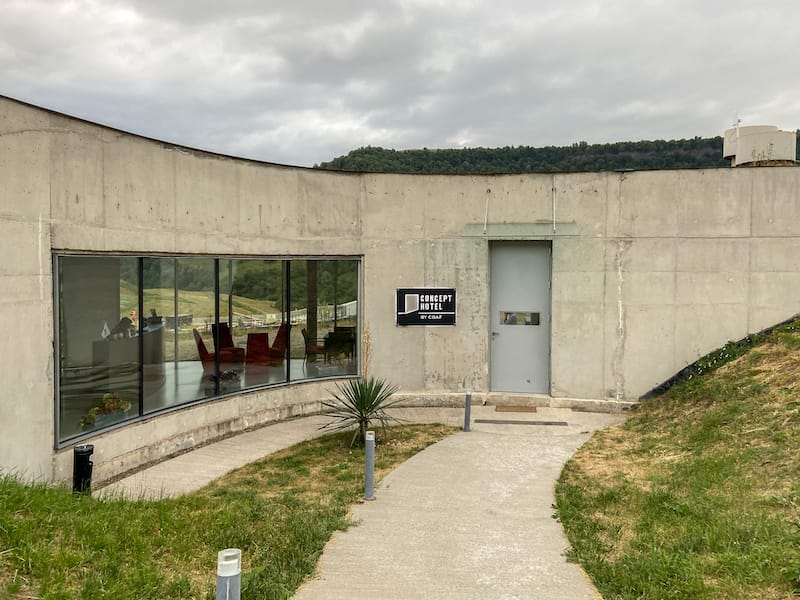 If getting an Armenian SIM card in Vanadzor, make sure you have your passport on you!
Alternatively, you can get a SIM card in Yerevan before you make your way to Vanadzor.
Taking a Taxi in Vanadzor
In Vanadzor, it is possible to download taxi apps like GG or Yandex and to get almost anywhere in the region for an affordable price.
The rates are fixed within the app, and it's very easy to use.
There are also local taxi companies that you can use by calling and ordering them. The locals can help if you opt to go this route.
We are listing taxi options here as public transportation, while working, is a bit of a challenge and does not always run on a regular schedule.
Opening Hours in Vanadzor
If you are a digital nomad and a freelancer and wake up at an early hour, you will be surprised to discover that Armenians won't wake up with you!
Armenia sleeps in and stays up late and many cafes and small shops won't open until 1000 or later.
Pharmacies and supermarkets can be open early and close late, however. You will find some that are even open 24/7.
Best Places for Digital Nomads in Vanadzor and the Debed Canyon
COAF Smart Center and Concept Hotel
For digital nomads who love to spend their days in an environment with gorgeous green nature and mountains but yet still stay in a developed and modern place, then the COAF Smart Center and Concept Hotel is for you!
The award-winning, futuristic building is located in Debed village, and aside from being an education center for kids in Lori, it is also home to one of the most creative (and modern) hotels in Armenia.
Called a "concept hotel," the lodge can be a desirable place for digital nomads to stay, work, embrace the surrounding nature, and more!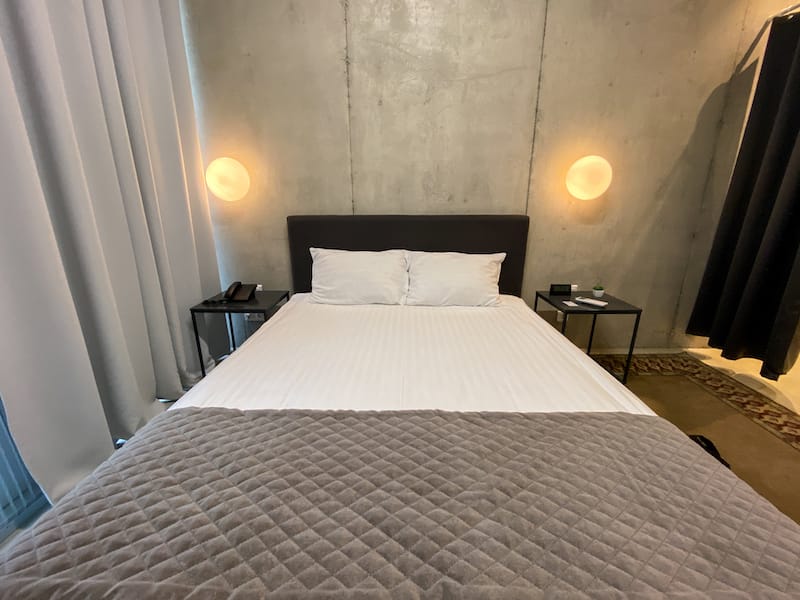 This minimalist-designed hotel offers fabulous rooms with a modern interior where you can find comfortable beds, working tables, a TV, fast WIFI, and a gorgeously designed bathroom.
But, most importantly (in our opinion!) is the massive door that takes you right outside to the terrace, which offers stellar views over the lush landscapes.
The COAF Concept Hotel is also a wonderful base to start hiking, biking, or just discovering the surrounding areas, including nearby Dsegh village.
>> Click here to book your stay at COAF's Concept Hotel
LOFT Vanadzor
If you plan to base yourself in one of the greenest cities in Armenia, Vanadzor, then you have a wonderful option for co-working if you're a freelancer!
You'll find LOFT Vanadzor close to the city's main square, and it is an exceptional place to be inspired and get some work done!
LOFT Vanadzor is a branch of Loft co-working spaces (they have other locations around the country) that is a very suitable option for the digital nomads coming to Armenia and a wonderful place to co-work, be part of the local community, exchange experiences, and more.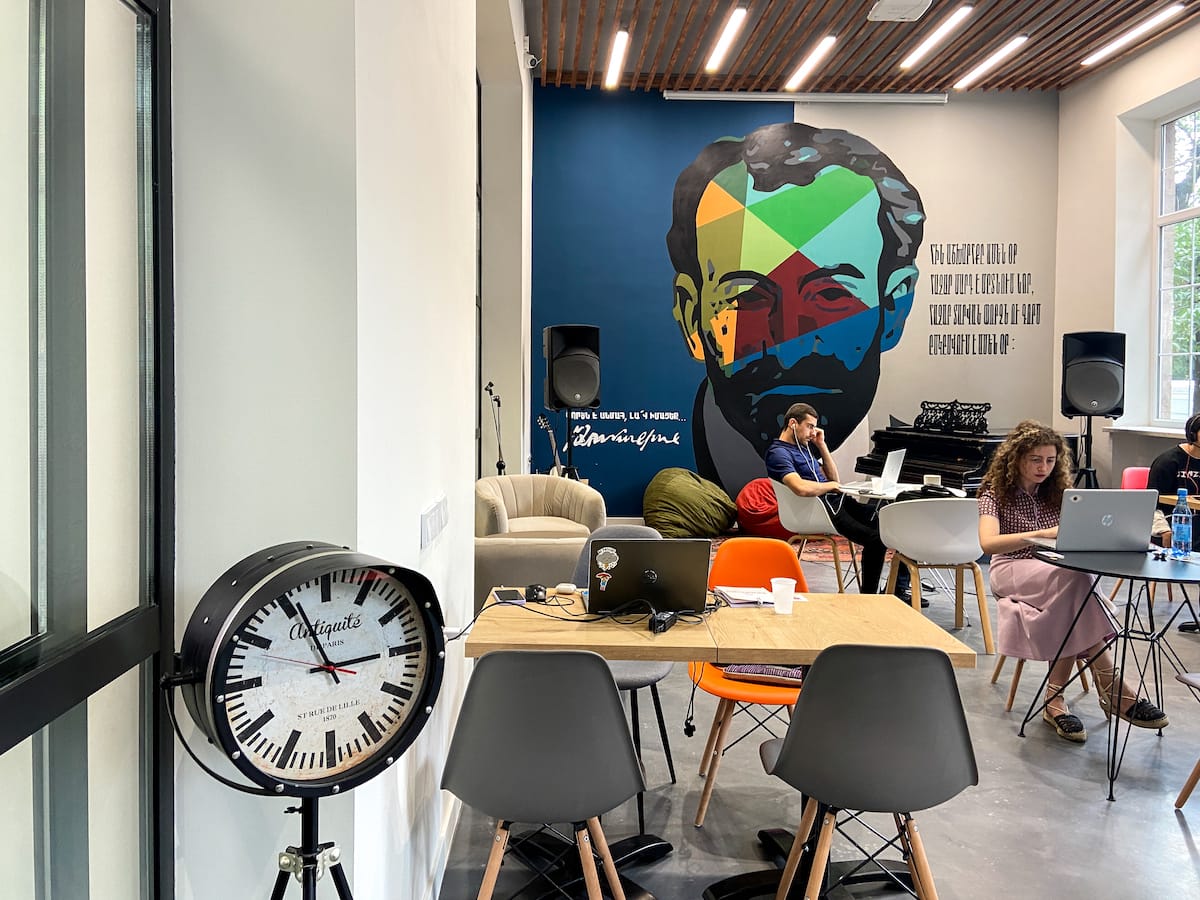 They offer a daily or monthly membership plan, and you can work from there all day long. There is a relaxing lounge if you are tired, a library, free tea and coffee, fast WiFi, a kitchen, and games.
Basing yourself in Vanadzor will allow nature lovers to take many day trips to different parts of the Debed Canyon to hike to historical sites, participate in many of the events that are happening in the region, and so much more!
Flying Samovar Restaurant by Noosh
Located in the small and charming town of Tumanyan in between Vanadzor and Alaverdi, Flying Samovar Restaurant is the one and only restaurant in the area, and it offers a lot more than just food!
Tumanyan town is an up-and-coming destination that is currently attracting digital nomads, creatives, and freelancers, and the town is in the process of creating an inspiring environment, including the Abastan Artists Community, which is located in the textile factory, and Flying Samovar Restaurant.
Flying Samovar Restaurant is located in a beautiful building constructed of tuff stone, which somewhat reminds you of Yerevan's architecture. But, instead of the landscapes being a lot of other constructions, it is mostly green mountains!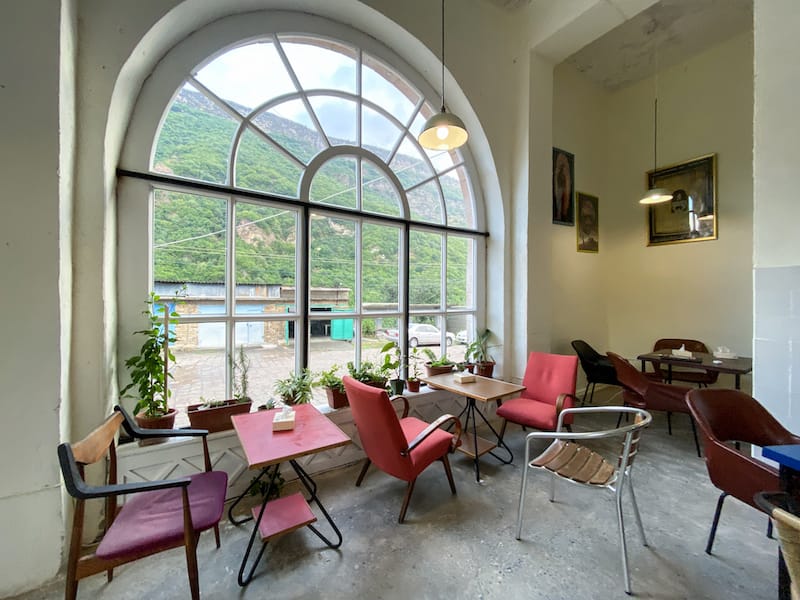 The concept of the restaurant is retro, and you can enjoy your cup of coffee surrounded by old Soviet posters, typewriters, clocks from the old Soviet clock factory in Yerevan, and more.
The venue has fast WIFI, comfortable tables, and lovely local staff, making it a fantastic place to work for the day (or for good). Tumanyan town is a burgeoning spot in the region, and it should definitely be on your radar!
B&B Odzun
Odzun village is easily one of the most beautiful villages in the Debed Canyon part of the Lori region. It is an ancient village where you will find the 5th-century, well-preserved Odzun Church.
With many lovely families-owned guest houses, Odzun can be a wonderful location for digital nomads because it has everything you need there, including comfortable lodging and historical sites, which are located right at the edge of the Debed Canyon.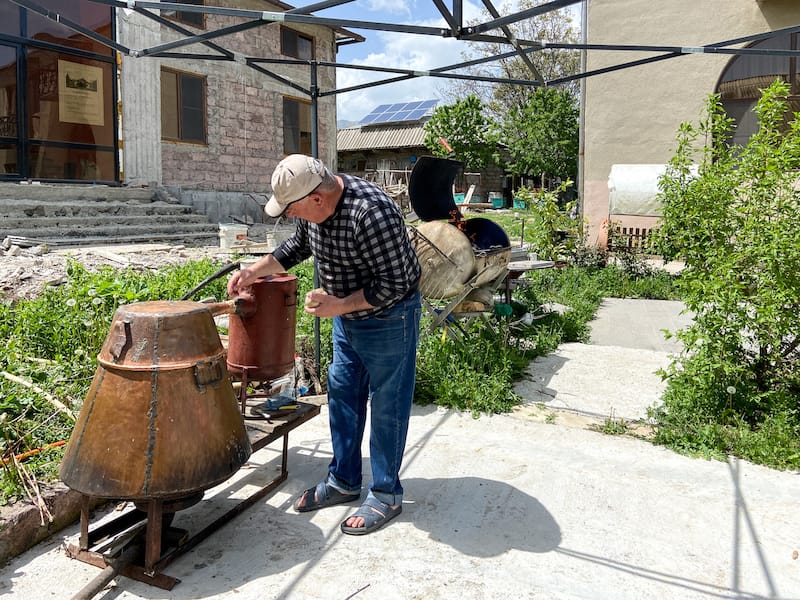 One of our favorite places to stay, work from, and just enjoy the area is family-owned B&B Odzun.
Here, you can stay in a comfortable room, co-work with good WIFI, eat eco-clean homemade village food, and admire the surrounding mountains and lush forests.
You're also never far from hiking trails or adventurous activities when visiting Odzun!
>> Click here to book your stay at B&B Odzun
Debed Life
Another option for a place to stay and get some work done in the Debed Canyon region is at Debed Life. 
This guesthouse and workcation home is a modern place that has rooms for guests (but not too many as it takes pride in the intimate and personal experience of it all!), a third-floor coworking area, and a staff that will prepare you mind-blowingly good meals throughout the day.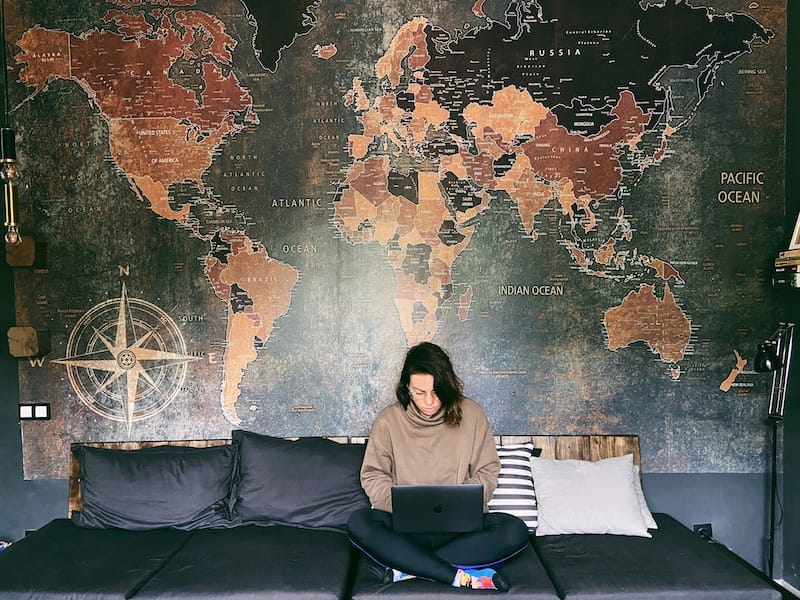 The WIFI is exceptionally fast for the area, and you'll be greeted by a property that will make you feel like part of the family, enticing you to stick around for a long time!
While the greenery is alluring to most visitors during the summer and shoulder seasons in Debed village, where Debed Life is located, it really is at its coziest during the winter months when the fireplace is on and you can grab a cup of tea while gazing out over the snowy, quiet Lori landscapes.
>> Click here to book your stay at Debed Life
MagHay B&B
MagHay B&B is one of the most popular family-owned guest houses in Vanadzor and it offers a cozy and relaxing environment for its guests.
Over the years, the guest house has hosted travelers and nomads from all around the world! The property has an amazing green garden with fast WIFI, a hammock, and several fruit trees.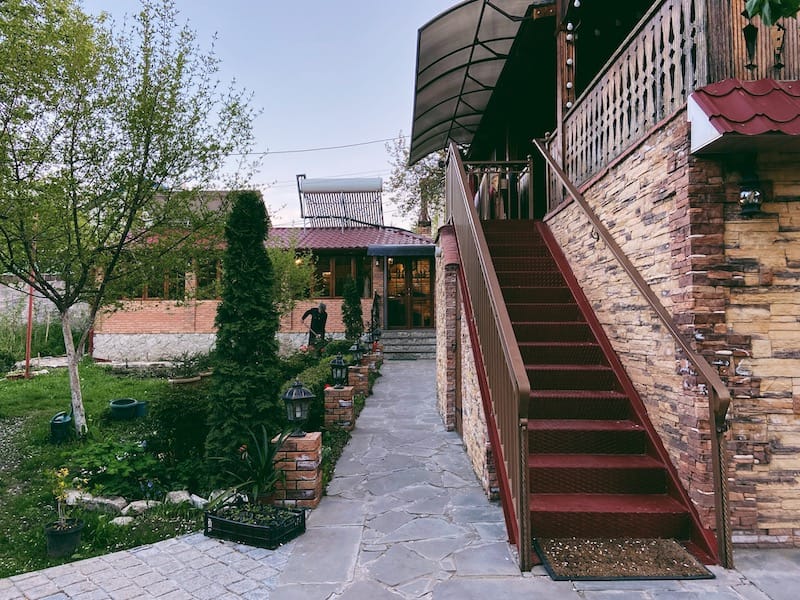 MagHay B&B also has comfortable rooms at affordable rates, and one of the best things about the guest house is its breakfast, which is delicious and made daily by owner Mariana using local ingredients.
Many travelers are making MagHay B&B a base to discover the Lori region, especially the Debed Canyon's historical and natural sights!
>> Click here to book your stay at MagHay B&B
TUC
Also known as the Tourism Unique Center, TUC is one of the few camping places in the area and it is located in beautiful Dsegh village, one of Lori's most famous villages.
TUC is part of an NGO aimed at developing Dsegh village and helping the local farmers sell their products. As a result, TUC uses local products to prepare the food at the campground.
For camping enthusiasts, the TUC is a great place to experience the outdoors while still being in the village but not far from Debed Canyon.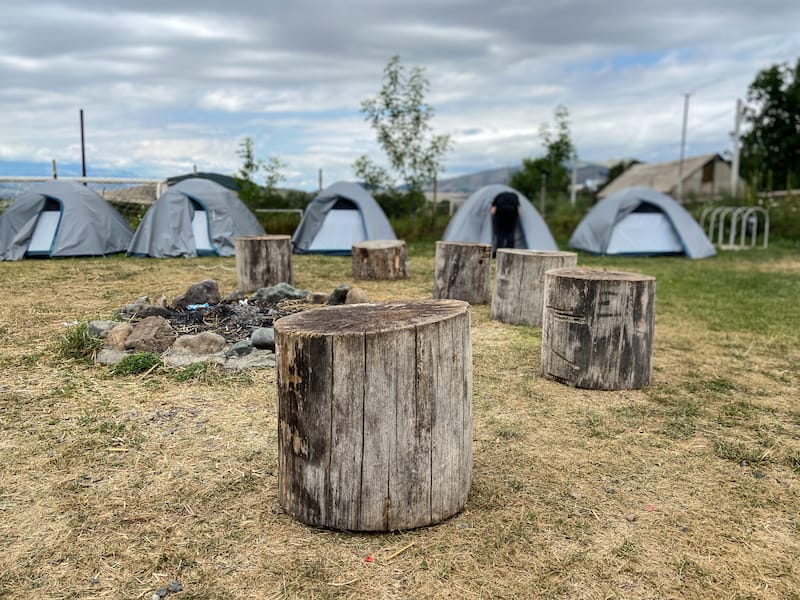 Dsegh is home to the mesmerizing and mysterious ruins of Surb Grigor Bardzrakash Monastery, beautiful Tsover Lake, and many other historical and natural monuments.
For digital nomads, TUC has a campground where you can come with your own tent or you can rent one on the spot.
The area has a big open-air dining space with WIFI and a campfire.
>> Click here to book your stay at TUC in Dsegh
Did we miss anything you'd like to know about being a digital nomad in Vanadzor and the Debed Canyon? Let us know in the comments!
**Our trip to the Debed Canyon was part of the "Lori, Your Next Destination" project by Visit Debed Canyon (co-funded by GIZ and COAF). All opinions are our own.
More Debed Canyon Travel Guides