If there is one thing that the Debed Canyon does remarkably well, it is scenery. These are the best viewpoints and photogenic places on the Debed Canyon!
We have traveled along the Debed Canyon countless times and we can not tell you how many times we have stopped to take photos in random spots because it made our jaws drop!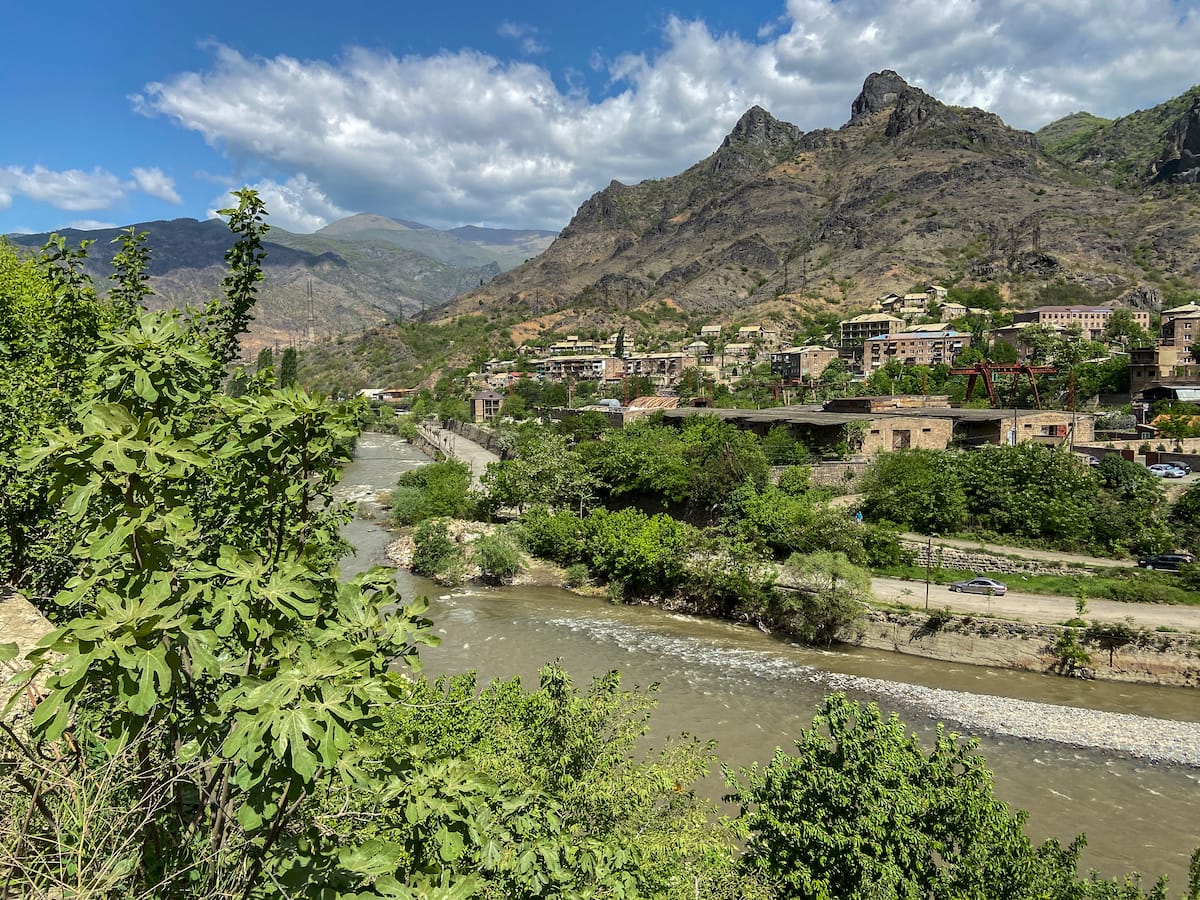 This guide will highlight many of those places and Debed Canyon viewpoints that are (pretty) easy to reach and will provide you with scenery that you'll remember for years!
Some are monasteries, some are viewpoints, and others are just incredibly photogenic spots along the Canyon!
Did we miss any of the most photogenic places to visit near the Debed Canyon? Let us know in the comments. Thanks!
Debed Canyon Overlooks + Photo Spots Map
To add this map to your Google Maps account, click the 'Star' icon next to the map name. You can then view it on your cell phone or computer by heading to your Google Maps account, click the menu and add it to 'Your Places'.
Debed Canyon Viewpoints & Photo Spots
Giqor Trail in Dsegh
In one of the most popular and picturesque villages in the Lori region, Dsegh, I finally hiked to one of the most sacred historical sites in Lori (and northern Armenia) along HIKEArmenia's Giqor Trail.
My exciting hike started from one of the edges of the Debed Canyon and was fairly easy as there were many stopping points for photos along the way (and not a challenging elevation gain).
As you begin the hike, you will have a great overlook of the canyon and surrounding areas.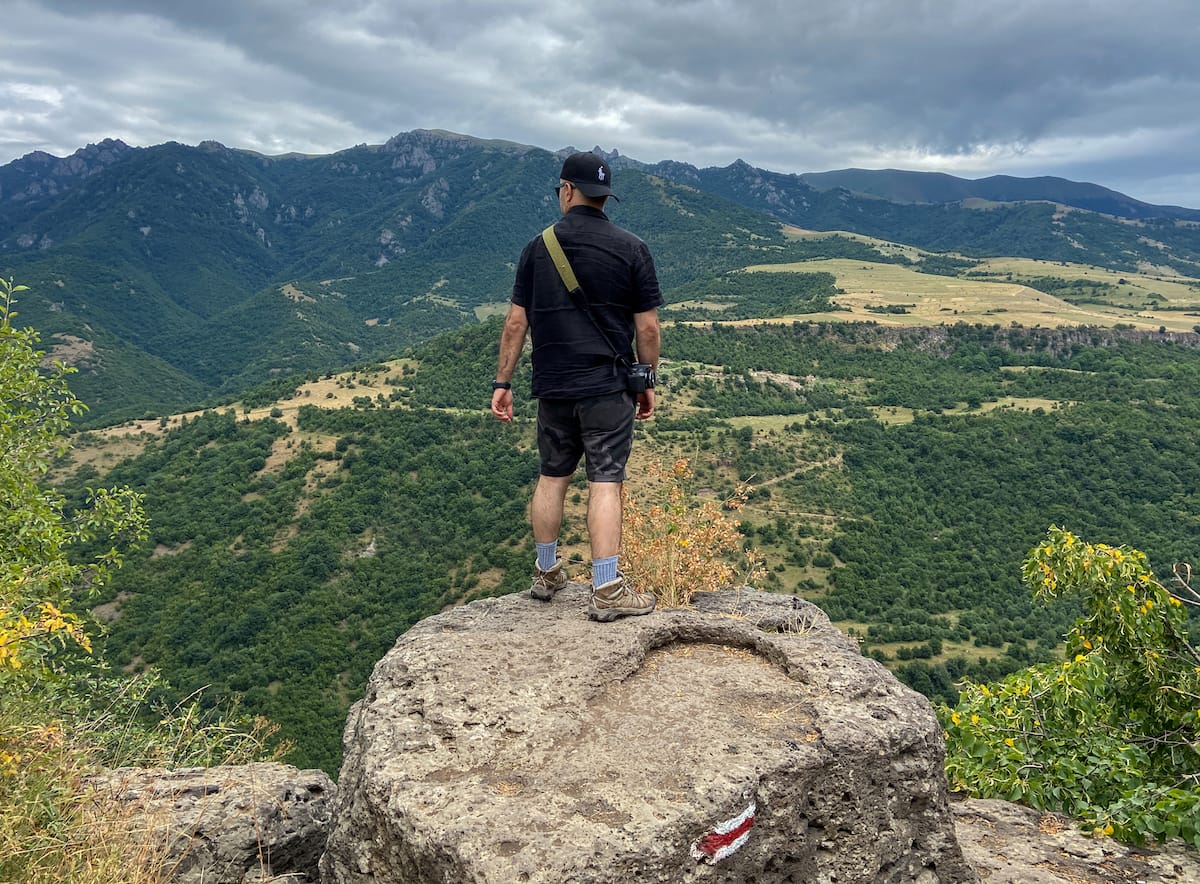 The trail leads hikers to the mysterious 10th-century St. Gregory Bardzrakash Monastery ruins, which is another top spot for photographers as the ruins have become one with nature over the centuries.
The trail is not crowded and you can enjoy the magic of the historical spot in (mostly) solitude. The monastery was dedicated to St. Gregory the Illuminator and is currently on the World Monuments Watch List.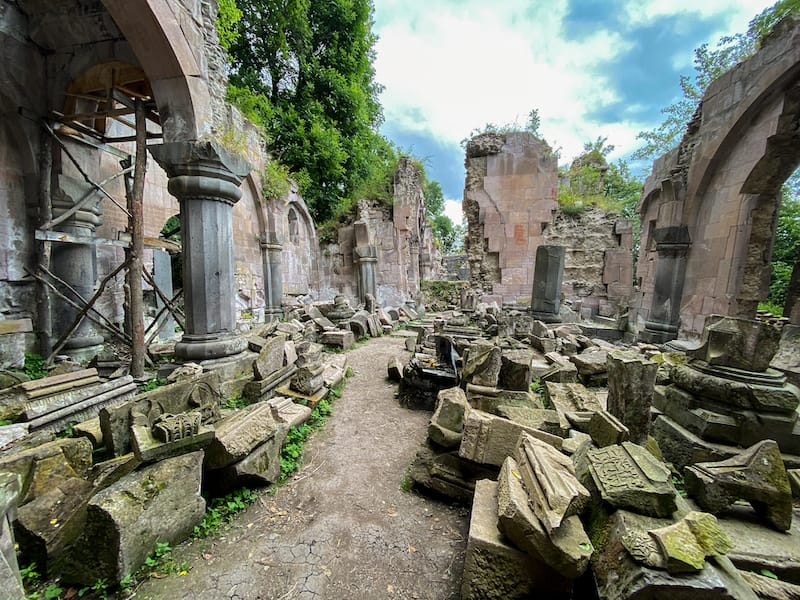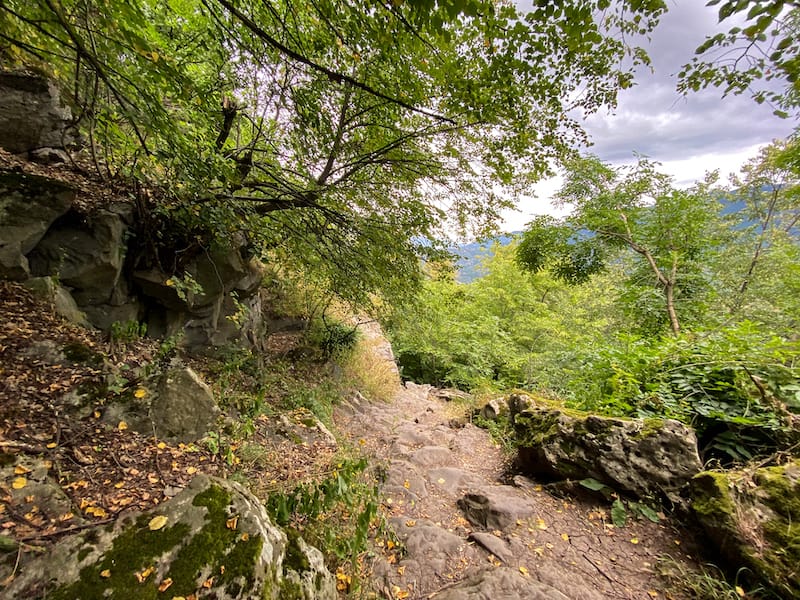 The Giqor Trail is 3.9 kilometers and is an out-and-back, but it leaves you the opportunity to join up with the Dsegh Loop Trail hike which gives you a different route back to Dsegh.
Along the way, you can check out lush nature, drink from mountain water sources, and find medieval khachkars. Check out HIKEArmenia for more trail information.
Akhtala Fortress & Monastery
Akhtala Monastery is one of the most notable places to visit in Northern Armenia and should be on every itinerary (especially if coming as a day trip from Tbilisi)!
The 10th-century monastery is located in the village of the same name and is situated closer to Tbilisi than it is Yerevan. Having once served as a fortress as well, the landmark once known as Pghindzavank is one of the best-preserved fortresses in modern Armenia.
And, it is most definitely one of the most photogenic places in Lori!
The main building inside of the large complex is the Holy Mother of God Church (Surb Astvatsatsin) and while there is no date confirmed regarding its origins, they believe it was built sometime between the 11-13th centuries.
Akhtala Fortress and Monastery is free to visit and is often included on Sanahin and Haghpat tours.
If you get there earlier in the day, you will have the place (almost) all to yourself and it allows for some pretty epic photography.
Ardvi Village
A favorite village of ours is Ardvi along the Debed Canyon.
And, one of the most famous sites in Ardvi is the Surb Hovhannes Monastery – it truly is one of the most picturesque places in Armenia if you visit at the right time of the year when the flowers are in bloom!
This Ardvi landmark was named after Hovhannes Imastaser and pieces of the religious complex date back to the 8th century (while most date back to the 17th century).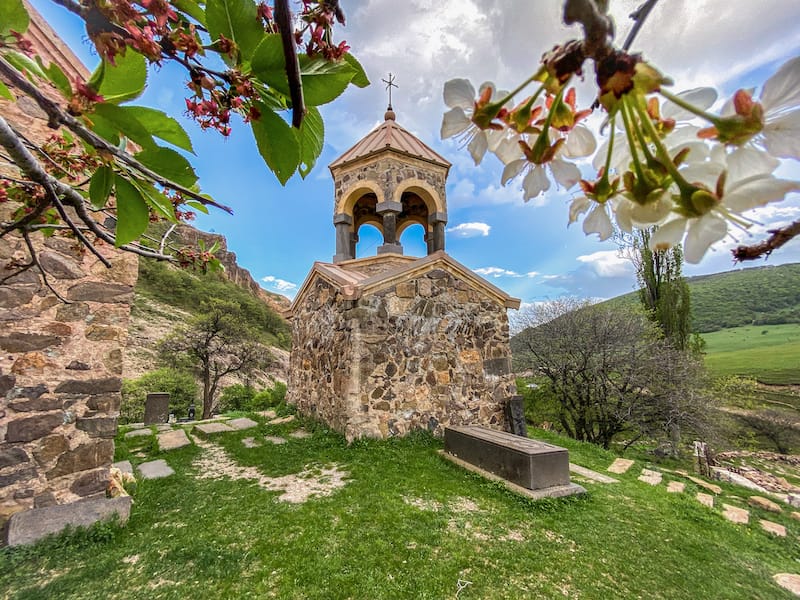 It has gorgeous trees surrounding it as well as khachkars on many sides. You'll find the place around 50 meters above the village (there is only one road so you can't miss it) and it has multiple structures and buildings there.
Another cool thing about the Surb Hovhannes Monastery is that some of The Color of Pomegranates by Parajanov were filmed there!
From the monastery, you will have a view over the entire village. You can see the Odzi Port from there (Snake's Bellybutton where there are healing waters).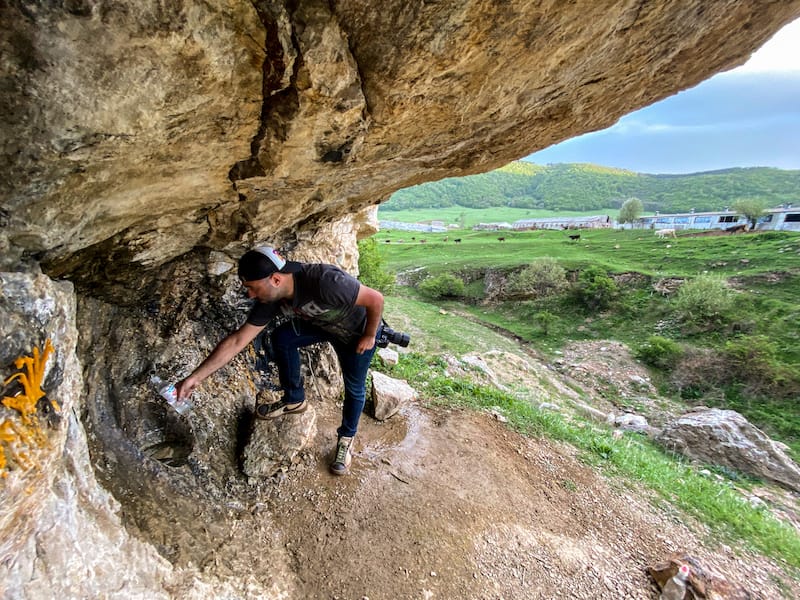 Other things you can do in Ardvi are to check out the red church (so photogenic at golden hour in the evenings – trust us on this!) and go horseback riding.
Dsegh Glamping Spots
Right before the entrance of Dsegh village, there are two picturesque glamping areas on the slopes of a nearby hill.
The Cosmo Glamping and WOW Glamping areas are yet two more wonderful viewpoints to photograph the otherworldly nature and landscape of Debed Canyon.
And, you can stay there and wake up to the views before everyone else gets to set eyes on them!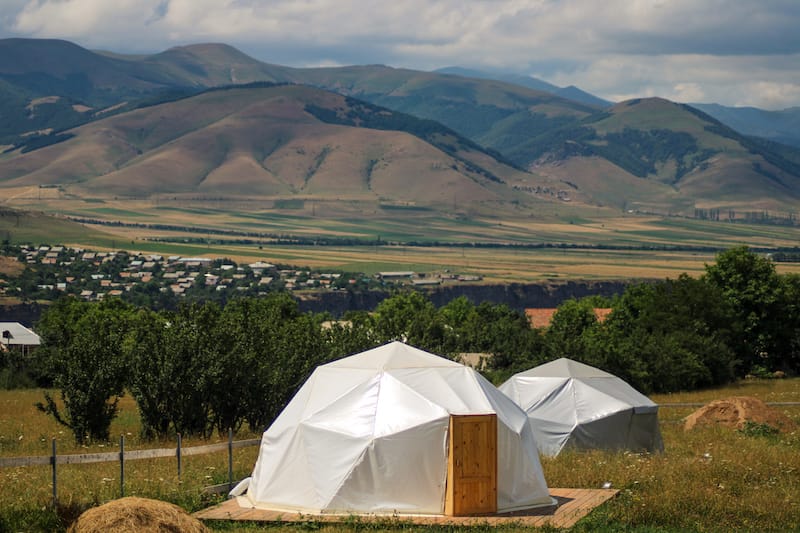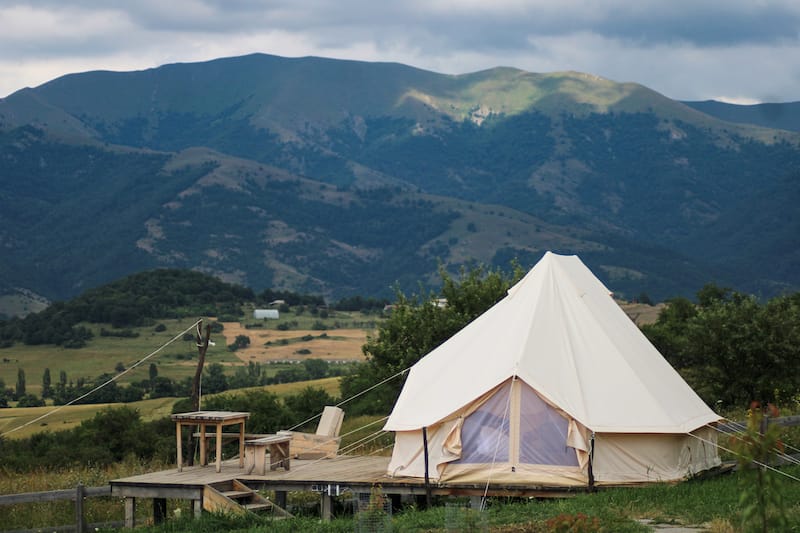 I strongly recommend visiting (and staying at!) these places if you want to reconnect with nature, find a quiet place to detox yourself, and, of course, photograph some of Lori's most iconic views.
The road to the glamping area is unpaved but drivable. We think this might be one of the most gorgeous breakfast spots in all of Armenia!
Click here to see WOW Glamping's Facebook page and click here to check out Cosmo Glamping's Facebook page.
Sanahin Bridge
Dating back to 1195, you will find the beautiful Sanahin Bridge in the town of Alaverdi. It is a must for any Armenia itinerary!
This bridge is idyllic and crosses over the Debed River and is truly one of the most important architectural constructions of medieval times in Armenia. And, it is a photographer's dream!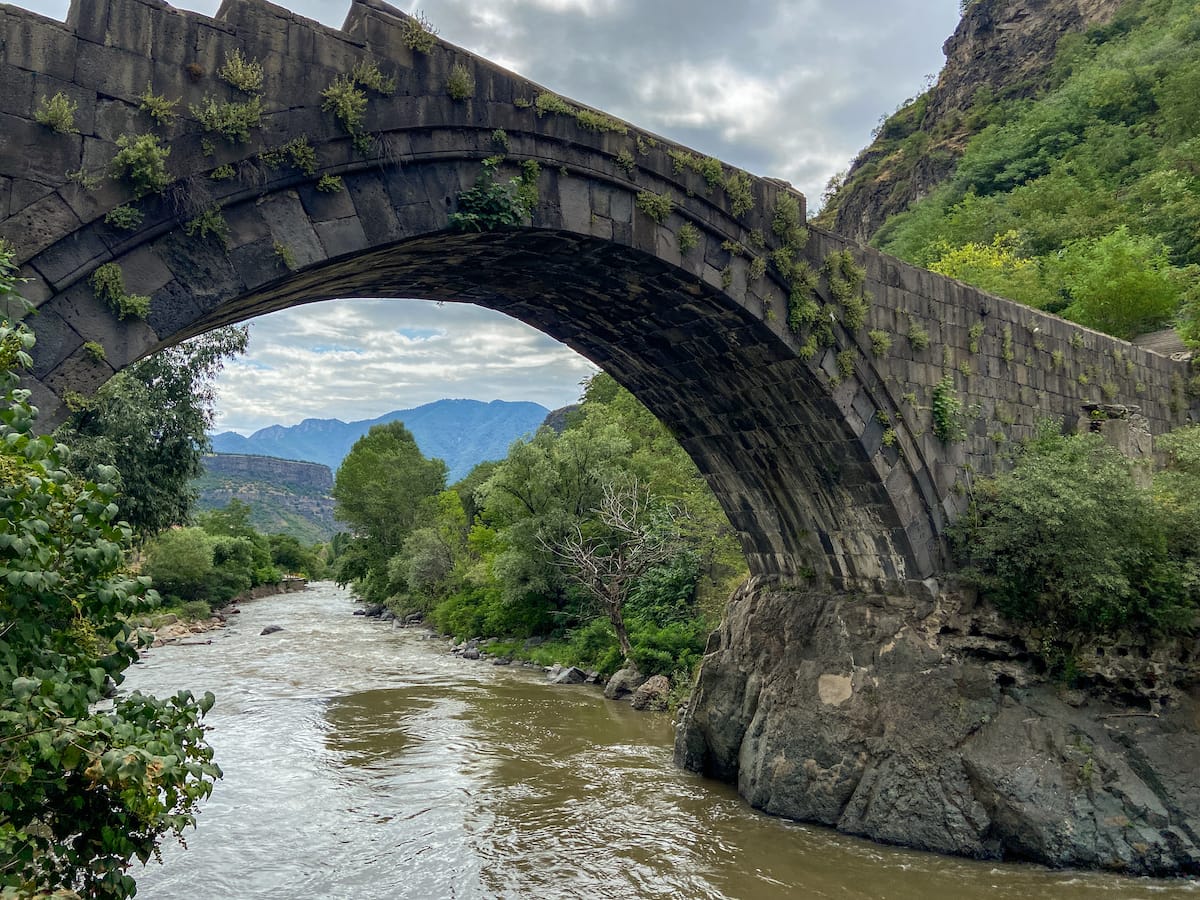 Built with basalt stones, the bridge is 18.6 meters long and 3.3 meters wide in its middle. It was built to commemorate the late husband of Queen Vaneni.
It has undergone renovations throughout history (notably throughout the 19-20th centuries) and is definitely a great stop when visiting Alaverdi. It is amazing to capture from on top of it as well as any angle from its sides.
Lori Berd
Lori Berd (Lori Fortress) is situated a mere 40 minutes from Vanadzor and is a worthwhile trip when visiting the Debed Canyon, especially for those looking to capture a fortress sitting next to the dramatic canyon.
The 11th-century structure sits right on the edge of the gorge and it became the capital of the Kingdom of Tashir-Dzoraget in 1065. It is one of the most important historical landmarks in the Lori region!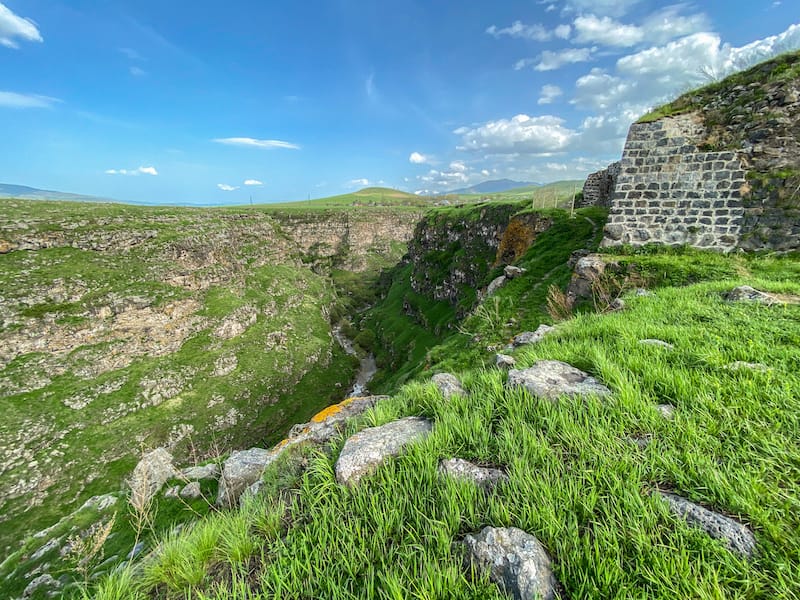 When you're visiting Lori Berd, you will need to pay an entrance fee (650 AMD for locals, 1300 AMD for foreigners, and 80 AMD for students… prices subject to change slightly).
Be sure to walk around the outside of it and take in the views!
Odzun Village
Odzun has it all. It is one of the larger villages in Armenia and you can find delicious food, hospitable lodging, and beautiful views of the Debed Canyon all in this one village!
One of the main Debed Canyon landmarks here is the Horomayr Monastery. It is located 1km south of Odzun and this monastery has two parts – one on top of the cliff and another hugging the side of the gorge. It truly is mind-blowing!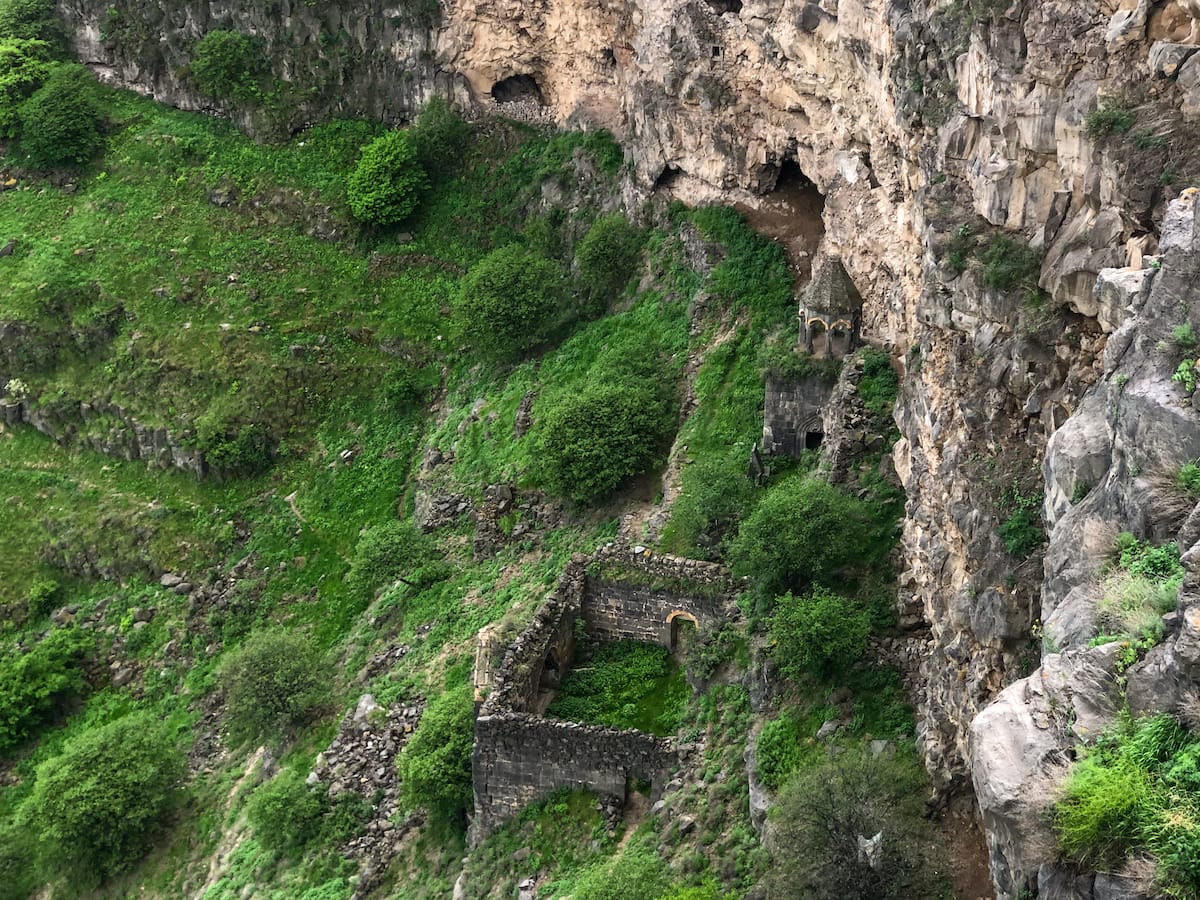 To reach this historic monastery's part that is inside of the canyon, you will need to hike. You can climb up from the highway that runs along the Debed River or, alternatively, you can hike south across the cliffs from where the last switchback is located going to Odzun.
If adventurous and skilled, you can actually climb from where the other part of the monastery is located, but we don't advise it.
Once you arrive at the part located in the gorge, you will discover an overgrown, 3-chambered chapel. Within it, there are carvings and khachkars. The church was built in 1187 and the other buildings there date back to 1206.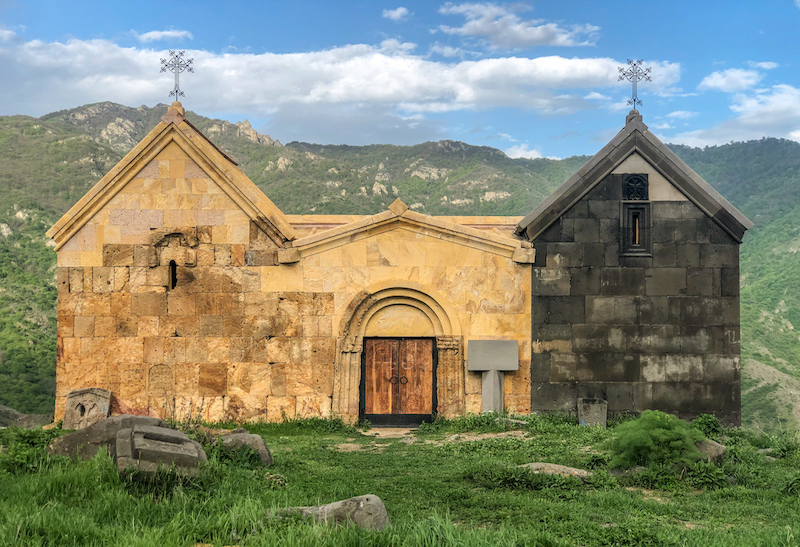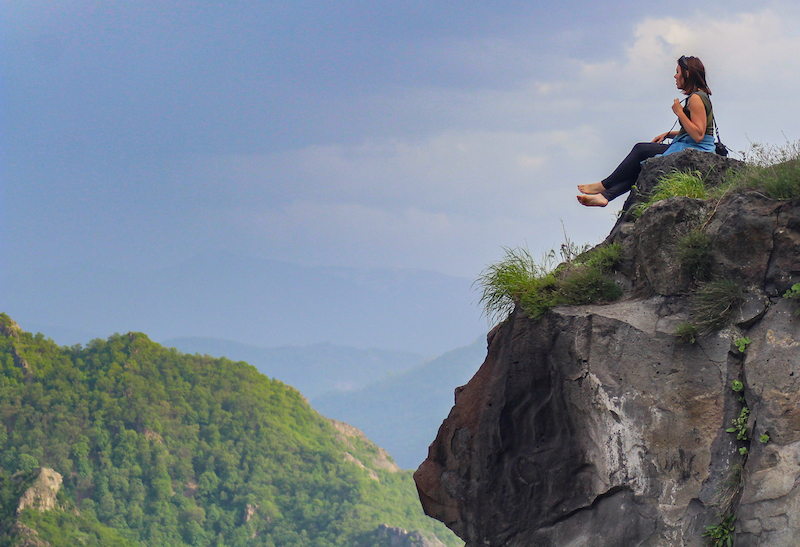 If you don't feel brave enough to head to the monastery on foot, don't worry… you can photograph it from above pretty easily (with a zoom lens).
The canyon runs along the entire village of Odzun and you can find viewpoints everywhere there. The Odzun Church is also pretty photogenic in its own right!
Kamakatar
Vanadzor is known as one of the greenest cities in Armenia as it is nestled in between picturesque mountains and many forests. It has always been a spa resort area and has many high-altitude historical monuments and sanatoriums… all with amazing viewpoints!
One of the places I notably visited is the Kamakatar Chapel located right at the entrance of Vanadzor city coming from Spitak town.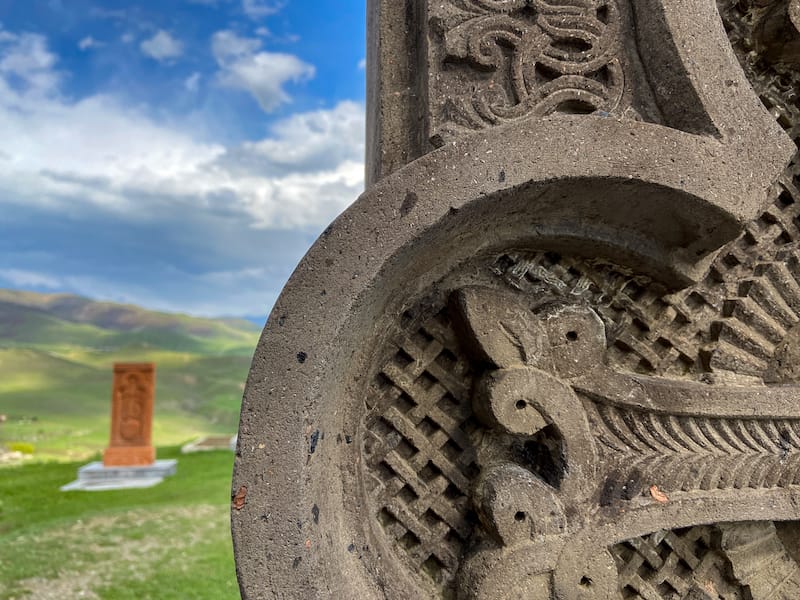 Kamakatar means "Wishmaker" in Armenian and it is located on the top of a hill from where it is possible to see Vanadzor engulfed by the majestic mountains around it.
To reach Kamakatar, you need to take a taxi from Vanadzor (if you don't have your own vehicle) which will cost about 1300 AMD (one-way). Alternatively, you can hike there but it will take about 2.5 hours one-way.
Arevatsag Canyon
Debed Canyon has numerous mind-blowing viewpoints and one of them is Arevatsag Canyon, a place that is often compared to tropical places in Southeast Asia with its dramatic rocks coming out of the water!
Arevatsag Canyon means the "Canyon of Sunrise" when translated from Armenian and it has to be on your photography bucket list when you're visiting the Debed Canyon and Lori region!
It was always on mine so I was pretty stoked to finally hike to it from above!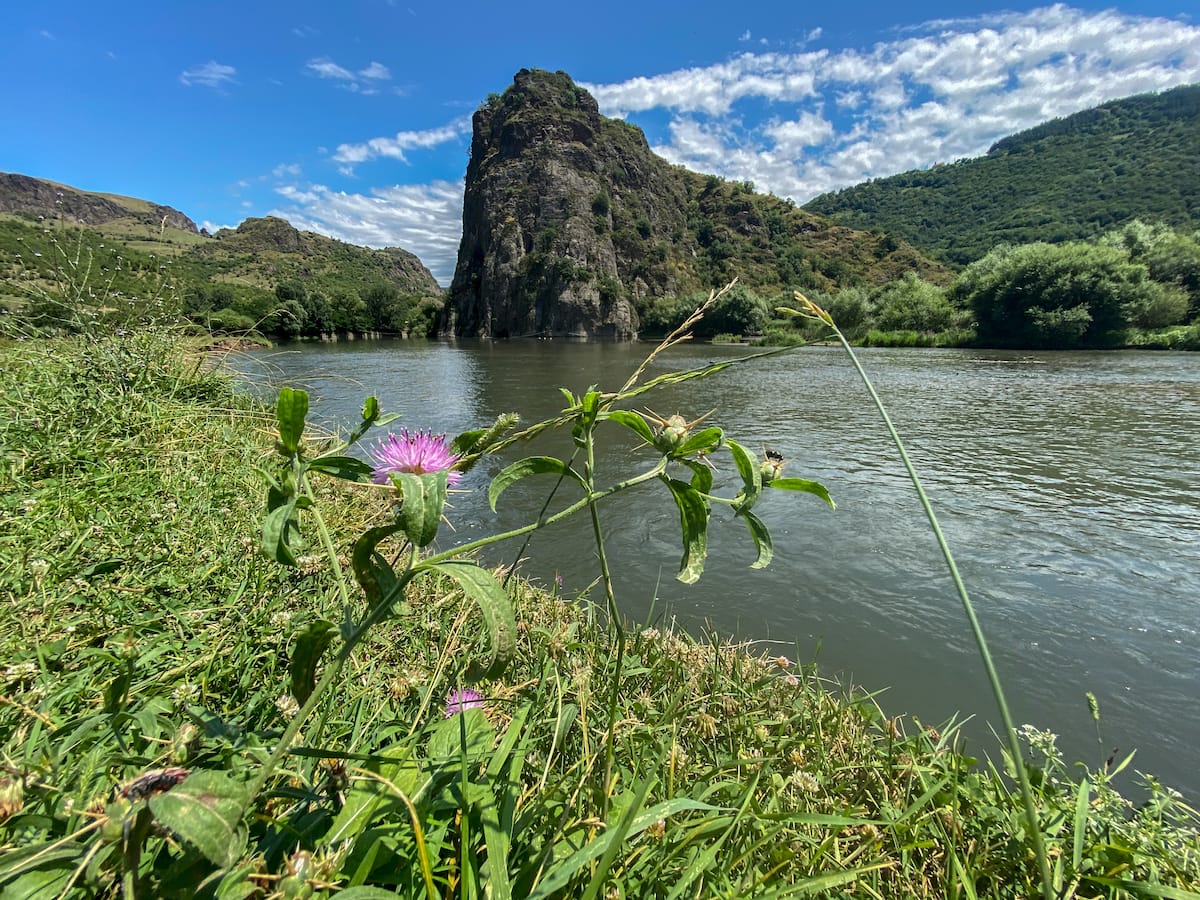 The area's nature is so stunning that you'll undoubtedly need to stop and photograph… so take your time here! You'll see the iconic rock (called Tsitsqar) alongside churches and fortress ruins, the Dzoraget River, and much more.
The hike from the top takes approximately one hour (each way) and as I reached my final destination, I had the opportunity to photograph Arevatsag Canyon in its full beauty!
The location is also perfect for campers because the sunrise will be something you'll remember for the rest of your life. The trailhead and overlook of the village is at 40.9705261, 44.6128520.
Hnevank Monastery (via Arevatsag)
Located approximately 3 kilometers away from Arevatsag Canyon in nearby Kurtan Gorge is the stunning 10th-century Hnevank Monastery.
While it may not be part of the Debed Canyon per se, we recommend hiking there from a part of the Debed Canyon instead of driving up to it, so we felt like it needed to be on our list!
After reaching Arevatsag Canyon from below, we definitely think you should take a left on the road and hike for approximately an hour where you can cross the Dzoraget River to Hnevank.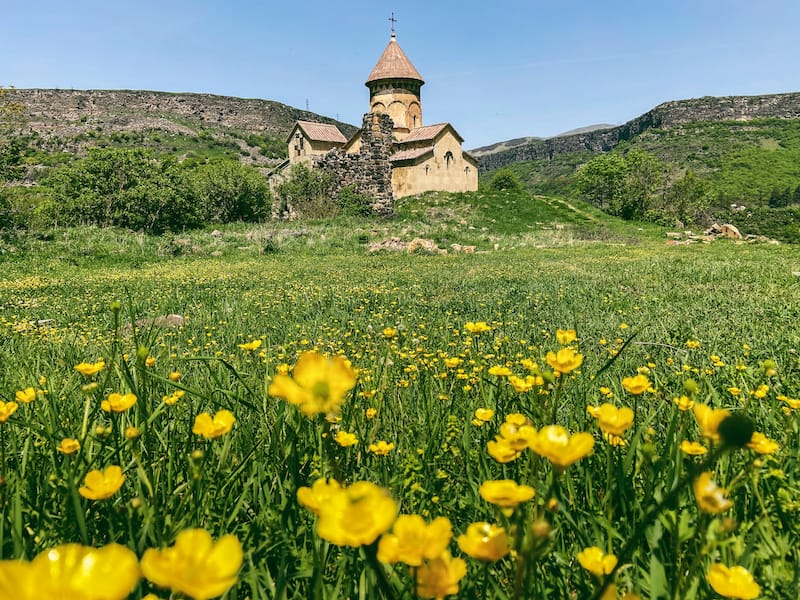 You can hike along and see eagles flying overhead as well as views pretty much the entire way. But, our favorite views are from above the monastery where you can see for days!
If you are unable to hike this route from the Debed Canyon, you can also reach Hnevank Monastery from the town of Stepanavan by highlander.
Mendz Er Cave Complex
One of the coolest places to visit near Alaverdi is Mendz Er Cave Complex. Not only does it have some of the best views in the north, but it also contains a restaurant, museum, and a masterclass facility.
You can spend all day there! Mendz Er actually means 'Big Cave' in Armenian and it is situated above Alaverdi (and offers stellar views of the region)!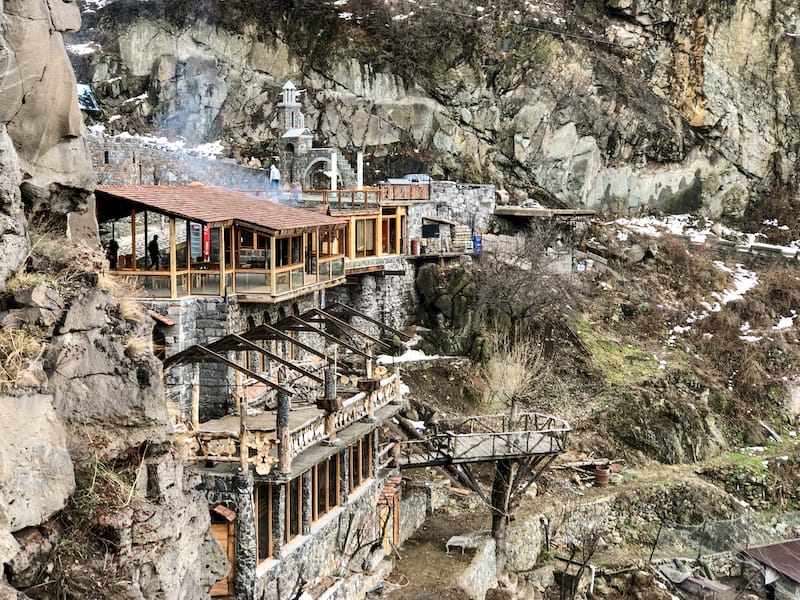 The area was formerly a goat barn and the project started when Vahe and Vache (brothers) decided to dig a cave in order to create a restaurant and museum.
During this adventure, they stumbled upon a cave that was more than 300 meters long and goes deep into the mountains all the way to a place near Sanahin Monastery.
Today, you can visit the restaurant and enjoy some unique dishes like Egh u Jil (Armenian fondue) while you gaze over the gorge. Check out their Facebook page for more info!
Kobayr Monastery
Another historical attraction along the Debed Canyon is Kobayr Monastery, a 12th-century monastery that currently lies in ruins close to the main highway near Tumanyan town.
It has become famous in recent years as it doesn't garner the tourism numbers of nearby monasteries Sanahin and Haghpat and requires a hike to get to, making the trip rather cool! And the views are simply EPIC.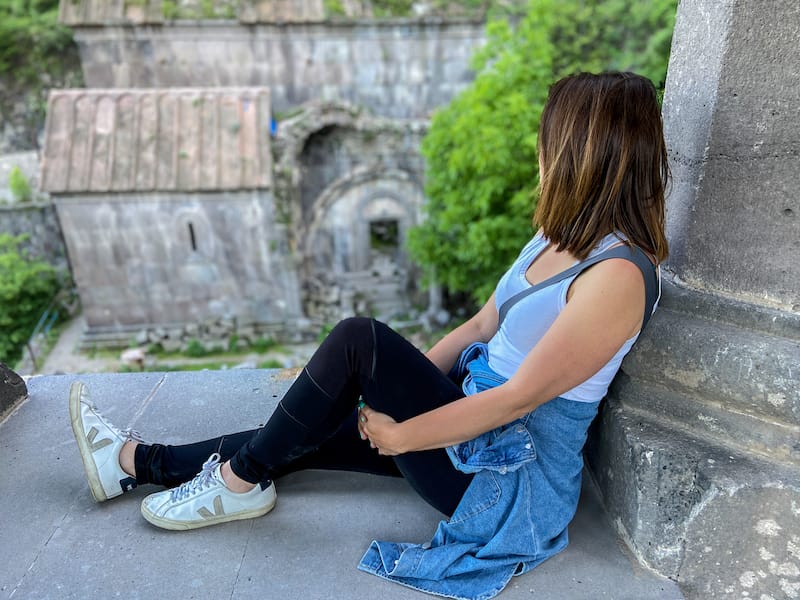 I have always seen scaffolds there but it is still worth the short hike to! You'll find both Georgian and Armenian inscriptions on the church and if you go to its bell tower, you will be greeted with some insanely beautiful views!
Kobayr Monastery is truly one our my favorite locations in Northern Armenia.
Exerni Hushardzan Overlook
On the way up from Debed village to Dsegh village, there is a viewpoint called Exerni Hushardzan (Genocide Memorial) that I visited with Megan.
The Debed Canyon viewpoint looks out to the high mountains of Lori and can be an amazing photography point.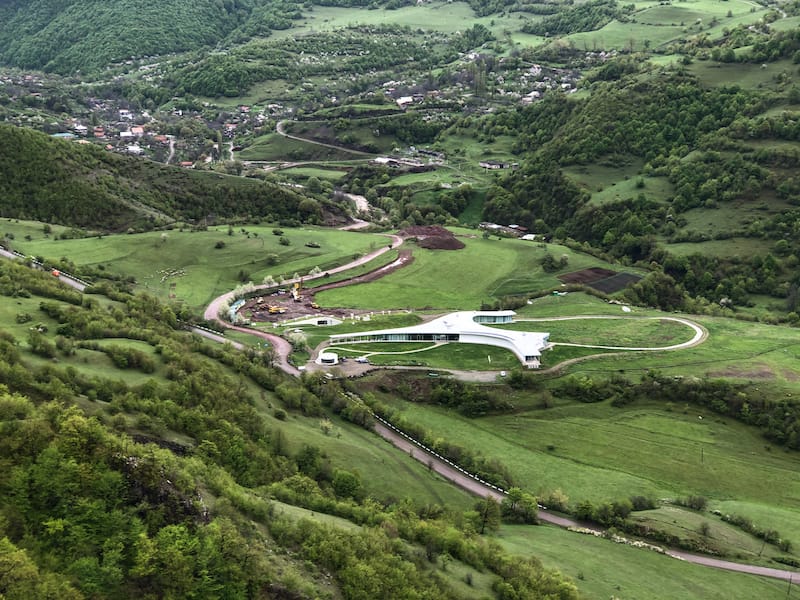 The area used to be very famous during the Soviet era which is why is possible to see umbrella tables remaining right on the edge of the cliff! It is a throwback view for locals of the area!
From the edge of the cliff, it is possible to observe a lush, green landscape that includes COAF Smart Center's beautiful and modern building!
**Our trip to the Debed Canyon was part of the "Lori, Your Next Destination" project by Visit Debed Canyon (co-funded by GIZ and COAF). All opinions are our own.
More Debed Canyon Travel Guides
Pin this Debed Canyon Photography Guide