Nature and mountains are something that Armenia does exceptionally well and there is no better way to enjoy them than sleeping under the stars!
This is a Debed Canyon camping and glamping guide – detailing our favorite spots for both as well as a plethora of tips to help you plan your wilderness adventure!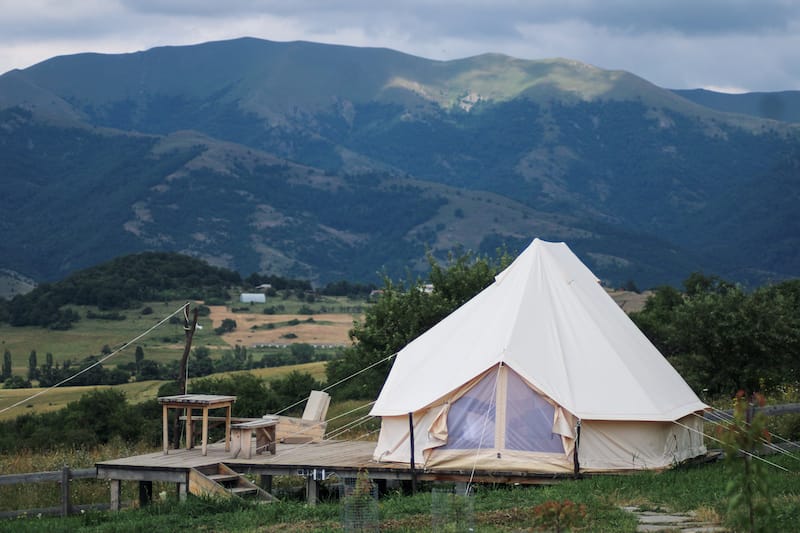 The guide will also detail how to rent equipment for your stay, where to purchase food, some flora/fauna information, and more.
Did we miss anything you'd like to know about glamping and camping in the Debed Canyon? Let us know below! Thanks!
What to Know About Camping in the Debed Canyon
One of the best ways to experience the beautiful nature of the Debed Canyon is to go camping!
While there is not an overabundance of dedicated campgrounds in Northern Armenia, you can actually wild camp if you do so responsibly.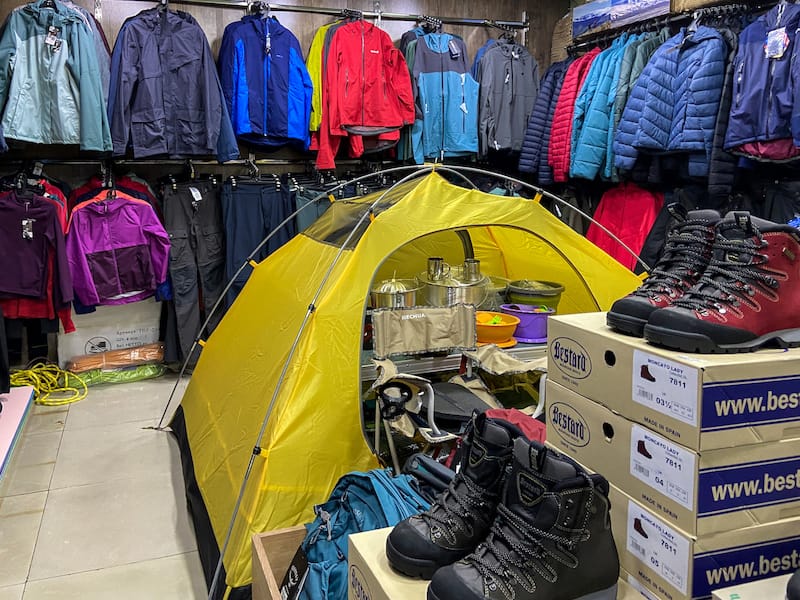 But, we encourage you to check out the sites we do list in this article a bit further down as they will have amenities to make your stay more comfortable!
The best time to go camping in the Debed Canyon is during summer, naturally. But, we also think shoulder season is a fantastic time (although opt for May instead of March and September instead of November)!
One thing to note is that if you're looking for places to stock up on food in the region, bring cash! There are ATMs in Vanadzor and Alaverdi, but not much in between.
When to Go Camping in Armenia
As a whole, Armenia is fantastic for camping in the summer but if you're not in the mountains, it will get HOT. So, we recommend camping at higher altitudes in the summer months.
If you're somewhere that is a bit closer to sea level, try camping in autumn or spring! Just double-check the weather during shoulder season to make sure winter has left (or not set in!) yet.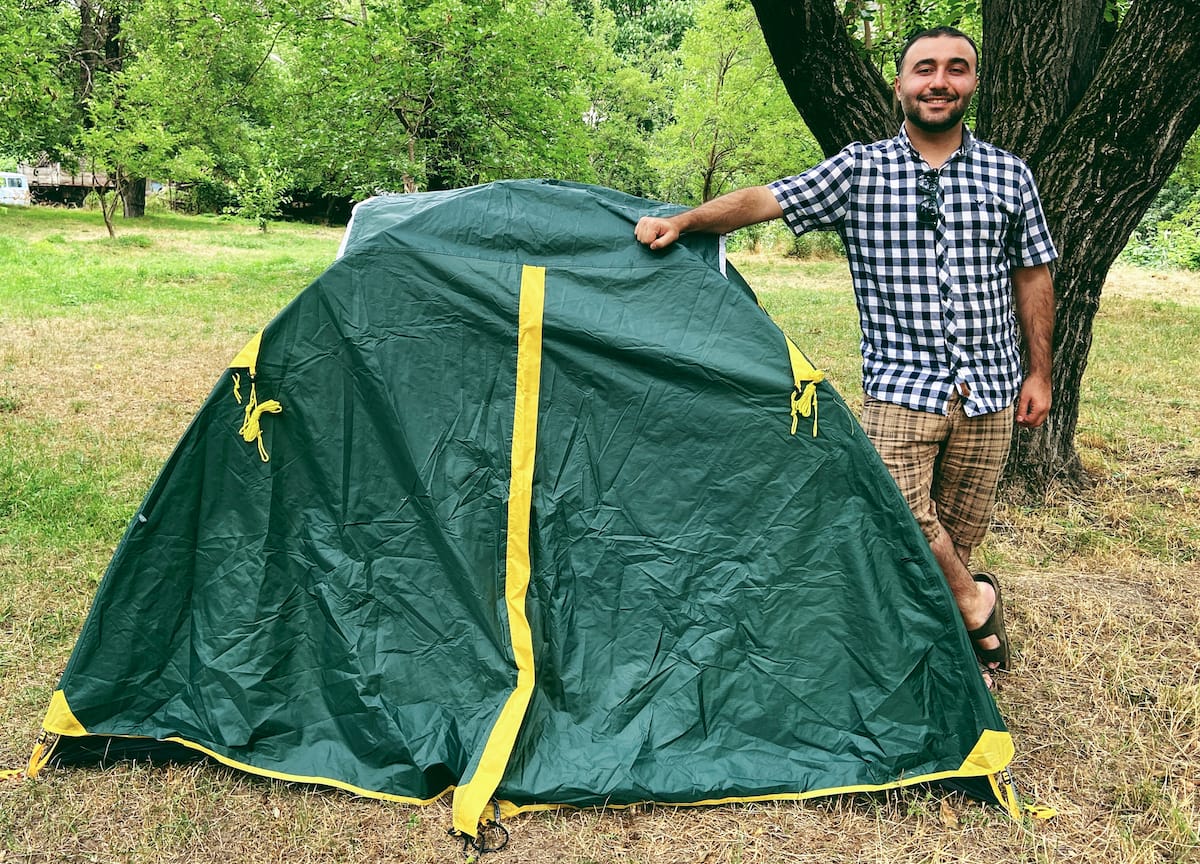 During the winter months, camping is not going to be as pleasant as Armenia gets extremely cold. Perhaps opt for a glamping experience in Dsegh instead (we discuss below).
Can You Wild Camp in Armenia?
Armenia is a bit grey about this, to be honest. I have never seen rules written one way or another there but you can go wild camping in Armenia if you're responsible when doing it.
Just be sure not to set up a tent on someone's property and make sure that it is far enough away from roads and never, ever leave a trace behind.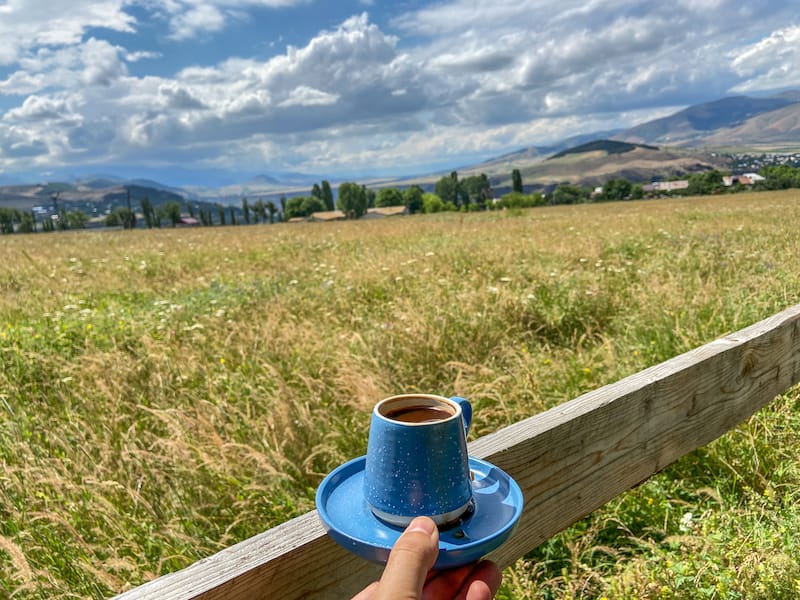 Armenia has stray dogs so be cautious with leaving food out around your campsite.
And, also be careful when starting fires (particularly in this region in summer as it is heavily forested and sometimes the country can be put under a wildfire watch).
What to Know About Glamping in the Debed Canyon
Glamping is up-and-coming in Armenia and new places are starting to pop up all around the country! But, Dsegh village is probably most famous for it and we highly recommend heading there to experience it for yourself!
There are currently two notable places to go glamping in the Debed Canyon and both are mentioned in this guide (Cosmo Glamping and WOW Glamping).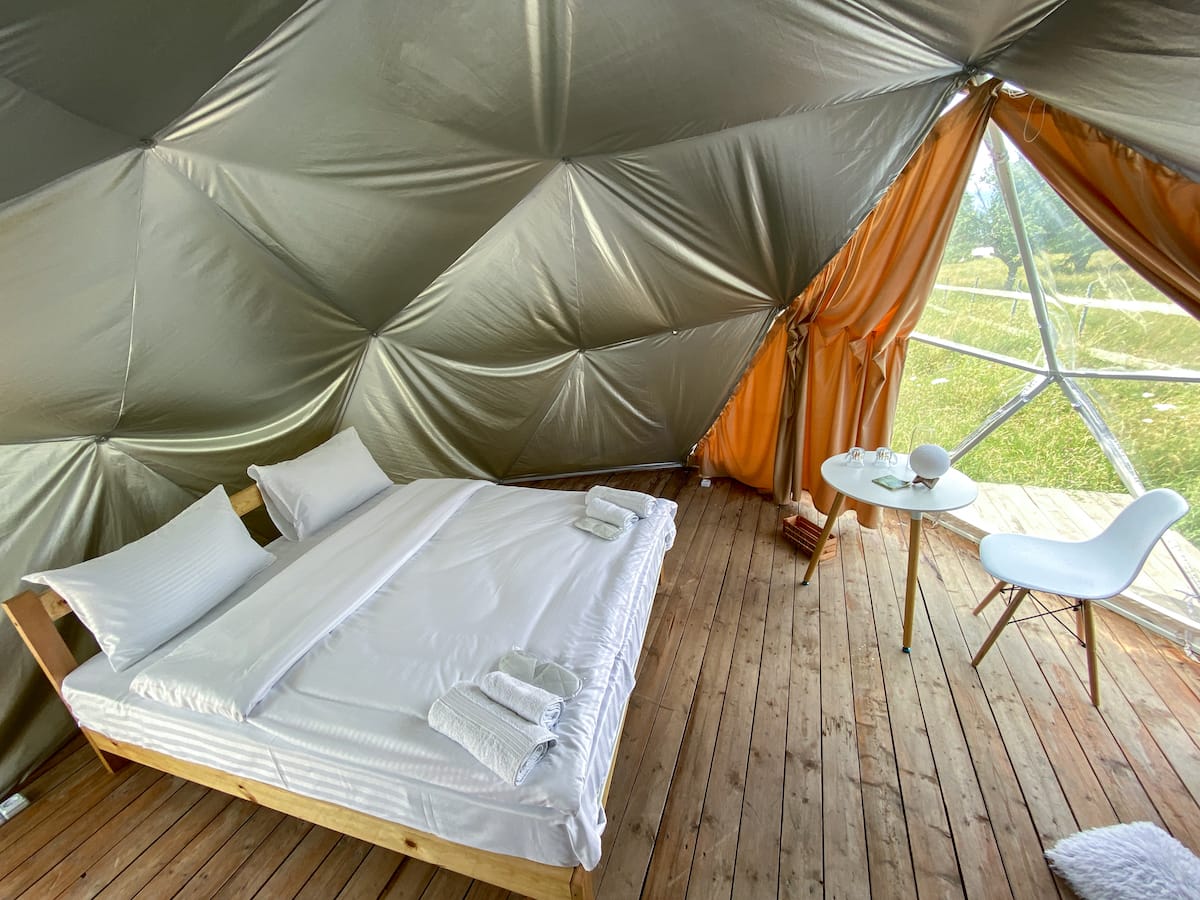 One great thing about glamping in Armenia is that the places have heating and air-conditioning (usually) which means you can go at any time of the year, unlike camping.
Armenia's glamping scene is still developing so we will update this guide as more places in the Debed Canyon pop up!
Debed Canyon Glamping Spots
Cosmo Glamping
Location: Dsegh
On the slopes of the surrounding hills of Dsegh village sits the gorgeous Cosmo Glamping complex.
You'll find it extremely easy to relax and detox amongst the green nature there while still having access to modern amenities such as large and comfortable beds, a showering facility, air-conditioning, and a heating system for the cold, winter months.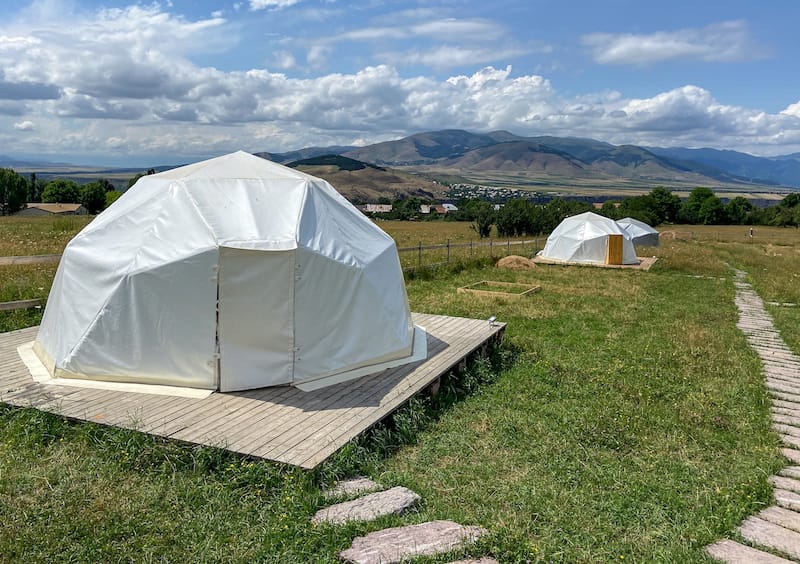 Each tent has a transparent roof and area that gives you panoramic views that will allow you to go stargazing at night while sitting humbly surrounded by the hills and mountains of the Lori region.
During their stay, guests can enjoy an indoor bar, breakfast, dinner, lunch, and more. The food comes from the village and is clean (and delicious).
On-site, you will also find an open terrace and cafe where you can enjoy cold beverages while relaxing in nature. You can make a campfire at night and enjoy the solitude of the place.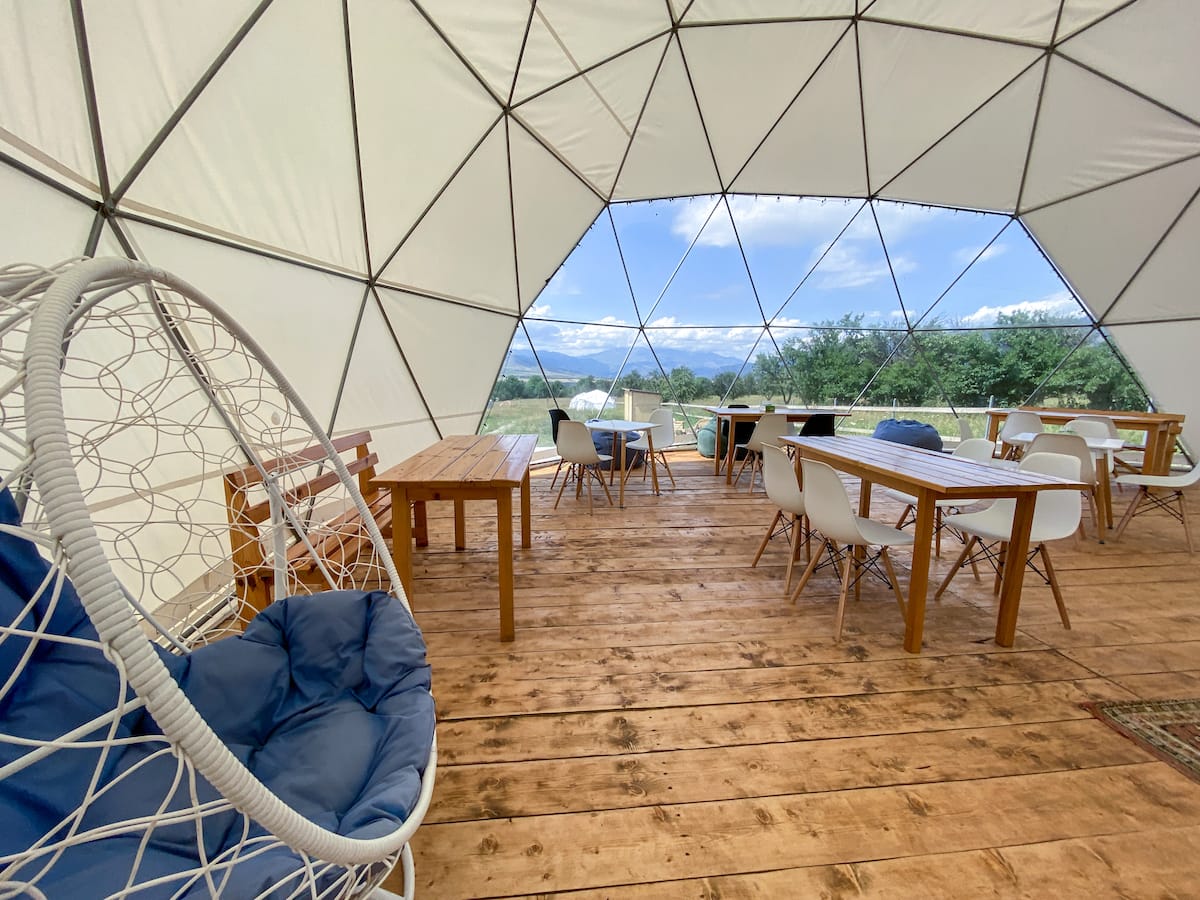 To get to Cosmo Glamping, you will need to take a right at the entrance of Dsegh village and drive up the hill a bit. Make sure to reserve your spot in advance as they book up quickly
>> Click here to check rates and availability
WOW Glamping
Location: Dsegh
One of the most popular glamping spots in Armenia is definitely WOW Glamping which has gained popularity in recent years due to its amazing location, cozy atmosphere, and dreamy tents to stay in all year round.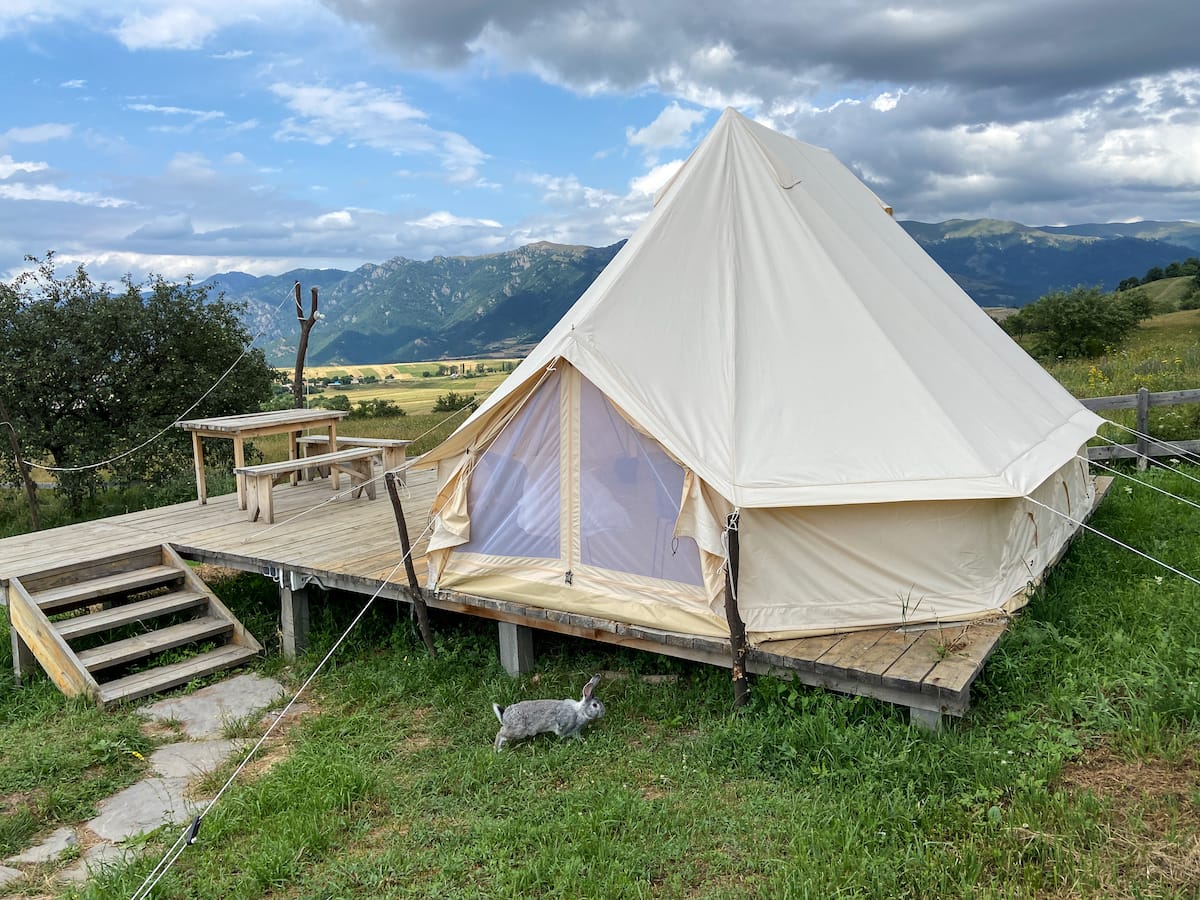 Located yet again at the entrance of Dsegh village on the high slopes of the hill, you will quickly discover that this is a place where the forest and stars come together and you'll get panoramic views during the day and stargazing opportunities at night.
WOW Glamping has air-conditioning in the summers, heat for the winters, and food options to make your stay comfortable and one to remember. It is truly one of the most photogenic places in the Debed Canyon.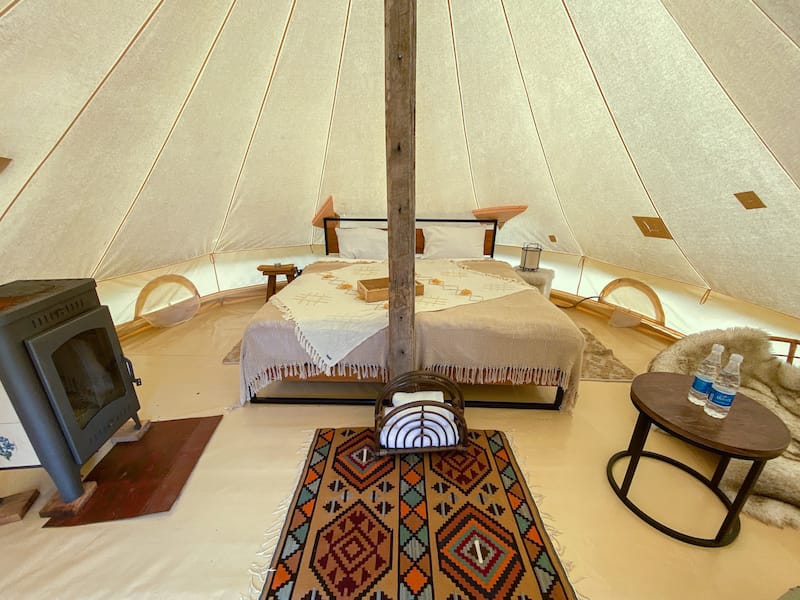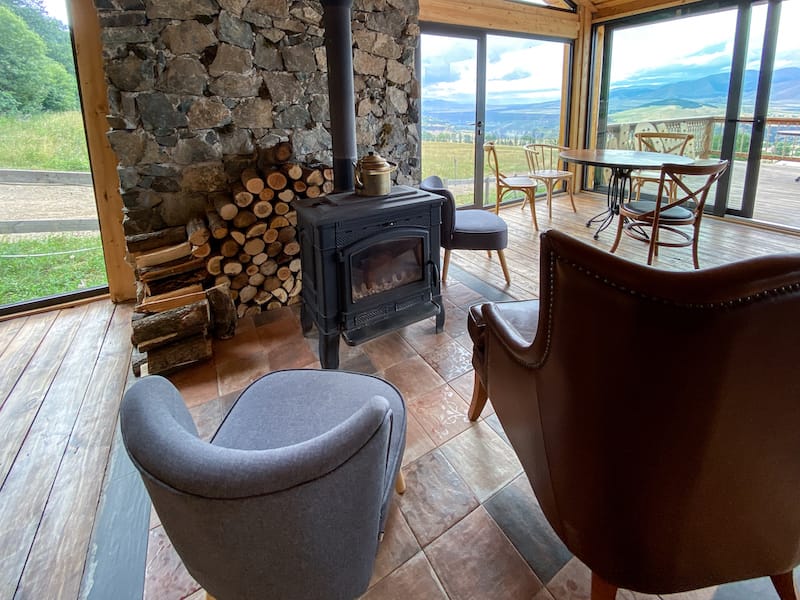 WOW Glamping books up fast so be sure to book your stay in advance!
>> Click here to check rates and availability
Debed Canyon Camping Spots
TUC (Tourism Unique Center)
Location: Dsegh
For the camping enthusiast who wants to stay in one of the Debed Canyon's most beautiful villages, head to Dsegh and set up your tent at the TUC, or Tourism Unique Center.
Located in the heart of Dsegh, you will find a nice facility that has a camping and tent area, a dining facility, a firepit, and more.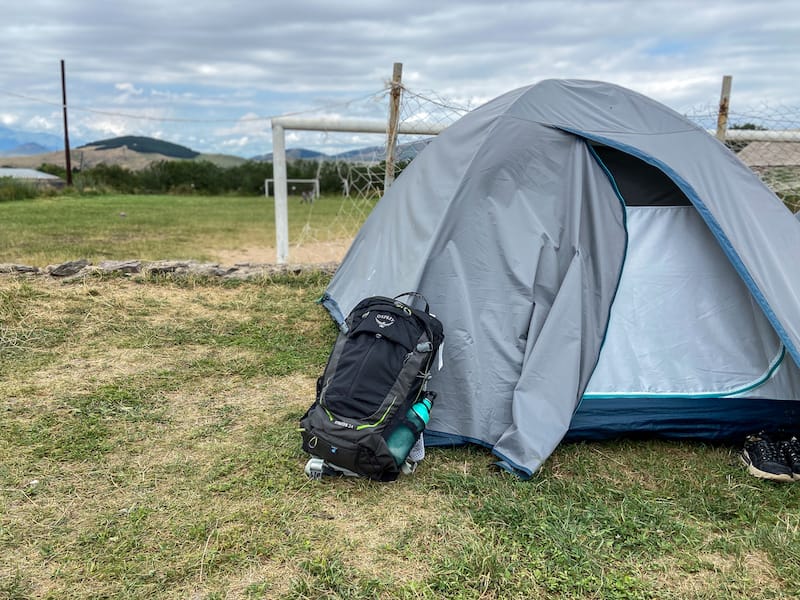 You are able to request breakfast while staying there and the food will be sourced from the local village as TUC is part of an NGO and their mission is to support local farmers, as well!
You can bring your own gear with you for your camping experience, or you can rent from them at affordable rates.
TUC also offers hikes (with guides), an experience riding to a mountain lake in an old Soviet truck, and several more activities to keep you occupied throughout your Debed Canyon visit.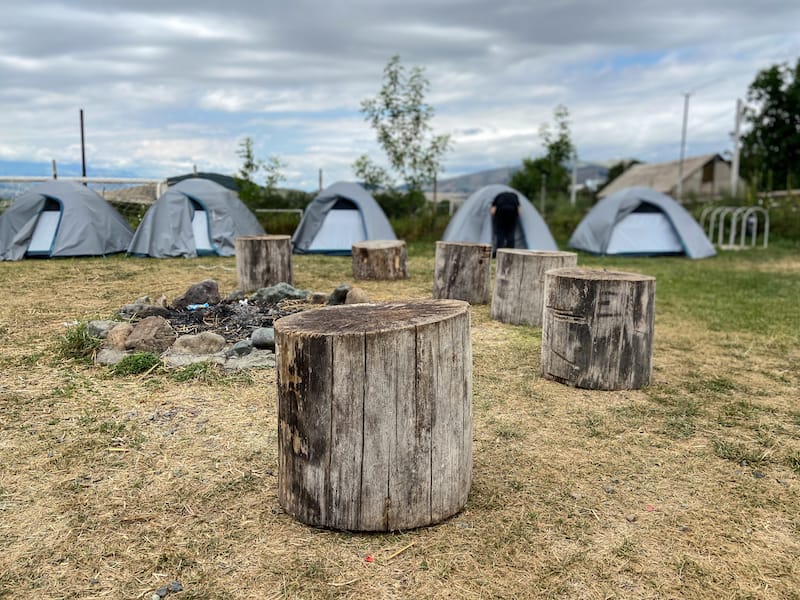 It is a fantastic place to stay for those who want to pitch a tent and meet some other travelers along the way. To book, send them a Facebook message or call +374 91 643317.
Kanchaqar Campzone
Location: Haghpat
One of the best campsites in Armenia is the Kanchaqar Campzone in Haghpat village near Alaverdi.
Located in the country's far north, you will find plenty of nature up this way as well as easy access to UNESCO World Heritage Site, Haghpat Monastery, close by.
The Armenian campsite has bathrooms, hot showers, and equipment to use to cook meals.
It is also fenced in and has lights to keep things illuminated during the evenings… and is also a great spot to park your RV or motorcycle.
To book a spot at Kanchaqar, you will need to send them a message on their Facebook page or give them a call at +374 91 604082.
Renting Camping Equipment in Armenia
Where to Rent Camping Equipment in Yerevan
The most popular place to rent camping equipment in Yerevan is Camp.am.
They have everything from tents to sleeping bags, and beyond. Camp.am also rents out hiking equipment and accessories.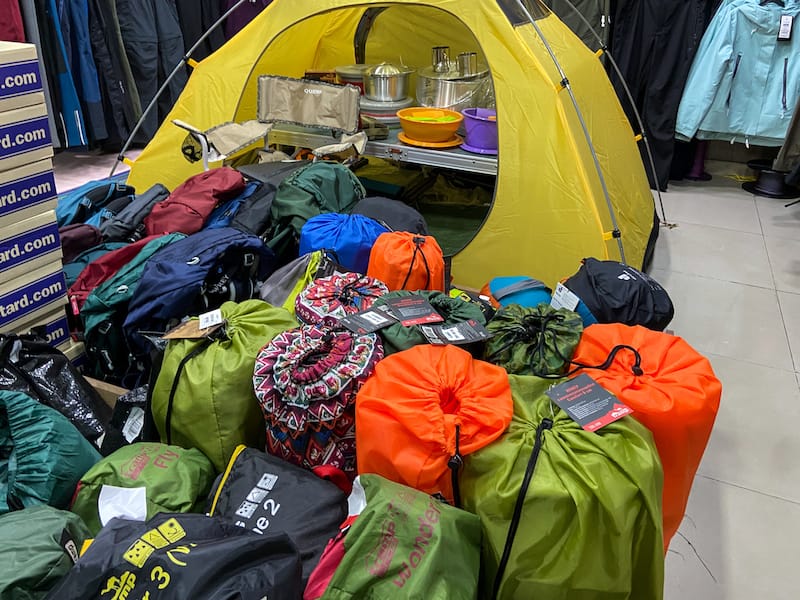 Not only do they rent out equipment, but they also have plenty that you can buy if you need to while you're on the road or visiting Yerevan.
Click here to check out their online website. You can also stop into their shop at Artsakh 1 in Yerevan (right by the main railway station).
Where to Rent Camping Equipment in the Debed Canyon
If you're not heading as far south as Yerevan (or coming from that direction), you can also rent equipment in Dsegh village at TUC or at the Visit Debed Canyon tourism center (opening dates are TBA!) at the COAF Smart Center in Debed village.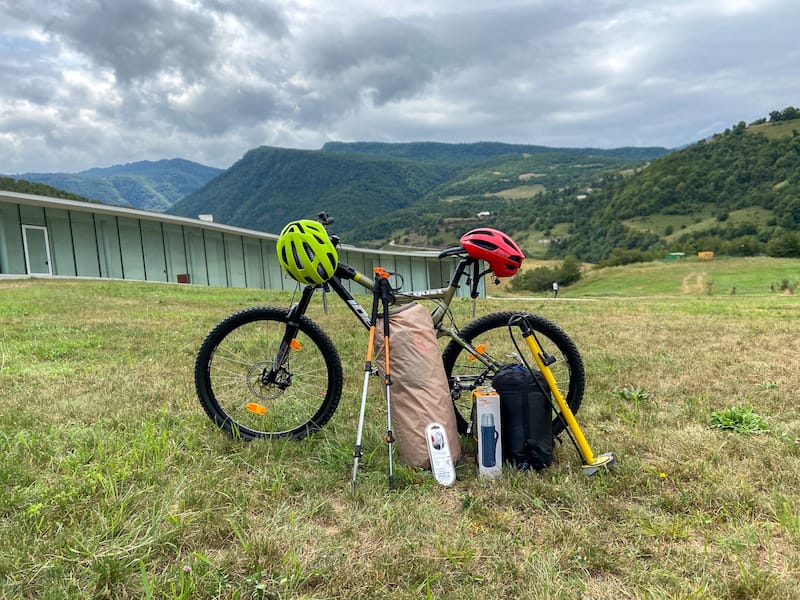 You can check out TUC's Facebook page for equipment rental in Dsegh and we will update you with the Visit Debed Canyon Info Center's details as soon as they open!
Do you have any questions about where to go glamping or camping in the Debed Canyon?
Hit us up with any Debed Canyon camping questions you might have in the comments. Thanks!
**Our trip to the Debed Canyon was part of the "Lori, Your Next Destination" project by Visit Debed Canyon (co-funded by GIZ and COAF). All opinions are our own.
More Debed Canyon Travel Guides