Sometimes, you just want to take your laptop and camera and head to somewhere remote and enjoy time by yourself whether it be by working, relaxing, reading, or enjoying the peacefulness of nature.
Well, I recently visited one of the small villages in the Aragatsotn region called Ashnak approximately 40 minutes away from Ashtarak town.
When I was there, I had a chance to discover Noosh Guesthouse, a relaxing retreat for coworking, connecting with nature, and unwinding!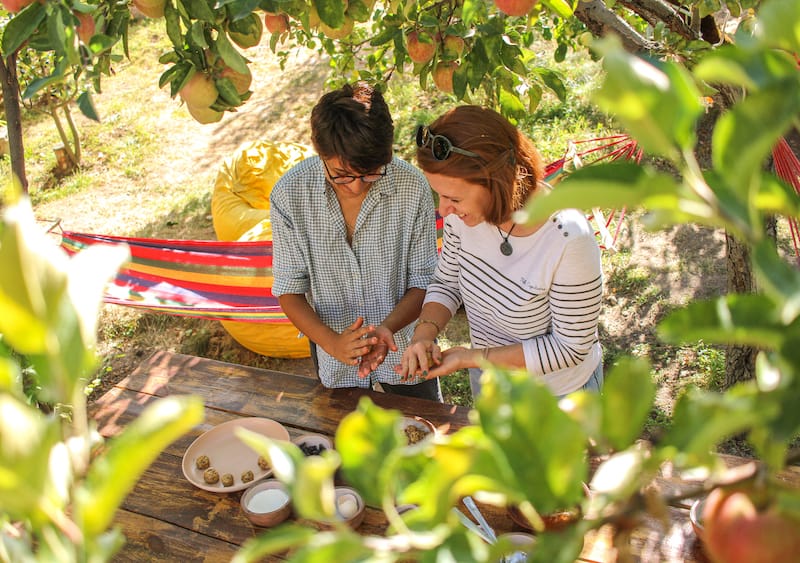 Located right in between Yerevan and Gyumri on one of our favorite Armenian road trip routes, Ashnak is a typical Ararat Valley village surrounded by a semi-dry, colorful landscape.
Located approximately an hour from Yerevan or Gyumri, the nomadic road invites you to Noosh Guesthouse where you will have a chance to relax, photograph, and enjoy a traditional cooking experience… just like I did when there!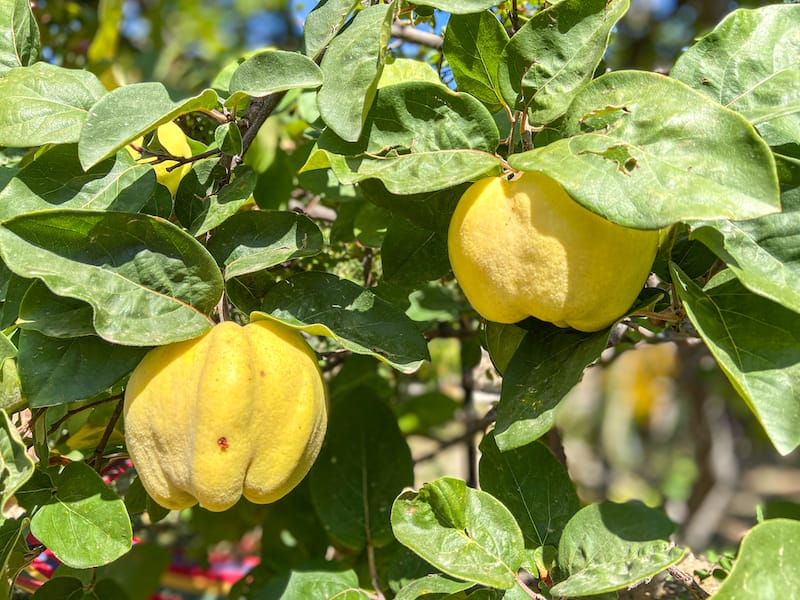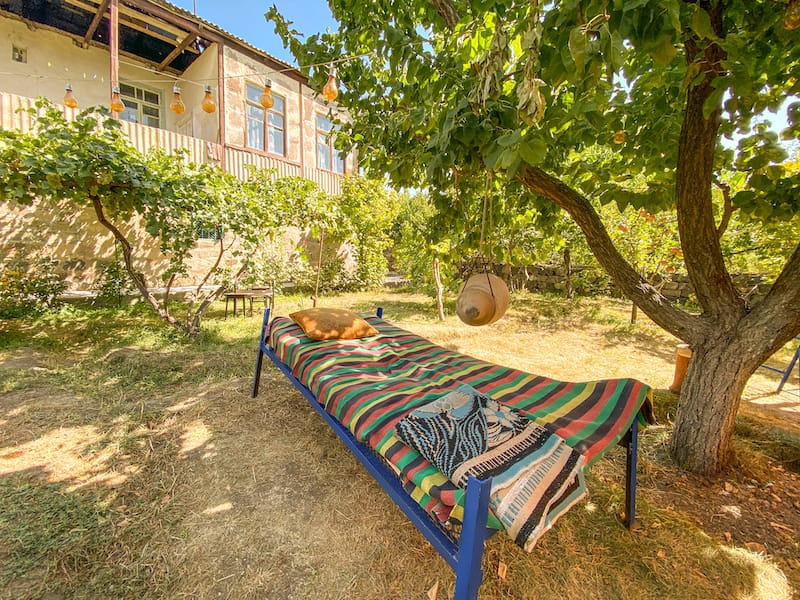 History of Noosh
This cool and relaxing place was founded by two best friends, Ani and Gayane, who are optimistic and ambitious women that wanted to share their cool concept with other travelers and locals.
Ani was born and lived in Ashnak for years before she moved to France to study at Sorbonne University in the International Tourism department.
Her ancestors, like all of the residents in Ashnak, originated from the Sasun district in Western Armenia and were forced to flee into different parts of Armenia over the years.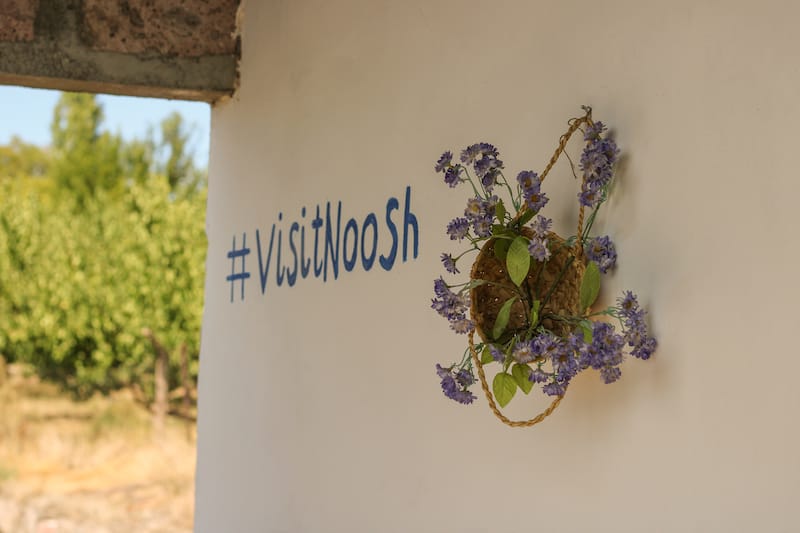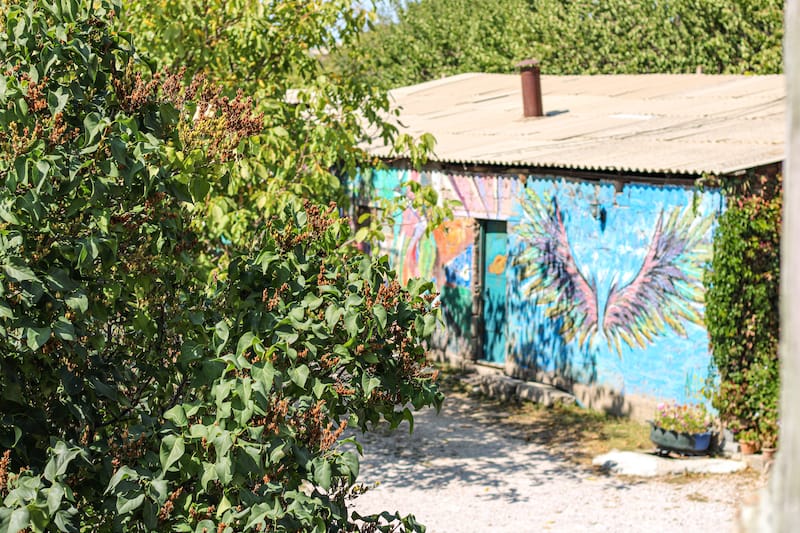 Gayane, who also studied abroad in China and was a master of languages, became a certified guide and took up an interest in tourism and hospitality.
After graduating from university, Ani came back and wanted to develop her home village. In 2019 and alongside her friend, Gayane, the seeds were planted for Noosh Guesthouse… located on Ani's family home's property.
So, what does 'Noosh' mean? It actually means almonds because there are more than 20 almond trees in the garden and many in the village… the name ended up a natural fit as a result!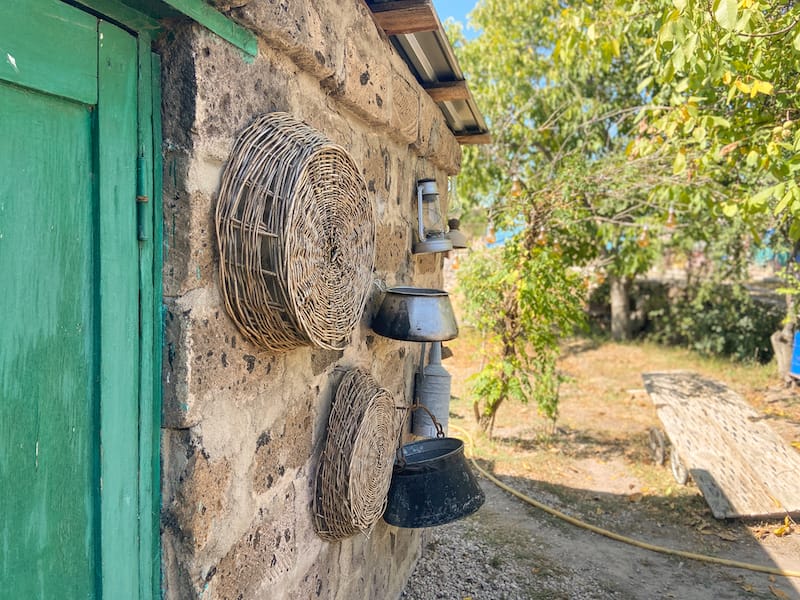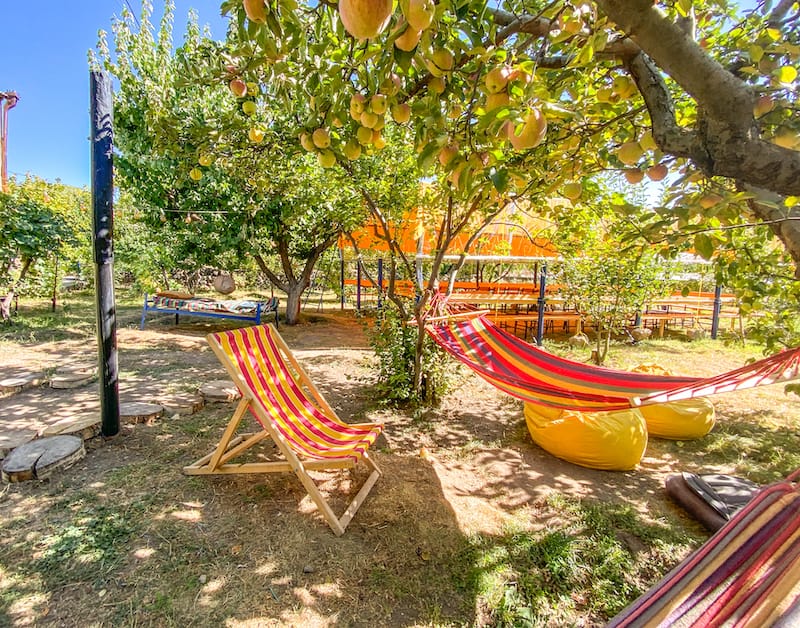 I really admire the perseverance of Ani and Gayane because they have faced their fair share of challenges. One is that the village only receives 2 hours of water daily and keeping the garden green is a gruesome task as a result of that!
However, they are determined to garner more attention to the village and they hope to help fix the water delivery issue as soon as possible (and potentially attract donors or investors to help with that).
This post is not only a review of my experience but also a post to help bring attention to the issue so we can help this community and Noosh!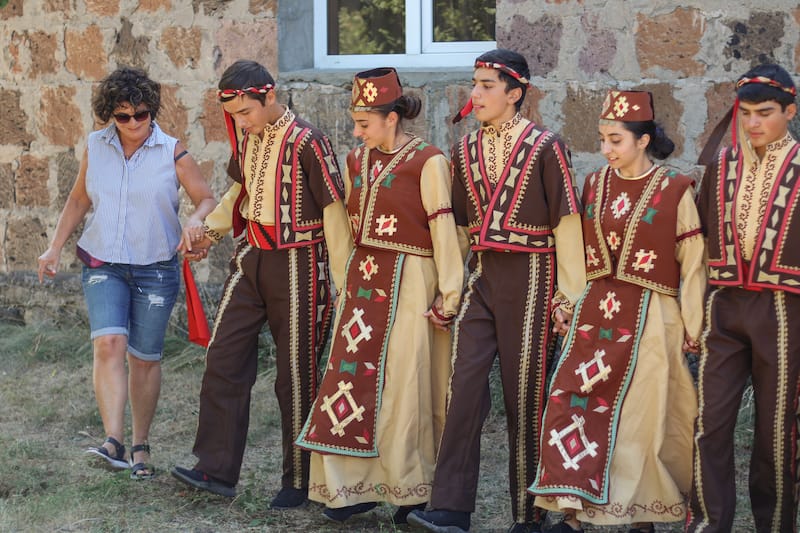 Cook, Eat, Relax, and Stargaze
The concept of Noosh Guesthouse is simple: you are there to relax, detox, and chill out. Also, if you stay overnight for one or several nights, you can learn how to cook traditional Sasun dishes, camp in the garden, and stargaze from a telescope they have on the property.
Seriously, Noosh is an epic location for digital nomads or location-independent workers!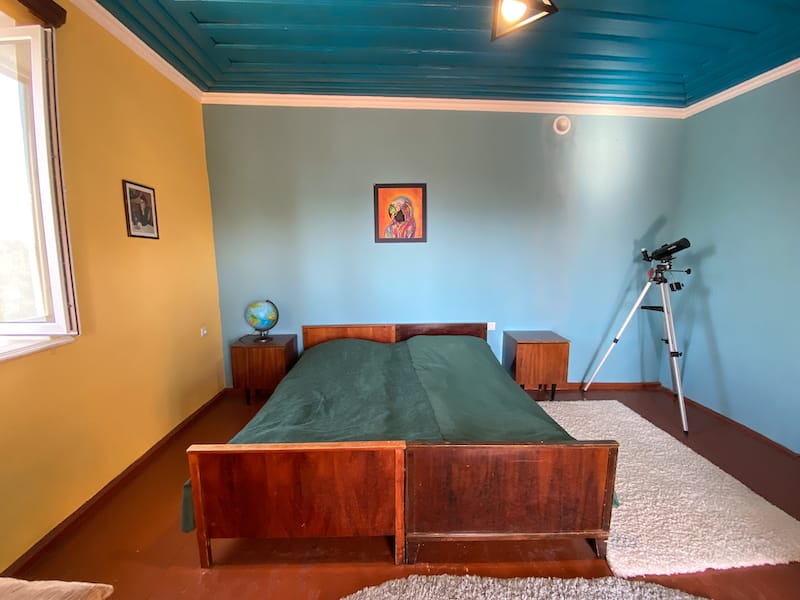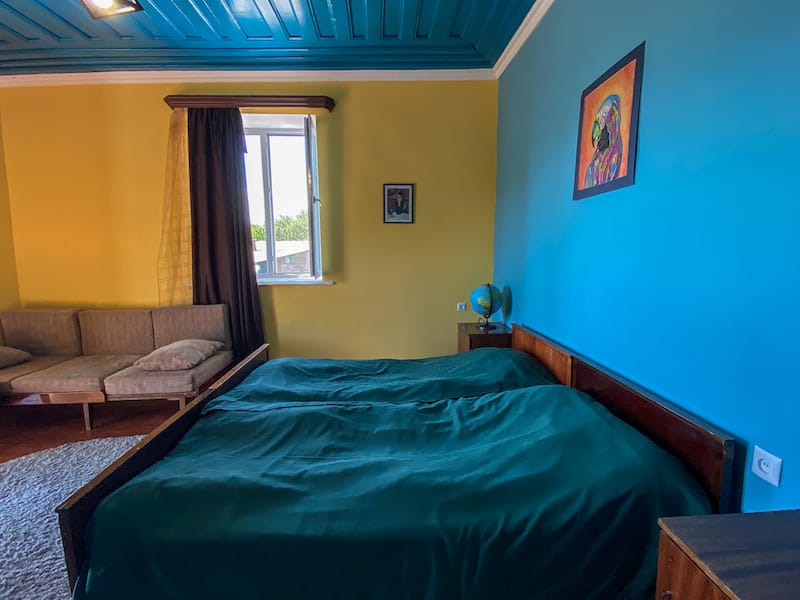 The cozy house will provide you with clean rooms with big beds, delicious homemade food, access to a wonderful garden with many fruit trees, co-working spaces, and hammocks.
Sometimes, there are a group of travelers stopping by to eat, relax, participate in cooking classes, and enjoy traditional Armenian dances.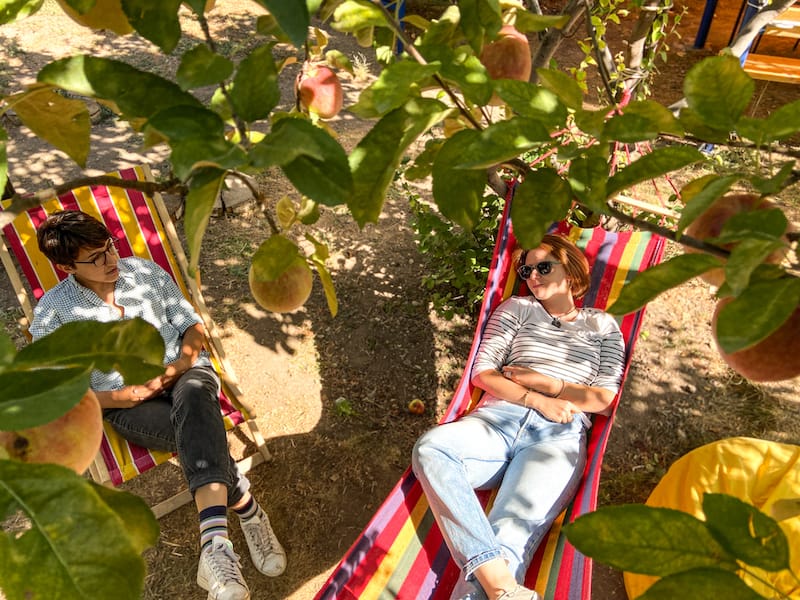 Sasna Klulik Cooking Class
The garden at Noosh Guesthouse is an amazing place for open-air cooking classes and to my delight during my visit, I had the opportunity to join in one of them where Ani and Gayane showed me how to prepare ancient dishes originating from Sasun called "Klulik".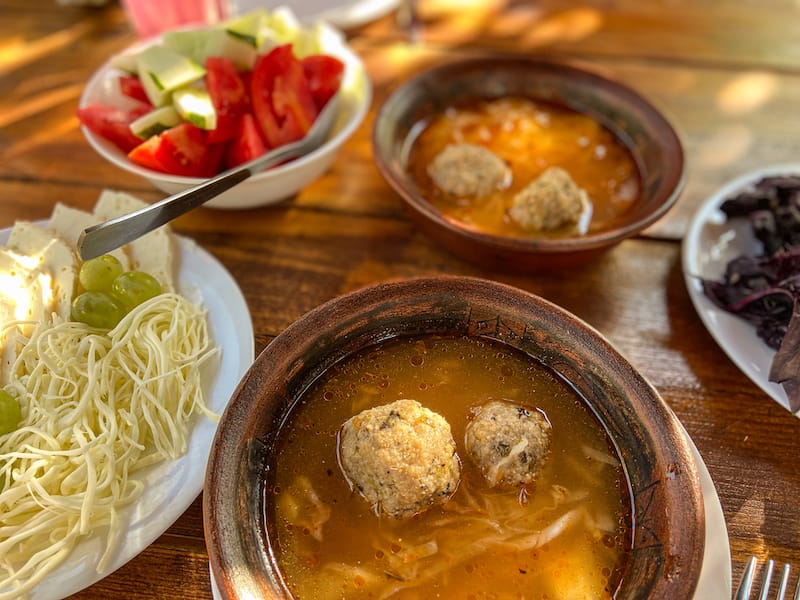 Cooking traditional Western Armenian food in their lush garden in the remote village was seriously one of my most memorable experiences in Armenia and it really made me appreciate cultural and gastronomical experiences like this!
Sasna Klulik is not known to the masses and to be honest, I never knew it existed because it's a very distinct food with cooking methods that have been passed down through generations and only in villages like Ashnak can you enjoy it at someone's home.
Originally, Klulik was known as a vegetarian dish, but for tourists and meat lovers, it can often be prepared with meat. Naturally, you can request the way you'd like it prepared.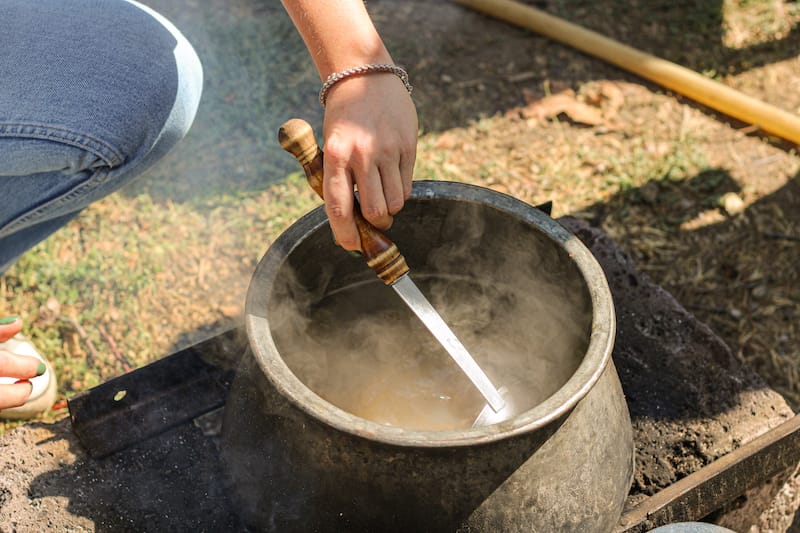 They had set up the open-air kitchen table and all ingredients were placed on it and the fun began!
We started to mix the ingredients together with our hands and form them into small balls.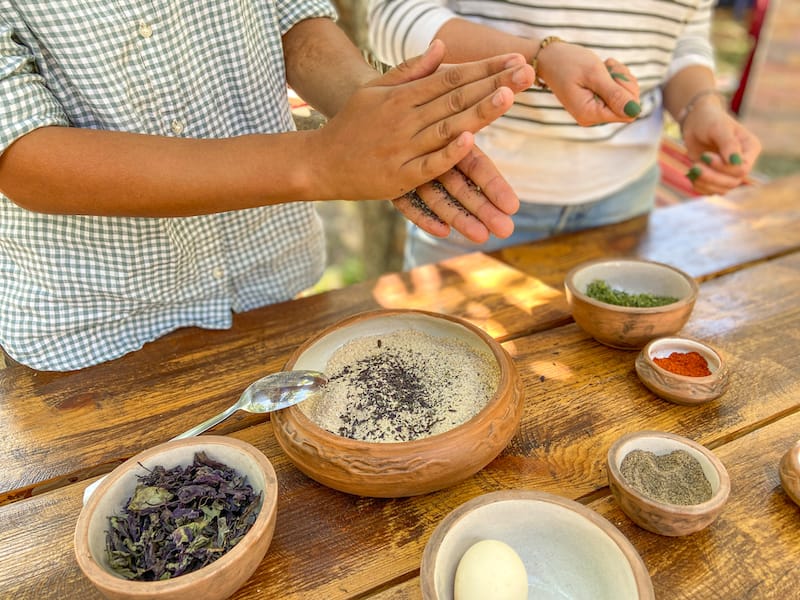 and the fun and the interesting process started to mix, mash and mix with hands and creant small balls. It was so exciting to cook in this type of atmosphere beneath the fruit trees as it really illuminated the ingredients' colors and freshness!
Sasna Klulik Ingredients:
To get an idea of the ingredients in Sasna Klulik – you can see the list below: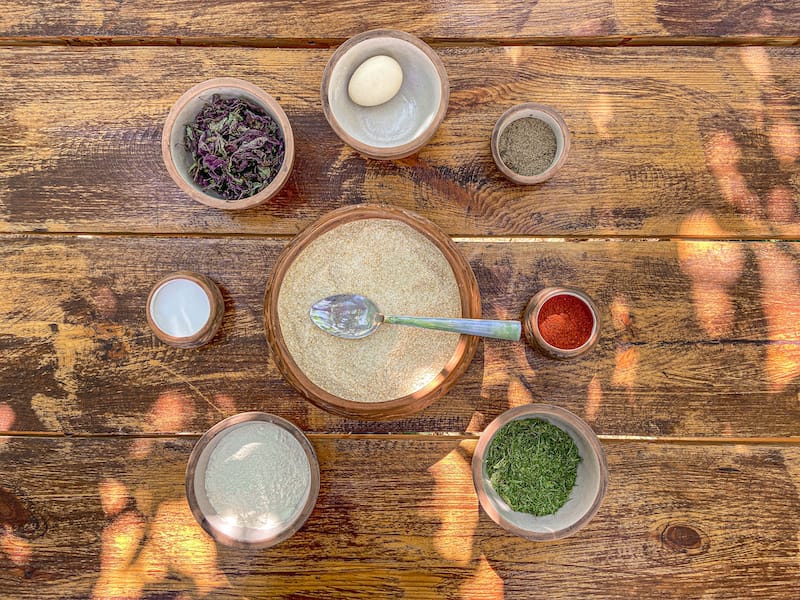 Pre-made broth from pickled cabbage
Flour
Red and black pepper
Salt
Dry basil (can add any herbs you like!)
After mixing all of these ingredients together, you will need to add an egg as well as fried chopped onions and a bit of tomato paste.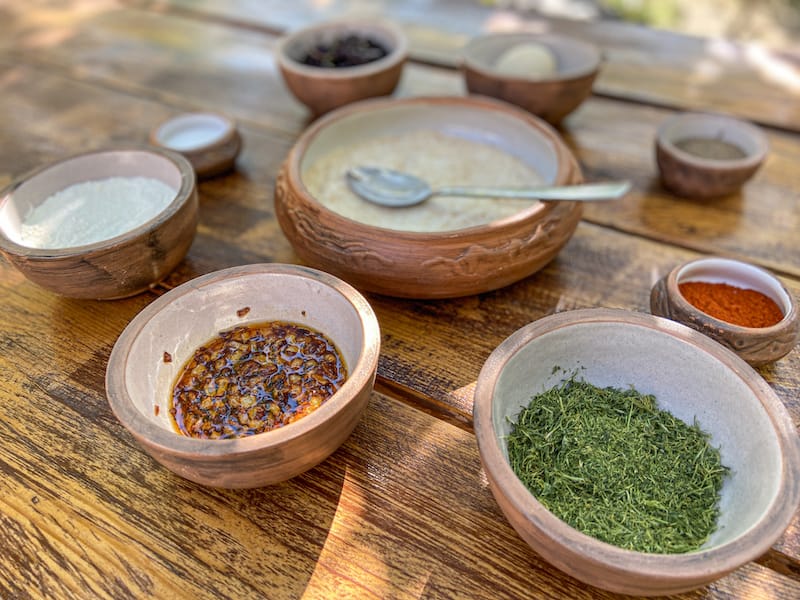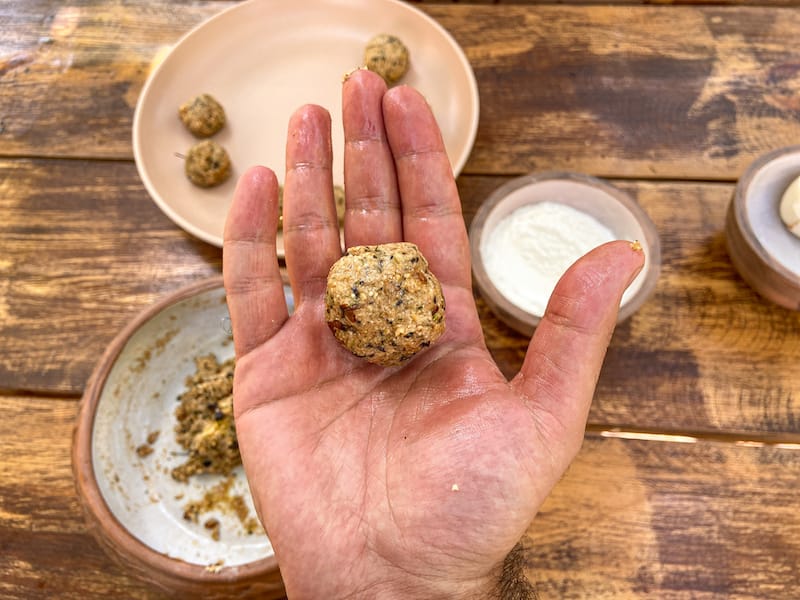 Then, you will shape them into small balls and cook them in the aforementioned cabbage broth. It was incredibly delicious!
Booking details
Experience availability: 7 days a week
Hours: From 10 AM to 8:30 PM
Reservations 24 hours in advance
Duration: 2-3 hours
Languages: Armenian, Russian, English, French, and Chinese
Max group size: 20 people
Book Your Stay at Noosh Guesthouse
I recommend everyone to book a stay at Noosh Guesthouse. Trust me, you will find that this place is so inviting and the perfect place to rejuvenate yourself from the hustle and bustle of the city and everyday life!
>> Book your stay at Noosh Guesthouse here <<
Have you had a chance to visit Ashnak village or stay at Noosh? Let us know your thoughts in the comments! Thanks!
You Might Also Like:
**This article was produced with the support of My Armenia, a program funded by the United States Agency for International Development (USAID) and implemented by the Smithsonian Institution. The contents are the sole responsibility of the authors and do not necessarily reflect the views of USAID, the Smithsonian Institution, or the United States Government.