Ashtarak has easily become one of my favorite places to visit in Armenia and every time I go there (which is regularly these days), I discover something new or more in-depth.
I already knew about Old Ashtarak Restaurant from a previous trip, but I never had a chance to do more than just photograph the exterior of the place. This time, I had a chance to visit this Ashtarak architectural gem and learn more about its history (and present-day)!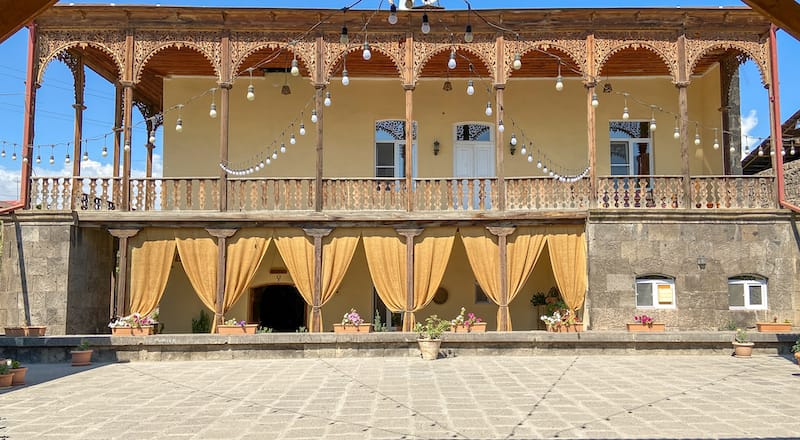 This article is about my recent visit to Old Ashtarak Restaurant and how it impressed me from its traditional architecture to its hospitality and offerings as a family-owned restaurant.
Old Ashtarak Restaurant Overview
The restaurant is located in a very charming area of Ashtarak and you will notice how beautiful the property is at first glance! Once you enter, you will see a spacious garden, grapevines, and the most serene atmosphere.
I was greeted by Talar, the lovely host, who educated me on the history of the building and how their family moved to Armenia and established the restaurant.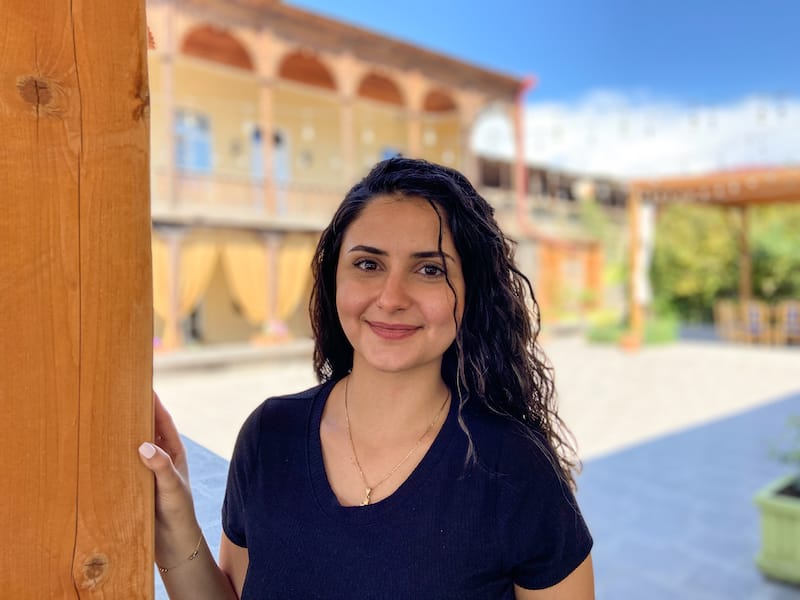 Talar is from Syria and her husband Hovig is from Canada. Several years ago, they met each other in Armenia and decided to restore this old building into the Old Ashtarak Restaurant, offering Syrian cuisine combined with Armenian flavors.
It was really awesome seeing people repatriate back to their homeland and bring small pieces of all their worlds together for guests to enjoy!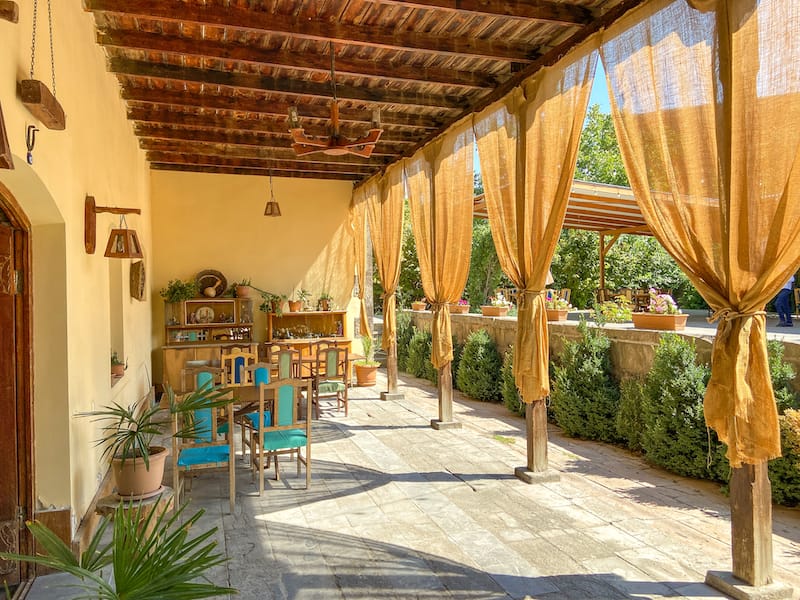 The History of the Building
The restaurant's building was constructed in the mid-19th century and is a rather fascinating story.
Stories say that at first, it was a priest's house, and then it became a hospital. Later, it eventually evolved into an orphanage before becoming a kindergarten.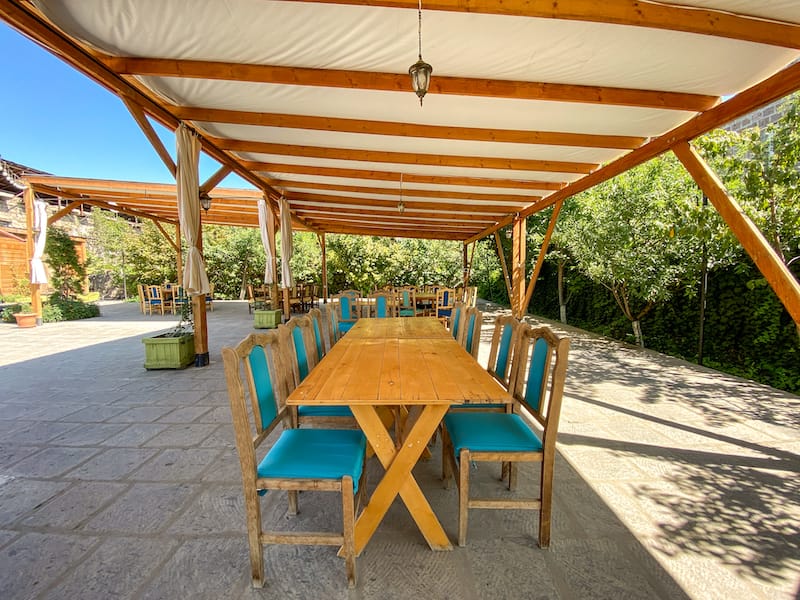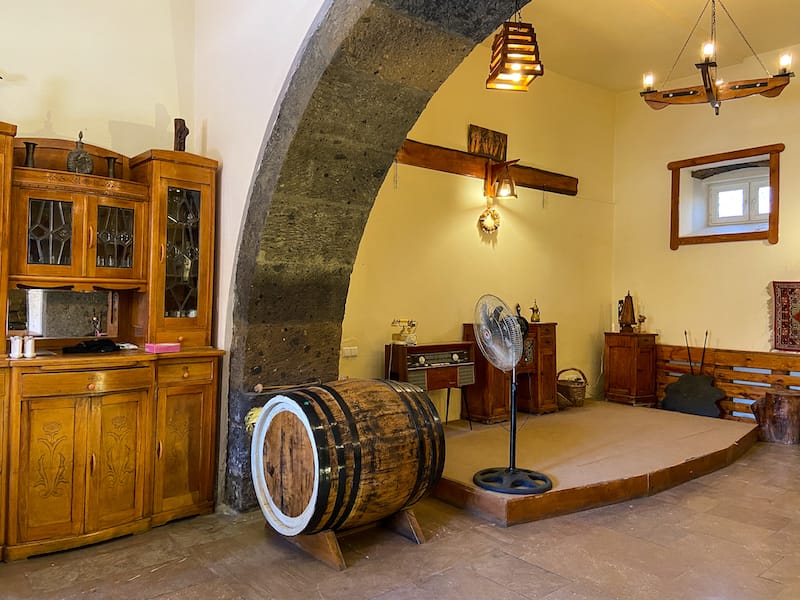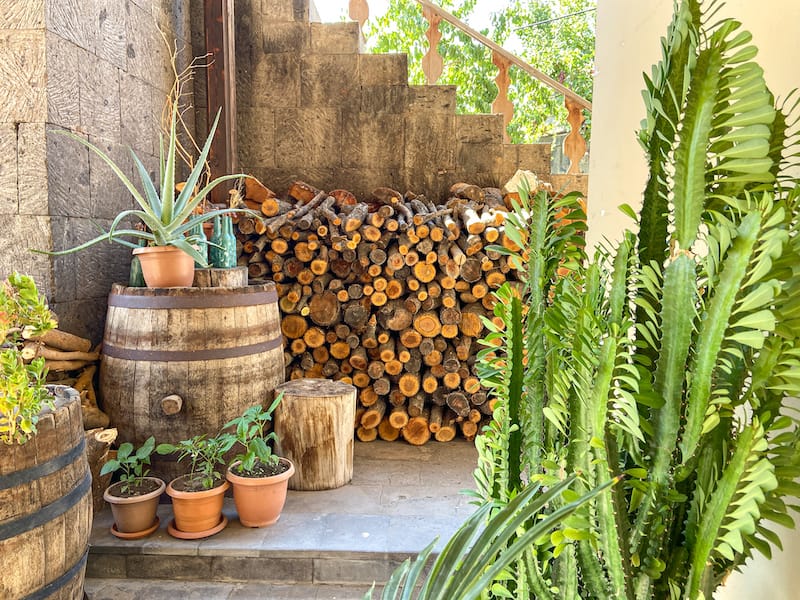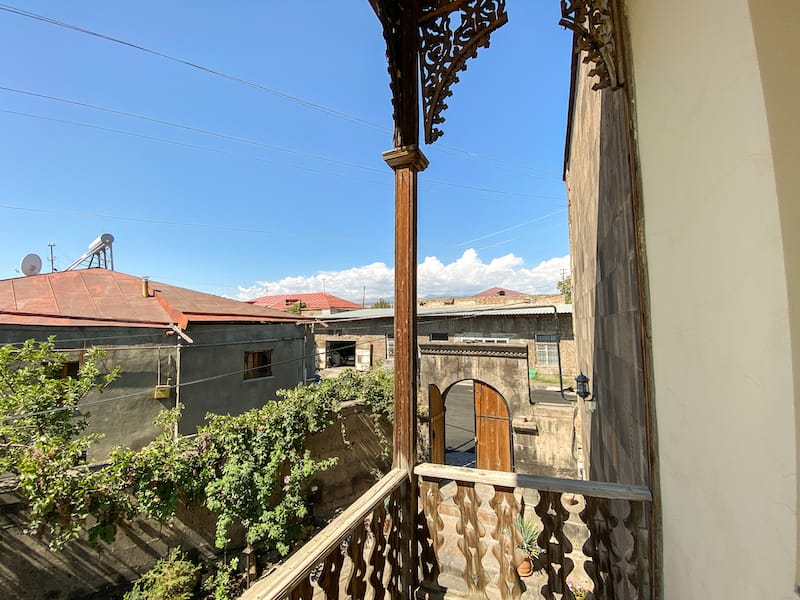 And finally, it was left abandoned for 30 years until this family took it under its wing and renovated it, keeping as much of the old interior and exterior as possible. The building then started its new chapter as the Old Ashtarak Restaurant.
Food Cooking Experience
The facility is wonderful and the food was simply fresh and extremely delicious! Combined with the atmosphere of the grapevines surrounding me, I found that the Old Ashtarak Restaurant was a great place for a dinner… or even a cooking class!
They offer cooking experiences where you can learn to make your own dishes, particularly Syrian dishes that the restaurant specializes in.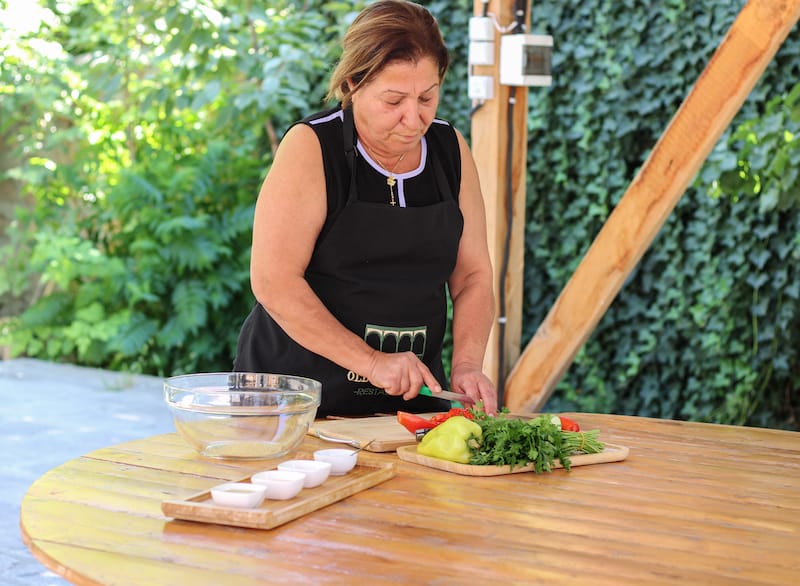 I had the opportunity to see how Talar's mother-in-law, Sevan, prepared the ingredients in the garden area to make a tabbouleh salad.
Tabbouleh is a traditional Middle-Eastern salad that includes chopped parsley, sweet pepper with tomatoes, mint, onion, bulgur, olive oil, lemon juice, and salt.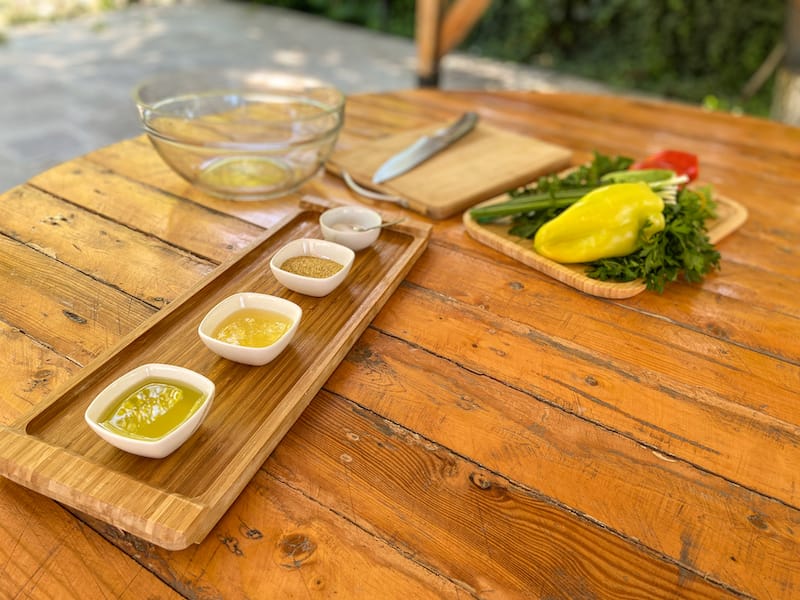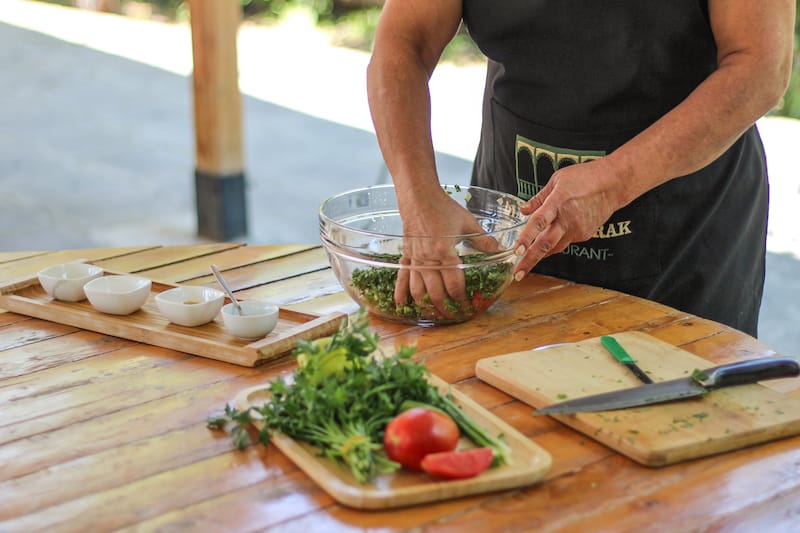 It was great to see how this simple yet delicious dish was made and the best part is that they offer this as an experience that you can do at any time if you plan ahead! They also offer cooking classes for other dishes such as Ishli kufta, borek, hummus, and more!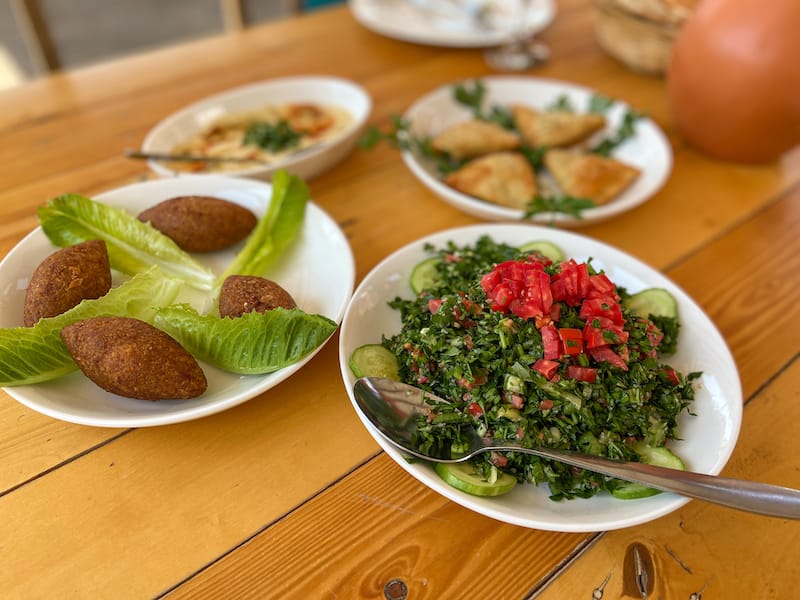 I had a chance to help prepare the tabbouleh and to eat the others as they ended up on my table later during our tasting. They were all out-of-this-world and the eggplant kebab was also sensational!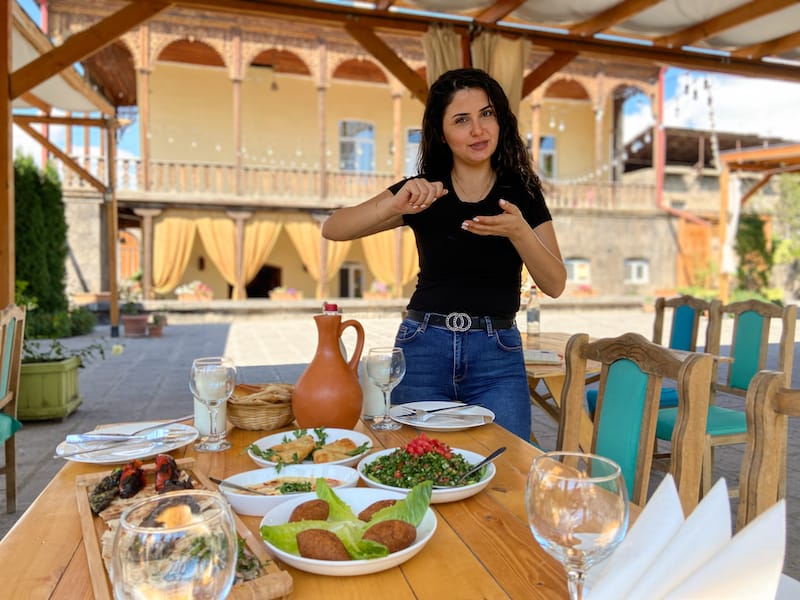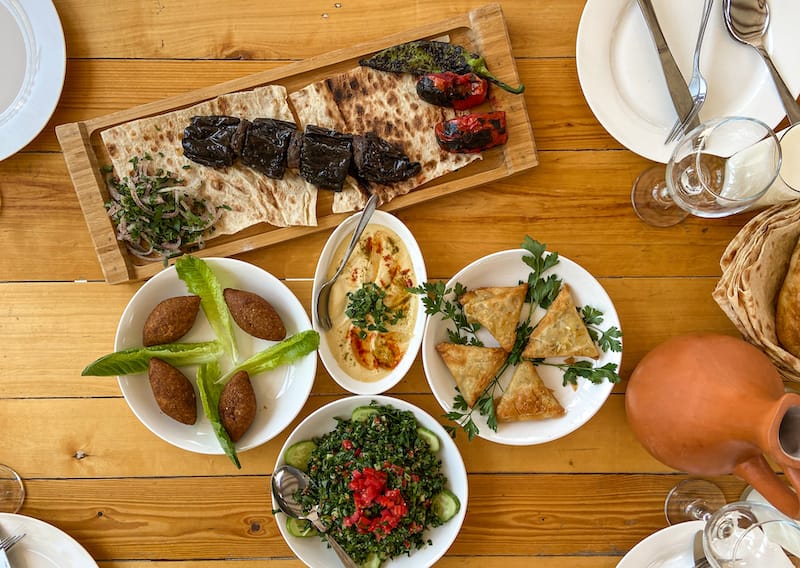 If you're looking for a unique setting to learn how to prepare Syrian (and Syrian-Armenian) dishes close to Yerevan, definitely join one of Old Ashtarak's cooking classes!
Not only will you get to watch and learn how to make the dishes, but you'll also get the chance to eat your creations with a tasty glass of wine from Yeganyans in this idyllic setting in Ashtarak!
Cooking Class Booking Details
Cooking classes availability: 7 Days a week
Houres: From 10 AM to 10 PM
Duration: From 20 to 60 minutes depends on a dish
Language: Armenian, Arabic, English, Russian
Max. Group: 20 people
Please make your reservation 24 hours prior
Have you visited Old Ashtarak Restaurant in Ashtarak? Let us know your experience there and if you haven't, we surely hope you put it on your Armenia itinerary soon!
Additional Ashtarak Travel Guides
**This article was produced with the support of My Armenia, a program funded by the United States Agency for International Development (USAID) and implemented by the Smithsonian Institution. The contents are the sole responsibility of the authors and do not necessarily reflect the views of USAID, the Smithsonian Institution, or the United States Government.