There are many Yerevan day trips that garner the attention they deserve but one place that kind of flies under the radar is the Azat Reservoir and its surrounding area.
We recently had a chance to visit and were blown away by its beauty, potential, and scenery. However, the day definitely needed to be planned a bit better to enjoy it to the maximum, so we decided to write up a quick guide about how to visit Azat Reservoir.
This guide will cover why you should visit, what to expect, what to bring, and how to get there.
Why You Should Visit Azat Reservoir
To be honest, I always wanted to travel to the Azat Reservoir because of the unique formations of the mountains and hills surrounding it.
But, it is also known to have very colorful water which is true, but that depends on the skies and time of the day that you're there.  We saw different hues throughout our time there.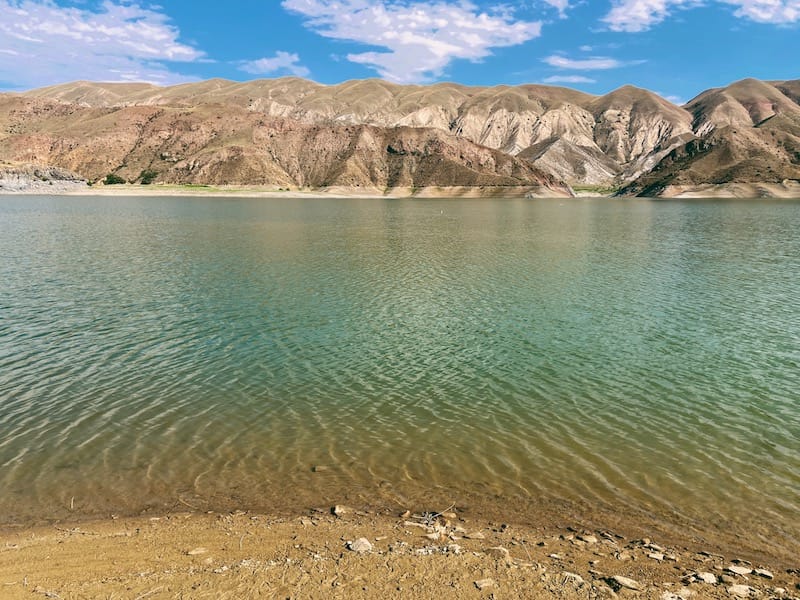 Azat Reservoir is situated in the Ararat region of Armenia.  However, it is so close to Garni that one might think it is in Kotayk. It is near the village of Lanjazat and sits at around 1050 meters above sea level. It is surrounded by the Yeranos Mountains.
The lake's volume is 70 square meters and it is far larger in person than it seems on a map.  But, it never seems completely intimidating when you're there.  The reservoir was built on the Azat River, which is actually part of the UNESCO World Heritage list (Upper Azat Valley).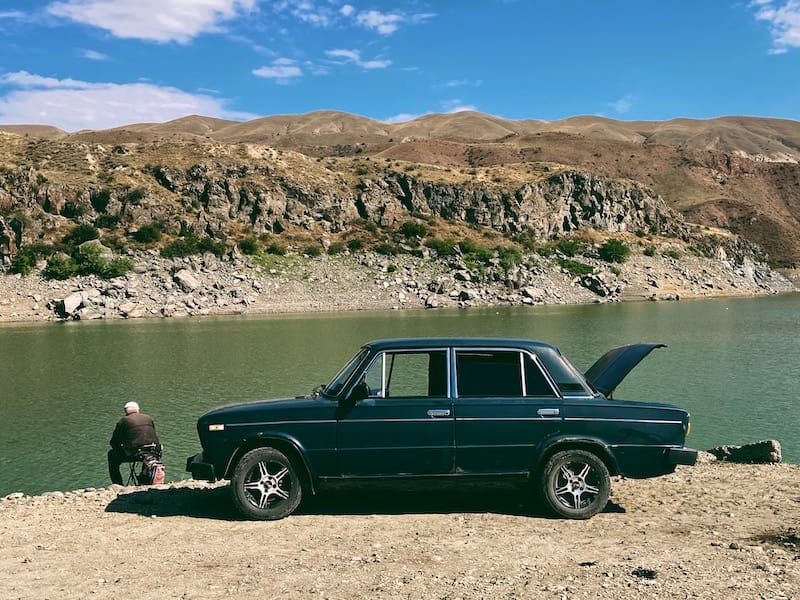 It took me some time to finally visit the Azat Reservoir because I genuinely had no idea how to get there.  Everything in Armenia seems simple on a map but then I realize that the road that 'looks like a road' isn't actually a road at all… or I don't have the right kind of vehicle to embark on the journey.
This post will hopefully help you figure that out!
Nevertheless, the lake is stunning and worth visiting if you're looking for a unique place to visit close to Yerevan.  It is a jaw-dropping place that has some decent hiking and is very quiet and peaceful.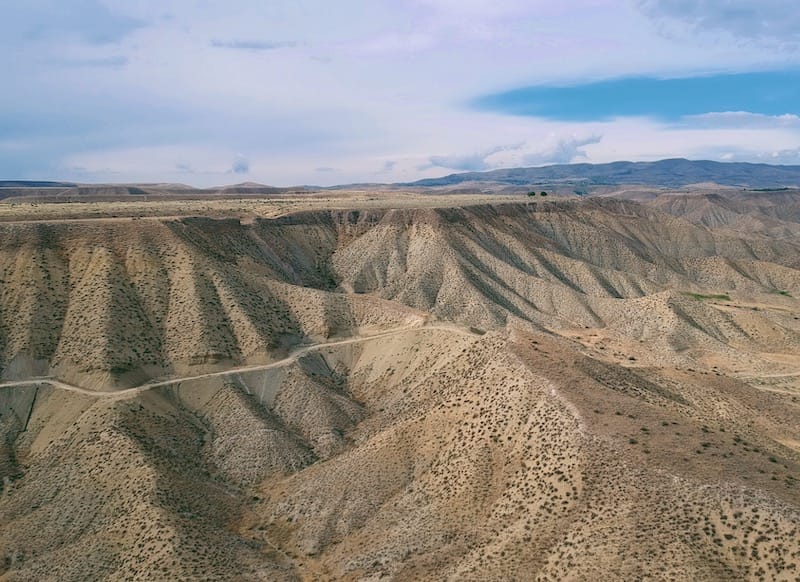 How to Get to Azat Reservoir from Yerevan
The road to Azat Reservoir is not in the best of conditions, to be honest.  If you're heading solely to the reservoir, you can get there with almost any type of car, but it will be far easier with a 4-wheel drive.
We had a 4-wheel drive and actually came to Azat after driving through the Symphony of Stones over at Garni (and getting lost in an area that we could not have driven without a 4-wheel drive).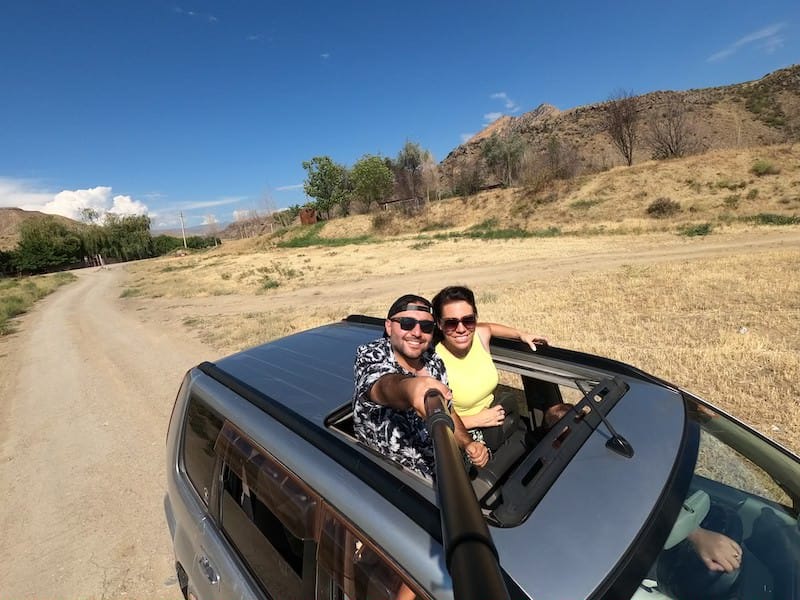 The road that leads to Azat from the main road is not paved and there is one area that is really bad for a very, very short distance.  You can make it with a regular car, pending the road is not muddy.
But, you will need to drive extremely slow, and don't be surprised if the weather has made it inaccessible without you knowing (the weather can be different than in Yerevan).
Because of the uncertainty of the road to Azat, we recommend renting a car that has 4-wheel drive or taking a tour there.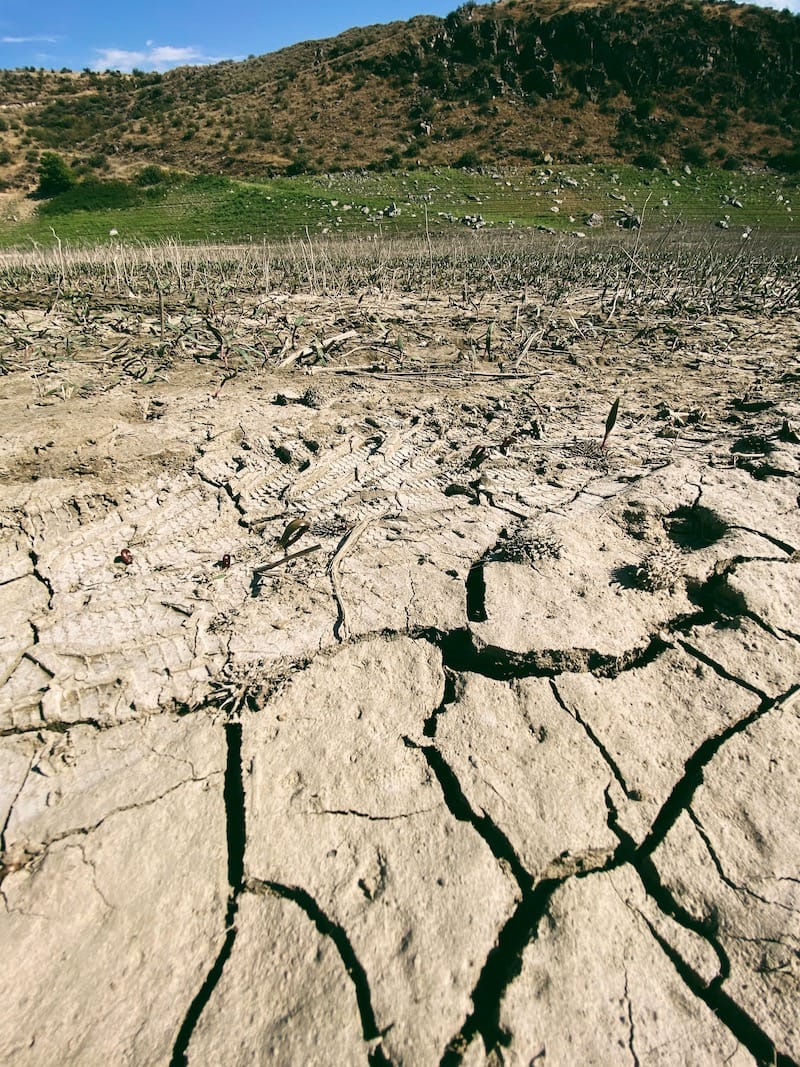 Renting a Car
We recommend our rental car partner, Rentalcars.com. They have a variety of cars available and will have 4-wheel drive options that will allow you to confidently explore the area without restrictions or the possibility of a closed road.
>> Click here to check rental car rates in Armenia
Taking a Tour to Azat Reservoir
Alternatively, you can take a tour of Azat Reservoir.  We recommend doing this because everything is done with ease and a knowledgeable guide.  There are two tour options available – one is a cycling tour there and the other is a tour that combines the reservoir with Garni and Geghard Monastery.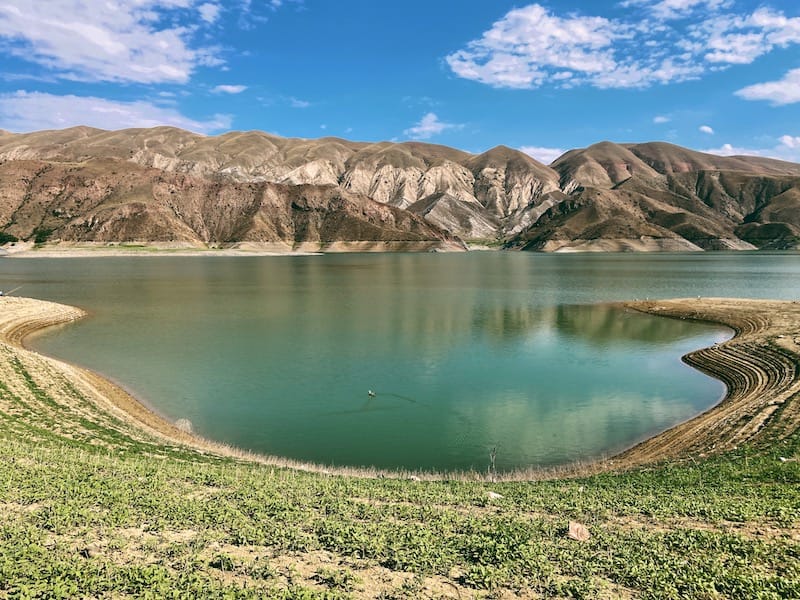 Garni, Geghard, & Azat Reservoir Tour
This tour will take you to see the best of Garni and Geghard before you stop at the Azat Reservoir.  It is the perfect option for travelers who desire a combination of religious sights with a little bit of nature and adventure.
It is a private tour and will last the duration of the day.  You will also pass through Garni Gorge and see the Symphony of Stones along the way (totally worth it!)
>> Click here to check rates and availability for this tour
Cycling Tour from Garni to Lanjazat Village
Another alternative for those that are active and more adventurous than I am is a cycling tour from Garni village to Lanjazat village where you will see the Azat Reservoir.
Trust me when I say that the landscapes around this area are sick and different than anywhere else in Armenia!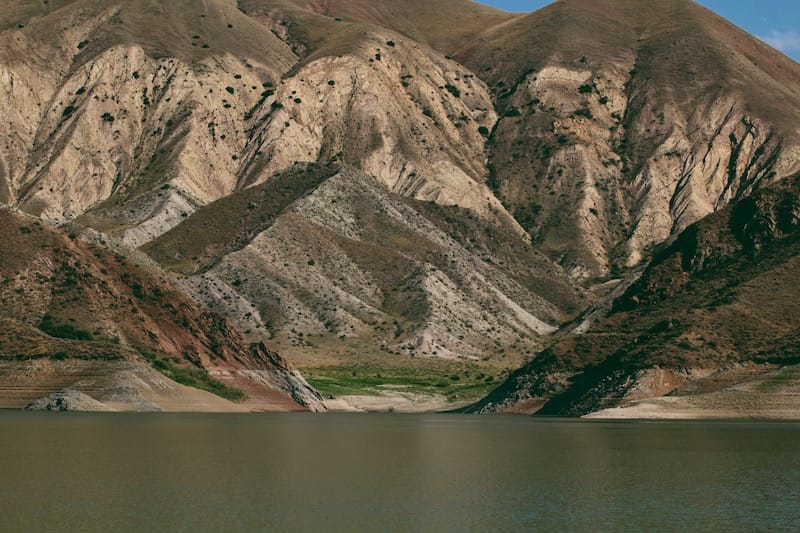 On this tour, you will stop by Charents Arch, Garni Temple, Garni Gorge (Symphony of Stones), and finally… the Azat Reservoir.  You will be accompanied by a skilled guide and a maximum of 4 travelers in total.
>> Click here to check rates and availability for this tour
Trip with Tripsters
If you're looking for something more bespoke and personal, get in touch with Tripsters, an eco-tour and adventure company that may be able to plan you something for Azat Reservoir and the local area.  Click here to contact Tripsters.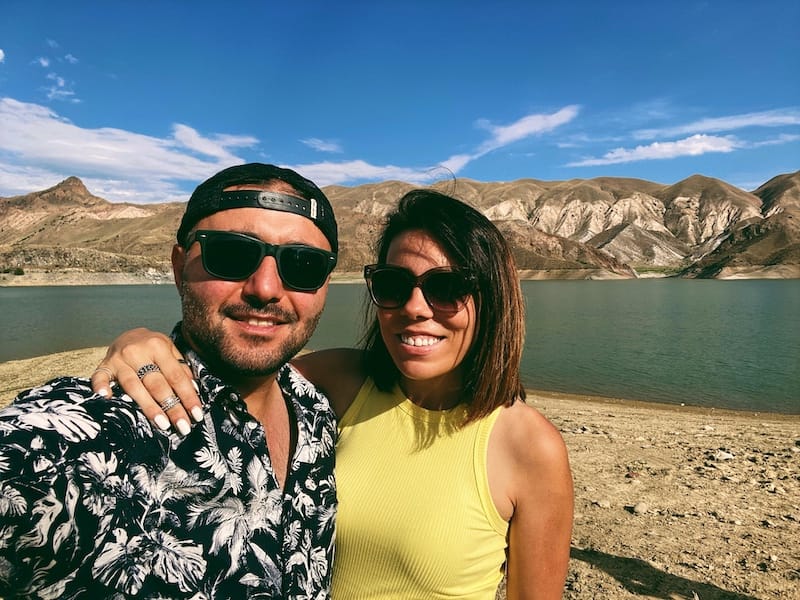 Taxi to Azat Reservoir
Another option for getting to Azat Reservoir is to take a taxi there.  However, this may pose a problem as not every taxi and vehicle may be able to access the place.  If you opt for this option, please do know this ahead of time.
A taxi from Yerevan to Azat Reservoir will run you about 2500 AMD each way.  Again, don't expect a taxi driver to put his or her car on the line and make it the entire way.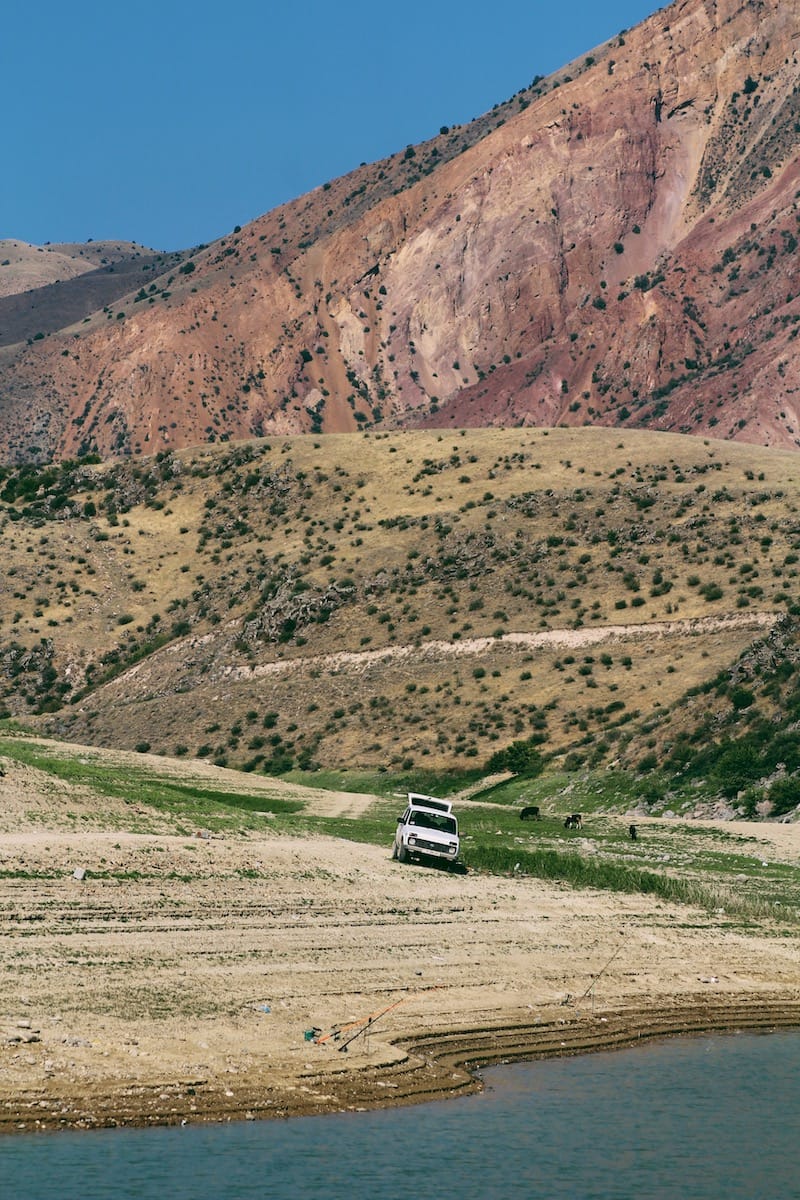 Azat Reservoir Map
Below are two screenshots I took that will tell you exactly where to turn from the main road to Garni that will take you to the Azat Reservoir.
We initially took a really long way and it was a pain and we had to ask for directions as we were coming from Garni Gorge.  This is the exact place to turn! (To easily copy and paste coordinates, it is: 40.1242280, 44.6968172).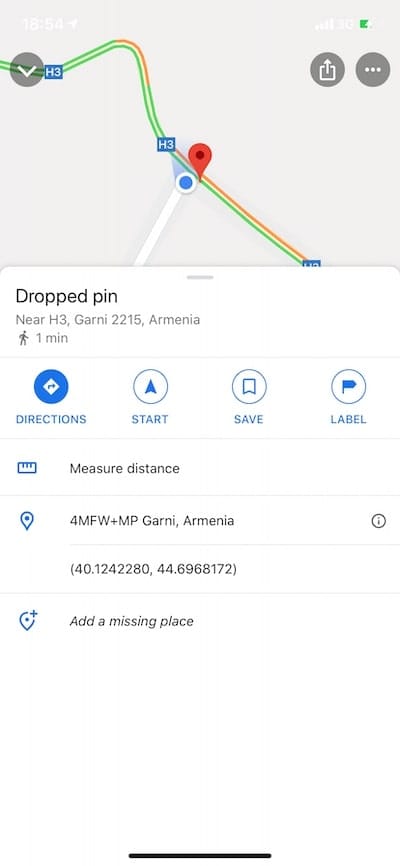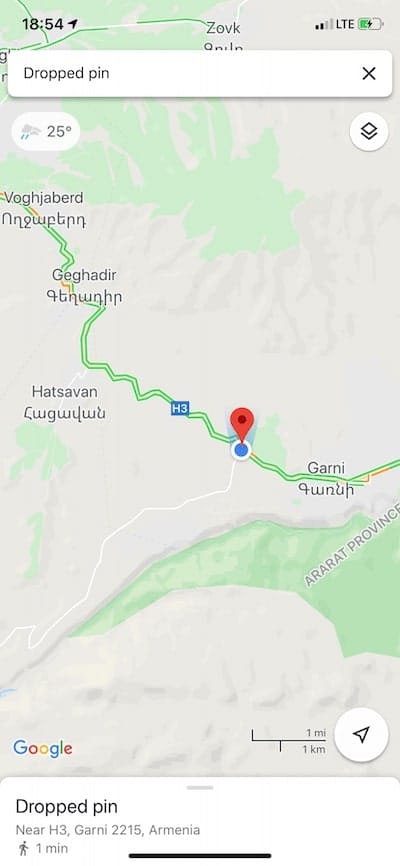 What to Expect When Traveling to Azat Reservoir
Before embarking on a trip to Azat Reservoir, there are a few things that you should know.
Heat
It is hot.  A lot of times when I travel Armenia, especially in the summer, I am blown away how tolerable temperatures become once you leave Yerevan.
Azat Reservoir is totally an exception.  It is really hot and there is absolutely no shelter there.  We recommend taking a tent with you or creating some type of shelter there away from the sun as it beams down on you.
Also, be sure to travel with good sunscreen and enough water.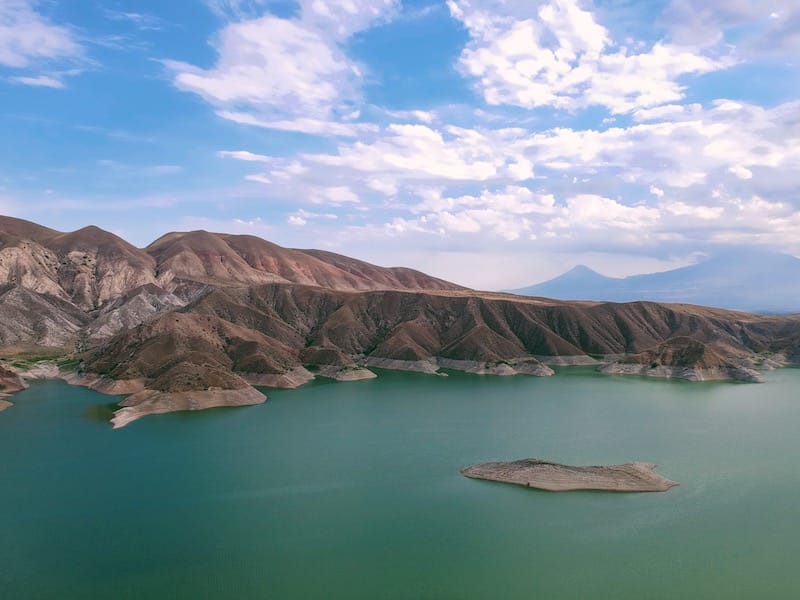 Water Sources
Speaking of water, there is nowhere to get water from when you're there… at least that we saw. One great thing about Armenia is that there are always fountains (pupulaks) and fresh water sources around but that is not the case at Azat.
Before entering the reservoir, we did see a fresh water source by the sign for Red Mountain, so be sure to fill up there or bring enough for the day to last you.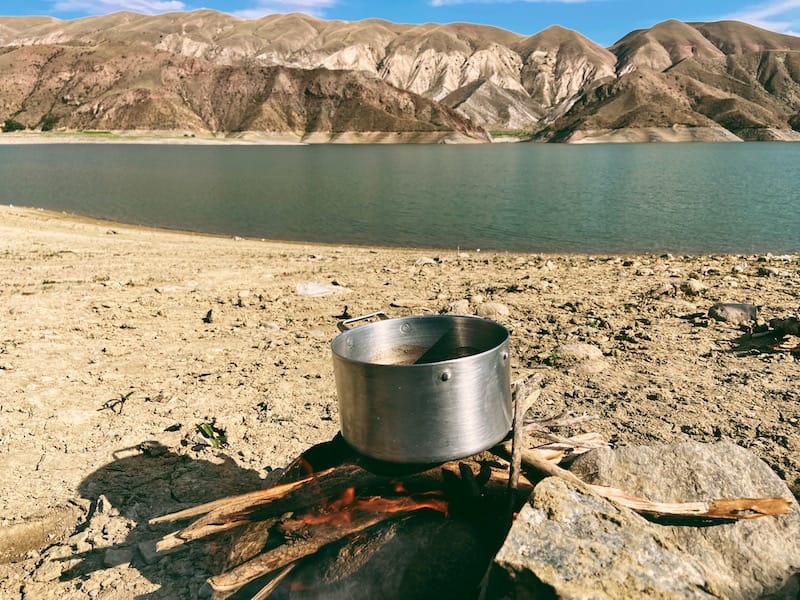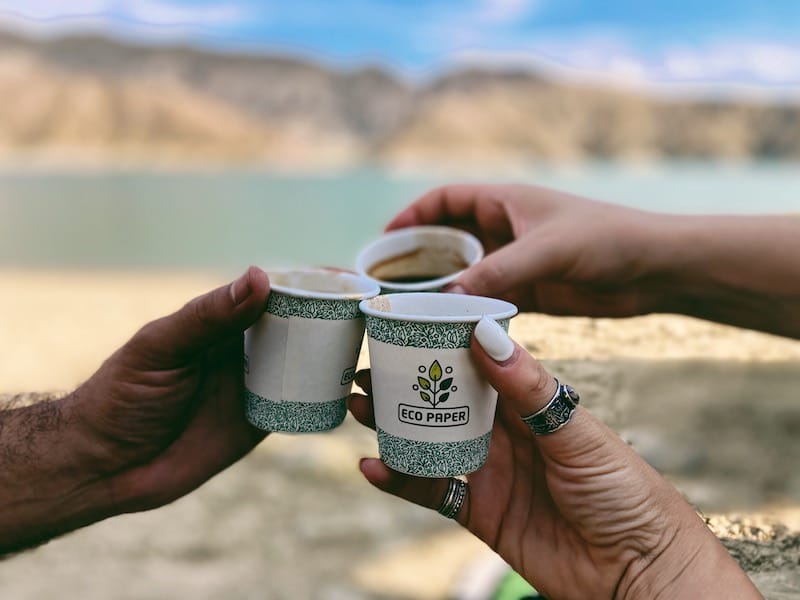 Mud
Azat Reservoir is muddy and not necessarily the easiest place to hang out.  The land surrounding the lake is very muddy, even in the dry and unforgiving climate.  You will definitely need to sit away from the shoreline a bit and bring a blanket to sit on if you're looking to hang out.
If you're hiking in the area, good hiking boots are definitely recommended!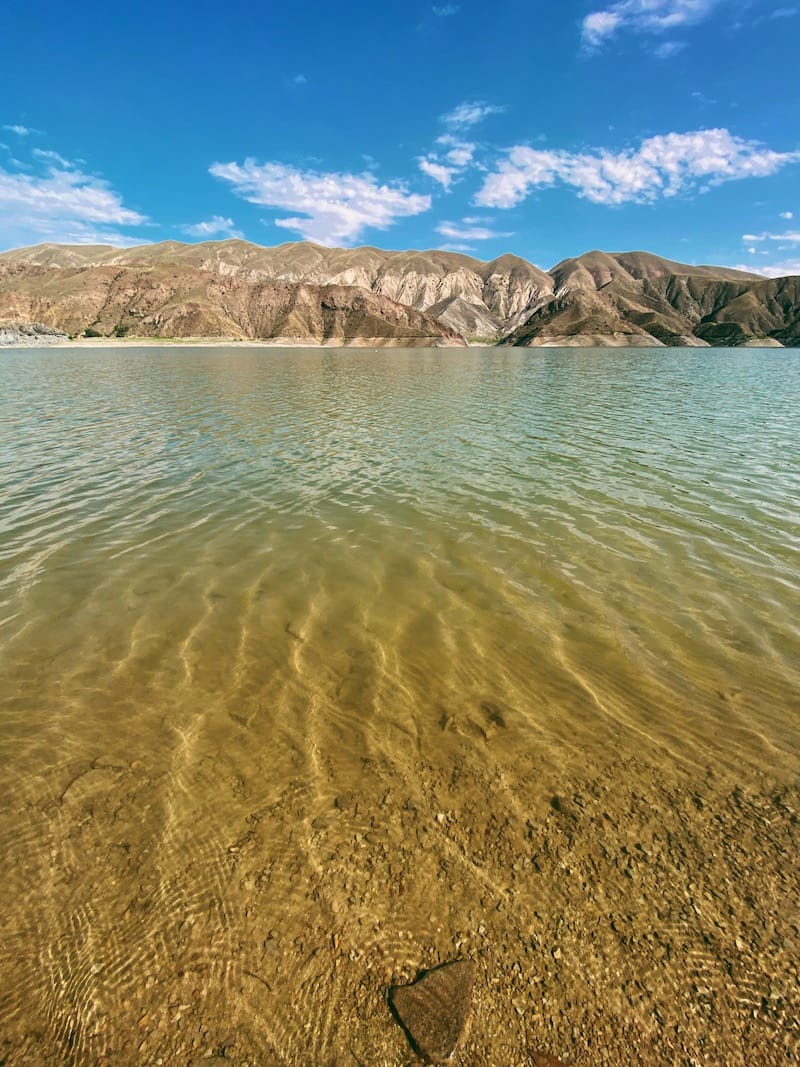 Other Amenities
This is such an off-the-grid place that nothing really exists here except a lot of peace and quiet and some fishermen here and there.  There are no electricity sources, toilets, showers, or water sources.  There are also no shops nearby.  Bring everything you need with you… and then some!
Azat Reservoir Facts
Can you wild camp at Azat Reservoir?  Yes, you can go camping there but please take note of everything mentioned above regarding water, electricity, mud, etc.  Also, if you start a fire there, keep it small and manageable.  There is not much to burn, so bring your own wood with you and again, please make sure to put it out!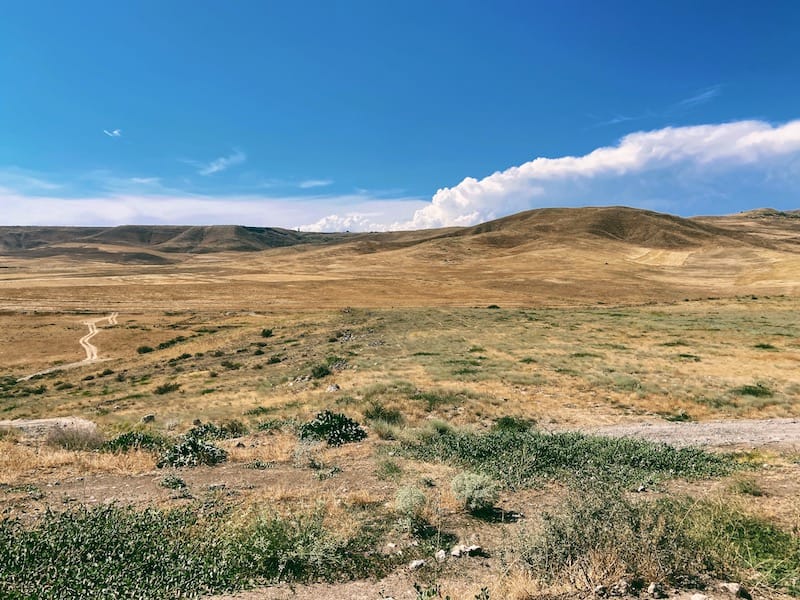 Can you swim there?  Given that it is a water source, I don't believe it is legal, but we saw people doing it anyway.  I wouldn't recommend it, however.  It is also a dammed area, so it is not considered the safest place to swim.
Wildlife in the area.  There are a lot of birds that call this reservoir home and we recommend keeping a drone at a low height and your trace at zero if you're visiting Azat Reservoir.  We saw no snakes when there, but the climate and terrain definitely suggest that they live there, so be vigilant and cautious.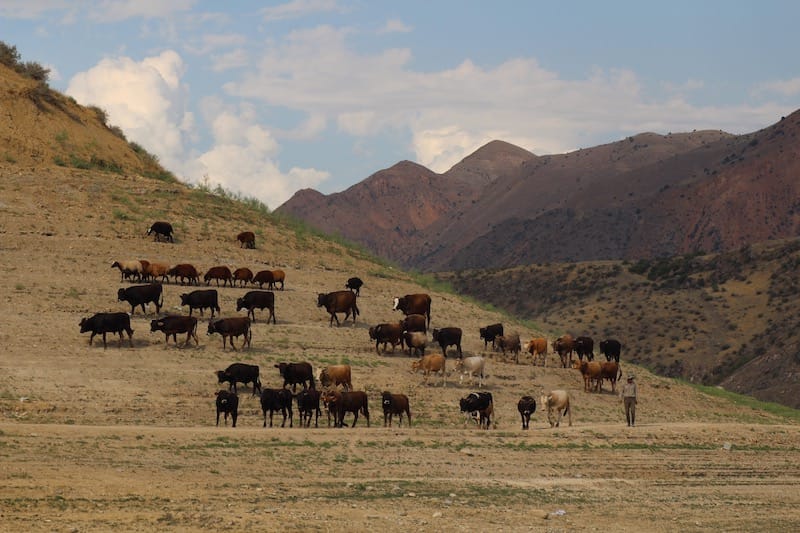 Leave No Trace
One thing that shocked and disappointed us when traveling to Azat Reservoir was the amount of trash we were greeted with when there.
It is common sense to leave no trace when you travel, but those visiting Azat have not received this memo.  STOP LITTERING AND BEING LAZY!
We were appalled at how much trash was left behind from people visiting and fortunately, we had a bag with us to pick up our trash and were able to fill it with some of the crap others had left behind.  Please be part of the solution and not part of the problem.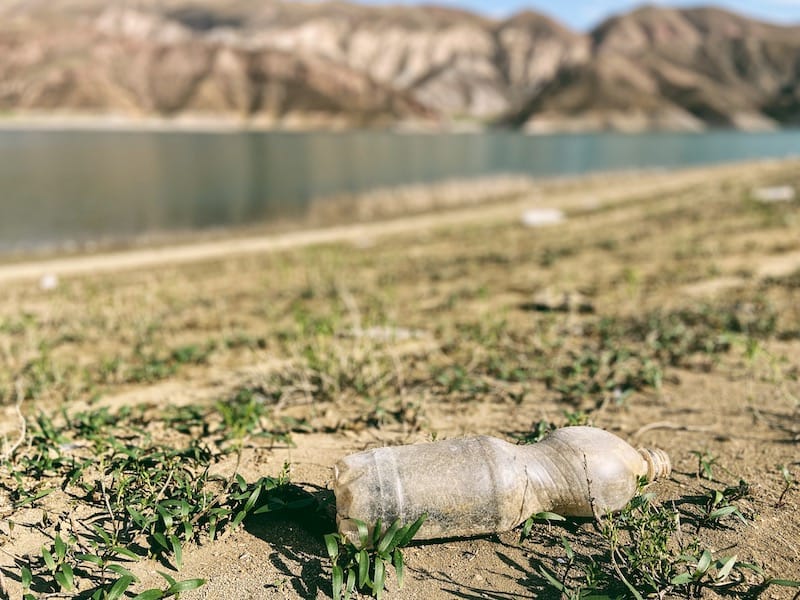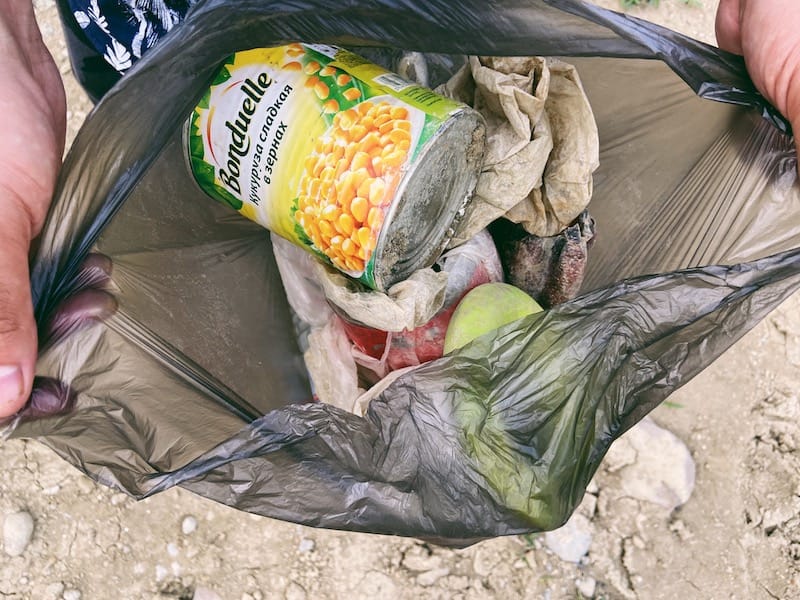 Where to Stay Near Azat Reservoir
As we mention this as a day trip from Yerevan, we recommend staying in the city.  But, Garni village is so nice that we always encourage getting out of the capital and staying in Garni for a night or two and visiting Garni Temple, Geghard Monastery, the Symphony of Stones, and Azat Reservoir.
Our top pick for a place to stay in Garni is Chez Yvette, one of the top-rated guesthouses in Armenia.  They even have a pool if you're not visiting Armenia in winter and want to cool off from the sun.
>> Click here to check rates and availability for Chez Yvette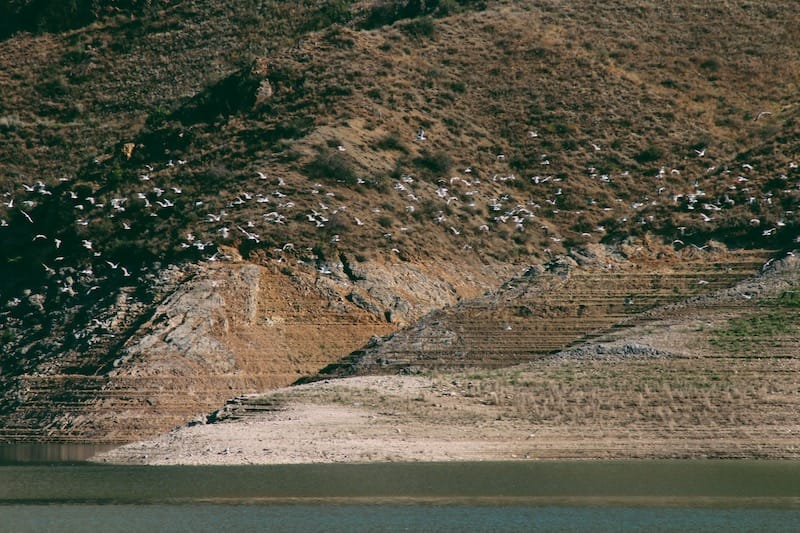 As for our suggestions for where to stay in Yerevan, here are our top picks that cover all budgets and types of travelers:
If you have any questions about going to Azat Reservoir, please reach out or leave a comment below!
PIN IT FOR LATER!