Are you looking for some of the best guesthouses in Lori? We disclose some of our favorites in this guide and look forward to expanding on this post over time!
We have curated this guide to include guesthouses all throughout the region (we still have some work to do in Alaverdi and nearby!) and many of them are more than just a place to crash for the night!
In the end, we also list a few places that offer a glamping and camping-like experience for those looking to be a bit more connected with nature.
Some of these guesthouses include cultural and culinary experiences, all of which we detail below in the guide.
Did we miss any of your favorite Lori guesthouses? Let us know in the comments!
Best Guesthouses in Lori
1. Geologists House B&B
Location: Gargar
BOOK HERE
Geologist's House B&B in Gargar village holds some of our best memories on the road in Armenia. We absolutely love this place and yearn for a return trip!
The Lori guesthouse is owned by Armen Avetisyan, a fantastic man who transformed the house previously owned by his father into a place where he can share Gargar's hospitality with travelers through the area.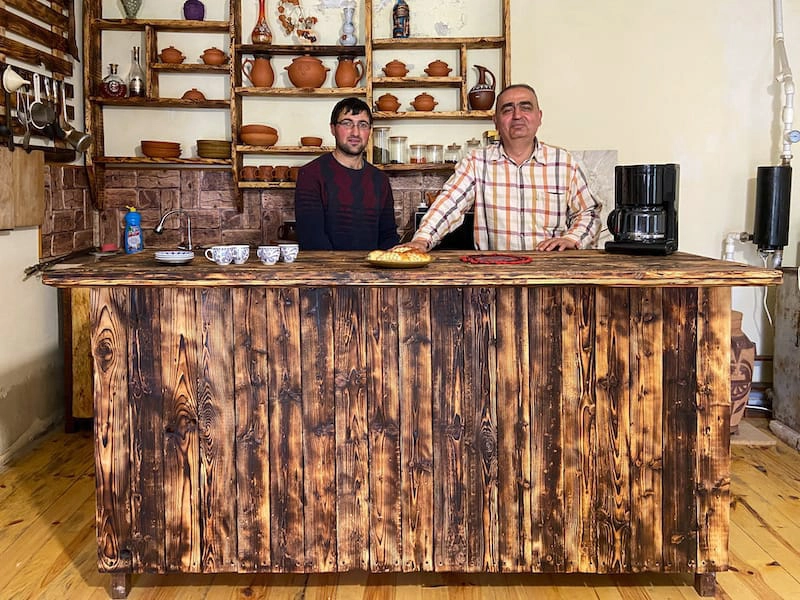 The name comes from the many archaeological digs and finds that have taken place in Gargar (some date back to the 2nd century BC)!
Armen may be the owner but day-to-day operations are run by Davit, a local who enjoys showing off his village to guests!
On-site, you will find large rooms, a shared kitchen and sitting area, and a huge garden with an Armenian-style BBQ pit.
For breakfast, everything is local and you can even eat khashil there!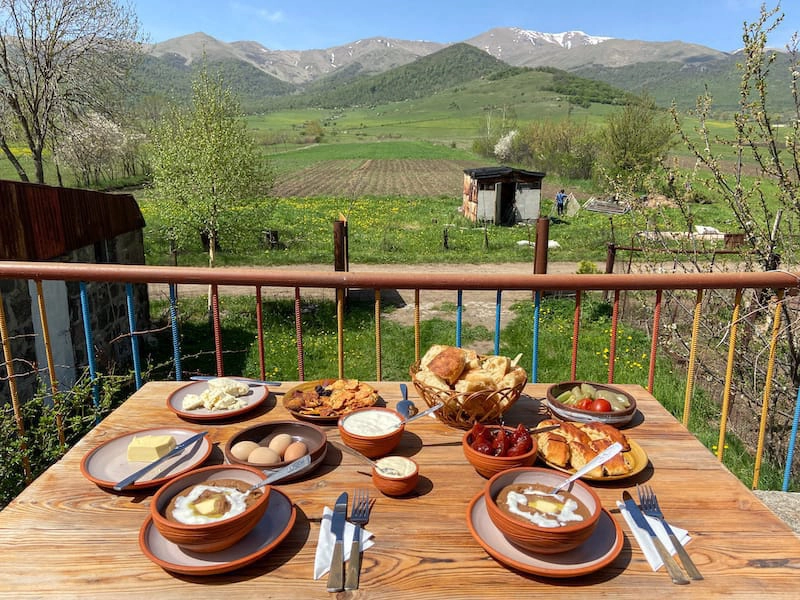 When there, you can go hiking in the Bazum Mountains, horseback riding, or even explore an old Soviet bunker in the forest. This is seriously one of the most relaxing places in Armenia!
>> Click here to book a stay at Geologist's House
2. Ruzanna's Bed & Breakfast
Location: Stepanavan
BOOK HERE
If you're in Stepanavan and are searching for a place to crash for the night (or weekend!), look no further than Ruzanna's Bed & Breakfast.
In the heart of the town, you'll find this home opened years ago by Taguhi on behalf of her mom, Ruzanna, who runs day-to-day operations, and their family.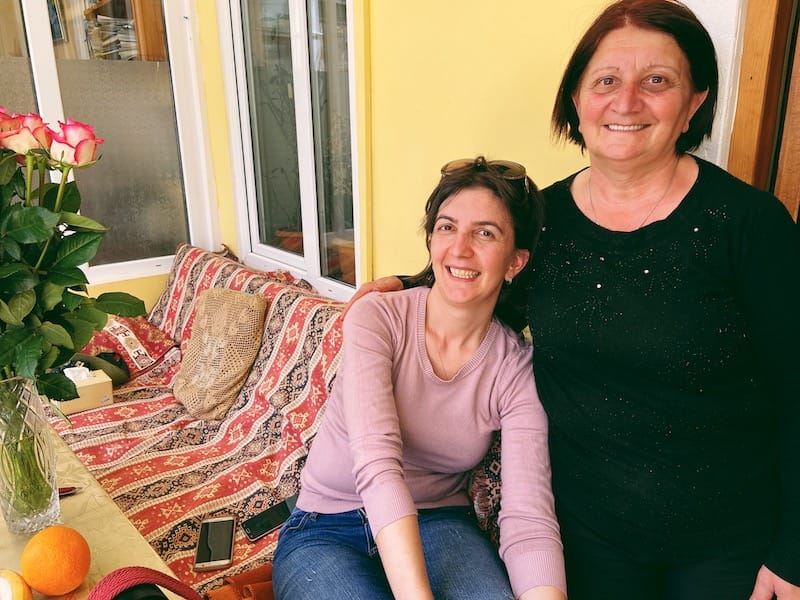 The home is extremely cozy and sitting on the terrace with an Armenian coffee and seasonal fruit is an absolute must if you're looking to unwind and relax here!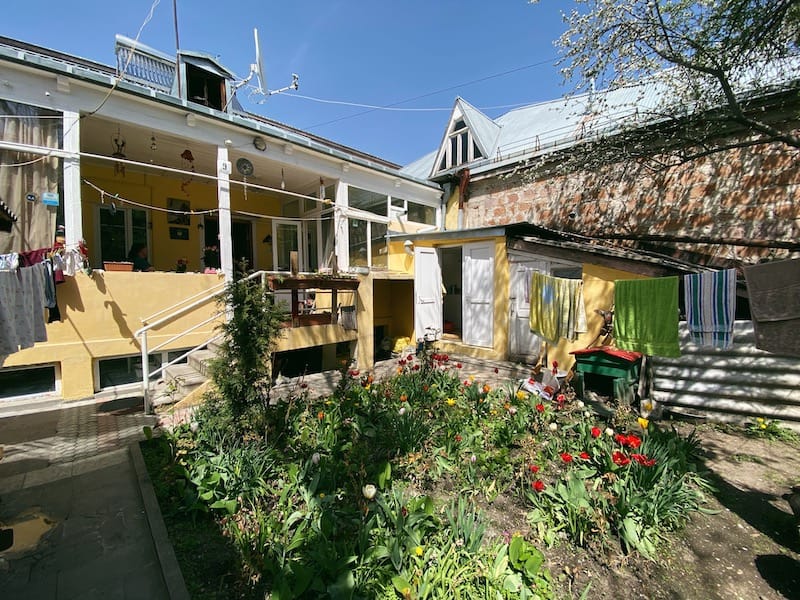 The Stepanavan guesthouse offers a large garden, dining area, wifi, and a children's playground. The double rooms are comfortable and perfect for couples or small families/groups.
>> Click here to book your stay at Ruzanna's B&B
3. Chamich Guesthouse
Location: Debed
BOOK HERE
One of the most raved-about guesthouses in Lori (and all of Armenia) is Chamich Guesthouse in beautiful Debed village.
This lodging option is fantastic for an Armenia itinerary as it is situated in such a convenient spot for exploring the greenery of the area… and nearby Dsegh village!
Chamich offers an on-site restaurant (with out-of-this-world food), parking, a shared lounge area for guests, and a gorgeous garden. In the evenings, there is frequent entertainment and there is a 24-hour front desk to ensure guests' comfort.
The interior is updated and modern and the food is homemade and eco-clean from the village. This is a fantastic place to crash on your trip!
>> Click here to book a stay at Chamich Guesthouse
4. B&B Odzun
Location: Odzun
BOOK HERE
In gorgeous Odzun village, one of the largest villages in Armenia, you'll find one of the coolest guesthouses called B&B Odzun!
Run by Sergo and his fabulous family, this is one of our favorite guesthouses in Northern Armenia. It is also a wonderful place to work from if you're a digital nomad!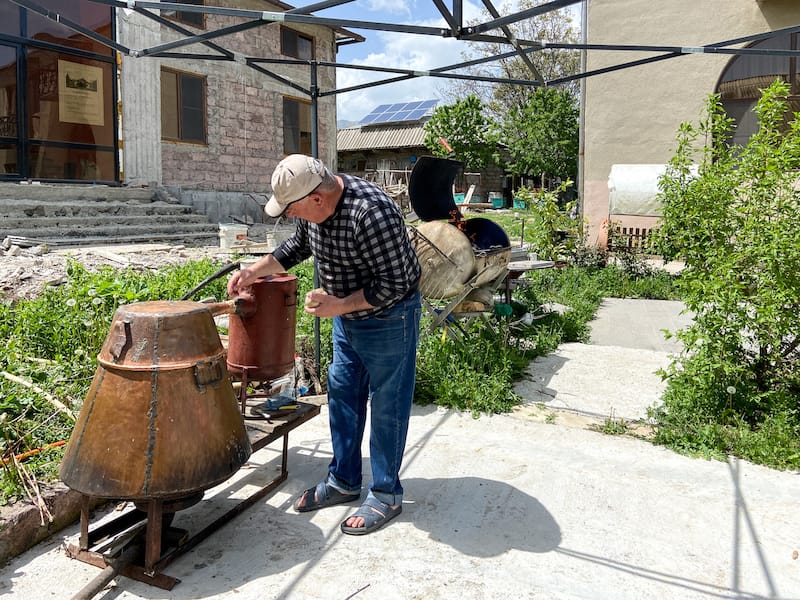 The guesthouse has modern rooms and living quarters (it was just built in 2020!), good wifi, eco-clean village food, and many views around town (the Debed Gorge is so mindblowing).
Sergo also is a beekeeper and makes his own homemade vodka… he even offers masterclasses in vodka making (but only in Armenian and Russian).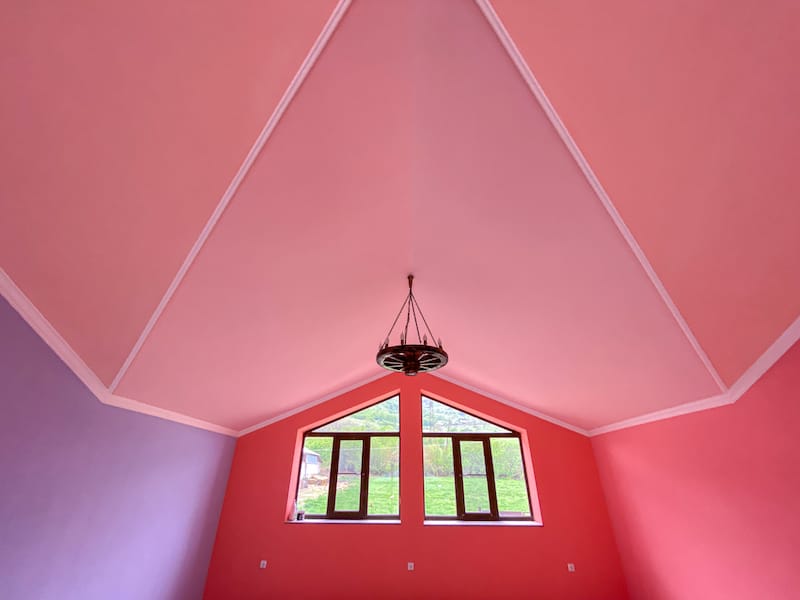 This is definitely a great place to put on your Lori bucket list.
>> Click here to book your stay at B&B Odzun
5. Tsater Guesthouse
Location: Tsater
BOOK HERE
Mher Virabyan is originally from Tsater village but had relocated to Yerevan (and even abroad for a while!) after his farm perished in a fire in the village.
After years outside of Tsater, the village kept calling him back and he returned to his vacant family home to start the next chapter of his life.
In 2021, Mher and his family transformed the place into Tsater Guesthouse, accommodation overlooking to gorge!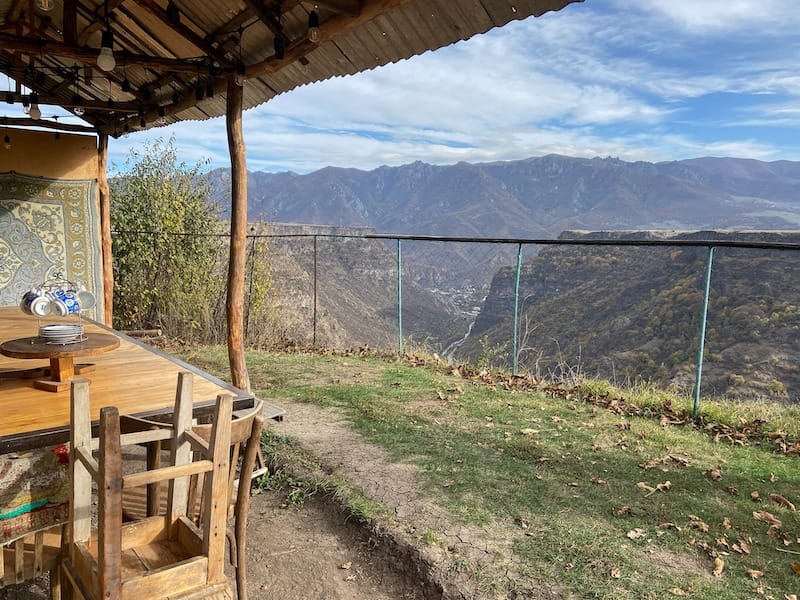 It became a place that had traditional rooms, local food, and views that allowed you to relax with a glass of wine while gazing over the humbling Debed Canyon scenery!
Every room has a wardrobe, flat-screen TV, private bathroom, and bed linens/towels. There is also a fridge in each room, as well as a balcony!
You'll also find a small retro museum where you can check out old-school items from the Soviet times (and long before!).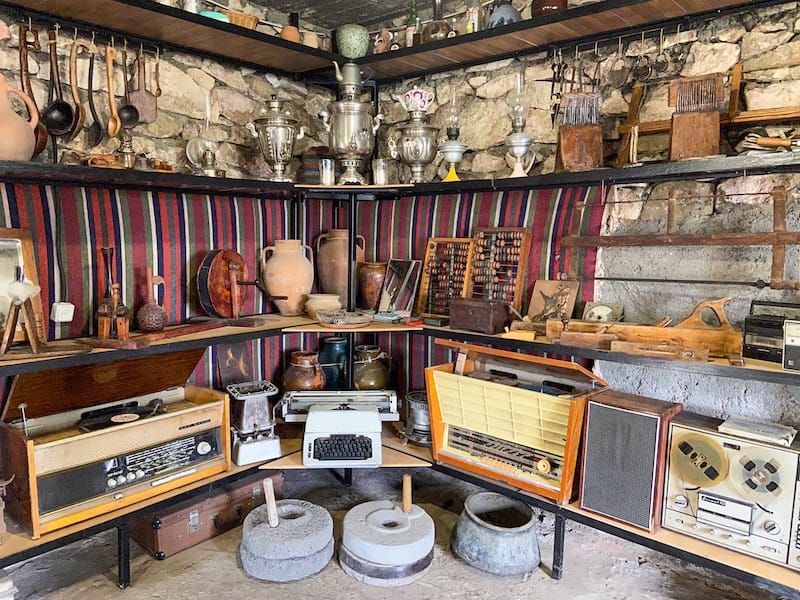 Tsater Guesthouse is a fantastic base for hikers that are exploring the Debed Canyon as well as for those looking for a relaxing weekend away from the city. To book a stay, check out their Facebook or the link below.
>> Click here to book a stay at Tsater Guesthouse
6. MagHay B&B
Location: Vanadzor
BOOK HERE
While you'll find plenty of cozy places to stay in Armenia's third-largest city, none make you feel quite at home like MagHay B&B, our favorite Vanadzor guesthouse.
This green property feels like a retreat all on its own and has a few buildings with various rooms, a kitchen/dining area, and a large garden. Inside the garden, you'll find several tables, fruit trees, and even a hammock to unwind in during the day.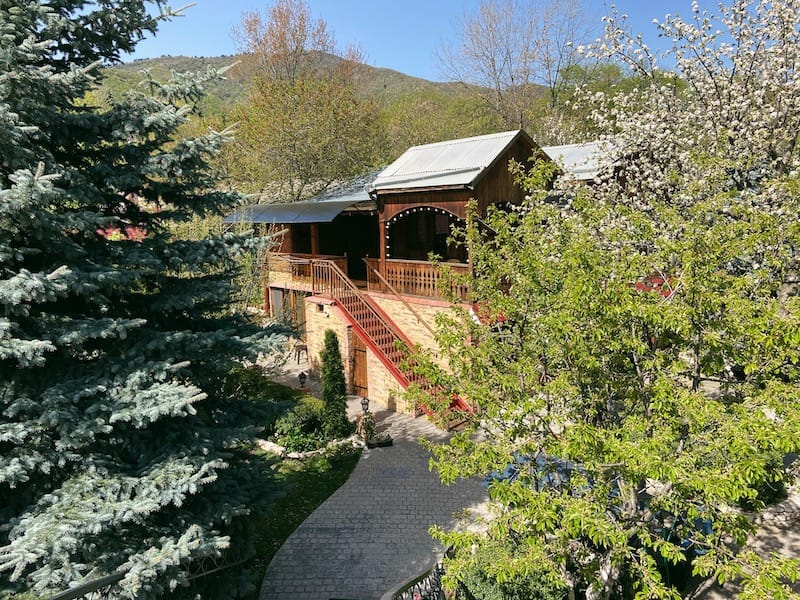 MagHay is also a fantastic place to work from for digital nomads, and it provides easy access to the city.
This year, MagHay is starting to offer some winter tours like snowshoeing! So, keep an eye out for when they release information about the new snowshoeing trails and tours! They will also offer equipment to rent.
One of my favorite things about MagHay is that they have a mind-blowingly good breakfast.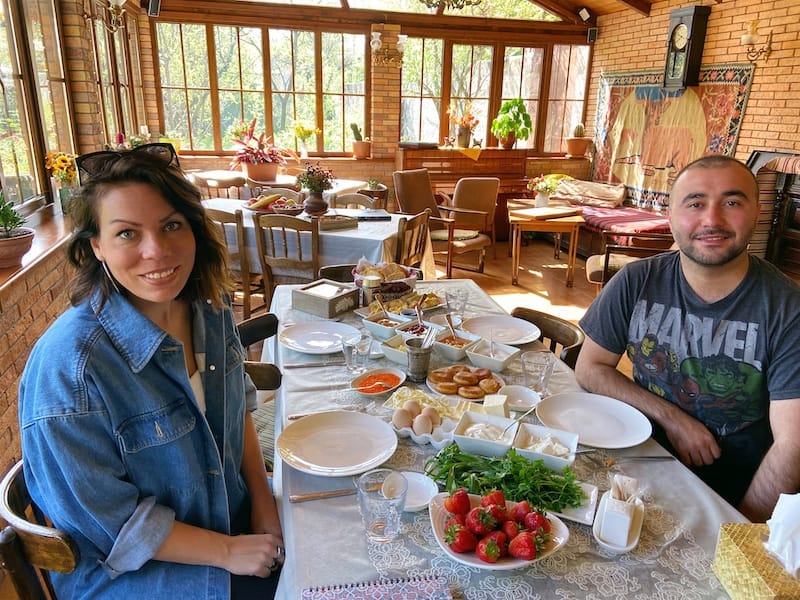 I mean, it might just be my favorite in all of Armenia. I can assure you that if you pay them a visit, you will agree with me!
>> Click here to book your stay at MagHay B&B
7. Narek B&B
Location: Stepanavan
Stepanavan is one of our favorite green destinations in Armenia and one of the best guesthouses in the area is Narek B&B! The guesthouse was a workshop 10 years ago before transforming into lodging in 2019 by owner Artur Sargsyan.
A lawyer by day, Artur saw the travelers flocking to Stepanavan for the 'dusting' of the trees at the dendropark and decided opening a family-owned guesthouse would be a great opportunity to showcase a little Lori hospitality to these people!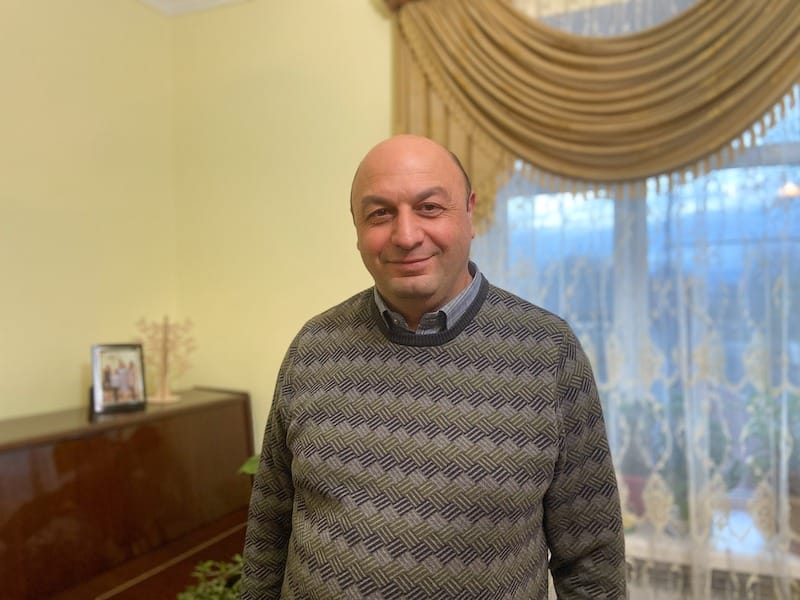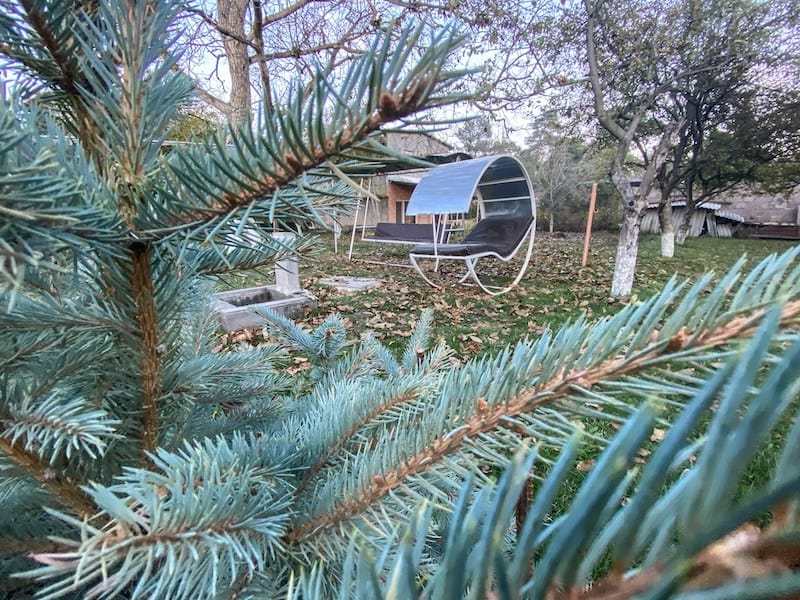 Over the years, he even built an additional floor in the guesthouse and fixed up the garden so it can be used in all seasons.
He aims to provide family-owned guesthouse hospitality and your everyday comforts (each room has a kitchen space!) so you can feel at home when exploring beautiful Stepanavan.
If you are interested in staying at Narek's, you can book by calling +374 093739248.
8. Sona Guesthouse
Location: Dsegh
BOOK HERE
A unique guesthouse in Dsegh is Sona Guesthouse, a place run by Ashot and Anahit Bezhanyan (and named after their granddaughter, Sona)!
The guesthouse combines a culinary experience with overnight hospitality and it is one of the best in the region as a result!
Depending on the season, you will have a chance to forage for local ingredients like mushrooms (May-October), berries (summer through autumn), and herbs (May).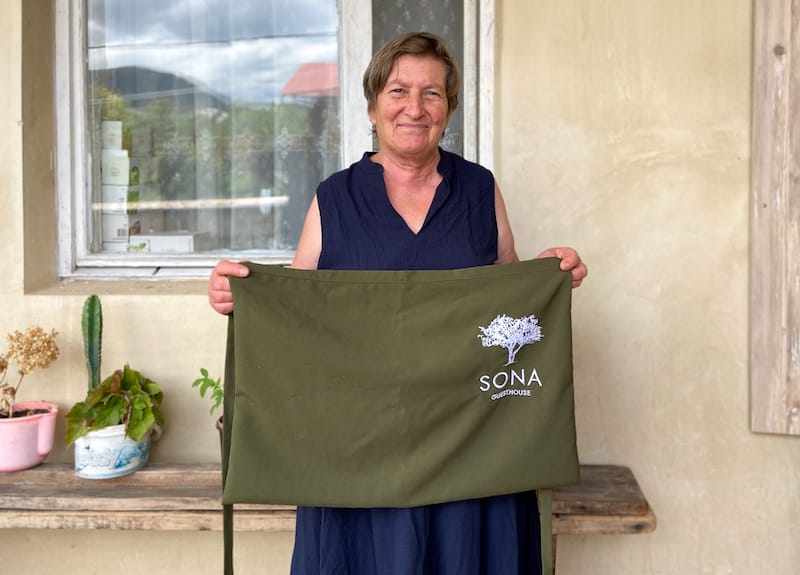 Once you venture through the forests and mountains collecting them, you will bring back your findings to the guesthouse where you will learn how to prepare them into dishes or juices.
If you require English, please give 3 days' notice. This is a great place to stay for those looking to explore popular Dsegh village while wanting to dive a little deeper into the food of the region.
>> Click here to book a stay at Sona Guesthouse
9. House of Fairy Tale
Location: Pambak
BOOK HERE
In between Alaverdi and Vanadzor in the small village of Pambak is one of the most interesting businesses and guesthouses in all of Armenia – the Fairy Tale House.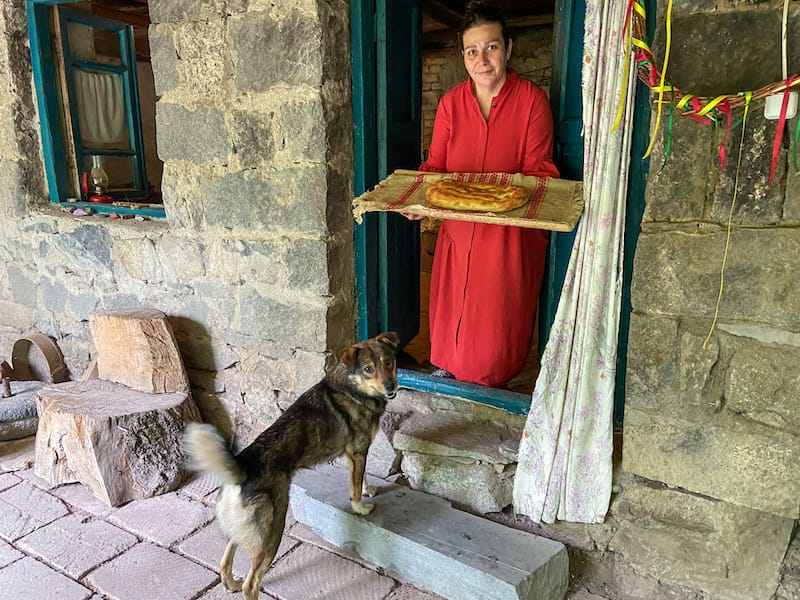 This colorful, female-owned business is a standout in the region as it doubles as a fairy tale house where kids and adults can come to hear local legends and tales, as well as a cultural experience.
You can try local foods, see dancing, and learn about ancient rituals. And, of course, you can stay overnight there!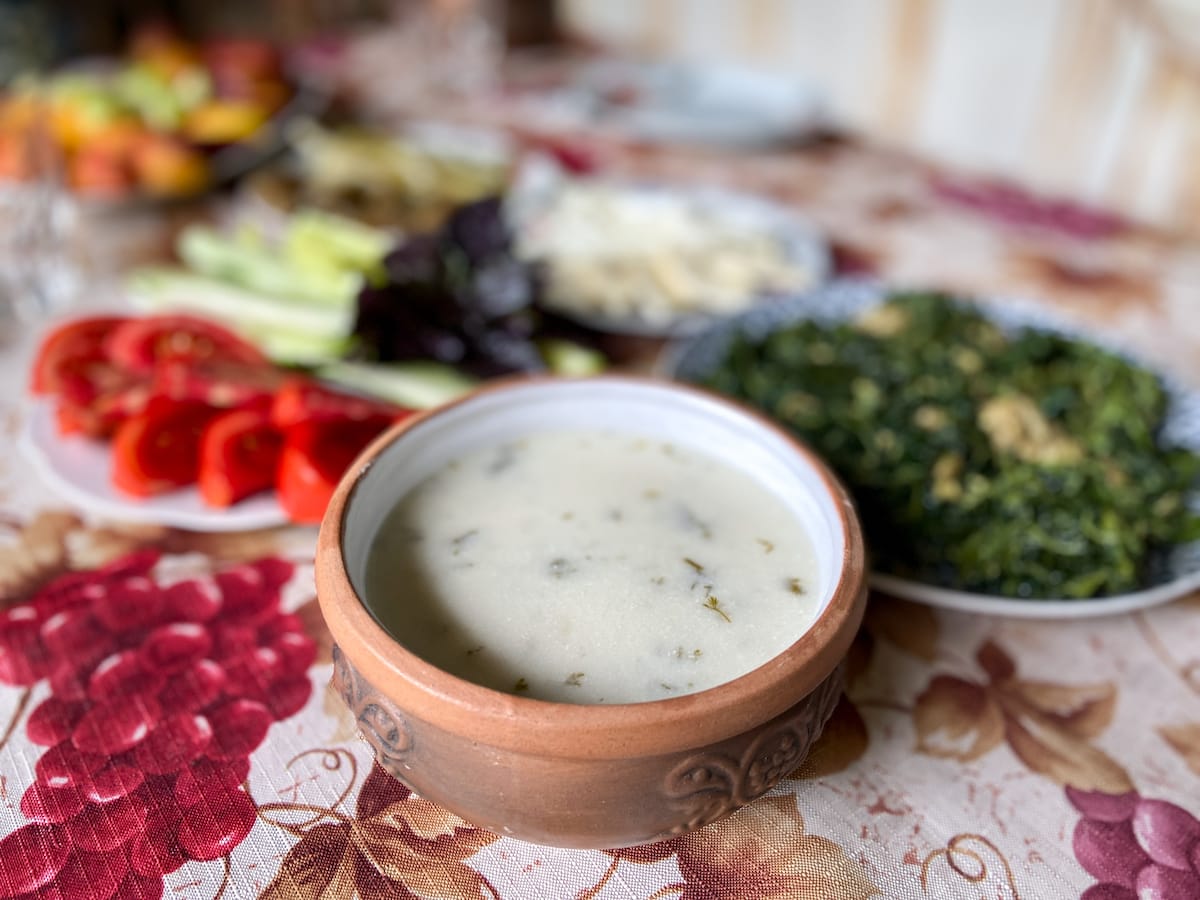 It is a great place to base yourself for an adventure in the Lori region and the hospitality is out-of-this-world!
>> Click here to book your stay at Fairy Tale House
10. Carahunge Village Home
Location: Amrakits
BOOK HERE
*Please note that Carahunge Village Home is temporarily closed. We will update this once it reopens!
Carahunge Village Home is a fabulous option for those looking to stay in a small village in the heart of Lori.
Across from the famous Russian Church called Church of St. Nicholas, this iconic red guesthouse has all the offerings to ensure guests are comfortable and satisfied on their trip!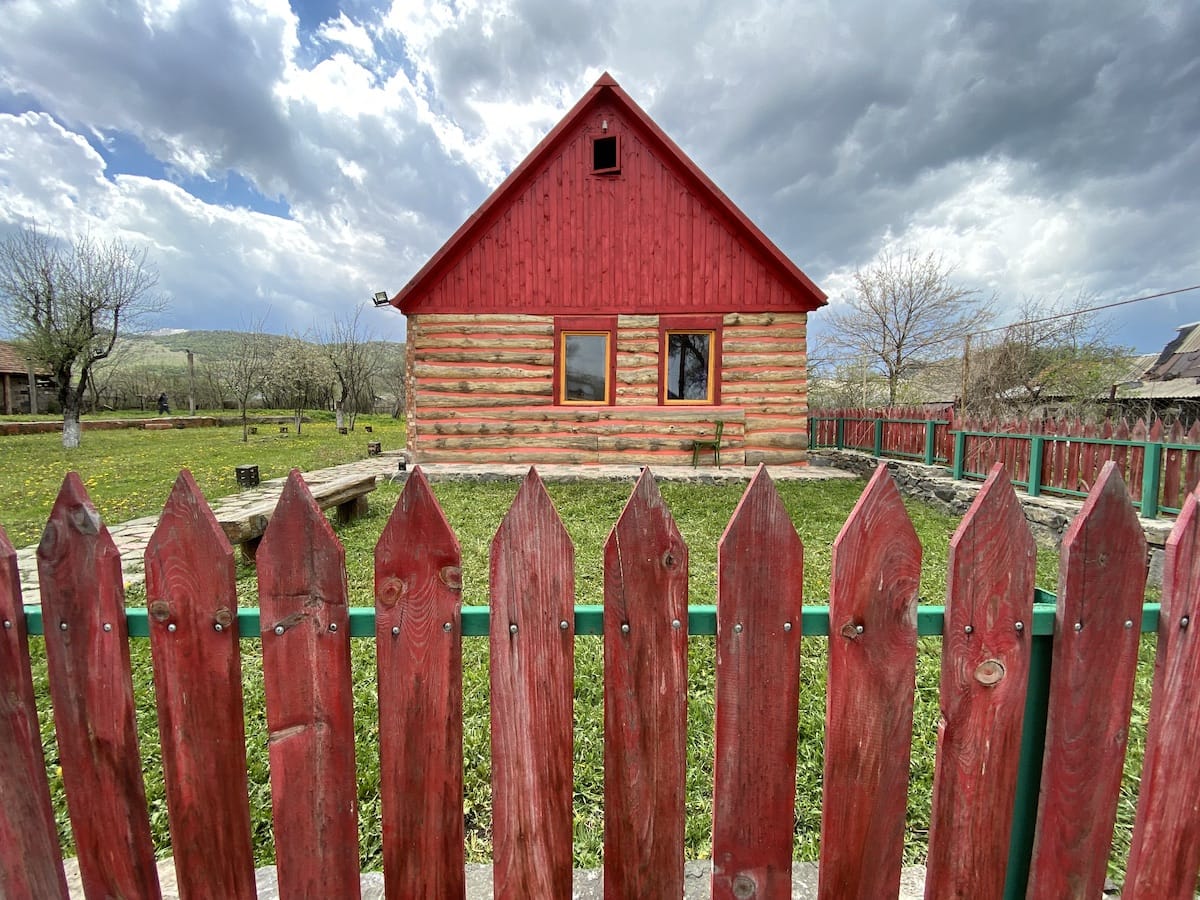 On-site, you will find a large garden and each room is equipped with a kettle, a private bathroom, and a wardrobe.
In the garden, there is an area where you can make a fire in the evenings and a large space where kids can run around. There is even a room with bunk beds, making it the perfect weekend escape for families.
>> Click here to book a stay at Carahunge Village Home
11. Cosmo Glamping (Nature Lover's Option)
Location: Dsegh
BOOK HERE
On the slopes of the gorgeous village of Dsegh is Cosmo Glamping, an alternative option for accommodation in the area!
This glamping experience offers the best way to stay in nature but with all the amenities that will offer guests a comfortable stay!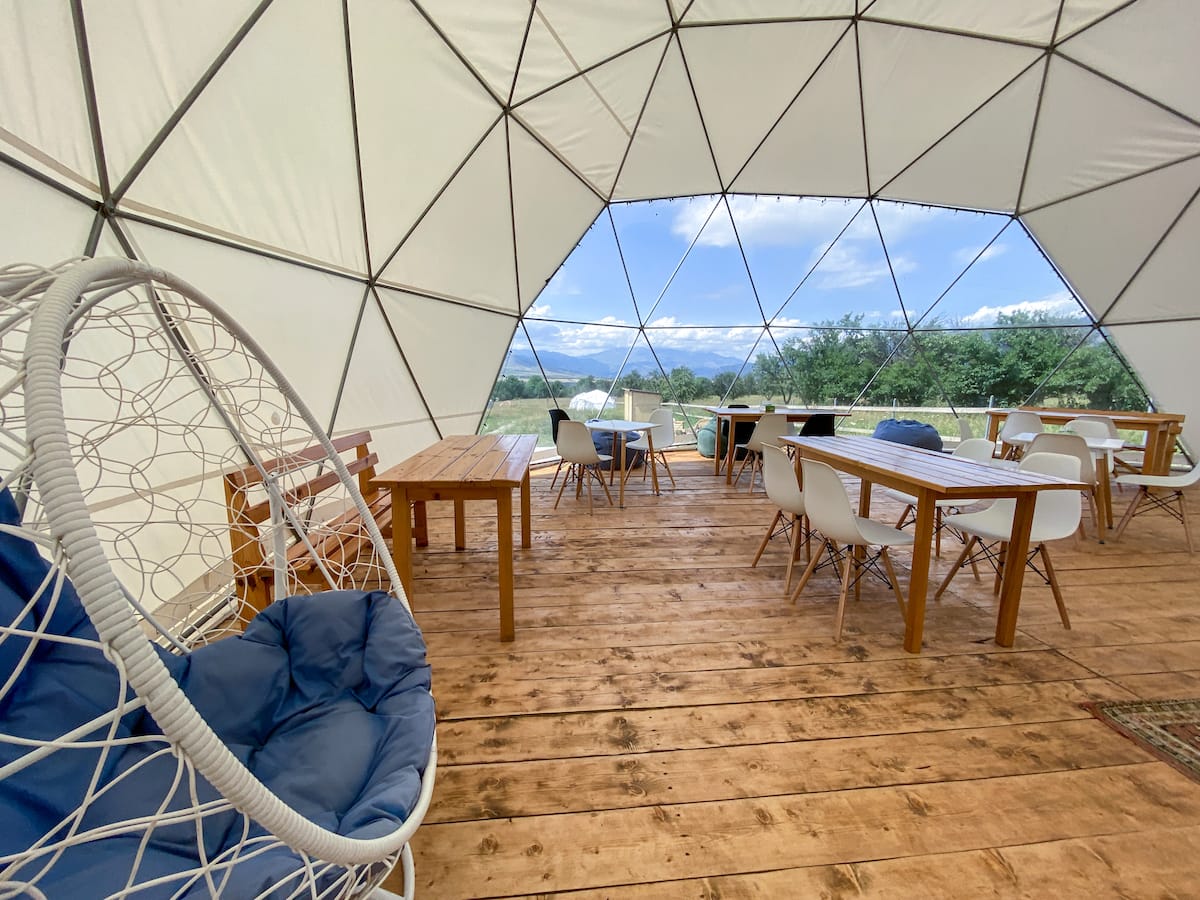 You'll find large and comfortable beds, showers, air-conditioning for the summer months, a heating system for the colder months, and more!
Each tent has a transparent roof that allows you to do a little stargazing at night before shutting your eyes.
When staying at Cosmo Glamping, guests can enjoy local village food in the indoor bar, breakfast, lunch, and dinner facility.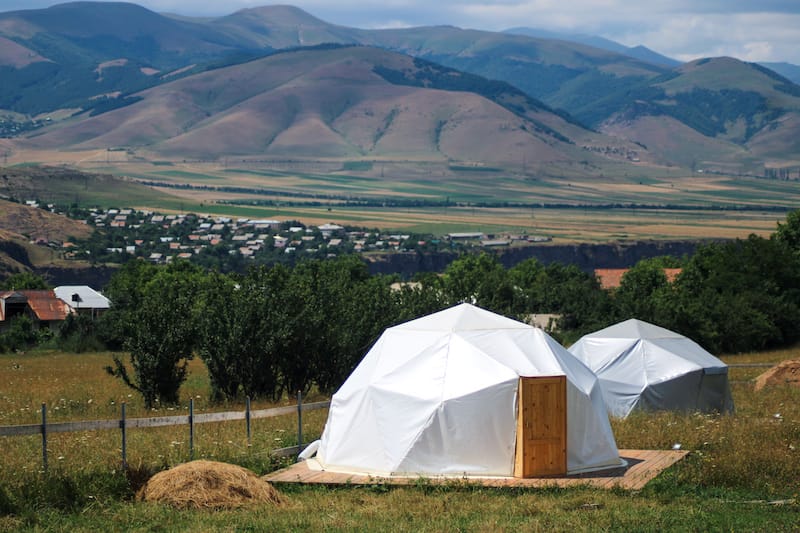 Outside, you will see an open terrace and cafe where you can sit in nature and enjoy a drink or a coffee. And, at night, there is a firepit area!
>> Click here to book a stay at Cosmo Glamping
12. Afrodite Guesthouse
Location: Stepanavan
BOOK HERE
Artak Simonyan, a Stepanavan native and founder of Afrodite Guesthouse. His dream was once to create his own space in his hometown where he can accommodate guests and give them a quiet spot to relax while connecting with the alluring Lori nature.
His answer was Afrodite Guesthouse, and it is the ideal spot to visit at any time of the year, whether it is during peak autumn or in the middle of a snowy winter!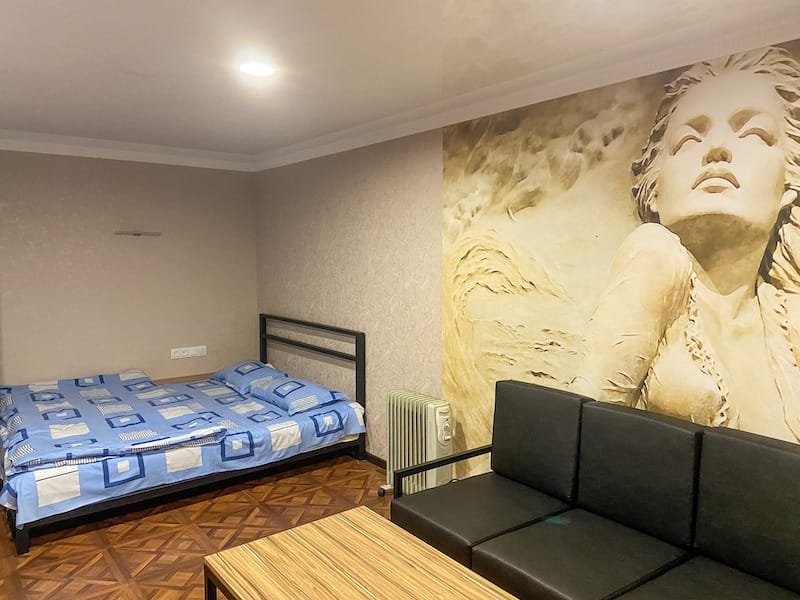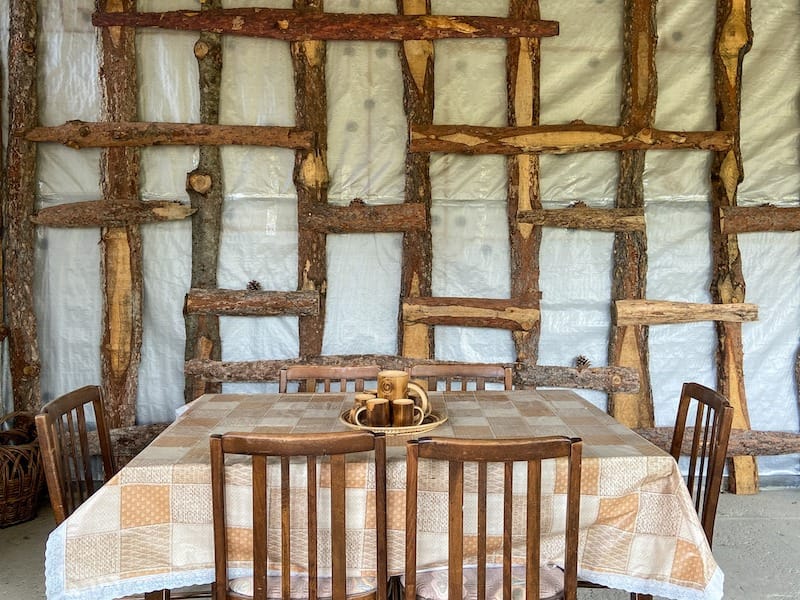 The guesthouse is around 1.8km from Stepanavan and 3.8km from Lori Berd. You'll find a garden, a private pool, and parking!
If you are interested in staying at Afrodite Guesthouse, you can book by calling +374 099223199 or at the link below!
>> Click here to book a stay at Afrodite Guesthouse
Did we miss any of your favorite Lori guesthouses?
Let us know the best guesthouses in Lori in the comments! We would love to make some additions to this guide over time! Thanks!
This post has been created in the frames of  "The Transcaucasian Trail – Promoting Cross-Border Tourism" project, which is being implemented by People in Need Georgia in collaboration with People in Need Armenia and is funded by the USAID EDGE Project.
It has been made possible by the generous support of the American people through the United States Agency for International Development (USAID). The contents are the responsibility of People in Need and Absolute Armenia and do not necessarily reflect the views of USAID or the United States Government.
More Lori Travel Guides