There are many places in Armenia that are underrated and undiscovered. Ijevan is absolutely one of them!
This is a guide to reasons to visit and things to do in Ijevan, Armenia… Tavush's delightful city that is on the rise.
Are you planning your trip to Armenia last minute?
Below are some of the top tours in Armenia (and amazing Ijevan hotels)!
🇦🇲  Top experiences around Armenia:
🛌  Top-rated hotels in Ijevan:
🚗  Looking for the best way to get around Armenia? Click here to check rental car rates for Armenia!
If you're looking to take a city tour to learn more about Ijevan and Tavush, please inquire here or visit the tourism office at 1 Usanoghakan Street (they speak English!) when you're in Ijevan.
Best Things to Do in Ijevan
After a long lockdown period in Yerevan, we craved greenery.  In fact, we craved the north of Armenia and had set our sights on heading to Tavush and Lori, two regions notorious for being greener than green.
All roads led us to Ijevan, a city of about 21,000 residents located near Dilijan and in Armenia's north.  I had previously been there briefly, yet not explored.
Megan had seen Ijevan several times on marshrutka stops coming from Georgia and constantly raved about the place and wanted to check it out deeper.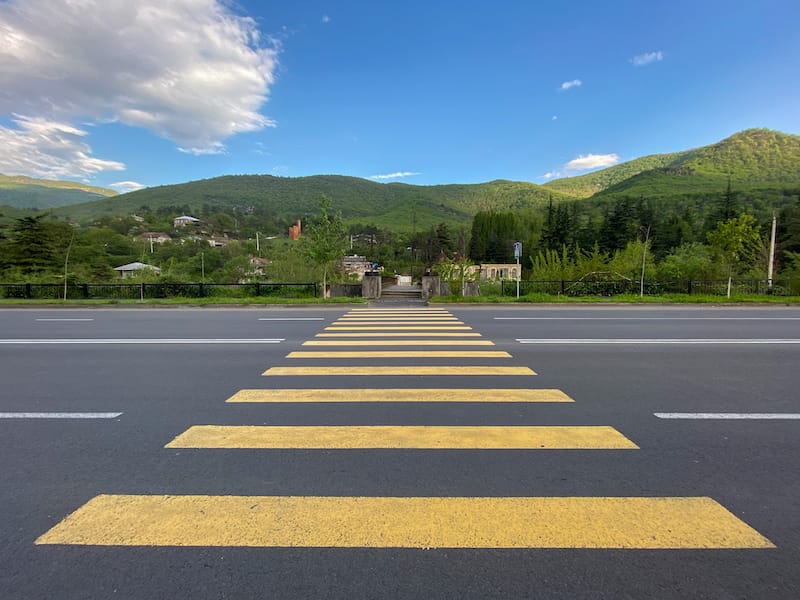 Tavush's nature is pretty diverse and the mountains can range from obscure and rocky to green and dense with forests.  You will have areas that appear very alpine beside areas that feel like something you've not seen before.  It truly is an ideal stop for those traveling from Tbilisi to Yerevan (and vice versa).
In Ijevan, we found heaps of cool Soviet architecture, clean nature spots, parks, and a really fantastic cafe.
These are our favorite things to do in Ijevan, a city that we hope will be on the rise for international and domestic tourism in Armenia… as well as a short background of the city.
About Ijevan
Ijevan is a city located in the center of the Tavush Marz (province/region) and it is considered to be the administrative center of Tavush.  It is located about 140 kilometers away from Yerevan.
During ancient times, there were many caravanserais for merchants and travelers to stop and rest throughout their trip back and forth to Syria and the North Caucasus.  Armenia was part of the Silk Road and Ijevan was a very important stop.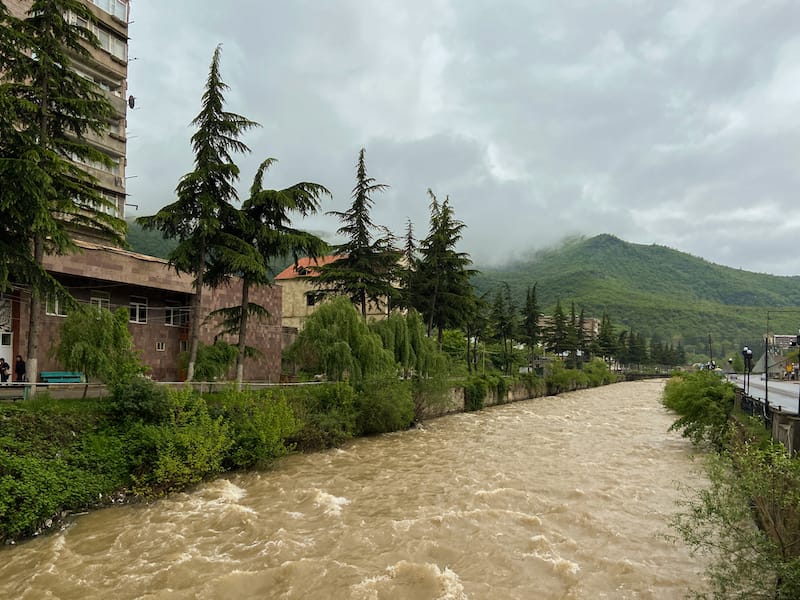 Despite the extremely old history, the first village wasn't actually founded in Ijevan until the 18th century and was aptly called Caravanserai.  Ijevan earned city status only during the Soviet times in 1961.
Interestingly, the city is still a stopping point and proof of that is that many marshrutkas going in between Yerevan and Tbilisi use it as such (hence how Megan ended up there so many times).
Ijevan is located in between the mountains (a part of the Gugark range) and the city has the rapidly flowing Aghstev River running through it.
Because the city is separated by this river, you can find 9 small and medium bridges connecting both sides of the city, giving the city a unique vibe and characteristic to it.
Throughout the USSR-era, the city was flourishing because of the many forest resources and hotels, but the real reason that the city was renowned was because of the Ijevan Wine-Brandy Factory (which is still producing today!) and that it was home to one of the largest carpet factories.
Best Things to Do in Ijevan
1. Check Out the Sculptures of Ijevan
Ijevan is known as the 'city of a hundred sculptures' and it truly shows that evidence as you arrive and see the park brimming with them.  The sculptures came to be from 1985-1990 as the town was hosting international symposiums.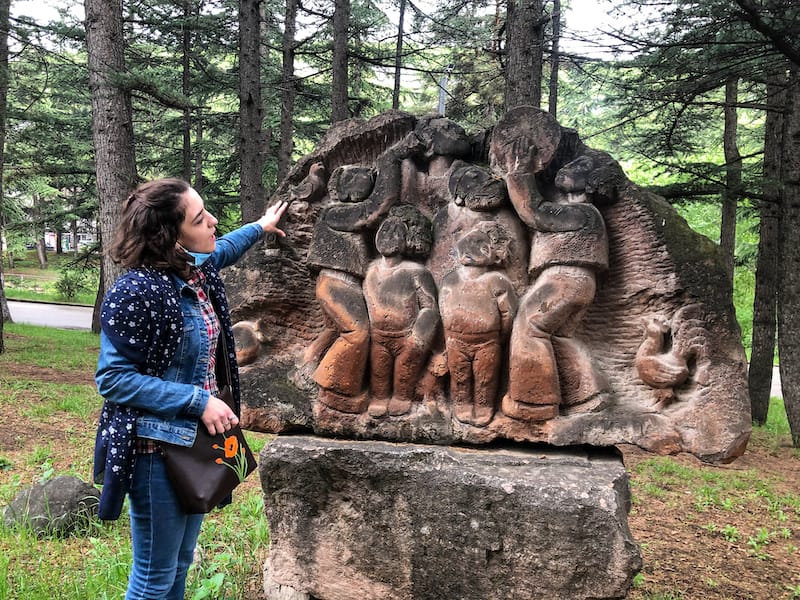 As you stroll alongside the Aghstev River on Valansi Street, you will discover exciting artwork displayed inside the Sculptures Park where you can view creations from over 60 local and international artists
2. Find Some Soviet Architecture
Ijevan was at the peak of its development during the Soviet Union and many beautiful and obscure-looking constructions were built during that period.
Walk into the center part of the city and you will discover buildings and constructions such as the city's unfinished cable rope construction that has another unfinished station up on the hill over the city.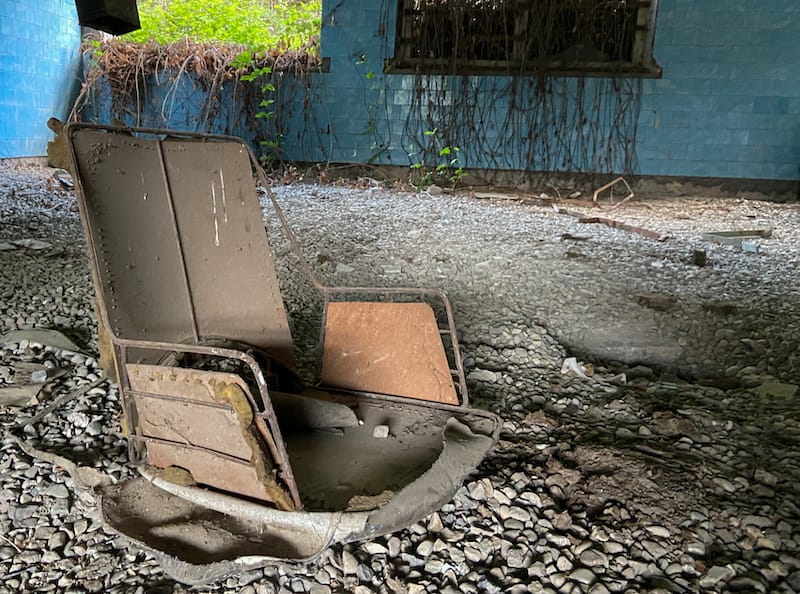 You can also view the abandoned sanatorium with a cinema house and separate bar building located behind the Ijevan Dendropark.
There is a fair amount of Soviet architecture in Ijevan if you just keep your eyes peeled.  Be sure not to miss the Soviet hotel in the city center near Belleville Guesthouse!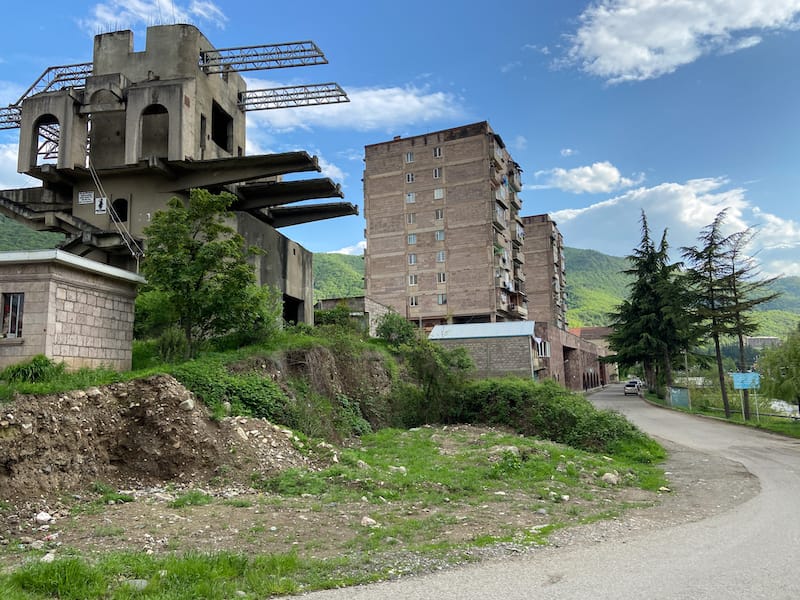 3. Visit Amenaprkich Church in the Oldest Neighborhoods
Stroll up through Ijevan's oldest neighborhoods, Aslanyan and Blbulyan, to discover old Ijevan-style houses and visit the 18th-century Amenaprkich Church.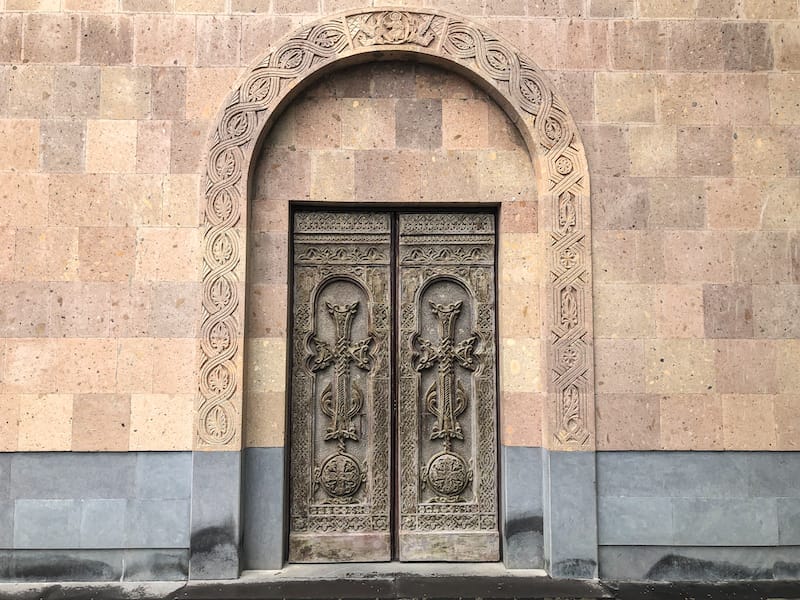 From the churchyard, you will notice a beautiful view of the mountains surrounding the city and houses built much higher on hills.
This was one of our favorite places to visit in the city as it had a totally different vibe to it!
4. Observe Ijevan Traditional Architecture
Besides Ijevan's Soviet architecture, the city has little typical Armenian architecture from the 19th century, and during a walk through the city, you can see them in different locations in the town.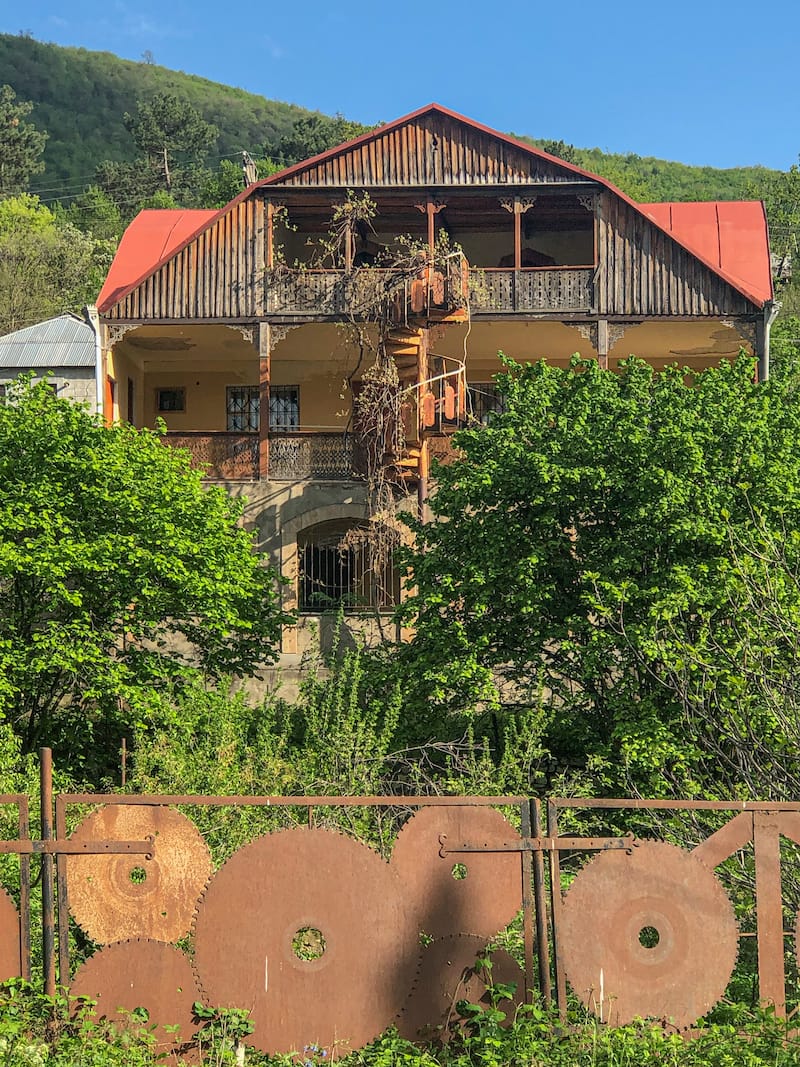 Made from stone and wood, the buildings are infecting an authentic charm to the city and we found them really photogenic and show the historic architectural heritage of the town.
5. Stop by the World War II Memorial
Walk alongside the river on Youth Street (Usanoghakan) up to the World War II Memorial in Ijevan and witness a beautifully constructed place dedicated to war heroes on a little hill after walking up the stairs.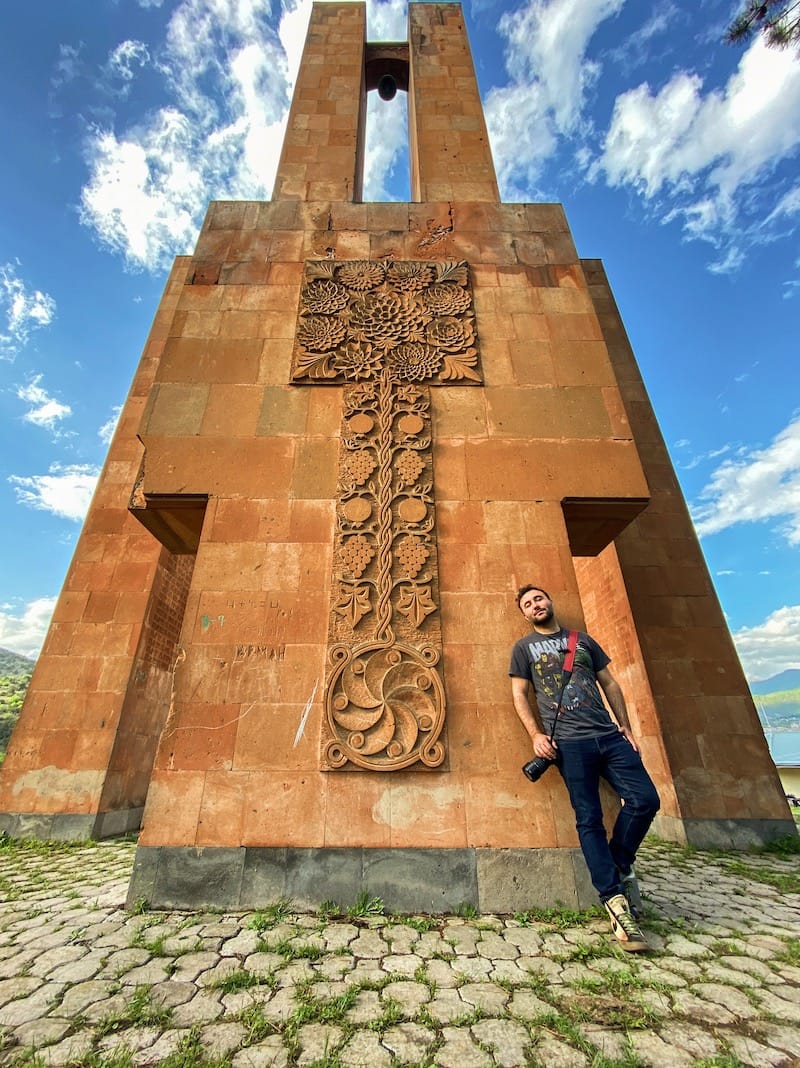 On the way, you will see traditional old houses and villas, and the more you will walk up, you can see lovely views of the city and maybe meet some friendly shepherds as we did.
6. Have a Tasting at the Ijevan Wine-Brandy Factory
One of the coolest places to visit in Ijevan is the Ijevan Wine-Brandy Factory which has a history dating back 70 years and produces some of the most renowned beverages in Armenia.
Ijevan Wine-Brandy Factory beverages are actually imported to many countries, like the US and ones in the European Union.
Founded in 1951, Ijevan Wine-Brandy Factory is one of the visit cards of the city, located in a beautiful area surrounded by green forests and hills and it is one of the essential things to do in Ijevan.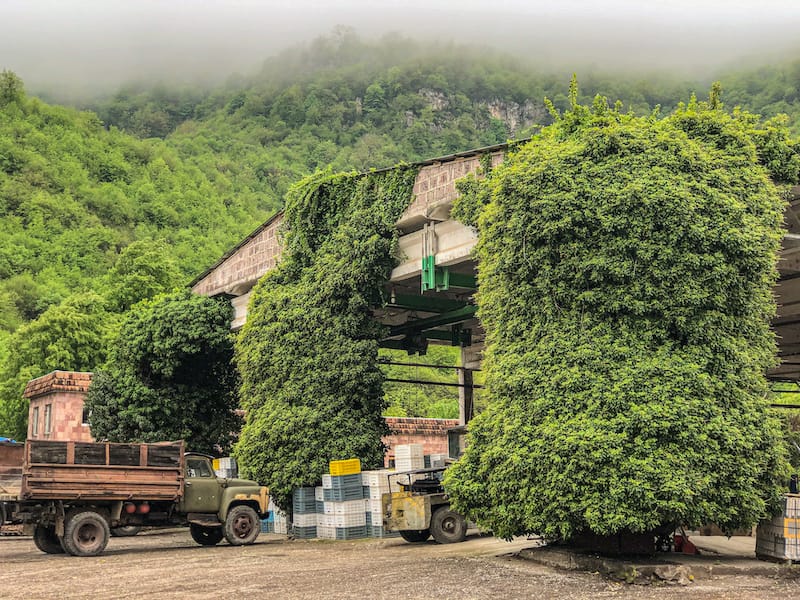 If you are visiting Ijevan, then we definitely recommend you take a tour of Ijevan Wine-Brandy Factory where you can see and learn the winemaking process, observe old wine collections from the mid-70s in the stocked cellar, and of course, take home an Armenian souvenir with you!
The factory is located slightly before you enter Ijevan if you're coming from Yerevan (or Dilijan).  You will see it on the right-hand side of the road at Yerevanyan Street 9.
7. Photograph Mother Armenia
Located only a 5-minute drive away from Ijevan's city center on the main highway is Mother Armenia. It is an impressive statue symbolizing the strong will of the Armenian people.
Bult in 1971 by architect S. Mehrabyan, Ijevan's Mother Armenia statue is one of the symbols of the city and an interesting place to visit and photograph.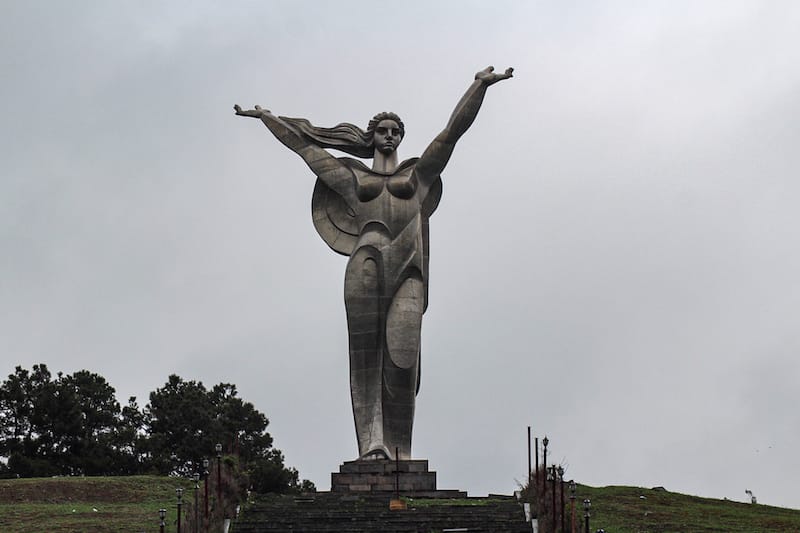 8. Visit the Historical Geographical Museum of Ijevan
Take the time to visit the fascinating Geographical Museum of Ijevan located alongside the main highway in front of the Ijevan Dendropark and next to the Armenian Genocide Memorial.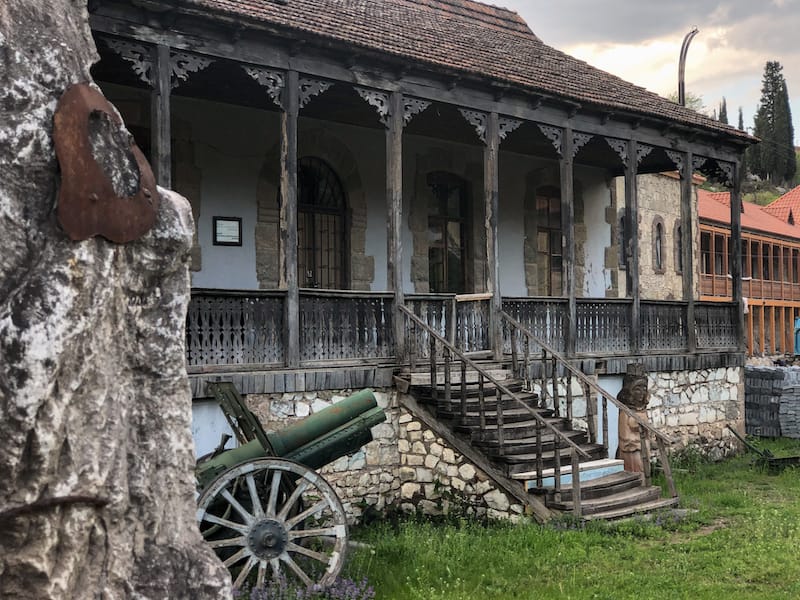 Founded in 1955 and located in a traditional architectural building, the Geographical Museum has 1,600 exhibits and impressive collections of cannons from wars of the beginning of the 20th century, like WW1 and the Sardarapat Battle.
9. Stroll Through Ijevan Dendropark
It's easy to say what to do in Ijevan for nature lovers because the city is located tucked away in nature surrounded by green, beautiful mountains, hills, rivers, and forests.
But we strongly recommend you visit the magical Ijevan Dendropark (arboretum). It is a little piece of natural paradise located close to the WW2 Memorial and it is completely free to visit (and you won't regret it).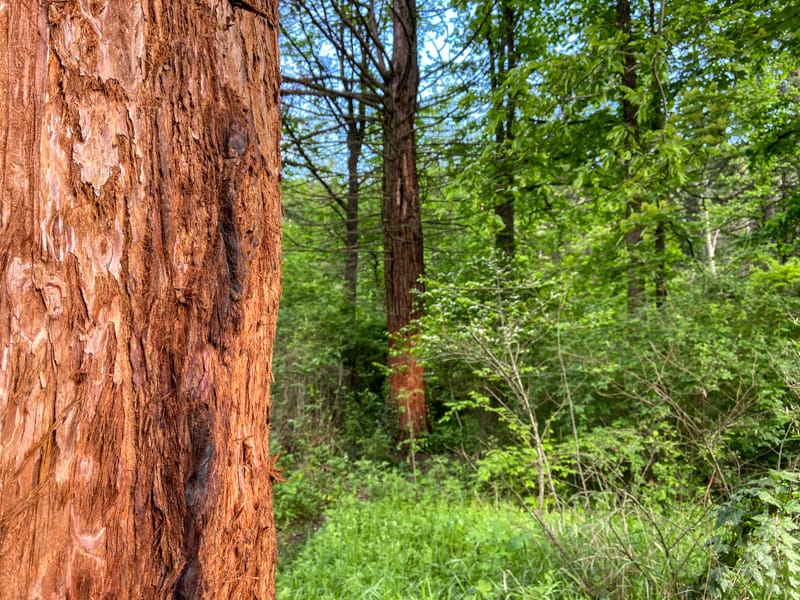 Founded in 1962, Ijevan Dendropark spent over a decade gathering more than 650 plants and trees, eventually creating an eco-haven for all that love nature… and it is even a place that you can camp inside!
This is a must-visit place in Ijevan and was definitely one of our city highlights.
10. Have Coffee at Yellow Dream Cafe
Located right in the heart of Ijevan at the fountains is a hip coffee shop and cafe called Yellow Dream.
It was founded by local youngsters to create a fun and creative atmosphere for the city's youth as well as travelers passing through.
The cafe is smoke-free and has a super friendly staff with a wide array of drinks from Americanos, and hot chocolate to cocktails and beer at the bar.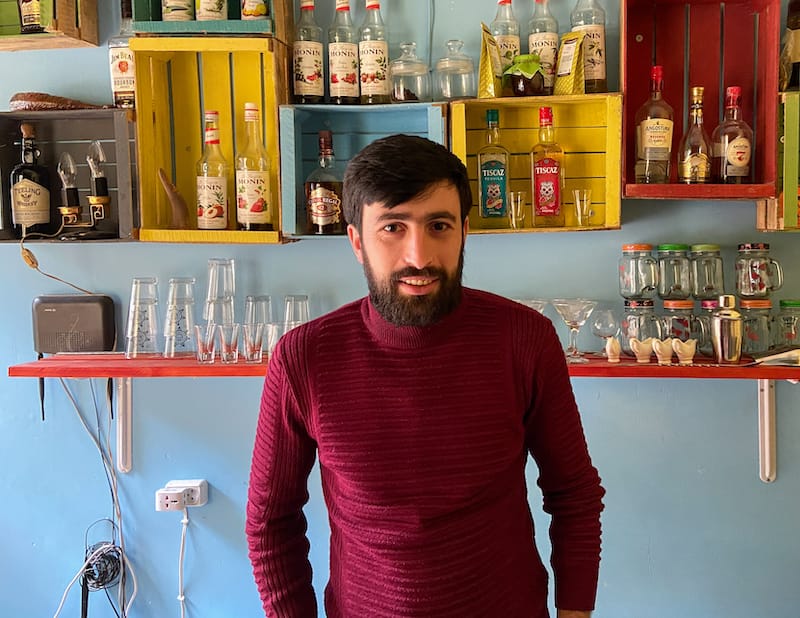 The quirky and fun interior will give you the feeling of relaxation and inspiration after you explore Ijevan.  They also have music and affordable eats inside.
You can find Yellow Dream Cafe at Melikbekyan 5/1 in Ijevan.
11. Enjoy a Kebab at Photostory MixFood Tour
If you are hungry and craving delicious, yet simple Armenian food, check out Photostory MixFood Tour, formerly Prestige M Chef Eco Fresh Food.
Located in the oldest neighborhood of Ijevan near the Amenaprkich Church, this little cafe restaurant receives great reviews and serves fresh and affordable food such as Armenian khorovats (BBQ), kebab wrapped in lavish… and more.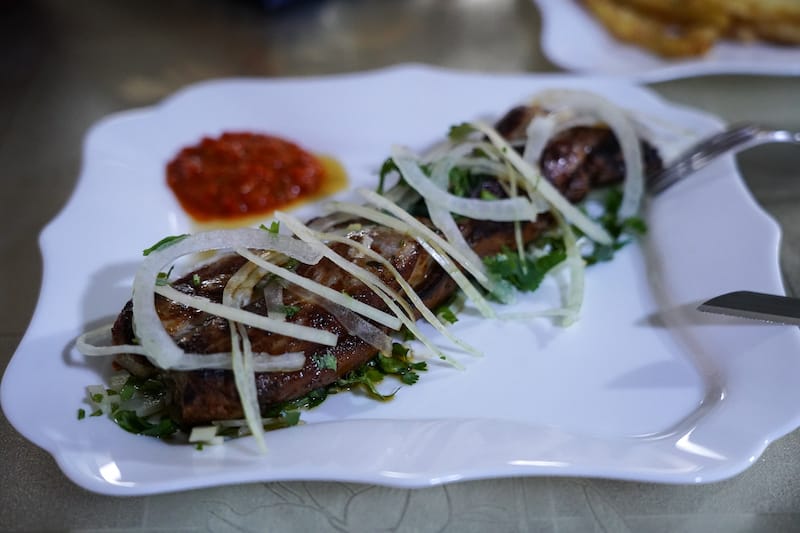 And let me tell you, it is GOOD. It was was of the best simple meals I have ever had in my life. And the owner and chef, Artur, was such a friendly guy and an enthusiastic personality, adding to the perfect experience!
You can find Photostory MixFood Tour at 2 May 28th Street in Ijevan.
12. Try a Local Dish with Lamb's Blood
While you're in Ijevan, it is definitely a must that you try the typical dish (that is nameless!) if you're not a vegan or vegetarian.
The nameless dish is made from lamb's blood and while it might be frightening at first, most that try it tend to enjoy it despite the first impression.
It is made from diced-up lamb or sheep liver and heart cooked in stiff blood and jazzed up with onions and fresh greens.
It is a super popular dish in the city and you can find it at almost any restaurant.  It is particularly popular during Vardavar, a festival where locals splash water on each other throughout the country.
13. Have a Cup of Tea at Novel Art Cafe
A somewhat new addition to Ijevan is Novel Art Cafe, a cozy cafe right in the heart of the city underneath Belleville Guesthouse (our recommended place to stay in Ijevan)!
Inside, you'll find an array of tea, coffee (an espresso machine is coming soon), high-speed wifi, and handmade gifts from local artisans.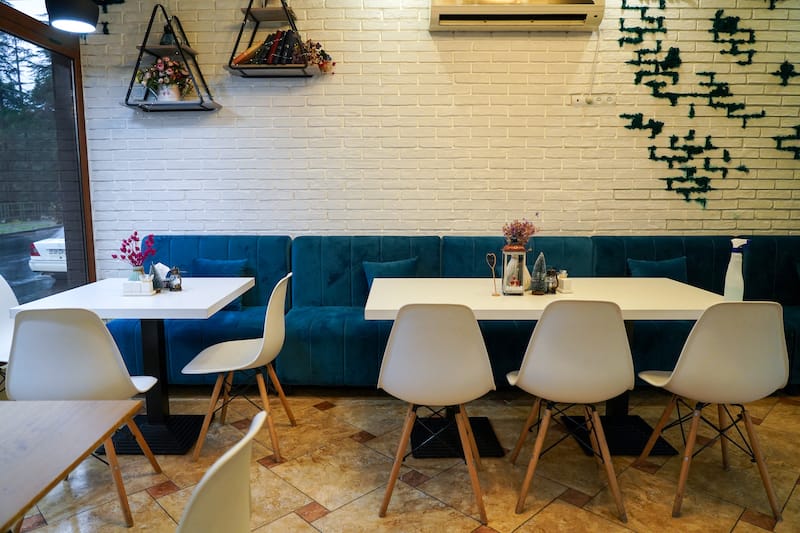 But, I feel like Novel is so much more – it is kind of a cultural hub and a place to meet your friends at any time of the day.
I always thought Ijevan needed a place like this and they finally got it!
You can find Novel Art Cafe at Yerevanian 6/6 in Ijevan.
14. Taste Ijevan Charred Pork Skin
Another food that will interest you and can be called 'typical Ijevan' is the charred pork skin.
Ijevan has earned a reputation for delivering the best pork in Armenia and a lot of that is attributed to the animals being free to roam in the green environment where they can devour clean ingredients at their own will.
As a result, Ijevan pork is renowned throughout the country.
Aside from the usual pork BBQ, locals enjoy snacking on charred pork crackling which they will cook over a gas fire until it gets burned.  They will infuse flavor by adding local spices.
It is a must-try in Ijevan!
15. Treat Yourself to a Nazook Pastry
A traditional and popular Armenian pastry is Nazook and it is made during the Vardavar period but you can usually get your hands on one in Ijevan any time of the year at the city's many cafes and eateries.
You can also find it in other places in Tavush.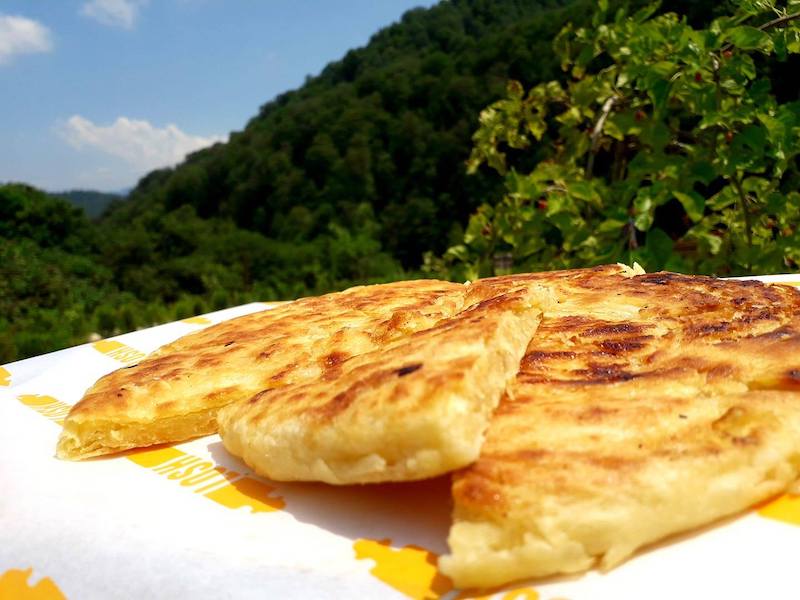 The delicious pastry is made from vanilla extract, flour, butter, sugar, sour cream, yeast, and eggs.
Many bakers or preparers also add walnuts.
16. Take a Day Trip to Qari Lake (Stone Lake) near Hovq Village
Located only 20 minutes away from Ijevan, you can find a quiet natural corner where you can meet a person named Jirayr Meliqsetyan who has created an artificial lake in the mountains.
The area also has an outdoor cafe and restaurant created throughout the 11 years.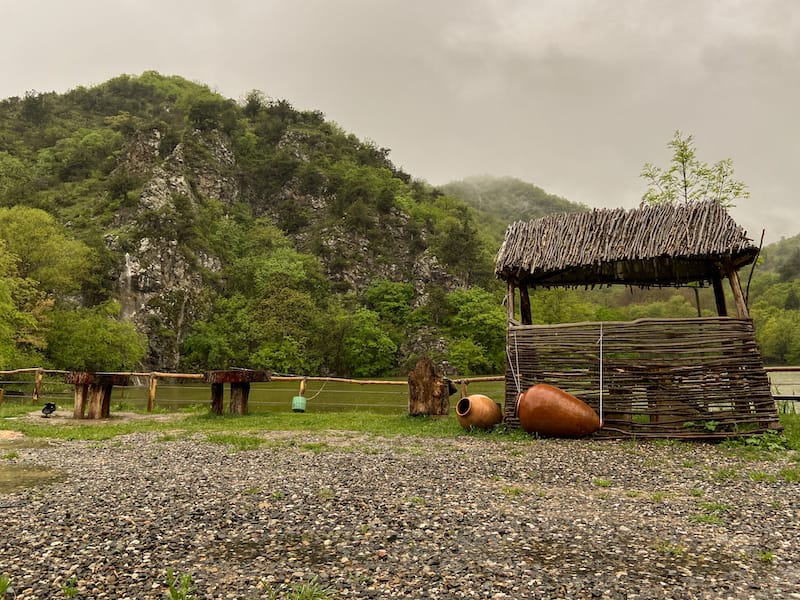 In the high season, it's a very popular location for locals and travelers where you can boat and fish.
Make your reservation in advance to avoid issues!
17. Camp in a Treehouse at Lastiver Campground
This unique and magical natural spot in Tavush is located near the famous Yenokavan village where it's possible to hike or off-road down to the Khachaghbyur River.
Lastiver, which when translated means "up to the raft", offers visitors to get lost in the dense forest and stay in cozy tree houses at Park Village Lastiver.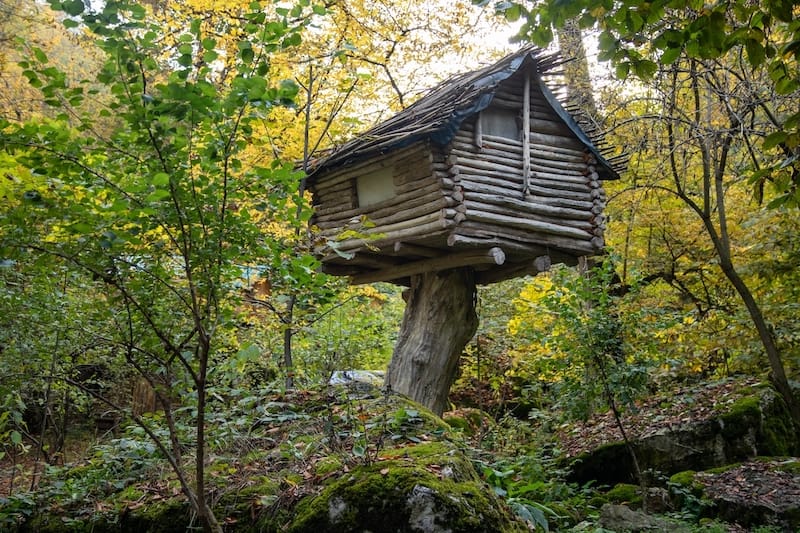 Another unique place in Lastiver is the hike to the ancient caves where you can see rock carvings dating back to the Pagan-era, when ancient people were worshiping Armenian Gods in BC times.
From the cave, you will be able to see (or easily walk to) Lastiver Waterfall, which is another natural wander in that area.
18. Stop by Makaravank Monastery Complex
Located only 30 kilometers away from Ijevan Makaravank Monastery Complex is a gorgeous, 10th-century monastery hidden in mountain forests where you can get via taxi easily to (and you should!)
The monastery complex is situated near the beautiful Achajur village and has wonderful medieval stone art on its walls, ornate architecture, and stunning nature surrounding it.
The legend says that the church was built by a father and son that were not happy with a small church that was existing there before and they wanted to create something beautiful and internal and they apparently did.
19. Discover Dilijan
Another place in close vicinity to Ijevan is Dilijan, one of the most beautiful and natural places to visit in Armenia.  It is also one of the best Yerevan day trips (but is best done for a few days of slow travel!)
Before you visit Ijevan, you will pass Dilijan. So, naturally, we recommend making a stop!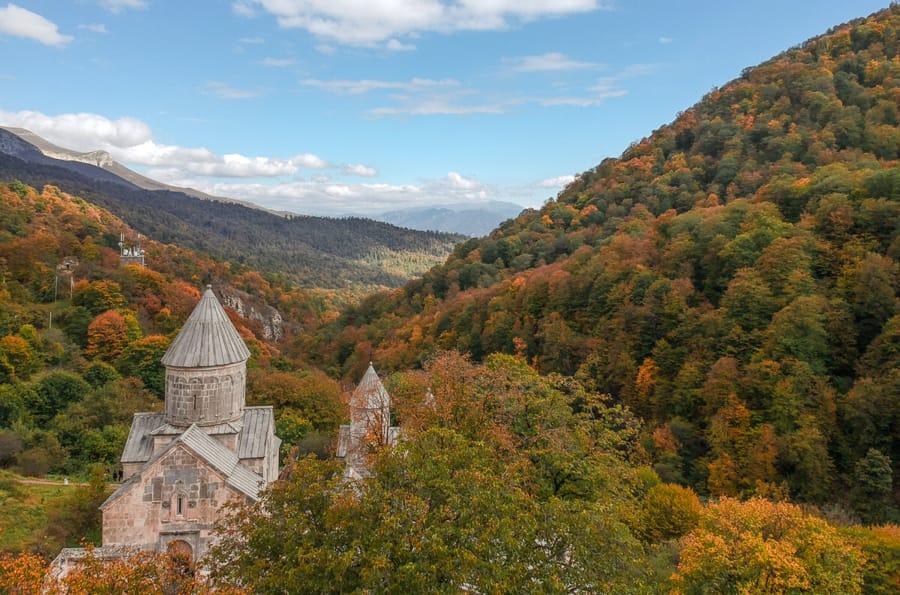 You will have the chance to enjoy coffee or lunch, visit monasteries dating back to the 10-13th centuries called Goshavank and Haghartsin, and check out the old town where is possible to find typical Dilijanesque 19th-century wooden homes with balconies.
The biggest selling point of Dilijan is its nature, where is possible to go hiking in Dilijan National Park, discover secret waterfalls, visit animal sanctuaries, and more!
20. Enjoy Thrills at Yell Extreme Park in Yenokavan
One of the coolest places to visit in the Tavush region is located only 13 kilometers away from Ijevan and is called Yell Extreme Park.
Yell Extreme Park is a great combination of fun, activities, and nature and it is all easily accessible in this one gem of a place.
The guesthouses are located on a hill and the views are fantastic. It is a place where you can stay overnight and you can do many things like horseriding, zip-lining, extreme truck driving, and in the end, enjoy the local restaurant's fresh food.
21. Marvel at the Views at Dimats Mountain
Recognized as one of the most beautiful places in Armenia, Dimats Mountain is located near Ijevan.
However, to reach the top of the mountain, you need to hike there or take an organized off-road tour organized by Visit Tavush.
Its inaccessibility is what makes it so special though.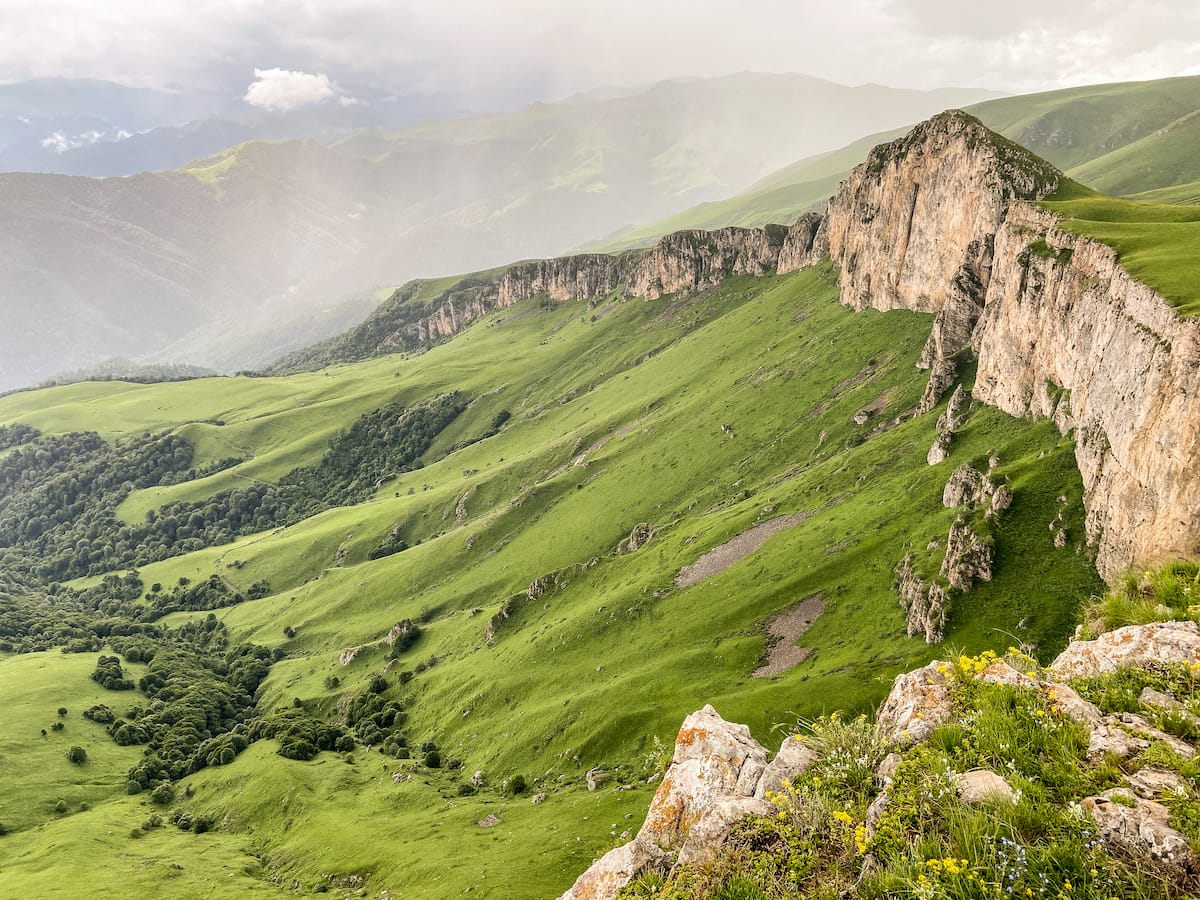 The mountain is 2378 meters high and you will also find the gorgeous Shaghot waterfall nearby.
Dimats technically is in Dilijan National Park and the trail to reach it starts at Haghartsin (but if you do it as an off-road experience, the route is different).
22. Go Horseback Riding in Tavush
The Tavush region is a haven for horseback riding lovers! The lush nature offers the chance to experience horseback riding through mountain valleys, gorges, and many other places.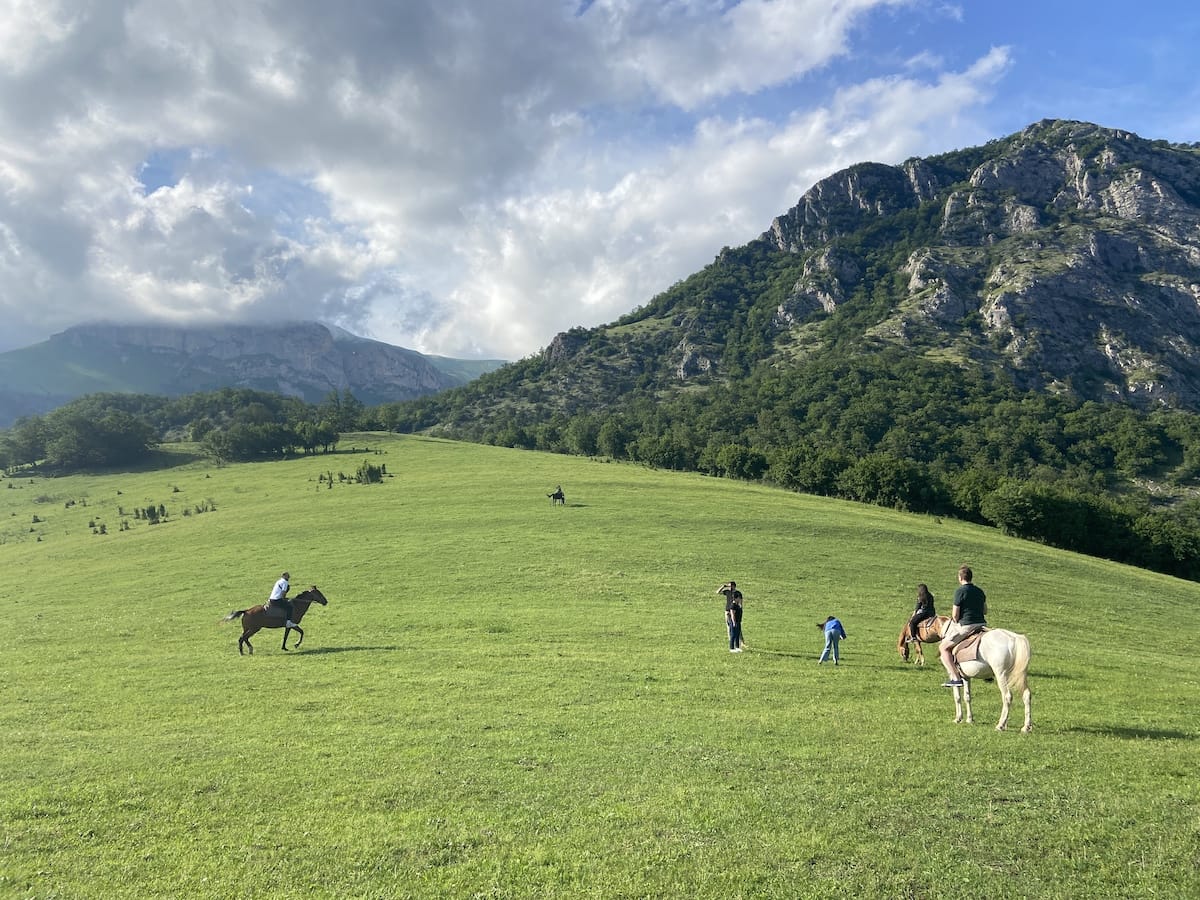 Visit Tavush can put together an amazing horseback riding experience for you and one that caters to your needs (and the needs of the group you're traveling with).
Please note that this is a seasonal experience and the weather may not be conducive for horseback riding in the winter months.
How to Get from Yerevan to Ijevan
The best way to get from Yerevan to Ijevan is to take a bus from the North Bus Station in Yerevan to Dilijan.
From Dilijan, you will have another 30 kilometers to drive to Ijevan and there are marshrutkas and taxis leaving from the area.  The bus from Yerevan to Dilijan takes a bit over an hour and costs 1000 AMD, or $2.
Alternatively, you can get a taxi from Yerevan to Ijevan and it will cost you around 13,000-15,000 AMD one-way (around $30).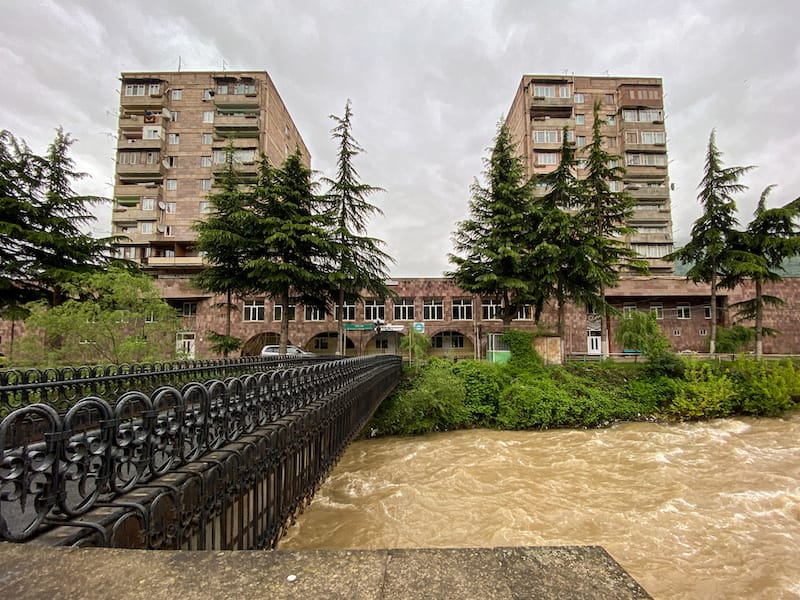 Where to Stay in Ijevan
There are many fantastic places to stay in and around Ijevan.  Here are three of our top picks, including Belleville Guesthouse, the place we crashed when we were visiting the city!
Guesthouse Anahit
Located in one of the most beautiful parts of Ijevan, Guesthouse Anahit is one of the best and most affordable places to stay in Ijevan.
The fresh, homemade food (can be breakfast, lunch, and/or dinner) can be served on the terrace with a pool with an amazing view… making it definitely worth the stay!
The friendly host will assist you in discovering Ijevan, arranging transportation, and showcasing exceptional Armenian hospitality.
The rooms at Guesthouse Anakhit are very clean and have the necessary amenities to satisfy everyone from solo travelers to families to couples.
>> Click here to check rates and availability for Guesthouse Anahit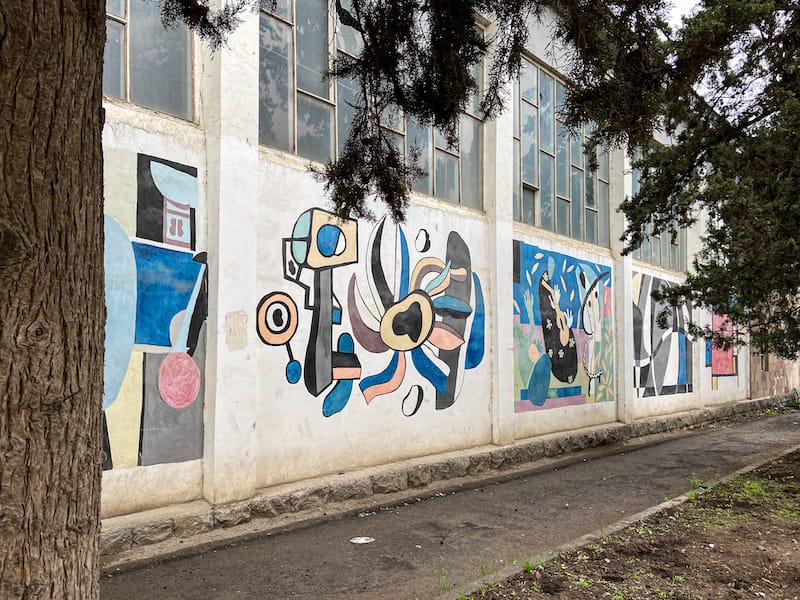 B&B Kamar
Yet another hotel with a city view that will surprise you is B&B Kamar.  They are renowned for having super clean and comfortable rooms.
With wide terraces facing the mountains, a large parking area, modern rooms with private bathrooms, and a pool… this is definitely one of the premier places to stay in Ijevan.
The food at B&B Kamar comes freshly prepared with several options for Armenian dishes.  It has a centralized location that will make getting around extremely convenient for all guests.
>> Click here to check rates and availability for B&B Kamar
Belleville Guesthouse
One of the most central hotels in Ijevan is Belleville Guesthouse, a modern and spacious hotel with great customer service.
Located in the heart of Ijevan, the hotel is surrounded by a river, green parks with many statues and artworks, and the green mountains that Ijevan is known for.
The Belleville Guesthouse has newly renovated rooms, TVs, comfortable beds, breakfast included, and so much more.
We stayed at Belleville and really enjoyed our stay so much- you can read our review of Belleville Guesthouse here.
>> Click here to check rates and availability for Belleville Guesthouse
We hope you have considered adding Ijevan to your Armenia itinerary.  The Tavush region is super diverse and has a lot to offer, especially for nature lovers!  If you have additional questions, please feel free to reach out to us.  Thanks!
**Thanks so much to Discover Tavush for showing us the best of Ijevan.  Special thanks to Narine, Narek, Arman, and Syuzi for such great hospitality!  All opinions are our own.  To book a free city tour of Ijevan, click here or visit the tourism office at 1 Usanoghakan Street in Ijevan.