Lake Arpi National Park was one of those places that was on my 'Armenian bucket list'.  The remoteness of the lake and park, in addition to my minuscule knowledge about Shirak, added to its appeal and I had hoped that one day I'd make it up that way.
In July, Aram and I planned a last-minute trip to Gyumri, my favorite city in Armenia.  We hopped on the train and were off.  We were on a mission to see a few other sites in Shirak, but I filed Lake Arpi onto the 'probably not going to happen' list.
When we arrived in Gyumri from Yerevan and met Naira (the world's best tourism ambassador for her city and the Shirak region- seriously!), we told her our desire to visit Lake Arpi National Park.
And low and behold, she made it happen.
Quick Facts About Lake Arpi NP
Location: Shirak
Size: 250 km2
Established: 2009
Entrance fee: 500 AMD (about $1)
Visitor Center: Ghazanchi community (+374 245 6 0908); Mets Sepasar (+374 948 3 3190)
Information Center: Paghakn village (+374 245 6 0909)
Website: Lake Arpi National Park
Known for: Bird species, hiking trails, campground, and clean and untouched environment
The establishment of Lake Arpi National Park was with a mission of preserving the landscape and biodiversity of the flora and fauna in the region.
Lake Arpi National Park is comprised of Western, Eastern, Ardenis, Alva, and Akhuryan Gorge districts and the total area of the park is 21179 hectares.
It is situated at 1500-3100m above sea level and the lake and wetlands surrounding it are designated as a Ramsar Convention Protection Site (since 1993).
Best Time to Visit Lake Arpi National Park
Shirak is the coldest region in Armenia and the most comfortable season to visit is definitely summer.  While many other places in Armenia are scorching during the summer months, you will definitely see the best of Shirak if you visit in summer.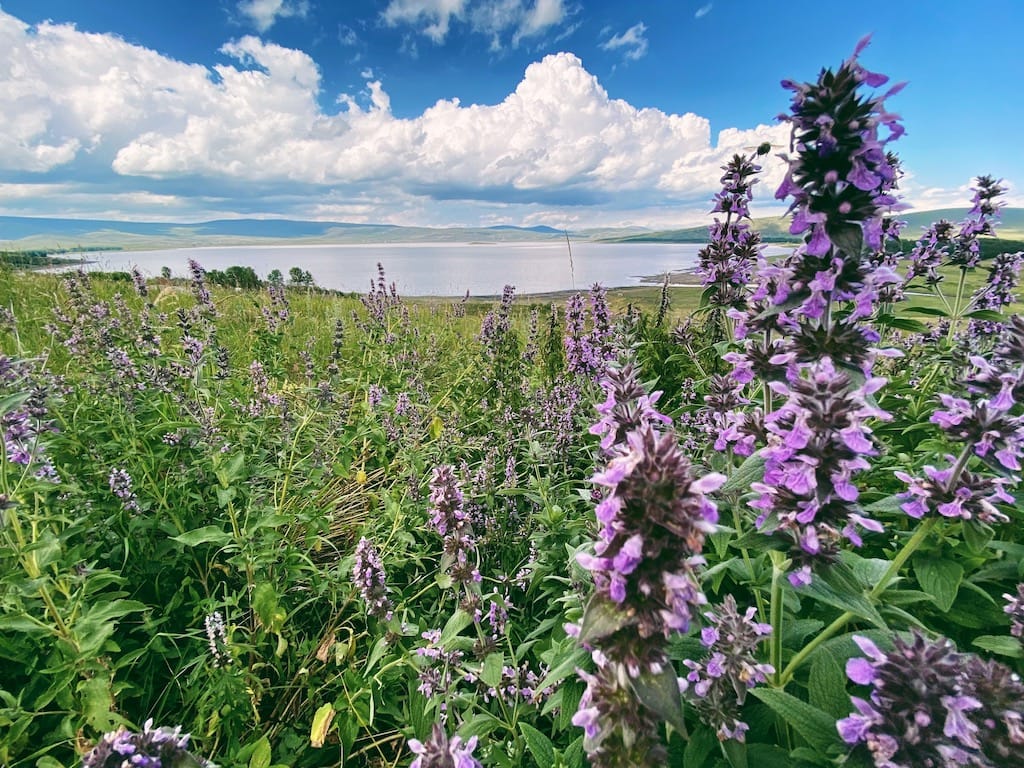 If we were to pick the perfect month to visit Lake Arpi, we would say anywhere from May-July.  Do be aware that May can still be rather cold.  This when the wildflowers are blooming and it truly is spectacular!
These sights made the trip there so perfect!
How to Get to Lake Arpi from Gyumri
Unfortunately, Armenia's connections to this region remain rather poor, so we recommend taking a taxi up that way.
Alternatively, you can try your hands at a marshrutka (minibus) leaving from Gyumri's main bus station and heading to one of the villages that surround the lake.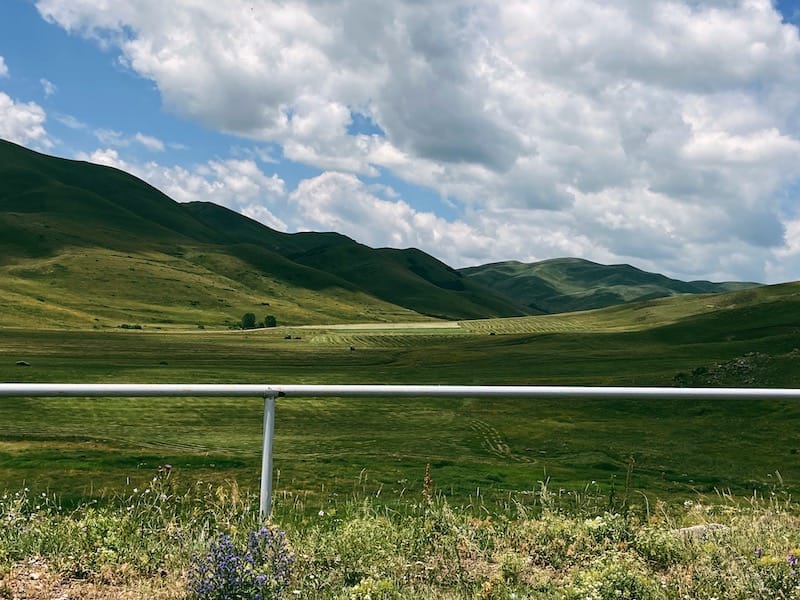 The villages that you'll want to head to are Shaghik (Շաղիկ) or Garnarich (Գառնառիճ).  These villages are on the edge of the lake.  The ride will cost 500 AMD ($1) and will take about an hour and a half to reach the lake.
We do recommend taking a taxi there if your budget permits it.  The price of a taxi will be about 4400-6000 AMD one way (this ranges from about $8-12).
If you're visiting Lake Arpi National Park from Yerevan, it is 165 kilometers away and there are plenty of places to stay in the area (we detail them at the end of the guide).
If you'd like to see more sites on the way to Lake Arpi, don't miss out on the gorgeous Marmashen Monastery on the way from Gyumri to the park.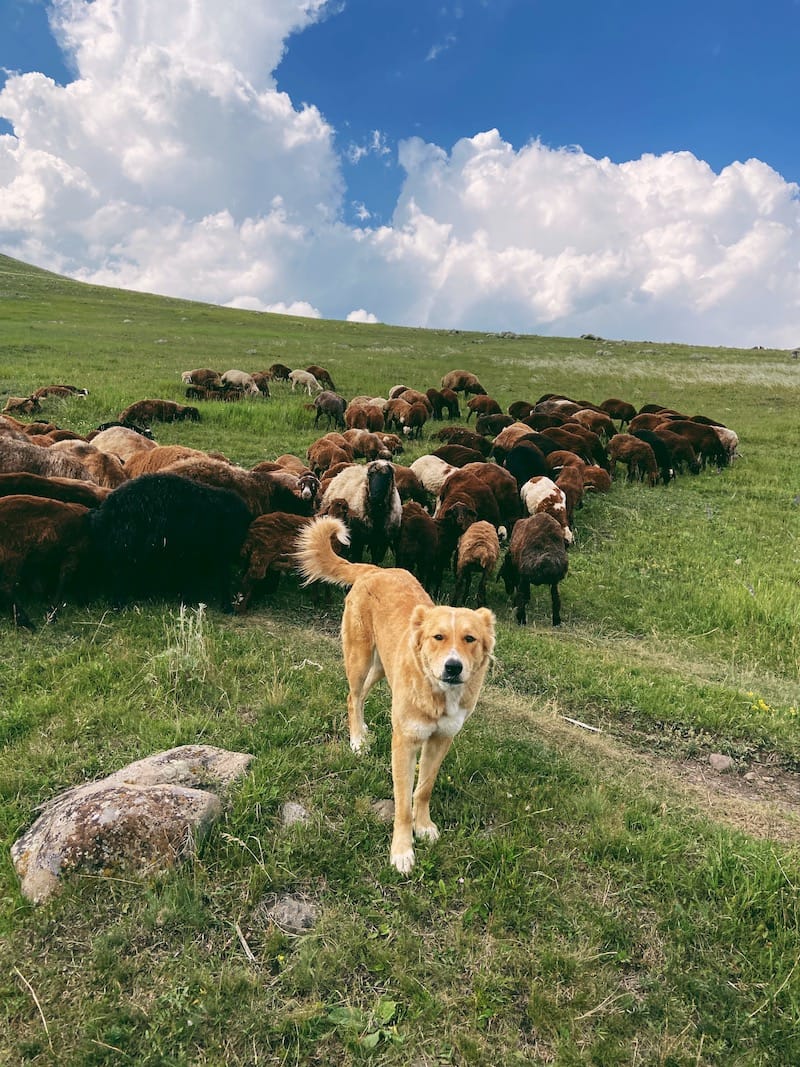 Things to Know Before Visiting Lake Arpi
One of the most notable things about Lake Arpi is that you can not swim in the lake.  But, don't worry, there is so much going on around it that you won't even think about it!
There is an information center at Paghakn village right on the lake.  Please note that the visitor center in Ghazanchi community is not right on the lake and unless you're coming from Ashotsk, it is not where you'll want to stop.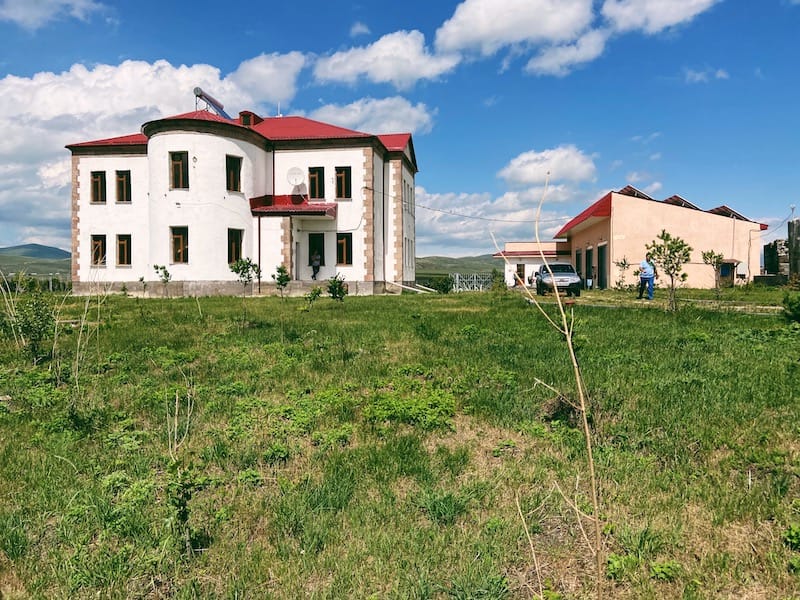 If you're seeking activities and information, the info center at Paghakn will be of great use to you!
Also, this is a bird sanctuary and people travel from afar to witness the wildlife in the area, so be diligent and don't disturb them or do anything that can harm their habitat.  Also, do not fly a drone around Lake Arpi.
Another thing to note is that Lake Arpi is impeccably clean.  Do not leave a trace there… please.  They have a team hard at work trying to keep the National Park clean and free of trash, so please respect them and pick up after yourself.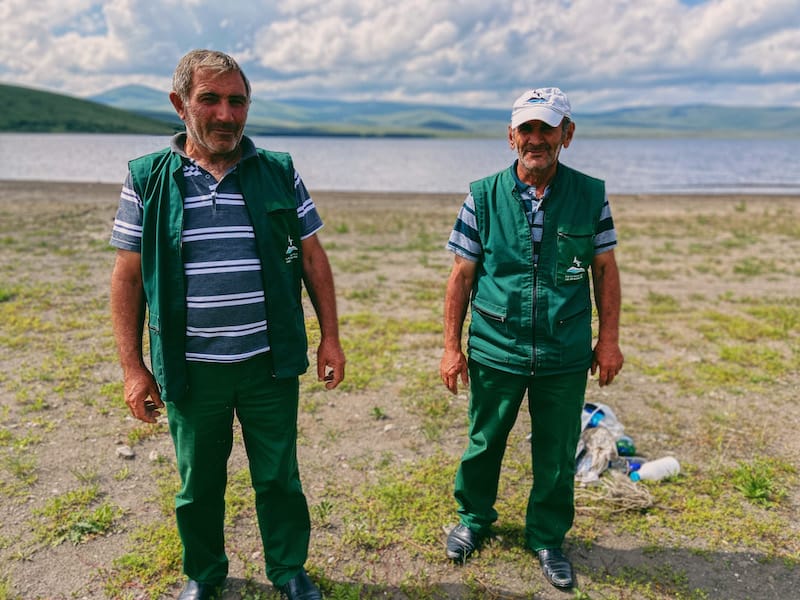 Things to do in Lake Arpi National Park
Admire the Flora and Fauna
There are around 670 species of plants from 80 families and 269 genera at Lake Arpi National Park.  And at least 19 of them are listed in the Red Book of Armenia, making this park a wonderful place to explore something new!
You will find pine, aspen, poplar, natural aspen forest (at Akhuryan River Gorge), juniper, and much more in the area.  And, of course, there are wildflowers everywhere and it makes for an epic photograph!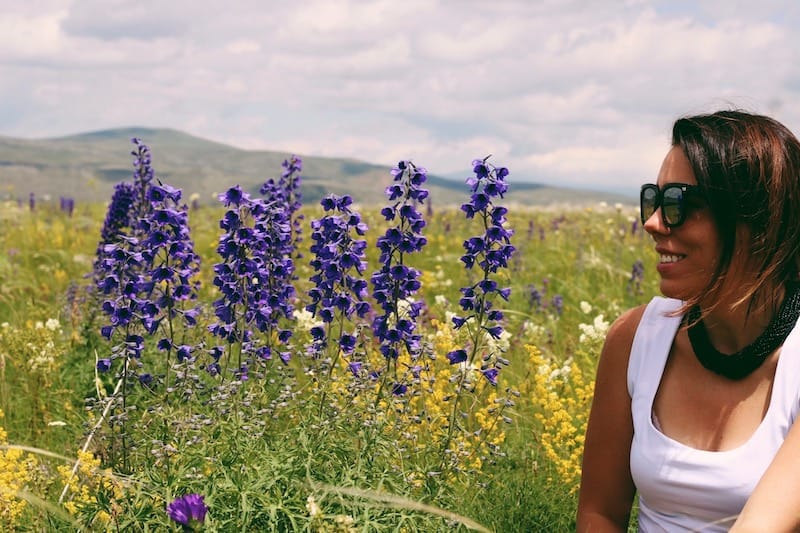 As for fauna in the area, there are around 255 species of vertebrae animals there, including 14 species on the IUCN Red List.  Some of those included on the Armenian Red List are the European Marbled Polecat, Otter, Darevsky Viper, Lesser Kestrel, and more.
You can find 11 species of fish, 3 species of amphibians, and over 193 species of birds.  The Darevsky Viper is listed as critically endangered and there are 7 types of birds that are of conservation concern globally calling Lake Arpi National Park home.
So, if you're into wildlife (and conserving it!), please keep Lake Arpi on your mind and visit with care.  It truly is a special place!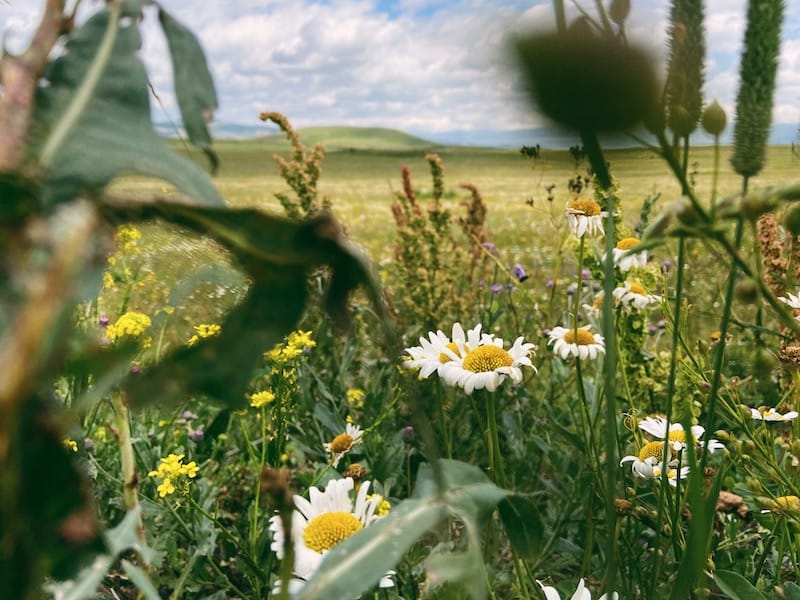 Horseback Riding
Another popular activity at Lake Arpi National Park is horseback riding.  You can book a trip on horseback with the information center in Paghakn village ((+374 245 6 0909) and it will be 10000 AMD for an excursion on horseback.  This is a fantastic landscape to explore this way during the warmer months!
But, beware- it can get cold there fast!
Have a Picnic
Lake Arpi National Park is an ideal spot to go picnicking.  You can set up wherever you'd like once in the part (just be sure you don't leave anything behind) or you can rent a table from the information center.
To rent an open-air table in the park, it will cost 5000 AMD.
In addition, you can go fishing at Lake Arpi.  There is a fee that you can pay at the headquarters in Paghakn.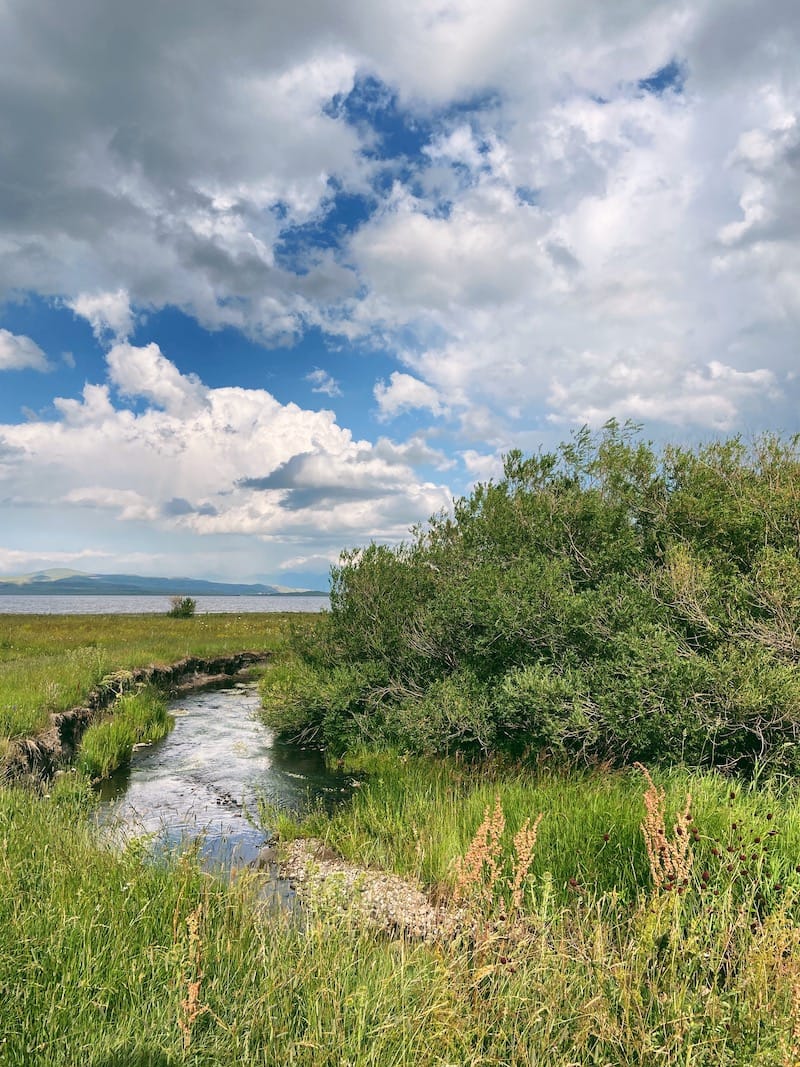 Hiking at Lake Arpi
One of the most prolific things to do in Lake Arpi National Park is to go hiking.  The area is an interesting terrain and while it may not appear to be challenging, difficult hikes do exist!  But, so do beginner ones.  The wildflowers, wild berries, and views make Lake Arpi an excellent place for hikers.
If you're seeking specific maps of the Lake Arpi hikes, we recommend you click here.
We detail some of the best hikes and trails at Lake Arpi in a section below.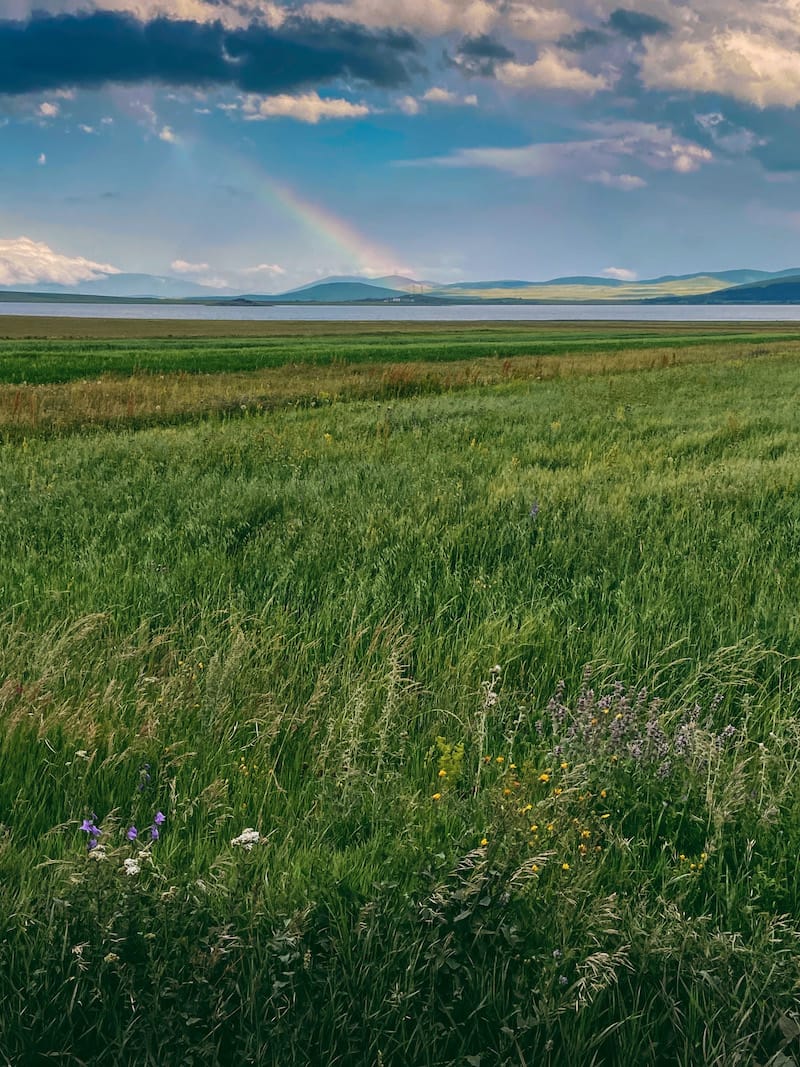 Lake Arpi Trails
Please note that these hikes do require a fee from travelers. This is to keep the trails clean and maintained. This also includes the entrance fee to Lake Arpi National Park but excludes any camping or fishing fees.
In addition, you can rent a horse for the journey if you don't want to do it on food. Please inquire about prices at the Ghazanchi visitor center or the info center in Paghakn.
There are four popular trails at Lake Arpi National Park. Each one has its own perks and things to see along the way. Below are the 4 hikes at Lake Arpi.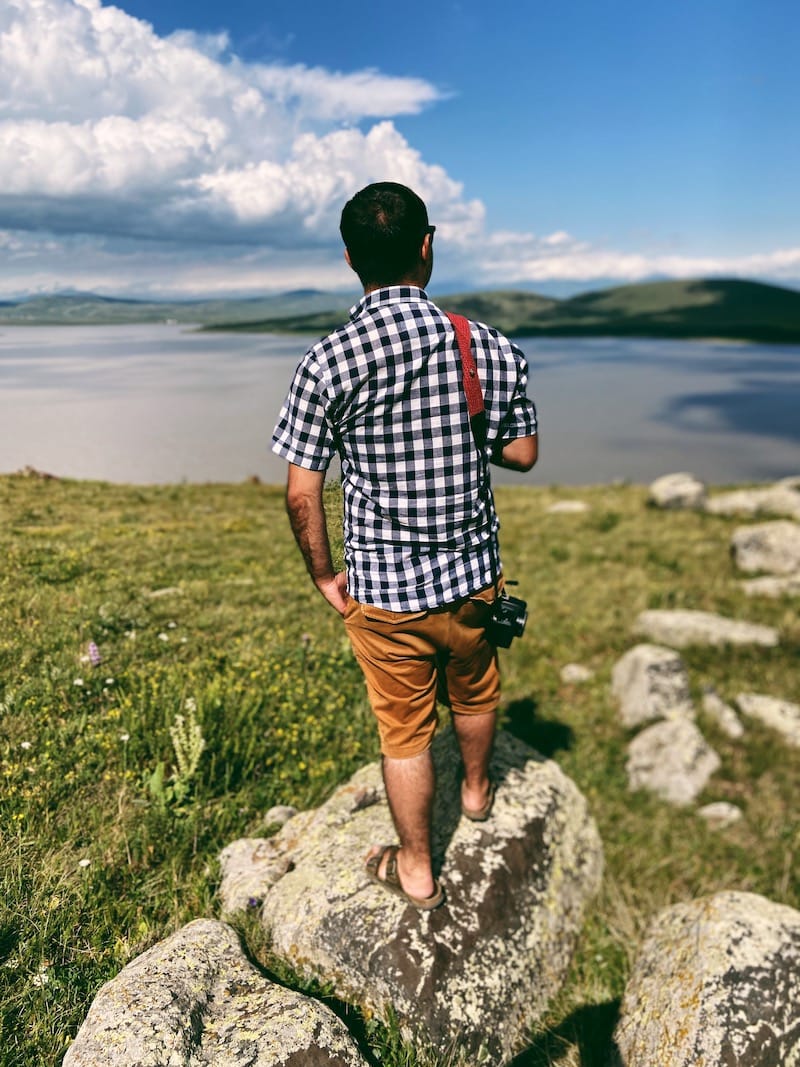 Trail 1
Length: either 25.4km or 24.7km (depending on which one you take)
Starting point: Paghakn village
Difficulty: Easy
There are two trails that are situated on this route. Both start at the Paghakn information center and wind through Tsaghkut, Garnarich, Shaghik, and the Wolf Gates. The second will end in Zarishat instead of back at Paghakn.
This is an excellent route for beginner hikers and offers a chance to go hiking, boating, and wildlife watching. On the second trail, there are two picnic areas and you will also get to see the pine forests of Berdashen and Shaghik.
Trail 2
Length: 21.3km
Starting point: Paghakn village
Difficulty: Easy
This trail is also listed as an easy one but it does not circle the entire lake as the last trail options did. This is a great trail for bikers, hikers, and those that enjoy wildlife and plant watching.
The trail goes from the headquarters at Paghakn to Ardenis to the wetlands on the old riverbed of Akhuryan back to Paghakn.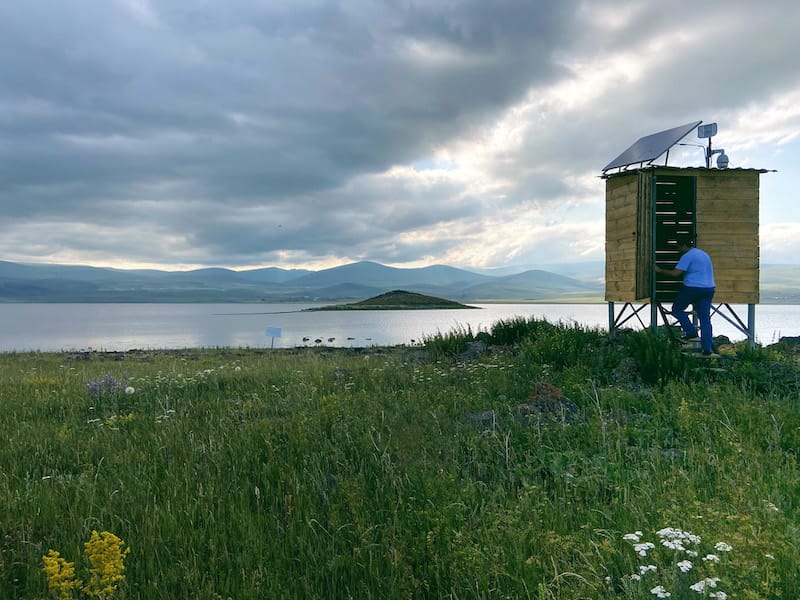 Trail 3
Length: 28.6km
Starting point: Ghazanchi
Difficulty: Easy
This trail is a long one but has a few different spurs from it that will give you a different route for a couple of kilometers.
The Lake Arpi hike starts at Ghazanchi and goes through Aghvorik, Alvar, Akhuryan River Gorge, the tourism center at Mets Sepasar, and back to the visitor center at Ghazanchi.
Along the route, you will see an option of two other trails you can take that would lead you to Dari Surb or the mineral springs in Ashotsk.
Trail 4
Length: 32.1km
Starting point: Ghazanchi
Difficulty: Moderate/Difficult
This trail also starts in Ghazanchi and will pass through the Sepasar community crossroad to the mountain slopes in the area onward to Saragyugh ad Bavra before looping back to the Ghazanchi visitor center.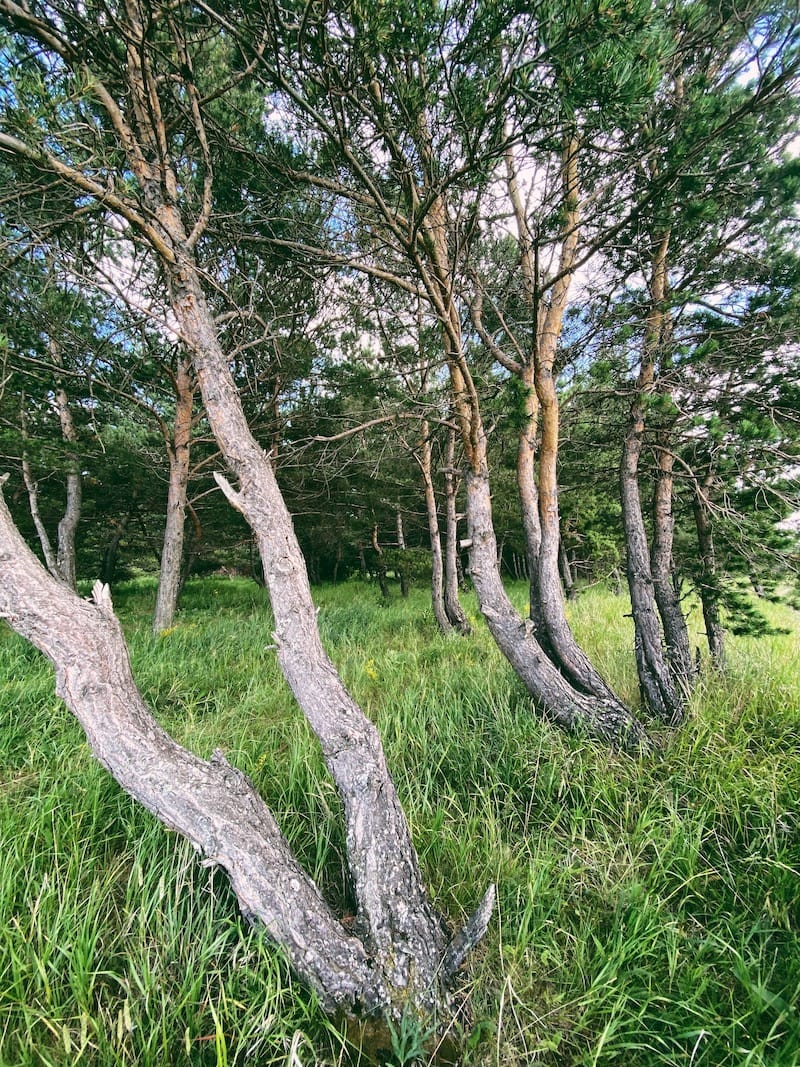 Where to Stay at Lake Arpi NP
There are a few options for where to stay in Lake Arpi National Park.  You can easily camp there (with a fee), stay at a guesthouse at the main headquarters, or at a guesthouse in one of the nearby villages.
Alternatively, you can do just a day trip to Lake Arpi from Gyumri and stay in the city.
Lake Arpi Guesthouses
There are three guesthouses we recommend at Lake Arpi.  Below are the details and how to contact them:
Lake Arpi National Park Guesthouse (Paghakn)
This guesthouse is situated at the headquarters and I had the chance to tour it.  There are actually two guesthouses on site- one is inside of the headquarters and the other is in a building right beside it.
This has just been recently expanded, so disregard any information you read that says it only hosts 2 people!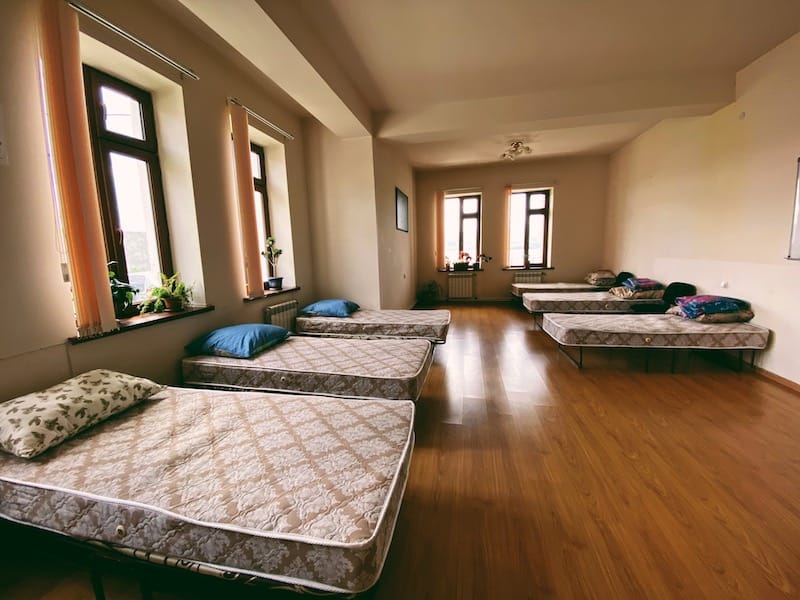 Both are insanely affordable (2000 AMD for a dorm bed in one).  Prices vary for other places in the guesthouse.
In order to reserve a space at the guesthouse, you will need to call (+374 245 6 0909).
Mets Sepasar Accommodation
Alternatively, you can find accommodation at the Mets Sepasar tourism center in a community of the same name.  They have hot and cold water, a kitchen, bathroom, shower, and internet.  There is room for 7 people there.
In order to reserve a space at the guesthouse, you will need to call (+374 948 3 3190).
Shakro Guesthouse
This guesthouse is located in Ardenis and it provides accommodation for 5 people.  Hosts here will provide guests with a warm atmosphere, fresh food, and eco-products.
In order to reserve a space at the guesthouse, you will need to call (+374 938 2 4005).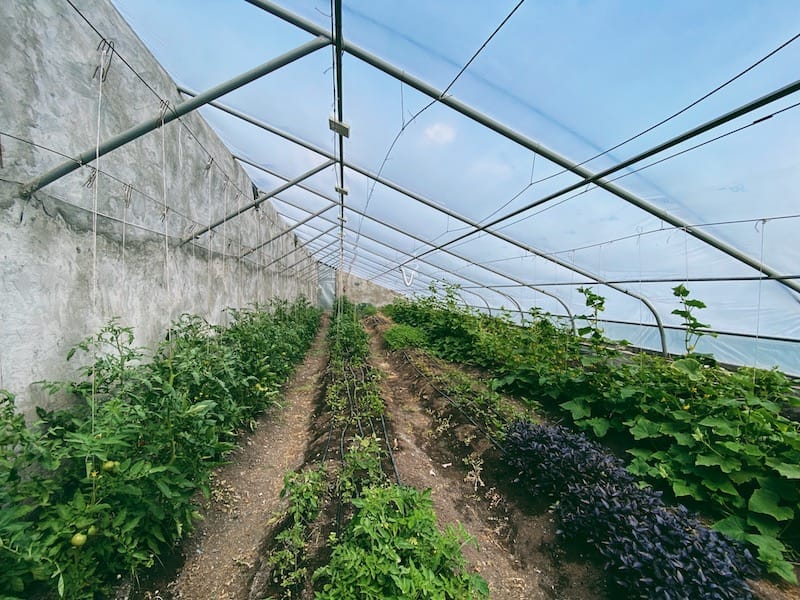 Camping at Lake Arpi
One of the best options for Lake Arpi accommodation is to go camping!  While this may not be a viable option during the harsh winters, it is definitely a great summer option.
You can bring your own tent, or rent one from the headquarters at Paghakn.  To rent a tent, it will cost anywhere from 2000 AMD to 4000 AMD depending on the size.
To rent a campsite at Lake Arpi, it is anywhere from 10000 AMD – 20000 AMD.  The campground includes a garden (summer) house, grill, the actual camping site, and parking for 10-20 persons.
If you're keen to order breakfast at Lake Arpi, you can do so for 2500 AMD per person.  The breakfast will consist of (but is not limited to) local honey, butter, 2 eggs, homemade cheese, bread (also Armenian lavash), matsun, and milk.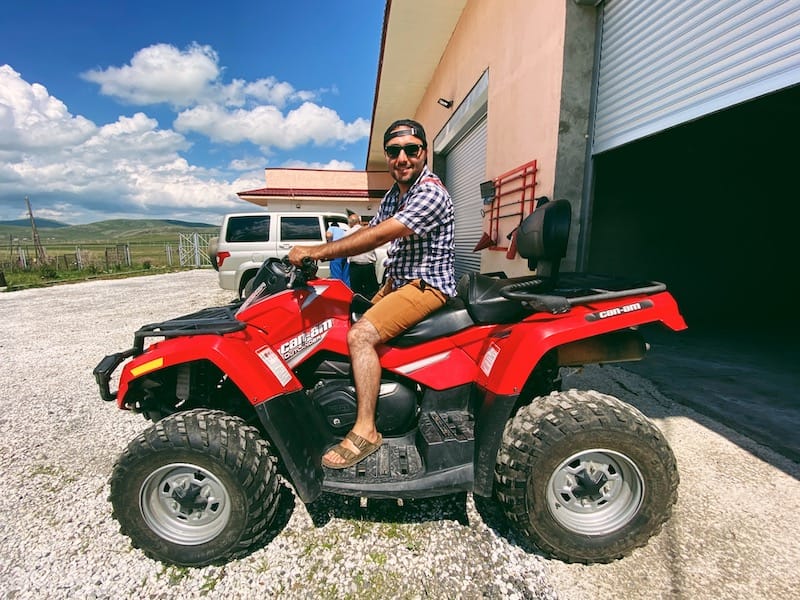 Gyumri Accommodation Options
If you're just simply taking a day trip to Lake Arpi from Gyumri, you have a large array of options for where to stay in Gyumri.  We have an entire guide dedicated to the best places to stay in Gyumri, so check it out to help plan your trip.
Places to Explore Near Lake Arpi
There are many places to visit in the area, but we definitely recommend the following:
Cross-country skiing in Ashotsk: Close to Lake Arpi is one of Armenia's adventure sports capitals, Ashotsk.  There is a new cross-country ski center in Ashotsk that opened up last year and is worth a visit!
Amasia village: Another fantastic place to visit in Shirak is Amasia village.  It is known for its colorful houses and the Amasia Wool Factory.  It is truly a beautiful little place and there is also a Lenin statue still there!
Gyumri: Well, the chances that you're visiting from Gyumri are high, but if not, head down there for a day or two!  Be sure to check out Herbs & Honey teashop as well as Gwoog Gastrohouse, two of our Gyumri favorites.
You can read our guide of things to do in Gyumri if you're looking for more options.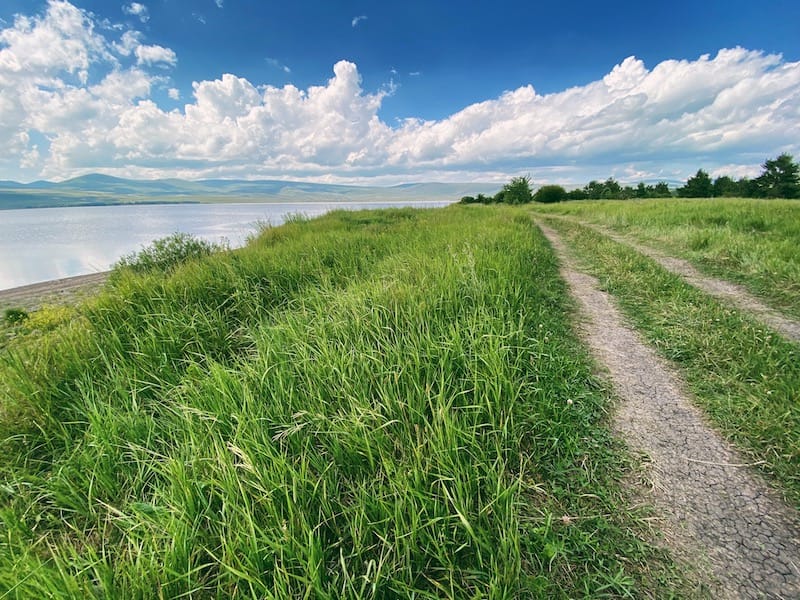 Should You Take a Trip to Lake Arpi?
Yes!  This ended up being one of my favorite destinations in Armenia (really!) and I highly recommend visiting Lake Arpi National Park if you have the chance or a free day in Gyumri.
The landscapes, cleanliness, and bird watching opportunities will blow your mind and you'll leave with lasting memories.
PIN IT FOR LATER!