Amasia is not particularly a place that comes to mind for most travelers visiting Armenia, but the small village in Shirak is definitely worth a pit-stop on a Lake Arpi journey or if you're looking for day trips from Gyumri.
This is a quick guide detailing a few reasons to stop by colorful Amasia and why you shouldn't miss it if you're on a Shirak road trip!
About Amasia (Ամասիա)
Amasia is a small place.  There are only around 2,200 people living in the village today but it feels like the coziest of places.  Granted, we visited in summer but I love a cold winter, so I suspect it would be a year-round hit for me.
Shirak's Amasia was previously known as Hamasit, Ghukasyan, and Nerkin Ghukasyan and it sits on the beautiful right bank of the Akhuryan River at 1870m above sea level. It was named after Hayk Nahapet's grandson, Amasia.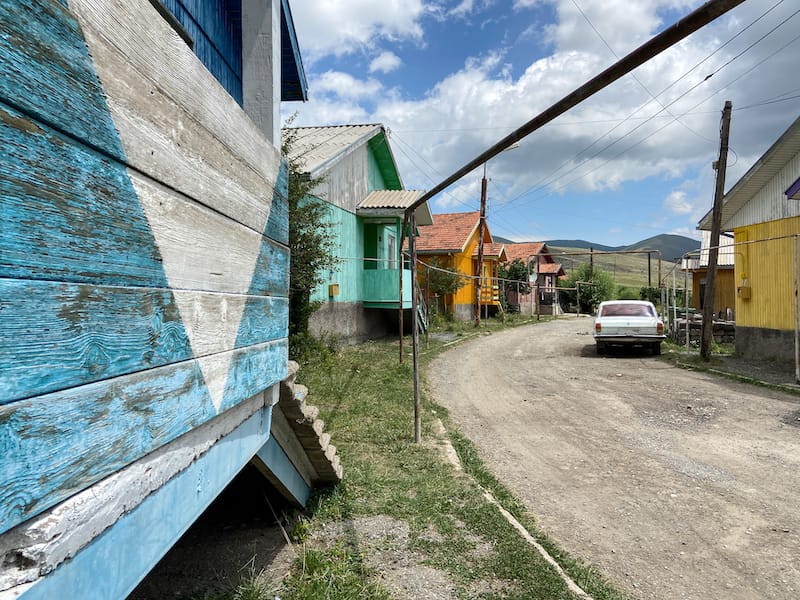 There is not just Amasia village (which we are specifically talking about), but there is also Amasia region which encompasses the following other villages, including Amasia village: Aregnadem, Bandivan, Byurak, Gtashen, Kamkhut, Hovtun, Vozhi, Meghrashat, and Jradzor.
The village, however, is situated about 24 kilometers from Gyumri and is an easy trip from there.  It is also on the road from Gyumri to Lake Arpi National Park, so it is a fantastic pit-stop along the way to get out and stretch your legs.
There is not much that Amasia is known for but the Amasia Wool Factory recently opened in 2019 and has brought some attention to the village.
There is also a Lenin statue, a beautiful gorge, castle ruins, a WWII memorial that was built in 1967, and a colorful array of homes in the village.
In addition, there is a cave complex that dates back to the 13-14th centuries situated 3 kilometers from Amasia village on the right bank of the Akhuryan Gorge.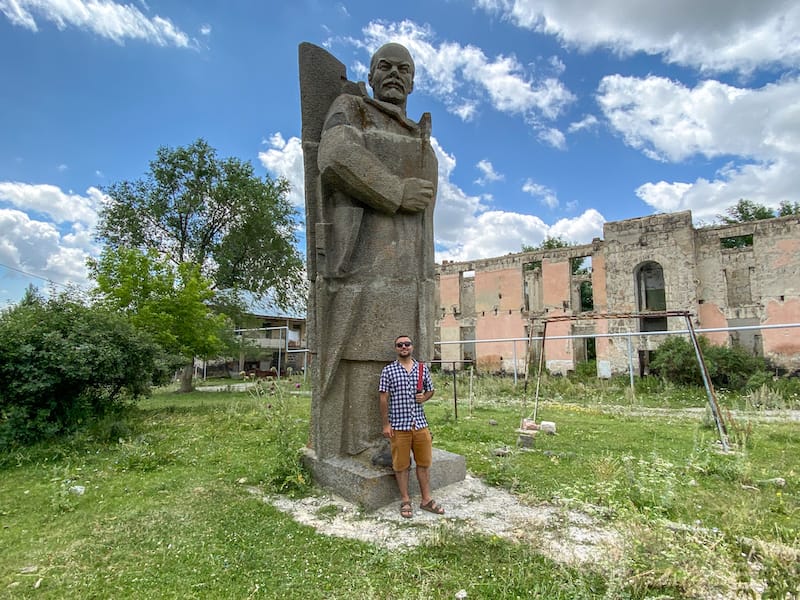 Reasons to Visit Amasia, Armenia
It's Home to the Amasia Wool Factory
Founded in 2019, the Amasia Wool Factory is a fantastic initiative that is new to the area but one that is already making its name known across Armenia.
The factory sources raw materials from the shepherds in Shirak in order to produce high-quality Armenian wool for domestic and international use.
One of the best things about the Amasia Wool Factory is that sustainability is at the forefront of its mind and all wools are washing with eco-friendly soaps. In addition, the yarn is dyed with only natural dyes. Wool is dyed with madder root, turmeric, amaranth, indigo, and more.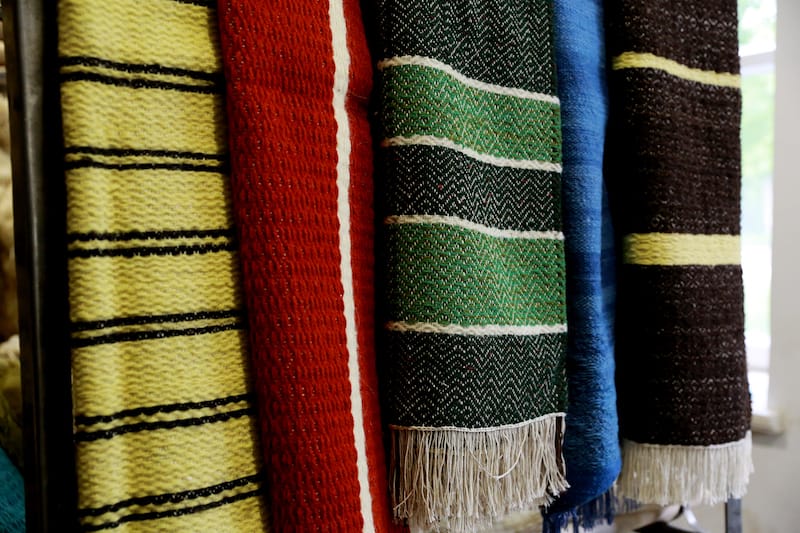 The Amasia Wool Factory was established with the support of the EU, the Government of Armenia, and People in Need Armenia.
One of the main reasons we wanted to make a stop at the Amasia Wool Factory and check it out ourselves is because the products are absolutely stunning (seriously – they make for the perfect Armenian souvenir to tote home!) and because the project has a mission to increase employment and contribute to women's empowerment in the local community.
Unfortunately, the factory had to shut its doors due to rampant COVID-19 in Armenia at the time (we were in our first wave of it), but we still had a chance to see the factory from the outside and see the finished products in Gyumri at our favorite teashop, Herbs & Honey.
If you're interested in purchasing or exporting Armenian wool from Amasia, please read more here.
Chatin Dara Fortress
While it may be in ruins now, Chatin Dara fortress is also really close to Amasia village. When you're there, you will see a left fork off of the main road that will lead you to Aregnadem (formerly Azizbekov).
This will lead you to Lake Apri but will also guide you to the ruins. This will be right after you pass over the Illiget River/Stream and it is northwest of Amasia village.
Lenin Lives in Amasia
While this may not appeal to many people aside from Aram and me and a few others… it was definitely a key reason why we wanted to visit Amasia.
Amasia is home to a gigantic Lenin statue. It sits in the middle of a derelict yard and is the perfect prop for a few photos.  The statue was built in 1985 and has been sitting in Amasia ever since.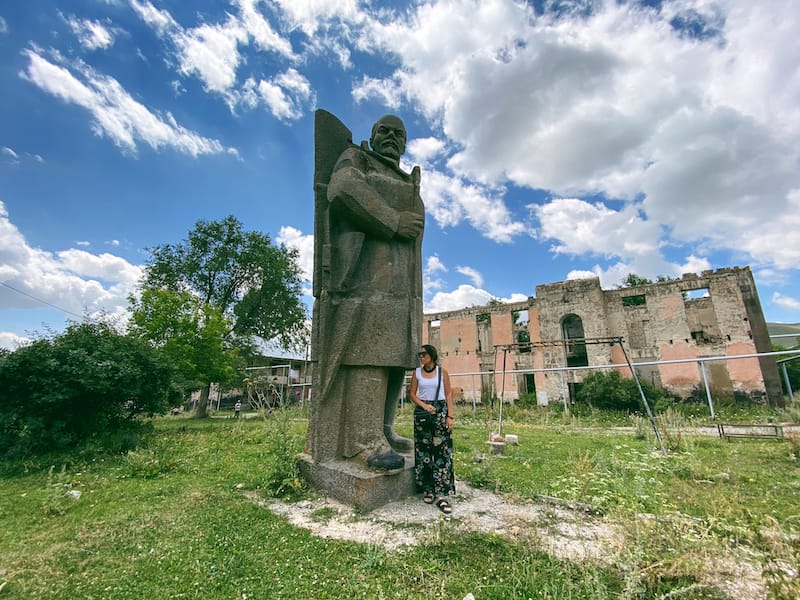 There aren't many Lenin statues still around in Armenia, so this is quite a remarkable reason to stop, especially if you're into Soviet history.  It is in the heart of the village and is very easy to find.
The Colorful Homes of Amasia
I have no idea what the reasoning or story is behind this, but Amasia has an array of colorful homes!  You will need to take a left once you enter the village and you will quickly find them.
There are one or two streets of beautiful wooden homes painted a variety of colors and it truly adds a little spice into the village.  Armenia is known for its beautiful pink and black tuff, but sometimes it is nice to see a splash of color thrown into the mix… especially in a small village!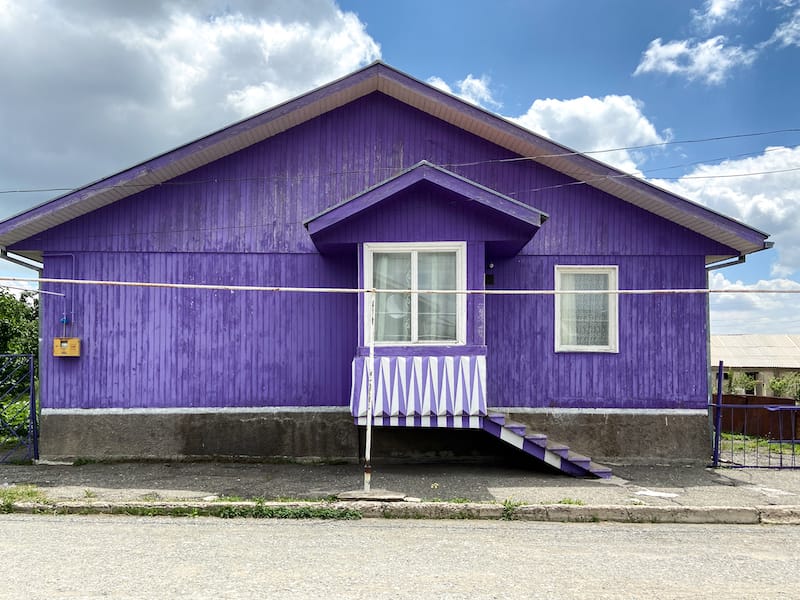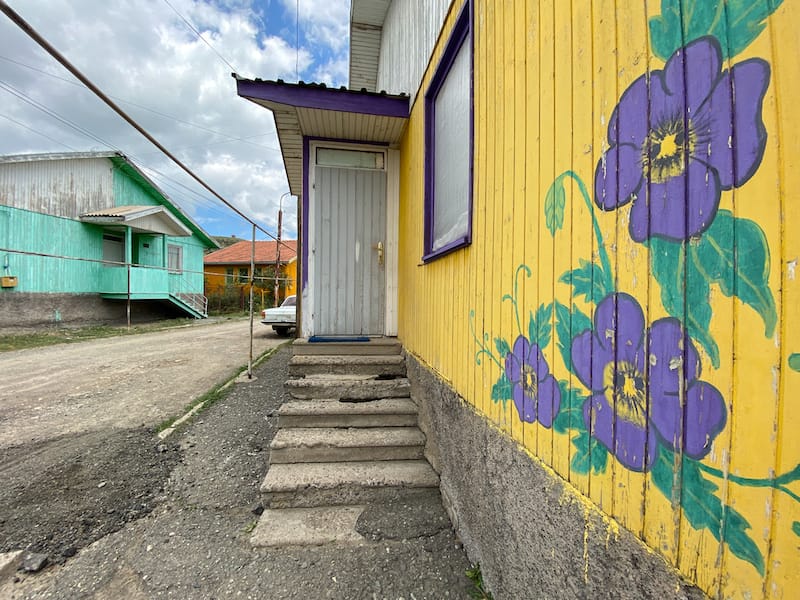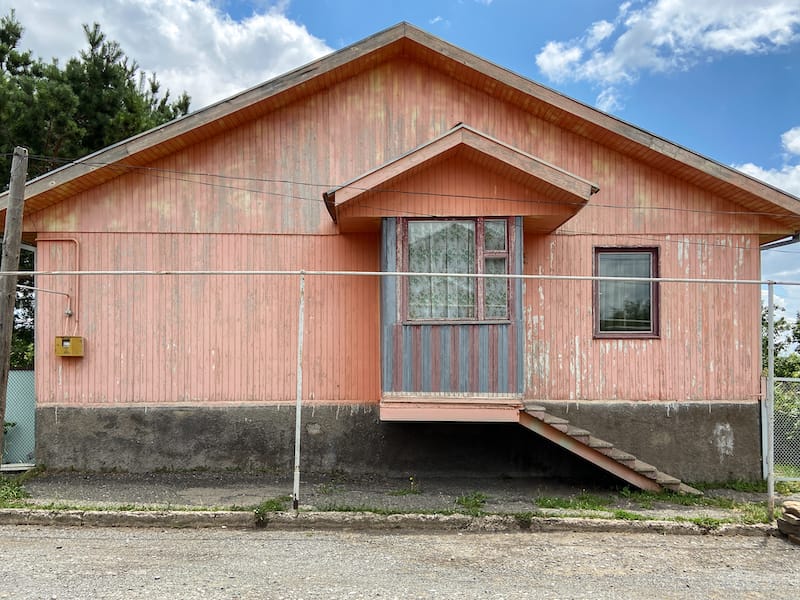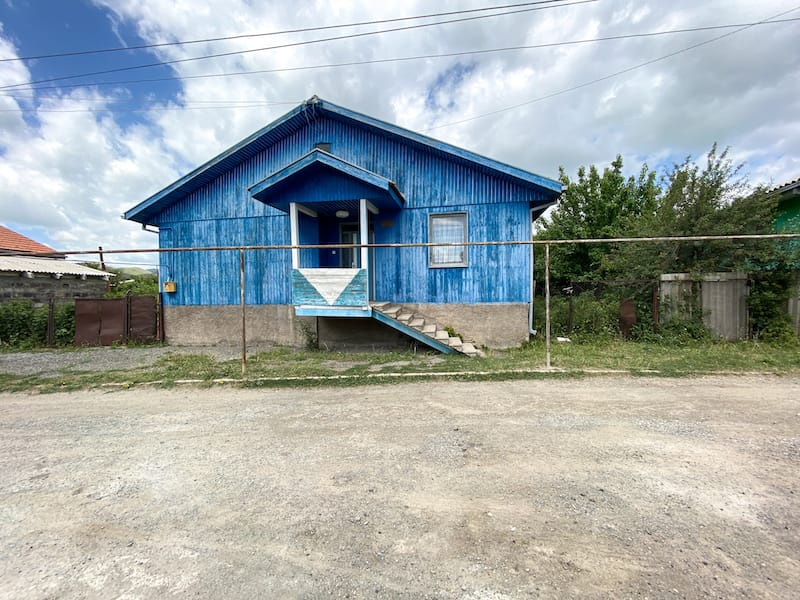 Easy Stop Between Gyumri and Lake Arpi
Our stop in Amasia was a quick pit-stop en route to Lake Arpi.  It sits about 24 kilometers from Gyumri and is a short distance from Lake Arpi.  Once you pull into the village, you will see a stunning gorge.  The gorge is a fantastic place to admire from above and have a picnic!
In my opinion, many places in Shirak seem a bit forgotten about.  There are many amazing things to do in Gyumri and there are some very notable monasteries in the region, but outside of that, people seem to kind of neglect the rest.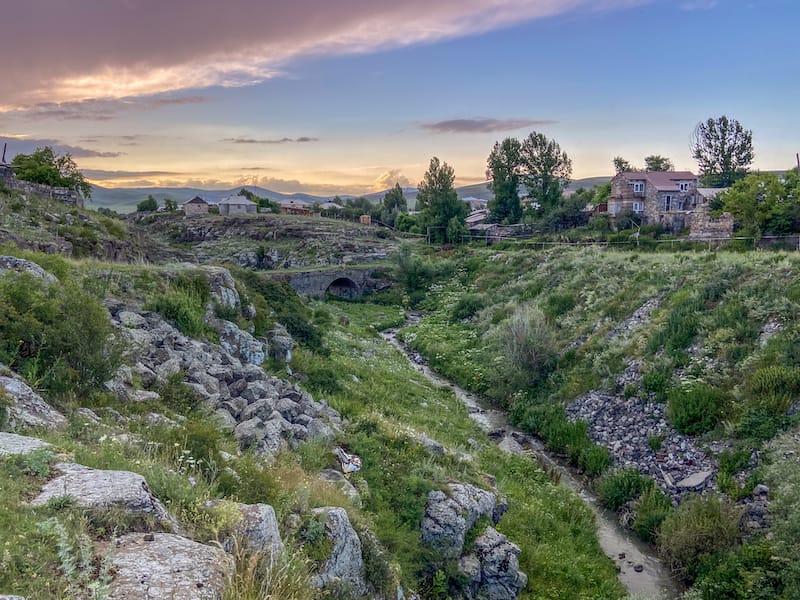 We hope that the next time you visit Gyumri (or on your first trip there), you will take the time to explore places like Amasia, or the new ski center in Ashotsk, or even Lake Arpi National Park.
On the way to Amasia and Lake Arpi, be sure not to miss Marmashen Monastery.
Where to Stay in Amasia
To be honest, we have no recommendations for accommodation in Amasia… so we suggest visiting as a quick trip from Gyumri or Lake Arpi.  You can check out our Gyumri hotels guide to see our top picks for Armenia's second-largest city.
You can also stay at Lake Arpi National Park.  There are some rooms available up there that are clean, affordable, and really lovely!  You can see them on our Lake Arpi travel guide.
How to Get to Amasia
Getting from Gyumri to Amasia is really easy, especially if you have your own car.  However, if you don't, we suggest you download one of the taxi apps listed on our Armenia travel apps guide (we recommend GG Taxi).
You can get from the center of Gyumri all the way to Amasia for about 2700 AMD (approximately $5).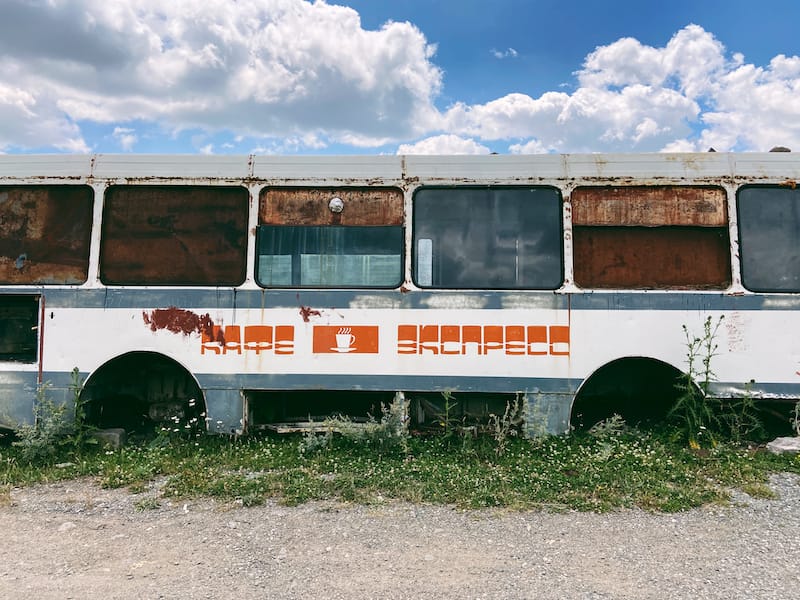 How Much Time Should You Spend There
It is up to you, but you can see everything within an hour or two.  There is not too much to do there outside of what we previously mentioned, hence recommending it as a stop on the way to Lake Arpi or other places within the Shirak region.
We hope you found this guide useful and that you will consider a stop in Amasia village on your trip to Shirak!  Please also consider supporting any small businesses you see open when you're in Amasia (or anywhere in Armenia, for that matter).
If you're looking for a quick place to eat in Gyumri, stop into Gwoog Gastrohouse and tell them Absolute Armenia said hello and sent you!
Pin This Amasia Travel Guide