Manti is one of our favorite Armenian dishes with roots in Western Armenia. It is flavorful and we are delighted to have Mikayel Boyajian here sharing his favorite places to eat manti in Yerevan.
Did we miss your favorite Armenian manti spot? Let us know in the comments! Thanks!
What is Manti?
Manti is a traditional dumpling dish popular both in Armenia proper and the Armenian diaspora.
Although you are able to find (incredibly delicious) manti in Armenia today, manti is traditionally thought to have originated first in historical Western-Armenian cultures which explain its popularity in the global Armenian diaspora to this day.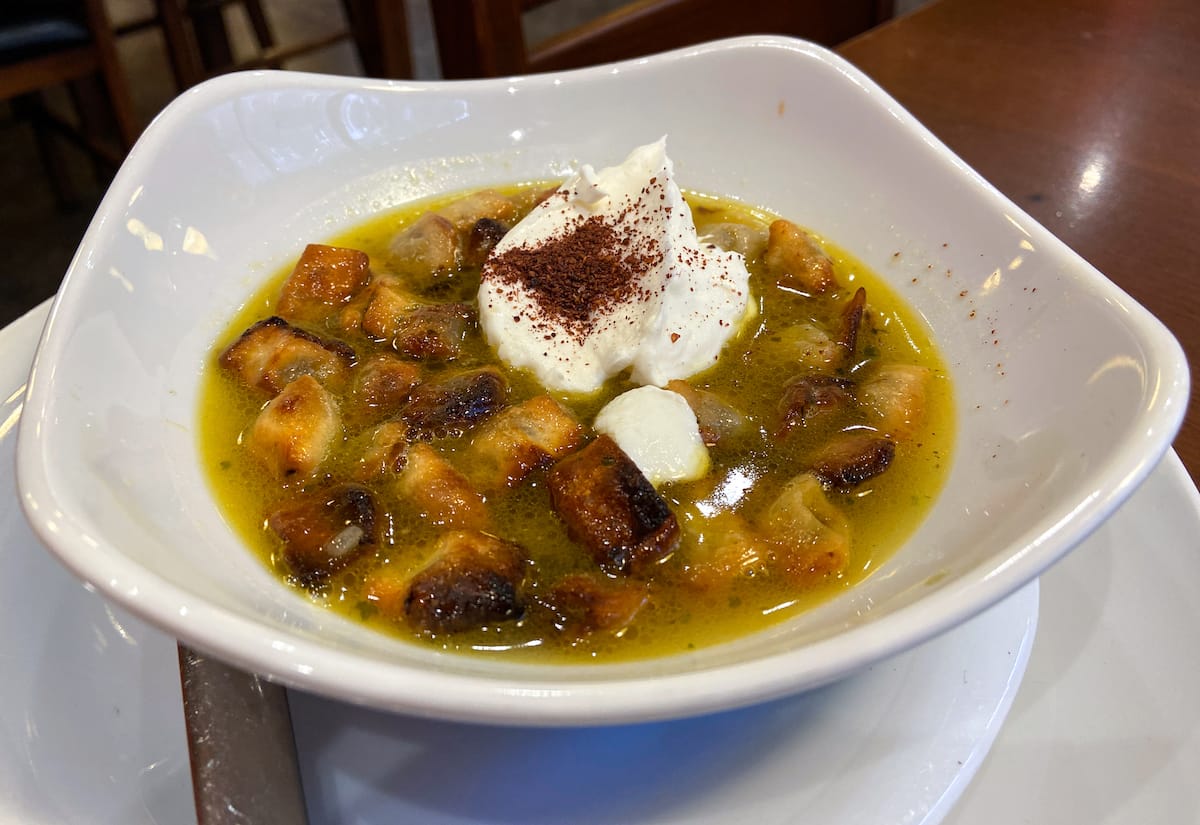 For the same reasons, manti is mostly found in the Western-Armenian restaurants of Yerevan.
Typically, manti is a mixture of meat (lamb or beef), garlic, onion, spices, and herbs, rolled and then swaddled in the dough. 
Manti Styles
Traditionally, manti comes in a few different styles. The first style is baked in a buttered pan until the dough is golden-brown and slightly crispy, then served with a garlicky matsun (Armenian yogurt) sauce and topped with sumac.
Some Armenians also like to pour a savory tomato sauce over the manti before adding the matsun.
However, the style of manti that my mother used to make was the other popular style of manti, in which the manti is, similarly, baked until crispy golden-brown, but then served in a savory broth, topped with a dollop of garlicky matsun and sumac.  
Best Places to Eat Manti in Yerevan
Mayrig Restaurant
Mayrig Restaurant is a Mediterranean-Armenian fine-dining restaurant, perfect for a celebration with close friends/family, or even a nice date.
The classy vibe is accentuated by the regular live music played during dinner, the decor, and the large diverse menu. Though they offer a vast array of Armenian dishes, don't miss out on their extensive wine list!
Their wait staff will also be happy to provide pairing recommendations to you based on your food order.
Mayrig Restaurant shouldn't be your casual "go-to" spot if you're looking to get a quick manti-fix, but don't get me wrong – this is certainly some of the best manti in Yerevan.
If you find your way over to Mayrig Restaurant during your stay, definitely give it a try!
Address: 4, 6 Amiryan St, Yerevan 0001
Manti Style
Mayrig's manti is baked in a pan and served with garlic matsun, tomato sauce, and sumac on the side.
The presentation is classy; our waitress even offered to "prepare" the manti (pour the sauces and mix everything together) tableside for us. The individual manti dumplings are on the smaller side.
Taste
Although small, Mayrig packs a lot of flavor into their manti. The meat mixture is nicely spiced and the dough is rolled thin, then cooked until golden brown and crispy.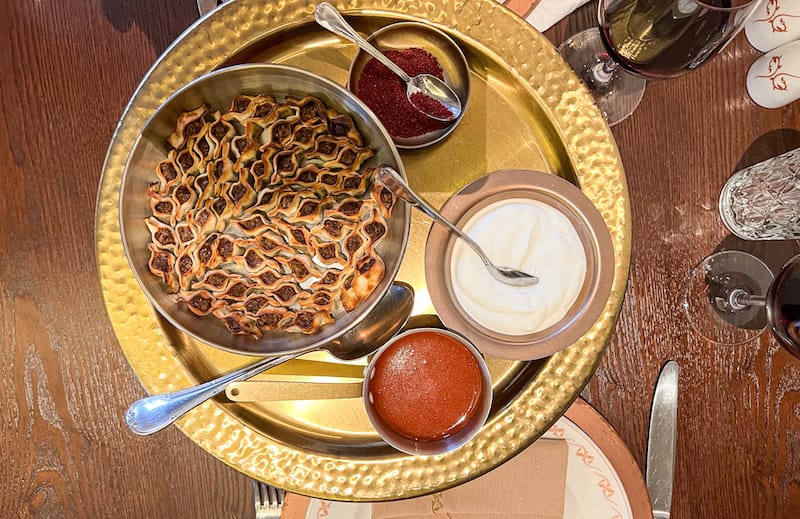 Although I sometimes feel that restaurants skimp on the amount of sauce that is served with their manti, Mayrig didn't.
There was enough sauce to evenly coat each individual manti, which was greatly appreciated. The mixture of the two sauces was quite balanced
Value
The manti alone will put you back 4500 AMD (Roughly $10), which puts it at the higher end of the price spectrum in Yerevan.
The portion size is fine for one person, but if your intention is to share (as Mayrig encourages) with anyone else, you should be prepared to order a few additional dishes.
If you're used to prices in the USA however, the manti is certainly going to be worth the $9 you'll spend on it at Mayrig, considering the fine-dining experience that you'll have.
That being said, you can find better value manti elsewhere in Yerevan.
Rehan Restaurant
Located near the beautiful base of Cascade, Rehan Restaurant prides itself on being a middle-eastern style Armenian restaurant with a large outdoor seating area, perfect for a warm afternoon/evening in Yerevan.
Rehan is classy-casual with beautiful modern decor, perfect for a quick meeting with clients, a get-together with friends, or for a casual date night.
Although I went in the winter, I'll definitely be making my way back on a warm summer evening to sit in their outdoor seating area and soak up life in Yerevan. 
Address: 46 Isahakyan St, Yerevan 0010
Manti Style
Rehan's manti is baked and then brought to your table in a shallow dish with a pleasant chicken broth, garlic-matsun, and sumac on the side.
Don't be fooled by the broth though, this is not the traditional "soup-style" manti that you may be thinking.
Rather, there's just enough broth to make the dough soft on the bottom, giving you a diverse textural experience, blending crunchy and chewy, when you bite in.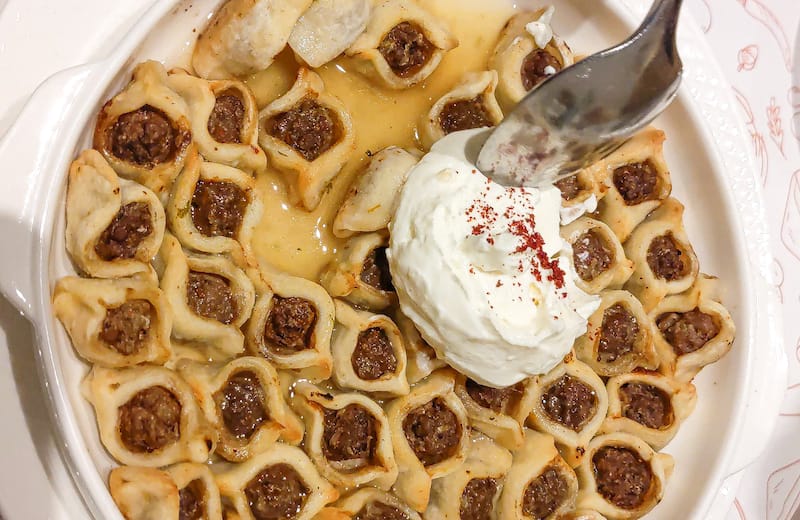 Similar to Mayrig, the waitstaff will offer to "prepare" the manti for you tableside, which always adds a layer of fun to the experience. 
Taste
Their delicious meat mixture is more plentiful and garlic-forward than at Mayrig.
The dough is on the thicker side which, along with the chicken broth that you'll pour over the manti, makes for a more chewy manti, rather than the crispy golden-brown that you'd have at Mayrig.
Still, the matsun brings a beautiful creaminess to the manti, which, when paired with the sourness of the sumac and the savoriness of the chicken broth, makes for a wonderful experience overall. 
Value
As a garlic-lover, I actually prefer Rehan's Manti to Mayrig's. The portion size is plentiful and is enough for one person. Costing only 2800 AMD (Roughly $6), Rehan's manti has some of the best value on this list. 
Mer Taghe
Although they're known for their lahmajun, my Argentinian-Armenian friend (Shoutout to Shant) insisted that Mer Taghe had the best Manti in the city.
Of all the restaurants on this list, Mer Taghe has the most cozy-casual environment.
Don't feel the need to wear anything fancy, you can totally just stop in and have a nice lunch while casually strolling around Yerevan.
In summer, there's also a beautiful outdoor seating area in front, perfect for soaking in the liveliness of Tumanyan Street.
Address: 21/1 Tumanyan St, Yerevan 0001
Manti Style
Mer Taghe serves manti with a light, crispy dough, baked until golden brown, and then served with an incredibly garlicky sauce, containing matsun, herbs, and sumac.
Don't expect a tomato sauce or a broth, your manti will come presented in an aluminum pan, with the garlic-matsun sauce on the side. 
Taste
Probably the most garlicky on this list, the manti is nothing short of a punch to the mouth in flavor.
If you love bold flavors, this is the place for you. The meat blend is excellent and there is enough of this beautiful sauce to coat each manti, which makes each bite consistently sour, juicy, salty, and savory.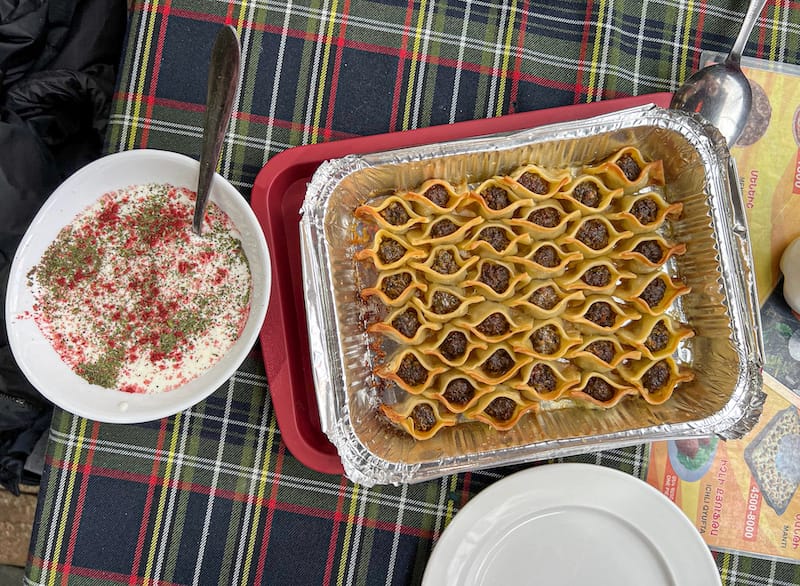 I don't know how they do it, but the manti never seems to get soggy, even while coated in sauce, making for a wonderful crunch every time you bite in.
There's no question that this was my favorite non-soup manti in Yerevan. Just try it; you won't regret it.
Value
There's no question that this was my favorite non-soup manti in Yerevan.
Of all of the mantis on this list, Mer Taghe certainly has the largest portion sizes, helped by the sheer size of their individual mantis.
You can either get 36 pieces for 4500 AMD (about $10) or 64 pieces for 8000 AMD (Roughly $17).
For the cheaper option, it's the same price as Mayrig Restaurant, but the flavor is significantly better and the portion size is quite large too.
Value-wise, this manti is certainly worth the trip, especially considering that most of the other things on the menu are very affordable. 
Anteb
Anteb specializes in Western-Armenian cuisine. It's the perfect place to go for lunch or dinner with close loved ones or to take a date.
No, there's no outdoor seating, but the vibe is classy enough for a client meeting and cozy enough for a casual lunch. 
Manti Style
Anteb's manti is cooked until golden-brown, then served soup-style in a bowl of chicken broth with a dollop of matsun and sumac on top. The individual mantis are relatively small, but what lacks in size is made up for in flavor. 
Address: 30 Yeznik Koghbatsi St, Yerevan
Taste
The meat mixture is succulent and spiced wonderfully, and the dough is buttery and slightly crispy, but the real star of the dish is the chicken broth.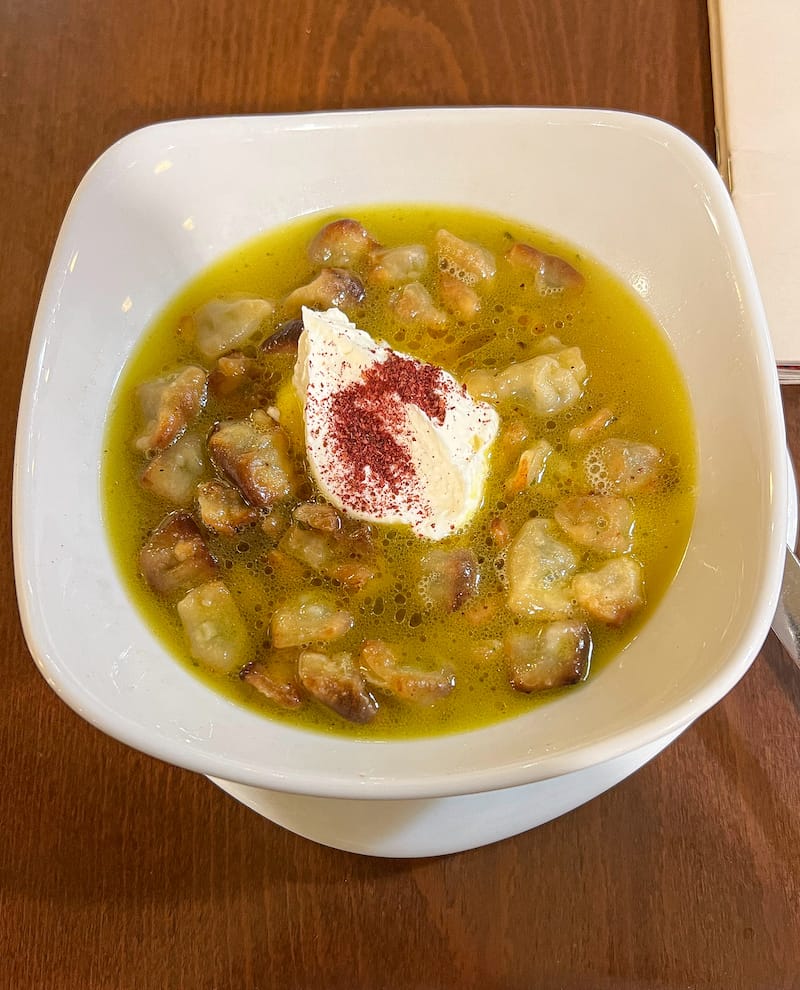 One bite brought me back to my childhood home, walking through the front door after soccer practice only to be greeted by the warm smell of garlic, homemade chicken broth, and buttery dough in the air, followed by the bowl of love that is manti.
In fact, it was Anteb's manti that inspired me to go on this journey to find the best manti in Yerevan. That's how good it is. 
Value
At 2000 AMD (about $4), this manti is certainly worth every penny. The only complaint I have is that the portion size is a bit too small for my taste.
One bowl of manti is too little for me to fill up on, but two bowls of manti are too much food. Make sure if you're going to try the manti, order a lahmajun as well to make sure that you're full.
Derian
Derian is another Western-Armenian restaurant that has a very similar classy-casual vibe to Anteb.
One main difference is that Derian regularly has live music (At the time this article was written, Harout Pamboukjian had just performed there).
Located right next to Vernissage, it's the perfect place to take a food break during your souvenir shopping spree. That being said, Derian is also a wonderful place for dates and celebrations. 
Address: 1, 3 Buzand St, Yerevan 0010
Manti Style
Just like Anteb, Derian has a soup-style manti served in a chicken broth with a dollop of garlic matsun and sumac on top.
Derian's manti is slightly larger and a bit less crispy than Anteb's, while their broths are similar visually and flavorwise.
Taste
Derian's bright-yellow, rich chicken broth will have you desperately scraping the bottom of your bowl to make sure you aren't wasting a single drop.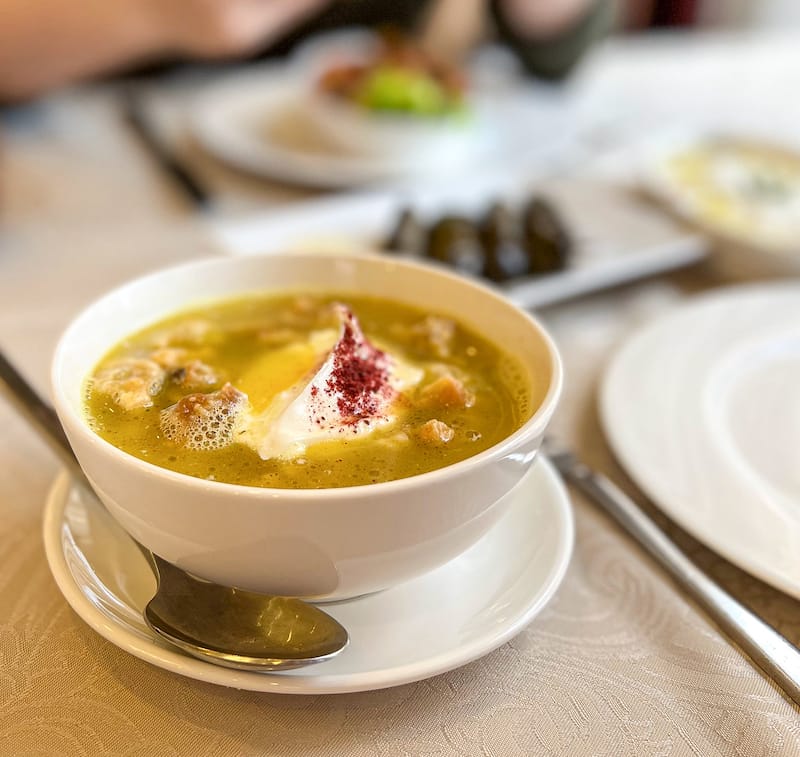 In my multiple visits to both Anteb and Derian, I found that I enjoy the flavor of the meat in Derian's manti a little more than Anteb's, but I prefer the crispiness of Anteb's manti over Derian's.
As a deciding factor, Derian's broth slightly edged-out Anteb, crowning Derian as my favorite spot to get manti in Yerevan.
Value
At 1700 AMD (about $3.50), Derian's manti is a heck of a deal.
Although the portion size is a bit too small for my taste, it was more filling, more affordable, and slightly tastier than Anteb's manti, making it the best manti I've had in Yerevan, not only flavorwise, but also value-wise.
Magic does exist in Yerevan – and it's sitting in a bowl in that pretty, little, Western-Armenian restaurant across from Vernissage.
Other Restaurants with Manti on the Menu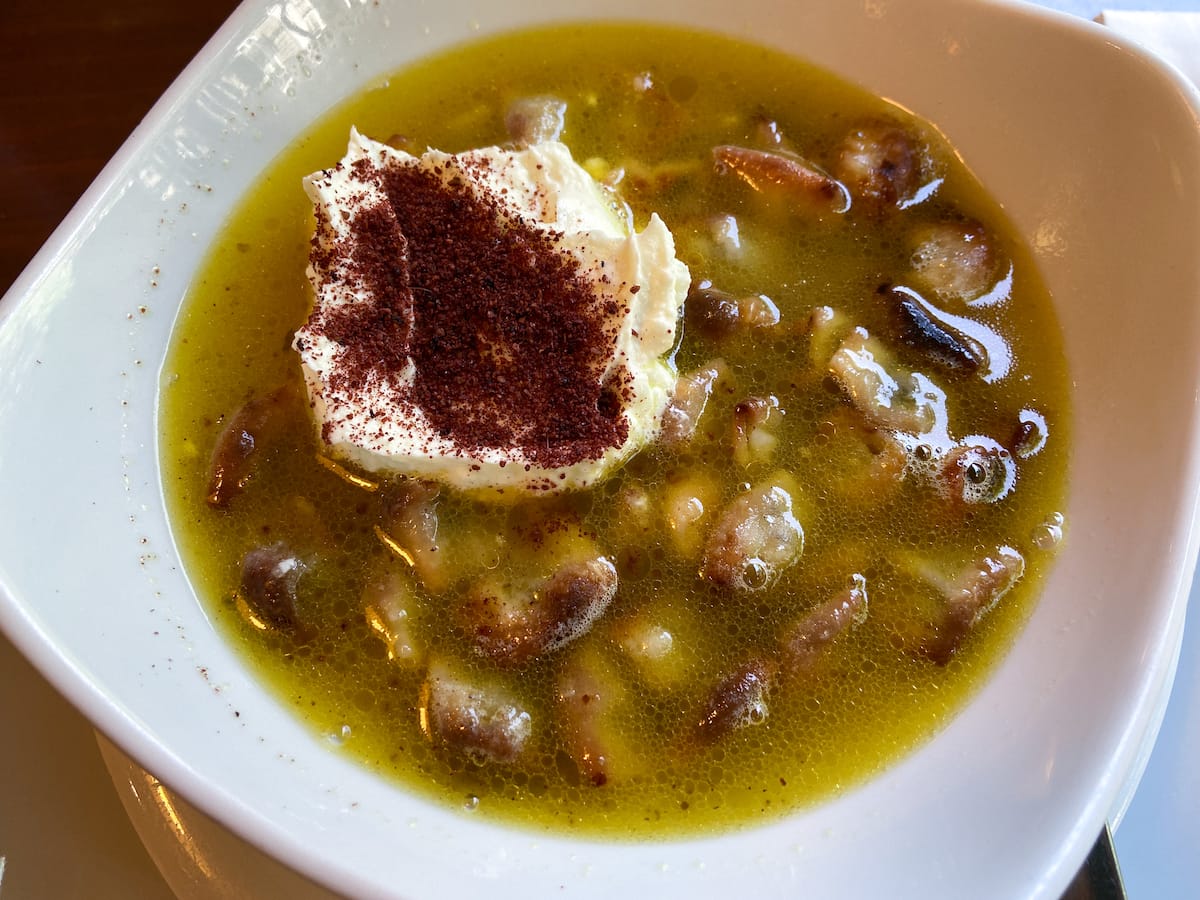 Want to Make Manti at Home?
While we donʻt have a recipe on this travel blog, one of our favorite food blogs is written by an Armenian-American and she has an incredible recipe for Armenian manti on hers.
Did we miss any amazing restaurants in Yerevan for manti? Let us know your tips in the comments! Thanks!
About the Author
Mikayel Boyajian was born and raised in the roughly 9-thousand-strong Armenian community of Chicago, to a Der Hayr (Armenian Priest) and Yeretzgin (Wife of Armenian Priest). As such, his Armenian experience was sculpted mainly by the church, summer camps (Hye Camp, St. Nersess), and Armenian Dance Company of Chicago.
His maternal roots are in Mush, Ghazanchi, and Gyumri, whereas his paternal roots are deep into the old Western Armenian cities of Kilis, Marash, and Aintab; which allowed him exposure into both Eastern and Western Armenian culture, language, and — most importantly — cuisine.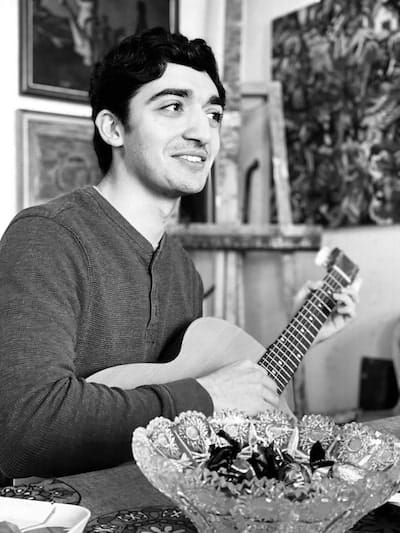 More Armenian Food/Drinks Guides