It has taken me far too long to reach the depths of Yeghegis in Vayots Dzor, but I finally was able to make it down that way and I was completely blown away!
This guide details the best things to do in Yeghegis if you're a first-time visitor.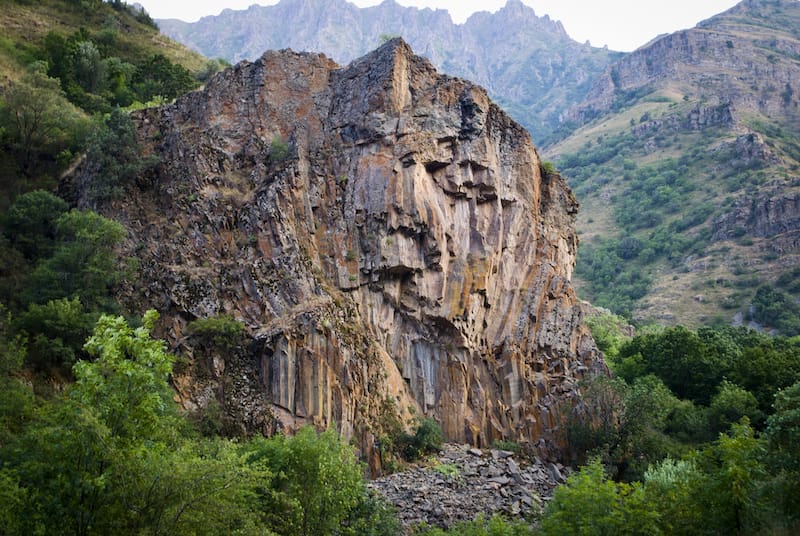 I, honestly, envision this area developing further and ending up on the radar of many people, so be sure to add it to your Armenia bucket list. There is so much history and nature there – it is truly surreal!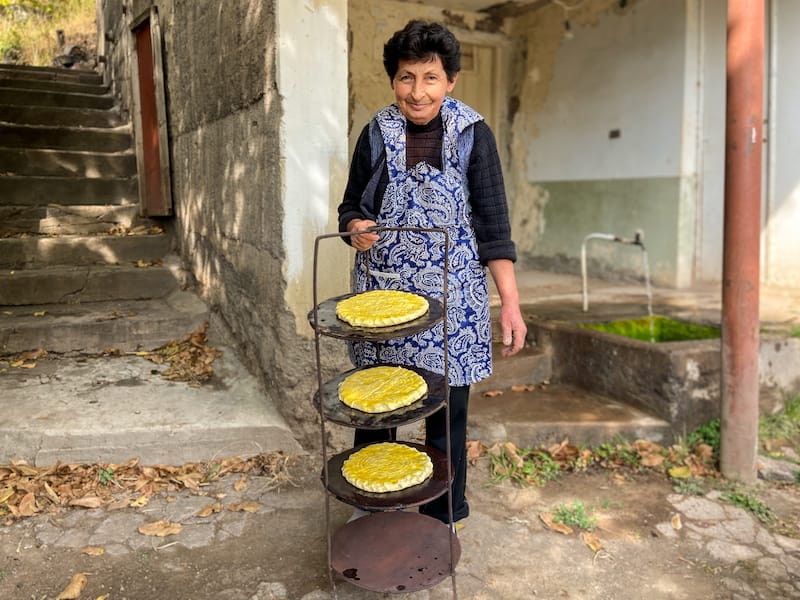 Things to Do in Yeghegis (and Nearby)
Tsakhats Kar Monastery
Tsakhats Kar Monastery is a monastic complex in Vayots Dzor Province's Yeghegis. The church dates back to the 10th century and the monastery was a place where people learned to paint.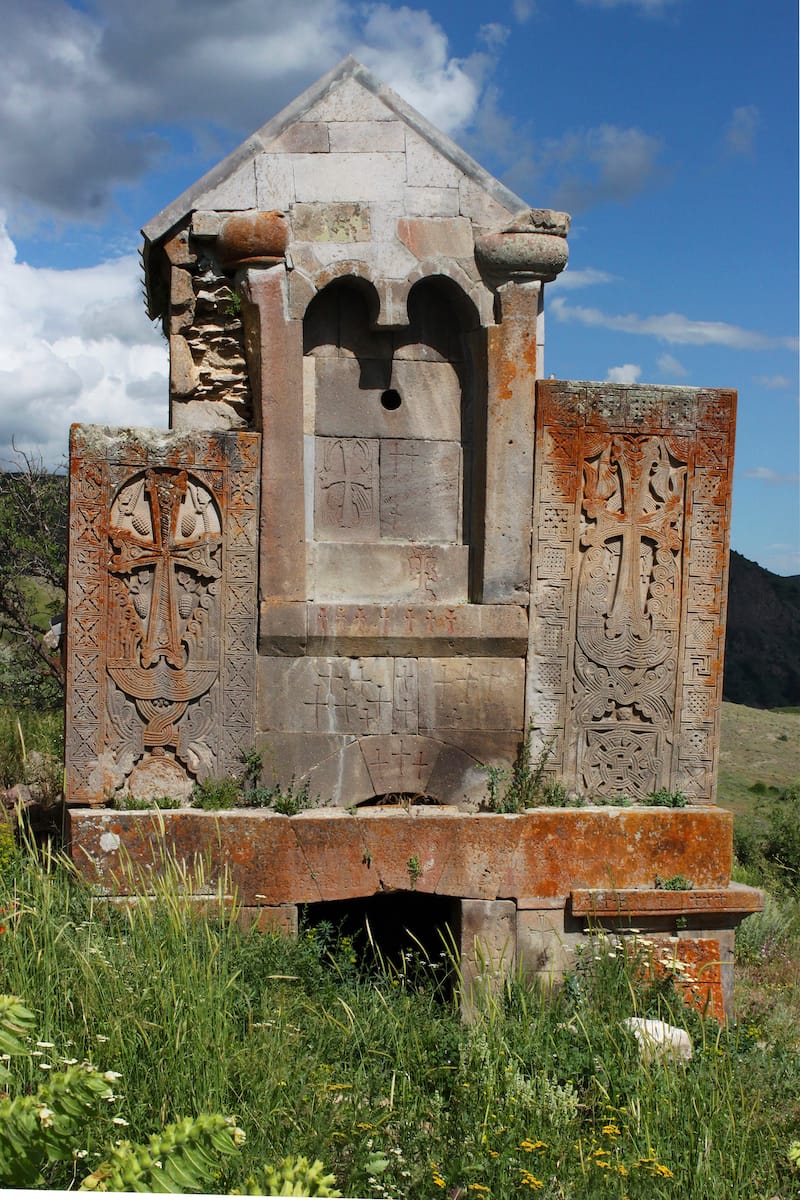 The church was built during 984-1029 of the Bagratid kingdom and the complex contains two buildings, St. Karapet church, and St. Hovhannes church, which are 200 meters apart and are composed of finely polished basalt blocks.
The building of St. Karapet is a cupola hall with sacristies in each of the four corners. A large monumental artwork in St. Karapet church depicts a fight between a lion and a bull, as well as an eagle cradling a now-broken ram.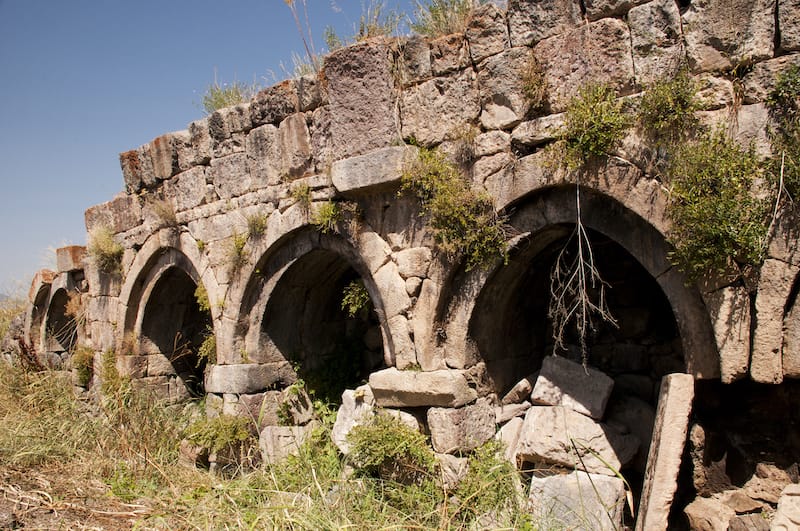 Both churches are located in the western portion of the city and you will find several khachkars near the vicinity of the monastery. This is one of the best places to visit in Vayots Dzor and near Yeghegis!
Cook Gata at Legend Guesthouse in Artabuynk
While Yeghegis is brimming with nature and history, you can also find a little slice of delicious heaven nearby in Artabuynk village.
At Legend Guesthouse, you will meet a family who will take you in and offer you a cozy place to stay as well as one of the best cooking classes in the region!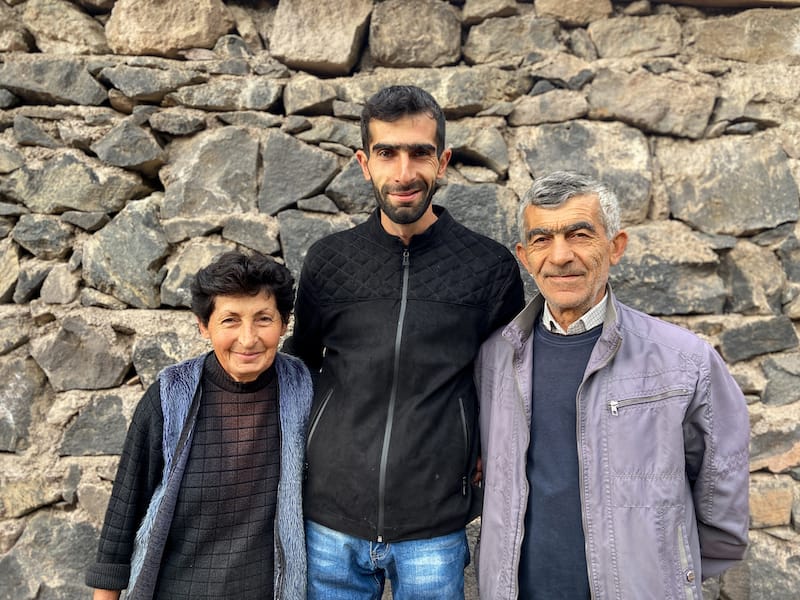 I had a chance to make gata when I was there with Gohar and we did it in the traditional village way with a tonir and everything.
From the veranda in front the tonir, you will have a beautiful view of Smbataberd Fortress and a great place to relax and enjoy coffee or tea.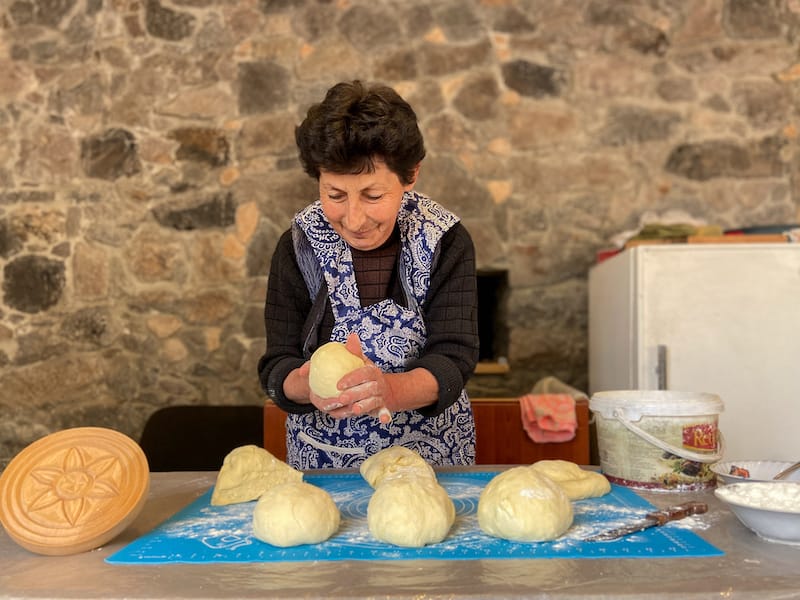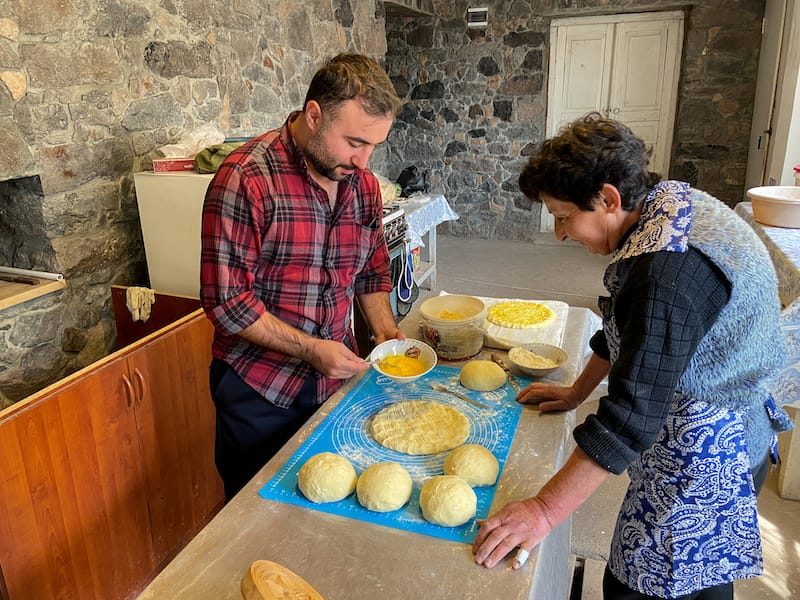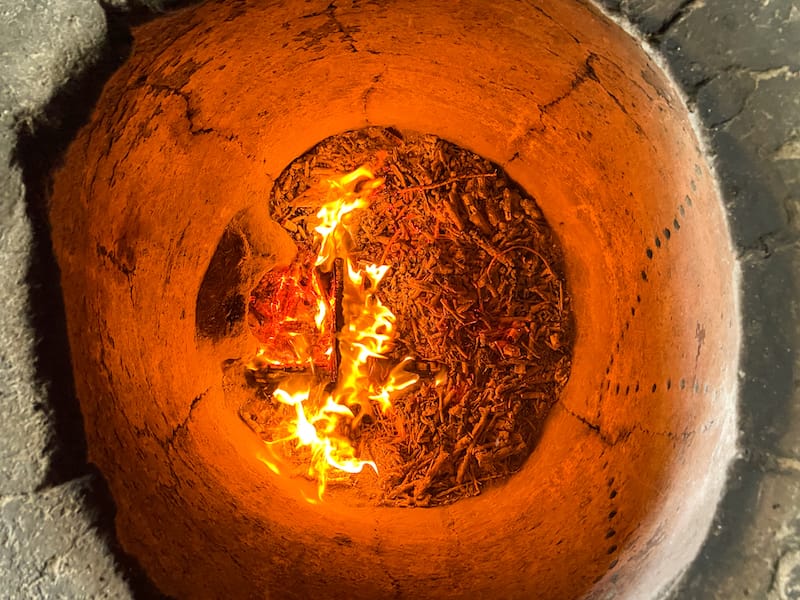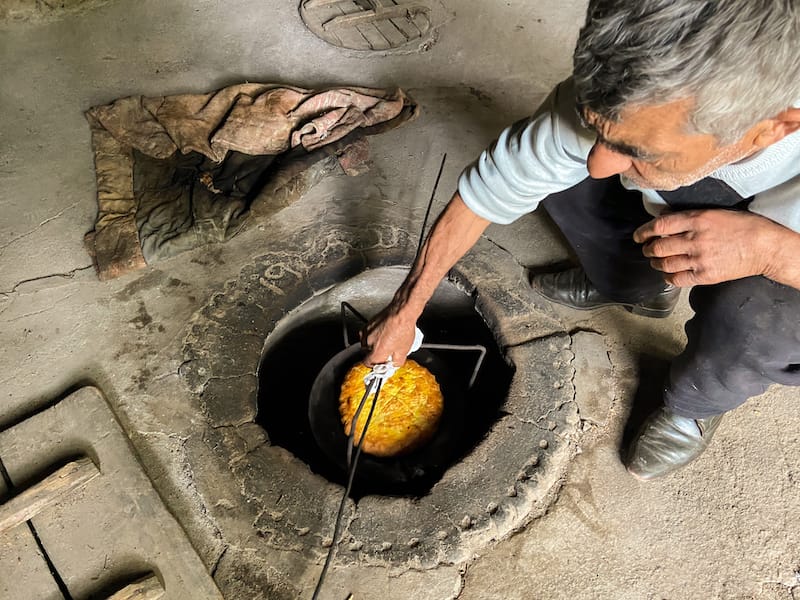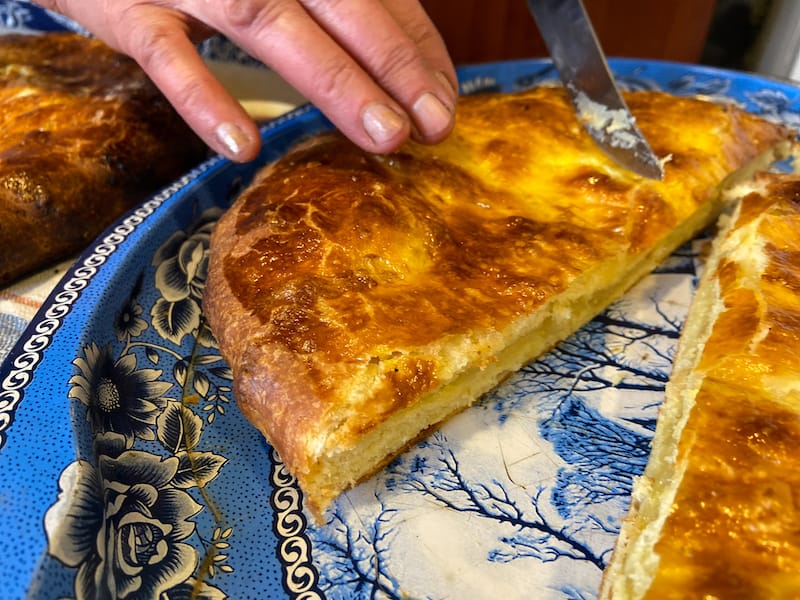 This experience is combined with a tour to Smbataberd Fortress, so bring your hiking shoes and some sunscreen! You can read more about Smbataberd below (and the tour).
Book Your Gata Cooking Class in Artabuynk
Availability: 7 days a week from 9am until 8pm. Reserve 24 hours in advance.
Duration: 4-6 hours (includes a tour to Smbataberd)
Language: Armenian, Russian, English (if booked in advance)
Contact: Facebook // +374 93 66 82 83 (Karen Qaramyan)
Smbataberd Fortress
Smbataberd Fortress is positioned on the peak of a hill between the villages of Artabuynk and Yeghegis in the Vayots Dzor Province. It is regarded as one of the region's largest medieval fortresses.
There is no specific date on which the fortress was built, however, there is ample evidence that it existed during the 5th-century Avarayr battle between Armenians and Persians.
The fort is built in an advantageous position from a defensive outlook since on all sides, it is surrounded by a deep gorge and mighty walls.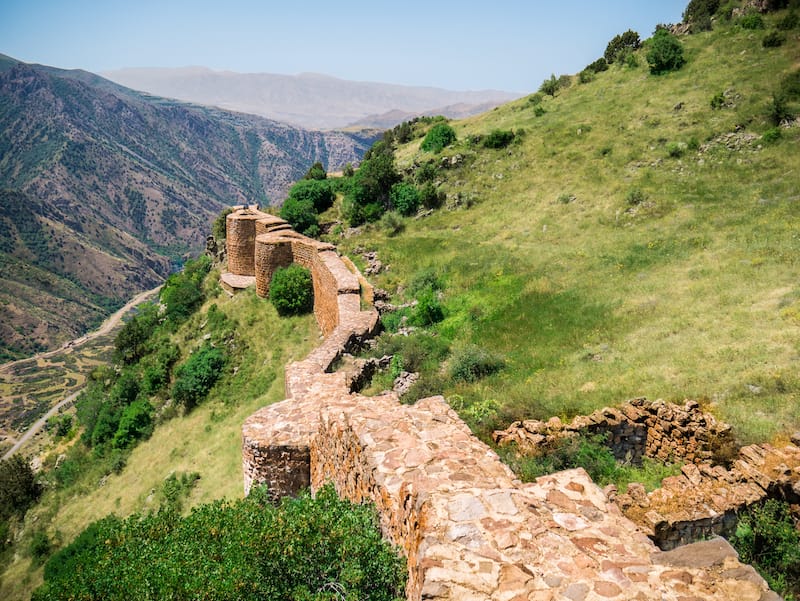 There are two legends about who named the fort. One is that the fort was named Smbataberd after one of the Orbelian Dynasty's dukes. The other is that it was named after the 10th-century Prince Smbat of Syunik.
Back in the day, an underground clay pipe supplied water to the fort. According to legend, the Seljuq Turks took Smbataberd in the 11th century, employing a thirsty horse to sniff out the pipeline and cut off the water supply.
However, evidence suggests that the fort was defended until the 13th century, indicating that it was captured by Mongols rather than Seljuq Turks.
Smbataberd Fortress is one of the most beautifully placed locations I have ever put my eyes on in Armenia and it is, without a doubt, one of the best things to do in Yeghegis.
Take a Tour to Smbataberd Fortress
In order to take an organized trip to Smbataberd Fortress, we recommend getting in contact with Legend Guesthouse (mentioned above) as they conduct tours there regularly.
Vardan, the guide, developed a trail from Yeghegis village to the fortress and back down to his village of Artabuynk. The hike takes about 1.5 hours in total and he will give you details about the history of the sight as well as its role in the region previously.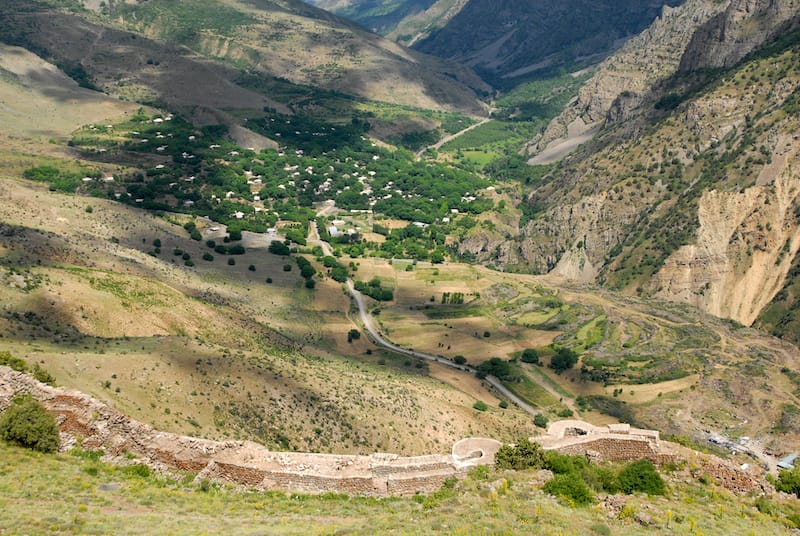 Once you're back from Smbataberd, you will have a chance to make a delicious gata at the guesthouse with Gohar. This truly is a fantastic experience that combines food, history, and nature rolled into one!
Book Your Tour to Smbataberd
Availability: 7 days a week from 9am until 8pm. Reserve 24 hours in advance.
Duration: 4-6 hours
Language: Armenian, Russian, English (if booked in advance)
Contact: Facebook // +374 93 66 82 83 (Karen Karamyan)
Zorats Church
Zorats Church is located in Yeghegis and is one of the area's top landmarks. It was established in the 14th century during the fights against Turkic tribes. The church is situated on a hill with a view of the river.
The architecture of Zorats Church is distinctive in that the altar is raised higher than usual, as though it was designed to make it easier for a horseman to dismount.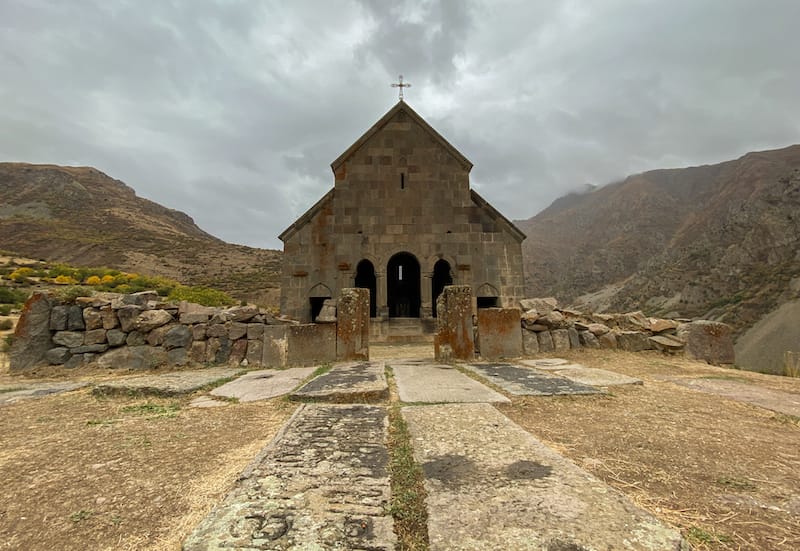 According to legend, the church was built so that soldiers on horseback might swear and get a blessing before entering battle. Many tombstones can be found in front of the church, each with an eye hole cut on one end.
The function of the holes is unknown; however, many people believe the site was formerly a Pagan worship site that was converted to Christian use at an early age.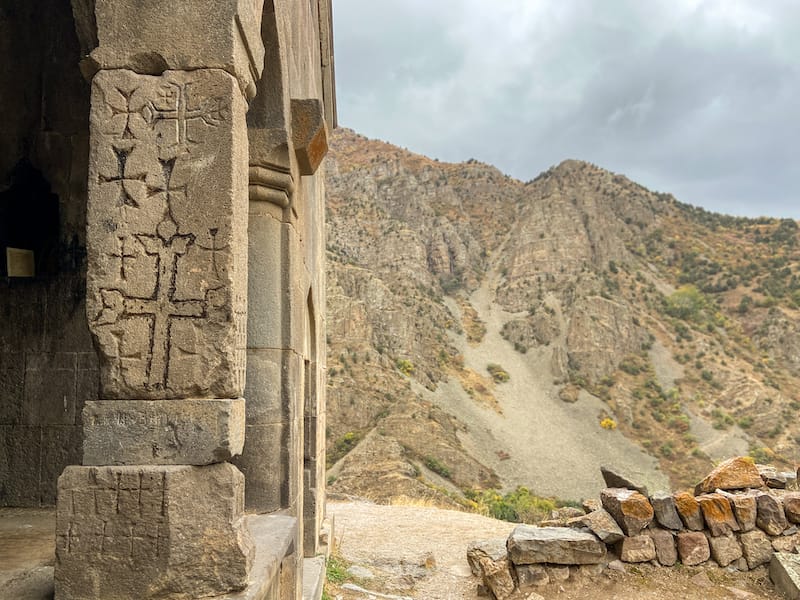 Zorats Church is genuinely unique amongst Armenian churches, and it was extensively renovated in the 20th century.
Hotel Arevi
Hotel Arevi was an idea born from Arevi tours founder Gevorg Gasparyan, an adventurer who loves hiking and has climbed Ararat, Damavand, Elbrus, Kazbek, and more!
While the idea spawned off of the tour company of the same name, Arevi is actually the first container hotel in Armenia and it is nestled in beautiful Yeghegis, the perfect place to base yourself for a Vayots Dzor adventure.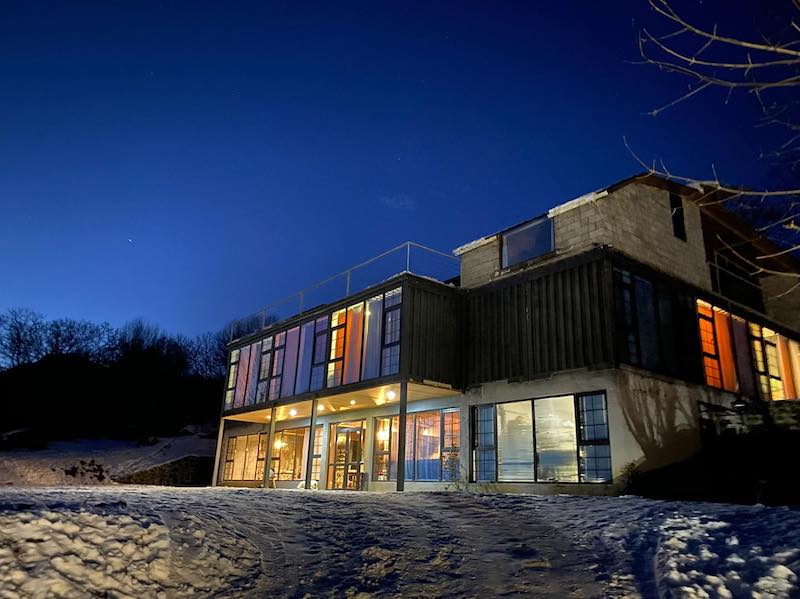 It's a fantastic place to stay while visiting the picturesque and ancient province of Vayots Dzor. Standard single and standard double rooms are available for 20,000 and 25,000 AMD, respectively. The rooms provide a beautiful view that any nature lover will appreciate.
Hotel Arevi provides guests with an eco-experience right at the foot of mind-blowing scenery and it is one of the unique experiences in Armenia in terms of accommodation.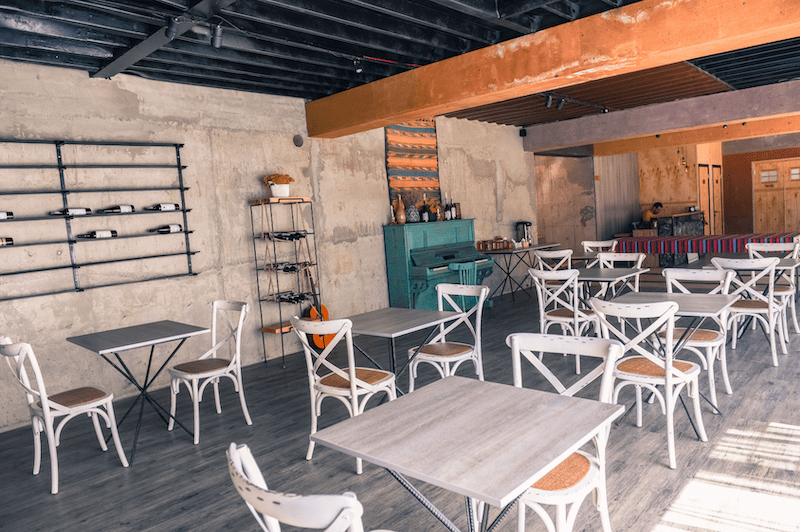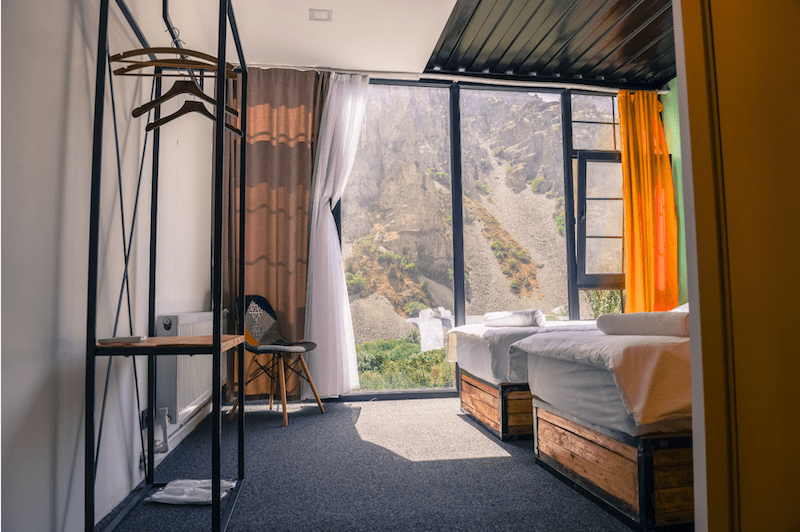 Photos above courtesy of Hotel Arevi in Yeghegis.
>> Click here to book your stay at Hotel Arevi
Jewish Cemetery in Yeghegis
The Jewish cemetery is located on the outskirts of Yeghegis village in the Vayots Dzor region.
The cemetery is the only surviving evidence of Jewish communities in medieval Armenia between the 13th and 14th centuries.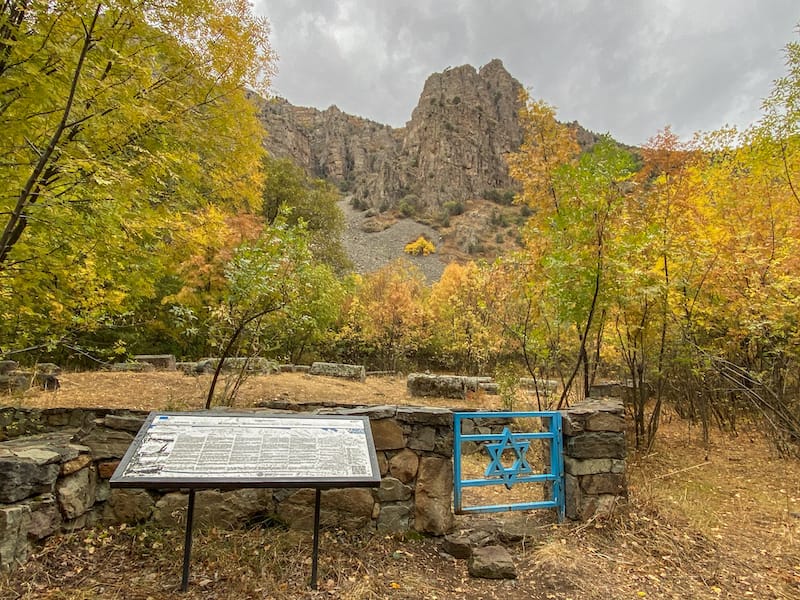 More than 40 tombstones survived the cemetery's use for more than 80 years, and another 30 were discovered nearby. The engravings in Hebrew or Aramaic made up ten of them.
The oldest tombstone dates back to 1266 BC, while the newest is from 1346 AD. The engravings contained ancient Jewish burial language, biblical texts, and Talmudic literature words.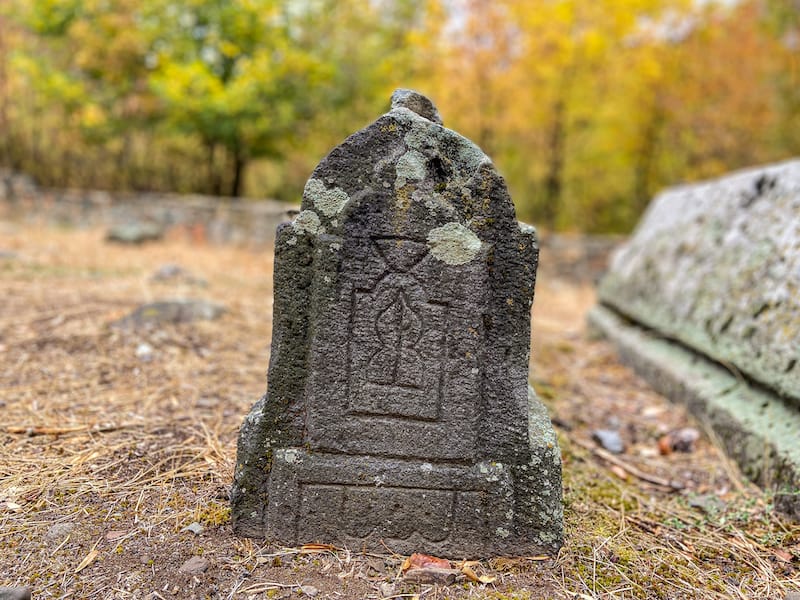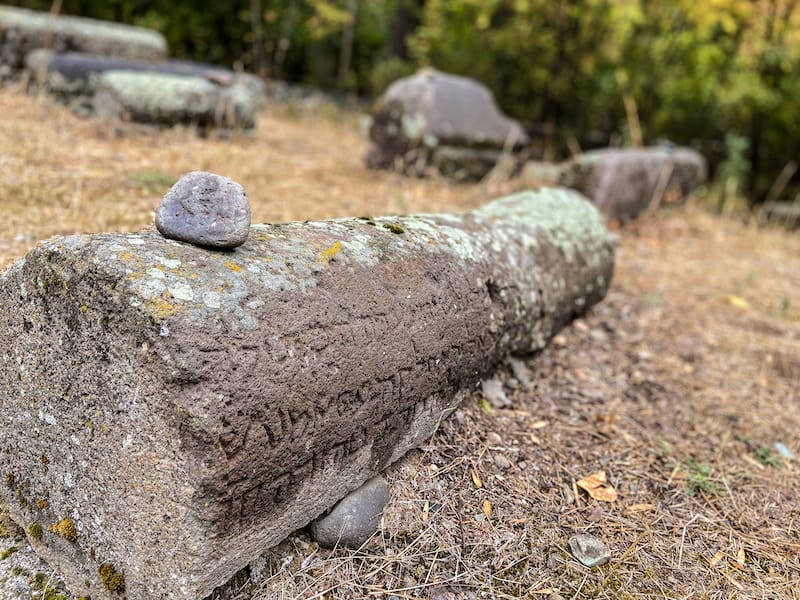 The names found on the tombstones were popular among Iranian Jews, indicating that the Jewish population of Yeghegis had an Iranian background.
The cemetery was discovered during Soviet Union times and has subsequently been designated as a cultural site. Since Armenia is the only country in the world that has preserved a medieval Jewish cemetery, Jewish visitors from all over the world visit the site every year.
St. Astvatsatsin Chapel in Yeghegis
The Surb Astvatsatsin Chapel (meaning "Holy Mother of God") is located in Yeghegis and is one of the top places to visit when you're there. The chapel was built in 1703 on the foundations of an ancient church.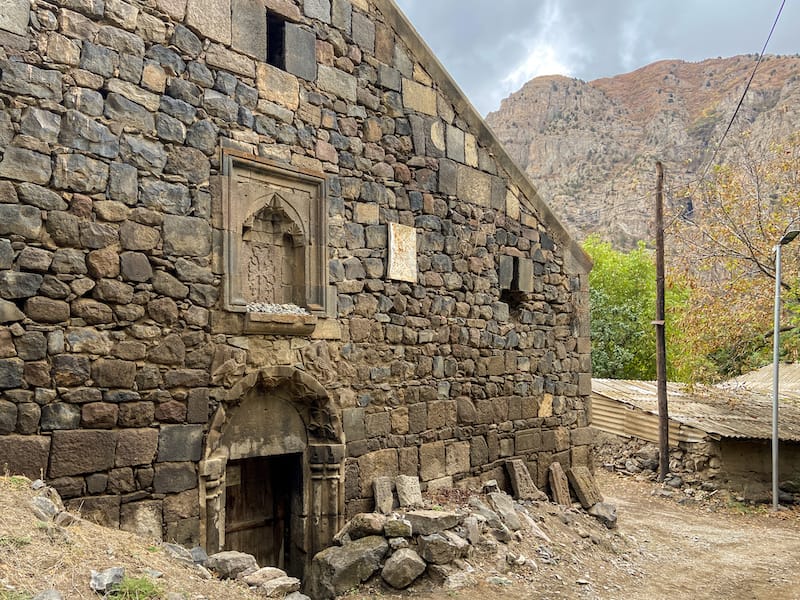 A khachkar can be found beneath the arch of the lintel of the window on the western wall. Water fairies with crowns can be spotted on both sides of the arch.
Where to Stay in Yeghegis
If you're looking for a place to stay in Yeghegis, we highly recommend booking a place at Legend Guesthouse or Hotel Arevi.
Legend Guesthouse (discussed above) offers cooking experiences and the opportunity to meet a local family and support their business. Hotel Arevi is a unique experience where you can stay in containers in the middle of gorgeous scenery!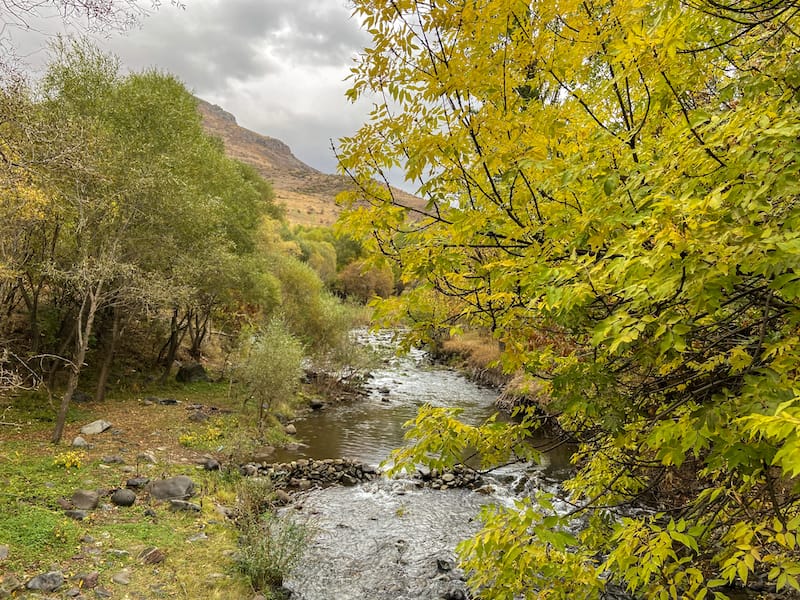 Did we miss any amazing things to do in Yeghegis? Let us know in the comments! Thanks!
More Vayots Dzor Travel Guides
**This article was produced with the support of My Armenia, a program funded by the United States Agency for International Development (USAID) and implemented by the Smithsonian Institution. The contents are the sole responsibility of the authors and do not necessarily reflect the views of USAID, the Smithsonian Institution, or the United States Government.