Yeghegnadzor, Armenia is the gateway to the south of the country and a place that is definitely worth exploring for more than just a stop for gas on your way to Syunik!
This is a guide dedicated to the best things to do in Yeghegnadzor – from cultural experiences to camping to wine and beyond!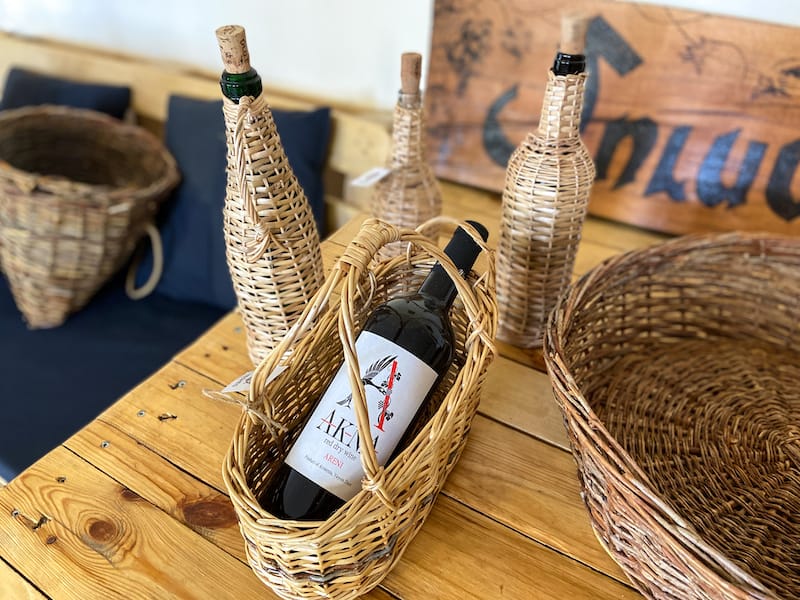 Let us know if you have visited this city and what your favorite tips, things to do, and attractions are!
Best Things to Do in Yeghegnadzor
Cooking Experience at Under the Walnut Tree
There are so many fantastic reasons to visit Under the Walnut Tree in Yeghegnadzor, including to stay there and call it home for your trip!
However, aside from being one of the region's best guesthouses, Under the Walnut Tree is also a great place where you can have a unique cooking experience, too!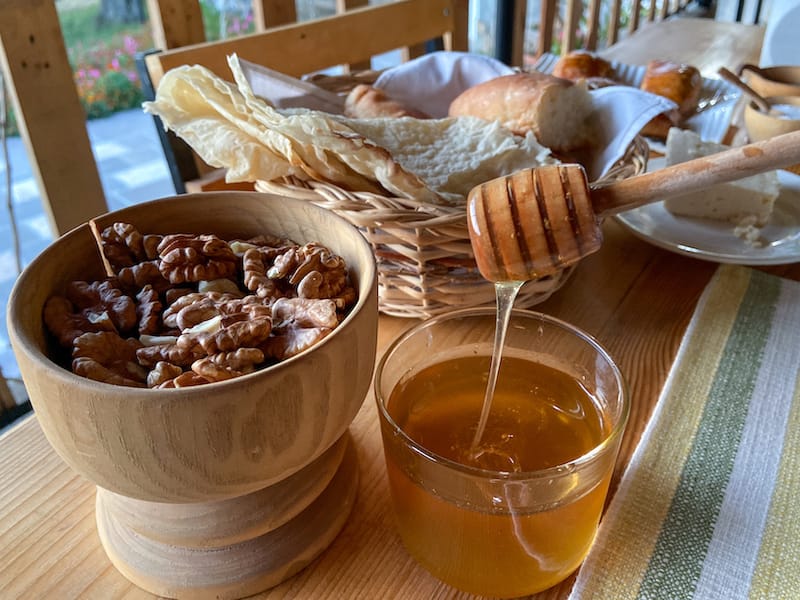 At the guesthouse, you will meet Anna and Abraham, a husband and wife team who offer vodka distillation and tastings, gata cooking classes, and honey pressing experiences.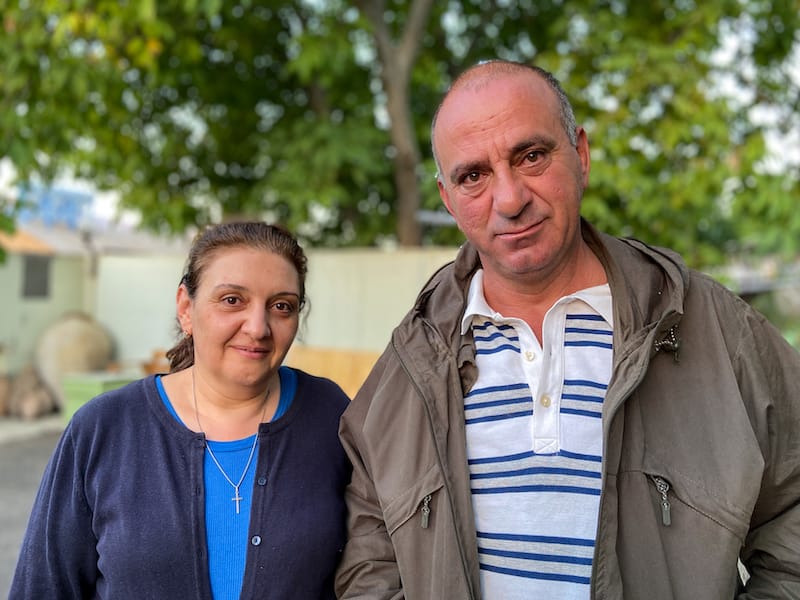 Their daughter, Lilit, is often involved in the process and she is also the owner of the Little Coffee Shop which we mention below. You can find Under the Walnut Tree at 14 Levonyan Street in Yeghegnadzor.
Arpa Protected Landscape
Arpa Protected Landscape is 6000 hectares of protected land where you can find over 900 species of flora and 525 species of fauna (and so much of it is endangered and rare).
One of the main species the land is known for is its bezoar goats, which I had a chance to witness with my own eyes when I visited.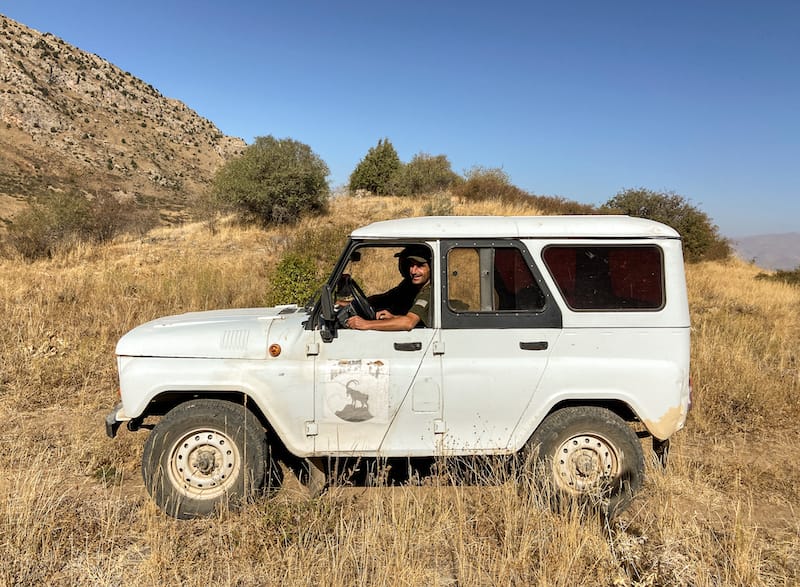 A fantastic way to see this land is to arrange a Jeep safari as I did. Rangers will take you through the rugged wilderness to optimal viewing points and on hikes that are throughout the park. Even HIKEArmenia has some trails here!
You can be picked up for the experience from Yeghegnadzor (or Areni) and you just need to arrange things 72 hours in advance or more.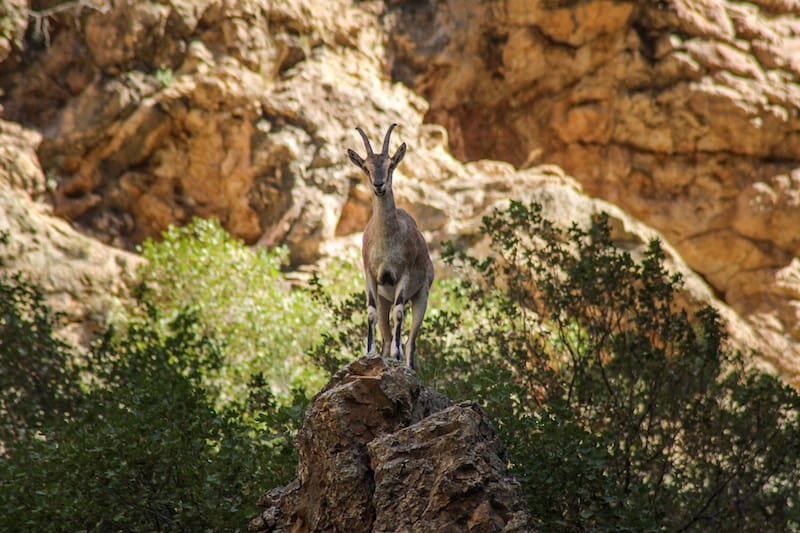 In addition, Arpa has a guesthouse that you can stay at when you're in the area called Arpa Valley Cabin. It is the perfect way to wake up in the wilderness.
Old Bridge Wines
There are so many cool things to do in Yeghegnadzor and one of the tastiest places to stop is Old Bridge Winery, a family-owned establishment situated in between Areni and Yegehegnadzor (about 7-8 kilometers away from Areni).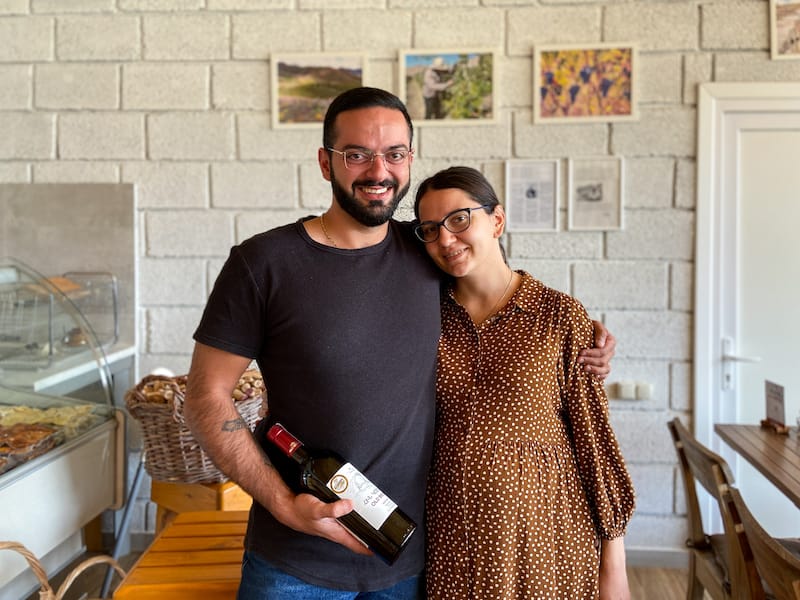 As part of the Vayots Dzor Wine Route, the winery has a degustation and cafe area where you can not only tour the vineyards but also sit down and enjoy some delicious food and drink at the place too!
Lusine and Musho welcomed me in and talked to me about their business, which was founded in 1998 by Musho's father. Today, they produce over 9,000 bottles a year.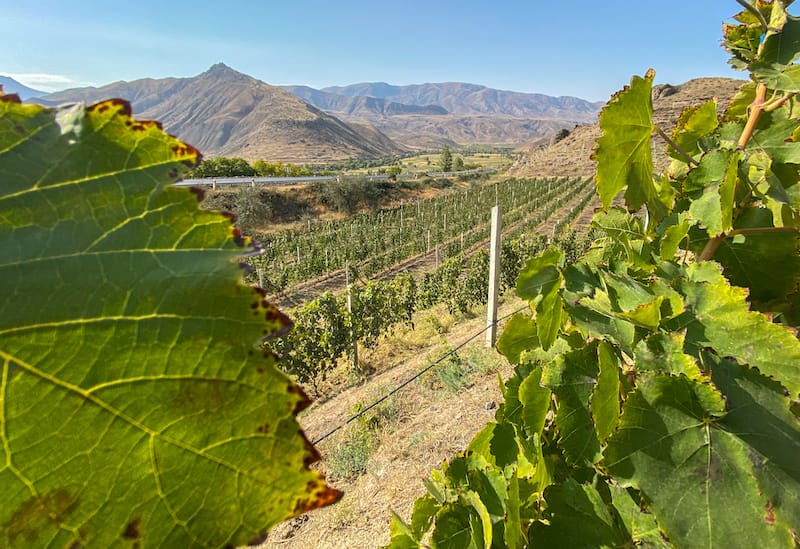 Musho lived in Sweden for his studies and you can see his international and Scandinavian influence in the interior of the winery and it quickly became one of my favorite places I've visited in Armenia. They also have a B&B if you're keen to stay overnight there!
Soviet Textile Factory in Yeghegnadzor
Not too many people know this but there is a lot of Soviet heritage down in Yeghegnadzor and you will find several buildings throughout the city that are interesting to visit!
One such place is the abandoned Soviet Textile Factory in Yeghegnadzor (thanks for the tip, Gurdeep at Avara the Wanderer!)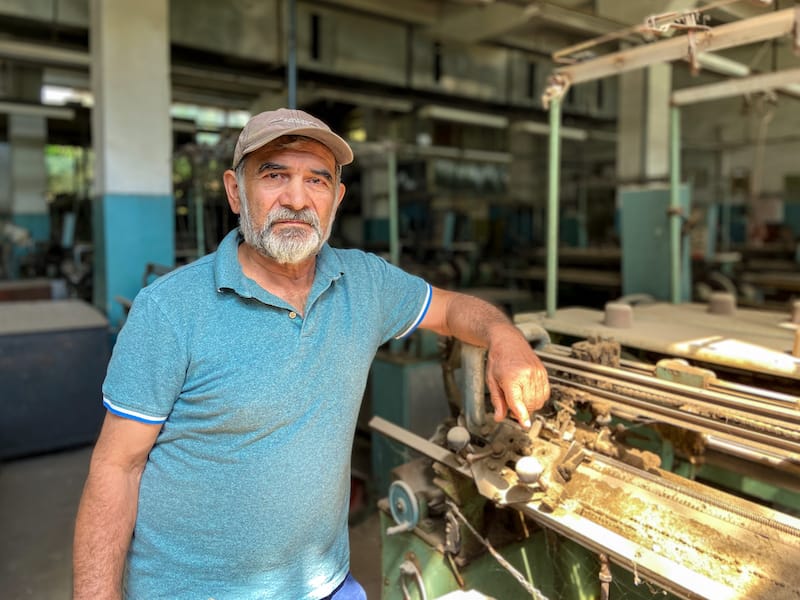 While there is not too much to say except that it is a large place in the center of the city, you can visit by taking a tour with the owner, Karen. The factory was founded in 1976 and you will still be able to see the old machinery, products created, and more!
He will explain the history of the place and take you around to photograph and ask questions. You can find the factory at Mikoyan Street in Yeghegnadzor.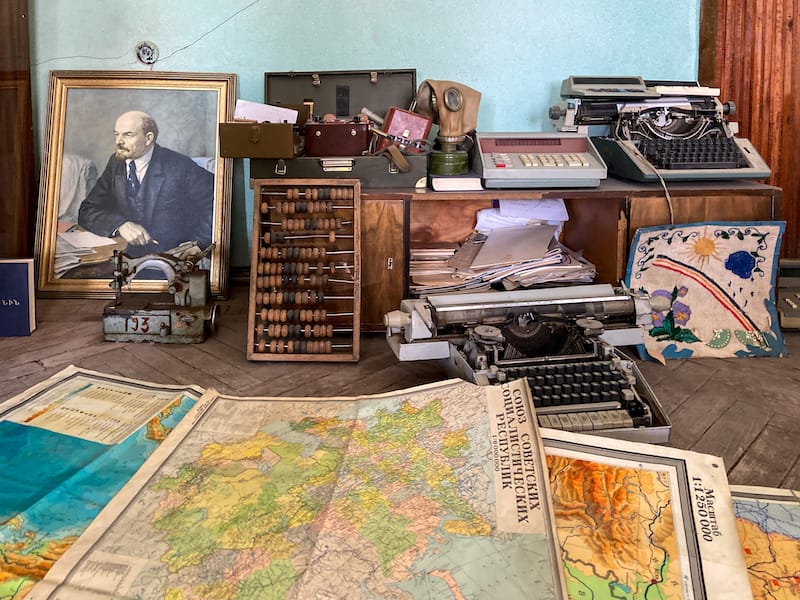 In order to arrange a tour, you will need to contact Karen at +374 91 19 49 79. For a solo tour, it is 5000 AMD and for a group tour, it is 10000 AMD. Cash only. Be sure to also visit the abandoned amusement park located nearby!
Tanahat Monastery
Tanahat Monastery is an 8th-century monastery in the Vayots Dzor Province, located 7 kilometers southeast of Vernashen village. It was one of the most prominent religious and cultural centers in medieval Armenia.
According to Stepanos Orbelian, a famous medieval Armenian historian, the great poet and musician Stepanos Syunetsi was buried here in 735, after which a chapel was built.
The first church under Proshyan patronage was built in 1273-79 and called the St. Stepanos Nakhava church, which was sadly only partly preserved following the 17th-century earthquake.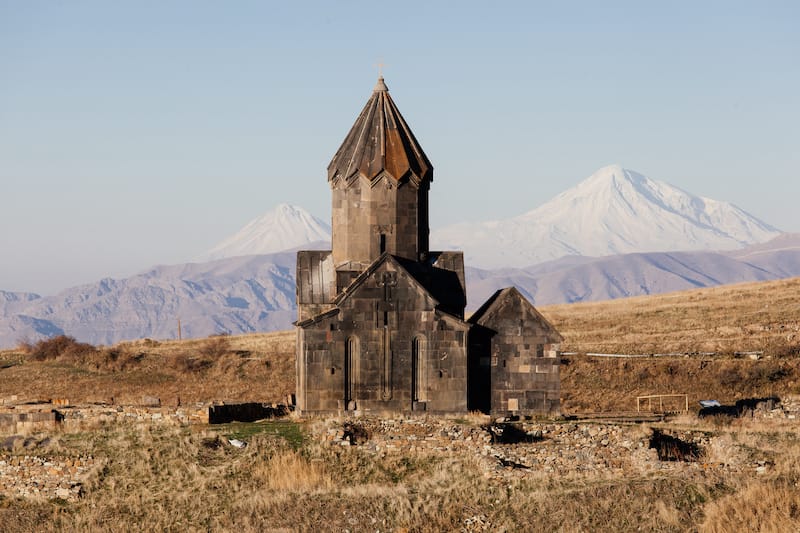 Historical decorations and zodiac sculptures adorn Tanahat Monastery's walls. The Proshyans' blazon, an eagle with a ram in its claws and a lion attacking a bull, can be found on one of the walls.
St. Nshan church, erected in the 13th century, is located to the north of the church. There are also valuable inscriptions and sculptures found there. This is one of the top places to visit in Vayots Dzor!
The Little Coffee Shop
One of the best places to stop by after you've walked around the main attractions in Yeghegnadzor is the Little Coffee Shop.
This small, stand-alone coffee shop is located next to the open amphitheater and Ferris Wheel and you can order one of their tasty coffees or sandwiches and relax at one of their outdoor tables in the middle of the green space around it.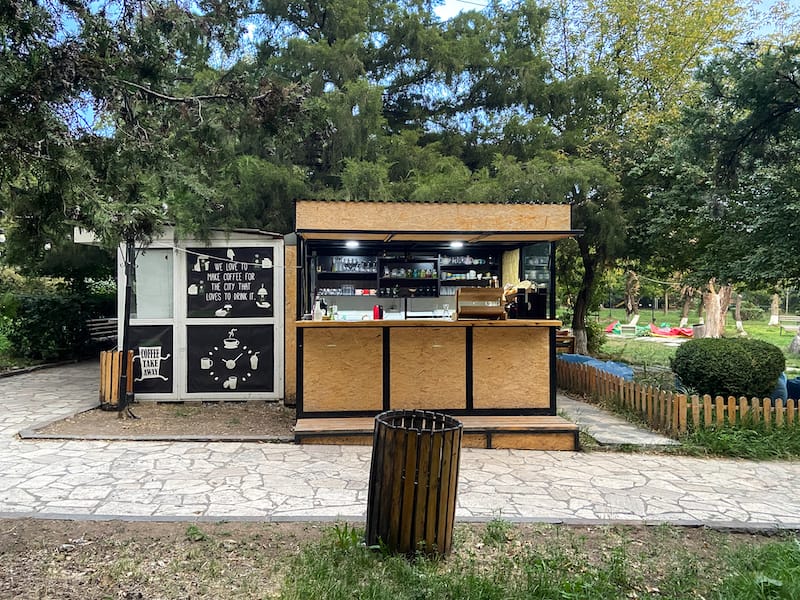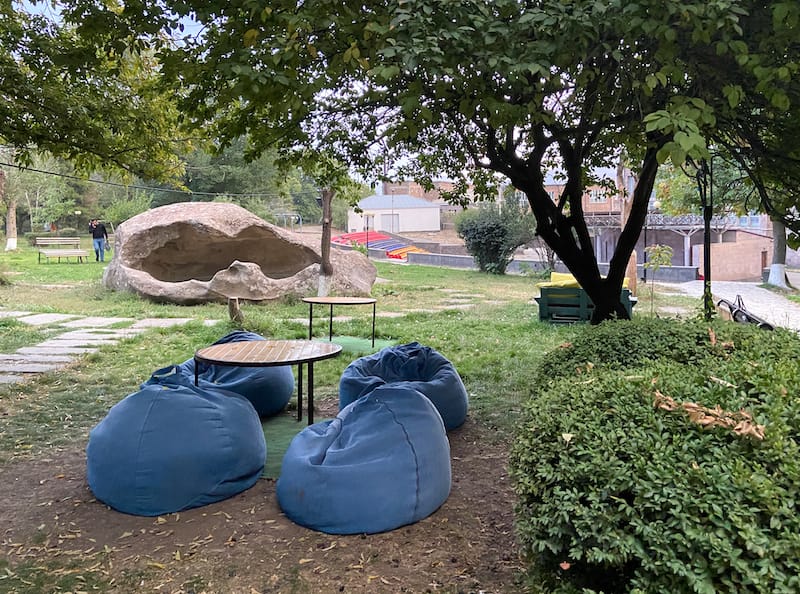 You can find The Little Coffee Shop at ⅕ Momik Street in Yeghegnadzor. Click here to check out their Facebook page.
Yegheg
One of the most interesting places I had the chance to visit in Vayots Dzor and Yeghegnadzor was Yegheg, a wonderful small business started by Arthur Petrosyan.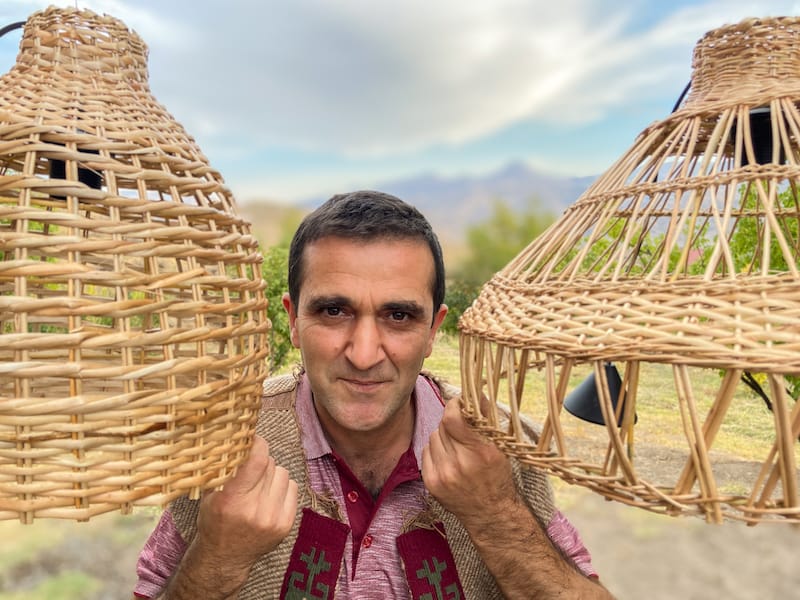 During the 1990s, he started weaving baskets from willow, and that passion eventually transformed into a business for him. Today, he teaches eager learners to weave baskets and beehives, something that actually was made with willow back in the day.
He sources the willow from trees lining the Arpa River and creates everything from bread baskets to karas (clay jars) to wine bottle holders and more!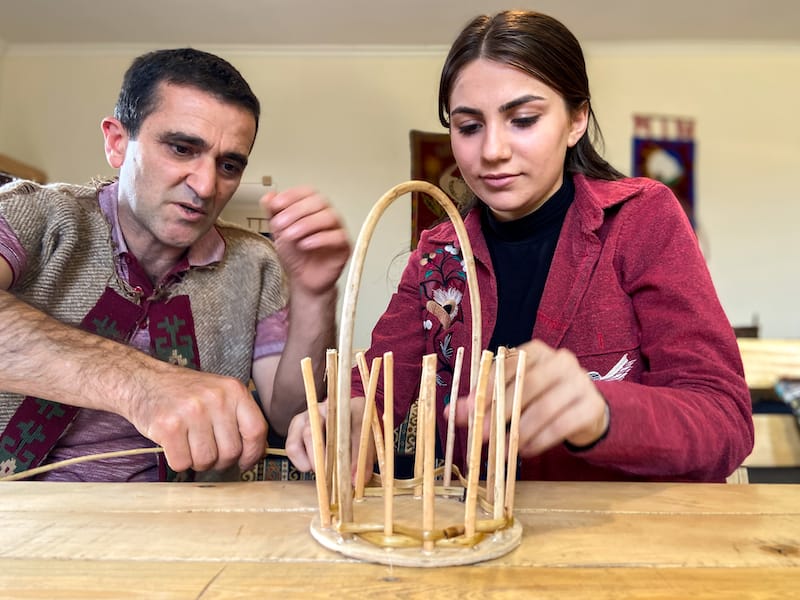 You will find his workshop located at the Muse Restaurant in Yeghegnadzor at 1st Lane, House 9. He can also conduct them elsewhere per request.
Yeghegnadzor Regional Museum
Not many know that Yeghegnadzor is home to one of the best museums in Armenia, the Yeghegnadzor Regional Museum. This museum is a place where you can see exhibits from the prehistoric ages all the way until today.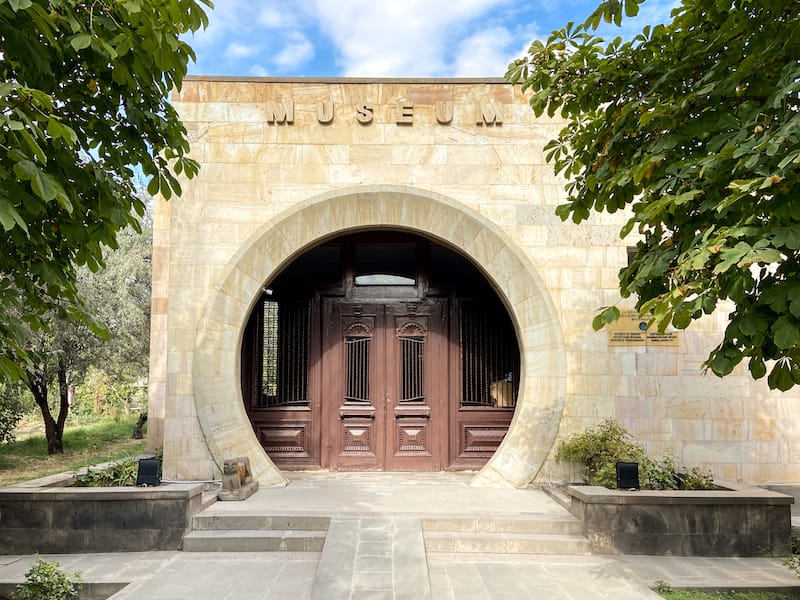 The museum is housed inside of a Soviet Modernist building in the heart of the city that dates back to 1968. There are so many interactive displays there that it is a great place to take the entire family when visiting Yeghegnadzor!
When you go there, you can take a tour with an informative guide that will walk you around and tell you about masterpieces such as Armenian khachkars, jewelry from different eras, and the recreations of prehistoric homes in Armenia.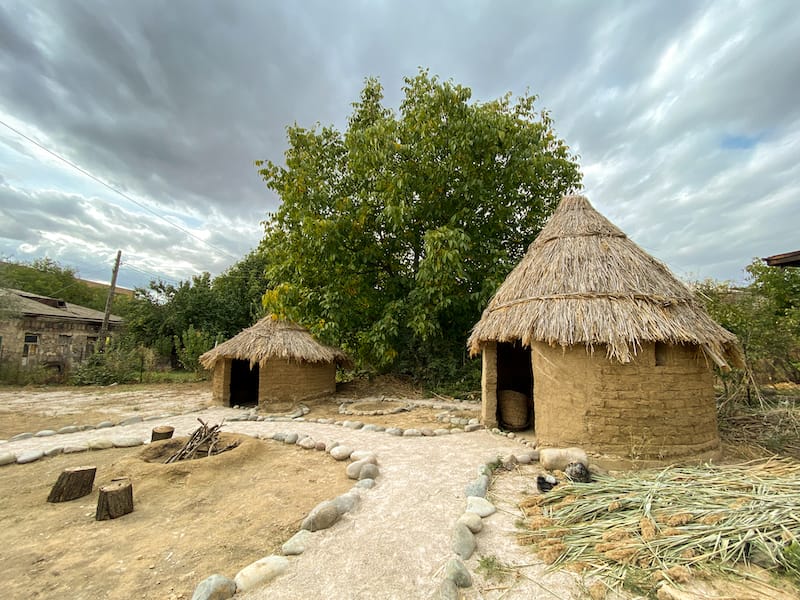 The Yeghegnadzor Regional Museum has over 9,000 artifacts inside and even a khachkar carved by Momik that was originally sourced from Noravank Monastery!
The entrance into the museum is 1000 AMD per person and you can find it located at 4 Shahumyan St in Yeghegnadzor.
Crossway Camping
Crossway Camping is located in Yeghegnadzor, at the Yerevan-Goris crossroads. It truly is the ideal spot for a camping trip (or even glamping in their sleeper RV!) with views of the mountain, a pool, and gardens on the premises.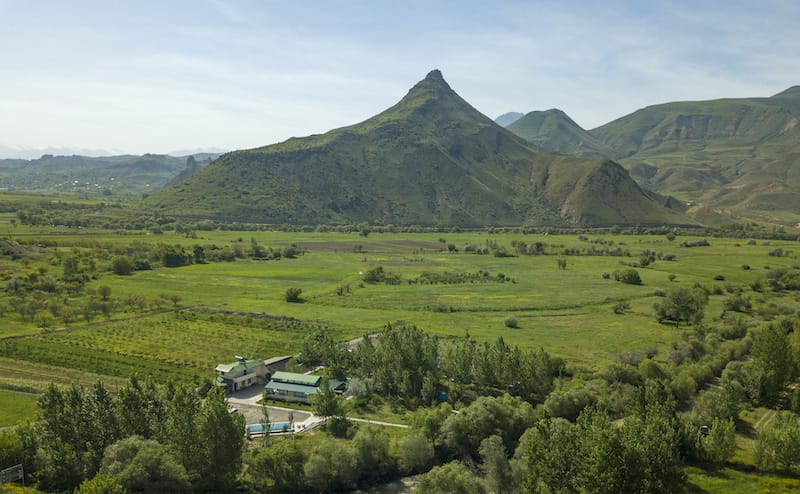 The tents can accommodate two guests. Visitors to the campground can use the shared kitchen facilities, which include an oven and refrigerator.
There are also communal shower rooms. Crossway Camping also has BBQ facilities and spacious grounds where you can spend quality time with your family.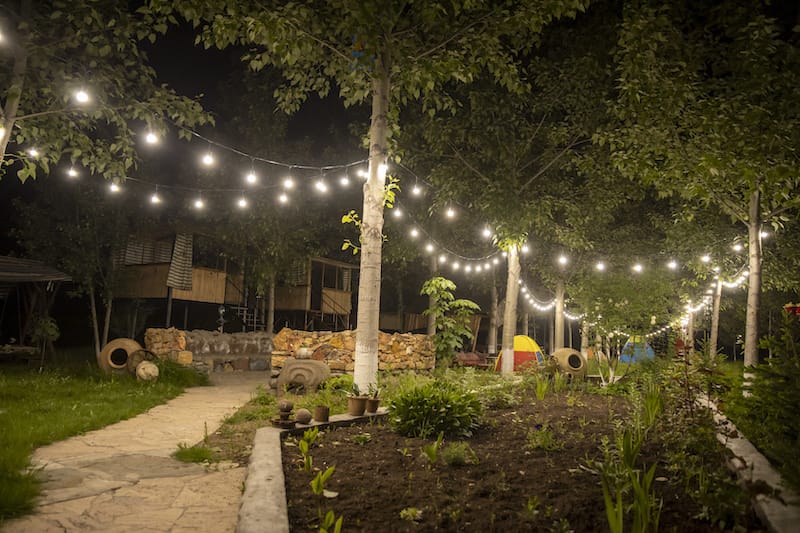 Additionally, luggage storage, supermarket deliveries, and laundry facilities are offered to make your journey more convenient. There is plenty to do in and around the campgrounds and two popular activities are fishing and hiking.
This is definitely a wonderful place to stay if you find yourself in Yeghegnadzor and are keen to do a bit of camping!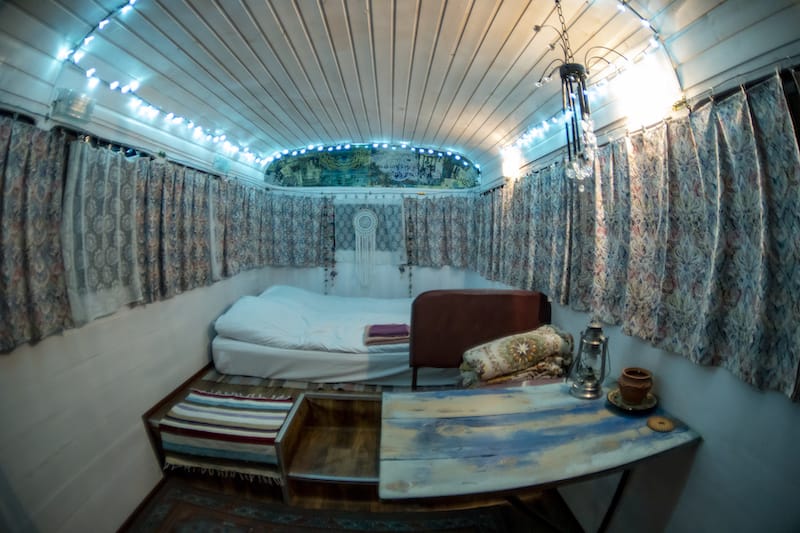 >> Click here to book your stay at Crossway Camping
Spitakavor Monastery
Spitakavor Monastery is a 14th-century Armenian monastic complex located in the Vayots Dzor Province, 7 kilometers north of Vernashen village.
The polished felsite stone that gives the Monastery its name gives it a white tint. In Armenian, "spitak" means "white." It was built by two princes from the Proshyan dynasty.
The narthex was constructed between 1321 and 1330, following which Hovhannes Proshyan and his wife completed a three-story bell tower. The church's artistic works will fascinate visitors, including a sculpture of Jesus with his disciples and a relief of Eachi and his son.
Of course, the sculpture of Mary etched into the entrance's headstone is not to be missed when visiting Spitakavor Monastery!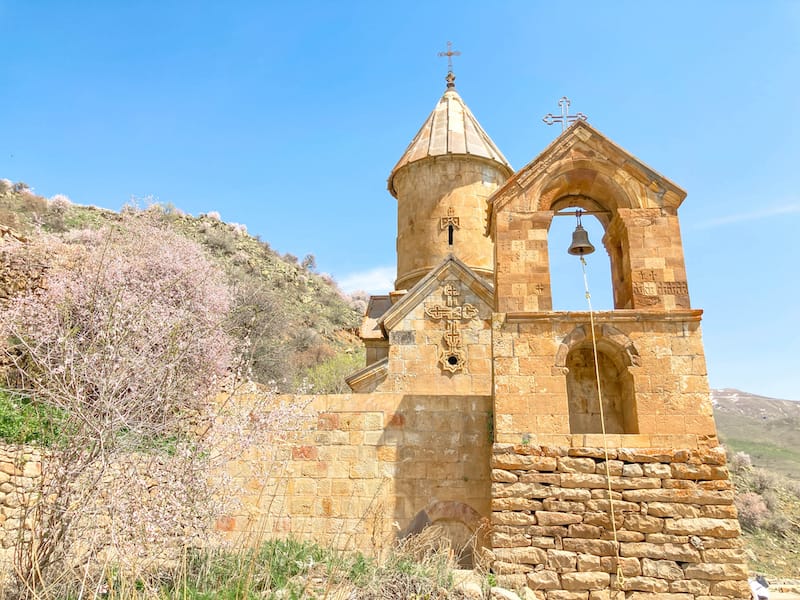 Two other monasteries, St. Khach and Tanade, were found within the complex. Unfortunately, the monasteries were destroyed without restoration after Lenk Timur's raids in the 14th century.
In the vicinity, you can also find the bones of Armenian military hero and political thinker, Gargein Nzhdeh. After dying in a Soviet prison in 1955, he was secretly buried in the yard of the Spitakavor Monastery in 1983 or 1987.
Every year on June 17th, Armenians from all over the world assemble in the Monastery's graves to pay their respects.
Yeghegnadzor Abandoned Amusement Park
There is an abandoned and derelict amusement park in Yeghegnadzor and it is worth passing through to check out if that is your kind of thing!
To reach it, you need to walk to the open amphitheater in the city center and you will see it near the Little Coffee Shop and other Yeghegnadzor landmarks mentioned in this guide.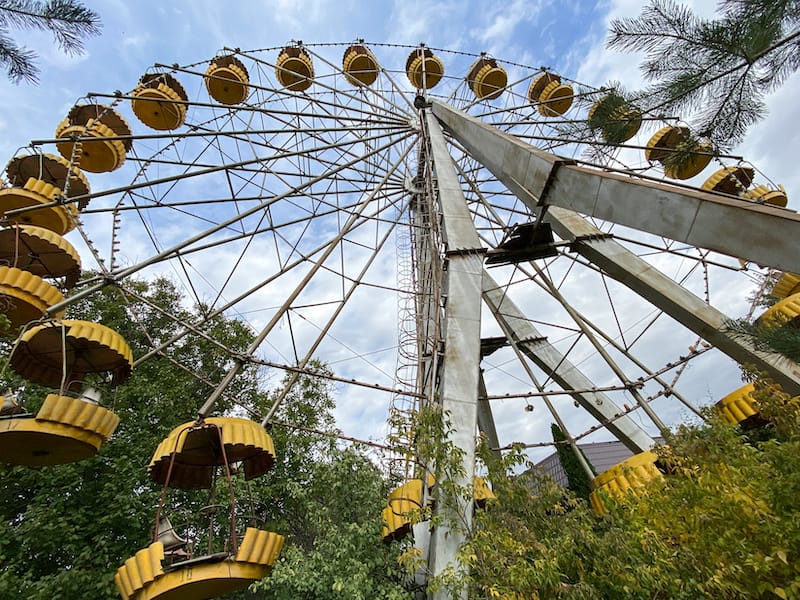 For the amusement park, you need to walk a bit further like 15 minutes to one of the town's parks with an open amphitheater where you can see a small amusement park with a massive Farries wheel surrounded by cafes.
You can find the amusement park at ⅕ Momik St in Yeghegnadzor.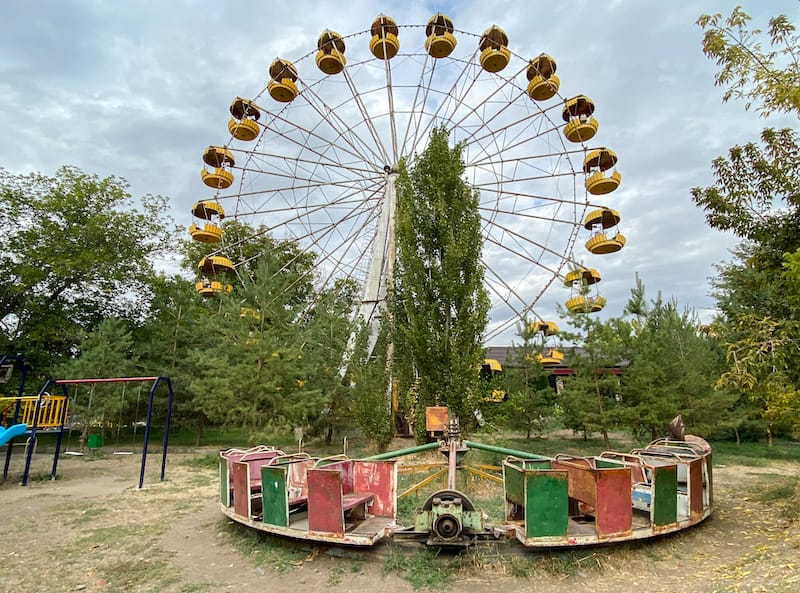 Best Places to Stay in Yeghegnadzor
There are plenty of amazing places to stay in Yeghegnadzor and we have selected a few of our top picks below:
Did we miss any amazing places to visit in Yeghegnadzor on this guide? Let us know your favorite attractions, landmarks, and things to do there in the comments.
More Vayots Dzor Travel Guides
**This article was produced with the support of My Armenia, a program funded by the United States Agency for International Development (USAID) and implemented by the Smithsonian Institution. The contents are the sole responsibility of the authors and do not necessarily reflect the views of USAID, the Smithsonian Institution, or the United States Government.