One of the most exciting events to pop up in the Armenian capital in recent years has been Yerevan Wine Days, a massive street festival in June on popular Saryan Street.
This guide covers why you should visit Yerevan Wine Days, what to expect, and everything else you need to know about Yerevan's biggest street party.
Yerevan Wine Days
Wine and Armenia have had a really tight relationship over the centuries.
The biblical drink was always mentioned in Armenian poetry, both Pagan and Christian sources, and ancient manuscripts.
The drink is a huge part of Armenian culture and history.
Armenia's history with wine dates back over 6100 years at the Areni-1 cave winery which has been identified as being the oldest winery in the world.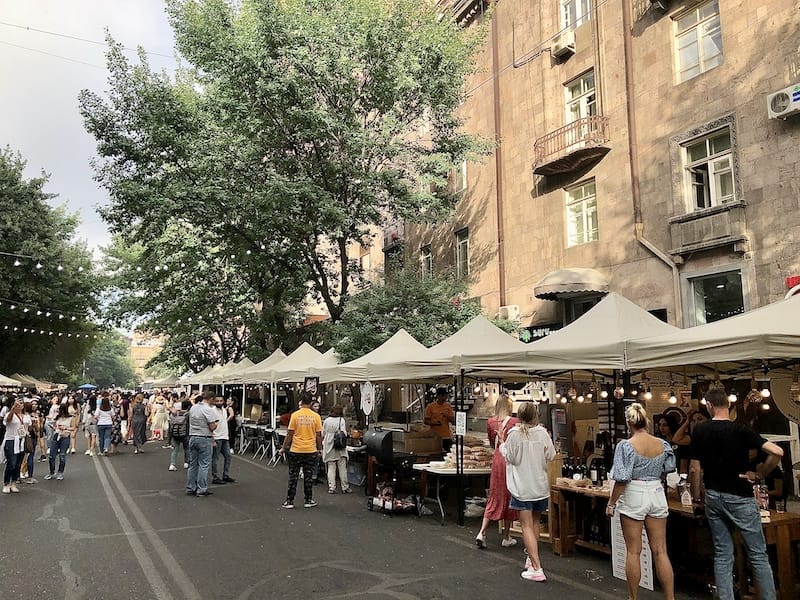 What was once a piece of Armenia's past has now become the country's present and future and the variety of local grapes and favorable Armenian weather has put the country on the winemaking map.
At some point, the legendary Armenian Ararat Brandy overshadowed Armenian wine and the wineries, both large and small, have fought to regain credibility and international popularity in the beverage industry despite this.
Wine enthusiasts all over the globe are starting to take note and the Armenian wine industry is really burgeoning despite its historical status.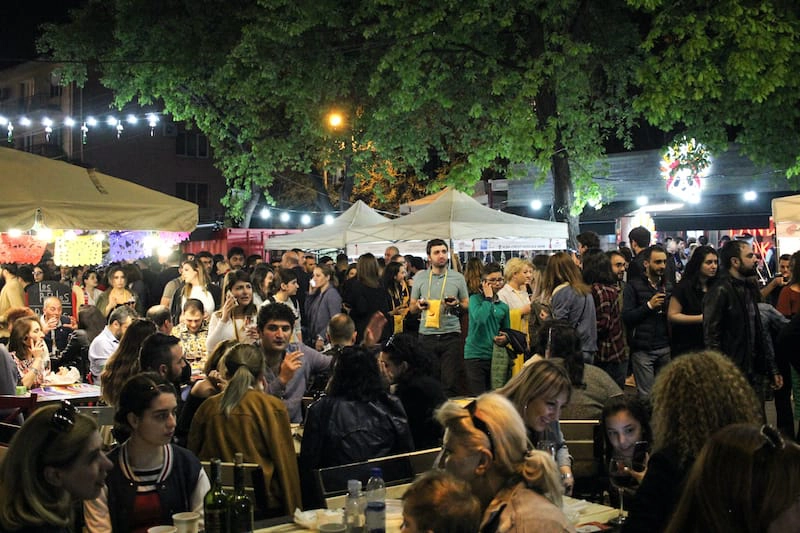 This guide details how to enjoy and attend the new biggest festival in Yerevan- the Yerevan Wine Days festival that is held annually in June.
You will find winemakers from all over the country showcasing their finest wines in one epic street party on Saryan Street, the city's wine street.
We will detail how to attend, the costs, what to expect, and where to stay in Yerevan if you venture into town for the party.
This guide helps to find out how to participate in Yerevan wine days enjoy and the wine that has a rich history and amazing quality.
Yerevan Wine Days' Mission
Beginning in 2017, Yerevan Wine Days is held on Yerevan's famous wine thoroughfare, Saryan Street.
Outside of the festival, you will find many of Yerevan's best wine bars lining this street and it is an epicenter for nightlife on weekends.
Taking place usually in the first weekend of June, Yerevan Wine Days is a young festival that is arranged by Eventtoura, a group that is trying to bring the ancient traditions back to the streets of Yerevan in an effort to develop tourism in Armenia and help local businesses grow as a result.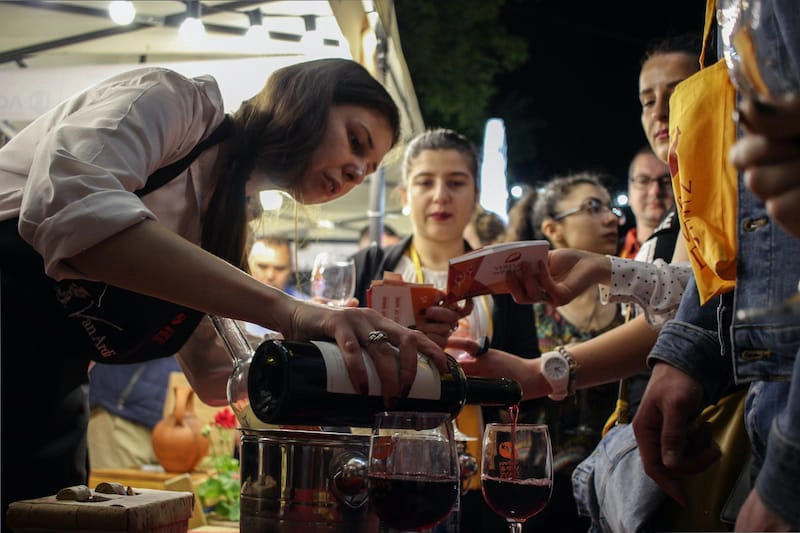 The organizers as Eventtoura claim that Yerevantsis were previously known for their outdoor booze parties on the city's small street corners and courtyards and in true Armenian hospitality, would share their homemade libations to neighbors and others wanting to engage in a little bit of partying.
Yerevan Wine Days now has a mission to take these traditions and give back to the people of Yerevan and those traveling there in a display of parties, music, and some of the best wine you can get your hands on!
About Yerevan Wine Days and Date
Yerevan Wine Days Festival is expanding year after year and the last festival that took place was in May 2019.  It was not only located on Saryan Street, but also on Moskovyan Street.
Organizers are trying to balance the festival's activities by adding more to it and creating new ones that will keep the interest of those attending.
UPDATE: Yerevan Wine Days will take place from June 2-4, 2023 this year. Hope to see you there!
There is always a large stage where musicians are featured and keep the party going.  But, the music doesn't stop there- the local businesses on Saryan Street are all having their own parties and DJs.
You'll see dancing, drinking, socializing, and a lot of good vibes.  It truly is Yerevan's best party!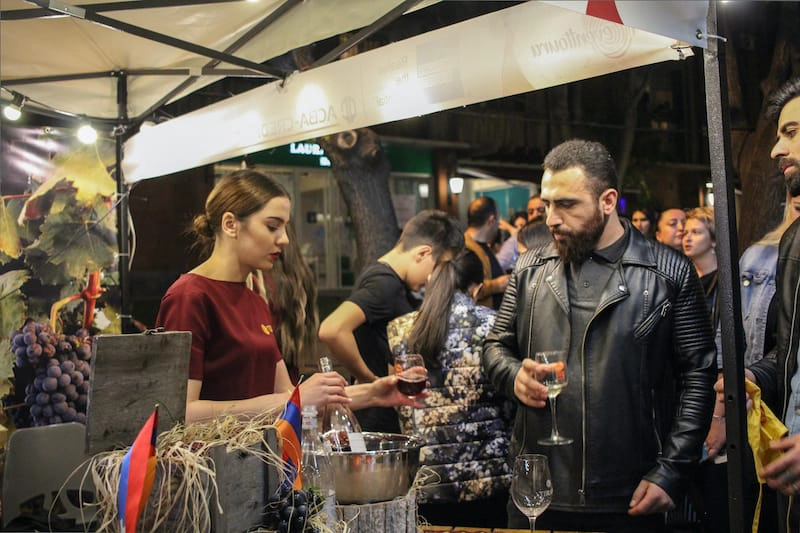 Not only will you see a lot of booze and music, but you will also see a lot of food.
There are food vendors coming in from all over Armenia and you can enjoy khorovats (Armenian BBQ), delicious Armenian cheeses, and even Zhingyalov hats (a vegetarian favorite from Artsakh).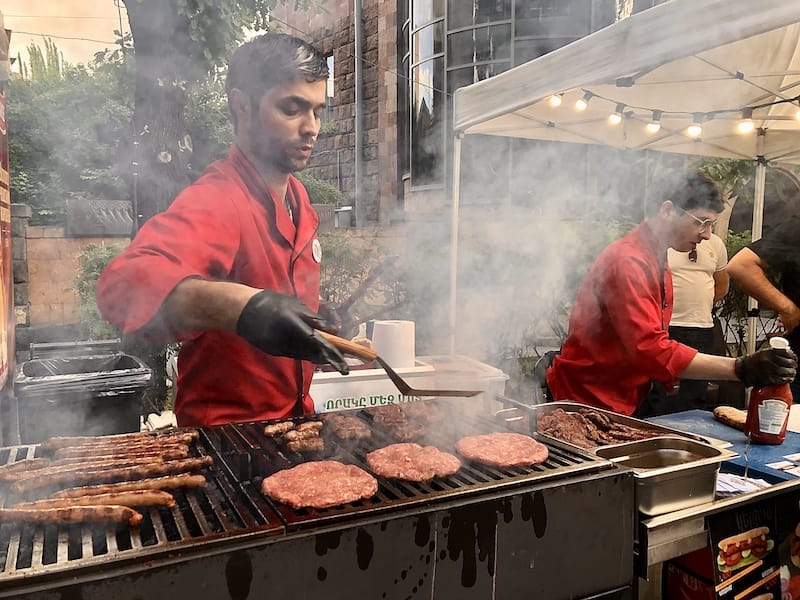 Participants and Variety of Armenian Wine
There are more than 70 big and small wineries represented from all over Armenia and Artsakh participating in the Yerevan Wine Days festival… and the number of vendors is growing year after year.
Among the thirty wineries represented, there are more than 500 types of local wines available for tasting and buying at the festival.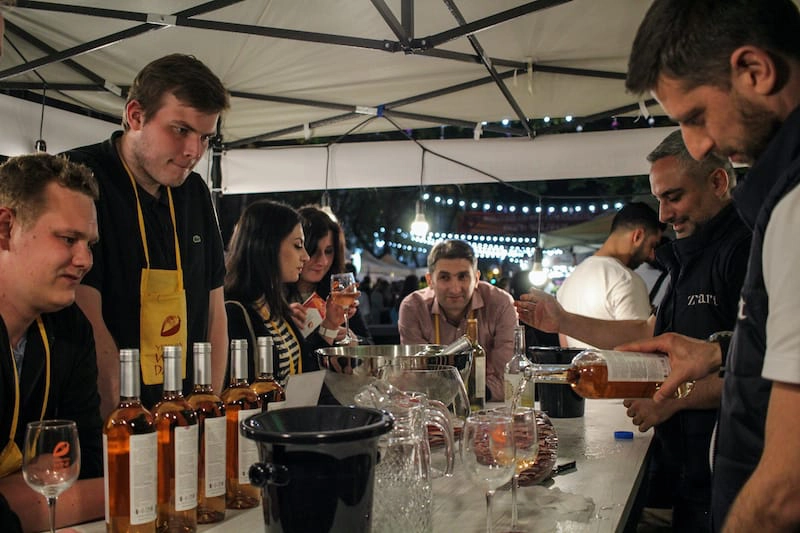 Each year, a new winemaking company or companies participate in Yerevan Wine Days, showing the country that wine-making traditions are getting stronger and more evolved in the country as new people are investing and starting up in the delicious industry.
We look forward to seeing even new faces and brands at the upcoming Yerevan Wine Days fest.
Armenian Food at the Festival
In true Armenian fashion, no festival is complete without a ton of food there.
Yerevan Wine Days has food stands showcasing cuisine and delights from all over the country and beyond (yes, you can even find international food stands there!).
You'll have the chance to eat your way around Armenia by means of BBQ, cheese, bread, and more.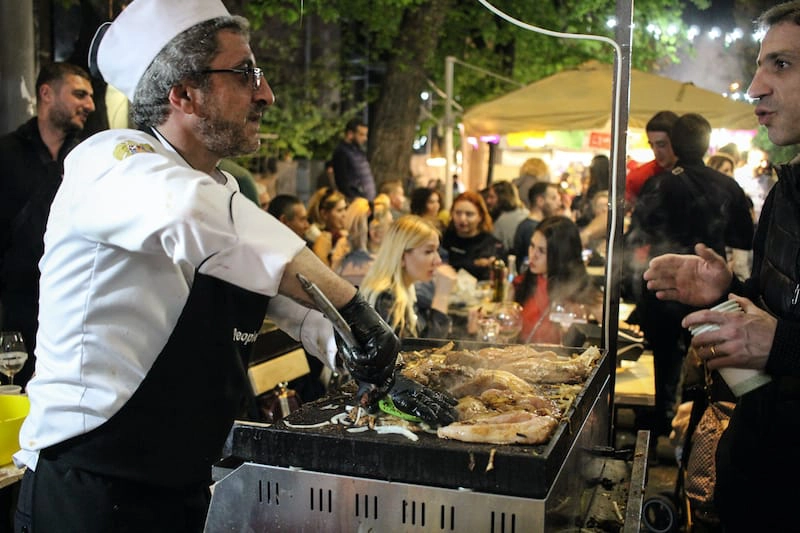 Yerevan Wine Days Tickets
The entrance is free to Yerevan Wine Days.
However, if you're participating in the drinking (which you should be!), the organizers will give you a chance to purchase a kit that you can hang around your neck which contains a wine glass with a logo on it as well as a small book with drink coupons in English and Russian.
There is a "Wine Enjoying Package", which includes a branded wine glass, 12 tickets, a booklet, and a wine case. The price of the package is 12000 AMD or 31 USD.
The book explains about the local wines represented and discusses the wines via the regions they are cultivated in.
This is a fantastic opportunity to learn about what you're drinking and the areas of Armenia they are coming from.
There are seven wine coupons included in the voucher book.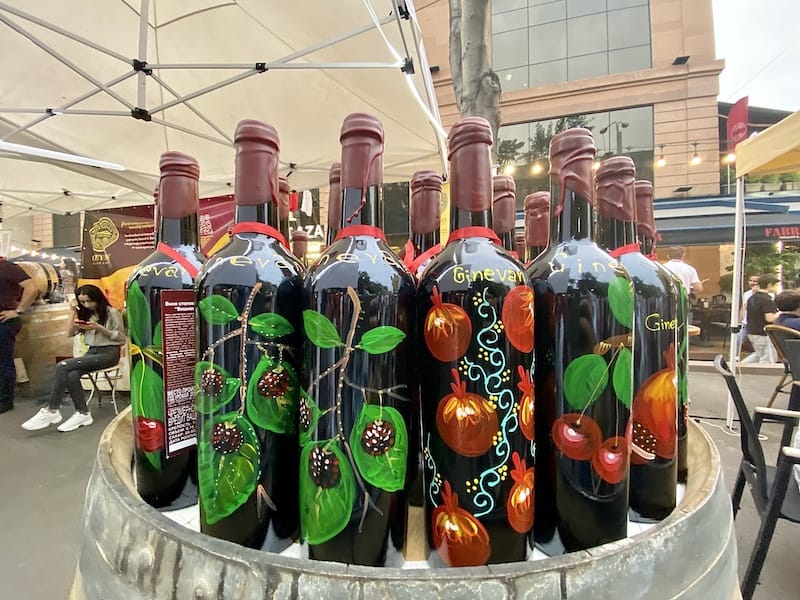 Yerevan Wine Days Attendance
More than 30,000 people visited the Yerevan Wine Days festival in 2019 and there are people flying in from all over the world to attend.  Visitors came from Russia, the USA, Germany, France, Australia, and beyond.
Location of the Festival
The festival location is very easy to find because it is in the heart of Yerevan on Saryan Street.
The main entrance is located on the Tumanyan and Saryan crossroads.
This is where you can purchase tickets and voucher books.  It is also possible to enter the festival from the Pushkin and Saryan crossroads or on Moskovyan.
The music will guide visitors to where the festival is located.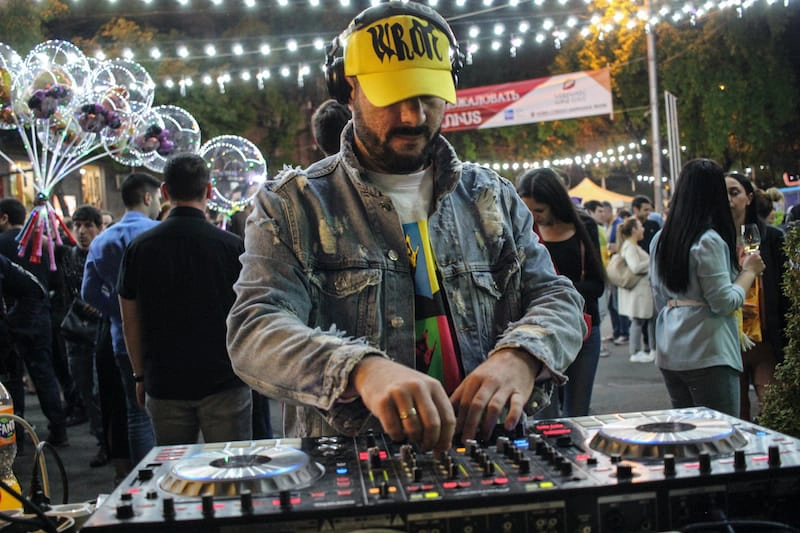 During the festival, the street is closed and the area is brimming with locals and tourists having fun and drinking the finest Armenian wines.
What to Know Before You Attend Yerevan Wine Days
If you are claustrophobic, the festival may be a daunting experience for you and not the most comfortable place to be.
The number of people there will likely be anywhere from 55,000-60,000 and it can be extremely crowded.
However, the earlier hours may just be the best time to go as there are fewer people around and on the streets.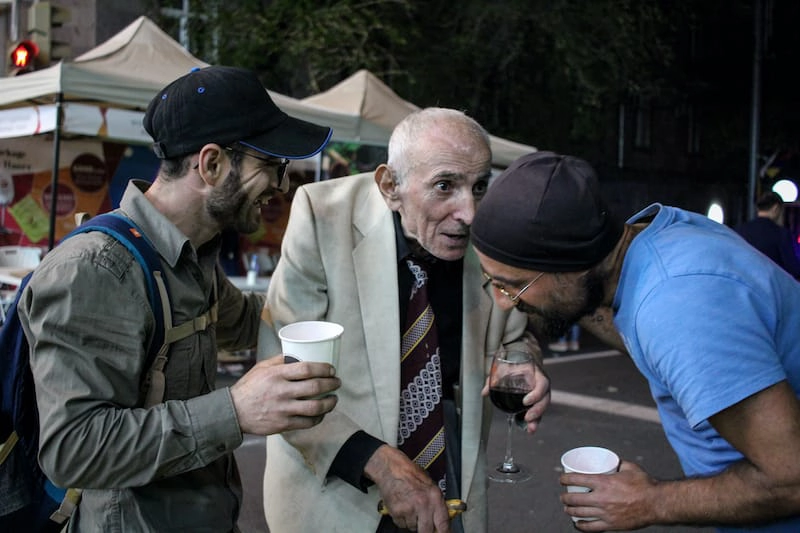 Where to Stay in Yerevan
Yerevan center is lovely and staying there is essential if you're looking to attend the Yerevan Wine Days festival.
There are a few hotels, guesthouses, and hostels that we recommend depending on the budget you're traveling with.
The Alexander (Splurge):  For those looking to be spoiled with luxury, The Alexander is one of Armenia's finest hotels that offers class and luxury to visitors.
It is located near Northern Avenue and Republic Square and is a short walk away from Yerevan Wine Days on Saryan Street.
>> Click here to check rates and availability for The Alexander
Daniel Boutique Hotel (Mid-range):  Located in the center of the city, Daniel Boutique Hotel offers affordable accommodation with lovely and cozy rooms for you and your family.
The hotel has all the necessary amenities for a comfortable stay in the pink capital.
>> Click here to check rates and availability for Daniel Boutique Hotel
Grand Hostel Yerevan (Budget):  Located 10 minutes away from Republic Square is Grand Hostel Yerevan. It's a paradise for the budget traveler because you can get spacious, affordable, and clean rooms at whether you're wanting a private or a dorm.
>> Click here to check rates and availability for Grand Hostel Yerevan
Do You Need Travel Insurance for Armenia?
Armenia is a relatively safe country and we are trying to show all the best qualities and colors of it, but when you are traveling, safety is something that needs to be as a top priority and that why we partner with the Norwegian travel insurance company, SafetyWing.
This health insurance company has really affordable rates and we are personally using their services while traveling and love their service!
>> Click here to check Armenia travel insurance rates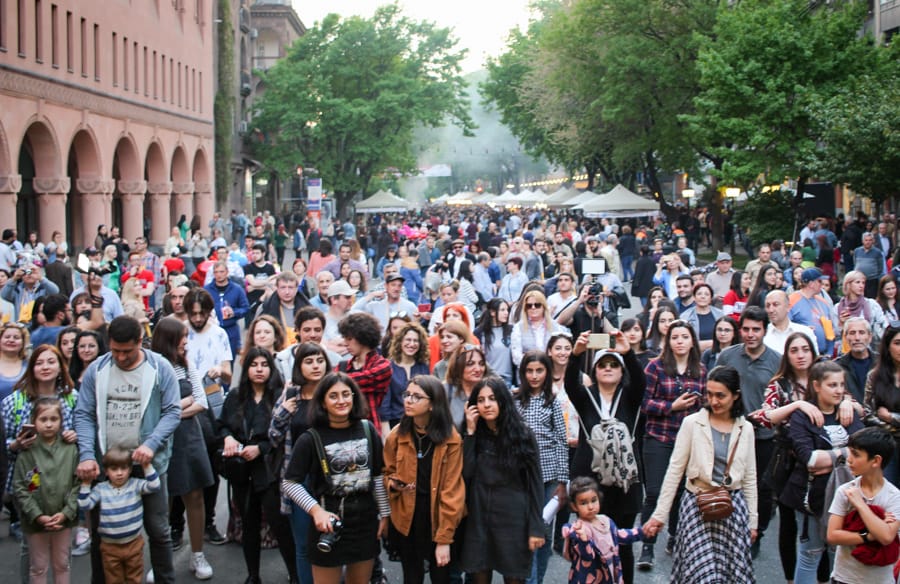 If you're looking to visit Yerevan Wine Days, we hope this guide will help you find your bearings and enjoy the Armenian wine festival as much as we do annually!
Please let us know if you have additional questions or concerns.  Click here if you're looking for information on the Urvakan Festival instead.