I will never forget the moment we found out that there was a Lenin statue in Arin village, Armenia.  We were on a trip down in Syunik and Hovik, the wonderful man that co-owns Shahnazar Adventure Camping told us about the place.
To be honest, we believed him but we are always such skeptics until we see something with our own eyes.  There just are not many statues of Lenin in Armenia left and the ones that do still exist seem to be in rather remote locations and off the grid so it just seems unlikely that they'd still exist.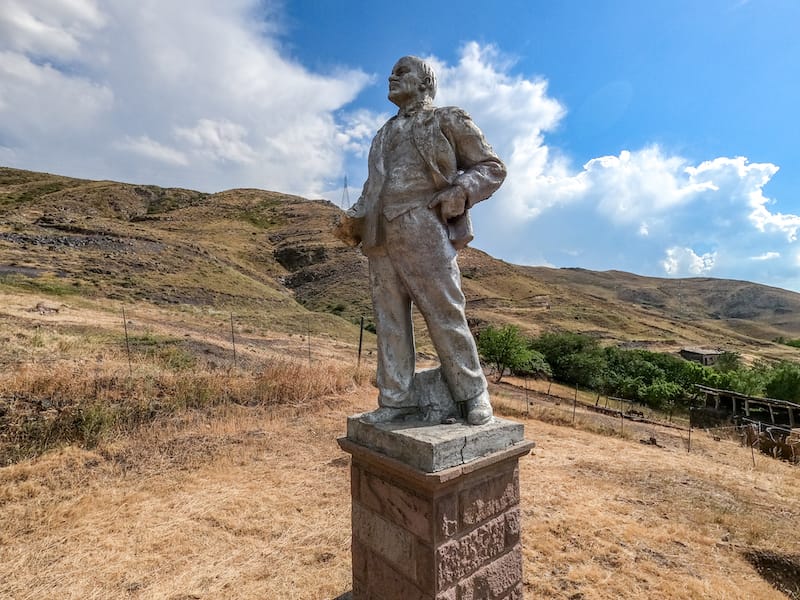 We kept that information about the Lenin Statue in Arin in Vayots Dzor at the forefront of our minds and were completely overwhelmed with the desire to find the statue and see if it actually did exist.
Visiting Arin Village (Արին)
We silently schemed a way to track down the statue on this Syunik trip and on our last day, we had a driver for the day to take us from Goris all the way back to Yerevan.  We had planned to stop at Shaki Waterfall, the Areni-1 Cave, and Karahunj.
But, when the driver arrived, we asked if he would be down for an additional stop in Arin village.  He kind of laughed and didn't know the place… but was just as curious as we were once we explained our mission there.
We had no idea if this statue did, in fact, exist and we surely had no idea where in the village it could be.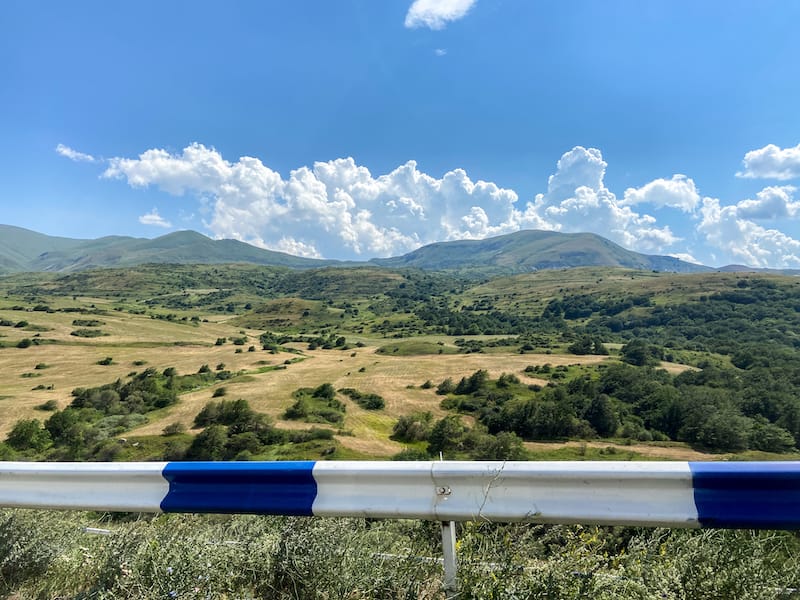 We entered the village and drove all the way to the back of it past a military base.  We arrived in a tiny village of barely over 300 people that was teeming with apricot and various fruit trees.  Naturally, Aram and I discussed how places so idyllic could be so off the map.
Arin (Արին) was only renamed Arin in the 1970s and was formerly Daylakhlu/Dailakhlu.  It was first settled in the mid-19th-century.  It is currently part of Vayk municipality.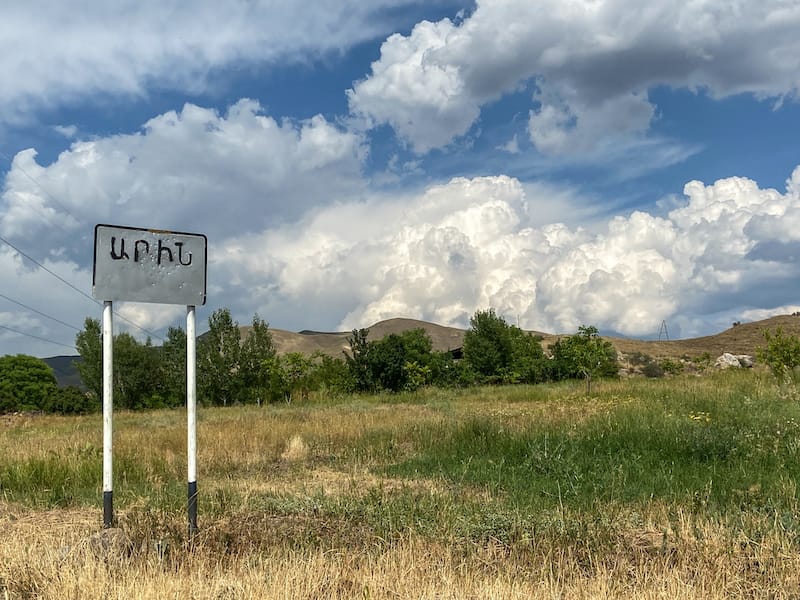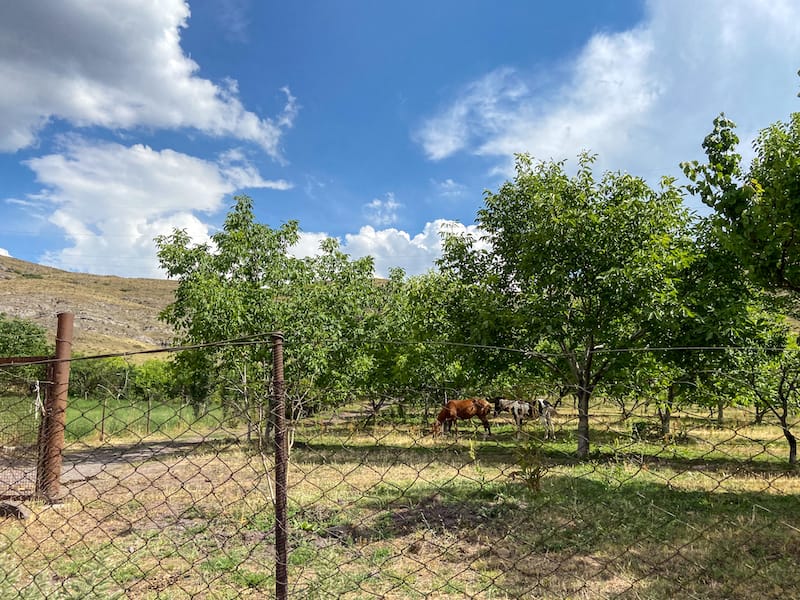 Driving into the village, we didn't see a Lenin statue.  In fact, we saw open landscapes, apricot trees, and not much else.  On the verge of giving up, we found a local villager walking around and stopped to ask him where this possibly non-existent statue was located.
My lousy Armenian skills couldn't understand the dialogue, but the next thing I knew, the man, who we found out later was named Rasmik (age 86), hopped into the car with us.  I took this as a sign that it did, in fact, exist, and he knew precisely where it was located.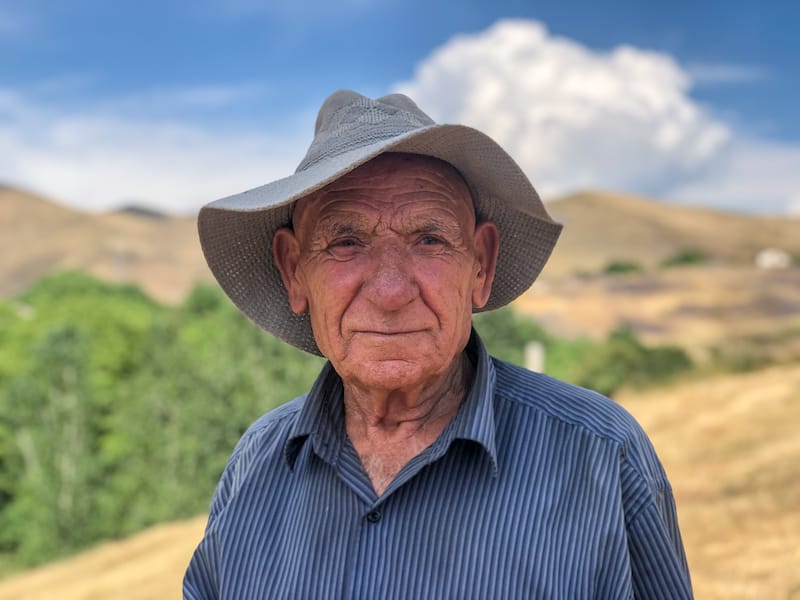 Needless to say, Aram and I were like kids in a candy store.
Arin, Armenia Lenin Statue
There is not too much information about the Arin village Lenin statue but we do know that it was built in 1947.  It was put up in the village and once the Soviet Union dissolved, government officials tried to remove it from Arin.
Rasmik and other villagers refused its removal and eventually, they won the fight.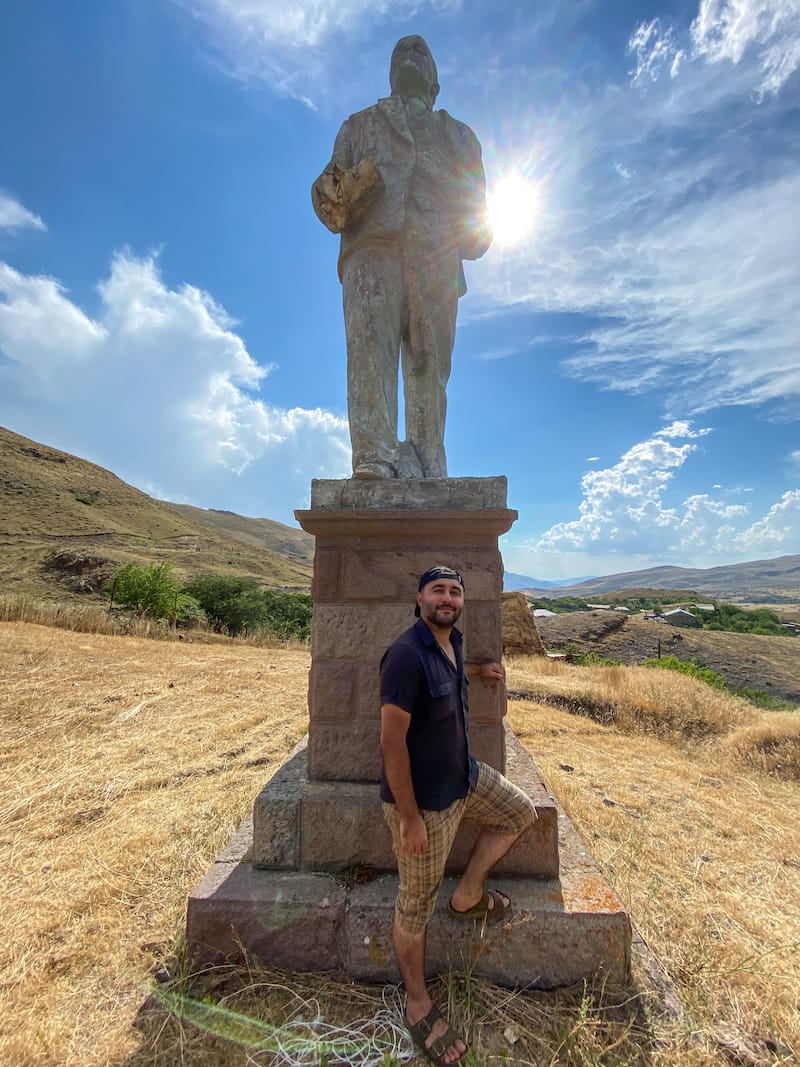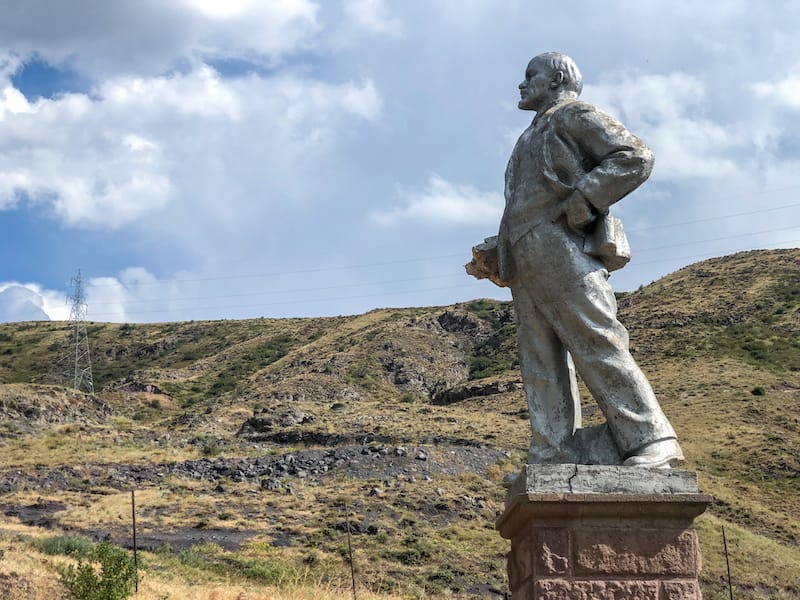 Today, the statue stands on an open hill and has a fence around it.  I am not sure we would have felt comfortable squeezing through the fence to photograph without the permission of a local, but he was excited to show it to us and for us to take such a keen interest in the Soviet throwback.
The coordinates of the Lenin statue in Arin are: 
Latitude: 39° 43′ 36.402″ N (39.726778)
Longitude: 45° 29′ 31.188″ E (45.491997)
One thing to note is that if you're visiting in summer and you go in the afternoon, the sun is going to make photographing the statue extremely difficult!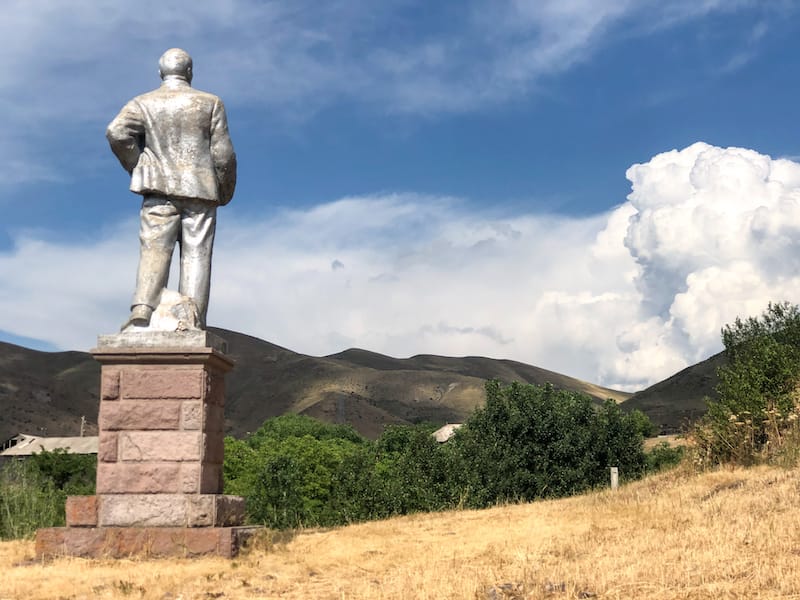 How to Get to Arin Village
To be honest, you really can only get there by personal vehicle or taxi.  If you are trying to save a bit of money, you can take public transportation to Vayk village and then grab a taxi from there.
But, please note that this is not the most ideal option if you don't speak Armenian or Russian.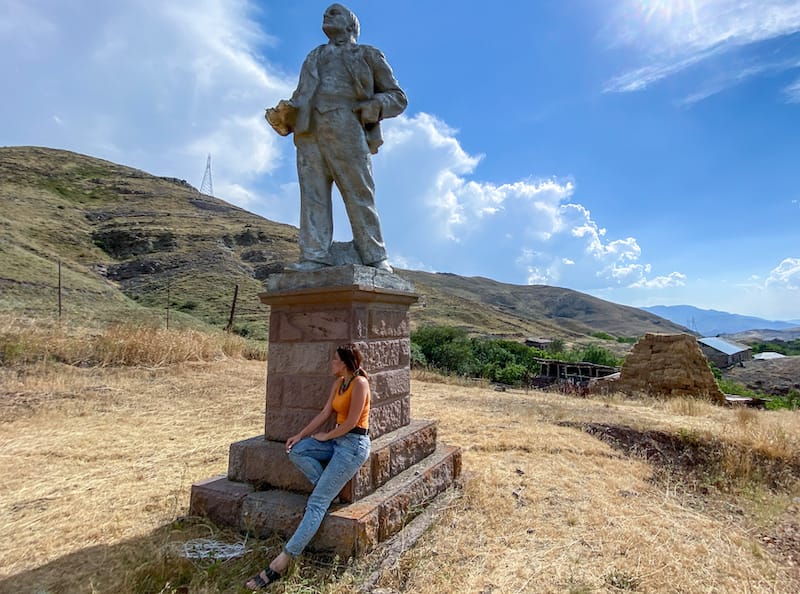 You can catch a marshrutka (minibus) from Yerevan to Vayk (Վայք) via Yeghegnadzor from the street right beside the Gortsaranayin Metro Station. The price is 1200 AMD per person (about $2.50-3). The trip takes about 3 hours or so.
The trip to Arin village is totally worth it if you're already down in the region.  It is a great and quick stop (although you must veer off the road for a bit) in Vayots Dzor.
It is also great to pair with a trip to some of the area's best waterfalls like Herher (or Shaki further south down in Syunik). It is also not too far from Noravank Monastery and the Areni wine area.
If you're into Soviet architecture in Armenia, or just want to see one of Armenia's few remaining Lenin statues, it is definitely a worthwhile trip.  But, please do note that the statue is fenced in and the property and locals should be respected.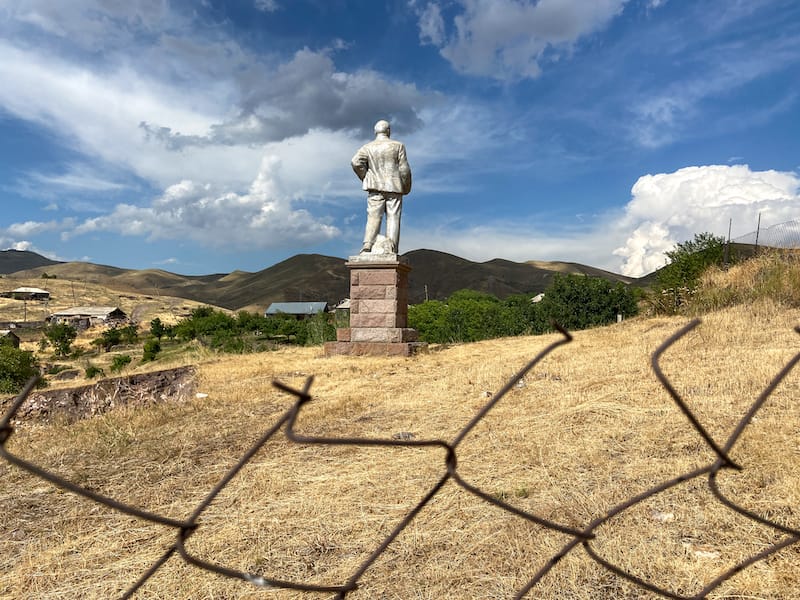 Have you visited Arin village or have any tips for other hidden Lenin statues in Armenia? Please let us know in the comments!
You Might Also Like: