This guide will give you details about how to travel to Gyumri from Yerevan by three different modes of transportation. You will see how to easily and affordably go from Yerevan to Gyumri by train, bus, or taxi.
Are you planning your trip to Gyumri last minute?
Below are some of the top tours, hotels, and more in lovely Gyumri!
Top Experiences and Tours In Gyumri:
Top Hotels in Gyumri:
Hotel Plaza Viktoria (a luxury in Gyumri)
Araks Hotel  (mid-range in Gyumri)
Masters' House (budget in Gyumri)
Looking for the best way to get around Armenia? Click here to check rental car rates for Armenia!
How to Get From Yerevan to Gyumri by Train, Bus, or Taxi
Gyumri is a hot place this year having landed a couple of flights from Western Europe for the first time in its history.  But, reaching Gyumri from Europe is still a challenge unless you're in Memmingen, Germany or Athens, Greece (seasonal flights).  The easiest way to get there may still be by coming from Yerevan.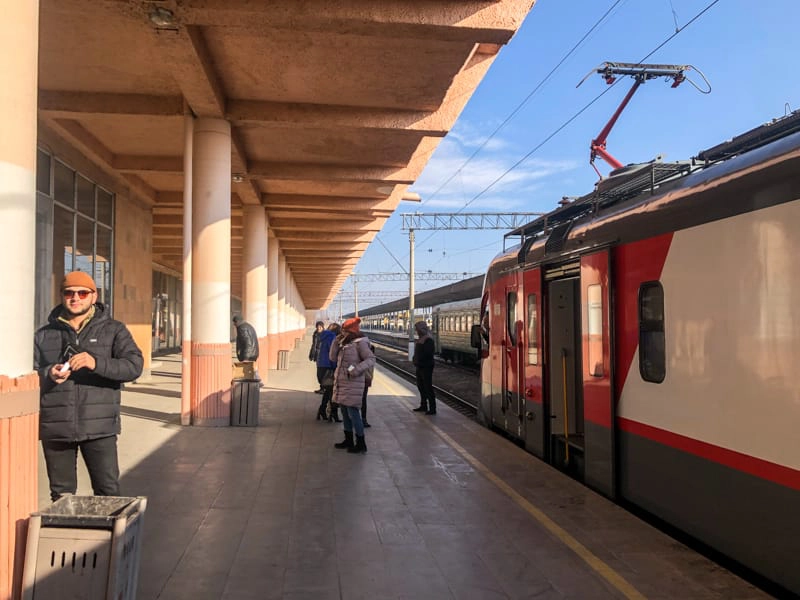 There are a few ways you can reach Gyumri from Yerevan.  The first, and my preferred way, is by the new 'fast' express train.  Another old Soviet train is an alternative train option but it is slow and uncomfortable despite being cheaper.
The second way to reach Gyumri is by marshrutka or minibus. This is a very cheap option, but again, it is not the most comfortable.
And the third option, aside from renting a car, is to take a taxi from Yerevan to Gyumri. This is surprisingly cheaper than one would think and we detail how to do so later in the guide.
We hope that you can evaluate all the options for getting from Yerevan to Gyumri and decide the best way to reach Armenia's second city. This post will also have details on how to return from Gyumri to Yerevan.
Tips for Your Yerevan – Gyumri Trip
It really depends on which mode of transportation to Gyumri you decide to take and what kind of tips we offer as a result.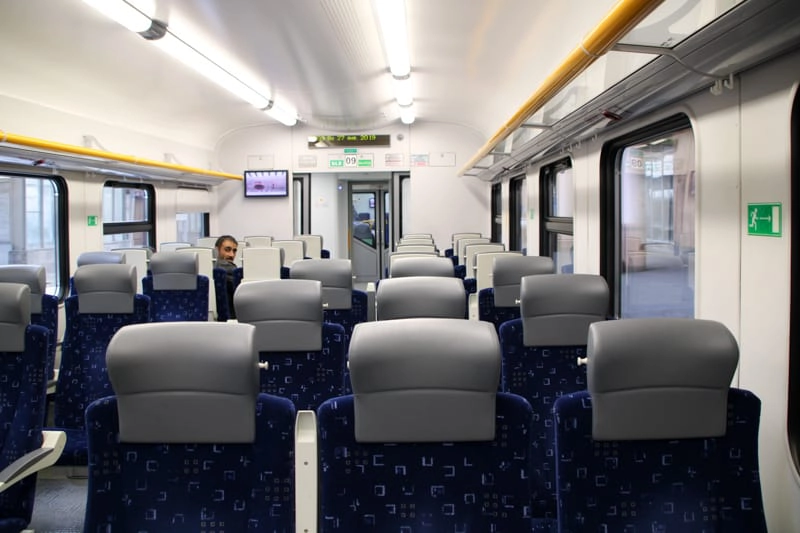 We definitely recommend bringing a small snack for whichever journey you choose, as well as your passport.
If you experience motion sickness, I would bring some type of tablets or sea bands with you for the marshrutka journey, at least.
The road is pretty straightforward, but Armenian drivers can be a bit chaotic compared to your homeland, and it could cause you to become a little motion sick, although I think you'll be fine.
Renting a Car in Armenia
If I had to pick any mode of transportation you should take in Armenia, I would always say to rent a car.
While renting a car is not always the most environmentally-friendly way to see a place, in Armenia, it will allow you to stop at villages on your way from Yerevan to Gyumri and share the tourism wealth with them and not just the large cities.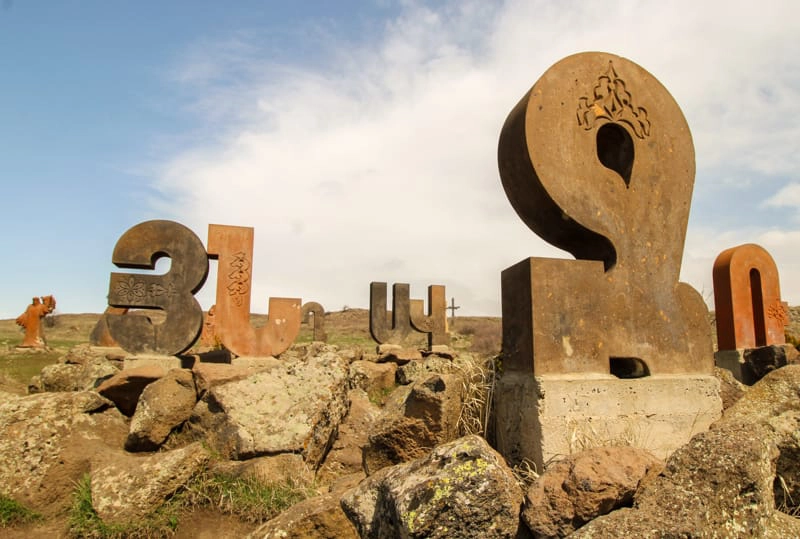 There are also some really cool sites along the way from Gyumri to Yerevan, such as the city of Ashtarak or the famous Armenian Alphabet Monument.
With a car, you can easily stop and see these places and get a little bit more familiar with the wonderful country of Armenia.
Yerevan to Gyumri by Train
There are three different options for getting to Gyumri from Yerevan by train. The first option is the fast express train.
This modern train takes just over two hours (about 2 hours and 10 minutes). The second is the slower, Soviet-style train.
This train takes about 3.5 hours in total and is not the most comfortable of options. You can also use the electric train, which also takes around 3 hours.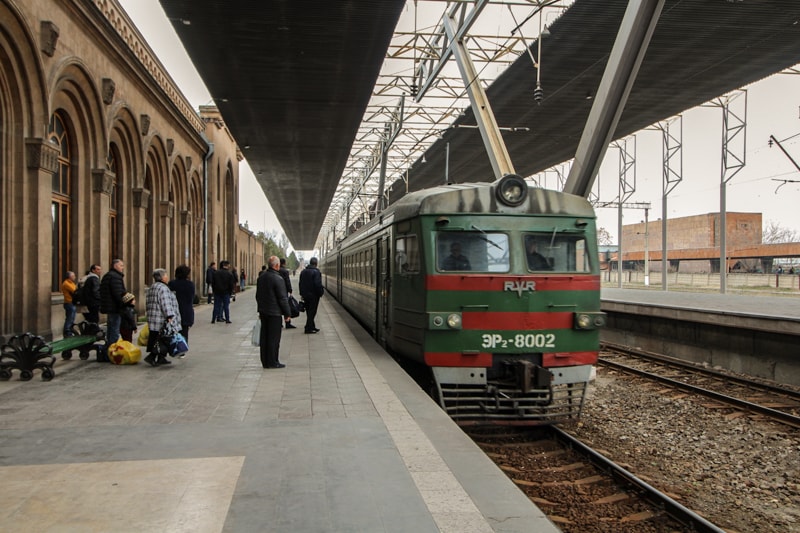 This next section will explicitly explain how to take both, give details about when the Yerevan Gyumri trains run, and offer a bit of insight into the railway stations for both Yerevan and Gyumri.
About Yerevan Railway Station
Built-in 1956, the Yerevan Train Station is the main hub for railway transportation in Armenia.  While Armenia doesn't have an extensive rail network, there are a few key lines, such as the Yerevan-Tbilisi route and the Yerevan-Gyumri route.
The Yerevan to Lake Sevan line does not leave from this station, however.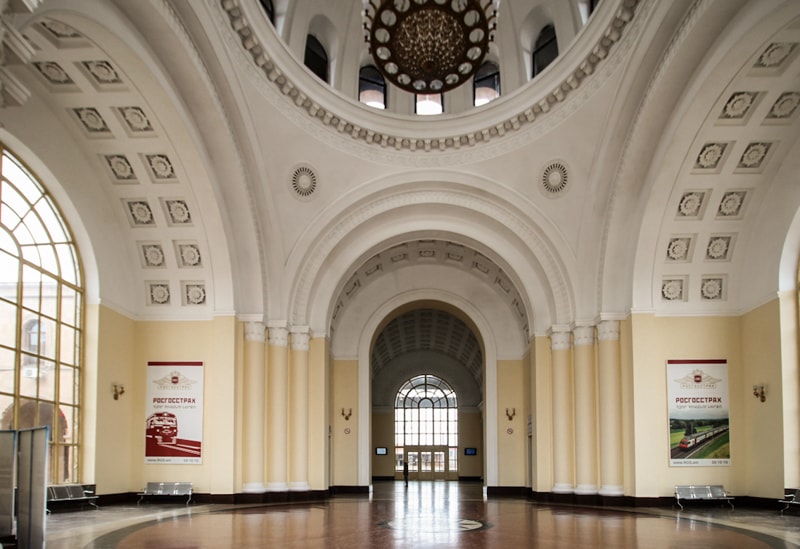 The Yerevan Railway Station is also known as Sasuntsi Davit Station. To reach it from central Yerevan, you can take a taxi or the metro to the stop with the same name.
About Gyumri Railway Station
The Gyumri Railway Station is the oldest railway station in Armenia and it dates all the way back to 1897.  However, the current station that you'll see was built in the 1970s and designed by local architect, Rafik Yeghoyan. It is one of Gyumri's Soviet architecture masterpieces.
The Gyumri Train Station has routes to and from Batumi, Tbilisi, and Yerevan these days.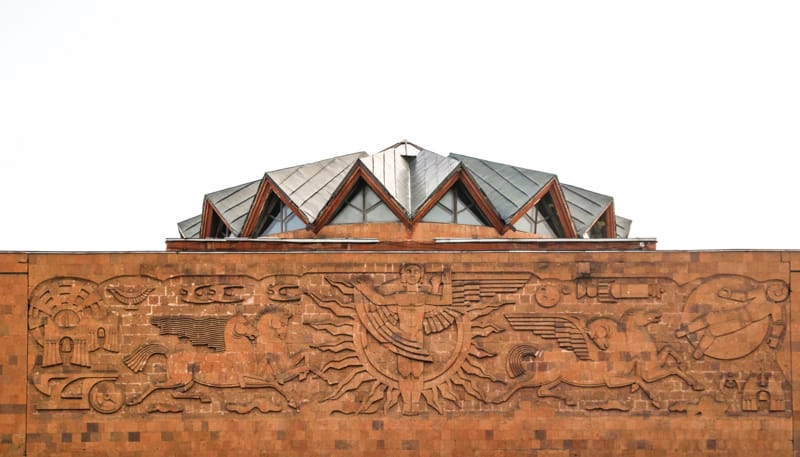 Yerevan – Gyumri Express Train
In recent times, the country has unveiled a new express train that significantly cuts down the travel time between Yerevan and Gyumri.
This fast train is affordable, super comfortable, and sadly, only runs every weekend.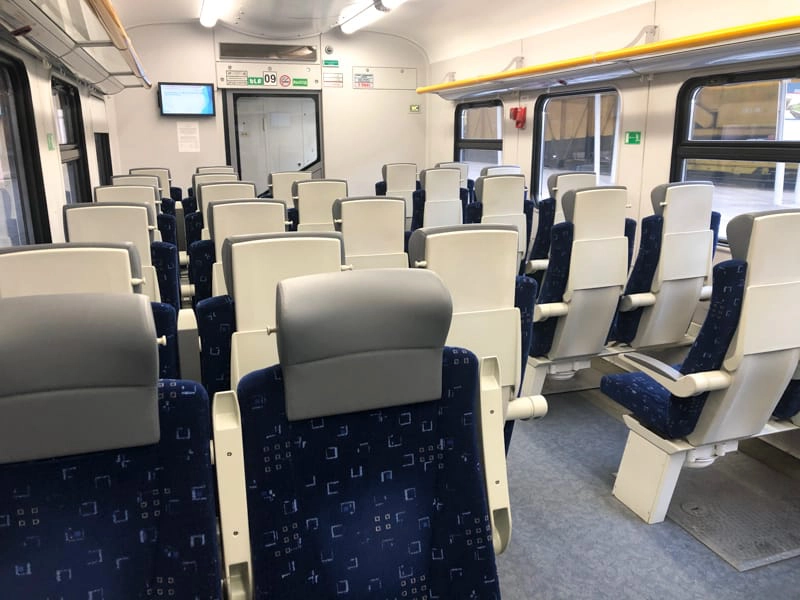 They are looking to switch the route times in the future, so please do check this website before your trip to ensure you don't miss it!  We will do our best to keep this up-to-date, as well.
The Gyumri-Yerevan Express train works only on weekends (including Fridays) and leaves Yerevan at 9:15 am and returns back from Gyumri at 21:50 pm. It leaves Gyumri at 19:40 pm. The cost of the train is 2500 AMD (about $5). The trip lasts 2 hours and 10 minutes.
Yerevan – Gyumri regular modern Train
The Gyumri Yerevan, regular train numbers 684 and 686 leave Yerevan every day at 7:55 am and 14:25 pm and arrive in Gyumri at 11:03 am and 17:30 pm, respectively. The cost of the train is 1200 AMD (about $3). The trip lasts a little more than 3 hours because of the stops.
You can 'technically' buy tickets online but Aram says it was the most complicated process.  We hope they work out the kinks there.  For now, we suggest buying them in person.
If you get there thirty minutes early, you should be able to get a ticket for the train.  When you arrive in Gyumri, you can purchase your return ticket, regardless of the date, at the same time to ease your worries.
The Yerevan to Gyumri express train has WiFi on-board and sockets to plug in your phones.
It is clean, has working bathrooms, and is a very pleasant experience in a country where most trains are outdated and need an upgrade in the near future.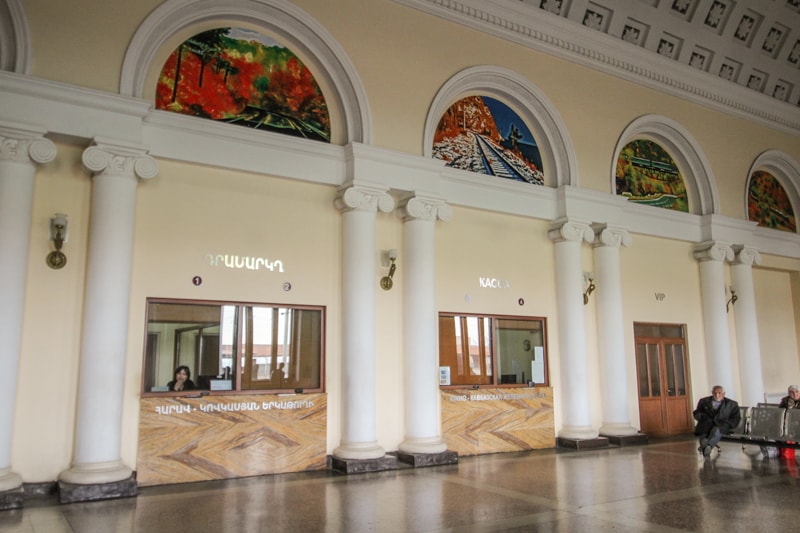 Returning to Yerevan from Gyumri on the modern train is just as easy.
The number 685 and 687 trains leave at 11:55 am and 18:15 pm from the main station in Gyumri and arrive in Yerevan at 15:05 pm and 19:23 pm, respectively.  We hope that there are more routes to come and once Gyumri gains more popularity.
>> Click here for more details on train times and the official timetables
Yerevan – Gyumri Old Train
If the express train timetables don't cater to your travel needs, no worries, there is another train that goes to and from Gyumri and far more regularly than the express train does.  You can take the old, Soviet-style train between the two cities and it is… well, an experience.  But, a fun one at that!
The old train from Yerevan to Gyumri leaves DAILY at 18:25. The travel time between the cities is around 3.5 hours.
We already stated that this train is old and not the most comfortable of options. There are toilets but they are old and may not be the most pleasant experience.
The seats are wooden and can make for a long journey, but the train is quite spacious if you're toting along with luggage.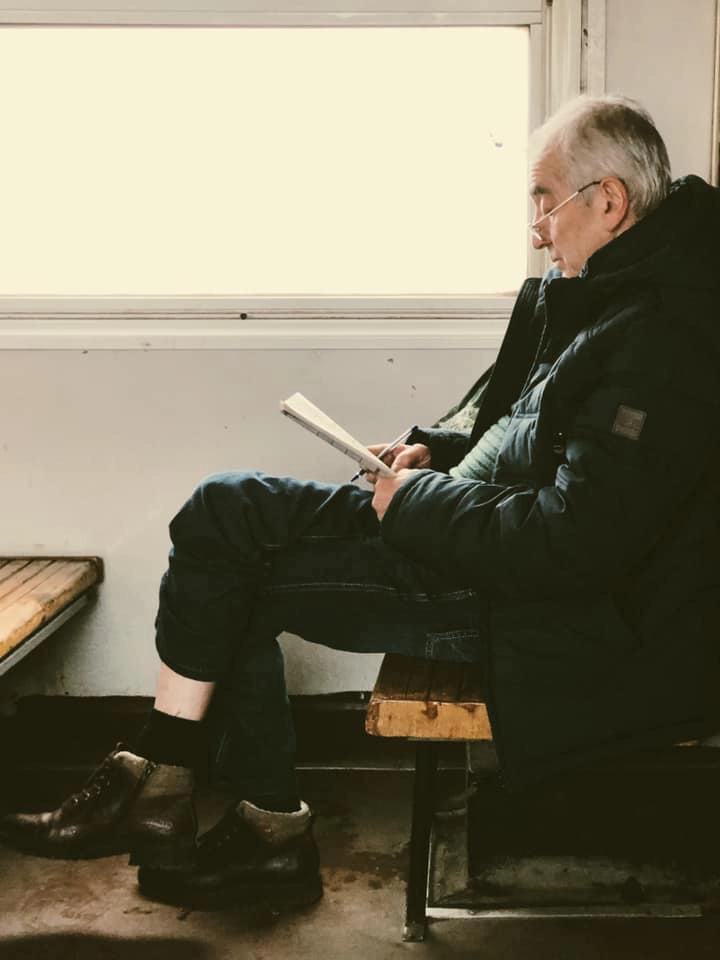 The price for a ticket on the old Yerevan Gyumri train is 1000 AMD per person one-way (about $2).
If you're looking to take this train back from Gyumri to Yerevan, it leaves daily at 07:45.
>> Click here for more details on train times and the official timetables
Yerevan to Gyumri by Bus
In my opinion, the best option for getting to Gyumri is the express train.  But, if you're not heading there on a weekend and not keen on the old train, taking a minibus (marshrutka) is a totally viable option, too.
You can catch the bus to Gyumri at the Yerevan Train Station beside the horse statue outside of it.  There are also some minibuses leaving from Kilikia Bus Station.
A marshrutka will cost 1500 AMD ($3) per person one-way. The travel time is about 2 hours. The marshrutkas run every half-hour or so from 08:00 until 20:00. One thing to know is that the marshrutkas don't really run on a 'schedule' but just leave once they fill up.
This can require a bit of patience. And they may end up overcrowded in the process.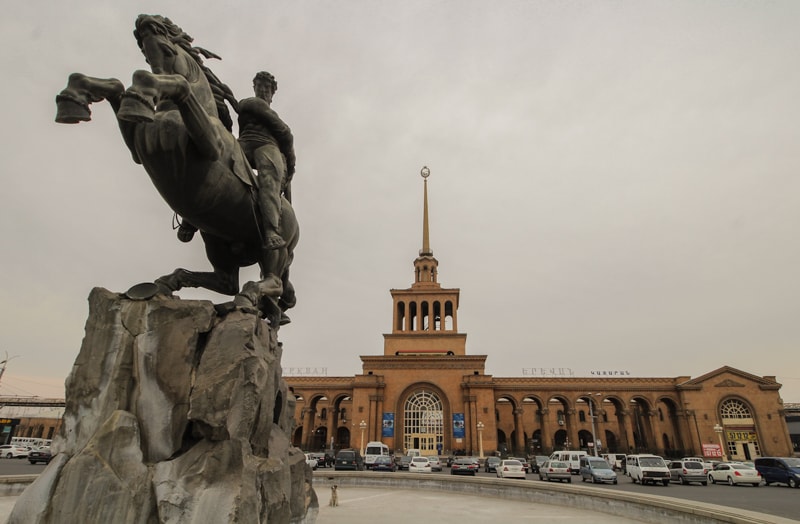 The bus from Yerevan to Gyumri will arrive in Gyumri at the Bus Station south of Vardanants Square.  Please don't expect much from the bus station- it is not in the best state currently.
Yerevan to Gyumri by Taxi
If you're not on a very tight budget, getting a taxi from Yerevan to Gyumri may be a fantastic option for you.  It will give you the comfort of being in a private vehicle and it can take you from point A to point B without having to navigate to different train or bus stations.
Another perk to taking a taxi to Gyumri from Yerevan is that you will be able to make stops along the way if there is something you wish to see or take a photo of.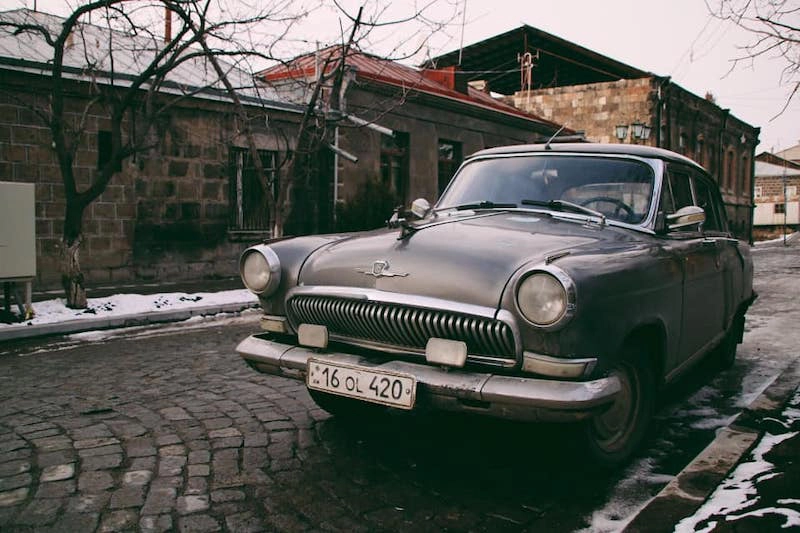 If you're interested in taking a taxi from Yerevan to Gyumri, we recommend taking one via GG Taxi or Yandex. A taxi will run you around 12,000 AMD one-way (about $24). The travel time is around 1.5-2 hours or more if you want to make some stops along the way.
Please do note that sometimes taxi drivers have smoked inside of their vehicles.  Not always, but if you're uncomfortable around cigarette smoke smells, this may not be a pleasant option.  The drivers never usually smoke inside of the cars when passengers are present.
Click here to find out how to get a taxi in Yerevan.
Yerevan to Gyumri by Tour
Another totally reasonable option for getting to Gyumri from Yerevan is to arrange a tour.
Our recommended tour company is organizing tours all over Armenia at a reasonable price and with extremely knowledgeable guides.
>> Click here to inquire about Gyumri tour rates and availability
Where to Stay in Gyumri
If you're wanting to stay overnight in Gyumri, we think you've made a brilliant choice.  It is really difficult to see the city with only a day trip, to be honest.
The following three Gyumri hotels and hostels are our recommendations for an overnight there.  They will meet any type of budget and type of traveler.
We hope that this guide helps you travel from Yerevan to Gyumri without any issues and in a seamless and efficient manner.  If you have additional questions, please leave us a comment or shoot us a message.
YOU MIGHT ALSO LIKE: