The Debed Canyon is a magnificent place to visit on a trip to Armenia. But, when is the best time to visit the Debed Canyon?
This post breaks down the Debed Canyon during all seasons – winter, spring, summer, and autumn. We discuss what to do in the Debed Canyon during each season and reasons to enjoy the natural wonder all year round!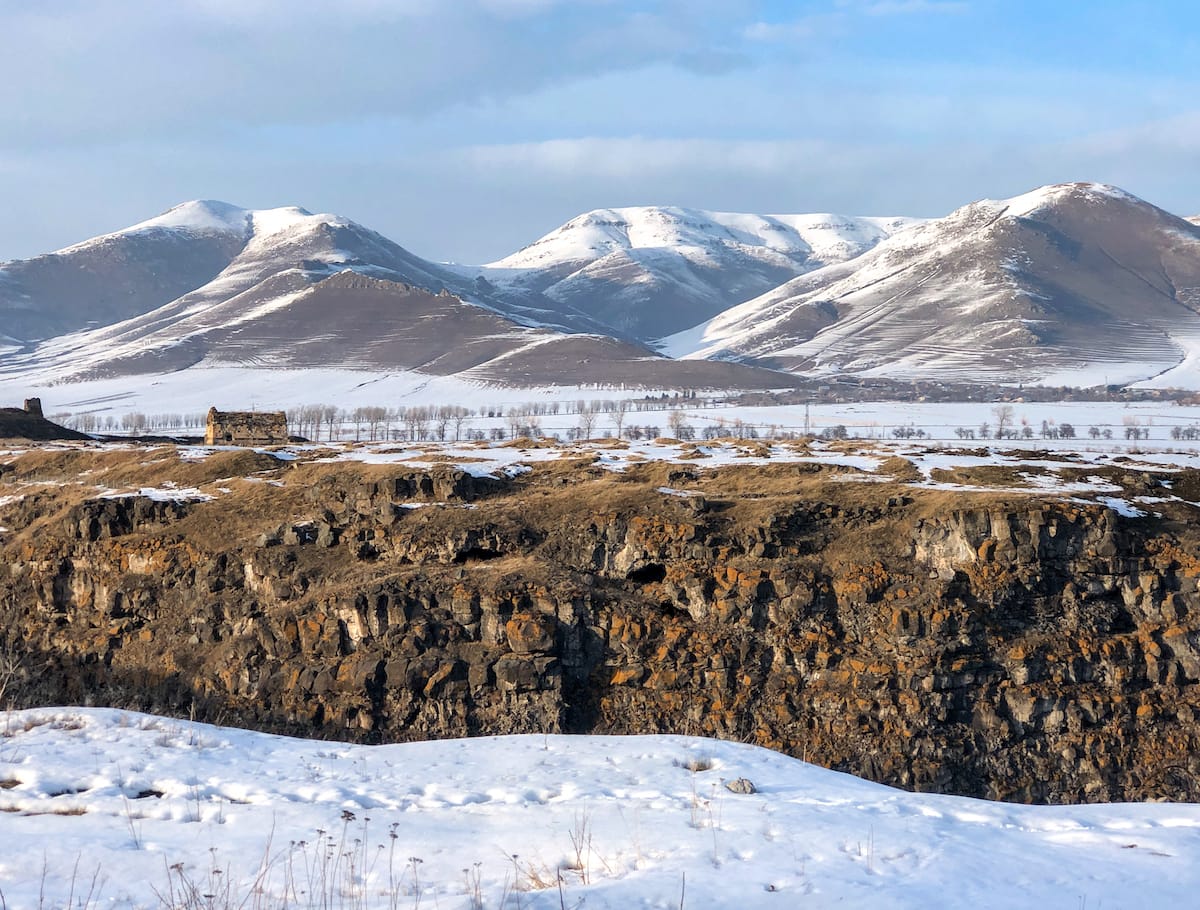 However, we will be as honest as possible about the pros and cons of visiting each season and if you have any further questions, feel free to reach out to us in a message or in the comments.
We also welcome any suggestions of cool things to do in the Debed Canyon and which season you recommend doing them in! Thanks!
Best Time to Visit Debed Canyon Overview
The Debed Canyon is situated in northeastern Armenia and is one of the top sights in the region. It contains many photogenic places as well as many things to do – from picturesque villages to adventurous activities and beyond.
But, the Armenian gorge is not the same throughout the year. The summers are warm and the winters are cold. Shoulder seasons bring about new life or a transition into the winter season.
The food varies from season to season and festivals take place throughout the year to celebrate different cultural traditions in the Lori region.
So, when is the best time to visit the Debed Gorge? Well, it depends. The quick answer would be 'summer'. The region is green with comfortable temperatures… and fruits are in abundance.
But, summer also comes with steeper prices and less availability. Each season has its perks and we hope to showcase them below!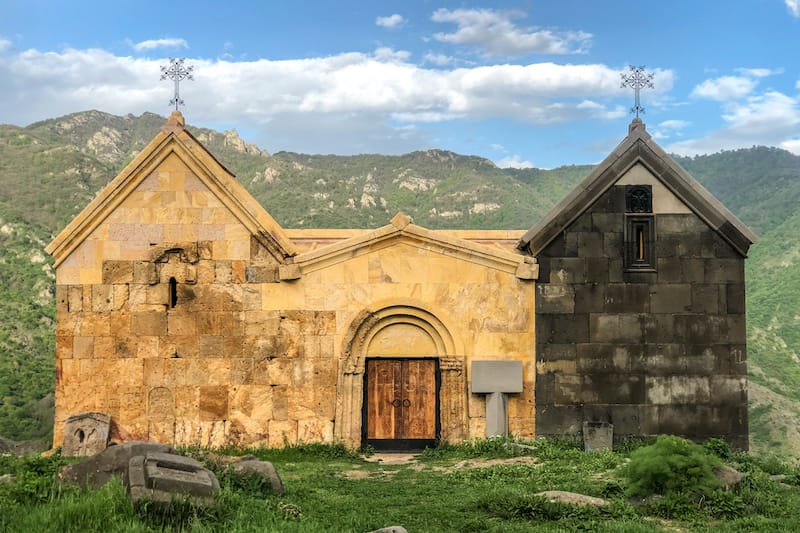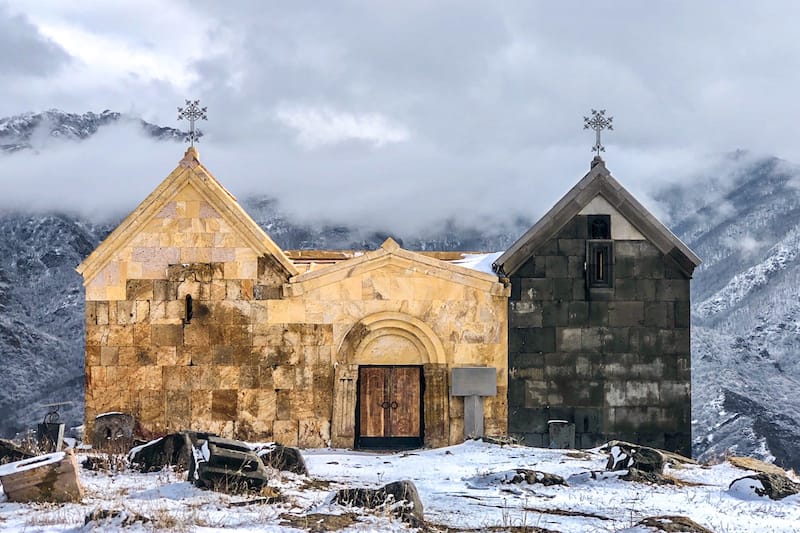 Debed Canyon in Winter
Pros of visiting in winter: easy to get accommodation, perfect for exploring museums, trails are not crowded
Cons of visiting in winter: colder temperatures, snowy roads (can be a hazard), fewer outdoor activities
Winter in Debed Canyon starts around November and ends in early March.
Every year is different, but you can generally expect cold winters (although not as cold as Shirak!) and a bit of snow! The higher you go into the mountains, the more snow (naturally).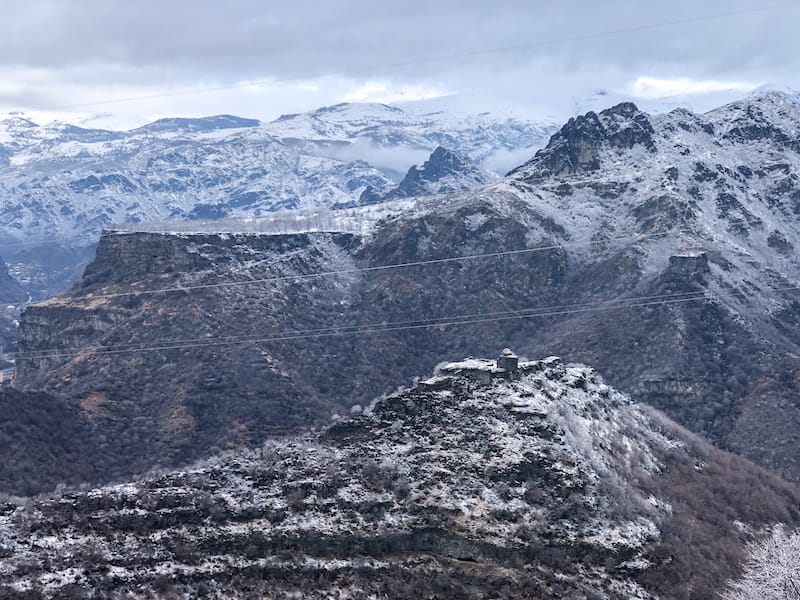 While the main roads are usually clear throughout the region, the village roads and unpaved roads may not be the safest to drive on, so we do recommend a 4×4 if you're off-roading or straying from the highway a bit.
January is the coldest month in the area and you can see the average January temperatures for Vanadzor and Alaverdi below:
Vanadzor: highs around 1C (34F) and lows around -8.5C (17F)
Alaverdi: highs around 4C (39F) and lows around -6C (21F)
What to Do in Winter in the Debed Canyon
While you can still go hiking and do a few other adventurous activities, we definitely think winter is the season to think outside of the box a bit! It is also the ideal time to participate in cultural activities and arts and crafts.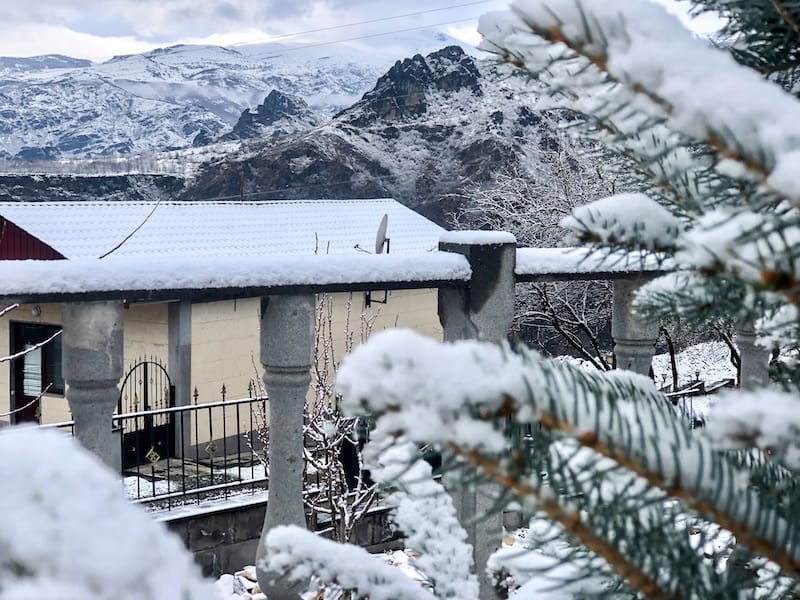 Below are some of our favorite things to do in winter in the DC.
Make Ghapama at Iris Bed & Breakfast
In Alaverdi, you can enjoy (and prepare) one of Armenia's most beloved winter dishes – ghapama! Ghapama is a dish that is made with a pumpkin stuffed with rice, dried fruits, and nuts. It is one of my favorite Armenian foods!
At the Iris Guesthouse, you can meet with owner Irina Israyelyan who has a passion for food and hospitality as she shows you how to make ghapama, tanov spas (my favorite Armenian soup), and local bread.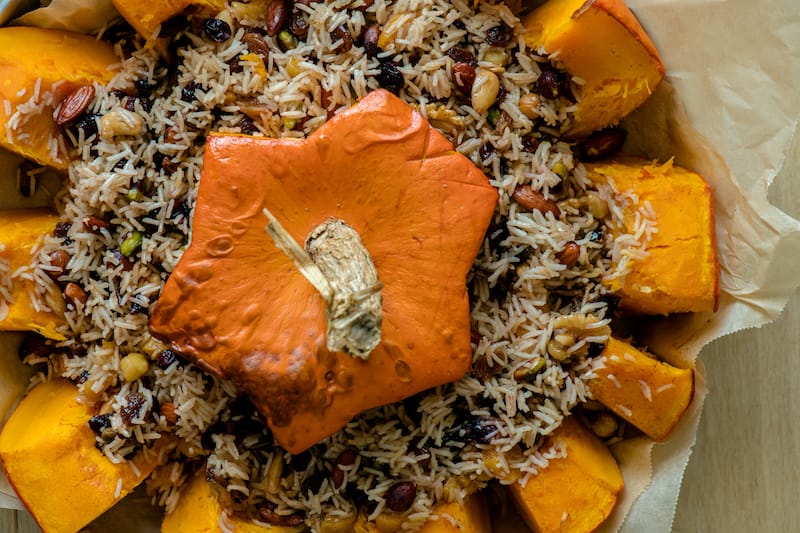 Classes are available 7 days a week from 8am until 8pm… but reservations need to be made at least 24 hours in advance. They can be in English, Armenian, or Russian (specify when booking) and are 1.5 hours long.
>> Click here to visit Iris B&B's Facebook page
Go Snowshoeing in Armenia
One of the new things to do in Vanadzor is to go snowshoeing! Yana Mkrtchyan is in the process of completing two snowshoeing trails close to Vanadzor and has a bunch of gear ready for those interested (including snowshoes).
Snowshoeing is actually one of my favorite activities so I am stoked to test it out this winter when I am in Armenia!
While everything is currently in development, you can contact Yana via Facebook to book or ask questions. We will update this guide once the trail information is released and there is a system in place for booking. We will also list rates.
Visit Local Museums
The Debed Canyon region is home to quite a few cool museums and they are so great to visit during the winter months! Just be sure to contact each ahead to ensure they will be open during the low season and to verify hours!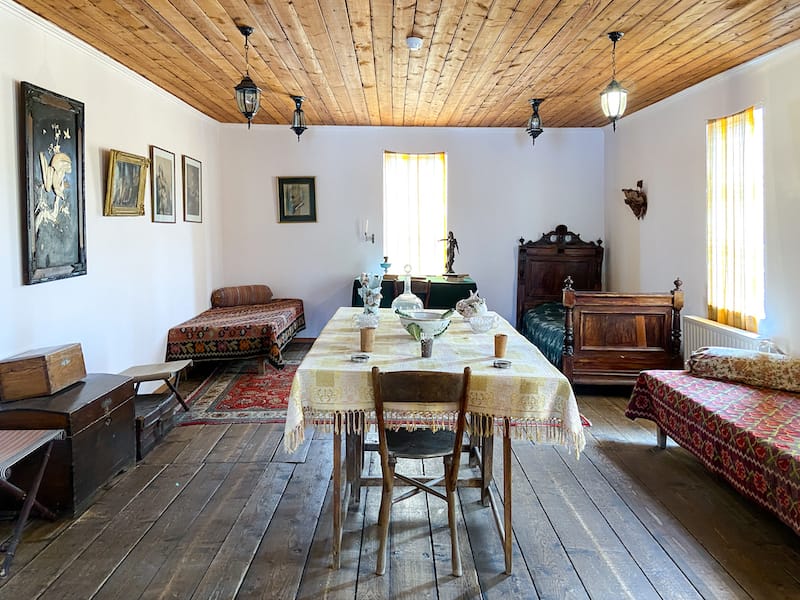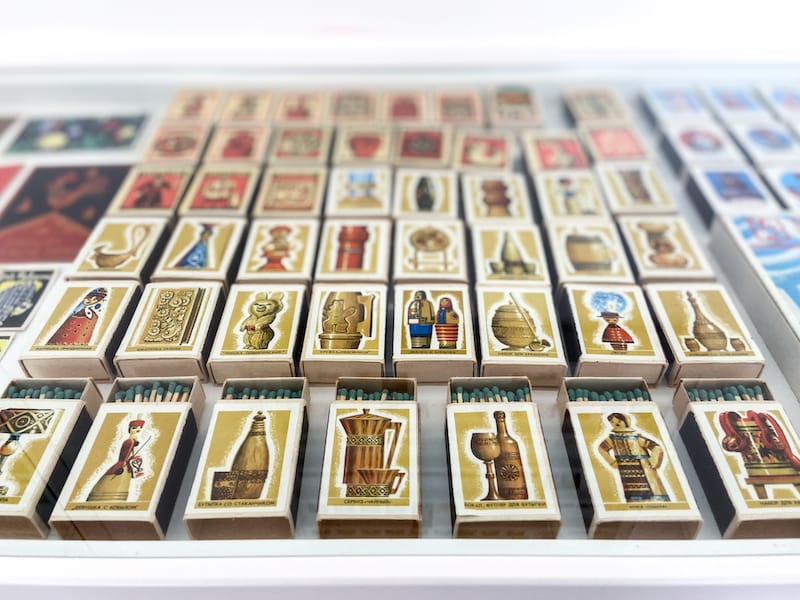 Some of our favorite museums we recommend checking out are:
Matchbox Labels Museum (Tumanyan)
Tumanyan House-Museum (Dsegh)
Vanadzor Fine Arts Museum (Vanadzor)
Debed Canyon in Spring
Pros of visiting in spring: wildflowers, spring greens on the tables, hiking opportunities, fewer tourists
Cons of visiting in spring: temperatures are still a bit cold and the potential for snow is still there
Like many places in the world, spring in Armenia is unpredictable! Debed Canyon is certainly no exception. The spring starts roughly around March and ends sometime in May.
During this time, you can expect a shift from cold temperatures to warm ones (of course), rough rivers from the snow melt, and the trees and flowers coming back to life.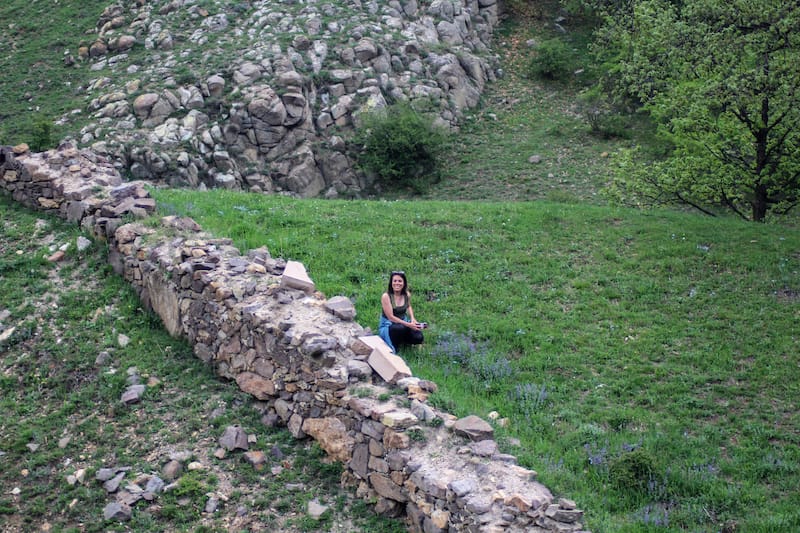 Armenians love their greens on the table and spring is when the greens start to appear (in the masses)! This is one of my favorite things about Armenian food!
Since the temperature shifts so much from March until May in the region, we have listed the average temperatures in Vanadzor and Alaverdi for both!
March average temperatures
Vanadzor: highs around 7C (44F) and lows around -3C (26F)
Alaverdi: highs around 6C (42F) and lows around -5C (23F)
May average temperatures
Vanadzor: highs around 18C (65F) and lows around 6C (43F)
Alaverdi: highs around 21C (69F) and lows around 8C (46F)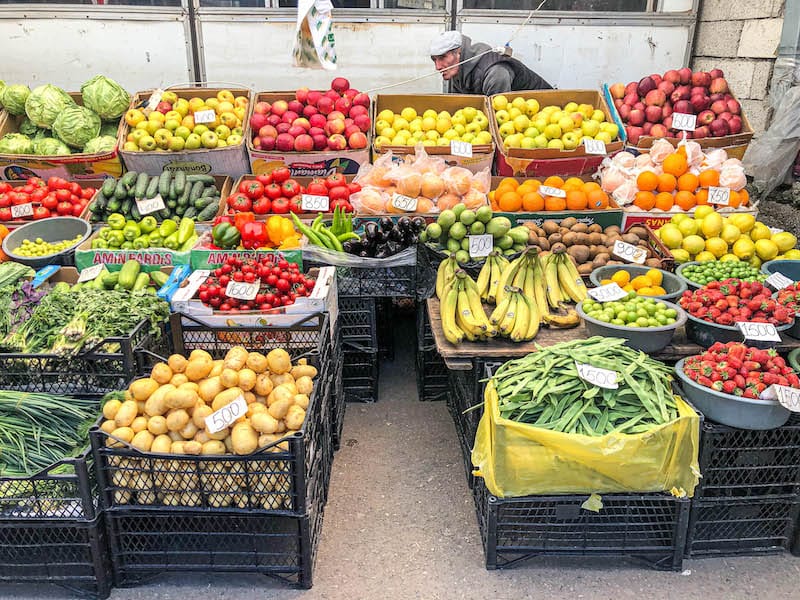 What to Do in Spring in the Debed Canyon
For me, springtime is about the resurgence of fresh food and getting back into nature in its green state (instead of its white one)!
It is also the perfect time to plan some 'rainy' day activities that will help deal with the temperamental weather. Here are some of my favorite things to do in the Debed Canyon in spring!
Have Dinner at Home Restaurant Vanadzor
While a dinner may not be on the top of your list when visiting the Debed Canyon (but it should be… trust me!), definitely plot time in your itinerary for a stop at Home Restaurant Vanadzor.
The 'home restaurant' opens its terrace back up in spring and when the temperatures become warmer and Tigran and Gayane are eagerly awaiting guests.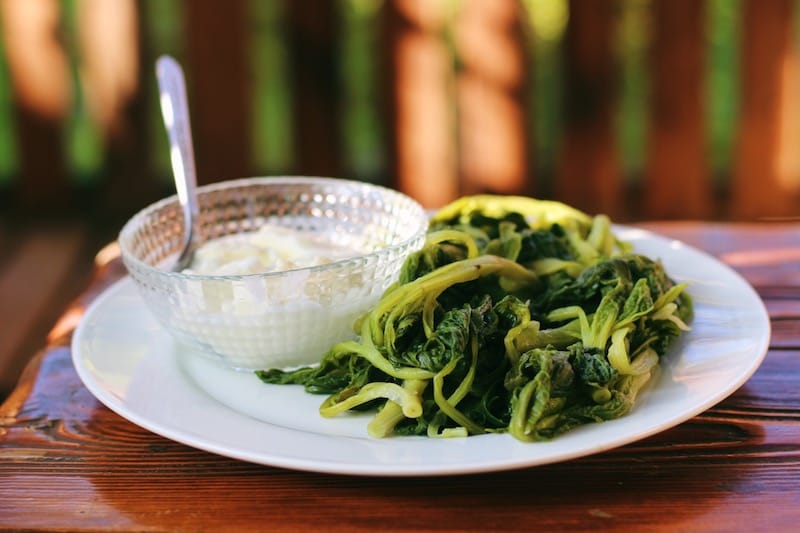 'Papi mot', or 'Grandpa's' as the restaurant is locally-called, serves some of the tastiest food in Armenia and during the springtime, they have a load of Lori greens that are insanely delicious.
You will have a chance to taste shushan, sndrik (served with vinegar), and fresh herbs straight from the region. It truly is an experience and I can't think of a better time to visit the place than in spring!
>> Click here to visit Home Restaurant Vanadzor's Facebook page
Explore Ardvi Village
I am a huge fan of flowers and one place that blooms more beautifully than others is little Ardvi village. Located rather close to Odzun, the village is famous for its monastery, Surb Hovhannes, and the Red Church.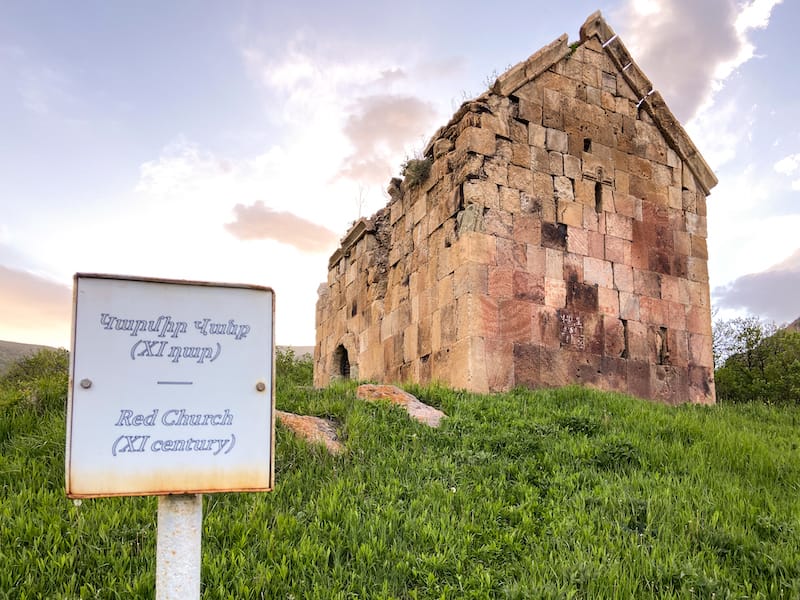 During the later part of spring, flowers blossom on all of the trees and in the fields there, making it one of the most idyllic places to visit in Armenia (I can assure you this)!
Relax at the House of Fairy Tale in Pambak
In lush Pambak village, you will find the House of Fairy Tale, a guesthouse and cultural center for all things fairy tale (and delicious)!
Run by Hasmik Baghramyan, the Pambak business was created to encourage kids and adults to dream and create their own fairy tales and turn them into reality.
There are performances that families will enjoy and you also have a chance to cook local, Armenian food in a setting teeming with flowers and greenery. Spring is so great here as it gives you a chance to see it all come to life.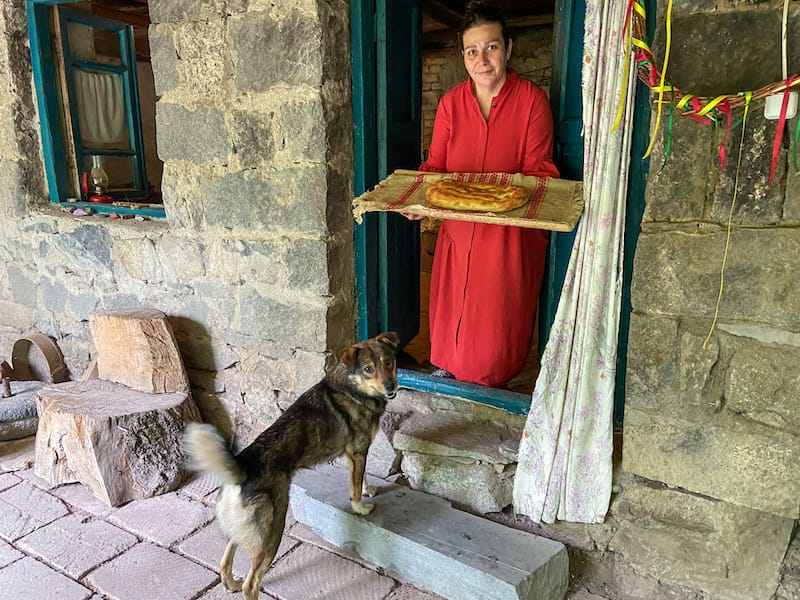 And another perk of visiting in spring is the chance to sample some of spring's best food offerings there!
You can try a variety of dishes but what really shines is how the spring ingredients bring each dish to life! You can enjoy shushan and sndrik there and it is truly delightful!
>> Click here to visit House of Fairy Tale's Facebook page
Debed Canyon in Summer
Pros of visiting in summer: hiking trails, rafting on the Debed River, birdwatching, Khorovats Festival
Cons of visiting in summer: can be very hot, high-tourist season
Easily the most visited season in the Debed Canyon is summer… when everything is at its greenest, liveliest, and most energetic.
Naturally, hiking is something you can enjoy thoroughly during the summer months, so we won't touch upon it below (we actually love hiking in the shoulder seasons).
But, the summer also gives visitors an opportunity to do other activities like birdwatching, horseback riding, rafting, and more!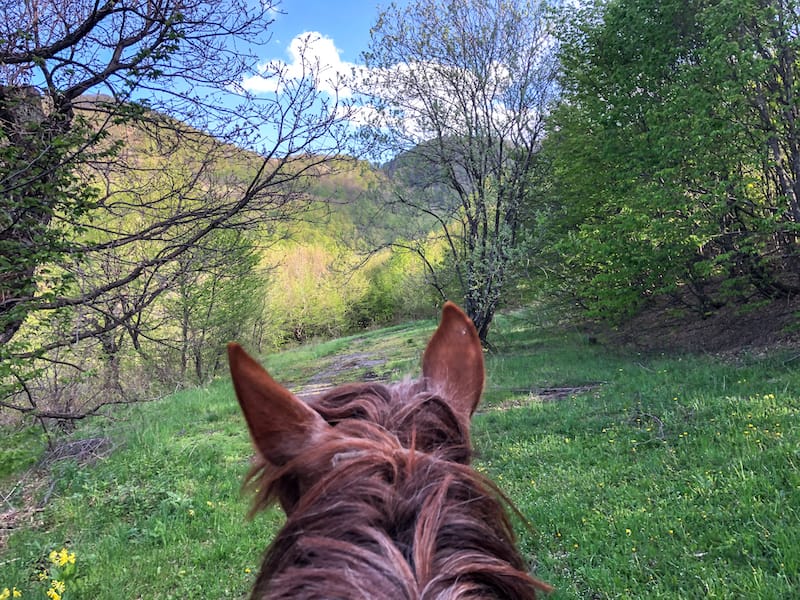 The summers are warm around the canyon, however. So, prepare accordingly!
While it is not as warm as Yerevan and parts of Vayots Dzor, Ararat, and Armavir, days can get still get hot so if you head out hiking, opt for a morning adventure instead of an afternoon one.
You can see the average July temperatures (the hottest month) for Vanadzor and Alaverdi below:
Vanadzor: highs around 26C (79F) and lows around 14C (57F)
Alaverdi: highs around 31C (88F) and lows around 19C (67F)
What to Do in Summer in the Debed Canyon
Summer in the Debed Canyon is about adventure and taking to the nature!
It is also about eating delicious, seasonal fruit, but you will have plenty of chances to do that during your journey. Below are some of our top recommendations for summer activities in the Debed Canyon.
Go Rafting in Tumanyan Village
There are a few places you can go rafting in Armenia but our favorite place is along the Debed River. The trip costs just over $20 and you can book yourself a spot on a Rafting in Armenia tour up on the river, leaving from the Tumanyan village area.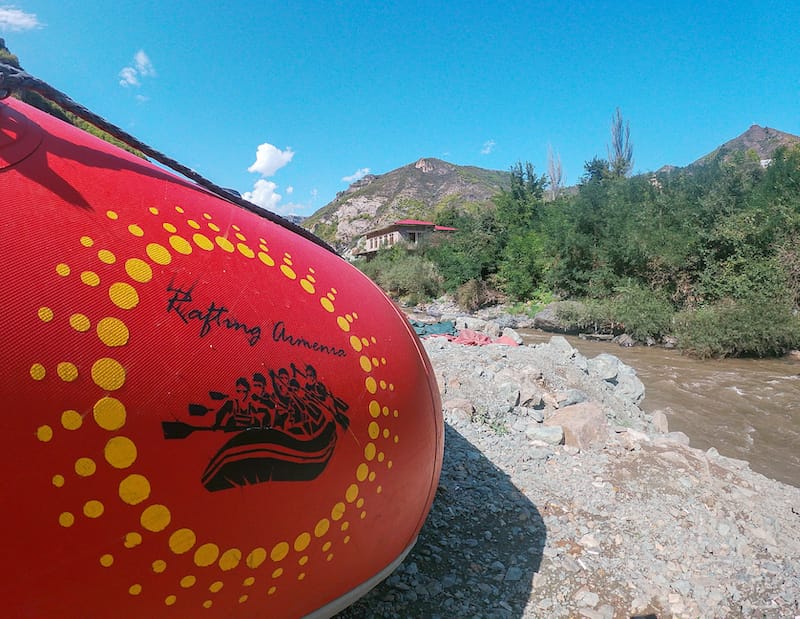 We don't recommend rafting in the spring as the river is extremely powerful, but once it calms down a little, it is seriously an epic thing to do along the Debed Canyon.
>> Click here to visit Rafting in Armenia's Facebook page
Explore the Region on a Mountain Bike
Another fantastic thing to do during the warmer months is to go mountain biking! With Boo Mountain Bike Park, you can head into the Pambak Mountains for a day excursion (or even an overnight one).
You can create a bespoke tour with them or ask them for their recommendations. They also offer city tours of Vanadzor with Vanadzor on Two Wheels if you're not looking to get too far from the city.
>> Click here to visit Boo Mountain Bike Park's Facebook page
Go on a Birdwatching Adventure
Another fantastic thing to do if you're looking for a 'softer' adventure is to go birdwatching! Alongside EcoHub in Vanadzor, you can take to nature in an off-road car to a renowned birdwatching trail to go spot them yourself!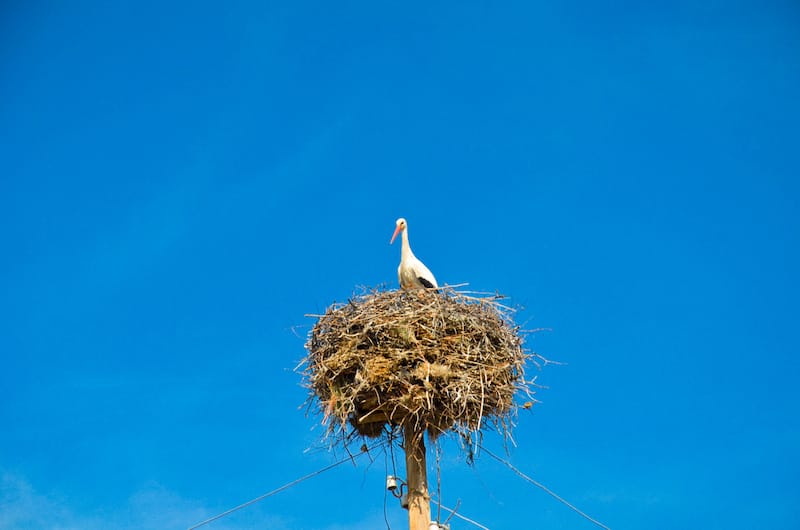 They will provide binoculars for you and there are 3-4 guides coming from Yerevan that operate these tours, so you will need to book a week in advance to secure the chance to do it.
>> Click here to visit EcoHub's Facebook page
Debed Canyon in Autumn
Pros of visiting in autumn: fall foliage, fewer tourists, monastery hikes at their best
Cons of visiting in autumn: the cold can set in quickly
Shoulder seasons are always a more unpredictable time of the year to visit Armenia… but it can also be the most rewarding.
I, personally, think that autumn is the most underrated season in Armenia and the Debed Canyon does autumn well!
The tourists have left and you can feel like you have the place all to yourself while still using the region's hiking trails to discover monasteries hidden deep in the woods.
The cuisine changes from light to a bit heavier and delicious khash and soups take center stage. As do mushrooms!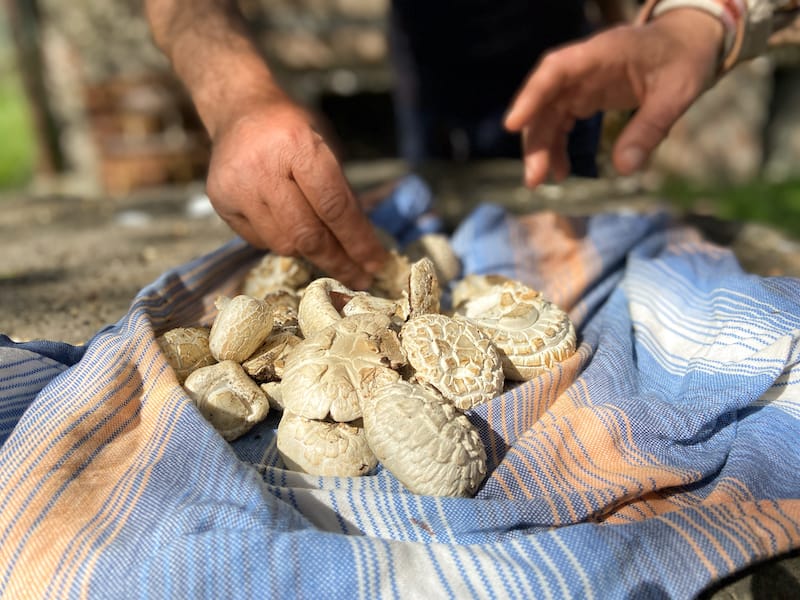 You can do a little bit of everything in autumn so we won't be too detailed with our activity list, but we definitely think that this is the best time of the year to go hiking if you like less-trafficked trails and the warm colors of autumn.
And, let's be honest… isn't it more enjoyable to grab a hot tea after a hike rather than buckets of cold water?!
You can see the average temperatures for October for Vanadzor and Alaverdi below:
Vanadzor: highs around 15.5C (60F) and lows around 3C (37F)
Alaverdi: highs around 17C (63F) and lows around 5C (41F)
What to Do in Autumn in the Debed Canyon
As noted above, we LOVE autumn for its nature and colorful trees. But, we also love that the region quiets down a bit and you can feel winter setting in. We also love khash and other hearty soups! We also love an autumn BBQ!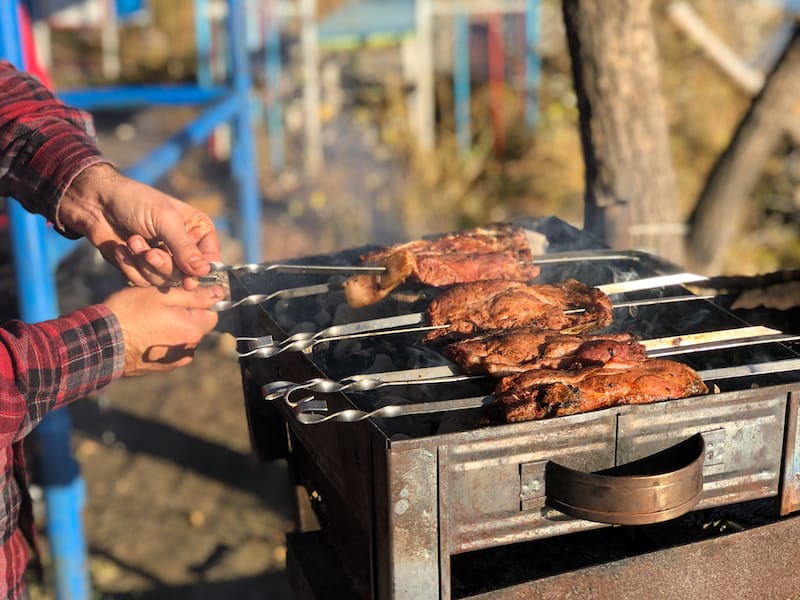 Here are some of our favorite things to do in the Debed Canyon in autumn.
Go Foraging with Sona Guesthouse
Dsegh's Sona Guesthouse is everything and then some for the gastro-enthused (ie: me!). At this beautiful guesthouse, you have a chance to go foraging and learn more about local Armenian ingredients and cuisine.
And what is in season during autumn? Mushrooms, rosehips, and blackthorns!
You can book an experience to forage (and learn to prepare food and drinks with what you were gifted by Mother Earth) from spring until autumn from 9am until 8pm.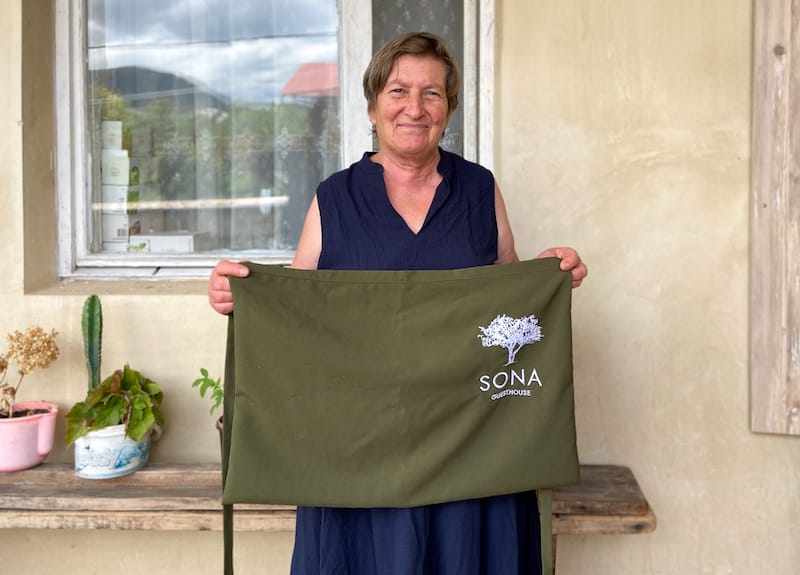 You will need to put aside 2-4 hours and need to be mobile in order to hike and walk while gathering. If you're booking in English, you will need to call at least 3 days in advance.
With your mushrooms, you will prepare stews or local dishes with the ingredients and if you pick rosehips and blackthorns, you will make deliciously fresh juices and preserves with them.
You will have a chance to eat or take home your culinary masterpiece!
>> Click here to visit Sona Guesthouse's Facebook page
Hike to Barzrakash Monastery with TUC in Dsegh
Can you tell we love Dsegh? And while we love it – we love it even more out of the summer season when crowds dissipate and you feel like you have the trails and area to yourself.
Hiking to monasteries in Armenia is great any time of the year, but we feel there is something so remarkable about doing it during autumn.
If you're keen to enjoy the leftover summer weather, head there in September, but if you want the mystery of autumn accompanying you on your trip, definitely go in October and November!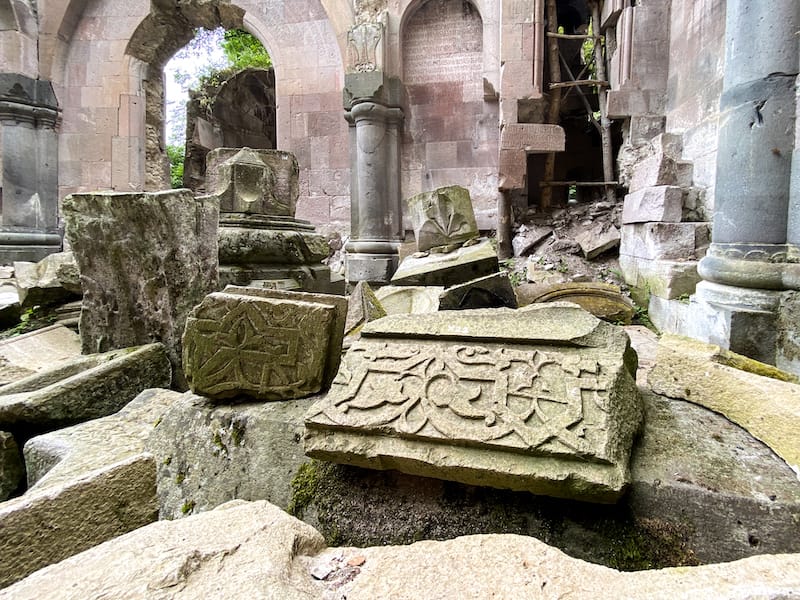 The St. Grigor Bardzrakash Monastery is a protected monastery that dates back to the 1200s and is in ruins in the middle of the forest close to Dsegh.
The best way to reach it is via a HIKEArmenia trail from Dsegh center and I truly recommend heading to TUC before and after!
TUC, or Tourism Unique Center, is an outdoors complex situated in Dsegh that has food, camping, and rental options. They even have guides that can show you around (and excursions such as 'zilling').
Festivals and Events in Lori & the Debed Canyon
One of the best things about visiting the Lori region and the Debed Canyon is that you can find events and festivals happening at various times of the year.
So, if this is your cup of tea, be sure to plan your itinerary in conjunction with one so you can enjoy the region to the max!
We are listing some of the best events in Lori as a whole and not just the Debed Canyon. We hope that if you check out an event in the region, you can make an entire weekend of it and visit some of the cool places in this guide.
Please note that months are subject to change.
February: Lori Winter Fest (Shahumyan Vanadzor)
June: Edible Herbs in Armenian Cuisine Festival (Dsegh)
July: Flower Festival (Stepanavan); Blueberry Festival (Margahovit)
August: Khorovats Festival (Akhtala); Rafting Festival (Tumanyan)
September: Starmus Stargazing Festival (TBA); Theatrical Lori (various communities)
There is also a Cheese Festival that takes place in Tashir annually but the dates are not consistent. In 2021, it was held in October.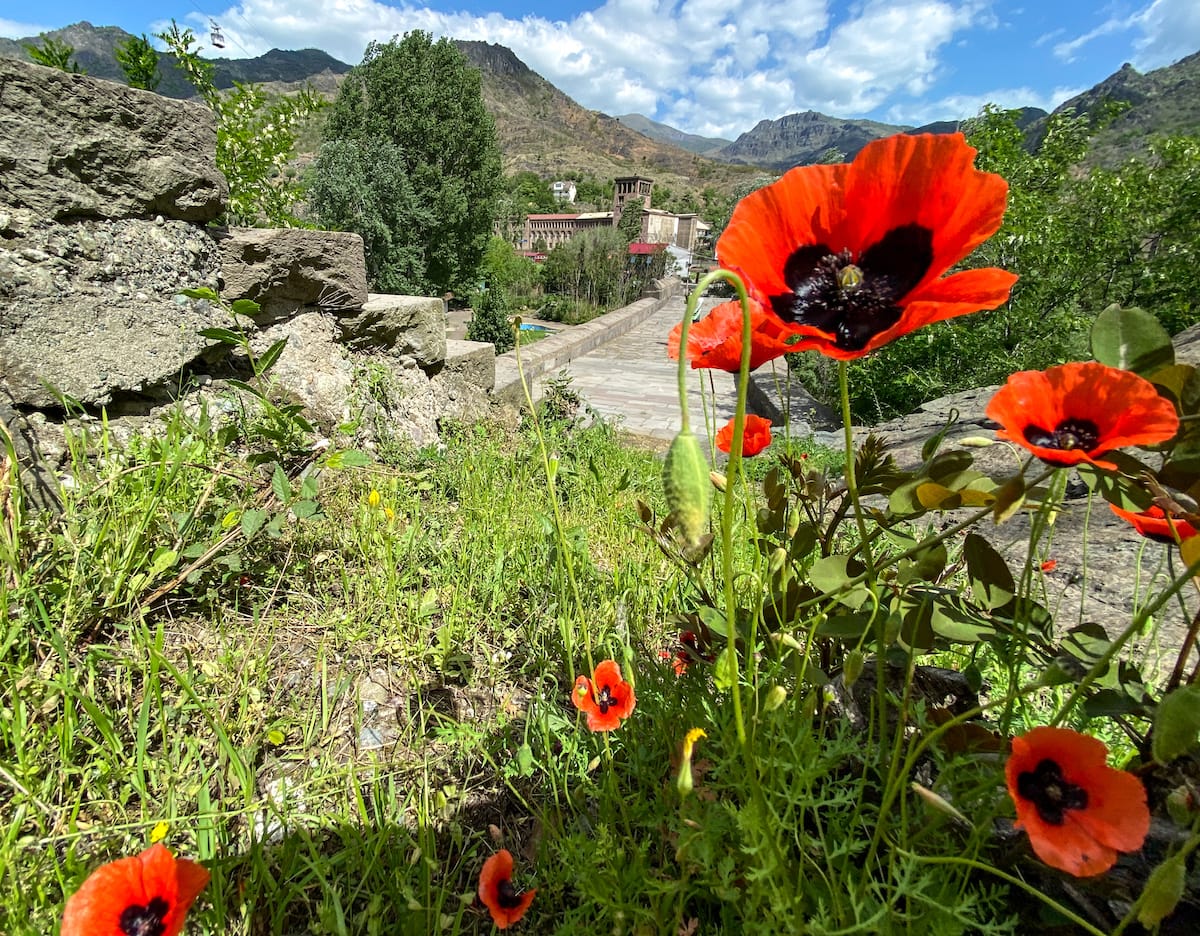 We hope that if you have a chance to visit the Debed Canyon, you will do so regardless of what time of the year you head there in! There are many perks of visiting, even if you head there in the dead of winter (Armenians make killer soups and teas… this is a fact).
When do you think is the best time to visit Debed Canyon? Let us know your thoughts and favorite season activities in the comments. Thanks!
**Our trip to the Debed Canyon was part of the "Lori, Your Next Destination" project by Visit Debed Canyon (co-funded by GIZ and COAF). All opinions are our own.
More Debed Canyon Travel Guides